Ronald Acuna denies report of rejecting $30M offer from Atlanta Braves
Atlanta Braves top prospect Ronald Acuna has denied a report that he turned down a $30 million contract offer from the team.
A source told ESPN Deportes that the Braves offered Acuna, widely considered the top overall prospect in baseball, a contract extension in the range of five or six years.
But Acuna, who will begin the season in the minors, told reporters Tuesday that he has not been presented with an offer.
"To be honest, I'm not sure where [the report] came from," Acuna said through a translator. "As of now, I haven't received a contract. Nobody has talked to me about it. There was no contract that was turned down, or anything like that.
"So I'm not sure where that started from, but that hasn't been the case."
MLB.com reported Tuesday that the Braves and Acuna's representatives have had informal discussions about a long-term deal. According to MLB.com, Acuna's family has expressed interest in the financial security tied to a long-term deal.
Demoting Acuna to the minors for the start of the season allows the Braves to gain an extra year of contractual control over the outfield phenom.
The Braves will have to keep Acuna, 20, in the minors until April 13 to limit his service time for 2018 and prevent him from becoming a free agent until 2024. Acuna would have hit free agency a year earlier had he made the Braves' Opening Day roster.
"It's just not the right moment right now," Acuna said of his upcoming trip to the minors. "That's just part of the business. Baseball is a business, and I understand that. There are a lot of things that go into the decisions."
Although the move was expected, Acuna batted .432 with four home runs, 11 RBIs and four stolen bases in 16 spring training games. He also had 19 hits, a .519 on-base percentage and a .727 slugging percentage in spring training.
Braves general manager Alex Anthopoulos said last week that the team wanted Acuna to get more "development time" in the minors. The Venezuelan outfielder batted .325 with 21 homers, 82 RBIs and 44 stolen bases across three minor league levels in the Braves' system last year.
Bobby Cox, the Braves' former manager and current senior adviser, said Acuna reminds him of a young Andruw Jones, but that some extra time in the minors can get Acuna "off to a good start and hopefully he gets … up here real soon."
Acuna was named the MVP of the Arizona Fall League last year, becoming the youngest player in league history to receive the award. He recently was rated as baseball's No. 1 overall prospect by ESPN's Keith Law, Baseball America and Baseball Prospectus.
Tampa Bay Rays include rookie LHP Shane McClanahan, Ji-Man Choi on first-round roster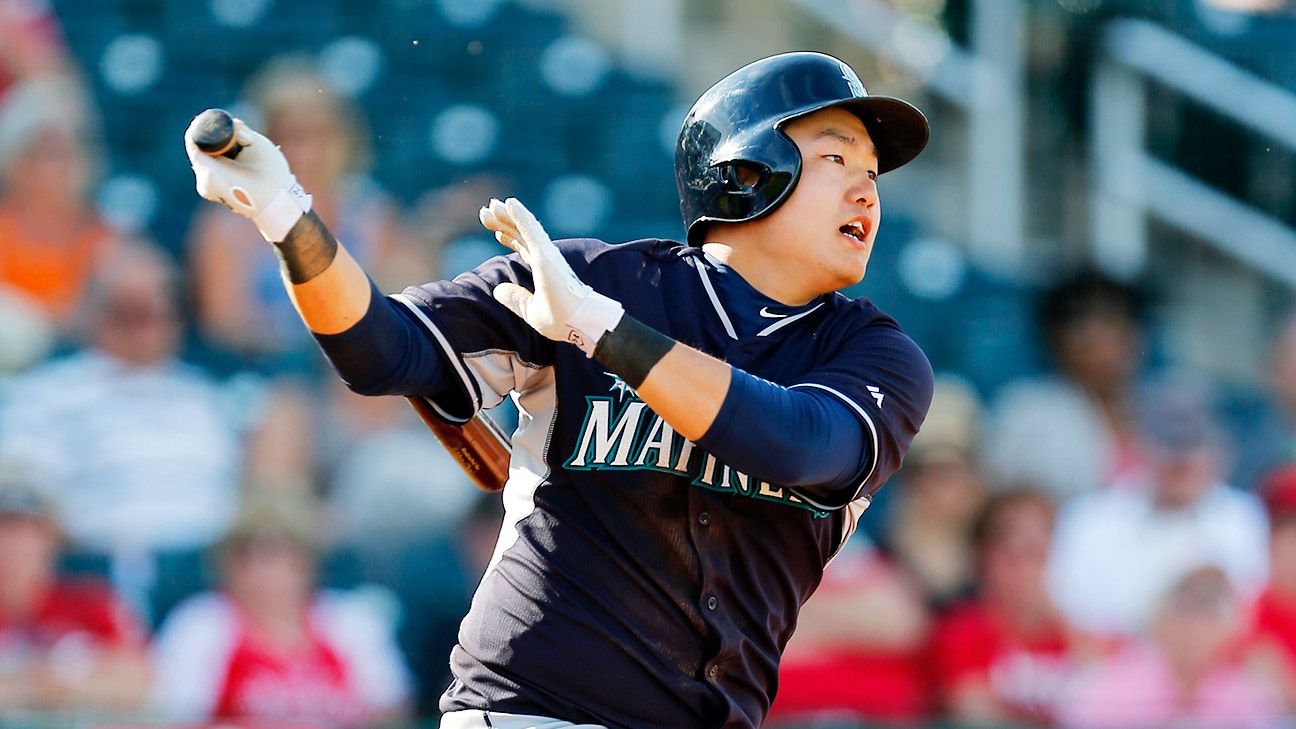 ST. PETERSBURG, Fla. — Rookie left-hander Shane McClanahan was a surprise addition to the 28-man roster the Tampa Bay Rays announced for the AL first-round series against the Toronto Blue Jays on Tuesday.
McClanahan was a first-round pick in the amateur draft two years ago who pitched at Class A and Double-A in 2019. He joined first baseman Ji-Man Choi and infielder Yandy Diaz, who have been on the injured list, in being added to the active roster before Game 1 of the best-of-three series.
To make room on the 40-man roster for McClanahan, lefty reliever Sean Gilmartin was designated for assignment. Gilmartin is the husband of White House press secretary Kayleigh McEnany.
Three players who were on the regular season-ending roster — catcher Kevan Smith, left-handed starter Josh Fleming and lefty reliever Ryan Sherriff — were not included on the roster against Toronto. They remain in the 60-man postseason eligible player pool and can be added in future rounds.
Tampa Bay's 28-man roster includes 13 pitchers, two catchers, seven infielders and six outfielders.
In addition to McClanahan, the pitchers are Nick Anderson, Diego Castillo, John Curtiss, Oliver Drake, Pete Fairbanks, Tyler Glasnow, Aaron Loup, Charlie Morton, Aaron Slegers, Blake Snell, Ryan Thompson and Ryan Yarbrough.
Catchers Michael Perez and Mike Zunino; infielders Choi, Diaz, Willy Adames, Mike Brosseau, Brandon Lowe, Nate Lowe and Joey Wendle, and outfielders Randy Arozarena, Kevin Kiermaier, Manuel Margot, Brett Phillips, Hunter Renfroe and Yoshi Tsutsugo complete the roster.
Houston Astros' Yuli Gurriel takes pay cut to $7 million to stay with team
HOUSTON — First baseman Yuli Gurriel and the Houston Astros have agreed to a one-year contract with an option for 2022 that guarantees $7 million, a cut of nearly 20% from his 2020 deal.
The agreement was announced hours before the defending AL champions started their first-round playoff matchup against at Minnesota on Tuesday, an odd time to reach a contract for a future season.
Gurriel's 2020 contract called for an $8.3 million salary and wound up being worth $3,074,074 prorated.
His new deal includes a $6.5 million salary for 2021 and an $8 million club option for 2021 with a $500,000 buyout. Gurriel can earn $2 million in performance bonuses each year based on plate appearances: $250,000 each for 300 and 350 $350,000 apiece for 400 and 450 and $400,000 each for 500 and 550.
He also would get $50,000 for becoming an All-Star, $50,000 for League Championship Series MVP, $100,000 for Word Series MVP, $200,000 for league MVP, $100,000 for second and $50,000 for third. There is a $50,000 bonus for Gold Glove and another $50,000 for Silver slugger.
Gurriel would have been eligible for free agency under a provision in his 2020 contract, even though he does not have the six years of major league service usually required. His new deal includes the same provision.
He hit .232 with six homers, 12 and 22 RBI in 57 games during the pandemic-shortened season, down from a career-best .298 with 31 homers and 104 RBI in 2019. He helped Houston reach the playoffs for the fourth straight year.
In five seasons in Houston that followed a stellar career in Cuba, the 36-year-old has hit .287 with 71 homers and 301 RBI.
Josh Donaldson (calf) not on Minnesota Twins roster for AL Wild Card Series
Minnesota Twins third baseman Josh Donaldson is not on the club's roster for the American League Wild Card Series against the Houston Astros because of a calf injury.
The reigning AL Central champion Twins released their 28-man roster Tuesday, hours before their series opener in Minnesota against the defending league champion Astros.
Donaldson missed Minnesota's last two games of the regular season this past weekend because of cramping in his right calf. But the former AL MVP took batting practice Monday at Target Field, providing optimism that he would be in the lineup for Tuesday afternoon's game.
Donaldson, 34, is listed on Minnesota's taxi squad, meaning he could rejoin the Twins for this best-of-three series as a replacement for an injured player.
Twins utility man Marwin Gonzalez will start at third base Tuesday and bat ninth against his former club.
Donaldson struggled through an injury-plagued first season with the Twins, batting .222 with six home runs and 11 RBIs in just 28 games. The three-time All-Star is in the first year of a four-year, $92 million deal with Minnesota.