MLB warns New York Yankees that beer foam art of current players against league rules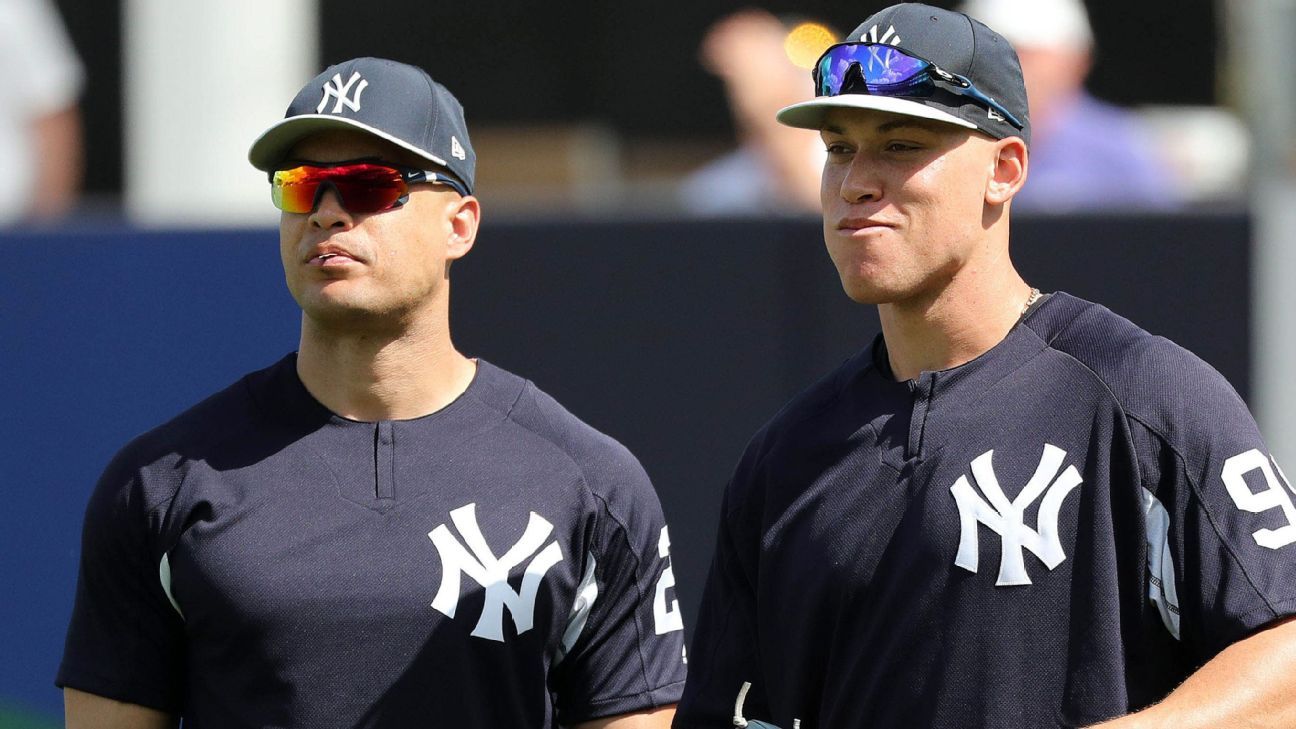 Major League Baseball warned the New York Yankees on Tuesday that a plan to display images of Aaron Judge, Giancarlo Stanton and other players imprinted in beer sold at Yankee Stadium violated league policy, Newsday reported.
A media tasting event at Yankee Stadium on Monday showcased some of the new food and drink items being sold this season. The biggest innovation was new technology that can imprint player likenesses into beer and coffee foam. The Yankees concessions team showed images of outfielders Judge and Stanton, catcher Gary Sanchez and closer Aroldis Chapman, as well as a Yankees logo, floating in the head of a cup of beer.
You can now consume @TheJudge44 in beer form. 🍺⚾️ #Yankees https://t.co/yXD0QE86LX pic.twitter.com/oiBlpwrjzu

— Jeff Eisenband (@JeffEisenband) March 27, 2018
Market Watch reported that images of those players had already been loaded into the machines at the park and would be available starting on Opening Day.
Major League Baseball does not permit active players to be involved in the advertising or promotion of beer or other alcohol.
The Yankees said Tuesday there was no current plan to sell the player-personalized beers at the stadium.
"Our hospitality team took Monday's event as an opportunity to test the image machine with various Yankees-related logos and photos," a Yankees spokesperson said. "However, the Yankees have no current plans of incorporating this decorative element on concessions items this season."
Major League Baseball said it had been unaware of the images.
"We spoke to the club; the club wasn't aware, either," a spokesman for the league said. "To the best of our knowledge, they have told them it's not authorized, to cease doing it."
Yankees' DJ LeMahieu wins AL batting title; Luke Voit finishes with majors-leading 22 home runs
NEW YORK — The New York Yankees lost six of their last eight regular-season games, which included series losses to the Toronto Blue Jays and Miami Marlins, but they still limped into the wild-card round as the fifth seed in the first 16-team expanded playoffs in MLB history.
Among the few bright spots for the Yankees was that leadoff hitter DJ LeMahieu went 2-for-3 in Sunday's 5-0 loss to the Marlins to finish the season with the best average in the majors at .364.
"It's pretty cool. I don't think it's really sank in yet," LeMahieu said after learning he won the American League batting title. "I wish it was over 162 games, and I wish there were fans in the stands, but it is what it is and I'm definitely proud of it."
By winning the AL batting title, LeMahieu became only the fourth player in Yankees history to lead the majors in batting average, joining Mickey Mantle (.353 in 1956), Joe DiMaggio (.381 in 1939) and Lou Gehrig (.363 in 1934). It is LeMahieu's second career batting title; he won one with the Colorado Rockies in 2016 and becomes just the second player in MLB history to win the batting title in both leagues, joining Hall of Famer Ed Delahanty.
Luke Voit went hitless Sunday, but his 22 home runs were the most in this pandemic-shortened 60-game season. LeMahieu and Voit became the first pair of teammates to lead the majors in batting average and home runs since Hank Aaron (.355 BA) and Eddie Mathews (46 HR) for the 1959 Braves.
"They have been the pillars in our lineup, the rocks in our lineup," Yankees manager Aaron Boone said of Voit and LeMahieu. "Luke just put together an amazing season. I think both guys are worthy of MVP consideration. What DJ has meant at the top of our order now for two years, just his amazing consistency and what he brings with his defensive versatility. … We are not getting on a plane and going to the playoffs without the performance of those two guys."
LeMahieu complimented Voit: "It's definitely well-deserved. Not only hit a bunch of homers, but had some huge homers for us and really carried us this year. He's a complete hitter, he's not just a home run hitter. He definitely takes big swings, but he has a great approach the other way, gets tough RBI in situations and, obviously, the home runs speak for themselves, so I am really happy for him."
The loss to the Marlins put the Yankees in position to finish the season as the eighth seed and take a plane to Florida to face AL East rival Tampa Bay Rays, but a Toronto loss to Baltimore guaranteed that New York would start the postseason against the Cleveland Indians at Progressive Field.
"We've had a week where we haven't played our best baseball, where we're struggling a little bit, but I know what we're capable of, our guys know what we're capable of, and opportunity knocks right now," Boone said. "We have an amazing opportunity. We hold the bat; we hold the ball; we hold the pen. We can write the story right now; we don't need anyone's help. And that's exciting, especially when you're walking in with the group of guys that we have."
"I think we have the best team in the league still. I don't know why it was so up-and-down. I'll chalk it up to 2020. It's been kind of a roller coaster," LeMahieu said. "We're all excited to get in the postseason, kind of turn the page on this last week. I love our team in that clubhouse so I'm just excited to get out there with them in the playoffs. I think it's gonna be a really fun month."
It has been an erratic season for the Yankees. Although the club finished 33-27 and in second place in the division, their final losing streak came on the heels of a 10-game winning streak.
Which team will show up against the Indians? Boone admitted that the first round of the playoffs, particularly in what he called a "crazy, different, challenging season," will be a throw of the dice.
"I trust that we have a team that is capable of going out and winning. But obviously, we are entering a three-game series, and I think the same can be said for all 16 teams that are going to be in it," Boone said. "[This season] there have been a lot of ups and downs for us, peaks and valleys that we have to avoid moving forward. But we look forward to the challenge of going in and competing for a championship. Anything can happen in these. We know if we're playing our best baseball we cannot only play with, but we can beat anyone."
Los Angeles Angels' Shohei Ohtani wants to remain 2-way player in 2021
LOS ANGELES — Shohei Ohtani wants to remain a two-way player for the Los Angeles Angels, even though he didn't come close during the shortened season to matching his performance from 2018.
Ohtani went 1-for-4 with a strikeout — and grounded out to first for the final out — in a 5-0 loss to the Dodgers on Sunday that ended the Angels' season.
The Japanese star batted .190 during the 60-game season. Pitching-wise, he suffered a forearm strain that limited him to parts of three innings over two games before he had to shut it down on the mound.
"The numbers show that I didn't have a great year and I'm fully aware of that," Ohtani said through an interpreter. "I found a lot of things I need to work on in the offseason. I'm looking forward to getting that underway."
Manager Joe Maddon said Ohtani is expected to begin his offseason throwing program in the next month.
"I really have a lot of confidence in him," Maddon said.
Ohtani was set up for a normal season, having completed rehabbing last December from Tommy John surgery. Then the coronavirus pandemic hit, wreaking havoc with the sports world and delaying the start of the season until the end of July.
"I'm sure if I was able to spend the regular, normal rehab schedule, the results might have been different," he said.
With only offense to concentrate on, Ohtani struggled at the plate. He cited being unable to watch in-game video of his at-bats as a contributing factor.
"I want to know where the pitch was and where I took it," he said. "Ideally, I would have liked to see the replays again. I think it would have helped me."
Two years ago, Ohtani created a splash while making his major league debut for the Angels. He hit .285 with an on-base percentage of .361. He had 22 home runs, 61 RBIs and 10 stolen bases and was named the American League Rookie of the Year.
By that September, however, he was headed to having Tommy John surgery.
Ohtani returned to the lineup the following May. A month later, he became the first Japanese-born player to hit for the cycle in MLB. That September, his season ended early because he needed patella surgery.
Despite all he has been through, Ohtani remains confident he can regain the form he showed in 2018.
"I just need to get past me being able to throw without any worries or setbacks," he said. "Once I get past that, I think everything will fall into place."
Miami Marlins' Starling Marte, Jose Urena hurt against New York Yankees
NEW YORK — Miami outfielder Starling Marte and right-hander Jose Urena left Sundays' regular-season finale against the New York Yankees after getting hurt in the early innings.
Marte was hit on the front of his helmet by Clarke Schmidt's 94 mph fastball in the second inning. The pitch knocked off the helmet. Marte stayed down for a few minutes and was replaced by Lewis Brinson.
Urena, a candidate for Miami's postseason bullpen, was hit on his pitching hand by a 103.9 mph line drive from AL batting leader DJ LeMahieu with one out in the third. Urena crumpled over in pain and stayed down in front of the mound before exiting the game. He was replaced by Daniel Castano.
After the game, a 5-0 Miami win, the Marlins said Urena suffered a nondisplaced ulna fracture in his right forearm, and Marte had a bruised left ear.
"Kind of your biggest fear on a day like today," Marlins manager Don Mattingly said. "You hate to be playing your guys almost."
Miami acquired Marte from Arizona on Aug. 31. He is hitting .245 with four homers and 13 RBIs in 28 games with the Marlins.
Urena was among 18 Marlins sidelined with COVID-19 early this season. He is 0-3 with a 5.40 ERA in five starts since his season debut Sept. 7.
Information from The Associated Press was used in this report.