Johnny Manziel's last NFL snap was 821 days ago
This is the window. Now is Johnny Manziel's best chance — as slim as it might be — to catch the eye of an NFL team before deciding whether to circle back and make a two-year commitment to play in the CFL.
The process began last week, when Manziel jumped into the University of San Diego's pro day attended by scouts from 13 NFL teams. It will accelerate on Wednesday as he joins the Spring League, a developmental program that runs March 28 through April 15 in Austin, Texas, with games staged on April 7 and 12 — Manziel's first since starting for the Cleveland Browns on Dec. 27, 2015.
Manziel said last week "there's still people that still doubt what I'm doing and still doubt where I'm at" — an acknowledgement of his extensive list of off-field indiscretions. He won't resolve all of those questions over a two-week minor league experience, but the stint will help him address a more tangible issue: How far, if at all, did he deteriorate physically during what he admits were long stretches of substance abuse?
There is no precedent for a quarterback returning from two years away to earn a starting job in his first season back. There have been only six cases since the 1970 merger in which a quarterback has started eight-plus games in a season after not playing in an NFL game over the prior two-plus seasons, according to the Elias Sports Bureau research, and each were either on a roster or played in the CFL in the interim:
And fair or not, NFL teams have recently demonstrated a resistance toward investing in backup quarterbacks who they believe will draw public attention.
The league itself has also changed dramatically since Manziel was last a part of it. More than half of teams (17) hired new head coaches in those two seasons. There are also 14 new general managers, 27 new offensive coordinators and 14 teams with new starting quarterbacks. A total of 65 quarterbacks have started at least one game since the end of the 2015 season.
If no NFL teams express interest based on his performances in the Spring League, however, Manziel would still have time to join a CFL team before the start of the league's training camp in May. His rights continue to be owned by the Hamilton Tiger-Cats, whose season begins June 16 and whose coach — former Hawaii and SMU coach June Jones — has said Manziel would be "the best player to ever play up here."
CFL rookies typically must sign contracts that bind them to the league for two seasons. Unless his CFL team grants a rare waiver, Manziel wouldn't be eligible to return to the NFL before November 2019 — or, more realistically, the 2020 NFL season.
"If something [with the NFL] pops up, it pops up. And if not, if I don't get the opportunity to go back, I'm going to go play in the CFL, and things are going to be fine," Manziel said at Texas A&M's pro day on Tuesday. "One way or another, one day down the line, I'll get back to exactly where I want to be, because I'm not going to stop until I do."
How did the 2012 Heisman Trophy winner (and 2014 first-round draft choice) fall this far? Let's take a closer look at the 800-plus days since Manziel last played in the NFL.
---
January 2015: In Week 17 of the 2015 season, Manziel visits Las Vegas, wearing a wig to hide his identity, and misses a mandatory concussion treatment on the morning of the Browns' final game. In an interview with Uninterrupted's "The ThomaHawk Show" podcast last month, Manziel says: "What a complete lack of respect for an organization that was trying to stick by me," he says. "What just a completely selfish decision."
February 2016: Agent Erik Burkhart drops Manziel as a client, an unusual move that Burkhart says he made because "it has become painfully obvious that his future rests solely in his own hands." (Manziel re-signs with Burkhart in March 2017.)
March 11, 2016: Browns release Manziel, knowing at the time they would still be responsible for his guaranteed base salaries of $1.169 million in 2016 and $1.004 million in 2017.
April 2016: It becomes public that Nike has terminated Manziel's endorsement contract.
May 2016: Photographs emerge of a gaunt and pale Manziel on the pool deck of a Las Vegas hotel.
Not even cracking a joke here, but Johnny Manziel doesn't look well to me pic.twitter.com/fisOYl9UW2

— Jemele Hill (@jemelehill) May 20, 2016
July 2016: Manziel posts photos and videos to his own Instagram account, with Hawaii tagged as the location, of his notably gaunt appearance.
September 2016: Manziel enrolls in classes at Texas A&M.
September 2016: Technically served a four-game suspension in 2016 for violating the NFL's substance abuse policy, even though he was not on a roster. Any interested team knows that he is one positive test away from a yearlong suspension.
December 2016: Reaches agreement to have charges dropped of domestic abuse against his former girlfriend, Colleen Crowley, if he met certain conditions. The NFL did not add discipline under its personal conduct policy.
January 2017: Tells ESPN that he is sober after years of heavy alcohol and drug use. At about this time, according to a later interview with ABC News, Manziel is diagnosed with bipolar disorder. He begins treatment.
February 2017: Works with high school quarterbacks at an Elite 11 camp in Miami.
Johnny Manziel coaching up the #Elite11 Miami QB's. pic.twitter.com/Pm3mRwenWS

— Elite11 (@Elite11) February 26, 2017
August 2017: Says he would consider coaching if he can't find a way back into football as a player.
August 2017: Works out for Hamilton officials in Buffalo. Tiger-Cats executive Kent Austin says Manziel looked "fine" but was not ready to be signed.
September 2017: Manziel and his agent initiate the process of negotiating a CFL contract, beginning with an expression of interest with the Tiger-Cats.
Sept. 15, 2017: CFL commissioner Randy Ambrosie steps in, extends the negotiating period and prohibits the Tiger-Cats from executing a contract pending a "process for evaluation of the player." Manziel and Ambrosie meet later that month.
November 2017: Photographs emerge on TMZ of Manziel at a beach in Hawaii with his girlfriend, Bre Tiesi, in what becomes known on social media as a "Dad Bod."
December 2017: The Tiger-Cats' June Jones says: "I think he'd be the best player to ever play up here. He can throw it and he can run it like nobody ever has been able to do."
Dec. 13, 2017: Ambrosie tells ESPN that he found Manziel to be "thoughtful … authentic and sincere" during their September meeting.
Dec. 28, 2017: Ambrosie gives permission for Tiger-Cats to sign Manziel.
Jan. 7, 2018: Hamilton acknowledges it has made Manziel a qualifying offer, allowing it to retain his rights while negotiating continues.
Jan. 8, 2018: Agent Erik Burkhart calls the offer a "place holder" and gives the Tiger-Cats until Jan. 31 to make an offer that is fair and comparable to what they have paid their quarterbacks in the past. Their 2017 starter, Zach Collaros, received a league-high $500,000 Canadian, which is currently worth about $387,000 in U.S. currency.
Jan. 31, 2018: No deal is reached. Hamilton says in a statement that it will continue its "due diligence" on Manziel.
Feb. 12, 2018: ABC airs interview on "Good Morning America" in which Manziel confirms the bipolar disorder. Of his mental state before diagnosis he says: "You are left staring at the ceiling by yourself and in that depression and back in that dark hole of sitting in a room by yourself, super depressed, thinking about all the mistakes you made in your life. What did that get me? Where did that get me except out of the NFL? Where did that get me? Disgraced."
In an interview with @GMA, Johnny Manziel said he has been diagnosed as bipolar and is taking medication for it.

His goal is to get back on the football field. pic.twitter.com/pYobONAEWs

— SportsCenter (@SportsCenter) February 12, 2018
Feb. 14, 2018: The Spring League announces Manziel's participation.
March 2018: Manziel and Tiesi are married in a private ceremony.
March 22, 2018: Throws during University of San Diego pro day, says that he is a "different person" and that he has had more than a year of "solid" behavior and workout regimen. "I feel like if I can parlay that into enough months and, people will be able to buy into that and trust what I'm doing again, that I'm not just trying to pull a fast one to get back into the NFL."
How an Australian girl with autism forged a bond with Philadelphia Eagles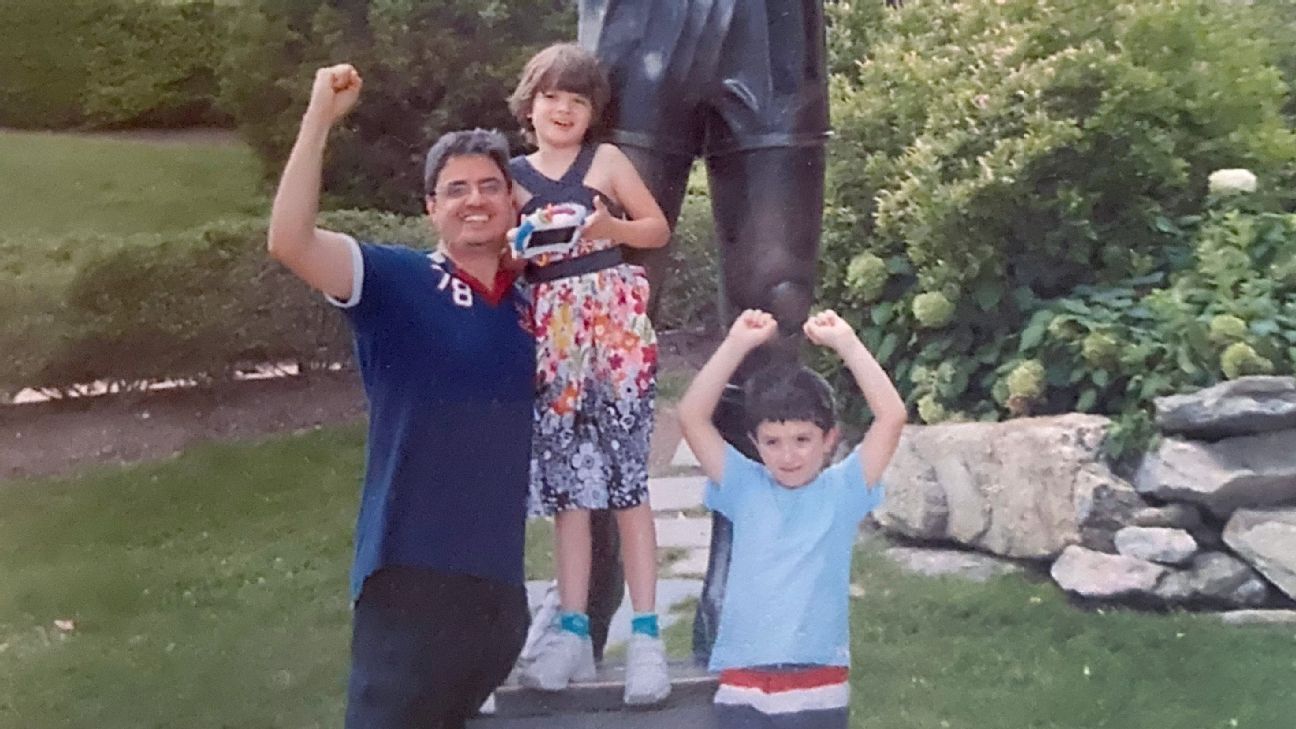 Peter Dinoris and his family live in Brisbane, Australia, some 9,500 miles — or close to a half-world away — from Philadelphia. Yet they are massive Philadelphia Eagles fans. How could they not be? The Eagles play in the city where the breakthrough happened, and champion a cause that couldn't hit closer to home.
Like many tourists, Dinoris wanted to run the "Rocky" steps at the Philadelphia Museum of Art with his daughter, Leah, and son, William, when they first came to town eight years ago. William is a big fan of boxing as well as the iconic "Rocky" movies, so the touristy trip to Philly made sense while mom, Brenda, was in Ohio attending a conference centered on autism.
So Peter booked a private tour that wound through the streets where fictional character Rocky Balboa (played by Sylvester Stallone) roamed in the movie. The tour culminated at the art museum. Peter warned the tour guide the outing might be short-lived. Leah, 8 years old at the time, has severe autism. Previous stops on their trip to the United States did not go well without Brenda.
Leah was in the midst of a three-year period where looking into her father's eyes or simply hearing his voice sent her into extreme meltdowns. She would hit her head against walls or onto floors. That meant when Peter got home from work, he couldn't talk until Leah was in bed.
"William, my younger son, that poor kid, didn't hear me speak for three years unless we were out without her," Peter said. "It was a very difficult time."
But Leah loved the tour and instantly took to Philadelphia. With the day going so well, Peter decided to run up the steps while carrying her — Leah facing outward, of course, so there would be no eye contact — and she laughed and joyfully kicked her legs the whole way. When they got to the top, Peter took a chance and turned Leah around.
She kissed him.
"And she doesn't give kisses," Peter said. "I was crying, staring at the city.
"I thought: 'We're going to have a relationship. Things will change.' I actually felt like a dad at that moment, which was a really deep, deep feeling."
A big NFL fan, it was only natural to adopt the Eagles as his own. As fate would have it, his new favorite team created the Eagles Autism Challenge in 2018 — a biking/5K/sensory walk fundraising event — and the Eagles Autism Foundation in 2019, which has helped raise more than $9 million for autism research and care.
The Dinoris family has become one of its top donors through grassroots efforts in Australia, where they have called on local celebrities, sent hundreds of emails and have even purchased billboards to help spread the word. The family raised about $24,000 for this year's Autism Challenge, which originally was scheduled for May before being moved to Sept. 26. They had planned to visit from Australia to participate in the festivities, but like many things, it was held virtually because of the coronavirus pandemic.
The Eagles still managed to raise more than $3 million for autism research and care through this year's event, thanks to donors from 14 countries, nearly 3,000 virtual participants and 284 fundraising teams.
"So the Eagles, what they're doing is raising substantial funds to get the research out there. When Leah was diagnosed back in those days, there was very little information around for autism, but now there's substantial amounts. And the research is getting quite technical now and it's improving the understanding of the children with autism. People's acceptance of them as well is very important — understanding and just loving them rather than being scared of them. So it's helped a long way not only for our family, but just for the community in general."
For Eagles chairman/CEO Jeffrey Lurie, the cause is personal. His younger brother, Peter, is autistic. Growing up, Peter was non-verbal so he and Jeffrey bonded through music, spending hours in the pool listening to Bob Dylan and the Beatles. Things changed when Peter suddenly began communicating his emotions through typing when he was in his 30s, revealing an ocean of thoughts and feelings that until then had been below the surface.
Stories like Lurie's and the ones shared by the Dinoris family are not unusual; in fact, they are becoming increasingly more common. According to the Center for Disease Control and Prevention, about 1 in 54 children have been identified with autism spectrum disorder, up from 1 in 150 in 2000.
"There are so many individuals around the world who share the same experiences as Peter and his family. I am one, as it has been part of my family's journey for over 60 years," Lurie said. "Being so close to it personally, you empathize with the Dinorises and with so many others who cope with the unique challenges that autism presents on a day-to-day basis. Leah is a wonderful daughter, sister and friend who brings great joy to everyone around her. As a community of supporters, we need to continue our mission of turning autism awareness into action for individuals like Leah and families everywhere."
Peter's relationship with Leah, now 16, has shifted dramatically since that initial trip to Philadelphia. Leah has only a handful of words, but two of them are "dad's girl." Peter called her "my best friend." She is a music fanatic, so Peter wrote a song about her titled "The Dizer," which is Leah's nickname. He convinced local artist Nik Phillips to compose and record the song, which actually made it onto Australia's Top 100 list, Peter said.
"We're very close now. She won't leave the house without me," he said. "She won't leave me alone now, which is the opposite, but I prefer this much better."
The research into non-verbal communication has helped remove barriers. Leah has learned to use cards and an iPad to express her wants and needs. Instead of trying to guess what she is thinking, the Dinoris family now knows.
One thing that comes across clearly: Leah loves football. Peter's son is a Dallas Cowboys fan, creating a division rivalry under their own roof, but Leah roots for the Eagles alongside her dad.
"She gets excited. We watched the Super Bowl [in 2018] together. She was very happy with that," Peter said with a laugh.
The family has returned to Philadelphia twice since the breakthrough on the "Rocky" steps in 2012 and on each occasion, the city has had a relaxing effect on her.
Leah has gotten to the point developmentally where the family feels she would be able to handle a walk with other people around, so they're very much looking forward to a return trip to participate in the Eagles Autism Challenge when circumstances allow.
"We still kept pushing to raise funds because that's the most important bit," he said, "and hopefully we'll make it one year."
Detroit Lions to roll with veteran Adrian Peterson as lead running back
Adrian Peterson had more snaps, rushes and yards than the rest of the Detroit Lions running backs combined Sunday. And based on what his offensive coordinator Darrell Bevell said Tuesday, it looks like the 35-year-old future Hall of Famer might end up being the lead back for the club for the immediate future as well.
Peterson played 40 snaps in the Lions' 26-23 victory against Arizona on Sunday, getting 22 carries for 75 yards along with one catch for 10 yards. That followed two weeks of a committee approach between Peterson, Kerryon Johnson and D'Andre Swift.
"It's not anything that those guys are or aren't doing," Bevell said. "We're just trying to, again, accentuate their positives and put them in positions to be successful. You saw Swift. His plays were a little bit down. We want to keep those up and get him more involved. The one play he catches, he has a nice catch-and-run, looks fast, looks explosive.
"It's just continuing to manage those guys and putting them in the best situations."
Those situations come with Peterson atop the depth chart. Detroit signed Peterson after he was released by Washington on Sept. 4. He said he had a opportunities to go to a couple of teams in the league, but he chose the Lions because of an opportunity to play again with Bevell, who was his offensive coordinator at the start of his career in Minnesota.
So far, Peterson has averaged 4.9 yards per carry (43 attempts, 209 yards). Johnson has averaged 3.4 yards (18 attempts, 62 yards), while rookie Swift is averaging 2.5 yards (8 attempts, 20 yards).
Bevell did praise Johnson on Sunday, calling him the "player of the game" due to his pass protection pickup and the small nuances that led to Jesse James' touchdown reception. But it appears Johnson, who has been Detroit's lead back when healthy the past two seasons, might not touch the ball as much as he has in the past.
The question now might be whether or not the Lions have to manage Peterson's workload. He's already played in 167 career games, carried the ball 3,079 times for 14,425 rushing yards. Plus, he's at an age where most running backs are retired or playing a much less significant role.
"I've told you, this guy is a freak of nature now. I don't know where that wall is or where he's going to hit it. The guy is always asking for more," Bevell said. "He is in great shape. He takes care of his body. He does all those little things to set himself up for that success.
"I don't know when it's going to happen, but he wants [the ball], we want him to have it and we'll just keep continuing to go there and spell him with Kerryon, spell him with Swift and kind of go from there."
Running backs coach Kyle Caskey said he and Peterson have an open line of communication about his reps and if he needs rest. Caskey said any management, for now, is "a during the week thing," and on game day they are going to play the game.
"He'll tell me," Caskey said. "That's your answer right there. He'll tell me when he's had enough or when he needs a break. He's communicated well with me since he's been here. I don't think it's anything that I personally need to do to watch him.
"He will tell when he's feeling whatever you want to call it. He is that way. He's not scared to tell me anything, so it's really good. It's a really good coach-player relationship we have with everything."
Eagles' Doug Pederson must 'unclutter' Carson Wentz's mind, and his own – Philadelphia Eagles Blog
Philadelphia Eagles coach Doug Pederson thinks he has found a way to get quarterback Carson Wentz out of his funk, one that has the team sitting at 0-2-1.
To "unclutter" his QB's mind, Pederson signaled he will simplify the game plan so Wentz, who has been one of the worst quarterbacks in the NFL statistically through three games, has less to wade through pre-snap. The Eagles will also run more up-tempo offense as part of a greater effort to get Wentz to play quicker and more freely by leaning on methods that "have been successful in the past."
But, Pederson needs to apply that same back-to-basics logic when it comes to his own performance, too.
» News: Pederson backs Carson Wentz
» Column: Eagles played to not lose, or win
» Graziano: How bad is the NFC East?
» More: Eagles' depth chart, schedule
He has strayed off course and away from some of his guiding tenets early in the season. That fact was crystallized late in overtime against the Cincinnati Bengals Sunday when he elected to punt on fourth-and-12 from the opponent's 46-yard line with 19 seconds remaining, settling for a 23-23 tie rather than giving his offense a chance to go for the win.
There was confusion between plays, as the Eagles' punt team ran on the field, then started running off before a delay of game was called. If that wasn't proof enough Pederson wasn't sold on the decision, his postgame comments hinted at immediate regret, which he confirmed Monday morning.
"Looking back, you probably put it in your quarterback's hands to win the game," he said.
How did we get here? How does the same coach who dialed up the Philly Special in Super Bowl LII against the New England Patriots — a coach who has finished either first or second in fourth-down attempts every season since becoming Philadelphia's leader — wave a white flag in a regular-season game against the stinkin' Bengals (0-2-1)?
One could point to the situation or a lack of confidence in Wentz and the Eagles' offense to get the job done, but however it is framed, the move by Pederson remains out of character. And Pederson, more generally, just hasn't seemed himself.
It's likely one of the coach's greatest strengths — the ability to put ego aside in the name of collaboration — is working against him. There were a lot of cooks added to the kitchen this offseason as Eagles owner Jeffrey Lurie looked to spice up an offense that had become too plodding and predictable. The front office influenced Pederson to part with offensive coordinator Mike Groh and receivers coach Carson Walch. A number of newcomers were added, including senior offensive assistant Rich Scangarello, pass game analyst Andrew Breiner and senior offensive consultant Marty Mornhinweg. Quarterbacks coach Press Taylor got a title bump to pass game coordinator and took over many of Groh's responsibilities.
Pederson was at his best when he had former offensive coordinator Frank Reich as the primary voice in his ear. The coaches who have come on board in Philly all have solid reputations, but when you have that many people speaking, it's a lot of opinions to sift through and fuse together, with an increased chance of being pulled in multiple directions.
Not to mention the opinions of Wentz, who has had a growing influence over how this offense is shaped. A lot of that is for good reason: Wentz has a bright football mind by all accounts, he has gained experience, and you naturally want your quarterback to be comfortable with the plays he is running.
But it feels like Pederson has let things float a little too far away from him. The offense needs to be tailored to the QB and built out to fend off predictability, yes, but it also needs a core identity, and the Eagles' identity is very hard to detect at the moment.
Pederson is the only coach in the history of this franchise to lead the Eagles to a Super Bowl title. And yet there has been no whiff of a power grab. He continues to foster collaboration and allow others to put their fingerprints on things, even when those hands are arguably overreaching. That tactic has generally served this franchise well.
There is also a point where some pushback is needed to preserve what has been built and to get all boats pointed in the same direction. That time has arrived for Pederson. If that means reducing Wentz's creative control and coaching him tougher, so be it. If that means identifying the voices he trusts and tuning out the ones that don't sync up, fine.
The time is now to reestablish his reputation as a "freakin' phenomenal playcaller" and reassert himself as the league's gutsiest coach — the guy who would scoff at the notion of punting for a tie.
All of that is going to happen only if he reclaims the space he has rightfully earned.