Johnny Manziel — I'll play in CFL if NFL not interested
COLLEGE STATION, Texas — Johnny Manziel said that he'll try his hand in the Canadian Football League if he doesn't get an opportunity with an NFL team this offseason.
The Heisman Trophy-winning quarterback, who performed at Texas A&M's pro day on Tuesday in front of NFL coaches and scouts, said he's continuing to work in the hopes that a team will come calling, but he isn't focusing on it day to day.
"I've blocked it off," Manziel said. "I can't do anything, I can't stress about it, all I can do is make sure I'm where I need to be. … All I can do is block it off. If something [with the NFL] pops up, it pops up. And if not, if I don't get the opportunity to go back, I'm going to go play in the CFL, and things are going to be fine.
"One way or another, one day down the line, I'll get back to exactly where I want to be, because I'm not going to stop until I do."
If Manziel, a former NFL first-round pick whom the Cleveland Browns cut after two seasons, does go the CFL route, the Hamilton Tiger-Cats currently hold his rights.
The latest stop on Manziel's #ComebackSZN tour (the moniker for his attempt to make it back to the NFL) landed in Aggieland, his old stomping grounds where he once participated in a highly publicized pro day four years ago.
He threw to several of Texas A&M's current NFL hopefuls — including receiver Christian Kirk — on Tuesday in Texas A&M's McFerrin Athletic Center during his second pro day in as many weeks. (Manziel threw at the University of San Diego's pro day last week.) Representatives from all 32 NFL teams, as well as two CFL teams (Montreal Alouettes and Saskatchewan Roughriders), were on hand to watch the pro day. There were 47 coaches and scouts from NFL or CFL teams present.
While it wasn't quite the circus that his first A&M pro day was (which included full pads, music and a former U.S. president), there were still plenty of eyeballs, including those of former Texas A&M stars and current NFLers Mike Evans and Myles Garrett.
"He's young. His talent is still there," Evans said of Manziel.
Evans said he "absolutely" believes Manziel will get back to the NFL.
"Why not? You've seen some of the quarterbacks and what they've done," Evans said. "He's better than a lot of quarterbacks out there."
Evans later added: "I think he's a starting quarterback in the NFL."
Manziel said he is next heading to Austin, Texas, to compete in The Spring League, a developmental football league for NFL hopefuls that will play NFL-rules, full-contact games on April 7 and April 12.
"Being there, doing the film stuff, getting back into the real football stuff — not just coming out and throwing and working out, that's great, that's a part of it, that's step one — then there's the film, the coverage, there's everything else that comes with being in the building," Manziel said. "That's what the spring league gives me a little bit of. A practice setting."
Manziel said he hasn't set a timeline on how long he'll wait for an NFL opportunity before considering going to the CFL.
"I've been focused to get through tomorrow," Manziel said. "To get to the first day of practice and get to the Spring League … I think we'll feel it out as it goes after The Spring League and see. The quarterback market itself has to play itself out. There are still a bunch of guys who are unsigned."
Manziel, who has had well-documented alcohol and substance abuse issues in recent years, noted that he feels that he's in a good place mentally.
"I can't do what I want to do footballwise if I don't do what I need to do mental healthwise," Manziel said. "If I'm not going to see a psychiatrist and a psychologist at least a couple times a week and if I'm not taking my medicine every day that I need to take, then I'm not the same person, and I see it. So first things first. I can't be me without doing the necessary steps that I need to do to keep my head right.
"It took me a while to really overcome that and get to where I was comfortable with it, but once I did, I started seeing an improvement in all aspects of my life. The people that I have around me … I have a good team around me, and I've cut off a lot of the leeches that have been around me in my life, and it was really needed and really necessary."
Biggest Week 3 injury questions for all 32 NFL teams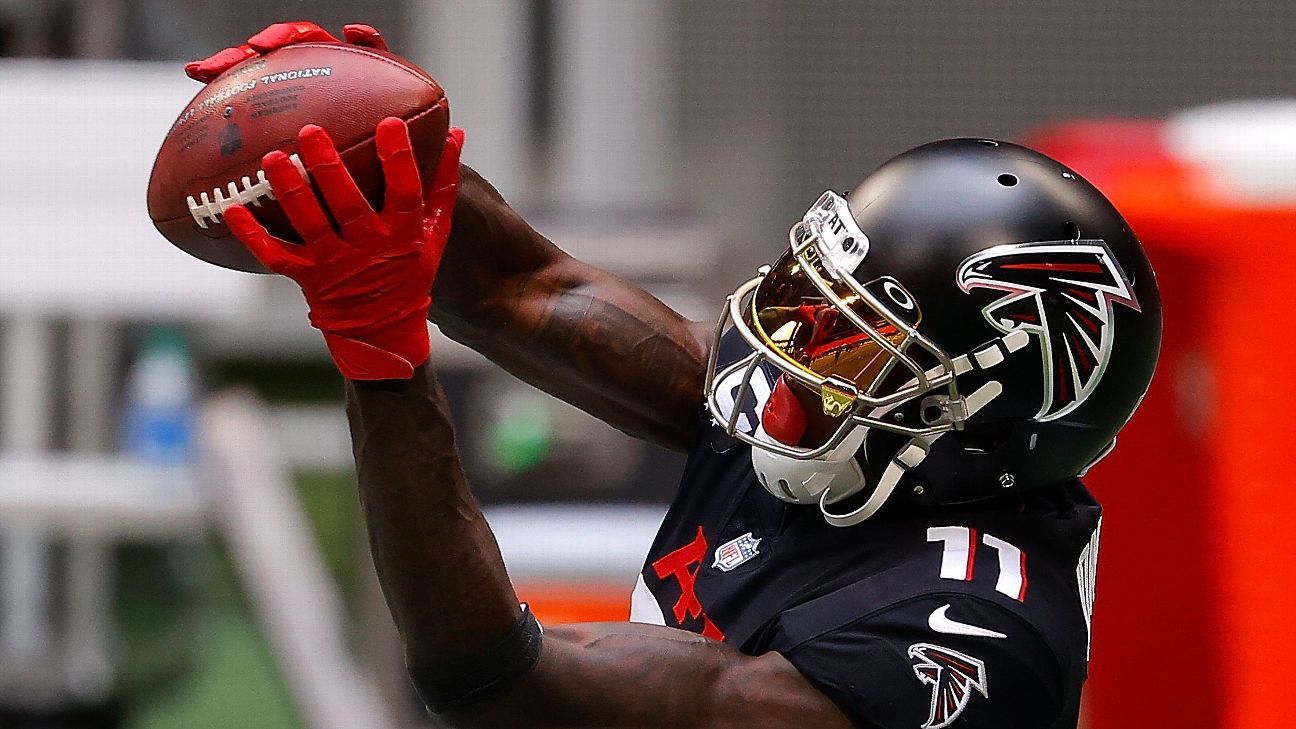 The 2020 NFL season heads into Week 3 highlighted by a matchup of undefeated AFC powers in the Baltimore Ravens and the Kansas City Chiefs on Monday Night Football (8:15 p.m., ESPN).
The Chiefs might be without Darrel Williams (ankle), their best power running back, while Ravens offensive tackle Ronnie Stanley is nursing hip and ankle injuries.
Elsewhere, the status of a pair of star receivers is in doubt with the Green Bay Packers' Davante Adams (hamstring) and the Atlanta Falcons' Julio Jones (hamstring) nursing injuries. The injury-ravaged San Francisco 49ers likely won't get quarterback Jimmy Garoppolo (ankle) back for their game against the New York Giants, but tight end George Kittle might return.
Here's a look at the biggest injuries for every team:
Jump to:
ARI | ATL | BAL | BUF | CAR | CHI | CIN
CLE | DAL | DEN | DET | GB | HOU | IND
JAX | KC | LAC | LAR | LV | MIA | MIN
NE | NO | NYG | NYJ | PHI | PIT | SF
SEA | TB | TEN | WSH

AFC EAST

Are Tremaine Edmunds and Matt Milano healthy enough to play? The Bills were gashed by the Dolphins in the middle of the field in Week 2, in large part due to the absences of their two starting linebackers. Both players were at practice Wednesday — a positive sign with Cooper Kupp, Robert Woods and Tyler Higbee coming to town on Sunday. Buffalo will need all hands on deck to control the Rams' passing attack. — Marcel Louis-Jacques
---

CB Bryon Jones (groin/Achilles) is out for Thursday's game against Jacksonville and the Dolphins are also dealing with CB Xavien Howard being bothered by a knee injury. Rookie first-round pick Noah Igbinoghene likely will start in Jones' place. It's not a good time to have issues in the secondary because the Jaguars are averaging 294 yards per game passing and QB Gardner Minshew ranks in the top 10 in completion percentage and passer rating. — Michael DiRocco
---
Starting center David Andrews missed Wednesday's practice with a hand injury. He's been solid the first two weeks of the season, and his potential absence would be a setback Sunday. "He's the piece that holds it all together," starting left tackle Isaiah Wynn said. — Mike Reiss
---
The Jets have major issues at wide receiver. Breshad Perriman (ankle) is expected to miss two games. Jamison Crowder (hamstring), who sat out last week, is a question mark. It leaves Chris Hogan, Braxton Berrios and Josh Malone as their starting three, which could make for another long day for QB Sam Darnold. — Rich Cimini

AFC NORTH

The Ravens didn't practice, so there was no official injury report for Monday's game against the Kansas City Chiefs. The most high-profile injury is OT Ronnie Stanley, who played last week despite dealing with hip and ankle injuries. Asked about his status for Monday's game against the defending Super Bowl champions, Stanley said Wednesday, "It's going to take a lot to keep me out of this one." — Jamison Hensley
---

Will the Bengals regain the services of Geno Atkins and Mike Daniels against the Eagles? Last week, the absence of the two defensive tackles was very notable as the Browns racked up 215 rushing yards. If the Bengals are without both again, shoring up the rush defense could be a big problem. And if that happens, that will also affect the Bengals' pass rush, which has also struggled through the first two weeks. If neither player can practice by Thursday, it's hard to see either playing in Philadelphia. — Ben Baby
---

After sitting out Week 2 with an ankle injury, right tackle Jack Conklin said he expects to be 100% again by the end of the week and will play against Washington's talented defensive line. — Jake Trotter
---
David DeCastro is back at practice, but will he play in Sunday's game against the Texans? The veteran guard practiced for the first time since training camp on Wednesday, but he was sporting a hefty brace on his left knee. Earlier in the week, coach Mike Tomlin said DeCastro's participation this week would be their guide for his availability. If DeCastro has any setbacks the Steelers showed last week they have a solid backup in rookie Kevin Dotson, who didn't allow a sack. — Brooke Pryor

AFC SOUTH
Matthew Berry explains that Gardner Minshew going up against the Dolphins' defense gives fantasy managers a better shot at winning than Deshaun Watson, who will be facing the Steelers.
Texans defensive end J.J. Watt played only 68% of defensive snaps in Week 2 because he was dealing with a groin injury last week. "As the game kind of got away from us at the end, just being very smart about what had to be handled moving forward," Watt said. He felt "great" at practice on Wednesday and said his groin "feels much better this week than it did last week." — Sarah Barshop
---
Tight end Jack Doyle continues to be out with a knee and ankle injury. Coach Frank Reich has yet to go into any details on when he expects Doyle back. The good news for the Colts is that Mo Alie-Cox is coming off a career game against Minnesota as Doyle's replacement. Alie-Cox had five catches for 111 yards against the Vikings to show that he's capable of continuing to fill in as the starter. — Mike Wells
---
C Brandon Linder (knee) and K Josh Lambo (left hip) are out for Thursday's game. The Jaguars do have experience behind Linder in Tyler Shatley. He has started 15 games in seven years with the Jaguars. However, the Jaguars are going with rookie Brandon Wright to replace Lambo. Lambo has made 95% of his field-goal attempts in his four seasons with the Jaguars. — Michael DiRocco
---
The Titans managed to score 33 points without WR A.J. Brown last week. Brown was limited in practice last Wednesday before being held out of practice the rest of the week and ruled out for Week 2. Brown missed his third consecutive practice on Wednesday due to a bone bruise. If Brown is unable to go on Sunday, the Titans will have to rely on a more balanced attack against the Vikings. — Turron Davenport

AFC WEST
What will the Broncos do to adjust to the short-term loss of quarterback Drew Lock (shoulder), who they built an entire offseason plan around on offense? Jeff Driskel, who played 64 of the Broncos' 77 snaps on offense in last week's loss to the Steelers, will get the start against Tampa Bay. He is fairly mobile, but they may have to adjust in pass protection or they'll be replacing Driskel as well given they surrendered seven sacks and 19 quarterback hits against the Steelers. The Broncos should give Driskel snaps in two tight end looks and add rollout and play-action to slow the Buccaneers' defensive front. — Jeff Legwold
---
The Chiefs protected veteran RB DeAndre Washington on their practice squad this week, an indication they don't feel backup Darrel Williams will be ready to go on Monday night against the Ravens. Williams injured his ankle last week. The Chiefs also have starter Clyde Edwards-Helaire and backup Darwin Thompson but they have no one else quite like the 224-pound Williams, their best power runner. In his third season with the Chiefs, Williams has seniority over the other backs and the trust of the coaching staff in all situations. — Adam Teicher
Stephania Bell explains that Josh Jacobs looked good after returning to the game against the Saints and that she isn't overly concerned about an injury limiting him in Week 3.
Raiders trainers put in a lot of work on Josh Jacobs during the home opening-win against the Saints Monday night. With the second-year running back missing practice on Wednesday with a hip issue, alarm bells are ringing. Yes, quarterback Derek Carr is in control of the offense and tight end Darren Waller is a force who also sat out practice with a knee issue. But the offense flows through Jacobs. If he cannot go on a short week in New England, they turn to Jalen Richard, who is more a change-of-pace pass-catching back, and Devontae Booker, who has a lot to prove in the Raiders system. — Paul Gutierrez
---

Quarterback Tyrod Taylor will not start because of a chest injury and a pain-killing injection that accidentally punctured his lung. Rookie Justin Herbert will make his second straight start. — Shelley Smith

NFC EAST

The Cowboys will be challenged at cornerback this week with starter Chidobe Awuzie expected to miss a couple of weeks with a hamstring strain. The Cowboys lost Anthony Brown last week to broken ribs suffered in practice. Daryl Worley took over for Awuzie last week vs. Atlanta but it is possible Brandon Carr could also see some action at cornerback although his focus had been at safety since signing prior to Week 1. In training camp, Worley played both cornerback spots as well as the nickel spot and safety. His versatility is a plus but now he likely will be counted on as the right cornerback. — Todd Archer
---

The Giants have injury concerns but not really for this week. Star running back Saquon Barkley (knee) is out for the season and WR Sterling Shepard (turf toe) landed on injured reserve. That will keep him out at least three weeks. The only players on this week's injury report are reserve safety Adrian Colbert (quad) and rookie outside linebacker Carter Coughlin (hamstring). Colbert was limited at Wednesday's practice and Coughlin was a full participant. — Jordan Raanan
---

Rookie receiver Jalen Reagor will be sidelined multiple weeks with a UCL tear in his thumb. That puts the onus on JJ Arcega-Whiteside and fellow rookie John Hightower to produce. The Eagles lean on two tight end sets more than any team in the NFL, and that certainly won't change now. — Tim McManus
---
Washington receiver Steven Sims, who doubles as a returner, missed practice with a toe injury suffered in Sunday's loss at Arizona. It's uncertain how bad the injury is at this point, but it's certain that if he misses time it would be tough to replace him. Sims has caught six passes for 103 yards. Also, Washington lacks legitimate receiver depth. There are options, including Terry McLaurin, who could move inside more while rotating others at the spot. Washington can also incorporate the running backs more in the pass game — Antonio Gibson and J.D. McKissic can run routes from this spot. Still, if Sims is lost, it's a blow. — John Keim

NFC NORTH

The Bears have stayed relatively healthy, but veteran outside linebacker Robert Quinn's (ankle) snap count is worth monitoring in Week 3. Quinn, who was inactive in Week 1, played just 25 of 65 total defensive snaps against the Giants. Quinn finished the game with a sack and forced fumble. "He's got really long arms, and he cuts that leverage down," Bears coach Matt Nagy said. "Robert has that bend going around the edge and stays so low. It's hard for tackles and then he has some counter moves off of that." The Bears ideally want to pair Quinn with Khalil Mack as much as possible. Mack played 54 snaps against the Giants.— Jeff Dickerson
---
With Kenny Golladay returning to practice Wednesday and seemingly on track to play barring a setback, the main concern for Detroit has to be its No. 1 cornerback, Desmond Trufant. He didn't work out Wednesday — his fourth straight missed practice — and on a defense struggling against the pass, he is needed. Detroit would likely again go with Amani Oruwariye and Jeff Okudah if Trufant can't play. — Michael Rothstein
Field Yates, Matthew Berry and Stephania Bell discuss the severity of Davante Adams' injury, and they delve into the streaming options should Adams miss any time.
Davante Adams says it's "too early to tell" whether his hamstring injury will be healed enough to play Sunday against the Saints. Adams wanted to go back into last Sunday's game against the Lions but coach Matt LaFleur held him out with the Packers up big in the second half. Adams did not practice Wednesday but said in hindsight not returning against Detroit was the right call. "It's feeling better," Adams said. "I think we're making good progress every day. But we're just going to wait it out and see. It'll probably be a decision that's made later in the week most likely, just to get a full assessment, give me the full amount of time I need to get right." Remember, as valuable as Adams is to the Packers' offense, they went 4-0 without him last year when he had a turf toe injury. — Rob Demovsky
---

Injuries are piling up on Minnesota's defense. Cornerback Cameron Dantzler (ribs), who did not play in Indianapolis after missing three days last week, was absent from Wednesday's practice along with Mike Hughes, who has a neck injury. With linebacker Anthony Barr on injured reserve, the Vikings want to expand Troy Dye's role, but the rookie is dealing with an injured foot that kept him sidelined on Wednesday. If Dye can't play, it appears Hardy Nickerson Jr., who was called up from the practice squad, could be in line as the No. 3 linebacker. — Courtney Cronin

NFC SOUTH

Star wide receiver Julio Jones did not practice Wednesday after straining a previously injured left hamstring during last Sunday's loss at Dallas. Falcons coach Dan Quinn said they will take it all the way through the week with Jones to determine his availability. Jones said he couldn't run like he wanted to against Dallas, but he fought through it. Jones typically fights through injuries, but this is worth keeping an eye on. If for some reason he can't play against the Bears, the Falcons and Matt Ryan would rely more on receivers Calvin Ridley and Russell Gage as well as tight end Hayden Hurst. The Falcons might have to run the ball more anyway with Todd Gurley against Khalil Mack and the Bears defense. — Vaughn McClure
---

Everyone knows star running back Christian McCaffrey (high ankle sprain) is out 4-6 weeks, so the attention returns to the defensive front and tackle Kawann Short. Short (foot) was on the field in sweats for Wednesday's practice and coach Matt Rhule is encouraged enough to think the two-time Pro Bowl selection could be ready for the Chargers. The Panthers need Short next to first-round pick Derrick Brown to help a defense that has an NFL-low zero sacks and six pressures. — David Newton
---
Receiver Michael Thomas' status remains uncertain after he missed last week's game with a high ankle sprain. The team didn't practice Wednesday, but they listed Thomas as a DNP on their "estimated" injury report. We'll learn more when they actually practice on Thursday and Friday. This week would be a surprisingly-early return from that type of injury. But the Saints didn't place Thomas on injured reserve, which means they hope he can miss less than three games. — Mike Triplett
---
The Bucs are actually in much better shape with injuries compared to the last two weeks. Pro Bowl wide receiver Chris Godwin cleared the concussion protocol Monday and is expected to play in Denver, while their other Pro Bowl wideout, Mike Evans, is no longer even on the injury report with a hamstring injury. — Jenna Laine

NFC WEST

Christian Kirk missed Wednesday's practice with a groin injury that he suffered Sunday against Washington that, at the time, coach Kliff Kingsbury said was just "a little tightness." But Kirk wasn't in uniform on Wednesday and was seen working out on the side with a trainer. If he can't play against the Lions this week, the Cardinals will have the option of using either Trent Sherfield, Andy Isabella or KeeSean Johnson, who's returning from the reserve/COVID-19 list. — Josh Weinfuss
---
Rookie running back Cam Akers separated rib cartilage in the opening series of a Week 2 win over the Eagles and is now considered day to day, according to Rams coach Sean McVay. Through two weeks, Akers has been the starter, but he's playing in a rotation with Malcolm Brown and Darrell Henderson. If he is unable to play Sunday, look for Brown or Henderson to start, but expect that carries will continue to be shared. — Lindsey Thiry
Stephania Bell updates the status of a bevy of injured 49ers and says guys such as George Kittle and Jimmy Garoppolo might decide to not play on the turf at MetLife Stadium.

The 49ers have many injury questions right now but with it looking increasingly unlikely that quarterback Jimmy Garoppolo (ankle) will play against the Giants on Sunday, all eyes turn to tight end George Kittle and his sprained left knee. Kittle was limited in practice Wednesday and will be evaluated as the week goes on. In normal circumstances, Kittle would probably be able to return this week but given the 49ers' concerns about the artificial surface at MetLife Stadium, they might opt to err on the side of caution and hold him out another week. — Nick Wagoner
---

Defensive end Rasheem Green has yet to be cleared from the neck stinger that forced him to miss Seattle's win over New England last week, so his status for Sunday's game against Dallas is up in the air. "He's not feeling that bad but he's still got a little something going on that we've got to wait through it and see which day it turns," coach Pete Carroll said. Green's iffy status is magnified by the loss of Bruce Irvin to a season-ending knee injury. — Brady Henderson
Vacuum the floor? Workout at 5 a.m.? Cardinals' bolder Kyler Murray stays humble – Arizona Cardinals Blog
TEMPE, Ariz. — There are parts of Kyler Murray's life that are well known. The Arizona Cardinals' franchise quarterback has been in the spotlight since he was a sophomore in high school. He's a Heisman Trophy winner, a first-round draft pick in two sports and a rookie of the year.
But there are other parts of his life that very few people know, such as the fact that he's a clean freak.
In May, Geno Pierce — the CEO of Performance Course, the gym Murray has trained with in his hometown of Allen, Texas, since high school — tweeted a video of Murray vacuuming the gym floor with the caption: "You want a role model @K1 is the all timer. Most have no idea the level of character this guy is. He inspires me! He cleans our place after training at 5:30 am. R you kidding me?! This dude is THE GUY on all levels. Humble and down to earth as they come. #realrolemodel."
My guy!💪🏽 https://t.co/1uDabrkM7A

— Kyler Murray (@K1) May 25, 2020
Moments such as that reveal a lot about a person. That kind of humility has defined Murray even as he has begun to shed his reputation for being soft-spoken and quiet and has become more vocal by the day with teammates.
When Murray talked about the vacuuming during a video conference call in May, he said there were "some bugs" on the carpet.
"What it really is, he's very OCD — he's super clean — and I get it because I am, too," said Stephen Baca, Murray's trainer, who clarified that there was just one fly. "But when he walks in, he hand sanitized six times. He's got his gloves on. He's not touching the weight unless he sprays it down.
"I mean, we don't fist bump. He wore gloves the first three months. Like, he's just clean."
When Murray didn't want to get on the floor to do some hip mobility movements following the fly's departure, Baca told him he had one option.
"I literally told him to go get the freakin' vacuum and vacuum if you want to," Baca said. "I'm not doing it for you. He ain't a first-round draft pick in that barn. He's just Kyler. He's not the rookie of the year. He's just a guy.
"And so, just shows you: He doesn't need anything fancy. He's not a prima donna, even though I give him a hard time for sometimes being one."
Murray has carried that kind of do-the-work mentality with him into his second season as the Cardinals' quarterback. Through two games, his 155 rushing yards are the most by a quarterback since Michael Vick opened the 2006 season with 175. Murray has a rushing touchdown and a passing touchdown in each of the first two games, and the Cardinals are 2-0.
'Comfortable in his role'
After spending last season trying to figure out life in the NFL — from defensive coverages to managing his free time to having teammates who are grown men and rely on him for a paycheck — Murray seems more mature now, wide receiver Christian Kirk said.
Murray organized and paid for a throwing session in Dallas with about 20 Cardinals teammates over the course of a few days this summer. He sent random text messages to teammates, wide receiver Larry Fitzgerald said, and joined others for lunches.
"He's a lot more open," Fitzgerald said. "I think he's a lot more comfortable in his role, and I think that was validated when his teammates voted him as a captain. He has done a great job of not just being a leader and letting his voice be heard. I'm really happy in the direction he's going."
Murray called being voted a captain a "great honor" and said it was a "huge deal for me." He wants his teammates to know that he cares about them, but he's also trying to lead by example. It's clear to Murray's teammates that he is different than he was last season.
Running back Chase Edmonds, who got close with Murray in 2019, quickly noticed how much more vocal Murray has become. It's a vast change from last season, when Edmonds said Murray "didn't say too much." The change started toward the end of 2019, Edmonds said, but Murray is "speaking up a lot more now" and is doing so in ways to motivate his team.
"He's going to grow with that as he gets older and as he gets more games under his belt and more wins under his belt," Edmonds said. "… It's good to see that in the early stages right now."
Brett Hundley, who was Murray's backup last season and is the team's third-string quarterback this year, said Murray "looks relaxed. He feels relaxed. He's playing relaxed. He's looking good."
It started showing in Week 1, when Murray led the Cardinals to a win over the defending NFC champion San Francisco 49ers. Coach Kliff Kingsbury saw Murray take a step against the Niners, as the Cardinals didn't take a lead until the fourth quarter.
"I don't know if we could have hung around last year," said Kingsbury, who has known Murray for eight years but said Week 1 was the proudest he has been of his QB. "I think that speaks to his maturity, his leadership, being able to hang in there mentally because it wasn't pretty early.
"That's the step we talked about taking."
Left guard Justin Pugh has seen the leadership part of being a quarterback — commanding a huddle, determining the pace of play, getting the call to his teammates, making adjustments at the line — become second nature to Murray.
Fellow offensive lineman D.J. Humphries, the Cardinals' first-round pick in 2015, added, "You can tell that he's not worried about anyone messing with him because he's a young guy. It's a lot easier to joke around with him. I'm a big joker. I like to play around. I think last year, he was so concerned with figuring everything out, he couldn't really tell when the O-line was being sarcastic and joking around with him. I think he's starting to figure that out a little bit more. He's picking back with us a lot. It makes it fun.
"It's been fun to see him become so much more personable."
Part of Murray's humility comes from his self-awareness.
"He knows who he is and what he is and what he's accomplished and what he has the ability to accomplish," Kingsbury said. "He keeps that to himself, and that's just who he is. He's not a very outward-spoken guy who's going to put a lot out there, but he is very, very confident, and he's very, very competitive.
"It's just the way he rolls."
'The kind of dude that he is'
In mid-March, as the coronavirus pandemic lockdown began, Murray was already entrenched in a weekly routine with Baca.
They met four days a week at 9 or 11 a.m. at Performance Course, keeping up a schedule that Murray began two weeks after the 2019 season ended, when he was named rookie of the year after throwing for 3,722 yards with 20 touchdowns and 12 interceptions.
But early in the pandemic, as the quarantine went into full effect, Performance Course had to close for most of a day to shoot instructional videos for its online platform as a way to continue driving at least one revenue source. Baca texted Murray that he could fit him in at 5 a.m. It wasn't an unusual request. Baca had made it clear to Murray over the years that he'd have to work out around Baca's schedule.
In March, Murray's response to Baca's text was the same: "OK, whatever you need."
Months later, Baca was still blown away by Murray's "level of flexibility" and "unentitlement."
"You get a guy that's that talented, like, he can easily say, 'Man, I'm the Rookie of the Year. I need to be there at 9 a.m. I'll come when I want to. You bend for me,'" Baca said. "But he understands the situation that we're in as a company, and he bends and makes concessions for us, and that's the kind of dude that he is."
One officer indicted by grand jury in Breonna Taylor killing
Athletes across multiple sports expressed frustration about Wednesday's grand jury decision in Kentucky not to move forward with charges against any officers for their roles in the death of Breonna Taylor.
A grand jury in Louisville indicted one police officer for shooting into neighboring apartments. Officer Brett Hankison was charged with three counts of wanton endangerment in connection to the police raid that resulted in the death of Taylor, a 26-year-old Black woman, on the night of March 13.
Neither the grand jury nor the presiding judge elaborated on the charges. Bond was set at $15,000 for Hankison.
The FBI is still investigating potential violations of federal law in the case.
Attorney Ben Crump, who is representing Taylor's family, tweeted that the charges involved "NOTHING for the murder of Breonna Taylor. This is outrageous and offensive!"
The WNBA dedicated its season to Taylor and the Say Her Name movement. Before the opening game of the WNBA season in July, the New York Liberty and Seattle Storm held a 26-second moment of silence. Taylor's name is on the back of WNBA jerseys and has been inked on shoes in both the WNBA and NBA.
"Sadly, there was no justice today for Breonna Taylor," NBPA executive director Michele Roberts said in a statement. "Her killing was the result of a string of callous and careless decisions made with a lack of regard for humanity, ultimately resulting in the death of an innocent and beautiful woman with her entire life ahead of her. Our players and I once again extend our deepest sympathies to her family and we vow to continue working in her honor and to always say her name."
After a $12 million civil settlement was reached between Taylor's estate and the city of Louisville last week, WNBA players again pushed for the officers' arrest.
"This is why police need to be defunded and ultimately abolished!" Liberty player Layshia Clarendon posted on Twitter. "We time and time again hope for a sliver of justice but why would we get that when the system is designed to protect the very folks that are murdering and terrorizing us. This isn't a bad apple, it's a rotten tree."
This is why police need to be defunded and ultimately abolished! We time and time again hope for a sliver of justice but why would we get that when the system is designed to protect the very folks that are murdering and terrorizing us. This isn't a bad apple, it's a rotten tree.

— Layshia Clarendon (@Layshiac) September 23, 2020
Disappointed & disgusted. My heart goes out to Ms Tamika Palmer & the rest of Breonna's family #JusticeforBreonnaTalyor

Please vote! Everyone!

— Sue Bird (@S10Bird) September 23, 2020
Not surprised just disappointed . We're sorry Breonna 💔

— Isabelle Harrison (@OMG_itsizzyb) September 23, 2020
My heart is with the family of Breonna Taylor right now. My god. This is devastating and unfortunately not surprising. Black and brown folx in this country deserve so much more. #BlackLivesMatter #JusticeforBreonnaTalyor #DefundPolice #RegisterToVote

— Megan Rapinoe (@mPinoe) September 23, 2020
The WNBA players' union called Wednesday's grand jury decision "offensive and outrageous."
"No one needs to live in the Commonwealth of Kentucky to understand this case," the players' union said in a statement. "We won't stop pressing for full transparency and full and complete justice. There are far too many questions left unanswered."
NFL players were allowed to wear a helmet decal with Taylor's name during season openers.
"If it was my sister or my mom or my dad — or, if I have kids one day, any of my kids — I'd be pissed off. Very pissed off," Washington quarterback Dwayne Haskins said Wednesday. "… The biggest thing with that case is understanding that life isn't fair. We have to understand you don't always get the things you want. It's really disappointing because justice should be served for her death, Breonna Taylor and this movement in general, this Black Lives Matter, and understanding the neglect of not only Black people but people of color in general.
"The injustices, police brutality and systemic racism and everything of that nature, it's bigger than just sports or politics or the color of your skin. It's how you treat people. I was always taught growing up from my mom and my dad, you treat people how you want to be treated. If I treat people how they've been treated, then no one respects that, and I wouldn't be where I am today. … We have to do better as a country and as a people."
NBA players have dedicated their postgame interviews to Taylor, and Los Angeles Lakers star LeBron James said in July that he wanted the officers "who committed that crime" to be arrested.
"It's just so demoralizing. It's so discouraging. I just keep thinking about the generation of American kids, of any color, is this the way we want to raise them? Is this the country we want to live in?" Golden State Warriors coach Steve Kerr said of Wednesday's news. "There's just so much violence. There's so much shooting. It comes in so many forms, whether it's school shootings or vigilantism or police brutality, neighbor to neighbor. There's just so much violence, and it's demoralizing when we can't be accountable or hold anyone to account for it.
"The really demoralizing thing is we have a really powerful movement that's happening. We have so many people who care about this country and so many people who want change and believe in equal justice for Black and brown communities, and yet we don't have it. It's such a tough hill to climb, but this long history of racism that we have in our country continues. And it continues in the form of this kind of violence, state-sanctioned violence, over and over again that we're seeing. And it's devastating."
The cops that murdered Breonna Taylor knew this is how it would play out from the moment it happened. They were never worried about justice being served.

— 🏁 Jamal Crawford (@JCrossover) September 23, 2020
I lived in the VILLE for three years of my life and it became another home to me, but wow what's happen? These are the charges you actually come up with? 😔🤦🏿‍♂️ Nothing to say but WOW SPEECHLESS!

— Montrezl Harrell (@MONSTATREZZ) September 23, 2020
I don't have many words right now…. but all I can say is I'm praying for the city of Louisville right now!!! 😔😔

— Donovan Mitchell (@spidadmitchell) September 23, 2020
Other NBA and NFL players took to social media to react to the grand jury news.
"The cops that murdered Breonna Taylor knew this is how it would play out from the moment it happened," Brooklyn Nets guard Jamal Crawford posted on Twitter. "They were never worried about justice being served."
Added LA Clippers forward Montrezl Harrell: "These are the charges you actually come up with? Nothing to say but WOW SPEECHLESS!"
"Breonna Taylor's killers getting off scot free without even a trial is exactly the systemic rot that people are protesting for," Los Angeles Chargers running back Justin Jackson posted on Twitter. "All those protests, all the outcry for justice, and can't even get a trial. Angry doesn't even come close to how im feeling. #BreonnaTaylor."
Houston Texans quarterback Deshaun Watson said he heard about the ruling from his teammates.
"Just crazy," Watson said. "… And I'll just speak more about that with my teammates and the people like that because right now this is definitely a football interview. But, yeah, it was just something that … it's just crazy, honestly."
Breonna Taylor's killers getting off scot free without even a trial is exactly the systemic rot that people are protesting for. All those protests, all the outcry for justice, and can't even get a trial. Angry doesn't even come close to how im feeling. #BreonnaTaylor

— Justin Jackson (@J_ManPrime21) September 23, 2020
Wow…can't even say I'm surprised on how they ruled the Breonna Taylor case…😓

— Davontae Harris (@wichkid) September 23, 2020
At a news conference Wednesday, Kentucky Attorney General Daniel Cameron said Hankison and the two other officers who entered Taylor's apartment announced themselves before entering and did not use a no-knock warrant.
"According to Kentucky law, the use of force by Officers [Jonathan] Mattingly and [Myles] Cosgrove was justified to protect themselves," Cameron said. "This justification bars us from pursuing criminal charges in Miss Breonna Taylor's death."
Protesters have consistently pressured the attorney general to act, and celebrities and pro athletes joined them in calling on the attorney general to charge the police who shot Taylor. At one point, demonstrators, including Texans receiver Kenny Stills, converged on his house and were charged with felonies for trying to intimidate the prosecutor. Those charges were later dropped.
After the grand jury's decision broke Wednesday afternoon, demonstrators who spent months calling for justice for Taylor resumed their protests, which appeared to be largely peaceful. Still, streets in downtown Louisville were cleared of cars and many businesses were boarded up well ahead of the announcement.
As the afternoon wore on, police in protective gear clashed with the growing number of protesters in some areas and used batons to push some of them down. Officers detained at least four people, who sat on the ground with their wrists bound behind them.
Taylor, an emergency medical worker, was killed at approximately 12:40 a.m. on March 13 after police served a search warrant on her apartment for a narcotics investigation. Taylor was not the target of the investigation and had no criminal record.
Her boyfriend, Kenneth Walker, opened fire when police burst in, and his shot hit Mattingly. Walker later said he was afraid that assailants were breaking in. Three officers responded with multiple shots, with six hitting and killing Taylor in her hallway.
Hankison was fired, and Mattingly and Cosgrove were assigned to administrative duties. Joshua Jaynes, the detective who sought the warrant, was reassigned. The police contend that they announced their presence before breaking in.
"The decision before my office as the special prosecutor in this case was not to decide if the loss of Ms. Taylor's life was a tragedy," Cameron said. "The answer to that is unequivocally yes.
"I understand that Breonna Taylor's death is part of a national story, but the facts and evidence in this case are different than others [involving police shootings]. If we simply act on emotion or outrage, there is no justice. Mob justice is not justice. Justice sought by violence is not justice. It just becomes revenge."
Haskins said he wanted to give himself a day to reflect on the grand jury decision and figure out what he and his teammates will do.
"People are dying every day, and it's very important for us, but we want to come to an actual change and figure out ways to resonate with people in the community," Haskins said. "People are looking at us and want our opinion and our perspective. We want to actually have something worth doing, not just doing it because it's easy to do.
"We want to do the best we can as the Washington Football Team to bring change throughout the country. It's just tough because you don't want anyone to die, and you don't want anyone to be killed, for that matter. And to be killed and not to have any justice be served is extremely disappointing. … I can't be insensitive toward this because I have family and friends who have been through this before. I've been through things like this before. It's tough. It's hard to deal with."
The Associated Press contributed to this report.