Pittsburgh Steelers GM: 'No ceiling' on Ryan Shazier's recovery – Pittsburgh Steelers Blog
ORLANDO, Fla. — Those close to Ryan Shazier have expressed major optimism over the past few months as the Pittsburgh Steelers linebacker continues recovery from a severe spinal injury. Pictures and videos circulating on social media show Shazier standing, attending various sporting events and doing pull-ups in a gym. And although Shazier uses a wheelchair, the expectation is he will eventually need it less and less.
That brings up Shazier's desire to play football again. The Steelers are supporting Shazier, who's due $8.718 million as part of his fifth-year option that's fully guaranteed for injury. Shazier will be with the team in a teammate/advisory role in 2018, but having him take the field for them in 2019 or beyond is a different conversation.
Asked how the team approaches Shazier's hopes to play again, Steelers general manager Kevin Colbert stressed he'll never place a cap on what Shazier can handle.
"There is no ceiling in Ryan's recovery. He aggressively approaches it every day," Colbert said. "We support him in every way possible in that endeavor. Where that leads, only he will know and he will determine further down the road. His approach, his mental approach. I can't tell you how impressive an inspiration he is to us."
Shazier works out in the team facility daily and also undergoes hours of rigorous rehabilitation with a Pittsburgh-based specialist. He's certainly not hiding, appearing all over town from Pittsburgh Penguins games to galas honoring late Steelers chairman Dan Rooney.
Shazier's attitude is infectious and can only help the Steelers next season, Colbert said.
"The kid had a devastating injury — his willingness to not only aggressively rehab but to put himself out there and ask for no pity, again that's all part of the recovery process that I think, he helps us as much as we help him," Colbert said.
What will Shazier's role be in 2019? The team won't project that far out, at least publicly. Colbert confirmed the team has the flexibility to extend Shazier's contract, although he was asked generally about it and didn't express it as a definitive plan. What's clear is the team wants Shazier around as much as possible this year, and if Shazier attempts a comeback in earnest, he wouldn't surprise Colbert.
Ryan Fitzpatrick enters record book in leading Miami Dolphins over Jacksonville Jaguars
It doesn't matter what jersey Ryan Fitzpatrick wears when he plays the Jacksonville Jaguars. Take your pick of a half-dozen different team uniforms. All of them have led to one result: victory.
Fitzpatrick on Thursday night became the first NFL player since at least 1950 to record at least one victory for six different teams against a single opponent, according to the Elias Sports Bureau. It was an accomplishment only Fitzpatrick could achieve. After leading the Miami Dolphins to a 31-13 victory at TIAA Stadium, the well-traveled quarterback has now defeated the Jaguars as a member of the Dolphins, Cincinnati Bengals, Buffalo Bills, Tennessee Titans, Houston Texans and New York Jets.
Fitzpatrick, 37, entered the NFL in 2005 as a backup for the St. Louis Rams. He has played for eight NFL franchises, fully one quarter of the entire league, and has had his way with the Jaguars at nearly every stop.
He got his first start against the Jaguars in 2008, defeating them 21-19 as a member of the Bengals. Thus began an odyssey that would take him through Buffalo, which he led to a 34-18 victory of the Jaguars in 2012. The Titans welcomed Fitzpatrick in 2013, and were feted to a 20-16 victory in Week 16 of that season. He led the Texans to a 27-13 triumph in 2014 and, as a member of the Jets in 2015, produced a 28-23 victory.
All of that practice against the Jaguars paid off Thursday night. Fitzpatrick produced history on a number of levels, completing his first 12 passes of the game — the highest total to start a game in his career. When combined with the nine consecutive passes he completed to end the Dolphins' Week 2 loss to the Bills, Fitzpatrick ticked off 21 consecutive completions over two games.
Overall, Fitzpatrick completed 18 of 20 passes for 160 yards and two touchdowns. He ran for a third score on a quarterback draw in the third quarter.
Jacksonville Jaguars' Cam Robinson ejected after making contact with official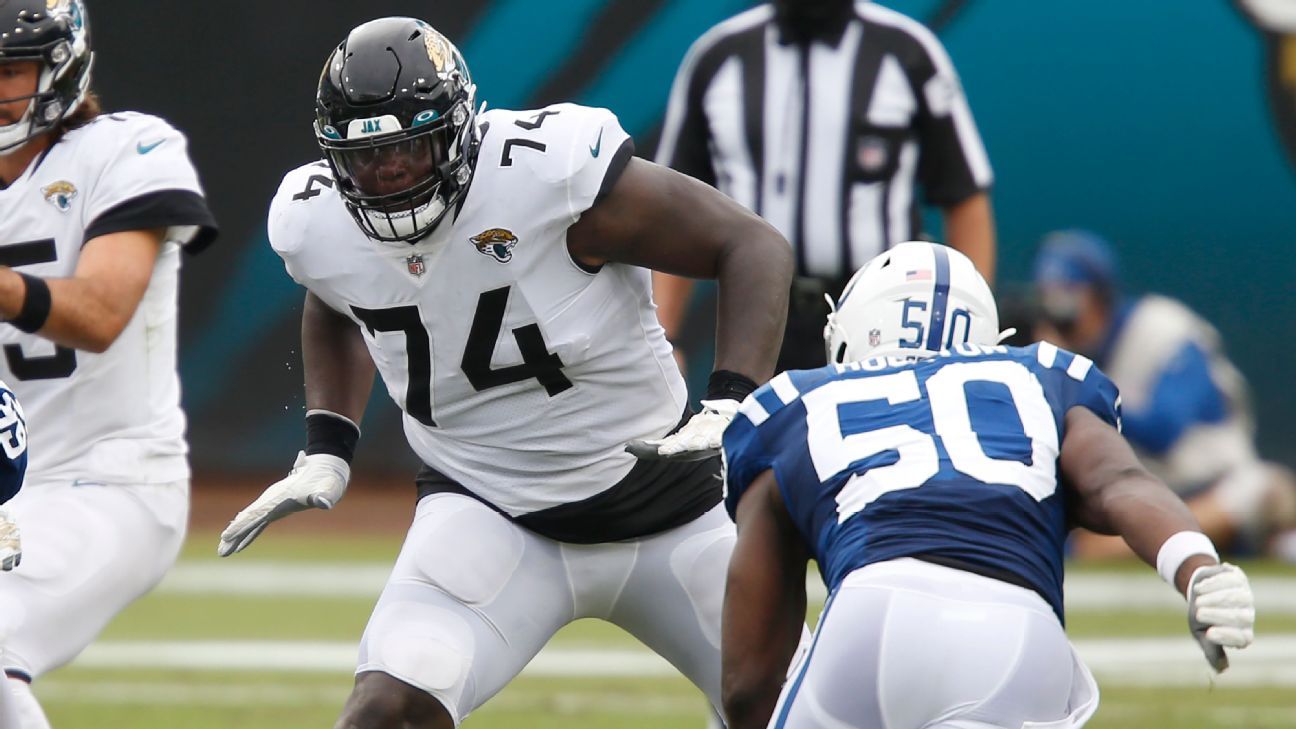 JACKSONVILLE, Fla. — Jacksonville Jaguars left tackle Cam Robinson was ejected late in the third quarter of Thursday night's game against the Miami Dolphins after he made contact with an official.
The foul occurred after Robinson attempted to recover quarterback Gardner Minshew's fumble. Robinson and down judge Danny Short were on the ground after the Dolphins recovered the ball and Robinson appeared to shove Short's arm.
Short immediately threw the flag. Robinson, the Jaguars' second-round pick in 2017, was penalized for unsportsmanlike conduct and ejected.
Will Richardson replaced Robinson on the Jaguars' next drive.
Jacksonville Jaguars' Leon Jacobs ruled out after injuring knee vs. Miami Dolphins
JACKSONVILLE, Fla. — Jacksonville Jaguars linebacker Leon Jacobs suffered a right knee injury early in Thursday's game against the Miami Dolphins and was ruled out for the rest of the night.
Jacobs, 24, has started two of the Jaguars' three games and had two tackles entering Thursday. He has started 12 games since the Jaguars drafted him in the seventh round in 2018.
Jacobs was hurt on the seventh play of the game, a 7-yard run by Miami's Myles Gaskin. Jacobs stayed on the ground for several minutes and was taken off the field on a cart.
Cassius Marsh, whom the Jaguars signed to a one-year deal in March, replaced Jacobs in the lineup.