New York Giants will sign former Miami Dolphins safety Michael Thomas to 2-year deal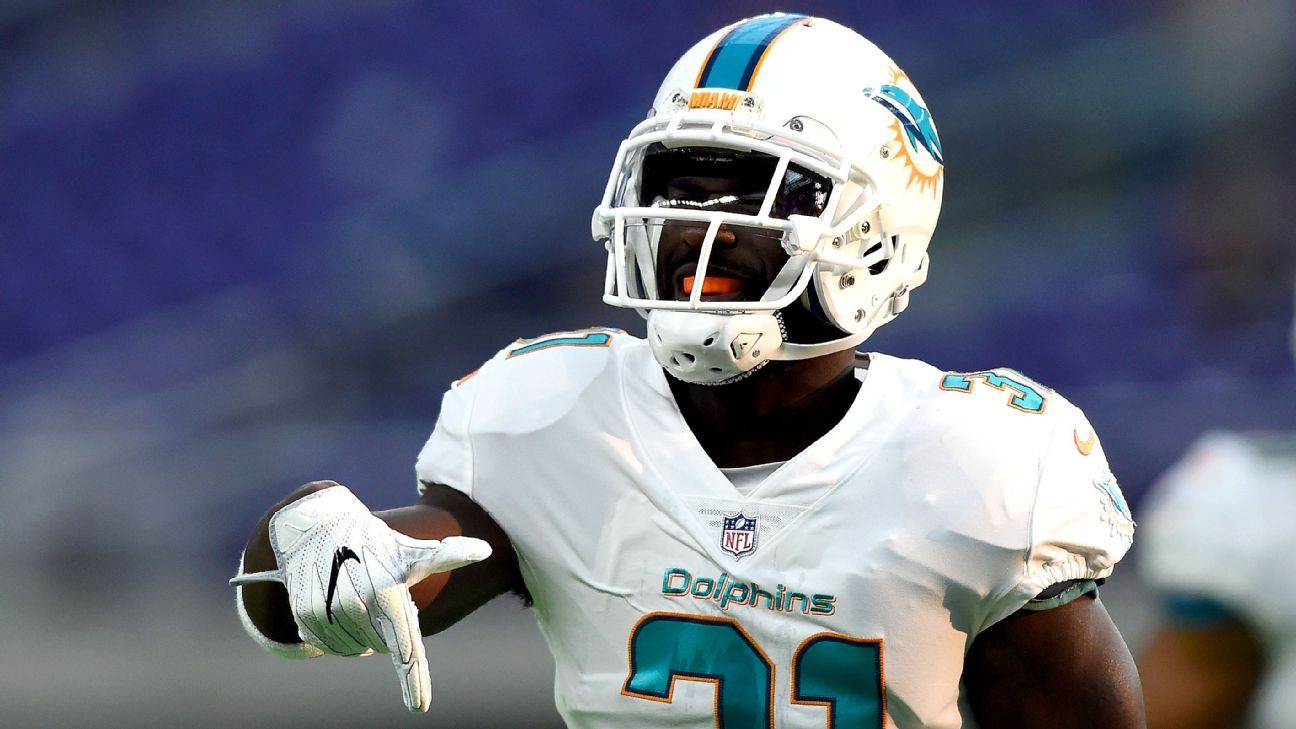 The New York Giants will sign former Miami Dolphins safety Michael Thomas to a two-year deal, a source told ESPN.
Thomas, 28, was a captain each of the past two years for the Dolphins.
Thomas was also one of several Miami players to protest social injustices for minorities by kneeling during the national anthem. The protests have been a topic of discussion this past week after notable free-agent safety Eric Reid said his involvement in them is the reason he still has not been signed.
Thomas began his career with the San Francisco 49ers as an undrafted free agent out of Stanford. The versatile defensive back — who can play both safety spots and nickel cornerback — has 25 career starts in his five seasons with the Dolphins.
Thomas also could improve the Giants' special teams coverage. His 55 special teams tackles over the past four seasons tied him for the league lead. He also led the Dolphins with 11 special teams tackles in 2017 and tied for the league lead with 19 special teams tackles in 2016.
Thomas comes to the Giants as a familiar face to defensive backs coach Lou Anarumo, who was his position coach in Miami. Anarumo joined the Giants this offseason after six seasons with the Dolphins.
The Giants were looking for a veteran safety this offseason to add to their defensive backfield, where Landon Collins and Darian Thompson were the starters. Thompson had his ups and downs in his first year as a starter, even though he played the most snaps out of anybody on the defense.
Dallas Cowboys an onside kick recovery away from being 0-3 – Dallas Cowboys Blog
The Mike McCarthy era with the Dallas Cowboys is not off to a rousing start. In fact, it has almost been disastrous.
If not for an improbable recovered onside kick in the fourth quarter in Week 2 against the Atlanta Falcons, the Cowboys would be staring at their first 0-3 start since 2001 with their 38-31 loss to the Seattle Seahawks on Sunday.
The last time the Cowboys were 0-3, they were a crumbling franchise with only running back Emmitt Smith remaining from the Triplets era in which three Super Bowls were won in the 1990s.
Entering 2020, these Cowboys were viewed by some as among the most talented in the NFL and a title contender with a Super Bowl-winning coach in McCarthy set to shepherd them back to at least a conference title game for the first time since 1995.
Considering the sad state of the NFC East, the Cowboys will always have a chance to get to the postseason, but this season was always about more than just getting to the playoffs even if McCarthy and his staff did not have an offseason program, full training camp or any preseason games because of the coronavirus pandemic.
The Cowboys' defense was shredded by Seahawks quarterback Russell Wilson, who threw three of his five touchdown passes to Tyler Lockett, had another to Jacob Hollister and threw the game winner to DK Metcalf with 1:47 to go from 29 yards.
Wilson should have had a sixth, a 63-yarder to Metcalf in the first quarter, if not for a hustle play by cornerback Trevon Diggs, who punched the ball free from the receiver and through the end zone for a touchback.
The Cowboys also looked undisciplined. They had four defensive penalties in the first half that kept a drive alive. Trysten Hill was penalized for roughing the passer after a 2-point play failed, which allowed Seattle to convert a play later and force the Cowboys to have to score a touchdown to win.
Dak Prescott (472 yards, three touchdown passes) was the only reason the Cowboys were in position to win. He directed what could have been a second straight improbable, fourth-quarter comeback, but the defense could not get a stop when it mattered. And the final drive was halted only after he somehow escaped a sack and had his second pick of the game with six seconds left.
It would have been a heroic ending for Prescott. This loss falls on the Cowboys' defense.
The Cowboys talked during the week about making things simpler defensively to aid the execution, but those measures didn't help.
And now, McCarthy has more questions than answers so far.
Troubling trend: It was all smiles after the Cowboys recovered an onside kick against the Falcons in Week 2, but it masked two failed fake punts and an ill-timed kick return by Dallas that led to poor field position. Against Seattle, Tony Pollard mishandled a kickoff, and Greg Zuerlein had one point-after attempt hit the upright and another get deflected. The Cowboys also had to take a delay of game penalty for having only 10 men on the field. This trend of mishaps cannot continue.
Buy a breakout performance: Through three games, Aldon Smith has been the Cowboys' best defender, and that's not meant as false praise, either. Smith had three sacks of Wilson, giving him four for the season. It was the second-most sacks he has had in a game in his career. He had 5.5 against Chicago in 2012 when he was with San Francisco. A reminder: He had not played a game in the NFL since 2015 before this season because of off-field suspensions.
Time to worry about Drew Brees and the Saints? Troubling trends — and signs of optimism — from a 1-2 start
After heading into Sunday night as arguably the biggest question mark for the Saints in their matchup with the Packers, Drew Brees was one of the bright spots for New Orleans in a 37-30 loss. The Saints fell to 1-2 as they lost two straight games for the first time since the opening of the 2017 season, but after fielding questions about his arm strength as a result of a slow start to the season, Brees finished the day with the sort of stat line we would typically expect from the future Hall of Fame quarterback. The 41-year-old went 29-of-36 for 288 yards with three touchdowns and no picks, putting the idea to rest that he was about to be benched for Jameis Winston or Taysom Hill.
Maybe we should add "for now" to the end of that sentence, because the situation is more complicated than it seems. A lot of what has been discussed about Brees coming out of the Week 2 loss to the Raiders and in light of Sunday's loss to Green Bay either doesn't get at the issue at hand or doesn't recognize what Brees and the Saints have done well over the past three years.
Brees dismissed some of this criticism out of hand after the Raiders game by noting "… My job's not to have the most air yards." He's right, but to understand why the concerns about his performance were legitimate and why there's still a lot to watch for from him in the weeks to come, we have to take a closer look at his past and what he has done during this three-game start to the season:
Jump to a section:
A closer look at Brees' 2020 problems
Is Week 3 a mirage? Why there's a 2015 comp
Three looming questions for the Saints
Why they have issues elsewhere, too
Is it time to give up on Brees and the Saints?

How Brees succeeds
The idea that Brees was working with a cannon of an arm and constantly working downfield before showing up with a noodle this season is just silly. He isn't Patrick Mahomes or Philip Rivers and hasn't been for years. He has been throwing short passes for years now. In 2017, 29 QBs threw 300 or more pass attempts. According to NFL Next Gen Stats, Brees averaged 6.4 air yards per throw, which ranked last among those 29 passers. (If you aren't familiar with air yards, they represent the distance in yards downfield a ball travels relative to the line of scrimmage, so a pass at the sticks on first-and-10 would amount to 10 air yards.)
In 2018, Brees jumped up to 7.1 air yards per pass, but that was still just 26th out of 30 passers. Last season, he fell back to 6.7 air yards per pass and was 25th out of 27 qualifiers. After the loss to the Packers on Sunday night, he is averaging 4.8 air yards per throw through three games, which is last by a considerable margin among quarterbacks with at least 30 attempts. The Rams' Jared Goff, who ranks next-to-last, is at 6.0 air yards per pass.
There's nothing inherently right or wrong about throwing short passes or attempting longer ones, though 4.8 air yards per attempt is uncommonly low but not impossible to imagine in a three-game sample. Brees had stretches in both 2017 and 2019 in which he averaged 5.1 air yards per attempt over a three-game span. It would be unprecedented if he were to keep his air yard rate this low for half a season or for all of 2020, but I'm not sure it means much of anything over a three-game sample. In that sense, Brees is right.
Naturally, as a quarterback's passes get shorter, he needs to complete them at a higher rate to stay valuable. If he averages 10 air yards per attempt, he can complete 60% of his throws and still be pretty valuable to his team. If he averages 6 air yards per attempt like Brees has over the past few years, well, he needs to complete a whole bunch of them to make the offense work. His margin for error throwing short passes like this is basically nil.
ESPN Daily podcast: Barnwell's takeaways from Sunday's games, plus a Chiefs-Ravens preview
In case you haven't noticed, Brees hasn't made many mistakes over the past few years. The three highest single-season completion percentages in NFL history are Brees' 2018 (74.4%), 2019 (74.3%) and 2017 (72.0%) campaigns. When he can complete passes better than any quarterback in league history, it doesn't matter how far the passes go. Get the ball to Alvin Kamara and Michael Thomas and let them do the rest. Think about Brees like he's Tony Gwynn. You wouldn't expect a young hitter to just hit .340 without much power every year, but by the time Gwynn got into his late 30s, it was clear that he had a unique, repeatable skill. Brees has spent the past three seasons just rapping single after single into the outfield.
The problem hasn't been the air yards. The problem with Brees in his first two games of the 2020 season is that he had stopped completing passes at a historic — or even effective — rate. NFL Next Gen Stats has a stat called completion percentage over expectation (CPOE), which estimates a quarterback's chances of completing each of his pass attempts when the ball is thrown given the location of the passer, his receiver and the defenders on the field. From 2017 to '19, Brees had a remarkably high expected completion percentage rate and outplayed expectations. Before the Raiders moved into a prevent defense in Week 2, things were drastically different:
With Brees throwing shorter passes than ever before, his expected completion percentage rose. Despite that, his completion percentage dropped off precipitously. He helped salvage a better-looking final line by going 10-of-11 in the final few minutes as the Raiders played soft, prevent coverage, but even if we throw that into his Week 2 line, his CPOE after two weeks was minus-8.4%. The air yards don't matter when he's completing more than 72% of his pass attempts, but when he shortens the passes even further and sees his completion percentage drop below 65%, there's a problem at hand.
The good news for the Saints is that Brees had his best game of the season by far on Sunday. He completed 80.6% of his pass attempts and posted a CPOE of 7.5%, bringing his season-long CPOE up to a much more respectable minus-2.9%. At the same time, CPOE doesn't tell the whole story. I wanted to take a closer look at Brees, and so I watched the coaches' tape of his final three games from 2019 — the two victories in Weeks 16 and 17 and the wild-card loss to the Vikings — and compared them to his first three games from 2020. What I found added a lot more to the puzzle of Brees' slow start. While it alleviated some concerns about those first two weeks, it also didn't make me feel as good about his future as the Week 3 numbers might indicate.
---
Brees' problems in 2020
To get a sense of what has changed in 2020, I charted each of Brees' past six games. Since I'm concerned mostly with his accuracy, I focused on identifying whether each of his pass attempts was not just catchable but had the sort of ball placement we would typically expect from him. Completion percentage matters, but Brees can throw a catchable, accurate pass that results in an incompletion (via a drop). He also can throw a less-than-accurate pass that results in a completion as a product of good work by his receiver, although the throw may prevent the opportunity from succeeding as well as it could have.
Take Brees' longest throw from Sunday's loss, a deep out to Emmanuel Sanders in the third quarter. This pass travels 18.1 yards in the air. While it was completed for a first down, it's not a great throw. Watching on the All-22, Sanders has a huge cushion and an opportunity to catch this ball while staying upright. The pass is supposed to go to the sideline and heads there, but it is underthrown and requires Sanders to lay out and make a catch at the last possible moment before the ball hits the turf:
This doesn't necessarily always happen on longer throws. In the Bucs game in Week 1, Sanders came across the field on a third-and-6 drag route in the red zone and had enough space to make a catch and turn upfield for a possible touchdown. With no defender threatening the throw, Brees' pass nearly hit Sanders on his back foot, forcing Sanders to again drop to his knees to make a shoestring catch without any opportunity for yards after the catch. The missed opportunity didn't matter when Sanders scored several plays later, but those are the sorts of completions Brees typically makes in his sleep while putting the ball in a place where it's easy for his receiver to make a play.
By my count, regardless of whether the passes were completed or not, Brees has had more misfires in 2020. I counted nearly 83% of Brees passes over those final three games of 2019 that were accurate throws with the appropriate ball placement. In 2020, that's down below 78%. Since Brees is throwing nearly 27% of his passes at or behind the line of scrimmage, if we look at passes traveling 5 or more yards in the air, we see a similar falloff. Of his passes 5-plus yards downfield in 2019, 63.3% were accurate, but that number has fallen to 59% this season, and that's only because the Saints have racked up some easy completions in the fourth quarter against prevent defenses each of the past two weeks. Eliminate the prevent situations and his accuracy rate on those throws of 5 or more yards is an even 50%.
I'm not sure if Brees' arm has actually diminished versus years past, but in watching him closely, it's fair to say that he isn't confident in his arm right now. He has been hesitant to pull the trigger on downfield or tight-window throws at times, double-clutching before settling for a checkdown. Sometimes, that has been because a big-play opportunity wasn't really there. Other times, it has been because he didn't think he could make the throw in question.
Here's a situation that would really concern me if I were a Saints fan, using a play from the Week 1 win over Tampa Bay. Coach Sean Payton dialed up a classic concept that is in every team's playbook with three vertical (or go) routes. Brees worked to the left side of the field and had two receivers running go routes against a Cover 3 corner. He pump-faked toward the middle of the field, leaving Thomas running free up the sideline. This would be a difficult throw, given that it's going from the right hashmark down the left sideline, but it's the best receiver in football streaking free down the field for a possible touchdown. Brees raises his hands like he's about to throw deep, stutters and then checks down to a covered Kamara for a 2-yard loss. Here's the animation courtesy of NFL Next Gen Stats: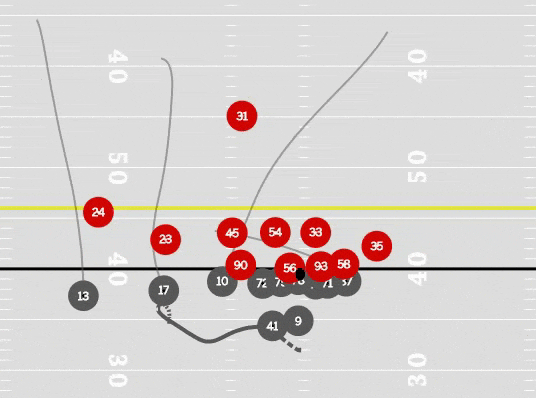 Throughout the first three weeks, I saw a handful of plays in which Brees passed up opportunities most quarterbacks would take. Most of those plays weren't likely touchdowns, and he passed up some riskier opportunities for lower-risk options, but I don't think he has a lot of faith in fitting the ball in on throws he would have tried in years past. He just isn't attempting deep passes; 9.9% of his throws traveled 20 yards or more in the air last season, but that mark is down to 1.9% in 2020.
Given the fact that the Saints have been either losing or in competitive games for most of the past three weeks, it's also telling that Brees isn't trying to challenge downfield in key situations. Take third downs. Next Gen Stats tracks where a quarterback throws his passes relative to the sticks on third down with a metric called air yards to sticks (AYTS). From 2017 to '19, Brees' passes on third down traveled 0.2 yards short of the sticks. That was the lowest mark in football for anyone with at least 1,000 passes over the past three years, but it's much closer to the pack than what we've seen in 2020. His AYTS this year on third down is 1.8 yards short of the sticks. I can think of one obvious reason for that …
---
Why Brees is struggling
Since we already talked about the arm concerns, let's start with the obvious other problem: Brees misses Thomas. While I thought he had an unimpressive Week 1 even with Thomas on the field for most of the day, there's no question he misses his star receiver.
Thomas was the guy Brees was willing to throw to at or just beyond the sticks on third downs and the player he was most comfortable trusting with 50-50 balls in any situation. Thomas is the best receiver in football; even given what we saw from a Davante Adams-less Packers offense on Sunday, it would be unrealistic to imagine the Saints' offense staying the same without Thomas in the fold. In Brees' last game without Thomas before this high ankle sprain, the quarterback threw three interceptions in a 16-11 loss.
The Saints' receiving corps without Thomas might not be as impressive as it looks on paper. Kamara is an incredibly gifted receiver out of the backfield, and his 52-yard touchdown on a swing pass was one of the highlights of the weekend, but he can only do so much even in an expanded role.
I was a little concerned when the Saints signed Sanders to a two-year, $24 million deal. While everyone remembers the huge game Sanders had after joining the 49ers in midseason in 2019, he averaged just under 35 receiving yards per game across his 12 other appearances with San Francisco. Sanders is 33, just under two years removed from a torn Achilles, and hasn't looked great in his first three games with the Saints.
There's a chance that he improves and becomes the perfect addition many saw on paper, but there's also a chance that he is a diminished version of his former self. Through three weeks, Sanders is averaging just 6.8 yards per target. Jared Cook is also 33, and while his athleticism paid off for the Saints in 2019, tight ends don't have graceful aging curves as they work through their 30s. Cook left Sunday's game with a groin injury, leaving the Saints even thinner on offense.
While we can't know from the outside exactly what Brees is going through, he also has been on a different page than his receivers more frequently in 2020. Would-be layups and easy completions have fallen incomplete because receivers have either stopped and settled when Brees expected them to continue running or vice versa. It's one thing to see that happen with a new receiver like Sanders, but I've seen those issues pop up through three weeks with veterans such as Josh Hill and Tre'Quan Smith, who should be more comfortable within this offense and have a better rapport with Brees. The Saints also have dropped 4.8% of his pass attempts, more than double their 2.0% rate from a year ago.
Week 3 was an unquestionable step in the right direction. Brees was much more accurate, and though he still passed up opportunities at riskier shots, he seemed more confident with his decision-making. Sanders was a more consistent part of the offense, and while Kamara's incredible work after the catch inflated Brees' yardage numbers, the Saints have made that equation work for them on offense for years. If they get the Week 3 version of Brees and combine it with a healthy, returning Thomas, they'll likely be just fine on offense.
At the same time, that's no guarantee. Week 3 was Brees' best game of the season, but it doesn't ensure a return to form. Take Peyton Manning's final season in 2015. The future Hall of Famer was coming off an excellent 2014 season, although it culminated in a home playoff loss. Manning's completion percentage and yards per attempt both dropped dramatically over the first two weeks of the year, but he responded with an excellent Week 3 performance against the Lions, completing more than 73% of his passes while posting a passer rating of 101.7.
The Associated Press recap after the game noted that "Manning showed he still has it," but whatever "it" is, he lost it. He threw 14 interceptions over his next six games, culminating in an unceremonious benching for Brock Osweiler. I don't think Brees is about to go on some ugly interception streak, and he's playing better now than Manning was then, but an impressive performance in Week 3 after two disappointing starts to begin the year doesn't tell us the problems have been solved or that a quarterback this late in his career is safe from falling off of the performance cliff. There are still a lot of questions to answer, including …
---
What's left for Brees and the Saints to figure out
Will Thomas come back like his old self? The Saints' offense should improve after it gets back Thomas, who ESPN's Adam Schefter said is eyeing a Week 4 return. Their two-game losing streak only makes it more likely that Thomas will try to talk his way back into the lineup for Sunday's matchup against the Lions.
At the same time, high ankle sprains are a notoriously nasty injury for skill-position players. As I wrote about last Monday in talking about Christian McCaffrey, superstars such as Adrian Peterson and Odell Beckham Jr. have in recent years denied that they were dealing with high ankle sprains, rushed back from them and suffered more catastrophic second injuries in doing so, costing them the rest of their respective seasons. Veterans such as Mohamed Sanu and Roddy White tried to play through the injury and lost their burst. The Saints have two winnable games against the Lions and Chargers coming over the next two weeks before their Week 6 bye. Thomas and the Saints' doctors know a lot more about his ankle than I do, but history leaves me worried about the possibility of him aggravating the injury or suffering a more significant one.
Can Brees get on the same page with Sanders? Again, Sunday was an encouraging step in the right direction for Brees' relationship with his new receiver, but the Saints are paying Sanders like they expected him to be a 1A receiver behind Thomas. The former Steelers and Broncos standout now has 89 receiving yards through three games, and that's without Thomas in the fold for the past two weeks. Sanders doesn't have to rack up huge yardage numbers, but when Thomas returns, he needs to be able to win one-on-one and give Brees a reliable receiver when teams try to take away Thomas. So far, that hasn't been the case.
Will defenses dare Brees to take shots downfield? Given how infrequently he has been throwing deep over the first three weeks of the season, teams are going to catch up and change the way they defend against the Saints. Payton called for a more run-heavy approach early against the Packers, whose primary defensive weaknesses include stopping the run and tackling. We saw both pop up as problems Sunday, both in the running game and on the screens, swing passes and option routes to Kamara.
There were two little hints for how teams might challenge Brees, although he was able to get away with both plays. During the two-minute drill at the end of the first half, he wanted to work toward the far side of the field to Deonte Harris, who was running a quick out from the slot while outside receiver Tre'Quan Smith ran a clear-out go route. The corner on that side was Kevin King, and as he turned upfield to run with Smith, he saw Brees look toward Harris and then teased like he was going to drive on Harris' route and trap Brees' pass attempt. It was enough to get Brees to freeze in mid-throw and work to the other side of the field, checking down to Kamara for a short gain.
Then, during the Saints' final drive in the fourth quarter, Brees almost brought an end to the proceedings with a dangerous throw to the other side. Defensive backs are typically afraid of giving up a big play downfield when the opposing offense is down 37-27 with two minutes to go, but Jaire Alexander recognized that Brees had been sticking with short throws in these situations and sat on a 8-yard curl route from Sanders. Brees' throw was accurate, but it was late and didn't have enough zip to beat Alexander, who dropped a would-be pick-six.
If defenses aren't scared of Brees at least attempting a downfield pass two or three times per game, they'll squeeze these shorter routes, which reduces his margin for error and forces him to be even more accurate. Kamara solves some of his problems, but the Saints can't expect their newly extended running back to rack up 136 yards after the catch every week like he did Sunday. It might seem like Kamara can do that every week, but 136 YAC was his career high and the 10th-most yardage after catch a player has posted in a single game since the start of the 2010 season. Brees doesn't have to become Russell Wilson, but he needs to at least scare opposing teams into worrying about covering guys like Smith and Harris when they run deeper routes.
There are other things for the 1-2 Saints to be concerned about, even after a solid performance from Brees …
---
What else is wrong with this team?
Injuries. In addition to Thomas, the Saints have been without 2018 first-round pick Marcus Davenport, who is recovering from an elbow injury and hasn't suited up this season. Fellow defensive lineman David Onyemata was a late addition to the injury report and missed Sunday's loss, with his absence felt against the run.
Things didn't get better on Sunday, with two more starters departing. Cook left with a groin injury early in the third quarter, leaving the Saints to turn to rookie Adam Trautman as their primary tight end for the remainder of the game. Guard Andrus Peat seemed to suffer a more serious injury, with the 2015 first-rounder leaving the game on a cart after hurting his ankle. The Saints' interior offensive line depth was enviable with Nick Easton, Erik McCoy and rookie first-round pick Cesar Ruiz competing for two starting spots, but if Peat is out for an extended period of time, there won't be much in the cupboard behind those three.
The veteran additions aren't living up to expectations. I already mentioned Sanders, but the big signing for the Saints on defense saw New Orleans bring home veteran safety Malcolm Jenkins. The 32-year-old has contributed as a run-defender and helped make a fourth-down stop of Aaron Jones in the first half, but opposing teams have repeatedly picked on the former Eagles standout in coverage. Jenkins was part of the problem in dealing with Darren Waller last week, and Marcedes Lewis added a rare touchdown against Jenkins on Sunday.
Drew Brees throws to Alvin Kamara in the flat, and Kamara shreds the Packers' defense for a 52-yard touchdown.
Janoris Jenkins was technically added just before the end of the 2019 season, but the former Giants corner also has struggled. Packers quarterback Aaron Rodgers got Jenkins to commit pass interference on a free play in the fourth quarter, creating a first-and-goal opportunity from the 2-yard line. Jenkins then committed pass interference again two plays later, giving the Packers a fresh set of downs from the 1-yard line while allowing Green Bay to bleed more time off of the clock. This hasn't just been a Jenkins issue, either.
Penalties are killing the Saints. They are head and shoulders above the pack when it comes to pass interference. Through three weeks, Dennis Allen's defense has committed 10 pass interference penalties for 184 yards, 109 more than any other team. Five members of the Saints' secondary have committed pass interference so far.
On the whole, Saints penalties have cost Payton's team 331 yards, which leads the league. They have a penalty yard margin of 205 yards versus their opposition, and the 31st-ranked Cardinals (106 yards) are the only other team with a margin of 70 yards or more after three games. This isn't necessarily news, given that the Saints ranked 31st in penalty margin a year ago, but it's something their margin for error may not support if Brees actually has slipped.
The stars aren't playing like stars. Kamara is coming off an excellent game, but he, linebacker Demario Davis and the tackle combination of Terron Armstead and Ryan Ramczyk are really the exceptions. Thomas and Cook are hurt. Cornerback Marshon Lattimore is allowing a passer rating of 149.1 as the nearest defender in coverage. Defensive end Cameron Jordan has zero sacks and one knockdown through three games. The offense had been better with Taysom Hill, but the jack-of-all-trades fumbled away the ball with the score tied early in the fourth quarter. Brees has been inconsistent.
---
Is it time to give up on Brees and the Saints?
No. Losing two of three is a bad start, and it leaves them vulnerable in a tiebreaker race, but the rest of the NFC South is a combined 3-6. The Saints are only a game behind the Bucs and hold the head-to-head tiebreaker. Their schedule gets easier in the weeks to come. The chances of the Saints turning this around and making a run toward the NFC South title are greater than the possibility they fall off and disappoint everyone.
It's certainly time to be concerned, which is where I fall on the Brees spectrum after three starts. After a messy end to the 2018 season, I took a closer look at his end to the season and didn't see anything that concerned me for his future. He did suffer a thumb injury in 2019, but he otherwise stayed healthy and continued to produce at a high level when available.
Now, though, I'm more worried. Brees still has a brilliant mind, an incredible playcaller, an impressive offensive line and two of the best weapons in the league (when healthy) in Kamara and Thomas. His margin for error over the past few years has been thin, but he has set records into his 40s and broken every rule of what we know about NFL quarterbacks to operate one of the league's best offenses over the past three seasons.
Even given those advantages and his laudable résumé, though, the game is tougher now for him than it was a year ago. He has come into 2020 looking less certain of his abilities and more concerned about making mistakes than ever before. If this is how he will play over the remainder of 2020, his margin for error is even thinner than before, requiring an almost-impossible level of accuracy and consistency. Sunday was the first time he showed anything close to that level of play this season.
A diminished version of Brees would still be functional and an effective quarterback for a playoff contender, especially one as talented as the Saints have been over the past few years. On Sunday, though, the Saints were at home and got an accurate performance from Brees and a career day from Kamara and still lost to a Packers team missing two of their best players in Adams and defensive tackle Kenny Clark.
If the players surrounding Brees aren't living up to expectations or available to play, he is the one who will have to shoulder more of the workload and carry the Saints to victories. While I'm less worried about him than I was after his performance in Week 2, I'm not sure the Brees we've seen so far in 2020 is up to that task. An easy schedule over the next five weeks might cure what's wrong with New Orleans, but if it doesn't, I'm not sure the Brees of old will be there to bail out his team.
Notable bets – Daniel Jones, Giants cost bettors over a million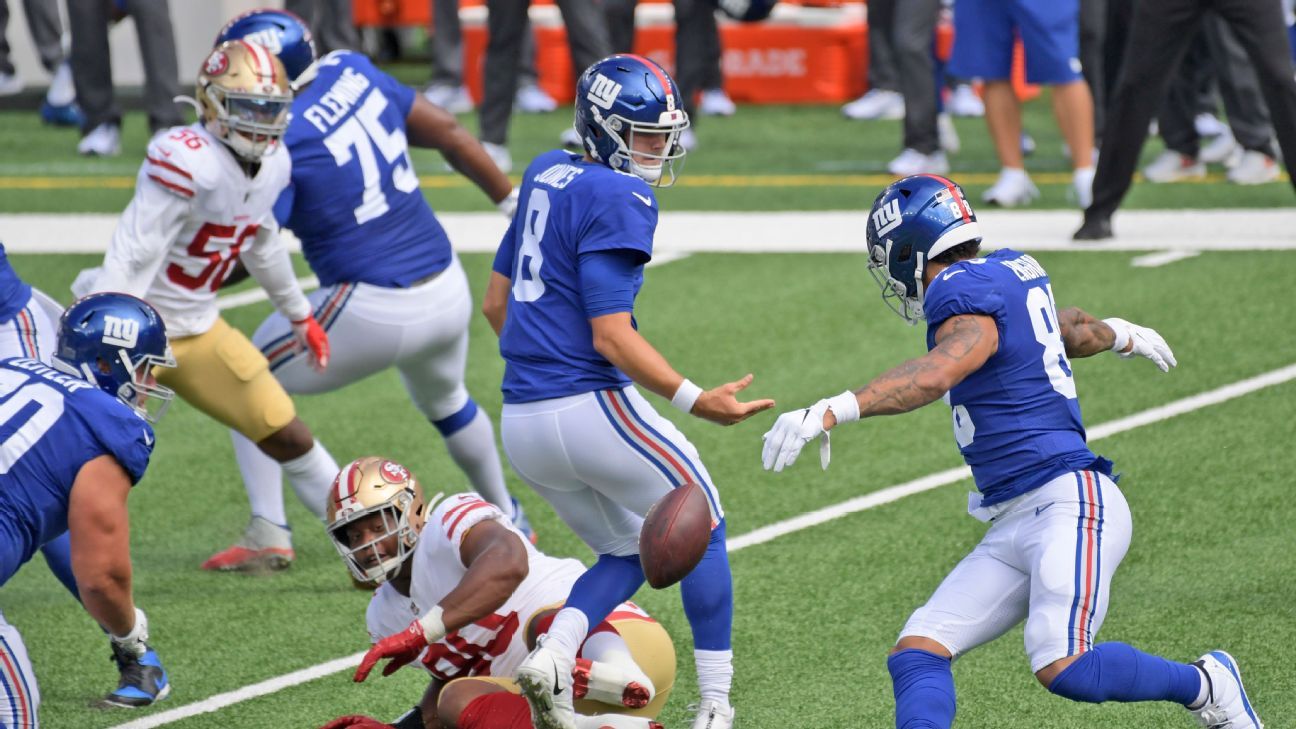 Sportsbook operator DraftKings reported taking several very big bets this week, each for hundreds of thousands of dollars.
These days, with the American sports betting market expanding around the nation, six-figure bets are much more common than they were in years past. Traditionally, though, the largest bets were on the point spread or money-line of big games. Those types of wagers attract the most betting handle, so taking a big bet on a point spread, for example, makes it easier for bookmakers to mitigate risk.
Most of the big bets reported by DraftKings this week, however, were different:
• $795,200 on the Thursday night game between the Dolphins and Jaguars to go over 41.5 points at -270. (The consensus closing total was 47.5, so the bettor had to pay the extra juice to make the bet at 41.5.)
The Dolphins kicked a 30-yard field goal with 3:49 remaining to finish off a 31-13 victory and give the bettor in New Jersey a $294,224 net win.
• $250,000 on Celtics guard Marcus Smart to score more than 12.5 points in Game 4 of the Eastern Conference finals. Smart finished with 10.
• $500,000 on the Giants +4 versus the 49ers. San Francisco won 36-9.
• $500,000 on Giants quarterback Daniel Jones to pass for more than 244.5 yards. Jones finished with 179.
"These are some of the biggest prop bets that you'll ever see," DraftKings sportsbook director Johnny Avello, a veteran Las Vegas bookmaker, said.
Not just anyone can open a betting account with DraftKings — or any U.S. sportsbook, for that matter — and fire away hundreds of thousands of dollars on random propositions. Professional bettors are regularly limited in terms of how much they can wager at all sportsbooks, and some bookmakers simply decline to accept bets from any customer they believe to be "uneconomical" to their bottom line.
But select customers who earn VIP status — often by playing big in the casino pit or by staying in high-dollar suites in Las Vegas resorts, for example — are granted extended limits as a courtesy.
"We have a lot of customers that not only bet the sides, totals and money lines, but they like to bet on the props, too, and they want to bet a substantial amount of money, so we accommodate those customers," Avello said.
While you check your account balance to see if you can put half a million dollars on Patrick Mahomes' rushing yards on Monday night, here is this week's edition of notable bets, our look at the action at sportsbooks around the country.
---
NFL notable bets
• The Ravens are consensus 3.5-point favorites over the Chiefs on Monday night. The early action indicates a public-pro divide, with the sharper bets on Baltimore, according to multiple sportsbooks.
"We know a lot of sharp guys that like Baltimore in that game. I can see why," John Murray, executive director of the Superbook, said. "Baltimore was the best team in the NFL last season and I believe they're the best team in the NFL this season, but you're talking about a one-game scenario and Patrick Mahomes is the other team's QB. Not exactly a sure thing to be laying points there."
• As of Sunday morning, 91% of the money at FanDuel was on the over (54.5) in Chiefs-Ravens.
• Sportsbook PointsBet opened with the Ravens as 2.5-point favorites and took consistent sharp and public action on Baltimore, which drove the line to -3 and eventually -3.5. "Book will be rooting for the under and a Ravens win, preferably by one or two points," PointsBet communications director Patrick Eichner said.
• Most sportsbooks said Sunday was a small winning day for the house, with the prime-time game between the underdog Packers and Saints deciding the fate for some bookmakers.
"[We] need under in late game to call [Sunday] a success," Nick Bogdanovich, director of trading for William Hill U.S., told ESPN. But the game went over, with Green Bay defeating New Orleans 37-30.
"We had a real good day Sunday," Murray said. "No complaints about our day Sunday."
• Three hours prior to kickoff, 95% of the money at DraftKings was on the Packers to beat the favored Saints straight up.
• Trailing the Falcons 26-10 midway through the fourth quarter, the Bears were 16-1 to pull off a comeback. Backup quarterback Nick Foles threw three touchdown passes in the final 6:20 of the game, leading Chicago to a stunning 30-26 win.
• A bettor at the sportsbook at the Borgata in Atlantic City, New Jersey, placed a $100,000 money-line bet on the Bears at +120.
• William Hill U.S. sportsbooks reported taking a $52,000 money-line wager on the Colts to beat the Jets at -700. It was the largest money-line bet the book took on the early kickoffs, and it won easily, as Indianapolis cruised to a 36-7 victory. The bettor won a net $7,428.
"In what is becoming a trend, the Jets continued to cost us big," Thomas Gable, sportsbook director at the Borgata, said.
• Despite taking the $500,000 bet on the Giants mentioned above, DraftKings ended up taking more money overall on the 49ers, according to Avello.
• The Buccaneers were the most popular bet at BetRivers sportsbooks, attracting 90% of point-spread bets. Tampa Bay covered as a 6-point favorite in a 28-10 win over Denver.
• The Bills, leading the Rams 28-3 in the second half, were -4,000 favorites to win at William Hill books. The Rams roared back and took a 32-28 the lead with 4:30 left to play, but the Bills responded and scored with 15 seconds remaining to prevail.
• On Friday the Borgata took a $25,000 bet on Bills quarterback Josh Allen to win the regular-season MVP at 25-1. The bet would win a net $625,000.
---
College football
• Oklahoma could be found as a -4,000 money-line favorite over Kansas State, with the Wildcats listed as around 15-1 underdogs. At William Hill sportsbooks, the Sooners were listed at -2,800 when a bettor placed a $3,590 money-line bet on Oklahoma. That bet would've won a net $141.
A representative for William Hill told ESPN that the largest pregame money-line bet on Kansas State was $100 at 13-1.
Leading Kansas State 35-14 in the third quarter on Saturday, Oklahoma's odds grew to -6,000. According to ESPN Stats & Information research, teams trailing a top-5 team by 21 points or more were 1-545 since 2004. The lone win was in 2005, when No. 10 Tennessee won 30-27 over No. 4 LSU — the Volunteers trailed 21-0 in that game.
• Iowa State was a 2.5- or 3-point favorite for much of the week leading up to its game against TCU, before closing as a consensus 4-point favorite. The Horned Frogs scored a touchdown as time expired to cut the Cyclones' lead to three, but TCU chose not to attempt the extra point. Final score: Iowa State 37, TCU 34.
• On Sunday the SuperBook took a $25,000 bet on Alabama to win the national championship at 5-1 odds. Clemson remains the favorite at 5-2, followed by Ohio State at 3-1. With the Pac-12 announcing it will hold an abbreviated season this fall, Oregon is back in the picture and is listed at 30-1.
• After upsetting LSU, Mississippi State's odds to win the national championship improved from 2,000-1 to 60-1 at the SuperBook.
• Here are some notable opening lines at Las Vegas sportsbook Circa Sports:
South Carolina at Florida (-20.5, 53.5)
Virginia at Clemson (-29, 50.5)
Oklahoma (-12, 59.5) at Iowa State
Texas A&M at Alabama (-13, 52.5)
Auburn at Georgia (-8, 38.5)
---
NBA
• Game 5 of the Western Conference finals between the Lakers and Nuggets on Saturday attracted twice as much betting handle as the Florida State-Miami game at the SuperBook.
• Here is the NBA Finals opening series price, via the Superbook: Heat +375 vs. Lakers -450
---
Odds & ends
• Legal sportsbooks are now operating in 18 states and the District of Columbia. Tennessee is poised to be No. 19 and is aiming to launch its sports betting market in November.
• Bettors staked $128.6 million with Colorado sportsbooks in August, the state's biggest month since launching its legal sports betting market in May. The sportsbooks won a net $7.3 million during the month.
Basketball attracted the most action, with $38 million, followed by baseball at $22.9 million. The fourth-most popular betting sport? Table tennis, which attracted $4.5 million, more than golf, soccer, tennis and MMA.