Ndamukong Suh reaches deal with Los Angeles Rams
LOS ANGELES — The Los Angeles Rams have secured what might be the greatest pairing of interior linemen in NFL history, adding five-time Pro Bowler Ndamukong Suh to the same unit as Aaron Donald, the reigning Defensive Player of the Year.
The Rams reached agreement with Suh on a one-year contract, the team announced from the owners meetings in Orlando, Florida, on Monday. A source tells ESPN's Adam Schefter the deal is worth $14 million.
Suh met with the Rams last Tuesday, the last stop in a three-city free-agency tour that included visits with the New Orleans Saints and the Tennessee Titans. He was scheduled to sit down with the Oakland Raiders the following day, but cancelled his visit. The New York Jets were reportedly willing to offer the most money, but they ultimately rescinded their offer.
"We are excited have Ndamukong as a part of the Los Angeles Rams," said team GM Les Snead. "He's been an outstanding player in this league and we are looking forward to him being a part of our defense."
Suh has been named first-team All-Pro three times since being drafted second overall by the Detroit Lions eight years ago. Suh compiled 51 1/2 sacks from 2010 to 2017, trailing only Geno Atkins for the most by a defensive tackle during that timeframe. Suh also ranks seventh among all NFL players with 26 batted passes and first among defensive linemen with 6,773 snaps.
Under Rams defensive coordinator Wade Phillips, Suh is expected to play nose tackle in 3-4 base sets. In that scenario, Donald would remain the 3-technique — lining up between the left tackle and the left guard — and Michael Brockers would return to playing defensive end on the opposite side.
The Rams began last year on the heels of 10 consecutive losing seasons, including a 4-12 showing in their 2016 return to L.A. But they experienced a dramatic turnaround under Sean McVay, the youngest head coach in modern NFL history (he's 32 now). The Rams went 11-5 in 2017, winning the NFC West while becoming the first team in the Super Bowl era to go from last to first in scoring from one season to the next.
Since then, they have built a star-studded defense to go along with a young, surging offense. The Rams traded for a couple of All-Pro cornerbacks in Aqib Talib and Marcus Peters, then, after a drawn-out wait, they signed Suh, giving themselves arguably the game's best defensive line and secondary.
After five years with the Lions, Suh joined the Miami Dolphins with a six-year, $114 million contract that at that point made him the NFL's highest paid defensive player. Suh performed well during his three seasons in South Florida, compiling 15 1/2 sacks while playing in all 48 regular-season games.
But the team only captured 22 wins, and Suh was released in the middle of March as part of what was deemed a culture change by the Dolphins.
Suh has been widely described as a dirty player throughout his career, drawing an NFL-leading 74 total penalties since he came into the league in 2010. Suh's only missed time was the result of a two-game suspension in 2011 for roughing up Green Bay Packers guard Evan Dietrich-Smith. Suh has also been seen stepping on Aaron Rodgers' ankle and grabbing Ryan Mallett by the throat, among other transgressions.
But his productivity and durability have never been in question. Pairing Suh with Donald, a three-time All-Pro who led all NFL players in total pressures last season, will give the Rams an unrelenting pass rush, which should lead to more turnovers for a team that intercepted 18 passes last season.
Ravens' Lamar Jackson downplays matchup vs. Chiefs — 'It's just like any other game.'
OWINGS MILLS, Md. — Lamar Jackson and the Baltimore Ravens can send a message to the rest of the NFL by beating Patrick Mahomes and the defending Super Bowl champion Kansas City Chiefs on Monday Night Football.
On Thursday, Jackson's statement was this: "It's just like any other game."
During his 10-minute media session with reporters, Jackson downplayed Monday's game, which is a showdown of the two hottest teams in the league and the last two NFL MVPs.
In fact, this will mark the first matchup in NFL history between former MVPs who are 25 years or younger, according to the Elias Sports Bureau.
"I don't have to focus on Mahomes," Jackson said. "I got to focus on their defense. I got focus on scoring. I got to focus on my job and making my offense do our thing."
When the Ravens play host to the Chiefs, it will feature two teams who hold the two longest active win streaks in the league.
The Ravens have won 14 straight regular-season games, and the Chiefs have won eight consecutive games, including the playoffs. The last two teams to meet on eight-plus game win streaks as 1969, when the Rams (winners of 11 straight) played host to the Vikings (10 straight), according to ESPN Stats & Information.
While many of Jackson's teammates recognized the significance of this game, Jackson essentially answered questions with a shrug.
How important is it for Jackson to beat the Chiefs after losing the last two meetings? "It's always a statement," Jackson said.
Is it too early to think of home-field ramifications from this game? "We're focusing on winning this game," he said.
To take the Ravens where you want to go, do you feel you have to eventually beat the Chiefs? "Yeah, eventually."
For Jackson, Mahomes represents one of the few hurdles in his career. Jackson is 21-3 as a starter in the regular season, with two of his losses coming against Mahomes.
"I don't think [there's] any more pressure than [what] Lamar ever puts on himself all the time," coach John Harbaugh said. "He's the same Lamar, week in, week out, play in, play out at practice, from meeting to meeting. He's always excited to play; he's ready to roll. I don't believe he looks at it like that; I think he's looking at it like our offense against their defense; that's what he's focusing on, and trying to find a way to put the best performance he can, and put up as many points as he can."
While Jackson prefers not to hype up the game, others acknowledged that there's a different feel between the two Super Bowl favorites. Both are listed as 4-to-1 odds, according to Caesars Sportsbook. "It's a team that we know we need to beat. If we want to be champions, this is one of those teams that you have to get past," Ravens All-Pro offensive tackle Ronnie Stanley said. "We all understand we can't afford to make mistakes. We have to be at our best. Anything less will come up with results we had in the past."
MetLife turf ruled OK upon review after San Francisco 49ers' gripes, source says
Representatives from the NFL, NFLPA, MetLife Stadium, the Giants and Jets, Field Turf and the independent field inspector conducted an additional review of the field surface at MetLife Stadium on Wednesday, a league source tells ESPN's Jordan Raanan.
It was again verified that the field meets all applicable standards and protocols for NFL field surfaces, the source told Raanan.
San Francisco 49ers coach Kyle Shanahan and his players had expressed concern about the turf after his team's 31-13 victory over the Jets in Week 2 as defensive end Nick Bosa, quarterback Jimmy Garoppolo, running backs Raheem Mostert and Tevin Coleman and defensive tackle Solomon Thomas all suffered game-ending lower body injuries.
Bosa and Thomas each suffered season-ending torn ACLs, Mostert has a sprained MCL, Coleman has a knee injury that is expected to sideline him for multiple weeks and Garoppolo has a high ankle sprain.
The 49ers are playing this Sunday at MetLife for the second consecutive week, this time against the Giants. New FieldTurf was installed in the stadium this summer, and it had only been played on previously in Jets and Giants scrimmages, as well as the Giants' season opener on Monday night in Week 1.
Multiple 49ers complained of how "sticky" the playing surface was and took to Twitter and their Zoom media sessions to vent their frustration after the game. While Shanahan acknowledged it was hard to draw a direct correlation between the injuries and the playing surface, he did say it was something his team talked about throughout the game.
"I know that's as many knee injuries and ankle stuff and people getting caught on the turf as I have ever been a part of," Shanahan said. "From what I saw, the other team did, too. I know our players talked about it the entire game, just how sticky the turf was. … It was something our guys were concerned about right away and the results definitely made that a lot stronger."
On Wednesday, Shanahan acknowledged the NFL and NFLPA were looking at the MetLife turf and said he was waiting to hear the findings.
"The NFL and NFLPA is having people look at it right now," Shanahan said. "So we'll go with that. If they don't find anything, you go out there and play. Other people tore their ACL in this league last week and they weren't all on turf. So you know how we felt about it. We'll see what the professionals say, and hopefully we'll learn something."
ESPN's Nick Wagoner contributed to this report.
Atlanta Falcons special teams coach Ben Kotwica takes blame for onside kick fail vs. Dallas Cowboys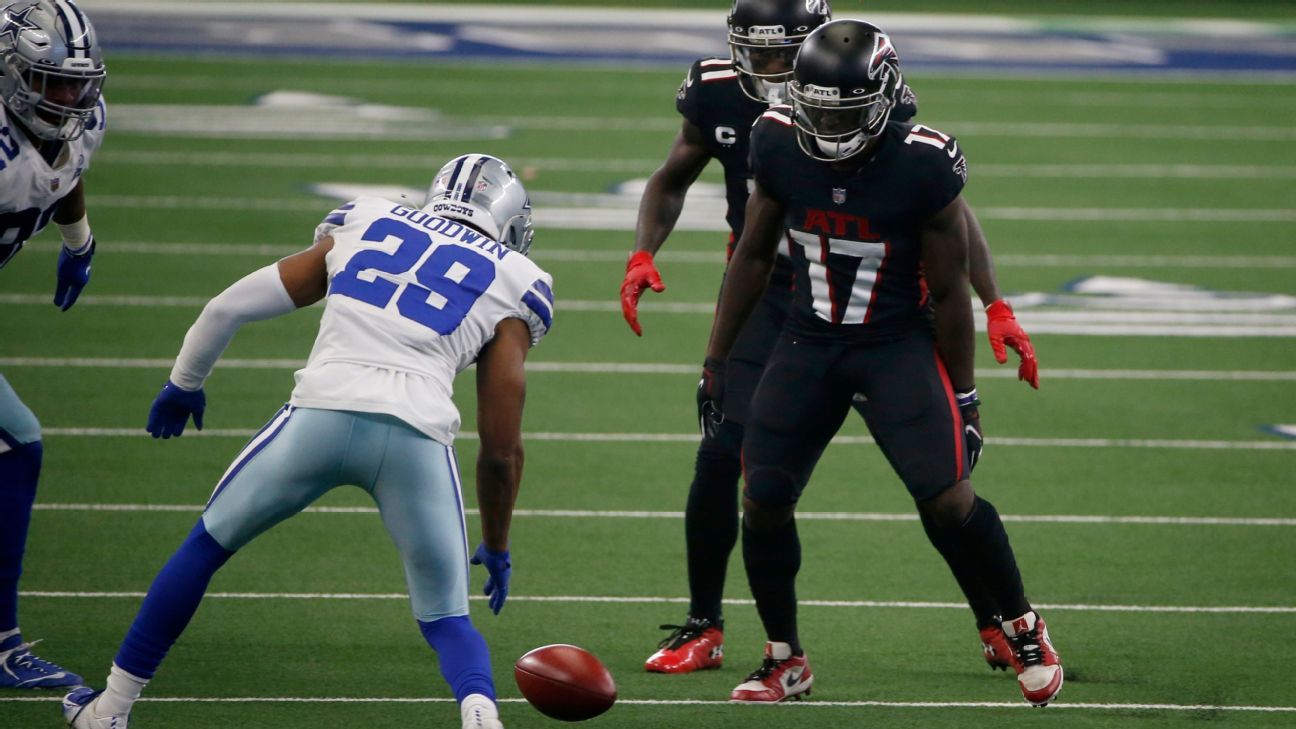 Atlanta Falcons special teams coach Ben Kotwica took blame for the failed onside kick recovery that proved costly in last Sunday's 40-39 loss to the Dallas Cowboys, but said he reminded his special teams players to aggressively get the ball during a timeout.
Kicker Greg Zuerlein and the Cowboys perfectly executed the onside kick, which was recovered by Dallas defensive back and former Falcon C.J. Goodwin. Several Falcons — Kotwica singled out tight end Jaeden Graham and wide receiver Olamide Zaccheaus — froze up and failed to aggressively recover the ball before it rolled 10 yards, which allowed the Cowboys to jump on it with 1 minute, 48 seconds left. Then Zuerlein nailed the 46-yard field goal to win it.
Falcons owner Arthur Blank, during an interview with SiriusXM NFL radio, said it was clear on tape that the players didn't understand the rules. Head coach Dan Quinn, speaking a little more than an hour before Blank's interview, said his players did understand the rules. Quinn said although he and Blank might have disagreed on how to talk about it, they both agreed "100 percent" that it shouldn't have happened.
"We should have aggressively gotten on the football," Kotwica said. "Those are smart guys. They're intelligent. They're hard-working. Shoot, one went to Yale (Graham) and the other one went to UVA (Olamide Zaccheaus). And so, we should have aggressively got on the ball as it got close to the restraining line.
"You know, I'm responsible for it. I'm responsible for everything the unit does and fails to do. It's something that was looked at. We've made the corrections; talked to the players. And we'll do a better job and look forward to Sunday's opportunity."
Kotwica insisted he reminded his players how to approach the situation during the timeout that preceded the onside kick.
"You asked about the timeout. I remember one of my last words were, 'Hey, go get the ball,"' Kotwica said. "That's one of the foundations of our program here: the ball, the battle, the brotherhood. Yes, as that ball gets closer to the restraining area, we would like to get on that football."
The special teams units go over such scenarios on Saturday on the field along with a special hands-team meeting the same morning. The Falcons have had good practice with onside kick scenarios with kicker Younghoe Koo arguably the best at them.
One thing Kotwica did mention is that injuries affected who was on the field for the hands team. One of the players injured was linebacker Foye Oluokun, who has recovered a couple of Koo's onside kicks in games. Oluokun suffered a hamstring injury against the Cowboys and missed the second half.
Kotwica didn't mention Oluokun by name, but he did say he would evaluate the scheme and the personnel on the unit moving forward.
Kotwica didn't think there was miscommunication among the frontline players and the ones behind. For the frontline guys, if a ball is coming "hot" or above the head, you go block. If it's a slow roller or something that can be fielded cleanly, it's be aggressive and go get it.
Kotwica started his news conference by giving the Cowboys credit.
"I think first thing, you've got to get Dallas and Greg credit on a great kick," Kotwica said Thursday. "In the onside kick world, we recovered a couple last year. Matter fact, I think last week we talked about the one that we recovered against Seattle. But in this case, the tables were turned.
"I would tell you this: On that play, when Greg put the ball down, and we called timeout and we were aware that he had a kick that was going to spin and roll, and I would tell you when that ball came off the foot, it's tough to project that that thing is going to go 10 yards. I was standing there when it came off of Greg's foot. It went along the 38, the 39-yard line. It was going parallel. Initially, I didn't think it was going 10 yards."
Kotwica went on to say how his players knew what to do in that scenario.
"As the ball begins to cross the 39, 40-yard line, now you get into options and decision-making," he said. "Our players knew that they could go into the restraining area and recover the ball. But they also knew that as they went into the restraining area to recover the spinning football, that there's a risk that if they don't recover it cleanly, that gives the kicking team the opportunity to recover the ball because then it becomes a live ball.
"…. There's option there. I would tell you that obviously, hindsight is 20/20. We want to aggressively get the ball."
The special teams blunder has the Falcons 0-2 going into this week's matchup with the 2-0 Chicago Bears.