Jordy Nelson of Oakland Raiders 'hurt' Green Bay Packers didn't do more to try to keep him
GREEN BAY, Wis. — The end of Jordy Nelson's 10-year run with the Packers wasn't just a financial decision. It was a football move too.
At least that's the way the Pro Bowl wide receiver described it Monday during a radio interview on ESPN Milwaukee.
Nelson, who was cut March 13 and signed a two-year, $14.2 million deal with the Oakland Raiders two days later, confirmed the Packers offered a significant pay cut that he considered until he met with general manager Brian Gutekunst and discussed his likely role with the team this season.
"I think the number was part of it, but also the conversation I had in the meeting," Nelson told the Wilde & Tausch Show. "I met with Brian and had a discussion because I had to get a feel for not just the pay cut but what their plans were going forward. After that meeting, there wasn't, I don't think, much desire there. I think with the combination of both, we decided what was best for myself and my family [just] as they decided what was best for them and the Packers."
Nelson, who turns 33 in May, had one season left on a four-year, $39 million contract and was scheduled to make $10.25 million in salary and bonuses with the Packers this season.
His production dipped sharply last season after quarterback Aaron Rodgers broke his collarbone in Week 6. Nelson had six touchdown catches in the first five games but none afterward and finished with 53 catches for 482 yards, but he still felt he could be productive in the Packers' offense.
"It was disappointing," Nelson said. "I mean, there were enough rumors that we knew something could possibly happen. We knew about a week in advance that it was going to be a discussion on me taking a pay cut or a restructure of some sort to help out with the cap number, but at the end of the day, it wasn't what we thought was right and we made the decision to move on. It was hard."
Nelson ranks third among Packers wide receivers in receptions (550), fifth in receiving yards (7,848) and second in touchdowns (69). He was one of the team's most popular players and a favorite target of Rodgers. Together, they hold the club record for most touchdowns by a quarterback-receiver combination (65), breaking Brett Favre and Antonio Freeman's mark of 58.
However, Davante Adams emerged last season as the Packers' go-to No. 1 receiver, and they decided to keep Randall Cobb despite a similar salary to Nelson.
"I think the hurt part was, to be honest, was the unwillingness to try to make it work," Nelson said. "But then again, it's a business, and they have to do what they think is best. What they need to do is to be able to move forward and prepare for the future of the Packers. But I think that was just part of it, but that's the way it is. I'm definitely not the only one that's been cut or released when you don't think it's going to happen, and it's not what you want to hear when you go into a meeting with them. But we've moved on."
In Oakland, Nelson rejoins former Packers offensive coordinator Edgar Bennett, who was hired as the Raiders' wide receivers coach this offseason.
Nelson said he had visits planned with the Seahawks, Saints and Ravens but opted to sign with the Raiders after his first free-agent visit.
"It's going to be great to be back with E.B. as my receiver coach and all that," Nelson said. "We'll move on. We've mourned for a little while, but we're ready to move on."
Nelson said his motivation isn't to show the Packers that they made a mistake.
"I take it the other way and try to prove the Raiders right," Nelson said.
Packers president Mark Murphy told reporters Sunday at the NFL annual meetings in Orlando, Florida, that he knew the decision to release Nelson would be unpopular.
"On the Jordy [situation], what we have tried to do over the years is provide the resources to football so they can make decisions based on football, not business matters," Murphy said. "That cuts both ways. And if you think you need the money and we have it to sign somebody, you can do it, but also, I'm not going to say you can't release somebody because he's really popular in the community."
Follow live: Brady, Bucs look to get on track vs. Panthers
Kansas City Chiefs coach Andy Reid to wear face shield again in Week 2, try out defogging product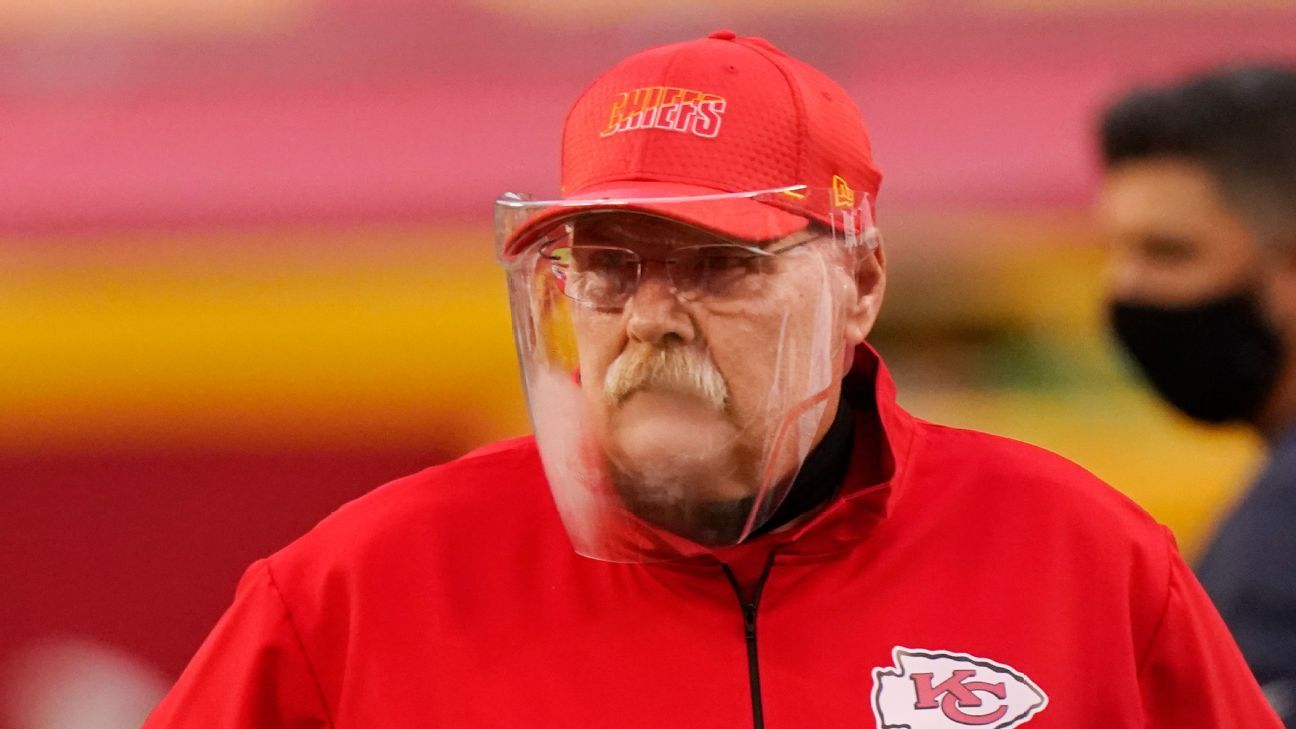 Chiefs coach Andy Reid on Sunday will wear the same face shield he wore for Kansas City's regular-season opener.
But Chiefs equipment manager Allen Wright has secured and deployed a product that hockey players use to defog their masks, Reid said over the weekend.
Reid is expecting better visibility results in Sunday's game against the Chargers than he got in the Sept. 10 opener against the Texans, when his shield fogged up throughout the game and became a memorable image from Week 1.
Rams coach Sean McVay, who was seen last Sunday night not always wearing his mask, texted Saturday night to ESPN that he might keep his normal mask this week in Los Angeles' game against the Eagles or use a gaiter, adding that "I'll be better."
McVay acknowledged this past week that he was one of the reasons the NFL sent out a memo warning coaches that they needed to be more diligent about wearing masks or potentially face discipline.
"I figured that memo was directed at me," McVay said this past Monday. "I've got to do a better job about that. So moving forward there will be a conscious effort to do that."
The NFL's sharply worded message was composed by executive vice president of football operations Troy Vincent, who wrote that Week 1 was "tremendous" but noted that "we must remain vigilant and disciplined in following the processes and protocols put in place by not only the league, union and clubs, but also by state and local governments."
NFL Week 2 arrivals – Best entrances, outfits, cleats and more
Welcome to Week 2 of the 2020 NFL season. We're still mostly fanless at the stadiums, but players have brought their "A" game with their outfits and cleats as they get prepared for kickoff.
Here's our roundup of the best pregame threads, entrances, scenes from the field and locker room and more.
The Week 2 NFL schedule is stacked with great matchups. Our NFL Nation reporters bring us the keys to every game, a bold prediction for each matchup and final score picks. Check out ESPN's NFL Week 2 game guide.
More: Sunday's fantasy football inactives: Who's in and who's out?
---
Best cleats
Golden Tate has two legends on his pregame cleats for Sunday:
.@kobebryant + @chadwickboseman = FOREVER pic.twitter.com/2ZO5xcpNog

— Golden Tate (@ShowtimeTate) September 20, 2020
Kobe also made it on to Darius Slay's cleats in Philly:
Mamba Mentality pic.twitter.com/0hnCkVUxyl

— Philadelphia Eagles (@Eagles) September 20, 2020
Best arrival looks
Apparently there's a Wild West showdown taking place Sunday, based on the arrival looks from Dak Prescott and Takkarist McKinley:
Cowboy Hat @Dak 🤠 pic.twitter.com/DY7GvaRIXq

— Dallas Cowboys (@dallascowboys) September 20, 2020
Takk. 🤠 https://t.co/dXSXk0bWWx pic.twitter.com/HVBFvW0HeR

— Atlanta Falcons (@AtlantaFalcons) September 20, 2020
Carson Wentz, Zach Ertz and … The Dude???? … make their way into Lincoln Financial Field:
Birds of a feather arrive together.@cj_wentz | @ZERTZ_86 pic.twitter.com/K1n3WP4zrx

— Philadelphia Eagles (@Eagles) September 20, 2020
The Dude abides.#FlyEaglesFly pic.twitter.com/poXh38xVQ7

— Philadelphia Eagles (@Eagles) September 20, 2020
Miami's Preston Williams has arrived at Hard Rock Stadium:
A 🦄 has been spotted at @HardRockStadium.#FinsUp x @Thresort pic.twitter.com/GRKuJ6GCSx

— Miami Dolphins (@MiamiDolphins) September 20, 2020
Best brotherly reunion
Reid Ferguson and Blake Ferguson pause for a meetup before the Bills and Dolphins head into battle:
Brother love. ✊#BUFvsMIA | #BillsMafia pic.twitter.com/qYFCG6dAIF

— Buffalo Bills (@BuffaloBills) September 20, 2020
Best movie reference
Not sure if this is exactly how the Saints arrived in Vegas, but we'll give them the "A" for effort here:
🎰 VEGAS BABY 🎰 pic.twitter.com/aTHjwrOC1r

— New Orleans Saints (@Saints) September 20, 2020
Best of the rest
There's a range of emotions before a game, and that's easy to see on the faces of NFL players, even behind their masks:
Arrived & ready‼️ pic.twitter.com/217O9vyFXy

— Pittsburgh Steelers (@steelers) September 20, 2020
Gameday fits 🔥 #JAXvsTEN pic.twitter.com/1rLW9sRpS1

— Tennessee Titans (@Titans) September 20, 2020
Arriving for the 1PM shift 💼#TogetherBlue | @MercedesBenzUSA pic.twitter.com/tEt6IKOTaR

— New York Giants (@Giants) September 20, 2020
Back to the office. 👔 #MINvsIND pic.twitter.com/id2XwWkrSg

— Indianapolis Colts (@Colts) September 20, 2020
Clock in, lock in.#SFvsNYJ | #TakeFlight pic.twitter.com/Lg93yNdd1c

— New York Jets (@nyjets) September 20, 2020