Pittsburgh Steelers put Le'Veon Bell talks on hold for draft and free agency
ORLANDO — The Pittsburgh Steelers are putting negotiations with running back Le'Veon Bell on hold while focusing on free agency and the NFL draft.
General manager Kevin Colbert said the team will eventually continue dialogue with Bell's reps but there's no update on a deal. The Steelers franchise tagged Bell for the second straight year and have until July 16 to execute a long-term deal.
"We're not intentionally ignoring that. More urgent business needs to get taken care of," said Colbert from the NFL owners meetings in Orlando. "We will reassess where that is. He'll reassess where his interests are as well. I anticipate us continuing that process once we get through the free agency period and maybe even through the draft. The draft can change things on both sides."
The draft could solidify other positions or open up more salary cap space, which could affect how the team approaches Bell's $14.5-million franchise tag.
Bell told ESPN in early March that the Steelers upped their offer but both sides are still apart on terms, and Bell is seeking at least $14.5 million per year over the course of a long-term contract. Bell also said he'll consider sitting out training camp for the second consecutive year, or even regular season games. Bell would need to show up by Week 10 in order to accrue an NFL season and hit free agency in 2019.
After averaging 128.9 scrimmage yards per game since 2013 — the most in NFL history for a player's first five seasons — Bell says he won't settle for less than his worth.
Colbert said rescinding the tag is improbable, but he's hopeful Bell is with the team in late July as they reconvene at St. Vincent College.
"Hopefully Le'Veon comes to training camp. Hopefully he's a part of a winning team in 2018," Colbert said. "We'll react to every situation as it presents itself. But we'll never sit around and talk about what-ifs."
If Bell's not there, Colbert says he won't react.
"He's not under contract (in that case), he doesn't have to show up," Colbert said. "He doesn't sign the deal, then we'll deal with it when it happens. There's nothing to react to."
Part of the holdup is the running back market precedent. The Steelers know Bell is worth big money, but paying him $15 million per year would nearly double that of Atlanta's Devonta Freeman, who currently tops all backs at $8.25 million. Bell believes he shouldn't be punished for the market. He's also part of a 'Killer Bs' trio with Ben Roethlisberger and Antonio Brown, whose contracts pay a combined $37 million annually.
"Both of those guys got what they deserved," said Bell earlier this month. "I feel I'm next in line."
Panthers' Christian McCaffrey suffers apparent ankle injury vs. Buccaneers
Carolina Panthers running back Christian McCaffrey suffered an apparent ankle injury with 13:30 remaining in their 31-17 loss to the Tampa Bay Buccaneers.
McCaffrey had 19 rushes for 59 yards and two touchdowns and four catches before the injury, which occurred during a 7-yard touchdown run. He walked off the field with a limp after the touchdown and did not return.
Coach Matt Rhule said after the loss to the Buccaneers that all he knew about McCaffrey's situation is he came out with what trainers called a "lower leg injury."
Rhule did not know if it was related to McCaffrey taking himself out of the game in the first quarter on a third-down play.
McCaffrey is coming off a 2019 season in which he became the third player in NFL history to have 1,000 yards rushing and receiving in the same season.
Mike Davis finished as Carolina's primary back.
Baltimore Ravens fear nickelback Tavon Young (knee) done for season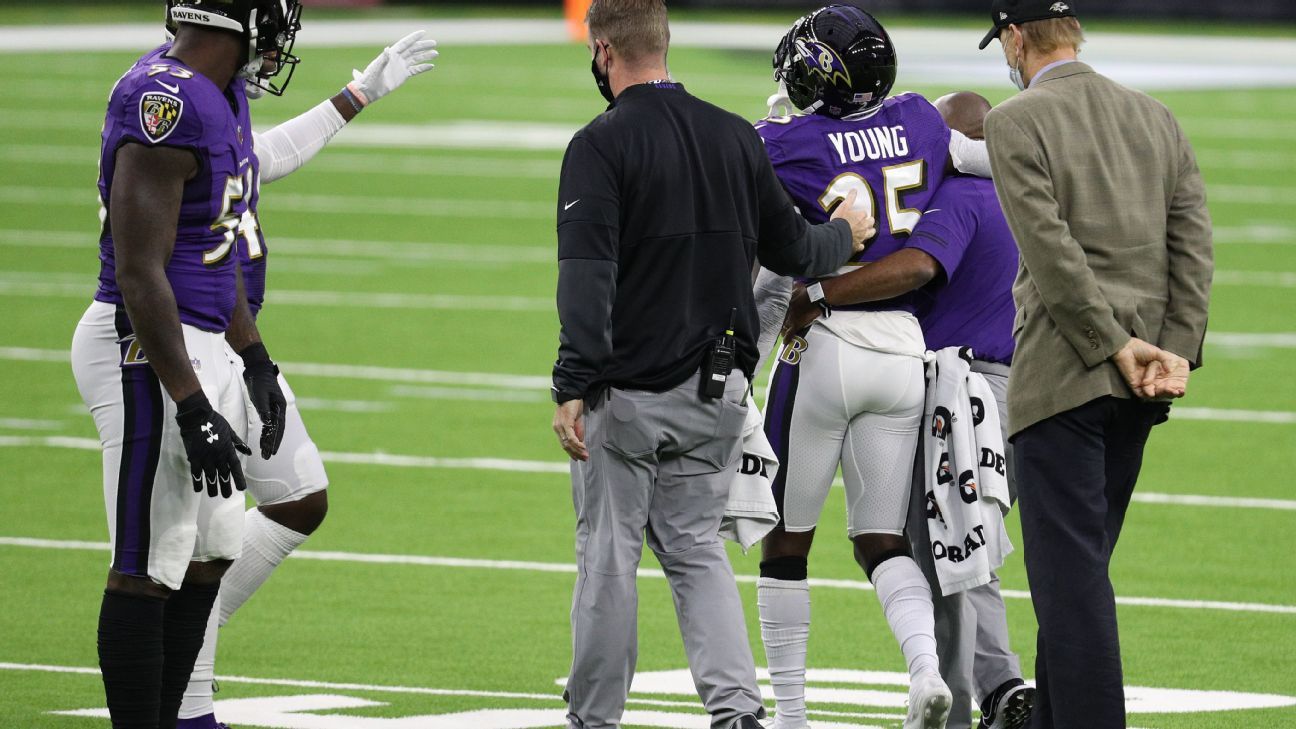 The Baltimore Ravens fear they've lost nickelback Tavon Young to another season-ending injury.
On the second defensive series of the Ravens' 33-16 victory over the Houston Texans on Sunday, Young leapt in the air to break up a pass and landed hard on the NRG Stadium turf in Houston. He departed the game with a left knee injury and never returned.
After the game, Ravens coach John Harbaugh said it looks as though Young is done for the season.
"For a guy that we love and we care about and has been through so much already, we know he'll tackle this challenge as well," Harbaugh said.
Young later tweeted, "If there's one thing I know, you can't question God, Great Win today."
If there's one thing I know, you can't question God, Great Win today 💪🏾

— Tavon Young (@TY_Real1) September 20, 2020
The Ravens are deep at cornerback and can replace Young in a couple of ways. Baltimore can use third-year reserve Anthony Averett at nickelback or put Jimmy Smith, a former six-year starter, on the outside and move Marlon Humphrey to nickelback against three-wide receiver sets.
This is the latest setback for Young, who had missed two of the previous three full seasons with a serious injury. Young, 26, tore his ACL during the 2017 offseason and then saw his 2019 season ended by a neck injury in training camp.
Now, it appears that Young's season is over in Week 2.
A fourth-round pick in 2016, Young became the NFL's highest-paid nickelback 19 months ago, when he signed a three-year, $25.8 million deal that included a $10 million signing bonus. He's played only one full game since.
Young is the second Ravens cornerback to suffer a season-ending injury. Iman Marshall, a fourth-round pick in 2019, sustained a major knee injury early in training camp.
Arizona Cardinals laud QB Kyler Murray's mobility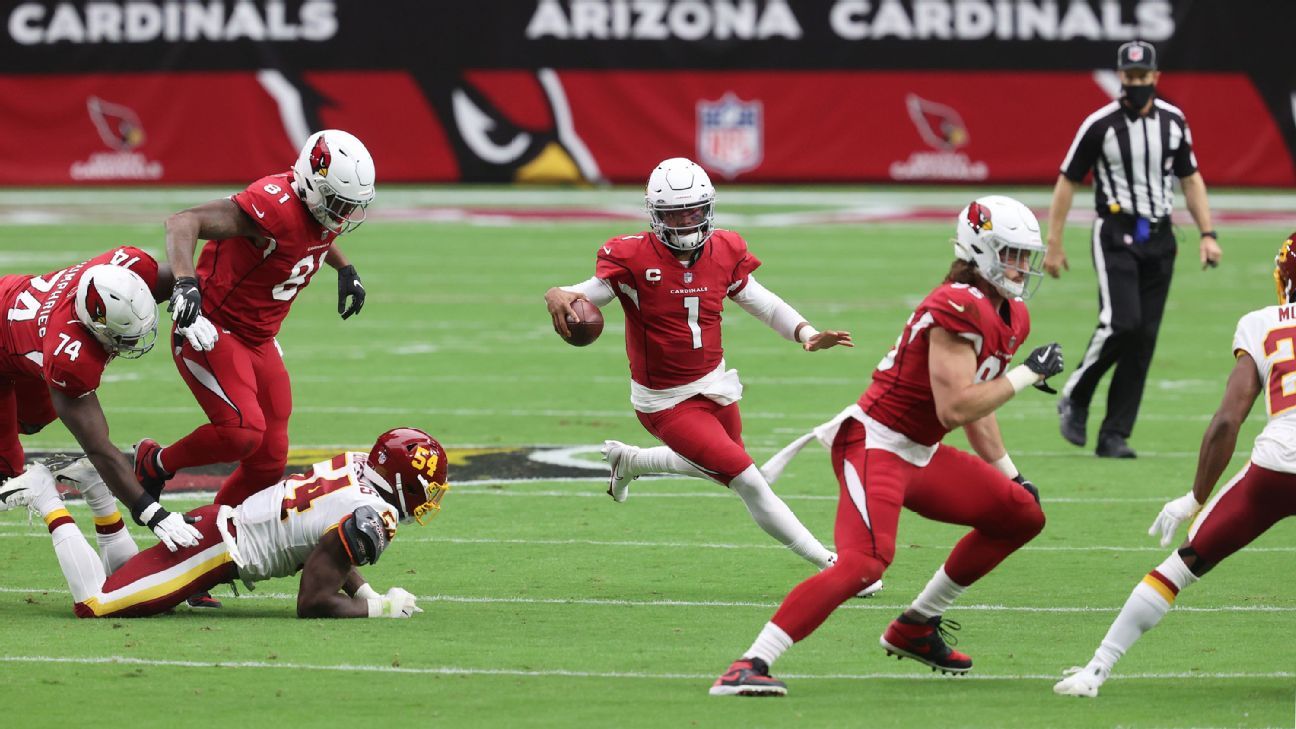 GLENDALE, Ariz. — Arizona Cardinals second-year coach Kliff Kingsbury doesn't enjoy watching his star quarterback, Kyler Murray, tuck the football and take off toward a hole in the offensive line, regardless if there are either swaths of grass or paydirt in front of him.
When Murray takes off, which has been happening more often in the first two games of this season than the first two of last season, Kingsbury is usually standing on the sideline muttering the same phrase over and over: "Get down."
Sometimes Murray will — either on his own, with a picture-perfect baseball slide, or with the help of a defender seething to get their hands on the reigning rookie of the year.
Other times, Murray won't, just weaving, cutting and juking his way to the end zone.
It's not until the day after the game that Kingsbury will sit in his office at the Cardinals' training facility in Tempe, turn on the film and soak in what unfolded in front of him the day before. Regardless of how many times Kingsbury has seen Murray take off and do his thing with his feet, he's never surprised.
"I've watched that since he was 15 years old," Kingsbury said. "He is one of the most dangerous people probably in the league when he's in the open field like that, and he is as elusive as anybody, and that's a weapon. He's just got to be able to protect himself, which he does a good job of."
Murray's running hasn't just been the so-called X factor for Arizona, now 2-0 to open the season. It has been the evening factor, and then some.
The Cardinals' offense, despite putting up 54 points the first two weeks of the season, has yet to be or look perfect. There were plays in Sunday's 30-15 win over the Washington Football Team that wide receiver DeAndre Hopkins wished he and the rest of the offense had back. There were penalties that called back touchdowns or pushed the Cardinals back out of easy scoring range. And that's to be expected, Hopkins said, considering there weren't organized team activities, minicamps or preseason. Just training camp to get new players to jell into a new system.
As Kingsbury put it, "I just feel like we have not hit our stride yet."
But that's where Murray has factored in.
He has run for three touchdowns this season, half of Arizona's overall season total. And he's not just the team's leading rusher, he accounts for 46.4% of its rushing yards.
"He adds a different dynamic to this offense where he can go and score from 20, 30 yards out," Hopkins said. "It's something that is hard for defenders to be able to attack when you have a quarterback like that that is looking to score and not just getting first downs.
"And, also, when he's running, he's looking to throw. As you seen today, the touchdowns that he had, obviously, it was defenders right there in front of him and he made a move or two, and went in for a touchdown."
But Murray's play hasn't been crystal clean either, according to his coach.
Kingsbury described Murray's play the past two weeks as "a work in progress."
"I think you can see we're not as sharp as we'd like to be," Kingsbury said. "But he has so much talent that he can still make some incredible plays. And we're just gonna keep working at it and hopefully take another step next week and go from there. So, he's a spectacular talent. We all know that.
"I think when we really get it clicking and get in a rhythm that we can get rolling pretty good. So, we'll hopefully take another step next week and that'll continue."
Throughout the offseason, Murray talked about developing a better understanding of how defenses work, his own field awareness as well as his teammate's.
What Murray is doing — running for 158 yards and three touchdowns on 21 carries — is a product of that.
"And then, when my number's called or I'm able to break the pocket it's more comfortable for me to make something happen," Murray said. "If I have to slide, I gotta slide. But if I know I can get more yards, then that's what I'm trying to do."
While the rest of the offense figures itself out, Murray will be there to do his part in helping the offense as an entirety be a force.
Murray's ability to run — and not just run but score points with his feet — has been the deciding factor for an offense that features a future first-ballot Hall of Famer in Larry Fitzgerald and possibly the best receiver in all of football in Hopkins.
"I think it does a lot," Murray said of his ability to run. "It's an extension of the run game, or really our offense, in general. When I can break the pocket or pull a read and score, that's the dynamic that we have in this offense because I'm able to move.
"It's a blessing to be able to move fast."