Jeff Fisher got Vince Young's apology, unsure it was real
Former Tennessee Titans coach Jeff Fisher said he did receive a letter of apology from Vince Young but he never responded because he wasn't sure it was really from his former quarterback.
"Yes, I got a letter from Vince," Fisher told PaulKuharsky.com. "And I didn't respond. My name was spelled wrong on the letter, the letter came from the University of Texas, and I had no way of knowing if it was (really) from him. It came from the athletic department. But my name was spelled incorrectly.
"I still have it. But I didn't know if it was from him so I felt no need to respond."
He added: "I thought if it was from him he would have maybe spelled my name right."
Young, 34, sent the letter in 2013, telling NFL during his time with the Titans he was "immature and not paying attention and not listening, and taking my frustration out on a lot of people wasn't the right thing to do."
Young, who was working at the University of Texas, his alma mater, around the time he sent his letter, said in an interview with Sports Illustrated last year that Fisher had never responded. Fisher had declined to be interviewed for Sports Illustrated's story.
The Titans selected Young No. 3 overall in the 2006 draft, but he failed to live up to lofty expectations and was released by Tennessee in 2011 and spent that season with the Philadelphia Eagles. He signed with the Buffalo Bills in 2012 and Green Bay Packers in 2013 but was cut by both teams before each season began. He signed with the Saskatchewan Roughriders last year but was released by the team after suffering a hamstring injury.
Fisher, 60, was fired by the Titans after the 2011 season, his 16th as coach with the franchise. He later was hired by the Rams but fired in 2016.
Culture over cash: Ravens beating odds by keeping All-Pro talent – Baltimore Ravens Blog
OWINGS MILLS, Md. — When the Baltimore Ravens announced they had signed Ronnie Stanley to a five-year deal Friday, this was far more than a celebration of keeping the best left tackle in the NFL. It represented another victory lap for the Ravens' culture.
It's remarkable that Baltimore was able to sign two All-Pro players — Stanley and Marlon Humphrey — to long-term deals in the same month. It's unreal that the Ravens were able to retain both without making them the highest-paid players at their positions.
Stanley and Humphrey believe this is the start of a special time in Baltimore. With Lamar Jackson in his second full season as a starting quarterback, there's a feeling inside the locker room that the Ravens are beginning an extended run as a Super Bowl contender.
For Stanley and Humphrey, the top priority wasn't about breaking the bank. It was more important that they didn't break up this team.
"We all know we're a family here," Stanley said. "I think all the guys are on the same page on what we're trying to build here in Baltimore and that's long-term success."
Ravens officials faced an untimely predicament this year when Laremy Tunsil shattered the market value for offensive tackles in April with a three-year, $66 million contract and Jalen Ramsey did the same at cornerback in September with a five-year, $100 million deal. Tunsil and Ramsey used the leverage of being traded to their teams before signing a long-term deal and knew neither the Rams nor the Texans would allow them to walk.
Tunsil's $22 million-per-year average was $5.5 million higher than that of any other left tackle, and Ramsey's $20 million-per-year average was nearly $3 million more than that of any cornerback. Baltimore knew there was no way it could keep this team intact if it surpassed these deals. So, the Ravens offered Humphrey and Stanley deals that fell just below top of the market — and crossed their fingers.
On Oct. 1, Humphrey signed a five-year, $97.5 million extension ($19.5 million per season). On Friday, Stanley agreed to a five-year, $98.75 million extension ($19.75 million per year).
"For me, being the highest paid never really was a factor," Humphrey said earlier this month. "The biggest thing for me was just staying a Raven. I remember when I first got here, me and [wide receiver] Chris Moore used to joke around saying that we're Ravens for life. And it's a very good feeling to actually be one."
When Eric DeCosta took over for Ozzie Newsome as Ravens general manager in January 2019, he emphasized that he wanted to keep young talent before reaching free agency.
The month of March has long become a frustrating period for the organization. Limited by cap space, the Ravens couldn't come close to outbidding teams for the likes of inside linebacker C.J. Mosley, outside linebacker Za'Darius Smith, center Ryan Jensen, guard Kelechi Osemele, offensive tackle Rick Wagner and fullback Kyle Juszczyk.
In his 20 months as general manager, DeCosta has signed nearly a dozen players to extensions including kicker Justin Tucker and cornerback Marcus Peters. But the biggest achievement was holding on to a top defensive playmaker in Humphrey and Jackson's blind-side protector in Stanley.
"I'm proud of the fact that guys want to be here, for sure," Ravens coach John Harbaugh said. "I'm proud of the fact that guys want to come here. That's kind of been established for quite a period of time. We're just trying to do things the right way."
Signing Stanley and Humphrey were just the first significant steps in keeping this core of Ravens players together. This offseason, Baltimore might have to use the franchise tag on one of its top pass-rushers (Yannick Ngakoue appears to be the prime candidate over Matthew Judon).
Jackson, reigning NFL MVP, has outplayed his rookie contract and could command a new deal over the next two years. Tight end Mark Andrews and and right tackle Orlando Brown Jr. will be free agents in 2022.
"I feel the Ravens do a really good job of picking out good talent and trying to keep that culture the way it's always been," Stanley said. "It's just Ravens football."
John Ross of Cincinnati Bengals eager to play, wants out if he can't
CINCINNATI — Bengals wide receiver John Ross opened up about his role and uncertain future in Cincinnati on Friday.
Ross, who has not played in three of the team's past four games as his role has diminished, rebuffed a report that suggested a team source wasn't sure if the speedy receiver still liked football.
"Trade me if this (is) how y'all feel," the Bengals' 2017 first-round pick wrote on Twitter on Friday. "I'm healthy and eager to play. I know I can be productive. It's hard to love something when your (sic) not actually participating in it.
"Believe me, its (sic) not football that I don't like."
It's not a secret that i have requested a trade. Trade me if this how y'all feel. I'm healthy and eager to play. I know I can be productive. It's hard to love something when your not actually participating in it. Believe me, its not football that i don't like. https://t.co/IlUg270jbI

— Hank Moody (@WatchJRoss) October 30, 2020
The NFL trade deadline is Tuesday.
Ross' lone offensive numbers this year are the two catches for 17 yards he had in the season-opening loss against the Los Angeles Chargers. He is listed as doubtful for Sunday's game against the Tennessee Titans (5-1) with an undisclosed illness.
Ross was a full participant at Wednesday's practice before he missed the next two days and was not present. The receiver has been listed with an illness on three separate occasions this season. They have all occurred after he was healthy scratch for Weeks 3 and 4. Ross has not met with media since the start of the regular season.
When asked Friday about the Ross' injury designation for this weekend, coach Zac Taylor said Ross was dealing with stomach issues.
"He's sick," Taylor said. "His stomach bothers him. It is what it is. He's listed with [an] illness, and he's trying to work through it."
Ross, a former standout at the University of Washington, has struggled to find his footing in four seasons with the Bengals. Between injuries and an inability to crack the rotation, Ross has appeared in just 27 games with Cincinnati.
Last year, Ross had his best start to a season before he injured his sternoclavicular joint and was placed on injured reserve for eight games. He still finished 2019 with 28 catches for 506 yards, both of which were career highs. Cincinnati declined to pick up the fifth-year option on Ross' rookie contract.
When reports surfaced of Ross' trade request, Taylor declined to get into the details of the situation but said he had spoken to the receiver.
"I think anytime players aren't playing they get frustrated," Taylor said Oct. 21. "He's handled his business the right way around here."
New Orleans Saints rule out Michael Thomas, Marquez Callaway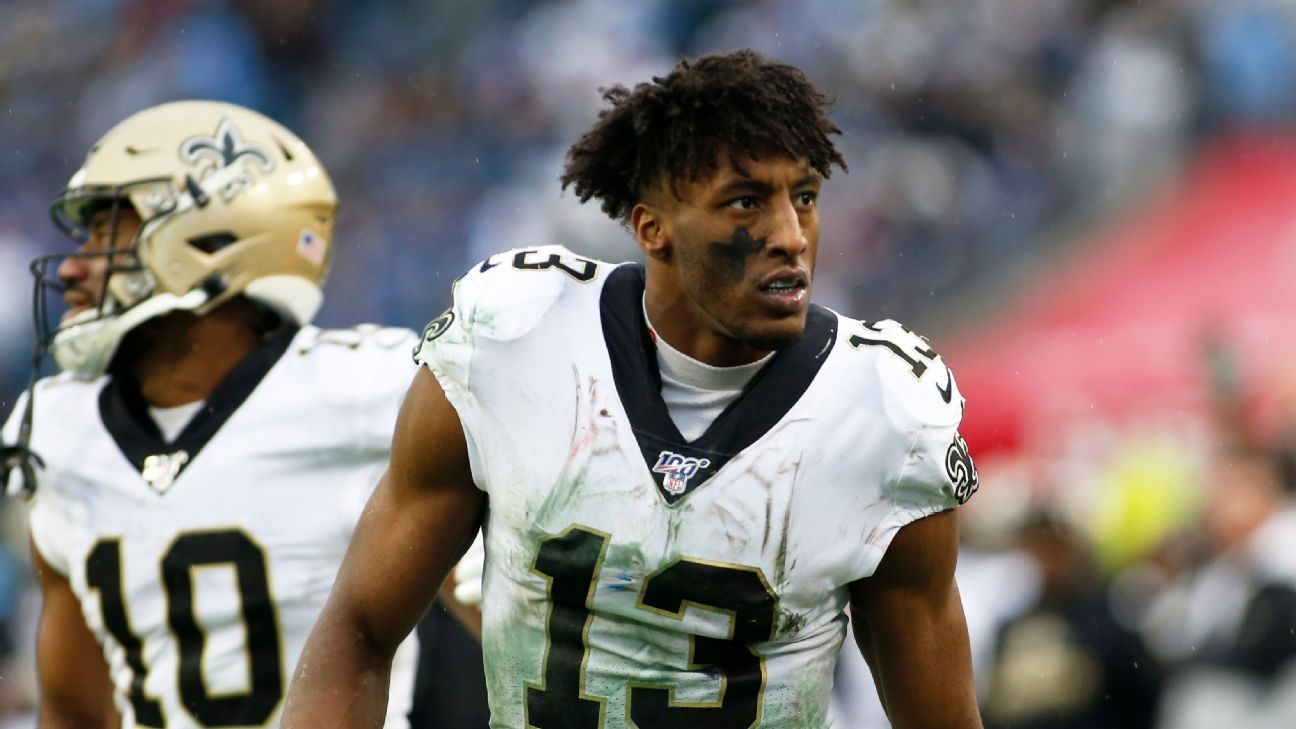 METAIRIE, La. — Michael Thomas and Marquez Callaway have officially been ruled out for Week 8 as the New Orleans Saints' receiving corps continues to get thinner by the week.
Emmanuel Sanders also remains on the reserve-COVID list, meaning New Orleans will be without three of its top four wide receivers Sunday at the Chicago Bears.
All three could be back as early as next weekend's critical showdown with the Tampa Bay Buccaneers on Sunday Night Football, however.
Thomas has been sidelined since Week 1 because of a high ankle sprain, a team disciplinary action and a hamstring injury that he suffered last week. But he returned to practice on a limited basis both Thursday and Friday this week.
Callaway, meanwhile, suffered an ankle injury during his breakout performance last weekend while Thomas and Sanders were out. The undrafted rookie caught eight passes for 75 yards in New Orleans' 27-24 win over the Carolina Panthers. Callaway also practiced on a limited basis Thursday and Friday.
In their absence, the Saints should continue to rely heavily on running back Alvin Kamara, tight end Jared Cook and receivers Tre'Quan Smith and Deonte Harris in the passing game. They could also call up practice squad receivers Austin Carr, Juwan Johnson and/or Tommylee Lewis.
The Saints (4-2) have actually won three straight games despite their depleted WR corps, with Drew Brees and the passing offense finding a better rhythm by the week. They converted 12 of 14 third-down attempts and never punted in last week's win over Carolina.