Does Shohei Ohtani belong on the Angels' Opening Day roster? – SweetSpot
The Los Angeles Angels have a difficult decision to make over the next few days: Will Shohei Ohtani make the Opening Day roster?
OK, so maybe it is an easy decision. After all, Ohtani has struggled on the mound and at the plate in his limited exposure in spring training games. In two spring starts, he allowed nine hits and nine runs in 2⅔ innings, flashing plus stuff but also struggling with his command and serving up three home runs. At the plate, he has gone 3-for-28 with nine strikeouts, three walks and no extra-base hits.
Much of his pitching work has come on the back fields, including an 85-pitch outing in an intrasquad game Saturday against Angels' minor leaguers. While Angels manager Mike Scioscia called it a "great outing," Ohtani threw 47 of the 85 pitches for strikes but walked five batters, hit another and threw two wild pitches. ESPN's Jesse Rogers reported that Ohtani's fastball was 92-94 mph, down from his previous outings. Through his interpreter, Ohtani said after the game that he was working on his splitter and breaking ball more than his fastball, which is probably why his velocity was down a bit. Hmm.
Maybe the Angels feel obligated to keep Ohtani on the major league roster. After all, they were handed a gift when Ohtani selected them over the other teams, and I doubt their sales pitch included Ohtani starting the season in Salt Lake City.
Still, the Angels have a long-term commitment to Ohtani and they need to do what's best for his development and what's best right now for the franchise. That means starting him in the minor leagues, where he can find his fastball command, have a few good outings and get at-bats without everyone focused on whether he's going to be the Babe Ruth of Anaheim on March 29.
Saturday's outing seemed like a possible harbinger of a minor league assignment. Using major league starters on the back fields or minor league games has become a trend in recent seasons, but this felt like a deliberate attempt to give Ohtani a low-pressure environment. The Angels needed him to get his pitch count up, so this also provided a controlled situation to do that. In a regular spring game, for example, if his pitch count in one inning got up to, say, 30, they would likely want to remove him and he'd have to finish throwing on the side. In a controlled scrimmage, you can end the "inning" at any point.
That's sort of the point, however: The Angels couldn't trust Ohtani to get through 85 pitches in a spring game, so that hardly makes him ready for a major league game. Scioscia may have called it a great outing, but clearly walking five batters — minor league batters — in six innings is a sign that he's not ready to start on, say, April 2 against the Cleveland Indians in the Angels' home opener. Those lights are a lot bigger than the ones on a back field in Tempe.
Ohtani said he's ready. "I feel like I've done everything I can get to get ready for Opening Day and I felt like I've done everything 100 percent, but it's hard. Every other year, even in Japan, I was never 100 percent on Opening Day, so it's going to go gradually into the season. I think it's going to be the same this time."
Asked when he's pitching next, he responded, "Please ask Mike Scioscia."
If that's the case, it's all the more reason for him to start in Triple-A. Remember, because of an ankle injury, he pitched just 25 innings in Japan last year. His command was lacking then as well, as he walked 19 batters. So some of this is probably just rust from a pitcher trying to find his 2016 form, when he posted a 1.86 ERA and fanned 174 batters in 140 innings.
The bat is another issue entirely. There's a reason there hasn't been a true two-way player since Ruth: It's hard! The hitting side of the equation is going to be even more problematic to work out. How much patience will Scioscia have with him? He obviously needs at-bats to adjust to major league fastballs, but if he struggles at the plate at the onset, is Scioscia willing to give him 300 plate appearances? The Angels are a potential playoff team and if Ohtani starts off 7-for-49 or something it will be easy for Scioscia to give those at-bats to Chris Carter or Luis Valbuena and keep Albert Pujols as the full-time DH.
Of course, if the Angels do send him down they'll be accused of doing so simply to manipulate his service time, as the Atlanta Braves did with Ronald Acuna. There is enough evidence to justify the move, though. Ohtani seems aware that he may not make the Opening Day roster. "Honestly, I don't know how people up there are making decisions like that, what they think of me at this point," he said Saturday. "I try not to worry about that. I've been having the same approach since my days in Japan. It's not really up to me, it's up to other people."
There is enormous pressure on this kid, with all the hype, the expectations, the throng of Japanese reporters following his every movement. He's trying to do something no player has done at the major league level in 100 years all while adapting to a new culture. There's nothing wrong with easing him into that situation. He should start the season at Triple-A.
How Dodgers phenom Gavin Lux wants to make a difference in Kenosha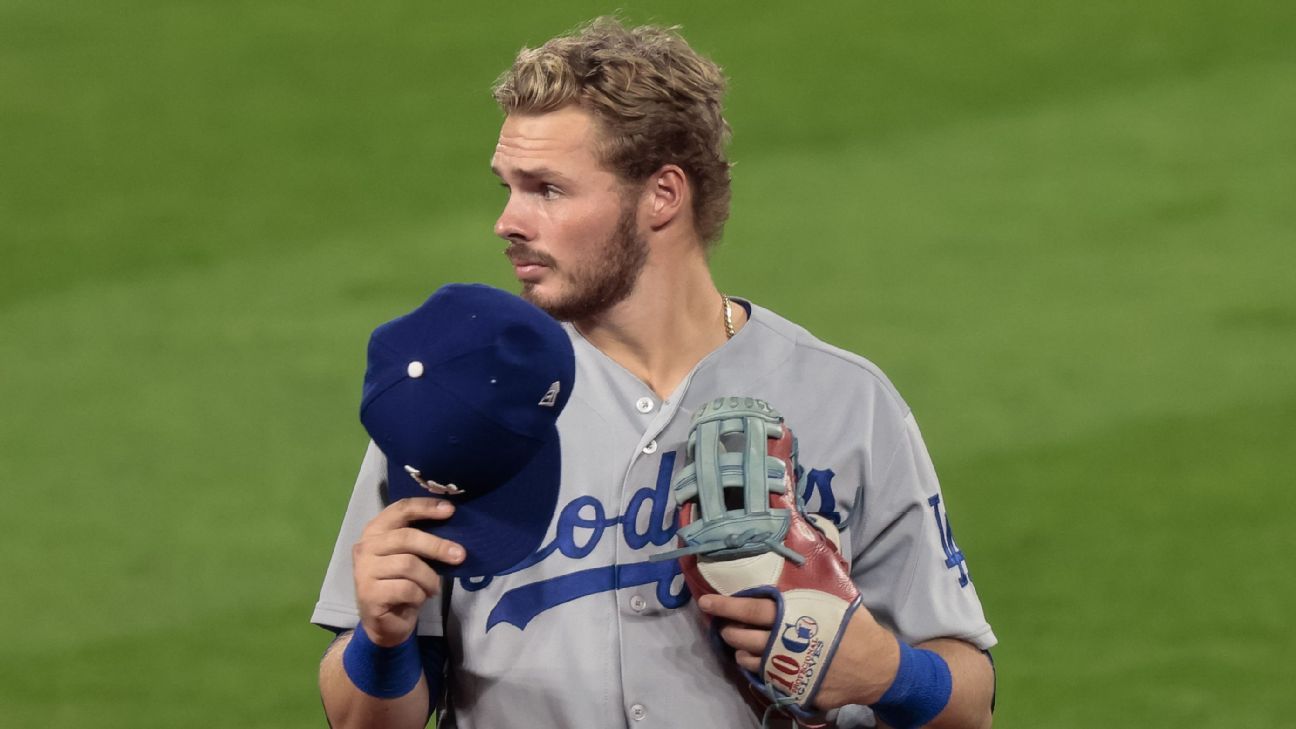 Gavin Lux is only 22 years old, still technically navigating through his rookie season. He's trying to figure out his swing, trying to learn the pitching in Major League Baseball, trying to live up to the lofty expectations of being a highly rated prospect and trying to carve out a role on a Los Angeles Dodgers team that stands among the most talented in recent memory.
Lately, though, Lux has found himself consumed by his hometown of Kenosha, Wisconsin, a lakeside community of around 100,000 people that has become embroiled in the racial tension that has risen across the nation over the last four months.
Jacob Blake, a 29-year-old Black man, was shot seven times in the back by a white police officer with his three children in the car on Aug. 23, sparking several nights of protests that escalated into violence and led to the shooting death of two demonstrators.
Lux has spent a lot of these past few weeks thinking about his family and friends back home, particularly his brother-in-law, a cousin of Pro Bowl running back Melvin Gordon, and his nephew, both of whom are Black.
It helped spur him into action.
"I can't look at my nephew in the eye and say, 'Hey man, I didn't fight for you,'" Lux said. "Naw, I can't do that."
Lux has been in touch with business owners and community leaders to gather intel on the best ways to help. The details are still hazy, but he has vowed to be proactive. He wants to set up a fundraiser for the businesses that have been impacted, and he wants to get back into the community as soon as the Dodgers' postseason run is over. The hope is to put together some sort of charitable event, perhaps a softball game or a 3-on-3 basketball tournament, to raise money and help bring the community back together.
"I feel like anybody can just write a check," Lux said, "but this is where I grew up."
Gordon is also from Kenosha. So is Minnesota Vikings cornerback Trae Waynes and social media influencer Tristan Jass. Lux is hoping to recruit all three in an effort to slowly pick up the pieces. Before a recent game against the Colorado Rockies, Lux spoke to ESPN about the dynamics of his hometown and the challenges it faces. (This conversation was edited for brevity and clarity.)
How quickly did you realize you needed to do something?
Lux: It took a couple of days just to sit and talk to some family members and some friends and some other people in the community that were affected. I was like, "Man, there's gotta be something I could do to use my platform to be able to help."
What were you hearing from your friends and family members about what it was like over there during that time?
Lux: It was a crazy time. A lot of different people were affected, businesswise, a lot of families were affected. They just said a lot of the city was struggling and that it was definitely just a completely different vibe from what it usually was. The community, for me, feels like it's a tight-knit community. It's not a super small city, but everybody kind of knows everybody, it feels like. Just to see everybody go through it a little bit, it kind of hurt me.
You've spent the vast majority of your life immersed in being a baseball player, and so much of your mindset has been set on what it's going to take to get to the major leagues and stay there. Had you gotten to a point where you thought far enough ahead about how you would ultimately use your platform, or did this event trigger that for the first time?
Lux: It's always in the back of my mind, but for it to hit so close to home, it caused a trigger where I was like, "Man, I do have a little bit of a platform, I can help. How can I help? What is the best way to help?" Those were kind of the thoughts that went through my head. Having it happen in my hometown definitely triggered it. But you see guys on our team like [Justin Turner] and [Clayton Kershaw] doing so many good things in the community, Mookie [Betts]. Pretty much everybody on our team is doing something good. Just being around those guys and seeing what they're doing — it rubs off on me where it makes you want to help people and do good. That's how it happens, you know?
How would you describe what it was like to grow up in Kenosha?
Lux: Everyone supports each other, and it really does feel like a tight-knit community. It's right next to the water, you're always going to the beach in the summer, stuff like that. I love the city. People might have the wrong [impression] about it, but it's a really good city. And to grow up there, I feel lucky.
This can be difficult to pick up on while you're still growing up, but did you ever consider it to be a racially divided city?
Lux: No, I don't think so. Honestly I don't. I don't know if what happened triggered that. But I honestly don't think it is. I really don't. You see these protests and you see people doing these gatherings and stuff like that, and there's people from all different walks of life. To say it's racially divided — I don't think it's accurate at all.
What was Aug. 26 like for you? Your hometown NBA team [the Milwaukee Bucks] decides to boycott a playoff game, and then later that night you're in the clubhouse in San Francisco where your teammates ultimately decide not to play against the Giants.
Lux: I support our whole team, obviously. I support equality and all that. For me it was emotional. Kenosha was affected, obviously. And if you have conversations with your teammates and other African-American people, you really understand what is going on. People just have to have these conversations to understand what is going on. To hear from some of my teammates and other people — I'm all in. I support the hell out of whatever we're gonna do here.
Mookie has been very proactive in the fight against social injustice, and Kershaw has gone out of his way to educate himself on the topic. What have you learned about the Black Lives Matter movement while sharing a clubhouse with them?
Lux: You gotta put yourself in a guy like Mookie's shoes and really understand what he's saying and his real-life experiences. Not just Mookie, either. There's a lot of other people, other family members and friends that I've talked to. You have to try to put yourself in their shoes and realize what's going on and try to get an understanding. I keep saying this, but you just have to have these conversations. They might not be the most comfortable conversations ever, but to understand, you have to have them.
What have your conversations with your brother-in-law and your nephew been like in recent weeks?
Lux: Pretty emotional, actually. These are people that I really care about and love, and hearing them get emotional about it, it really hits home. It's emotional. I want to see my nephew grow up and have the same opportunities that other people do.
MLB Sunday Spotlight – Will Twins or Cubs last longer in playoffs?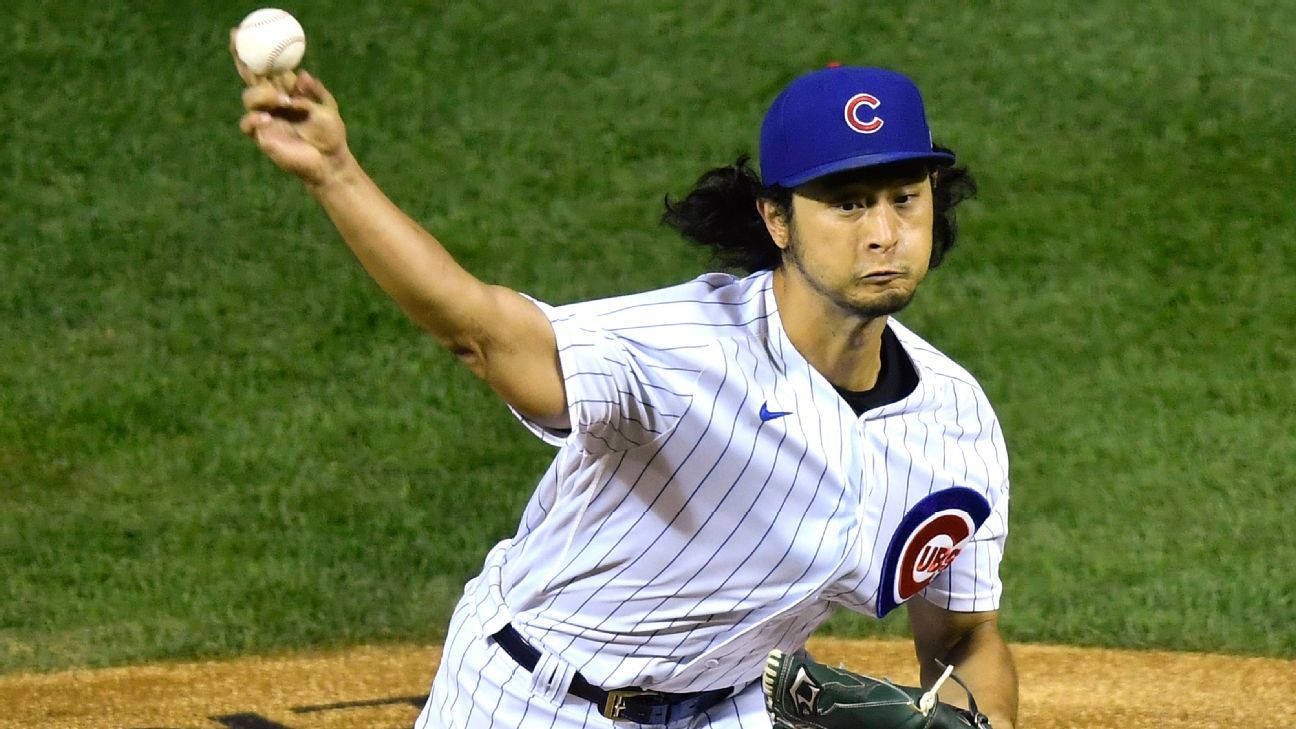 With the 2020 MLB season hitting the home stretch (already!), ESPN has a Sunday doubleheader with four teams hoping to make some noise in October. The Giants and A's get things going at 4 p.m. ET, followed by Twins-Cubs at 7 p.m. ET.
To get you ready for the twin bill, we asked national baseball reporters David Schoenfield and Jesse Rogers some key questions about the teams.
The Oakland Athletics haven't advanced in the playoffs since 2006. Will they break that slump this year?
Jesse Rogers: Not if they play the Cleveland Indians in the first round. The A's starters are good but none give you that scare the Indians can throw at you. Cleveland has its own issues, which might show up in a longer series. But shutting down an offense for two games? That should be Cleveland's specialty this postseason.
David Schoenfield: The good news is that after three straight losses in the wild-card game (2014, 2018, 2019) the A's will at least get a best-of-three opportunity this time. The strength of the team is the bullpen, which isn't the worst thing to have going for you in a short series. Manager Bob Melvin would have quick hooks for his starters and rely on his relievers. As of now, the A's would actually play the Astros in the first round and they've gone 7-3 against Houston. Those games have been extremely low scoring, with the A's averaging just 3.8 runs per game and Houston 2.5.
I'll say A's over Astros, but I'm with Jesse if they meet Cleveland, I'll go with the Indians shutting an Oakland offense that will be without Matt Chapman and has seen Marcus Semien and Matt Olson fail to replicate their 2019 production.
Rogers: Pitching. Just like the Indians, the Cubs have been fueled by the top end of their rotation as well as an improving bullpen. There isn't a need to look deeper than Yu Darvish (Whose return to dominance I profiled here), Kyle Hendricks and 'no-hit' Alec Mills as a good part of the reason the Cubs are in first place despite some down years by their stars.
Schoenfield: The Cubs haven't hit — but nobody has in the NL Central. Are they using balls left over from 2014 in that division or something? Entering the weekend, the Cubs actually rank 17th in the majors in wOBA, which isn't great, but is still the best in the division. Ian Happ, Jason Heyward and Jason Kipnis have helped to make the offense respectable and the pitching/defense entered the weekend allowing the second fewest runs per game in the NL, behind only the Dodgers.
Which of the two teams — the Twins or the Cubs — will last longer in the playoffs?
Schoenfield: Well, it looks like the Twins are pretty much locked in to face the Yankees in the first round, it's just a matter of where that series will be played. The Twins, of course, are riding a seemingly impossible streak of 16 consecutive postseason defeats going back to the 2004 Division Series. Thirteen of those losses have come against the Yankees. You can't really say the Yankees are in their heads because these have been different groups of Minnesota players, but it's fair to venture that the Twins would probably rather face anybody else in the first round. When they met last season, the Twins' rotation was on fumes because of injuries and they're in better shape this year with Kenta Maeda having a terrific season. In fact, dare I suggest the Twins do this: Skip Maeda in Game 1 and use Randy Dobnak or a bullpen game against Gerrit Cole and then go Maeda in Game 2 and Jose Berrios in Game 3?
(So my answer is the Cubs will last longer.)
Rogers: Neither. They'll both go out after the first round.
Schoenfield: Ahh, Jesse, you underrated the Cubs. The bottom of the NL is terrible. They're going to play the Giants or Marlins or Reds or Phillies; I'll take the Cubs over any of those teams, although Darvish's postseason history is, umm, a pause for concern.
Yankees tie franchise record with 12th straight win vs. Red Sox
BOSTON — The New York Yankees–Boston Red Sox rivalry is considered one of the greatest in all sports.
But in the past two years, it has certainly turned into a one-sided affair.
The Yankees pummeled the Red Sox 8-0 on Saturday night for their 12th consecutive victory over their AL East rivals, tying a franchise record. The Yankees have won 12 straight games vs. Boston and 17 of the last 18 games between the clubs since July 28, 2019.
"It's probably a little bit fluky, a little aberration," said manager Aaron Boone when addressing the franchise's record-tying streak. "Obviously, [the Red Sox] haven't quite been the same team this year with some of the guys they've lost and some of the guys in their pitching staff that they've lost due to injury.
"And this year I know we've played them at some times when we've been playing really well. We've stolen a couple wins from them, like late last night. Last year, we caught them at a good time at the end of the year. Look, it's always fun beating those guys. We obviously respect who they are and all the great games we've had to play against them, but … enjoy it while it lasts."
The Yankees' current win streak against Boston is their longest since winning 12 straight from Aug. 16, 1952 to April 23, 1953. It's only the third time in franchise history that the Yankees have won 12 straight games against the Red Sox (also May 27-Aug 23, 1936).
J.A. Happ, who worked eight scoreless innings to earn his second win of the season, said the Yankees were mindful of the winning streak and hoped to set a new record on Sunday when they play their last game of the season at Fenway Park.
"I know we have a good team and we're playing well," Happ said. "We are aware of that number [12 straight], excited to get out there tomorrow and try to take the nod [set the record] there. We recognized it tonight that we could tie it."
"We're focused on trying to put ourselves in a really good position for the playoffs, and winning [Sunday] would set the record — and that's going to be really cool thing if we do," added outfielder Clint Frazier, who went 3-for-4 with a home run and three RBIs.
The Yankees have now won a season-high 10 straight games, matching their longest winning streak since June 2012. During their current streak, the Bronx Bombers have hit 29 home runs and have outscored opponents 85-25.
At 31-21, the Yankees clinched their 28th consecutive winning record since 1993, the second-longest stretch in MLB history behind only their own streak of 39 straight winning seasons from 1926-64. The Yankees' "magic number" to clinch a postseason berth currently stands at one.