2018 fantasy baseball rankings, cheat sheets, mock drafts, sleepers, breakouts, busts and more — draft kit
ESPN's Fantasy Baseball is back!
Whether you're a lifelong fan of the game or just getting started, we have everything you need to draft a great team and start the season with a shot at a championship.
Below you'll find all of ESPN's best content, from rankings to analysis, to help you win your draft.
But you can't win if you don't play, so click here to sign up for ESPN Fantasy baseball now.
Play today!
Sign up for ESPN Fantasy baseball: Create or join a league with friends, customize your settings, and battle for the top spot all season.
Mock draft lobby: Practice makes perfect! Jump into a mock draft and prepare for the real thing against other ESPN Fantasy players.
Live draft lobby: Jump into a live draft with other ESPN Fantasy players!
ESPN Fantasy Baseball 101: Thinking about trying fantasy baseball for the first time? Start here.
Rankings
Eric Karabell's rankings for roto leagues: Top 300 and position-by-position rankings for the season ahead.
AJ Mass' rankings for head-to-head points leagues: Overall and positional rankings for those in points-based leagues.
Tristan H. Cockcroft's rankings for head-to-head categories leagues: All of the rankings you need for your head-to-head categories leagues.
Custom auction values

: Plug in your league's settings and get custom auction values to help you in any kind of league.
Dynasty rankings: Who will be best in 2018 and beyond?
Top 50 prospects for 2018

: Which rookies will make the biggest fantasy impact this season?
6×6 roto rankings: Tristan H. Cockcroft introduces a different format for you to try, plus his rankings to help you draft.
Mock drafts
10-team roto — Feb. 22: Our staff got together for the first mock of the season. Find out who went where.
10-team head-to-head points — Feb. 28: New format, different results. Check out our first head-to-head points mock of the season.
10-team head-to-head categories, two catchers — March 13: With two starting catchers required, our experts had to change their approaches.
10-team roto — March 20: With the season quickly approaching and news of Justin Turner's injury, there's plenty of change in this mock draft.
Cheat sheets
Cheat sheet central: Get our experts' rankings in printable, one-page documents you can bring with you to your draft.
Insider cheat sheet

: Get all of the best insight from ESPN's fantasy Insiders, all in one place.
Position previews
Catcher | First base | Second base | Third base | Shortstop | Outfield | Starting pitcher | Relief pitcher
Analysis
Bold predictions: Tristan H. Cockcroft goes beyond his rankings and cheat sheets to deliver his strongest takes for the season ahead.
Deep sleepers: Tristan H. Cockcroft digs deep to find 12 players who are so far under the radar, you can grab them with your last pick.
The perfect draft

: What if you could pick your draft position and every player for your roster without any interference from other managers?
"Do not draft" list

: Eric Karabell highlights the players he's avoiding in drafts due to inflated cost.
"Plant my flag" list

: Eric Karabell provides the players he's looking to draft as often as possible this season.
Saves projections for every team

: Who will get the saves for every team this season?
Tristan's 20: Success in fantasy is all about value, and these players represent some of the best values available.
The Rule of Seven: AJ Mass has developed a way to scout great fantasy pitchers using a single number.
Finding late-round versions of early-round stars

: Willing to take risks? If so, you can find some players who can match the stats of stars like Aaron Judge.
Sleepers, breakouts and busts for 2018: Our experts predict the stars, bargains and disappointments of the 2018 season.
Bounce-back hitters and pitchers

: Which hitters and pitchers flopped in 2017 but are ready to bounce back in 2018?
Keeper league building blocks: How do you find the next Jose Altuve to build your dynasty or keeper team around?
Lower ADP players who could return first-round value

: Here are players going outside the top 15 who could return first-round value at season's end.
How the humidor will impact the D-backs: With news that Arizona will use a humidor for the 2018 season, Todd Zola explores what that means for your fantasy drafts.
Park Factors: Find out which ballparks are best for hitting, which are the most pitcher-friendly, and what it all means for fantasy.
Kings of Command: Scouting 2018's breakout pitchers: Tristan. H. Cockcroft crunches the number to spot the pitchers set to break out in 2018 thanks to great command and strikeout upside.
Our experts debate: Who's No. 1? | The perfect draft | Midround SPs | Drafting injured players | Position scarcity | Importance of power
Shohei Ohtani
How Shohei Ohtani will work in ESPN leagues: The "Japanese Babe Ruth" could change fantasy forever as a two-way player. Here's how you can utilize him in our leagues.
Assessing the bust potential of Ohtani: Ohtani has plenty of talent, but there are several factors that could lead to a disappointing season relative to expectations.
The case against drafting Ohtani: In points-based leagues, the novelty of Ohtani's two-way profile doesn't deliver the same value it does in category-based leagues.
Offseason recap
Fantasy baseball free-agent tracker: Who has signed where, and which key players remain free agents?
Fantasy baseball trade tracker: Which trades have made a meaningful impact on player value?
Closer chart: Scouting each bullpen for saves, including those next in line for the ninth-inning job.
Rowdy Tellez on Toronto Blue Jays' roster against Tampa Bay Rays and Tanner Roark left off
ST. PETERSBURG, Fla. — First baseman Rowdy Tellez is on the Toronto Blue Jays' roster for their first-round playoff series against Tampa Bay after recovering from a strained right knee that had sidelined him since Sept. 8.
Tellez could be a designated hitter option for the No. 8 Blue Jays in the best-of-three series against the top-seeded Rays.
Right-hander Jordan Romano was not included on the 28-man roster Tuesday. He has not pitched in a game since Aug. 28 because of a finger injury but threw batting practice Sunday in hopes of earning a spot.
Toronto also left off right-hander Tanner Roark, who had a 6.80 ERA in 11 starts.
Toronto's roster features 13 pitchers, three catchers, eight infielders and four outfielders.
The pitchers are Chase Anderson, Anthony Bass, Ryan Borucki, A.J. Cole, Rafael Dolis, Thomas Hatch, Anthony Kay, Nate Pearson, Robbie Ray, Hyun-Jin Ryu, Matt Shoemaker, Ross Stripling and Taijuan Walker.
Position players include catchers Danny Jansen, Alejandro Kirk and Reese McGuire, infielders Bo Bichette, Cavan Biggio, Santiago Espinal, Vladimir Guerrero Jr., Joe Panik, Travis Shaw, Tellez and Jonathan Villar, and outfielders Jonathan Davis, Randal Grichuk, Lourdes Gurriel Jr. and Teoscar Hernandez.
Tampa Bay Rays include rookie LHP Shane McClanahan, Ji-Man Choi on first-round roster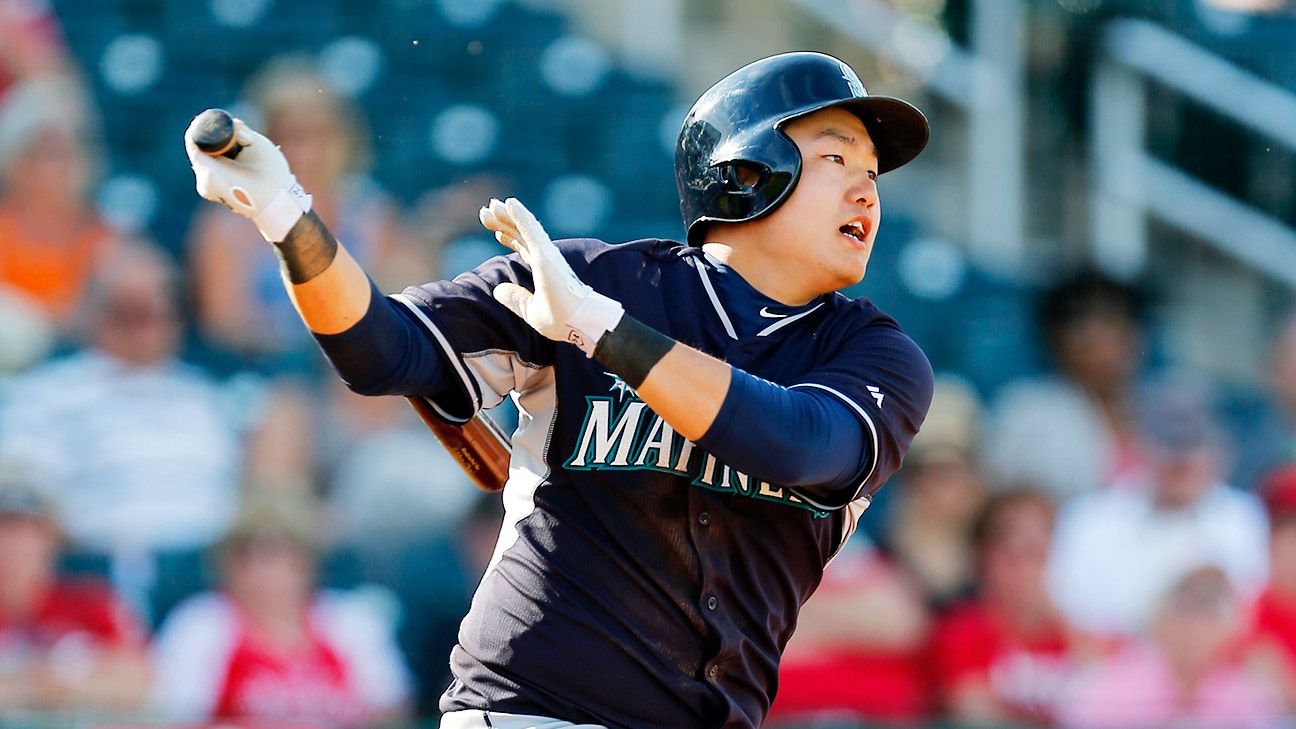 ST. PETERSBURG, Fla. — Rookie left-hander Shane McClanahan was a surprise addition to the 28-man roster the Tampa Bay Rays announced for the AL first-round series against the Toronto Blue Jays on Tuesday.
McClanahan was a first-round pick in the amateur draft two years ago who pitched at Class A and Double-A in 2019. He joined first baseman Ji-Man Choi and infielder Yandy Diaz, who have been on the injured list, in being added to the active roster before Game 1 of the best-of-three series.
To make room on the 40-man roster for McClanahan, lefty reliever Sean Gilmartin was designated for assignment. Gilmartin is the husband of White House press secretary Kayleigh McEnany.
Three players who were on the regular season-ending roster — catcher Kevan Smith, left-handed starter Josh Fleming and lefty reliever Ryan Sherriff — were not included on the roster against Toronto. They remain in the 60-man postseason eligible player pool and can be added in future rounds.
Tampa Bay's 28-man roster includes 13 pitchers, two catchers, seven infielders and six outfielders.
In addition to McClanahan, the pitchers are Nick Anderson, Diego Castillo, John Curtiss, Oliver Drake, Pete Fairbanks, Tyler Glasnow, Aaron Loup, Charlie Morton, Aaron Slegers, Blake Snell, Ryan Thompson and Ryan Yarbrough.
Catchers Michael Perez and Mike Zunino; infielders Choi, Diaz, Willy Adames, Mike Brosseau, Brandon Lowe, Nate Lowe and Joey Wendle, and outfielders Randy Arozarena, Kevin Kiermaier, Manuel Margot, Brett Phillips, Hunter Renfroe and Yoshi Tsutsugo complete the roster.
Houston Astros' Yuli Gurriel takes pay cut to $7 million to stay with team
HOUSTON — First baseman Yuli Gurriel and the Houston Astros have agreed to a one-year contract with an option for 2022 that guarantees $7 million, a cut of nearly 20% from his 2020 deal.
The agreement was announced hours before the defending AL champions started their first-round playoff matchup against at Minnesota on Tuesday, an odd time to reach a contract for a future season.
Gurriel's 2020 contract called for an $8.3 million salary and wound up being worth $3,074,074 prorated.
His new deal includes a $6.5 million salary for 2021 and an $8 million club option for 2021 with a $500,000 buyout. Gurriel can earn $2 million in performance bonuses each year based on plate appearances: $250,000 each for 300 and 350 $350,000 apiece for 400 and 450 and $400,000 each for 500 and 550.
He also would get $50,000 for becoming an All-Star, $50,000 for League Championship Series MVP, $100,000 for Word Series MVP, $200,000 for league MVP, $100,000 for second and $50,000 for third. There is a $50,000 bonus for Gold Glove and another $50,000 for Silver slugger.
Gurriel would have been eligible for free agency under a provision in his 2020 contract, even though he does not have the six years of major league service usually required. His new deal includes the same provision.
He hit .232 with six homers, 12 and 22 RBI in 57 games during the pandemic-shortened season, down from a career-best .298 with 31 homers and 104 RBI in 2019. He helped Houston reach the playoffs for the fourth straight year.
In five seasons in Houston that followed a stellar career in Cuba, the 36-year-old has hit .287 with 71 homers and 301 RBI.