Who's in? Breaking down the candidates to buy the Carolina Panthers – Carolina Panthers Blog
CHARLOTTE, N.C. — Initial bids for the sale of the Carolina Panthers are in and four, possibly five, legitimate candidates have emerged. A report by Bloomberg said the bidding already has reached $2.5 billion, which would be a record for a sports franchise in the United States. Sources close to the process question whether that is a legitimate offer or an attempt by bankers to drive up the price. Those sources believe the bids are in the low $2 billion range for the team valued by Forbes at $2.3 billion.
This is where the sale of the Panthers stands heading into the NFL owners meetings that begin on Sunday and run through Wednesday. An update of where things stand is expected during the four days in Orlando, Florida, but nothing more.
Panthers owner Jerry Richardson, who will not attend the meetings as he remains under investigation by the NFL for alleged sexual and racial workplace misconduct, ultimately will decide which bid he wants to accept after several rounds of negotiations.
That could happen as early as next month, meaning the earliest the 32 owners could vote for the required three-fourths approval would be the May 21-23 meetings in Atlanta.
That, at least, is the goal.
Here's a look at the known current candidates and what could be the current pecking order:
BEN NAVARRO, 54
Net worth: $3 billion (Forbes)
Occupation: Founder and CEO of Sherman Financial Group, a Charleston, South Carolina-based company.
What makes him a strong candidate? Sources told ESPN.com that Navarro's camp is promoting itself as the front-runner. Navarro is the only candidate with ties to South Carolina since he lives in Charleston and started his empire there. That may be a factor for Richardson, who was born in Spring Hope, North Carolina, and started his empire in Spartanburg, South Carolina, before moving to Charlotte. Richardson wanted the Panthers to be a team of the Carolinas when he founded it in 1993, so Carolina ties mean something to him. Navarro also is financially sound. Sherman Financial Group is a global diversified financial services company based in Charleston, South Carolina. The company's principal business is serving consumer credit needs through its subsidiary, Credit One Bank N.A., a federally regulated national bank. Credit One is the ninth-largest issuer of Visa- and Mastercard-branded credit cards in the U.S. and accounts for more than 90 percent of Sherman Financial Group's revenue and earnings. In addition, Sherman Financial Group purchases and manages consumer debt; manages investments in corporate debt, real estate and structured credit; and is the owner of Kroll Bond Rating Agency, the nation's largest post-financial crisis rating agency. He privately funds Meeting Street Schools, which is a non-profit educational venture in South Carolina that brings a network of independent and public schools educational opportunities. There is a Meeting Street Academy in Spartanburg, where again Richardson lived much of his adult life. Therefore, Navarro is good on the philanthropy end.
What are the risks? The litigious nature of the industry that Navarro built his empire around could be a concern for owners. The company buys delinquent consumer debt, much from credit cards and bills. In 2014, Sherman had to pay $175,000 after New York attorney general Eric Schneiderman charged the company with unlawful debt collection.
Did you know? His father, Frank Navarro, was the head football coach at Columbia and Princeton. … He graduated from the University of Rhode Island with a degree in finance and at one time worked for Goldman Sachs. … He has a wife, Kelly, and four children.
DAVID TEPPER, 60
Net worth: $11 billion (Forbes)
Occupation: Founder Miami-based global hedge fund firm Appaloosa Management
What makes him a strong candidate? Tepper arguably is the greatest hedge fund manager of this generation. He already is a minority owner (5 percent) of the Pittsburgh Steelers, so NFL owners are familiar with him. His business portfolio may be the strongest/safest of all the candidates when seeking approval from the league. He also has a strong philanthropy résumé, particularly in areas where he has lived. He donated $3 million this past year to help with hurricane relief in Puerto Rico and Texas. When Hurricane Sandy devastated the New Jersey coast in 2012, he gave out 12,000 $100 gift cards to people in need in 20 different communities. He supports Teach for America.
What are the risks? He would have to sell his interest in the Steelers if he wins the bid, but that's not a deal-breaker. Overall, not much of a risk at all, which is why he is considered one of the front-runners.
Did you know? He grew up in a lower- to middle-class neighborhood in Pittsburgh and got a degree in economics from the University of Pittsburgh. … Early in his career he worked as a credit analyst at Goldman Sachs. … He has a set of brass balls, a gift from a former employee, mounted in Appaloosa's office with a plaque that says, "Most Valuable Set of All Time." … Selected the name of his company out of a horse book after being told Pegasus was taken.
ALAN KESTENBAUM, 56
Net worth: Unknown (company valued at about $1.3 billion)
Occupation: Chairman and chief executive officer of Stelco Holdings Inc., Canada-based steel company.
What makes him a strong candidate? He is believed to have the backing of Canadian billionaire Jim Pattison as a minority partner. He's viewed as a global businessman, which could be a factor for a league looking to be more global in London and Mexico. Solid track record of buying and turning around struggling metal companies.
What are the risks? This would be his first venture in the sports world. In 2011, it was reported that Iron Mining Group Inc., with Kestenbaum as its chairman, filed for Chapter 11 bankruptcy. Otherwise, there appears to be no real risk.
Did you know? He was born in Brooklyn and got his degree from Yeshiva University, a private, non-profit Jewish research university in New York City. … He currently lives in Florida.
MICHAEL RUBIN, 45
Net worth: $3 billion (Forbes)
Occupation: Chief executive officer of Kynetic, a direct-to-consumer e-commerce company that includes Fanatics, the world's leading online seller of licensed sports merchandising. The minority owner of the Philadelphia 76ers and New Jersey Devils.
What makes him a strong candidate? A solid reputation in the business world, beginning with selling GSI Commerce to eBay for $2.4 billion. He's also not afraid to use his platform for things he believes in. He reportedly used his influence to get rapper Meek Mill, serving two to four years in prison for a controversial probation violation, out of jail. With the league in need of newer and younger blood, he would be the second-youngest owner in the league behind San Francisco's Jed York, 37. Has the support of billionaire businessman Joseph Tsai. He wants to form a diverse ownership group that could include rapper Sean "Diddy" Combs and Golden State Warriors superstar Stephen Curry, a Charlotte native.
What are the risks? He would have to sell his stakes in the 76ers, Devils and Premier League soccer franchise Crystal Palace, according to NFL rules. And his ties to the NBA in general could be a stumbling block, but none of these things make him a high risk.
Did you know? In 2010, he appeared in the first season of CBS TV's "Undercover Boss." … When his identity was revealed, he gave an employee struggling with the recent loss of a child $10,000 so the employee and the baby's mother could have a dream wedding. … Bought a Porsche before he was old enough to drive. … A dropout at Villanova after six weeks. … Lives in the Philadelphia area where he grew up.
JIM GOODNIGHT, 75
Net worth: $9.7 billion (Forbes)
Occupation: Co-founder and CEO of SAS, a North Carolina-based software company.
What makes him a strong candidate? It has not been verified that he has made an official bid like the other four. He falls under the category of interested. But his ties to North Carolina — born in Salisbury and graduate of NC State — might be something that attracts Richardson. He also has a strong interest in improving education, particularly elementary and secondary education, which is a strong need in North Carolina. He helped found independent prep school Cary Academy on the SAS campus in the Raleigh area.
What are the risks? Like others, there is no indication of Goodnight having something in his past that would be considered an inherent risk.
Did you know? He grew up working at his parent's hardware store in Wilmington, North Carolina. … He was a high school basketball player at 6-foot-4. … Began his career in the NASA Apollo space program midway through his graduate studies in statistics at NC State. … He returned to North Carolina and became a member of the faculty at NC State. … He has a rather significant mineral collection.
NFL Week 2 game picks, schedule guide, fantasy football tips, odds, injuries and more
The Week 2 NFL schedule is stacked with great matchups. Our NFL Nation reporters bring us the keys to every game, a bold prediction for each matchup and final score picks.
Additionally, ESPN Stats & Information provides a stat to know for each game, and the Football Power Index (FPI) goes inside the numbers with a matchup rating (on a scale of 1 to 100) and a game projection. ESPN Fantasy's Kyle Soppe and ESPN Chalk's Dave Bearman hand out helpful nuggets as well. It's all here to help get you ready for a loaded weekend of NFL football.
Let's get into the full Week 2 slate, including a Sunday night showdown between Bill Belichick and Pete Carroll.
Jump to a matchup:
LAR-PHI | ATL-DAL | DEN-PIT
SF-NYJ | MIN-IND | DET-GB
CAR-TB | BUF-MIA | JAX-TEN
NYG-CHI | WSH-ARI | BAL-HOU
KC-LAC | NE-SEA | NO-LV
Thursday: CLE 35, CIN 30



1 p.m. ET | Fox
Matchup rating: 56.9 | Spread: EVEN (45.5)
What to watch for: Rams defensive tackle Aaron Donald has zero sacks and just one tackle for loss in three career games against Philadelphia. He has a favorable matchup in this one, however, with inexperienced second-year player Nate Herbig projected to start at right guard. Center Jason Kelce will need to chip in on double-teams to prevent Carson Wentz, who was sacked a league-high eight times in Week 1, from having another rough day. — Tim McManus
Bold prediction: Donald will have a monster, multisack game to that end. In a season-opening win over Dallas, Donald knocked down Cowboys linemen as if they were bowling pins and recorded his first sack of the season. Now watch for the two-time NFL Defensive Player of the Year to take advantage of an inexperienced Eagles guard and make it another long day for Wentz. — Lindsey Thiry
Stat to know: This marks the second career meeting between the top two picks of the 2016 NFL draft, Wentz and Jared Goff. Wentz won the first back in 2017 with four passing touchdowns. But both enter off underwhelming Week 1 performances. Goff threw zero touchdowns for the fourth time in his past nine games, while Wentz took eight sacks.
What to know for fantasy: Eagles tight end Dallas Goedert has 6.1 more fantasy points over his past five games than Zach Ertz does. See Week 2 rankings.
Betting nugget: Philadelphia is 5-0-1 against the spread (ATS) against the Rams since 2006. Read more.
Thiry's pick: Rams 24, Eagles 21
McManus' pick: Eagles 27, Rams 24
FPI prediction: PHI, 53.8% (by an average of 1.4 points)
Matchup must-reads: SoFi Stadium videoboard: 'Eighth wonder of the world' targets GenZ … Time is now for the Eagles' Wentz to turn the corner … McVay's Rams 'ecosystem' a challenging standard — even for its creator … Eagles' Curry, James have 'significant injuries'
---


1 p.m. ET | Fox
Matchup rating: 55.3 | Spread: DAL -4.5 (54)
What to watch for: When these teams met in 2018, running back Ezekiel Elliott had 201 scrimmage yards in the Cowboys' win. Elliott had 122 yards on the ground and another 79 as a pass-catcher. Seattle's Russell Wilson threw four touchdown passes against the Falcons last week, so you should see some course correction in turns of pass defense, which means Elliott is in for a big day. — Todd Archer
Bold prediction: Falcons running back Todd Gurley II will have his first 100-yard rushing game with Atlanta. He hasn't hit the century mark since Week 13 of the 2018 season, but Gurley does have two 100-yard games in three career meetings with the Cowboys, and the Falcons need to stick with the run. — Vaughn McClure
Stat to know: Since 2011, only four teams haven't started a season 0-2: the Cowboys (2010), Falcons (2007), Packers (2006) and Patriots (2001). But both Atlanta and Dallas sit at 0-1 entering this matchup.
What to know for fantasy: The longest active streak of games with 75-plus receiving yards belongs to Calvin Ridley (five straight). Julio Jones and Davante Adams are chasing him, as they each have four straight. See Week 2 rankings.
Betting nugget: Atlanta is 4-0 ATS in its past four road games. Read more.
McClure's pick: Cowboys 28, Falcons 21
Archer's pick: Cowboys 30, Falcons 27
FPI prediction: DAL, 64.4% (by an average of 5.3 points)
Matchup must-reads: Falcons run into familiar problem in opener: Not enough touchdowns early … 3 x 1,000 yards: Cowboys' Cooper, Gallup, Lamb aim high … Falcons' Jones 2nd-fastest WR to record 800 catches … Cowboys' Elliott shows off 'Feed Me' tattoo on stomach … Sources: Cowboys' Lee had surgery, out until mid-October
---


1 p.m. ET | CBS
Matchup rating: 53.6 | Spread: PIT -7 (40.5)
What to watch for: The Steelers shut down one of the league's premier running backs Monday night, allowing Saquon Barkley only 6 rushing yards. The Broncos' rushers fared a bit better against the Titans, averaging 4.1 yards per carry, but they enter Sunday's matchup with a question mark on Phillip Lindsay's availability. Look for the Steelers' defense to dominate yet another ground game. — Brooke Pryor
Bold prediction: The Broncos will sack Ben Roethlisberger at least four times and force at least one turnover on a QB hit. Yes, Von Miller is out for the year, Bradley Chubb is still working his way back from last season's ACL surgery and the Broncos were tepid in the pass rush in much of their Week 1 loss to the Titans. But Roethlisberger has faced the Broncos nine times in his long career, and the Broncos have sacked him at least three times in seven of those games — and at least four times in four of them. — Jeff Legwold
Stat to know: The Steelers have gone 58 straight games with at least one sack, tied for the sixth-longest streak by any team since 1970. A sack in this one would put them in a tie for the fifth-longest streak.
What to know for fantasy: Roethlisberger (22.1 points) was better in Week 1 than the healthy version of him we saw in 2018 (21.4 points per game), as he threw three touchdown passes on just 32 attempts (zero TD passes on 62 attempts before his season ended in 2019). See Week 2 rankings.
Betting nugget: The Broncos have failed to cover their past four games off less than a full week of rest. Read more.
Legwold's pick: Steelers 20, Broncos 17
Pryor's pick: Steelers 31, Broncos 16
FPI prediction: PIT, 66.8% (by an average of 6.2 points)
Matchup must-reads: QB Lock shows his leadership in season-opening loss … Steelers' Roethlisberger is sore, but elbow is good after first game … After drops, Broncos' Jeudy determined to prove 'failure is growth'
---


1 p.m. ET | Fox
Matchup rating: 53 | Spread: SF -6.5 (41)
What to watch for: It's a battle of two relatively inexperienced quarterbacks — the 49ers' Jimmy Garoppolo and the Jets' Sam Darnold (27 career starts each). Garoppolo (21-6) has done more winning than Darnold (11-16), who hasn't had the same talent and coaching around him as his counterpart. How each performs on Sunday will be a difference-maker for two passing offenses looking to get going after Week 1 losses. — Rich Cimini
Bold prediction: 49ers rookie receiver Brandon Aiyuk will go over 100 yards in his NFL debut. Aiyuk is back from a hamstring injury, and after a poor showing for the Niners' receivers last week, Aiyuk will get plenty of chances to show why coach Kyle Shanahan coveted him in the first round of the NFL draft. — Nick Wagoner
Stat to know: San Francisco tight end George Kittle was held to 44 receiving yards on four catches in Week 1. But he hasn't had back-to-back games under 50 yards since 2017.
What to know for fantasy: No player in the NFL accounted for a greater percentage of his team's Week 1 scrimmage yards than Jamison Crowder (45.3%). But whether he suits up will be something to keep an eye on. See Week 2 rankings.
Betting nugget: San Francisco is 7-21-2 ATS in its past 30 games as a favorite. But in its past 20 games as a road favorite, San Francisco is 13-7 ATS. Read more.
Wagoner's pick: 49ers 31, Jets 20
Cimini's pick: 49ers 24, Jets 20
FPI prediction: SF, 61.1% (by an average of 4.0 points)
Matchup must-reads: It's hitting us pretty hard right now': Sherman latest 49ers injury … Jets CEO Christopher Johnson expresses confidence in Gase, Darnold … 49ers' crown means little in loaded NFC West … If Darnold sputters, Jets will face complex question: Trevor Lawrence? … Jets place RB Bell on IR with hamstring injury, sign Ballage
---


1 p.m. ET | Fox
Matchup rating: 50.1 | Spread: IND -3 (48.5)
What to watch for: Colts cornerback Xavier Rhodes faces his former team after being released by the Vikings in the offseason following seven seasons with the franchise. Rhodes' debut with the Colts didn't go too well in Week 1 against Jacksonville. He gave up a 22-yard touchdown when he was caught peeking in the backfield expecting a run. Then he was flagged for 30-yard pass interference, which ended up leading to a field goal for the Jaguars. Can he improve while trying to contain Minnesota's passing attack? — Mike Wells
Bold prediction: Vikings receiver Adam Thielen will haul in seven catches for 120-plus yards. It'll be his second straight week crossing the century mark, putting him on his way to matching the historic streak he set in 2018 when he started the season with eight straight 100-yard receiving performances. — Courtney Cronin
Stat to know: Colts quarterback Philip Rivers has four passing touchdowns, seven interceptions and a 1-3 record in four career starts against the Vikings. And his 35.1 Total QBR against them is his worst against any team since the metric was first tracked in 2006.
What to know for fantasy: Indianapolis receiver Parris Campbell not only set career highs in routes (38), targets (9), catches (6), yards (71) and fantasy points (14) in Week 1, but he also led the team in deep targets (3). See Week 2 rankings.
Betting nugget: The Vikings have covered their past five games after a loss. Read more.
Cronin's pick: Colts 28, Vikings 24
Wells' pick: Colts 27, Vikings 23
FPI prediction: IND, 51.4% (by an average of 0.6 points)
Matchup must-reads: Life without Diggs? Vikings run out of time to see new reality … Colts lose Mack for season with torn Achilles … Colts sad for Mack, excited about Taylor … Rivers brings turnover problems to Colts in Week 1
---


1 p.m. ET | Fox
Matchup rating: 49.6 | Spread: GB -6.5 (49)
What to watch for: Can Packers receiver Davante Adams have another big day after his career-high 14-catch performance in Week 1 against the Vikings? Well, the Lions' secondary is banged up, and Adams is a tough cover. He had at least one catch on nine different route types last week, according to ESPN Stats & Information research using NFL Next Gen Stats. The Lions played man coverage on 82% of their defense snaps in Week 1, the highest rate of any team on opening weekend. — Rob Demovsky
Bold prediction: Green Bay quarterback Aaron Rodgers throws four more touchdowns this week against Detroit. Rodgers has had just intermittent success against Matt Patricia's Lions, but this is a different Detroit secondary. Its corners are banged up — Desmond Trufant and Darryl Roberts both missed practices this week — and rookie Jeff Okudah might be making his debut. Depending how the Lions match up, that debut could come against Adams. So watch for Rodgers to slice through a depleted Lions secondary. — Michael Rothstein
Stat to know: Per the Elias Sports Bureau, only two teams have gone 2-0 against an opponent in a season without ever holding a lead in regulation. The first was the 1977 49ers, who bested the Saints twice. The second was the 2019 Packers, who won both of their games against Detroit last season on game-ending field goals despite not holding a lead at any point in either game.
What to know for fantasy: Adams was the top scoring player in Week 1 (41.6 points) and has caught six touchdown passes over his past six matchups with the Lions. See Week 2 rankings.
Betting nugget: The Lions have covered in six straight games against the Packers. Read more.
Rothstein's pick: Packers 35, Lions 23
Demovsky's pick: Packers 31, Lions 25
FPI prediction: GB, 68.0% (by an average of 6.7 points)
Matchup must-reads: Why Patricia's team struggles to close out games … No tailgating: Lambeau closed to fans … Once deep at CB, Lions now thin after injuries facing Rodgers … Rodgers-Adams combo rivaling Nelson-Rodgers
---


1 p.m. ET | Fox
Matchup rating: 47.1 | Spread: TB -8.5 (47.5)
What to watch for: The Bucs fell short in their quest to go toe-to-toe with the Saints last week, but since his first career start in 2001, Tom Brady has a career 48-13 record coming off a loss (.787 win percentage), second only to that of Russell Wilson. Panthers coach Matt Rhule said it himself: "No one's better at bouncing back from a loss than Tom Brady." But what about Mike Evans? Can he rebound from his one-catch performance? And how quickly can a Panthers defense that started four rookies last Sunday make progress in Week 2? — Jenna Laine
Bold prediction: The Panthers will sack Brady at least five times and pull off an upset. They were one of three teams that did not get a sack in their opener and the only team that didn't contact the quarterback while running or throwing. But coach Matt Rhule says he wants them to get more violent at the point of attack. — David Newton
Stat to know: Both of Brady's interceptions last week came when throwing within 2.5 seconds of the snap, per NFL Next Gen Stats. He had three such picks in all of 2019.
Injuries: Panthers | Buccaneers
What to know for fantasy: The Bucs held Christian McCaffrey to 7.3 points in Week 2 last season. Since then, he has joined Emmitt Smith (23), Marcus Allen (17) and Todd Gurley (15) as the only running backs to score at least 15 fantasy points in 15 straight games. See Week 2 rankings.
Betting nugget: Carolina quarterback Teddy Bridgewater is 10-0 ATS as an underdog of 3.5-plus points. Read more.
Newton's pick: Panthers 34, Buccaneers 24
Laine's pick: Buccaneers 28, Panthers 21
FPI prediction: TB, 72.5% (by an average of 8.5 points)
Matchup must-reads: Anderson hilariously mistakes Panthers mascot for a bear … Arians on Favre's critique: Brady and I are 'fine' … Rhule takes blame for not calling McCaffrey's number … Is it time to reset expectations on Bucs after disappointing start? … Godwin not worried: Bucs learning life with Brady
---


1 p.m. ET | CBS
Matchup rating: 43.2 | Spread: BUF -5.5 (41)
What to watch for: In two games against the Dolphins in 2019, Bills quarterback Josh Allen completed 62.7% of his passes for 458 yards, five touchdowns and zero interceptions, along with 11 rushes for 88 yards and a touchdown. We should keep an eye on whether that success continues against a revamped Dolphins defense which now includes former Bills edge rusher Shaq Lawson but still gave up 217 rushing yards last week to the Patriots — including 75 yards to Cam Newton. — Cameron Wolfe
Bold prediction: The Bills will have two 100-yard receivers on Sunday. They ran a four-receiver set on a league-high 25% of their snaps last week, and despite the Dolphins' struggles against the run in Week 1, the Bills will commit once again to their passing game. — Marcel Louis-Jacques
Stat to know: The Dolphins had 87 rushing yards in Week 1, and they had 13 games with fewer than 100 rushing yards last season (tied for the most in the NFL with the Jets).
What to know for fantasy: Allen has thrown multiple touchdown tosses nine times in his career, and he is 4-for-4 against the Dolphins and 5-for-25 against the rest of the NFL. See Week 2 rankings.
Betting nugget: The Bills have covered four straight games as the favorite. Read more.
Louis-Jacques' pick: Bills 31, Dolphins 17
Wolfe's pick: Bills 27, Dolphins 16
FPI prediction: BUF, 65.3% (by an average of 5.6 points)
Matchup must-reads: Early returns exciting for Allen in Bills' revamped passing game … Dolphins' defense faces Week 2 test: Stop another QB from running
---


1 p.m. ET | CBS
Matchup rating: 35.6 | Spread: TEN -7.5 (44)
What to watch for: Titans running back Derrick Henry has terrorized the Jaguars to the tune of 498 rushing yards in his past four games against them. Jacksonville added middle linebacker Joe Schobert in the offseason, allowing Myles Jack to move to his more natural weakside linebacker spot. Pay attention to how the Titans find ways to get Henry to the second level of the defense, and how Jacksonville's linebackers attempt to prevent explosive plays. — Turron Davenport
Bold prediction: Henry doesn't hit 100 yards rushing. He has rushed for 238 yards and 159 yards in the past two meetings in Nashville, and he has seven 100-plus-yard rushing games since the start of the 2019 season (tied for the most), but the Jaguars' run defense did a good job against the Colts for the final two and a half quarters last Sunday, and rookie defensive tackle DaVon Hamilton played well in his debut. The Jaguars are making Henry their top priority — they might get hurt by the pass game, but they're not going to let Henry beat them again. — Mike DiRocco
Stat to know: Jaguars quarterback Gardner Minshew II has three passing touchdowns in consecutive games dating to last year, and no QB in Jaguars history has thrown at least three in three consecutive games.
What to know for fantasy: Henry has seven rushing scores over his past three games against the Jags, and the Titans sure weren't shy about handing him the rock in Week 1 (31 carries, the only player in the NFL with more than 25). See Week 2 rankings.
Betting nugget: The Titans have covered five of their past six against the Jaguars. Read more.
DiRocco's pick: Titans 17, Jaguars 16
Davenport's pick: Titans 20, Jaguars 14
FPI prediction: TEN, 72.4% (by an average of 8.5 points)
Matchup must-reads: Jaguars' Henderson thinks great debut could have been even better … Titans' Byard can share home-birth story with his son 'for the rest of our days' … Minshew and rookies come up big in upset … Fourth-quarter comebacks becoming routine for Tannehill, Titans
---


1 p.m. ET | CBS
Matchup rating: 32.5 | Spread: CHI -5.5 (42)
What to watch for: The focus is squarely on Bears quarterback Mitchell Trubisky. The embattled former second overall pick led Chicago to a memorable fourth-quarter comeback in Week 1, but not even Trubisky's three touchdown passes in the final 15 minutes could cover up for how inconsistent he played in the opening three quarters at Ford Field. Head coach Matt Nagy wants even play from the 25-year-old quarterback. The Giants might present Trubisky with an opportunity to have a more balanced performance on Sunday. — Jeff Dickerson
Bold prediction: Bears wide receiver Allen Robinson II tops 150 yards receiving. Clearly, Robinson is not happy with his contract, and what better way to prove he deserves to get paid than to play against the Giants' defense? Robinson's best game last year came against the Giants, when he had 131 yards receiving and a touchdown. The Bears put him in the slot throughout that game and let him eat. The Giants apparently haven't fixed that problem. JuJu Smith-Schuster caught six passes on six targets for 69 yards and two touchdowns out of the slot against this Giants defense on Monday night. — Jordan Raanan
Stat to know: Giants running back Saquon Barkley had just 6 rushing yards in Week 1 and averaged minus-0.2 yards before contact per rush. His 3.96 yards per rush since Week 7 of last season is the 10th-lowest average in the NFL among 32 players with at least 100 rushes in that span.
What to know for fantasy: New York quarterback Daniel Jones has run for at least 20 yards in five of his past seven and thrown at least 40 passes in seven of his past nine. See Week 2 rankings.
Betting nugget: Chicago is 1-6 ATS in its past seven games as a favorite. Read more.
Raanan's pick: Bears 22, Giants 21
Dickerson's pick: Bears 21, Giants 18
FPI prediction: CHI, 65.5% (by an average of 5.7 points)
Matchup must-reads: Can Giants' Slayton continue to produce like a No. 1 receiver? … Trubisky leads Bears to comeback
---

4:05 p.m. ET | Fox
Matchup rating: 38 | Spread: ARI -7 (46.5)
What to watch for: The matchup to watch will be Cardinals quarterback Kyler Murray vs. Washington edge rusher Chase Young. It's a matchup of two of the best young players in the NFL, last year's No. 1 pick and this year's No. 2 pick. It's a dream matchup. In their respective openers, Murray ran for 91 yards, and Young had 1.5 sacks. While this matchup won't determine the game, it'll definitely have an impact and will be quite fun to watch. — Josh Weinfuss
Bold prediction: Washington will hold Murray to 50 yards rushing, and Young will sack him twice (giving him 3.5 sacks two games into his NFL career). Young can be moved around but had his best success as a right end against Jason Peters last week. He'll also be used on some stunts inside, and that's where he'll get Murray. But Murray will still throw for 225 yards in a win. — John Keim
Stat to know: Washington quarterback Dwayne Haskins Jr. had an off-target percentage of 30% in Week 1, which ranked No. 31 out of 32 qualified quarterbacks.
Injuries: Washington | Cardinals
What to know for fantasy: Washington posted a sack on 16% of Philadelphia dropbacks last week, the highest rate in the league and better than any performance it had last season. And since the beginning of last season, Murray ranks 27th in completion percentage when under pressure (37.7%). See Week 2 rankings.
Betting nugget: The total has gone under in nine of Arizona's past 11 September games. Read more.
Keim's pick: Cardinals 21, Washington 17
Weinfuss' pick: Cardinals 31, Washington 24
FPI prediction: ARI, 68.2% (by an average of 6.8 points)
Matchup must-reads: Young, Washington's pass rush 'as advertised' in promising start … Hopkins has championship aspirations with Murray as his QB
---

4:25 p.m. ET | CBS
Matchup rating: 75.4 | Spread: BAL -7 (50)
What to watch for: Will Lamar Jackson and Deshaun Watson continue to have success on the run? Both rushed for seven touchdowns in 2019, but they also each scored eight touchdowns (with no interceptions) when passing on the run, according to ESPN Stats & Information research. Only then-Buccaneers quarterback Jameis Winston threw more touchdowns on the run last season. — Sarah Barshop
Bold prediction: Baltimore's Jackson will rush for at least 100 yards. He showed in Week 1 that he has made great strides as a passer, but let's not forget he's among the league's most dangerous playmakers when scrambling. The Texans have allowed quarterbacks to average 5.6 yards per rush since the start of 2019, which is the second-worst average over that span. Last season, Jackson ran for 79 yards against Houston, including a 39-yard run (which was his second longest of the season). — Jamison Hensley
Stat to know: Per the Elias Sports Bureau, the 2020 Texans are the second team in NFL history to face the reigning MVP and Super Bowl MVP in each of their first two games of a season (they faced Patrick Mahomes in Week 1). The 2004 Colts are the other, as they faced Tom Brady (Super Bowl MVP) and Steve McNair (MVP) to open their year. They started 1-1 and finished 12-4.
What to know for fantasy: 250 passing yards, 25 rushing yards, a passing touchdown and a rushing touchdown. Watson led the NFL with two such games in 2018, led again in 2019 with three such games and was one of two quarterbacks (Josh Allen) to accomplish the feat in Week 1 this season. See Week 2 rankings.
Betting nugget: The Ravens have covered in five straight regular-season games, and 10 of their past 11. Read more.
Hensley's pick: Ravens 30, Texans 27
Barshop's pick: Ravens 34, Texans 23
FPI prediction: BAL, 68.5% (by an average of 6.9 points)
Matchup must-reads: Three ways Jackson is better than his MVP season … Texans must quickly figure out what went wrong … All virus tests negative from Texans' opener … Texans squander chance to show they can thrive without Hopkins
---
4:25 p.m. ET | CBS
Matchup rating: 73.5 | Spread: KC -8 (47.5)
What to watch for: Keep an eye on the turnover margin. In losing five of six games to the Chiefs since Anthony Lynn took over as head coach, the Chargers' offense has committed 17 turnovers, and their defense has generated only two of them. "That's ridiculous," Lynn said. "You're just not going to beat this team that way." — Alden Gonzalez
Bold prediction: The Chiefs, who intercepted 15 passes in their past six games against the Chargers, will get a couple of picks against Tyrod Taylor. The Chiefs got consistent pressure on the Texans' Deshaun Watson last week, and look for them to have similar success against Taylor, who isn't as prone to throwing interceptions as ex-Chargers QB Philip Rivers but will be forced into mistakes on Sunday. — Adam Teicher
Stat to know: Chiefs quarterback Patrick Mahomes is 8-0 with an 89 Total QBR and 26 passing touchdowns in the month of September, all the best in the NFL since the start of the 2018 season. And the Chiefs have won 10 straight games overall (including playoffs), the second-longest streak in franchise history (11 straight in 2015 season).
What to know for fantasy: Chargers running back Austin Ekeler has converted just 15.4% of his career red zone carries (the RB average is 18%), so it's worth noting that rookie Joshua Kelley out-touched him in the red zone, 4-3, in Week 1. See Week 2 rankings.
Betting nugget: The Chiefs have covered in their past seven divisional games. Read more.
Teicher's pick: Chiefs 27, Chargers 20
Gonzalez's pick: Chiefs 31, Chargers 24
FPI prediction: KC, 71.0% (by an average of 7.9 points)
Matchup must-reads: Edwards-Helaire leads solid rookie class for Chiefs … SoFi Stadium videoboard: 'Eighth wonder of the world' targets GenZ … Mahomes praised for checkdowns in opener … Opportunistic defense leads Chargers to narrow win over Bengals
Adam Schefter and Marcus Spears react to the news that Chargers center Mike Pouncey will need to undergo season-ending hip surgery.


8:20 p.m. ET | NBC
Matchup rating: 73.4 | Spread: SEA -4 (44.5)
What to watch for: Will the Seahawks continue to let Russell Wilson cook? They strayed from their usual establish-the-run M.O. and dropped back to pass on 11 of their 14 first-quarter offensive plays against Atlanta. Offensive coordinator Brian Schottenheimer has said matchups will factor into how much the Seahawks throw early, and the matchup this week includes the league's reigning Defensive Player of the Year in cornerback Stephon Gilmore. — Brady Henderson
Bold prediction: Undrafted rookie running back J.J. Taylor will make a play that leads the national television audience to take notice. At 5-foot-8 and 185 pounds, he can play "hide and seek," according to running backs coach Ivan Fears, who also has compared him to Dion Lewis and Darren Sproles in terms of his physical stature. — Mike Reiss
Stat to know: Cam Newton and Wilson have combined for five seasons with at least 3,500 passing yards and 500 rushing yards. The rest of the players in NFL history have combined for four such seasons.
What to know for fantasy: Newton was the sixth-highest-scoring quarterback in Week 1, and his 25.7 points were more than Tom Brady had in any single game from last season. See Week 2 rankings.
Betting nugget: This ends the Patriots' streak of being favored in 64 consecutive games. Read more.
Reiss' pick: Seahawks 20, Patriots 17
Henderson's pick: Seahawks 27, Patriots 20
FPI prediction: SEA, 61.8% (by an average of 4.3 points)
Matchup must-reads: Belichick calls Seattle Seahawks QB Wilson underrated … Bring your own energy: Carroll's Seahawks prepared for no fans at CenturyLink … Did Patriots revamp their playbook for Newton? Not so fast … Adams fires back at Jets' Gregg Williams; not 'bored' in Seahawks debut
---

Monday, 8:15 p.m. ET | ESPN
Matchup rating: 67.5 | Spread: NO -5.5 (49)
What to watch for: Las Vegas is breaking in a new stadium in the most bittersweet of circumstances. With no fans, there is not much of a home-field advantage to help cover up the Raiders' injury woes at right tackle, where Trent Brown left the opener with a right calf issue and his replacement, Sam Young, suffered a groin injury. Keep an eye, then, on the Raiders' willingness to run the ball if they fall behind early. — Paul Gutierrez
Bold prediction: Raiders running back Josh Jacobs will end the Saints' remarkable streak of 44 straight games, including the playoffs, without allowing a 100-yard rusher. But Saints running back Alvin Kamara will have more than 100 receiving yards to help make up for the absence of Michael Thomas. — Mike Triplett
Stat to know: Las Vegas quarterback Derek Carr is completing 71% of his passes since the start of last season, second-best in the NFL to … Saints QB Drew Brees (73%). Carr has thrown at least one passing touchdown with zero interceptions in five straight games, the second-longest active streak in the NFL and tied for the longest streak of his career.
What to know for fantasy: Saints wide receiver Emmanuel Sanders led the league with four red zone targets in Week 1 and figures to stay busy with Thomas' role now up for grabs — if he is healthy enough to play himself. See Week 2 rankings.
Betting nugget: Brees is 9-2 ATS against the Raiders in his career. Read more.
Triplett's pick: Saints 27, Raiders 23
Gutierrez's pick: Saints 31, Raiders 23
FPI prediction: NO, 58.0% (by an average of 2.9 points)
Matchup must-reads: Sources: Saints expect WR Thomas to miss MNF … Raiders ecstatic to finally open luxurious 'Death Star' Allegiant Stadium … Saints lock up LB Davis with 3-year extension, source says … After struggling, Raiders' defense shows up when it matters most
MVP bodyguard: How Ronnie Stanley found his drive at a drive-thru – Baltimore Ravens Blog
Baltimore Ravens left tackle Ronnie Stanley isn't more motivated to shove defensive linemen to the ground because all the players selected before him in his draft class landed mega-deals. He isn't going to protect Lamar Jackson any better on Sunday because he is on the same field as the league's highest-paid player at his position.
For the NFL MVP's top bodyguard, what has always driven him to be the best can be traced back to a Las Vegas drive-thru.
When Stanley was around 12, his mother took himself and his younger brother and sister to a fast food restaurant after one of his basketball games. She ordered for herself, grabbed the bag and drove off.
"Losers can't have food at the drive-thru," she told them.
The children called their father, who was often out of town for business, about what happened and cried about how losers can't eat. For the record, Juli Stanley did eventually feed her kids but not before serving up a hard lesson in the only way she knew would grab their attention.
Give your all, all the time.
"People might think I'm crazy," Juli said recently. "I'm not a good loser."
The Stanley family can't remember how many times this happened. It wasn't frequently, but it certainly was more than once.
After another game, Juli took Stanley and his friends to the drive-thru. She bought food for everyone except Stanley.
This wouldn't automatically come after defeats. Stanley and his siblings could win but still lose out if their mother didn't think they gave maximum effort.
All three children went on to receive Division I athletic scholarships, although Stanley's competitiveness continually pushed him to the top.
In high school, Stanley was Nevada's No. 1 overall football prospect. In college, he became the first offensive lineman selected in the 2016 NFL draft. In the NFL, he is widely considered the best left tackle.
"I always wanted to be able to prove I could do what she thought I could do," Stanley said of his mother.
The biggest question remaining is when Stanley will become the highest-paid at his position. If Stanley can overcome a hip injury and play Sunday in Houston (4:25 p.m. ET, CBS), he will cross paths with Laremy Tunsil, who escalated the value for left tackles in April by signing a three-year contract that averages $22 million per season.
Stanley, who is in his contract year, earned the right to surpass Tunsil with one of the best seasons by an offensive tackle in recent memory. He excelled in protecting the blind side of Jackson, allowing the fewest pressures (six) by an offensive tackle in 14 years, according to Pro Football Focus. He opened holes for the NFL's all-time best single-season rushing attack on the left side, where Baltimore averaged 7.2 yards per rush.
"He's one of the best athletes out there playing tackle right now," said Jonathan Ogden, the Ravens' Hall of Fame left tackle. "That's probably why he's going to get paid well soon."
To the rescue
Stanley's love for football is only exceeded by affection for dogs. His heartwarming story of rescuing two pit bulls actually has a gut-wrenching beginning.
Stanley begged his parents to get a dog for years, and he was repeatedly turned down. When he was 14, his parents bought two cocker spaniels to give to the children for Christmas.
Just eight days later, a babysitter accidentally left open the gate to the pool and one of the puppies drowned. Stanley was coming home after having a great basketball game when he learned his dog had died.
It was so devastating Stanley wrote about the tragic loss of his dog for his college admission essays.
"I definitely took it hard, feeling helpless," Stanley said. "I couldn't do anything. It was tough."
Helping to save dogs has become a passion. A month after getting drafted in the first round, Stanley walked into a Baltimore animal shelter and asked for "the most unadoptable" pet. He brought home Lola, a then-6-year-old pit bull who had been found locked inside a room of an empty home with no food, water or fresh air. It looked like she was trying to eat through walls and the door to escape.
A year later, Stanley decided Lola needed a companion, and he returned to the shelter to adopt Rico, a 3-year-old pit bull mix. They're usually either playing out in Stanley's backyard or lounging on the couch beside him while he watches TV or plays video games.
Stanley has modeled in the shelter's Pawject Runway fundraising event and once matched donations to help abandoned animals.
"[Losing my dog] was a driving force to make sure to see how much responsibility matters," Stanley said. "Even accidents like that can still be avoided with proper responsibility. Just really made me have that sense to take care of something and make sure you're doing it right."
Next man up
A few days before the start of the season, Stanley was tagged on a tweet that could've easily frustrated him. With Jalen Ramsey signing a deal to become the NFL's highest-paid cornerback, all five players selected ahead of Stanley in the 2016 draft had signed deals that made them among the richest athletes in the sport.
Jared Goff, Carson Wentz, Joey Bosa and Ramsey all have struck deals with total values exceeding $100 million, and Ezekiel Elliott became the league's highest-paid running back at $90 million over six years. Even DeForest Buckner, who was drafted one spot after Stanley at No. 7, signed a five-year, $105 contract.
Stanley's reaction? "I'm definitely happy for all those guys," he said.
Stanley's preference is to stay in Baltimore on a market value deal. According to Spotrac, that's an average of $22.1 million per season. There were no contract talks for six months this offseason before the sides spoke again last month. No deal is imminent.
During the summer, wide receiver Willie Snead tweeted about Stanley, writing "Pay dat mannn" along with three money bag emojis. About a half-hour later, Jackson responded with "Pleaze" and three praying hands emoji.
Please pay that man pic.twitter.com/3iCaUcm

— Lamar Jackson (@Lj_era8) Aug. 20, 2020
Stanley continues to outplay Tunsil, who signed a three-year $66 million contract after committing a league-high 17 penalties last year. In Week 1, Stanley negated Browns pass-rusher Myles Garrett, two months after he reached a five-year, $125 million deal.
After Stanley plays out his $12.8 million fifth-year option this season, the Ravens would presumably put the franchise tag on him if they can't sign him to an extension in order to keep him from becoming an unrestricted free agent. Baltimore faces the challenge of keeping six Pro Bowl players who are due new deals over the next couple of seasons, including Jackson.
The Ravens don't believe Stanley has been distracted by the business side.
"I haven't seen any affect at all," Ravens coach John Harbaugh said. "I think he's working hard and playing hard. His attitude has been very good — like always. Ronnie has been Ronnie, which is just what you expect from a pro like Ronnie."
Baltimore understands the difficulty of finding a quality left tackle. After Ogden retired in 2007, the Ravens went through seven starters in eight years before drafting Stanley with the No. 6 overall pick in 2016. When Stanley left Sunday's game with an injury, replacement D.J. Fluker allowed a sack in one quarter of work.
Texans coach Bill O'Brien complimented Stanley's intelligence, technique and demeanor, saying he plays the game calmly. Browns coach Kevin Stefanski had another description for Stanley: "A complete player."
'Very practical person'
When Stanley lands his big deal, no one really expects him to splurge.
Why? Oreo balls.
Stanley had a side business in high school making a wildly popular treat. He saw a girl had brought in these cake pops, which featured crushed Oreos in the center. He got the recipe and started making them on his own.
A profit was quickly made in selling baggies of five Oreo balls for $5. Instead of using the money to buy a video game or go out somewhere, he bought a food processor to help him grind up the Oreos.
"Ronnie is very practical person in his life and in his spending," his mother Juli said. "That's who he is."
Stanley is known to spend to travel. Two years ago, he took a trip to Russia for the World Cup. Stanley got hooked on soccer after playing the FIFA video game and later became friends with Germany defender Jerome Boateng of Bayern Munich.
For the most part, Stanley keeps his money close to home and within the family. He supports the local YMCA in Las Vegas, where he attended camps and played sports. Stanley makes sure his 95-year-old grandmother can get to a game if he plays on the West Coast, setting up transportation and a wheelchair.
He's also assisting his sister Raychel in attending graduate school for sports psychology.
"He's not going to write a check," Juli said. "He's going to help you to help yourself."
On the night Stanley got drafted, his mother wondered aloud whether she truly helped her son. Juli apologized to him for pushing him so much. She worried that he couldn't enjoy the moment because whenever Stanley did well, she told him that he could do better.
Stanley then looked at her and said, "If you didn't do that, we wouldn't be sitting here."
Six years later, wild Super Bowl XLIX finish still felt by Patriots, Seahawks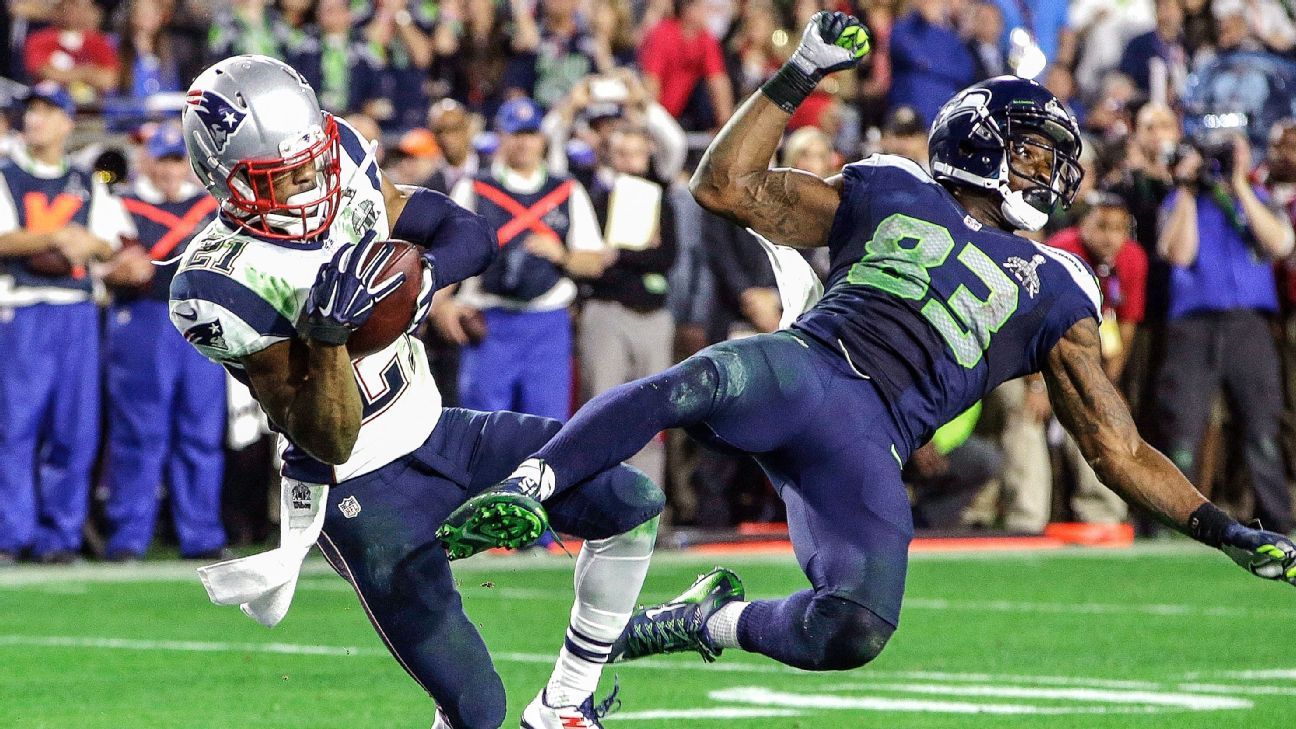 FOXBOROUGH, Mass. — In the aftermath of his Detroit Lions letting a double-digit fourth-quarter lead slip away in a disappointing 2020 Week 1 loss, coach Matt Patricia was asked if there was something about his coaching that led his teams to struggle to close out games.
"I don't think so," said Patricia, the former New England Patriots defensive coordinator. "I think I have probably one of the biggest plays in the fourth quarter in the history of the NFL where I think I did a pretty good job."
That play — Malcolm Butler's stunning interception of a Russell Wilson pass at the goal line with 20 seconds to play to stop the surging Seattle Seahawks from winning Super Bowl XLIX — is timely to revisit this week, along with its aftermath.
The Patriots (1-0) visit the Seahawks (1-0) on Sunday (8:20 p.m. ET, NBC), which marks the second meeting since that unforgettable night in Arizona six seasons ago.
That Patricia mentioned the play, and what it represents, is ironic, as few others participating in the game who are still in the NFL have had a desire to do so.
Former Patriots linebackers coach Brian Flores, now in his second season as the Miami Dolphins' head coach, called out "Malcolm go!" to insert Butler into the game before his interception. His ability to take charge and his words, forever part of New England football lore, elevated Flores' profile as a coach on the rise.
"About 2014, those were all great memories, great times, but really my focus is on what's going on down here in Miami," Flores said.
Patriots captain Matthew Slater, in his 13th season the team's longest-tenured player, echoed a similar theme.
"I don't think this week is a time for myself or anyone else who participated in that game to look back and become nostalgic," he said.
Fair enough — the play also resurfaced leading up to the Seahawks' 31-24 victory against the Patriots in Foxborough on Nov. 13, 2016. But such a historic moment will always provide a flashpoint to assess its aftermath whenever the Patriots and Seahawks meet.
Championships
Since that game on Feb. 1, 2015, the Patriots have advanced to three Super Bowls, winning two. The Seahawks haven't been back.
"At that particular point, it had been 10 years since the Patriots won the Super Bowl. I feel like people basically forget that fact," said former Patriots linebacker Rob Ninkovich, now an analyst for ESPN. "And you get to the point where you're right there to finally win one again, and they're at the 1-yard line and the thought comes to you, 'This might not happen.' I was pretty sick thinking about it as the game was winding down. And boom! It all erases instantly. If we lose that game, I don't know. … But we win and everyone was like, 'The Patriots are back.'"
The result cost the Seahawks, whose first season as a franchise was 1976, the chance to cement their place in NFL history with back-to-back championships — one of the hardest feats to accomplish in the sport.
"It's really difficult to describe how difficult that moment was for Seahawks fans. There isn't a sports history in Seattle of getting close and having it ripped away. It's not like Red Sox fans going through '75 and '86 and having it ripped away," said Mike Salk of KIRO-AM 710 ESPN in Seattle. "The only real moment like that is the 2005 Super Bowl against Pittsburgh, but that had a clear enemy in the referees — a bunch of bad calls in one game. We didn't play the sound of [Butler's interception] for months, because people would just turn off the radio."
Seahawks coach Pete Carroll, however, couldn't turn anything off. Accepting it was the first step to move forward.
"We had to get to the truth of what happened and make sure we get on the same page, and then with the truth move forward," Carroll said this week. "There was a grieving process that you had to go through. It was such a dramatic win for them, and we had to deal with it. So we did."
The play
Of course, the call of Butler's interception was played non-stop in New England, marking the start of the second wave of Super Bowl titles.
"The clock is ticking, ticking, ticking, and in my head, I'm thinking they're going to score here with no time left on the clock. They're going to run the football. I didn't think for a second they would throw the ball," Ninkovich recalled. "Sure enough, the ball was snapped, I kind of did a little giddy-up skip to make sure it was a pass and just saw the ball coming out really fast. It came right over my right shoulder. Literally as I turned around, I saw Malcolm catch the ball and I was like, 'Oh my God. We won this game!'"
Perhaps former Patriots quarterback Tom Brady summed it up best when he said, "Thank God for Malcolm Butler."
They were saying something much different in Seattle.
"That was sort of an interesting experience for the fans to learn how to process it, to figure out who the goat is, and who is at fault," Salk said. "Nationally, I know the storyline is that Pete is at fault. I know very few people in Seattle who blame him. Most people, and I put myself in this category, blame [coordinator] Darrell Bevell [who is now in the same position with Detroit].
"Throwing is not the problem. Throwing a slant over the middle with a 5-10 quarterback to your fifth wide receiver was the problem."
The records
The Patriots are 63-18 (.778) since that game, the best record in the NFL. The Seahawks are 51-29-1, the fifth-best mark.
"I hate learning the hard way but sometimes you have to," Carroll said.
The normally stoic Bill Belichick gets emotional after winning his 4th Super Bowl in the most dramatic fashion. pic.twitter.com/KDyVQnL34e

— SportsCenter (@SportsCenter) February 2, 2015
The furthest the Seahawks have advanced in the playoffs since the Super Bowl loss is the divisional round.
Though infrequent opponents, there is mutual respect between the Seahawks and Patriots, with New England coach Bill Belichick calling Seattle's 2016 win against his team "as competitive a game as we've ever played."
Of Super Bowl XLIX, Belichick had said the morning after the game: "Can't say enough about the Seattle Seahawks. That's a great football team. Well coached, and I have tremendous respect for Pete and the entire organization. Obviously it was a game that came down to the final seconds — a yard separated the two teams."
Added Slater: "You have two organizations that have had a lot of success and provided a lot of stability over the last decade-plus. Two coaches that have really got the culture in the way they want it with their teams. They are built a certain way. They play to their strengths. They remain true to their identity and as far as who they are as a football team. That always makes for a great matchup — well-coached teams with disciplined players who love to play ball."
Who's left?
The Patriots who remain from Super Bowl XLIX are safety Devin McCourty, Slater, running back James White and wide receiver Julian Edelman. For Seattle, Wilson, tight end Luke Willson, defensive end Bruce Irvin, and linebackers Bobby Wagner and K.J. Wright remain.
Bill Belichick breaks down what makes Russell Wilson so tough to defend and calls him underrated.
"Pete and [general manager] John [Schneider] didn't turn everything over right away. They invested in some of their guys, tried to keep the band together a little bit longer after the Super Bowl," Salk explained. "It didn't not work — they've been in the playoffs every year but one — but it's hard to say it's worked. Over time, it wore thin with some really big personalities. Like Earl Thomas. Richard Sherman. Those relationships got strained."
The pain of Butler's interception challenged the chemistry of the Seahawks' locker room, with Sherman still referencing the play two seasons later after a game in which Seattle threw a pass at the goal line.
"Now it finally feels like they're ready to move in a new direction. It's become Russell's team in a way it was not then," Salk said. "They invested in just Russ and Bobby Wagner, and everyone else is on their way. They're just now starting to replace some of those players with similar skill sets and personalities. That's why [safety] Jamal Adams is here. You have to find that Kam Chancellor type."
In New England, Brady's departure as a free agent this past offseason ushered in the most decisive change since Super Bowl XLIX. While Butler's interception sparked the Patriots' second run of Super Bowl titles, the 2020 season feels like another new beginning for New England with Cam Newton under center. That revamped attack will be making its national television debut Sunday night in Seattle.
Running back Shane Vereen, who had 11 receptions in Super Bowl XLIX against the Seahawks, said the Patriots' new beginning has a familiar look in terms of success.
"With the change at quarterback this offseason, I've had so many questions, 'Are they still going to be the same?' And I'm like, 'They're going to be fine,'" said Vereen, who is retired and calling college football games for Fox Sports.
"When I left New England, everyone was asking me, 'How is it different there?' It's not a secret. It's responsibility, accountability, doing your job, showing up ready to work, practicing hard, and then preparing. I think that's the biggest difference I saw from the other organizations I played in. The preparation in New England was just, bar none, so good. So I wasn't surprised."