Planes, steaks and bad cell reception: How the Vikings crushed free agency – Minnesota Vikings Blog
EAGAN, Minn. – Rick Spielman's office inside the Minnesota Vikings' palatial new headquarters looks out over 360,000 square feet of Kentucky bluegrass that last week was blanketed underneath a dense layer of snow.
The sprawling landscape, soon to be the team's four outdoor practice fields, offered an oasis during one of the craziest weeks of the year, a place Minnesota's general manager could go for a brief respite and minute of clarity among franchise-altering negotiations.
When he wasn't corralling free agents with the team owners' private jet or hosting deal-closing dinners, Spielman didn't venture far from this space, bouncing between his quarters and those of salary-cap master Rob Brzezinski, assistant GM George Paton and the coaches down the hall. This is where he and his front-office team crushed some of the biggest home runs during the first wave of free agency.
The story behind how the Vikings landed Kirk Cousins, the quarterback they believe is the missing piece to this franchise's quest for its first Super Bowl title, really began two years ago. It's best explained by how $53 million in cap space not so magically appeared ahead of the 2018 free-agency period, priming the Vikings to strike on a paradigm-shifting deal and still have money leftover to make other power moves — including one that led to defensive tackle Sheldon Richardson's signing.
But how everything fell into place in a couple of days last week is a byproduct of the franchise refusing to hold anything back when juggling multiple deals at the same time, thriving amid the chaos the front office had meticulously planned as it crafted a strategy to reshape its roster.
"If you don't get up there and swing at the plate, you're never going to get a hit," Spielman said. "You're always trying to — I don't want to say take calculated risks, but you can't just stay still."
The Vikings gambled big, and it led them to win free agency. Spielman took ESPN on the journey that redefined his franchise.
Courting Cousins
Minnesota knew if it had any chance of landing Cousins, it had to come with its best offer up front.
The Vikings, along with the Jets and Cardinals (it turns out the Broncos removed themselves from the Cousins sweepstakes before it began) would get one shot, a "silent auction" of sorts, as Sports Illustrated detailed, to impress the quarterback and his agent, Mike McCartney.
The key was to get everything lined up during the NFL's legal tampering period, which began at 12 p.m. ET on March 12, so if they secured a visit, they could avoid drawn-out negotiations.
The ability to fulfill one of Cousins' top priorities — a fully guaranteed contract worth $84 million — was among Minnesota's top selling points.
"It's rare that a quarterback of Kirk's caliber gets out in the open market, so you know what you're going to have to do to get him here," Spielman said. "Once the ownership said go ahead and do what you have to do to get him here, we had a pretty good sense of where we had to be [financially] by the pre-negotiation period."
Minnesota learned it would be Cousins' first visit. While the Vikings' front office fleshed out numbers and terms with Cousins' representation during the legal tampering period, Minnesota executives remained in talks with agents for their three quarterbacks from 2017. Spielman talked to Kennard McGuire (Teddy Bridgewater); Paton communicated with Jeffrey Nalley (Case Keenum); and Brzezinski was in touch with Tom Condon (Sam Bradford).
Spielman never had a chance to speak with Keenum before the quarterback market spun into motion late that Monday night, when news broke that he would be signing with the Broncos.
The contingency plans "B, C and D" that Spielman said they had ready would never see the light of day.
"That was when all of a sudden, all those other pieces started to fall. … We had a pretty good indication by then because we were in the negotiating period that we were getting pretty close with Kirk at the time," Spielman said. "All the chairs started to fill."
Once the free-agency window opened at 4 p.m. ET on Wednesday, March 14, Spielman headed to Atlanta to pick up the quarterback; his wife, Julie; son, Cooper; and his parents, Don and Maryann.
But earlier that same morning, the GM was negotiating with a different quarterback.
Spielman: "Well, it's funny. On the Trevor [Siemian] trade, I actually started that trade on Wednesday. … I think [Broncos GM] John Elway was at the Oklahoma pro day. So I called him and just started talking about him Wednesday morning. Then when I landed in Atlanta, I was talking to him about it and then he was catching a plane to go to UCLA, I believe, for [Josh] Rosen's pro day."
Spielman told Elway he would call him back when he landed in the Twin Cities. For the next 2 ½ hours, the general manager spent quality time getting to know his future quarterback and his family. When they landed at Holman Field Airport in St. Paul and made their way to dinner in downtown Minneapolis, Cousins got an up-close look at how the Vikings landed his backup.
"We finalized the deal while Kirk and his wife were in the back seat and Cooper, and then I was on the phone while the helicopter was following us and finalized that trade," Spielman said.
Dinner, deals and travel plans
Another chain of events was set into motion hours after the free-agency window opened on Wednesday.
While at Cousins' dinner at The Capital Grille, Spielman got word from agent Ben Dogra that former Seahawks defensive tackle Sheldon Richardson wanted to visit.
Spielman's 10-ounce filet mignon would hear more of the conversation around the 13-person dinner table than he would.
"Half the time I wasn't even in the dinner because I was out on the phone working with Rob and George and trying to see [if they could line up a visit with Richardson]," Spielman said. "[Co-owner] Mark Wilf says the plane is here, why don't you go down to St. Louis, pick him up and bring him back?"
Before Cousins checked out of his hotel and headed on a tour of U.S. Bank Stadium on Thursday morning, Spielman and defensive line coach Andre Patterson were wheels up at 8 a.m. to pick up their future 3-technique tackle.
Meanwhile back in Eagan, McCartney had arrived to go over the final details of Cousins' contract. Given how prepared the Vikings were after hammering out the meat of the deal at the beginning of the week (no-trade clause, no franchise tag in addition to the three-year, $84 million contract), putting pen to paper on Thursday was the easy part.
"I bet it wasn't a half-hour conversation when Mike got here," Spielman said.
One floor above Spielman's roomy office is the owners suite, where Cousins and Richardson ate lunch with coaches and management before the quarterback's afternoon news conference. Immediately after wrapping up photo opportunities and media scrums, Spielman went two floors up to Brzezinski's office. They were running short on time to restructure running back Latavius Murray's contract before $5.15 million of his 2018 salary would have been guaranteed the next day.
With that deal restructured by dinnertime and negotiations in the works with Richardson's agents, Spielman was off to his second steakhouse in less than 24 hours to wine and dine the defensive tackle. But his meal at Butcher & the Boar was interrupted yet again, this time by bad cell service.
"[We were] trying to track Trevor down because he was in Mexico and his phone wasn't working," Spielman said. "That was a little bit of a — another little wrinkle. His phone was going right into [voicemail] for whatever reason.
"I hadn't talked to him. Mike [McCartney, who also represents Siemian] had finally gotten ahold of him. I've got [offensive coordinator John] DeFilippo trying to reach him. We're all trying to reach him, and we can't get ahold of him."
With another fire put out after McCartney got Siemian on the line, Spielman went to meet with Brzezinski, Paton and McCartney, who were dining across town. By 12:30 a.m., he was home and in bed, ready for one more marathon day to close out a monumental week.
What's next?
Just before 3:30 p.m. on Friday, Richardson signed a one-year, $8 million contract to become the next piece of the Vikings' star-studded defensive line. By the time Minnesota stepped across the plate after trotting the bases on its home run signings, its $53 million in cap space was at just more than $20.9 million. It's a high price for two key additions (and a backup QB) the Vikings hope will be the final pieces to their Lombardi Trophy puzzle.
But even after Richardson was locked in, Spielman and his front office were still making deals, this time letting the business side win out when they had to cut veteran slot receiver Jarius Wright to free up $2.64 million in cap space. That next morning, Spielman, Patton and head coach Mike Zimmer were in the GM's office for an all-day tape-grinding session. On Saturday it was defensive backs. In the coming days, it will be linebackers and defensive linemen.
On Wednesday, Spielman flew to Columbus, Ohio, in preparation for Ohio State's pro day on Thursday. The questions he'll now face from TSA agents and others who spot the GM in public will shift from what the Vikings are going to do at quarterback to whether they're going to win a Super Bowl.
With their eye on several pieces in the second wave of free agency, the Vikings are beginning to move ahead to 2019 and the issues their finances could cause in retaining four players with upcoming extensions and whether they'll pick up cornerback Trae Waynes' fifth-year option this May.
Privately, Spielman and his staff will prioritize how they want to navigate the extensions, probably working ahead to get several new contracts done before training camp for the likes of Anthony Barr, Eric Kendricks, Danielle Hunter and Stefon Diggs.
Publicly, the GM is keeping the order in which those contracts are extended open.
"I think you just keep working them all and just see because eventually you get a sense of whether you're going to be able to get a deal done or not," he said.
A year from now, the abundant strategizing, capped by one epic week that landed Cousins and Richardson, might seem like light work compared to the efforts Spielman and his team will put in trying to solve the franchise's next big dilemma: Can they keep everybody?
"We'll see," he said. "It's always the million-dollar question."
Bengals want balance for Joe Burrow between 'being smart' and getting hit – Cincinnati Bengals Blog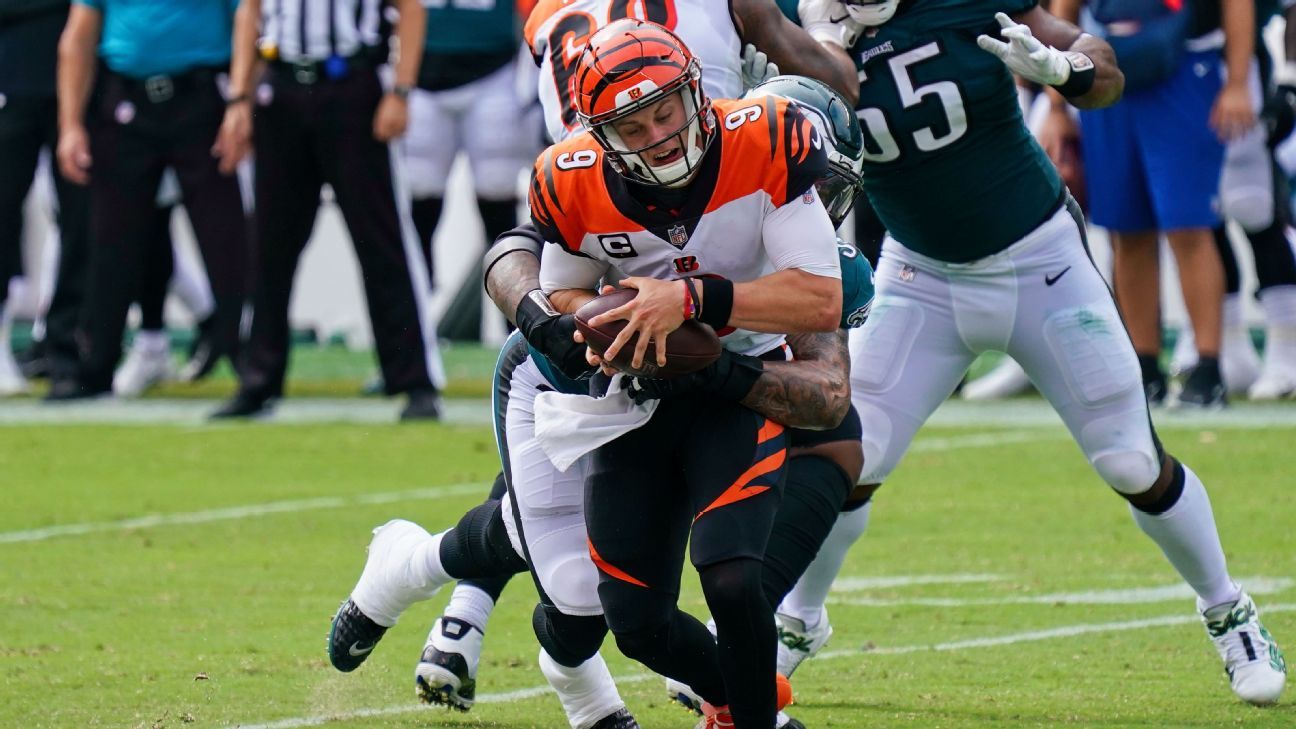 CINCINNATI — In one moment, Cincinnati Bengals wide receiver Tyler Boyd was making a play for his quarterback under pressure. In the next, Boyd was ready to fight.
In the second quarter of a 23-23 tie with the Philadelphia Eagles on Sunday, Boyd was getting up after 9-yard completion. He saw rookie quarterback Joe Burrow writhing in pain after a shoulder to the neck area knocked the wind out of him.
• Fantasy fallout: Buy breakout rookie WRs?
• Pederson must 'unclutter' Wentz's mind
• It's Foles' show now as Bears starting QB
• Bengals try to find balance for Burrow
• Hot start for Hopkins, decline for Fitz
The fact Philadelphia's Malik Jackson was whistled for roughing the passer didn't matter to Boyd. The damage was done.
"Just to see him take those hits and for him to go down and for him to go injured, it makes me to want to fight whoever done anything to him," Boyd said after the game.
If that was the case, Boyd could find himself in scraps on a weekly basis.
Through three weeks, Burrow has been sacked 14 times, the most of any quarterback in the NFL. And while not all sacks, pressures and knockdowns are created equally, the Bengals acknowledged there needs to be a balance in order for Burrow to avoid serious risk.
"You don't want your quarterback to get hit as much as he has," Bengals offensive coordinator Brian Callahan said. "Some of those are on protection, just pure pass protection. Some of those are on him and the style of his play. The play is never over for him. He does everything he can to keep it alive."
Burrow showed the good and the bad of extending plays outside of the pocket. In Week 2, he tried to spin away from an opposing defender and instead was thrown to the ground for a sack. In Week 3, he tried the same maneuver with Bengals coach Zac Taylor yelling in his ear to throw the ball away. This time, however, he was successful and almost had a big completion to wide receiver Tee Higgins.
"That makes Joe the player that he is," Taylor said. "He's not afraid to take those hits and put himself in those positions because it means explosive plays. There is a balance of being smart and putting yourself in that position."
Burrow's flair for extending plays takes a physical toll. Burrow was sacked eight times against the Eagles on Sunday. Taylor said the offensive line was at fault for four.
Against the Eagles, Burrow looked his sharpest and put the Bengals (0-2-1) in position to pick up their third win in two seasons. But once the game was pushed to overtime, the Bengals failed to generate any scoring opportunities. Cincinnati also struggled to protect their budding star. Burrow was sacked three times in overtime with two coming on the Bengals' final drive.
For the second consecutive week, Burrow opted not to blame anyone else during his postgame news conference. When he was asked about what he can do to avoid getting hit and sacked, he was short and direct.
"Just get the ball out of my hands," Burrow said. "Make plays with my feet."
Despite the elusiveness Burrow has displayed, a college trait that has translated well to the next level, the Eagles' pass rush didn't leave Burrow many options.
After a Week 2 loss to the Cleveland Browns, Taylor downplayed any concerns over the pass-blocking and chalked the pressure Burrow faced up to his ability to extend plays. The numbers support this claim. While Burrow had the third-highest contacts among quarterbacks heading into Week 3, the Bengals were 21st in pass block win rate at 54.1%, an ESPN metric powered by NFL Next Gen. But on Sunday, Cincinnati's rate was 51.4%, which ranked 23rd out of the 30 teams that played through Sunday.
But the Bengals don't need any numbers to know they must do a better job of protecting Burrow. He's not just a quarterback. Even though he has played only three games, Burrow is one of the Bengals' top leaders.
"It hurts me because I know how much Joe wants to win," Boyd said. "I know how much he dedicates himself to this game and the pressure he has coming onto this team.
"He feels that we should win each game. He feels that if we get the final drive, then he believes that we're going to win. And that's what I love about him."
Former Tennessee Titan Albert Haynesworth charged with domestic assault
CLEVELAND, Tenn. — Former Tennessee Titans All-Pro defensive lineman Albert Haynesworth was arrested Monday after he was accused of threatening and yelling at his ex-girlfriend and her new boyfriend.
Cleveland, Tennessee, police officers responded at 4:34 p.m. to a report that Haynesworth was yelling at his ex-girlfriend, according to a statement from the police. The woman told officers Haynesworth had driven there from his home in Franklin, Tennessee, after making threats to physically harm her and her boyfriend. No physical assault was reported, according to the police statement.
"After being told multiple times to stop yelling and cursing, Haynesworth was taken into custody, charged with domestic assault and disorderly conduct and transported to the Bradley County Justice Center," the statement reads.
An officer at the jail said Haynesworth was no longer in custody Tuesday. A spokesman for the sheriff's office did not immediately respond to a request for information about bail in the case. An email to a lawyer who has previously represented Haynesworth was not immediately returned Tuesday afternoon.
Haynesworth has been receiving dialysis since his kidneys failed. After he revealed the news last summer, Vanderbilt University Medical Center said it had more than 1,000 calls and offers to donate a kidney or ask about the process within a day. However, he has not yet received a transplant.
Haynesworth played 10 seasons in the NFL. He spent his first seven seasons with the Titans, who selected him No. 15 overall in the 2002 draft out of the University of Tennessee. Haynesworth also played for Washington, New England and Tampa Bay.
He was selected as an All-Pro after the 2007 and 2008 seasons and had 30+ sacks in 123 games.
Haynesworth had his greatest season in 2008, when he had 8+ sacks while leading the Titans to a 13-3 record and the No. 1 overall seed in the AFC before they lost to the Baltimore Ravens in the divisional playoffs.
Fantasy football rankings – NFL Week 4