Johnny Manziel praises Colin Kaepernick for charitable work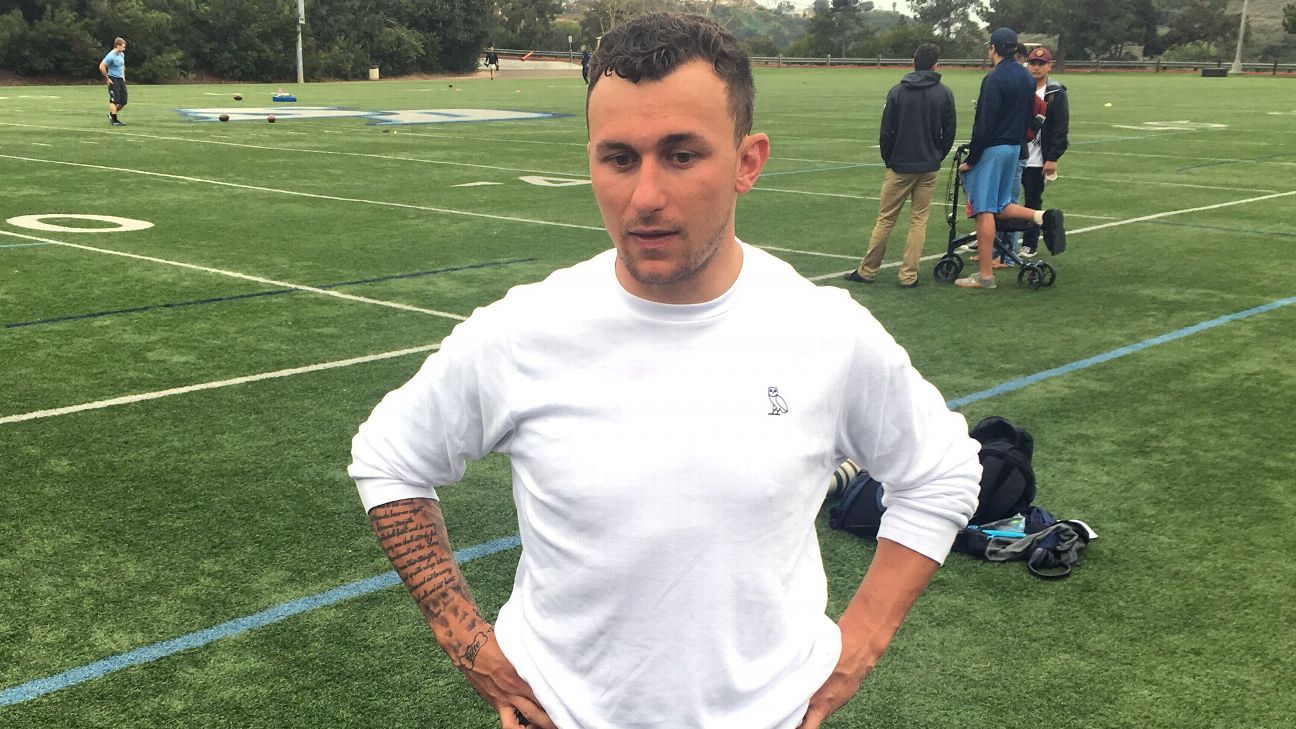 Quarterback Johnny Manziel stood up for fellow free agent Colin Kaepernick in a series of tweets Saturday, praising the former San Francisco 49ers quarterback for his charitable work and saying the reasons Kaepernick isn't signed are "non football based."
At the University of San Diego's pro day on Thursday, Manziel threw in front of NFL scouts for the first time since 2015. Scouts from 13 NFL teams were in attendance, drawing questions as to how many teams would attend a Kaepernick workout.
Manziel wants to shut down the Manziel-Kaepernick chatter.
This will probably cause an uproar, but I'm tired of the @Kaepernick7 vs myself comparisons and anger. Kap is doing amazing things right now changing lives and donating millions of dollars. His impact off the field from a societal standpoint is legendary and straight admirable.

— Johnny Manziel (@JManziel2) March 24, 2018
Standing up for people who often don't get heard and for a race that continually deals with problem after problem in this country for CENTURIES. This world we live in is absolutely crazy and I believe what he's doing has an amazing impact.

— Johnny Manziel (@JManziel2) March 24, 2018
Manziel went on to tout Kaepernick's NFL credentials before wishing him "all the best in your journey."
The facts of the matter are the reason he's not being signed are non football based. The guy took a team to the Super Bowl and continuously wreaked havoc on the NFC West and the league. Maybe he had a bad year two years ago but he's not a bad player and that's a fact..

— Johnny Manziel (@JManziel2) March 24, 2018
In my opinion the guy still has a lot in the tank but it's not my place to say what he wants to do with his career. All I can speak for is myself and trying to turn my life around from the depths it was in. God bless and have a great Saturday…

— Johnny Manziel (@JManziel2) March 24, 2018
I rock with you @Kaepernick7 you've always been good to me and I appreciate that. All the best in your journey my friend wherever that takes you

— Johnny Manziel (@JManziel2) March 24, 2018
Kaepernick wasn't on an NFL roster last season after he opted out of his 49ers contract before the start of the 2017 league year. He has been reticent to speak out about his playing future or fundraising efforts but said on a few occasions in 2017 that he was still looking for an NFL opportunity.
Video of Kaepernick throwing was posted on Instagram last week..
Manziel has been out of the NFL for two seasons after his release by the Cleveland Browns in March 2016. He has worked out with the CFL's Hamilton Tiger-Cats and is set to play in The Spring League beginning later this month. The 2014 first-round pick has been training with QB guru George Whitfield Jr.
Information from ESPN's Eric D. Williams was used in this report.
Nick Foles to stay Chicago Bears' starter at QB; Tarik Cohen has torn ACL
Nick Foles will be the starter at quarterback going forward after he rallied the Chicago Bears to a comeback victory over the Atlanta Falcons on Sunday in relief of Mitchell Trubisky.
The announcement was made by coach Matt Nagy, who also said tests confirmed that running back Tarik Cohen has a torn ACL and will miss the remainder of the season.
Nagy benched Trubisky in favor of Foles with Chicago trailing by 16 points in the third quarter. Foles responded by throwing three second-half touchdown passes, including the game-winning 28-yard strike to wide receiver Anthony Miller just after the two-minute warning.
Foles also had touchdown passes to Allen Robinson and Jimmy Graham. He finished the game 16-of-29 for 188 yards, three touchdowns and one interception. He had two additional touchdown passes overturned by the officials.
Cohen suffered his injury on a punt return when Atlanta's Brian Hill got pushed into the back of his right leg, caused his knee to bend awkwardly. Cohen went to the ground and immediately clutched his right knee. The 5-foot-6 all-purpose threat was unable to put any pressure on his right leg when trainers helped him off the field.
He had two carries for 21 yards and three receptions for 20 yards before the injury.
Steelers' Alejandro Villaneuva pushing for deceased vet Alwyn Cashe to get Medal of Honor
PITTSBURGH — Speaking publicly for the first time since he taped over the name of Antwon Rose Jr. and wrote the name of Alwyn Cashe on the back of his helmet, Pittsburgh Steelers left tackle Alejandro Villanueva said his decision was "exclusively" about the Army veteran killed in action in 2005.
"The decision had to do exclusively with Sgt. First Class Alwyn Cashe and his pursuit for the Medal of Honor, which is something that he deserves and hopefully he'll get soon," Villanueva said Monday.
Cashe, a Sergeant First Class, died after sustaining severe burns while trying to rescue other soldiers from a burning vehicle in Iraq after an ambush. Cashe was posthumously awarded a Silver Star for heroism.
"I felt that my decision to honor Sgt. First Class Alwyn Cashe was something that was very personal to me due to the fact that in the veteran community, there's a strong push to get him a Medal of Honor, which is something that the community believes that he deserves," said Villaneuva, a former Army Ranger who served three tours in Afghanistan. "I think that the timing was perfect due to the fact that it gave the lawmakers a little bit of momentum going forward. The family has been waiting for 15 years to hear something from his chain of command, from Congress regarding the exception of his five year statutory limit that could potentially get him the Medal of Honor."
Earlier this month, there was some movement by House lawmakers to upgrade Cashe's award to the Medal of Honor, something that could only be done if Congress passes new legislation to bypass the rule that the medal must be awarded within five years of the service member's heroism. Cashe would be the first Black recipient of the award for valor in Afghanistan or Iraq.
"The issues that matter to veterans are incredibly important," Villanueva said. "I feel like I don't do enough as an American every day to enjoy my liberties and I feel very thankful to have the support of the veteran community and the background to appreciate the freedoms that we all enjoy."
Villanueva's decision to tape over the name of Rose, an unarmed teenager killed by East Pittsburgh police in 2018 when he was fatally shot in the back fleeing a traffic stop, angered Rose's mother, Michelle Kenney, because she was told the team took a vote to honor Rose. Safety Minkah Fitzpatrick, though, told reporters the decision was made "upstairs."
Center Maurkice Pouncey also posted a statement on Instagram saying that he "inadvertently supported a cause of which I did not fully comprehend the entire background of the case" and would make his own decision about the name on the back of his helmet following Week 1. For the Week 2 home opener, Pouncey wore the name of Eric Kelly, a Black Pittsburgh police officer killed in the line of duty in 2009. Other Steelers also changed names on the backs of their helmets for the games after Week 1, although some opted to continue wearing Rose's name.
"I don't have an issue with him not choosing to represent Antwon," Kenney said of Villaneuva. "I believe that he, like everyone else, is entitled to their own opinion. … My only problem with the entire thing was that I was told they were take a team vote. I do not believe that Antwon's life supersedes the death of any other person. I just believe they died in different ways. Him choosing to represent someone else wasn't what offended me.
"I feel like with Pouncey, like with Villanueva, if you didn't want to wear Antwon's name, say that and don't do it. Don't set the movement backwards because of your own personal agenda. Because this is bigger than Antwon. Antwon's gone. I'm trying to save the life of the next Black person."
Bucs beat Broncos behind Tom Brady's three TDs but offense sputters in second half – Tampa Bay Buccaneers Blog
With Mike Evans and Chris Godwin both back on the field together healthy for the first time this season, and Rob Gronkowski seeing an increased role in Bruce Arians' offense, the Tampa Bay Buccaneers' offense showed glimpses of how dangerous it could become. Evans caught a pair of touchdowns and Godwin caught one in the first half in the Bucs' 28-10 win over the Denver Broncos.
But for the second straight week, the offense — for as much as it wowed in the first half, struggled to regain its rhythm in the second, scoring only three points (Shaquil Barrett's safety contributed an additional two). In the first half of Weeks 2 and 3, the Bucs have outscored opponents 44-10 with six touchdowns and a field goal in the first half. But in the second half of those games, the Bucs' offense mustered only 13 points (a touchdown and two field goals).
That worked against a Panthers squad with a new head coach and quarterback, and against backup quarterbacks Jeff Driskel and Brett Rypien and a Broncos squad decimated by injuries in Week 3. It might even work against rookie Justin Herbert in Week 4 and a Chicago Bears squad that benched quarterback Mitch Trubisky in Week 5. But in Week 6, the Bucs must have these second-half decificies worked out when the Green Bay Packers come to town, the Bucs' next big test in the NFC.
QB breakdown: Brady completed 25 of 38 passes for 297 passing yards, three touchdowns and no interceptions — his first Bucs game without a pick. He spread the ball around to eight different receiving targets, including Gronkowski, who had a breakout game catching 6-of-7 targets for 48 receiving yards after mustering only two catches last week. Brady was also throwing into tight coverage and seemed to trust himself and his receivers more. On Evans' two TDs, both came when he was lining up opposite Justin Simmons, one of Denver's top defenders.
Eye-popping NextGen Stat: Brady showed that his arm strength and touch haven't fallen off — he threw an absolute dime to tight end O.J. Howard for 33 yards (26.6 air yards), with just 0.53 yards of separation between the defender and Howard when the pass arrived, per NFL Next Gen Stats. Since the NFL began tracking this stat in 2017, Brady has had only one other completion of 25 or more air yards and 0.5 yards or fewer of separation.
Brady also fired a 47-yard pass (42 air yards) to Scotty Miller, working one-on-one against Simmons with just 0.83 yards of separation – the first time since Next Gen began tracking that stat that Brady has completed a pass of 40 or more air yards with less than a yard of separation. The last time Brady completed a pass of 40 or more air yards was in Week 1 of last season, and he was 0-for-5 on such passes entering the day.
Promising trend: After giving up 17 second-half points to the Panthers last week, the Bucs' defense pitched a second-half shutout in Denver. The defense finished with six sacks — two from Barrett, one of which was a safety. They also got interceptions from Lavonte David and Mike Edwards, who stepped in to fill Antoine Winfield Jr.'s safety spot while he replaced injured Sean Murphy-Bunting at nickelback (Murphy-Bunting suffered a hamstring/groin injury). The only hiccup on defense came when they allowed Driskel to go 6-for-6 for 74 passing yards and a touchdown running the hurry-up just before halftime. Tacking on their five sacks and four takeaways from last week, this group is doing everything it can to keep the team in games as the offense catches up.