Sizing up Mike Trout and the Sultan of Swat, most unseriously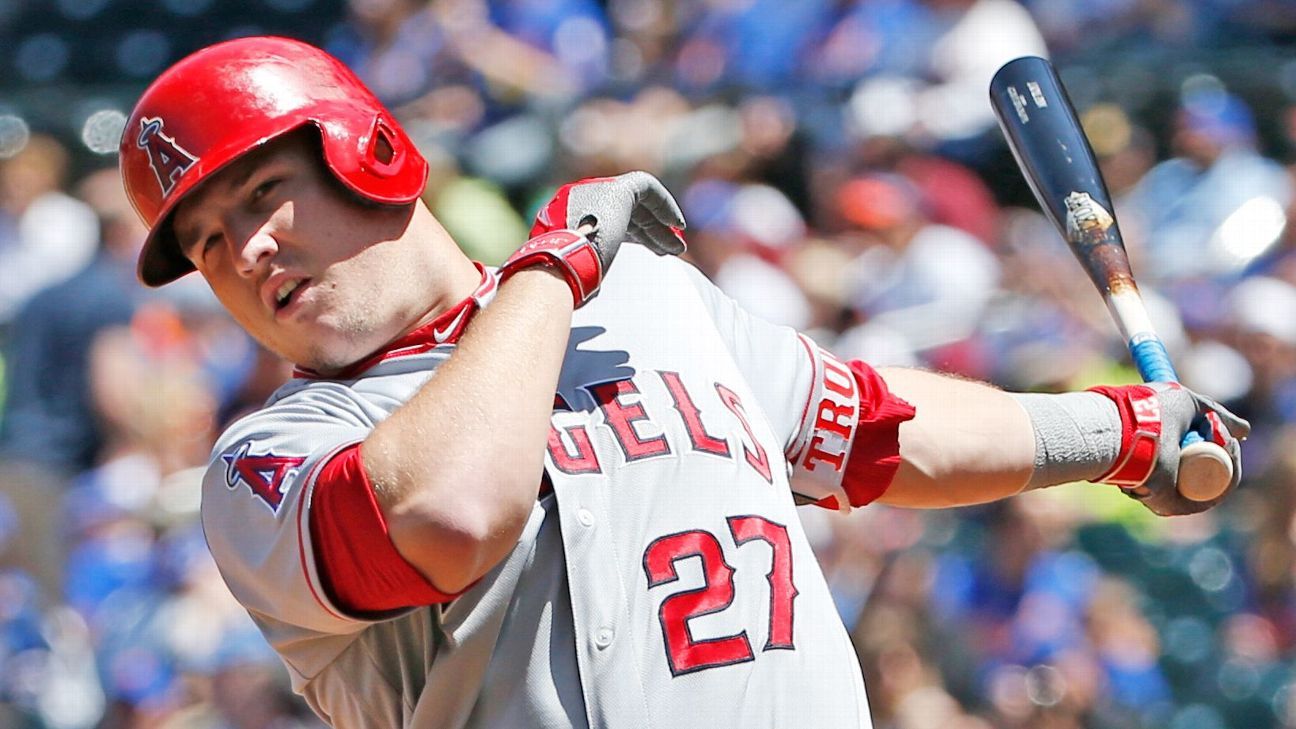 This tongue-in-cheek take on No. 18 athlete Mike Trout's actual greatness, by humorist Steve Etheridge, appears in ESPN The Magazine's April 2 Dominant 20 Anniversary Issue. Subscribe today!
MIKE TROUT IS the best baseball player alive, having achieved a level of success in his first six full seasons unprecedented in the game. Some are making the case that he could be the greatest all-around player ever. But how accurate is that claim? Using advanced metrics, we can empirically determine just how dominant Trout truly is, comparing him side by side with the man widely considered baseball's GOAT: Babe Ruth.
---
Wins Above Replacement (WAR)
Through his age-25 season, Trout generated an astronomical 53.2 WAR, while the Great Bambino had a mind-boggling 271.6 WAR in that same time frame. However, MLB rosters in the early years of Ruth's career had largely been gutted by World War I conscription, and desperate teams filled their benches with farm animals and large toddlers stolen from orphanages, meaning it was much easier to contribute beyond replacement level back then. So Ruth comes out on top but with a big asterisk.
---
Dinger Quality (wDQ)
The greatest power hitters don't just hit home runs. They hit moon shots of mythical proportions that defy the laws of physics and spit in the face of God. And few power hitters have spit in the face of God more than Trout, whose dingers explode off his bat with such staggering force that fans often accidentally decapitate themselves whipping their heads around to follow them. When Trout really connects with a dinger, play-by-play announcers just scream and scream until they either pass out or the telecast cuts to commercial. They are dingers of the highest quality, collectively notching a career WDQ score of 13.76 out of 14 possible Dinger Points (very good).
Then there's Ruth. While it's true that he broke just about every single home run record during his storied career, if you watch footage of his dingers, you will see that they were not breathtaking spectacles like Trout's but rather the stupid-looking dingers of yore, with wonky, old-timey mechanics. He would swing without raising his elbows or rotating 
his hips, lazily waving his bat out in front of his belly like an old arthritic orangutan swatting at a horsefly. His dingers basically looked like weird popups that went far somehow, earning Ruth a paltry career WDQ score of 4.8 Dinger Points (very bad).
---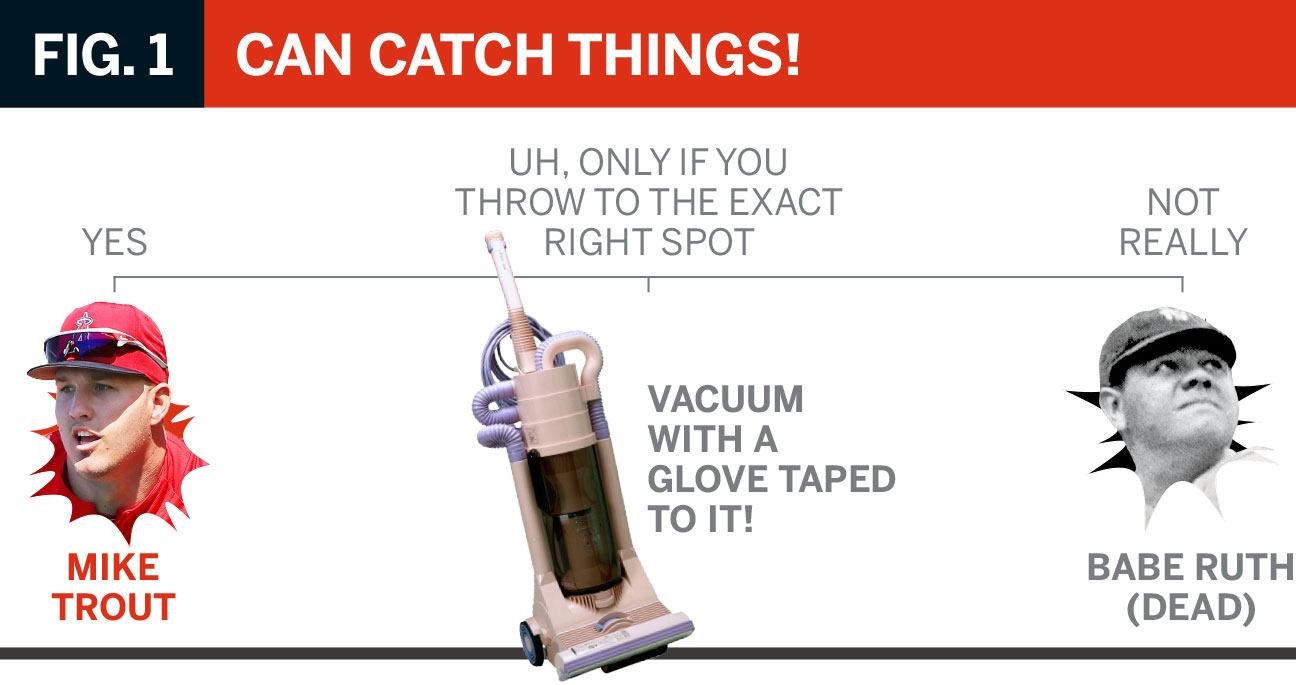 Defense
Trout is an electrifying fielder who makes highlight-reel grabs with ridiculous ease, averaging 2.6 catches per nine innings that technically classify as magic from the devil, according to Statcast™. Ruth, conversely, was roughly as effective on defense as a pile of scrambled eggs, allowing more than 300 inside-the-park home runs during his career because he didn't feel like bending over to pick up the ball. Cutoff throws often would get lodged in the fatty flesh on the back of his head, allowing countless runners to take extra bases every season. Fig. 1 (above) illustrates Ruth's defensive prowess as compared with those of Trout and a vacuum cleaner with a baseball glove taped to it.
As you can see from this data, Trout is roughly 600 times better at defense than Ruth, who, as we can also see, is dead.
---
Baserunning
With 31 baserunning runs over the past five seasons, Trout has some of the best wheels in baseball. Ruth also had some of the best wheels in baseball, but more literally speaking, as he preferred to round the bases on an electric Rascal-type scooter, his huge, slow-moving legs mostly serving as cosmetic appendages. What Ruth lacked in speed he made up for in distrust of the Irish. See Fig. 2. Nonetheless, Trout still comes out on top as the better baserunner.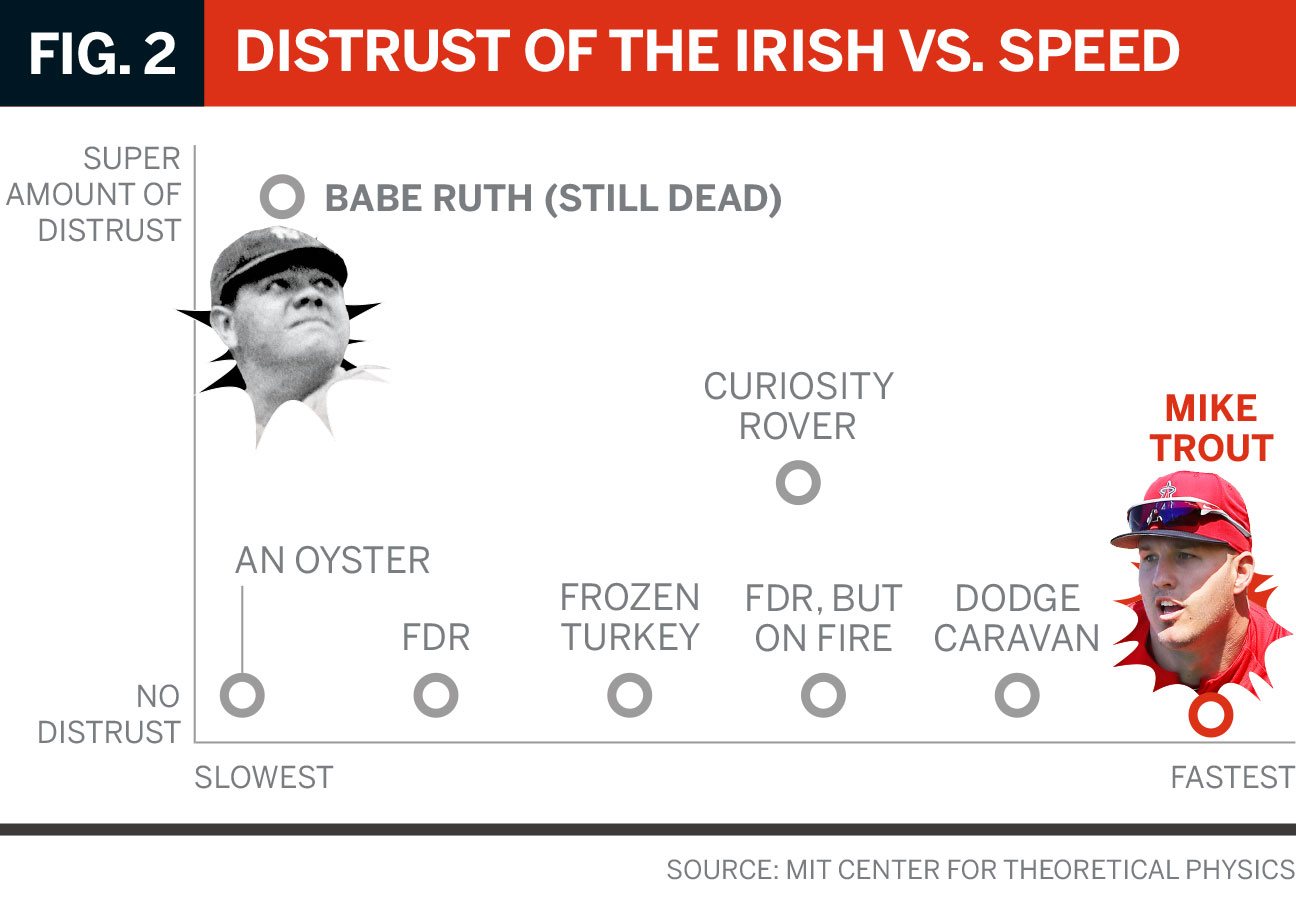 ---
Has Neck (HN)
Both players fail to impress in this category, as neither really has much of a neck. Their heads sort of just merge into their shoulders. Let's call this one a wash.
---
Star Power
Beyond the stat sheet, there are many intangibles that contribute to a player's greatness, and star power is what determines the size of one's footprint in the popular lore of the game. Ruth, celebrated worldwide not just for his athletic feats but also his adultery and many fun goofs, had star power in gross excess. Who can forget the iconic moment when he interrupted Lou Gehrig's farewell speech in 1939 to play "Camptown Races" on his recorder? Or his famous called shot at the 1932 World Series, when he pointed at a vendor in the bleachers and proceeded to order five hot dogs during his at-bat?
No such classic moments come to mind when you think of Trout, and this is because he is a boring person with zero star power. His walk-up song is the Windows startup music. He appeared in ESPN The Magazine's 2016 Body Issue wearing a beekeeper suit because he felt bad showing off. He has perhaps the most disproportionate talent-to-marketability ratio in the history of sports, unlike Ruth, who enjoyed countless lucrative endorsement deals with brands like Bayer Restorative Heroin Lozenges, Dr. Nettleton's No-Hobble Polio Clogs and Under Armour. Trout, despite being a once-in-a-generation player at his peak, is probably not even as famous as Rick Moranis. (Go ahead, ask your non-baseball friends if they've heard of him.)
---
Nicknames
As a rule, history's greatest athletes tend to have a lot of nicknames. It seems that the greater you are, the more nicknames you amass. So how do Trout and Ruth stack up in terms of nicknames? Let's look:
Ruth's nicknames: The Great Bambino, the Sultan of Swat, Baseball's John Candy, the Ball Boys' Wet Nurse, the Collapsing Pumpkin, the Colossus of Clout, Señor Heart Disease, the Home Run Moron, Hammerin' Hank, the Slow-Moving Pile, the Foul-Pole Petter.
Trout's nicknames: Michael Trout.
---
Conclusions
In comparing these two players, we can empirically conclude that in many regards, Trout is a superior player to Baseball's John Candy. However, we can't ignore the fact that Ruth was drunk and 600 pounds for most of his career, and until Trout can prove he's capable of performing under those same extraordinary conditions, he can never claim the title of GOAT. But he still has many good playing years ahead of him, and if he starts boozin' and gaining weight now, it would not be unreasonable to expect him to one day take the crown.
---
Steve Etheridge is a senior writer and associate editor 
at ClickHole. He has previously written for The Onion, NewYorker.com and ESPN Page 2.
Brewers won't have top reliever Devin Williams vs. Dodgers
Milwaukee Brewers rookie right-hander Devin Williams, one of the best relievers in baseball this season, has been left off the team's roster for its wild-card series against the top-seeded Los Angeles Dodgers.
He is dealing with an arm issue, sources told ESPN's Jeff Passan.
Williams, 26, was 4-1 with a 0.33 ERA in 27 innings this season, striking out 53 batters with just nine walks. He struck out 53% of batters faced this season, the highest percentage in MLB history by a pitcher with at least 20 innings pitched, according to ESPN Stats & Information.
His changeup — known as the "Airbender" — has made him a fan favorite on social media. Opponents are 2-for-62 (.032) against it, the lowest opponent average on a single pitch this season (minimum 50 plate appearances), according to ESPN Stats & Info.
Byron Buxton not 100% so not in Twins' starting lineup
Center fielder Byron Buxton is not in the Minnesota Twins' lineup Wednesday because "he's not at 100%," manager Rocco Baldelli told reporters before Game 2.
Baldelli said Buxton could be available off the bench if his condition improves. He would not elaborate more on Buxton's condition. Buxton was hit in the helmet by a pitch on Friday and had "mild" concussion symptoms. He was cleared for Game 1 on Tuesday and played the entire game.
Max Kepler is starting in center in Game 2. Rookie Alex Kirilloff, who has yet to make his MLB debut, is starting in right field.
The Twins trail the best-of-3 wild-card series against the Houston Astros 1-0 after losing 4-1 Tuesday, their 17th straight postseason defeat.
Former World Series MVP Pablo Sandoval on Atlanta Braves roster
ATLANTA — Pablo Sandoval is on the Atlanta Braves' roster for the NL wild-card series against the Cincinnati Reds.
The 2012 World Series MVP joined the Braves after being released by the San Francisco Giants a couple of weeks ago.
He started at third base in the final game of the regular season, going 0 for 2 with two walks in a 9-1 loss to the Boston Red Sox. Sandoval played 33 games for the Giants, hitting .220 with one homer and six RBI.
The Braves also brought back infielder Charlie Culberson to the big league roster and released left-handed pitcher Tommy Milone, who was acquired at the trade deadline but posted a 14.90 ERA in three starts.
The 28-player rosters for the best-of-three series between the Reds and the Braves:
CINCINNATI
Pitchers (12): RH Tejay Antone, RH Trevor Bauer, RH Archie Bradley, RH Luis Castillo, LH Amir Garrett, RH Sonny Gray, RH Raisel Iglesias, RH Michael Lorenzen, RH Tyler Mahle, LH Wade Miley, RH Lucas Sims, RH Robert Stephenson
Catchers (2): Tucker Barnhart, Curt Casali
Infielders (7): Matt Davidson, Kyle Farmer, Freddy Galvis, Jose Garcia, Mike Moustakas, Eugenio Suarez, Joey Votto
Outfielders (7): Shogo Akiyama, Aristides Aquino, Nick Castellanos, Brian Goodwin, Travis Jankowski, Nick Senzel, Jesse Winker
ATLANTA
Pitchers (13): RH Ian Anderson, LH Grant Dayton, LH Max Fried, RH Shane Greene, RH Chris Martin, LH Tyler Matzek, RH Mark Melancon, LH A.J. Minter, RH Darren O'Day, LH Will Smith, RH Josh Tomlin, RH Jacob Webb, RH Kyle Wright
Catchers (3): William Contreras, Travis d'Arnaud, Tyler Flowers
Infielders (7): Ozzie Albies, Johan Camargo, Charlie Culberson, Freddie Freeman, Austin Riley, Pablo Sandoval, Dansby Swanson
Outfielders (5): Ronald Acuna Jr., Adam Duvall, Nick Markakis, Marcell Ozuna, Cristian Pache.