Houston Astros, Chicago Cubs set the path for winning by losing
This story appears in ESPN The Magazine's Apr. 2 Dominant 20 Anniversary Issue. Subscribe today!
The first game of the 2013 baseball season was in Houston, hosted by an Astros team that had finished in last place the previous year and was going to finish in last place again. It was nationally televised — the Astros had just moved from the National League to the American, earning them baseball's showcase time slot — and in the sixth inning the booth called down to ESPN's Buster Olney for an interview with GM Jeff Luhnow.
"I've heard from some of your peers," Olney said, "that the Astros probably are the purest form of implementation of statistical data. Tell me, in a nutshell, what your philosophy is."
"Well, it's pretty simple," Luhnow began …
What do you think Luhnow said? What, in a nutshell, was the Astros' "pretty simple" philosophy? When, two years later, ESPN's analytics report named the Philadelphia 76ers the most analytical team in any major sport, what do you think made GM Sam Hinkie "the NBA's most ardent analytics master"? After the NFL's Cleveland Browns hired Moneyball superstar Paul DePodesta to be chief strategy officer, how would you define the strategy he has been chief of? What holds these three exemplars of "pure" analytics together?
1. The Astros went 162 — 324 from 2011 to 2013, the worst three-year stretch by any team since the expansion Mets in the early 1960s.
2. The 76ers went 47 — 199 during Hinkie's three seasons, the second-worst three-year stretch in NBA history.
3. The Browns are 1 — 31 since hiring DePodesta, the worst two-year stretch.
The common denominator? It's losing a lot — a lot — of games, without trying very hard not to.
In 2018, using "data" or "statistics" is so commonplace and obvious that it can hardly be called a strategy anymore. Even teams that do invest more extensively in analytics are likely to find only tiny advantages that dissipate quickly against like-minded GMs' prying eyes. "The old days of getting something for nothing are over," Billy Beane told the New York Daily News in 2003. "There are too many good [GMs] out there now. The art of the deal isn't ripping off the other guy; it's giving up something to get something that makes you better."
Modern teams across all sports do that by playing to win a different game — not a figuratively different game but literally different games, games that are years away instead of the game right in front of them. "Moneyball" is now synonymous with the willingness to lose games, without shame, for years at a time, to build something far off in the future. This is perhaps fitting, as the first lesson most of us learn about money is how to save up: how to collect interest, how to wait for deals, how to pool money for greater purchasing power — buying 5 pounds of gum balls at Costco instead of spending a quarter at a time at the machine.
This is how baseball found itself in this strange place this offseason, where roughly a third of the league's teams were totally uninterested in winning games in 2018 — a place agent Scott Boras described this winter as "destructive to our sport." "We have to get rid of the noncompetitive cancer," he complained. "We kicked people out of the game when they tried to not win."
In the past, that might have been true. But one of the sabermetric movement's greatest legacies is less a tactic or a strategy than a major shift in philosophy: It has reinterpreted what counts, redefined what it means to be successful and dramatically changed baseball. Which means it's changed us too.
This is the story of how we got here, and where we go from there.
---
1951
By 1950, Branch Rickey had invented the farm system as the GM of the St. Louis Cardinals, integrated the majors as the GM in Brooklyn and turned each franchise into the National League's best. They called him the Mahatma. So in 1950, at the age of 68, with four World Series titles, he took on a new challenge as the GM in Pittsburgh.
The Pirates had been a sturdy, top-tier team for the first quarter of the century. But they hadn't won the NL pennant since 1927 and were coming off their first last-place finish since 1917. Just as Cubs GM Theo Epstein would six decades later, Rickey announced that his plan was to build a winner … later. "We're pointing toward 1955," he said. "That's when the bells will start ringing and the red wagon comes down the street. That's when Pittsburgh folks will shout, 'By George, this is it.'"
Rickey proceeded to field a team that was beyond despair. The Pirates finished seventh out of eight teams in his first year, then eighth in the next four, averaging 100 losses. In 1952, they went 42 — 112, at the time the fifth-worst season in modern history, after which their one star — Ralph Kiner, who led the league in homers — asked for a raise. "Son," Rickey told him, "we can finish last without you." The next season, he traded Kiner away.
Rickey's last-place Pirates were probably the purest form of implementation of statistical data in baseball. He used a formula for offense that was the most advanced metric in existence. He tripled his scouting staff and persuaded ownership to give him $500,000 to sign dozens of prospects his first year. He expanded the Pirates' farm system by adding new affiliates. He integrated the team. By 1954 he had added 450 players to the organization, according to Andrew O'Toole's book Branch Rickey in Pittsburgh. He carried bonus babies and Rule 5 picks — who were required to spend full seasons on the roster or be given up — even when they were way too young, way too inexperienced and badly overmatched. "I do not believe he can possibly do a major league club any good in 1955," Rickey lamented of one Rule 5 pick, but he gave the outfielder — Roberto Clemente — 501 rough plate appearances anyway. The big league club became the first to fly on road trips so players could spend more time sleeping in hotel beds. He flirted with a five-man infield in certain situations.
"Certainly I'm disappointed," Rickey told one critical sports writer in 1954, a 53-win season, "but I feel we're far ahead of schedule on our plan." They were not. As catcher Joe Garagiola scoffed, the Pirates were in "the ninth year of a five-year plan."
Rickey stepped down in 1955. He was tarnished by failure. "I would sit down with and listen to my friends that put him on a pedestal, and I couldn't understand how they could be taken in," said co-owner Tom Johnson. Rickey's five-year plan was not heralded as savvy but mocked: "That's a lot of bunk about them five-year building plans," Casey Stengel said, and a sports writer wrote that "a five-year plan is nothing more than a five-year alibi for failure." Pirates attendance plummeted from 1.2 million the season before Rickey's arrival — a last-place season, remember — to 469,000 in Year 5.
But the day after Rickey resigned, in a letter to his children, he wrote, "Look out for the Pirates. The team has turned the corner." And then, sure enough: In 1960, they won it all. Clemente had blossomed into a star; so too had league MVP Dick Groat, signed out of college in a bidding war. Bill Mazeroski, signed at 17 in 1954, hit the walk-off home run in Game 7 of the World Series.
But Rickey was gone before his plan could be vindicated, and he didn't get the credit after his departure. In a somber moment during one 1954 interview, he pondered all of those losses. "Maybe the old man has slipped," the Mahatma said.
---
2002
Wins and losses used to mean something, even when they didn't lead to a World Series title. There were financial reasons: Teams that finished in the "first division," in the top half of the league, got a share of the postseason revenue, small amounts but significant bonuses to modest salaries. (On the final day of the 1933 season, Wally Berger hit what came to be known as the $10,000 Home Run, which pushed his Boston Braves into fourth place — into the money.) But there were also spiritual reasons. A team that won more games than it had the previous season seemed to have an improving outlook, regardless of whether there were prospects on the farm or draft picks on the way. "Connie Mack is said to have preferred a second-place finish over a pennant," says John Thorn, Major League Baseball's official historian. "The fans would come out with great hope for the following year instead of suffering from the complacency that comes with expectation."
When Billy Beane was turning around the A's in the late 1990s, he did it without tearing the club down to its bolts. "We were just trying to avoid losing 100 games," manager Art Howe said, as quoted in Glenn Dickey's book Champions. "I'd been in that situation before in Houston, and it's ugly. … [Fans] expect you to keep winning, no matter what."
If wins and losses counted, how much did they count? Around 2000, when sabermetric writers were expanding the scope of their writing — to player health, team finances, coaching techniques, psychology — they began to wonder.
In 2002, at Baseball Prospectus, Jonah Keri wrote his first professional baseball article, under the headline "The Success Cycle: Making the Hard Decisions." It argued that teams are all contending, building or rebuilding, and strategy should match the different incentives at each stage. The most important sentence in the piece would anticipate what the Astros, 76ers and Browns would attempt a decade later: "A team rebuilding has to go all the way with the process; failing to commit is a recipe for disaster."
In the next few years, writers would put data to work defining the value (in team revenue, usually) of each win — and, by extension, each loss. In 2006, in Baseball Between the Numbers, Nate Silver showed that a team's 90th win was worth six times as much as its 78th — and that, in fact, until a team surpasses 80 victories, there is almost no value in winning additional games at all.
Suddenly, teams that once saw value in pushing for a .500 record and competitive (if futile) September games saw far more in high draft picks and low payroll. After then-Devil Rays manager Lou Piniella criticized the team for being too future-focused — "They're not interested in the present" — his replacement, Joe Maddon, endorsed the multiyear rebuild. "That doesn't bother me because I know what we're doing is proper," Maddon said after losing 101 and 96 games in his first two seasons. After the 2008 season, even Boras — Scott Boras! — was using the language of the success cycle. "I went to [Nationals owner] Ted Lerner after the 2008 season, when he wanted to sign [Mark] Teixeira, and said, 'Don't make a bid for him,'" he told me in 2016. "'Your organization is terrible. The best thing you can do is continue to be terrible.'" The Nationals didn't sign Teixeira. They ended up instead losing 103 games and signing Boras' client Bryce Harper, the first pick in the 2010 draft.
After the Marlins' 2012 fire sale — a scandal, given the Marlins' history of bait-and-switches with fans and taxpayers — FanGraphs ran one approving article headlined "The Marlins Are a Well-Run Company." In 2015, ESPN's FiveThirtyEight argued that all but nine teams should have been sellers at that year's trade deadline — in a league in which 10 teams make the playoffs.
As a strategy, teams' willingness to hit rock bottom was soon vindicated. In 2011, the Royals came to camp with the lowest payroll in baseball, nearly halved from the previous year. Sports Illustrated's Joe Posnanski wrote a piece from "the future," imagining how the Royals had used The Process — GM Dayton Moore's mocked term for the club's long rebuild — to win the 2015 World Series. And they did, right on schedule! So too did the Astros, who famously made SI's prognostic 2014 cover — "Your 2017 World Series Champs" — come true. In between, Theo Epstein's Cubs won it, after Epstein first guided them into the worst back-to-back complete seasons in franchise history.
Where Branch Rickey's gambit had been a stain on his record, Epstein's made him a Chicago hero and all but assured he'll someday be enshrined in baseball's Hall of Fame. Baseball games no longer exist in the moment; they count only as dots in a process. Their outcomes are often irrelevant, and sometimes inverted — defeat might help more than victory. A successfully rebuilding team is like a chess player whose strategy was to take a bunch of the pieces, put them in his pocket and then start the next game with two queens and four rooks. A GM can build the worst team in baseball for years running and somehow improve his reputation.
Baseball got weird.
---
2018
Perhaps the most crucial difference between the reception to Rickey's machinations and Epstein's? After sabermetricians made the case for the "five-year plan" as a strategy, fans — not all of them, but plenty — embraced it as a philosophy. Losing no longer counts as losing; it is a vehicle for hope. A fan base might turn away from a 100-loss season — the Astros famously drew 0.0 TV ratings in some games — but it will loyally come back when the club's ambitions do. (Even three years before they won the World Series, the Astros sold T-shirts that said, in team colors, "Process.")
The more recent social acceptance of being terrible for long stretches has coincided with an incredible advance of parity in the league — not within each season, when teams are increasingly separated into the Superteams and the Not-Trying-Even-A-Little-Bit teams, but over three- or five-year stretches.
At the turn of this century, a team's record in one year showed a clear correlation to its record even many years later. Bad teams stayed bad. From 1998 through 2006, there were 43 teams we might call terrible — 67 wins or fewer in a season. Four years later, those teams averaged only 76 wins. They were hopeless! As the Royals' Moore put it in 2011, "The problem wasn't that we weren't winning. The problem was that nobody could imagine us winning."
That has changed as terribleness has been weaponized. Since 2009, "terrible" teams have averaged 81 wins three years later and 84 wins the year after that. Ten teams never made the postseason between 1998 and 2006; in the past nine years, only four have not been at least once.
In fact, this decade there has been no statistical correlation between the standings in one season and the standings three years later; everything gets totally reshuffled as teams swap spots in the Success Cycle. In a league in which economics has so often been destiny, that's an extraordinary achievement, and it has arguably saved competitive baseball in small markets.
It's tacky, is the problem. This isn't how we compete in our own lives. In real life, losing hurts, even when we're just playing Stratego for pride. Nobody actually hoards queens and rooks; nobody brags about how hard they lost; and if you did, nobody would play with you. It's also not how ballplayers compete. Doing baseball well feels good, and doing it poorly feels bad, all the time — even in fourth place, even in September.
Even the worst-tanking teams don't invest in winning, but they also don't tell their pitchers to throw pipe-shot fastballs all game. This is the fulcrum: Right now, teams surrender seasons but not games. The players play hard and always want to get hits. If that ever changed, the sport gets radically different — and this conversation gets much bleaker.
Because players have almost universally prioritized winning in the present, the most striking quote of this offseason was from Dan Straily, a pitcher with the Marlins. Straily is the Forrest Gump of five-year plans: His past five teams — Cubs, Astros, Padres (for a few days), Reds and Marlins — have all been either coming out of or entering huge sell-off periods, obvious attempts to game the Success Cycle. After the Marlins this winter traded Giancarlo Stanton, Christian Yelich and Marcell Ozuna — all young, all stars — much of baseball sneered at yet another crass Florida teardown. Straily, though, said he "really agreed with what happened. I feel like with the pieces they brought in, this might flip around a little quicker than people realize. I'm not saying today, but I'm excited to be here and try to mentor guys coming into the big leagues for the first time.
"I'm glad they're gone."
After all, the Marlins could have finished last without those guys. They actually finished second. But they could have finished last.
---
ONE WAY TO win at baseball in 2018 is by being better at baseball. But there is another way — one that rejects that premise entirely. It sees the game as something to crack. It wants to find the secret way to win.
Back on Opening Day 2013, when Luhnow was asked about his philosophy, what he actually answered was this: "It's pretty simple. We're trying to develop the best young talent in baseball." But everybody's trying to do that. That's no more a strategy than "We're trying to outscore our opponents" is a strategy. There are no secrets anymore. Hire a smart GM? They're all smart GMs. Identify an undervalued asset? Within a few months, everybody will notice and it won't be undervalued any longer. One way to handle this stasis is to try to beat everybody at the same game — on the field and in the front office — as baseball teams for a century tried to do. The other way is to find the theory that can't be defended against. Embracing losing is close to it. Baseball's commissioner, Rob Manfred, has argued that it's a "self-checked strategy … the more people adopt the strategy, the less likely it is to be successful … only one guy can get the No. 1 pick." But it's too soon to claim that, as we're only now seeing the surrender strategy taken to its extremes. At least eight teams are in surrender mode this year, which dilutes the benefits for each team but doesn't nearly do away with them — the No. 1 pick is better than the No. 10 pick, but so are the No. 2 pick and the No. 9 pick. What's far more important than the size of the profit is that we've accepted the premise of it. Once a team decides that its present means nothing, then any trade for a better future can be justified. It becomes, in effect, something for nothing.
Sports were not designed to stop the quarterback from running backward, to stop basketball teams from making shots in their opponent's basket, or to stop the Marlins from chasing losses instead of wins. The only defense was that terrible, honest feeling that comes from losing.
It took decades, but baseball beat that feeling.
Houston Astros pitcher Josh James out 6-8 months after hip surgery
HOUSTON — Astros pitcher Josh James underwent hip surgery and will need six to eight months to recover.
Houston general manager James Click said Saturday that James had a labral tear of his left hip repaired Friday.
James initially injured his hip Aug. 20 in a game at Colorado and went on the injured list. When the right-hander returned, he had a 1.35 ERA over 6 2-3 innings in his final six appearances of the regular season. James also appeared in three postseason games, pitching four innings.
For the regular season, James was 1-0 with a 7.27 ERA in 13 appearances (two starts) with 21 strikeouts.
World Series 2020 – The Tampa Bay Rays are down only 2-1. Here's why it feels a whole lot worse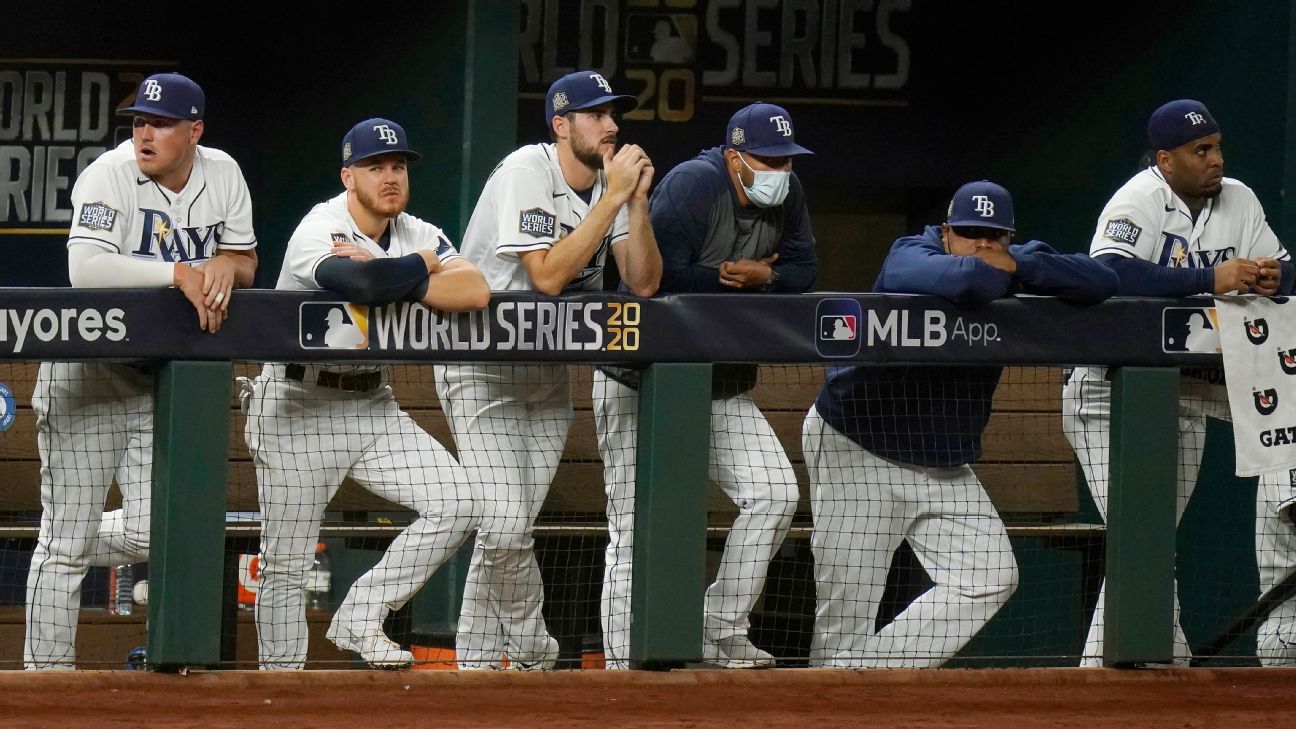 ARLINGTON, Texas — For the moment, the Tampa Bay Rays have answered a question that lingered even after Wednesday's six-run output in their World Series Game 2 win over the Los Angeles Dodgers. It went something like this: Was the Rays' anemic postseason offense waking up, or did they just get a one-day reprieve because the Dodgers pitched a bullpen game that night?
Games 1 and 3 gave us the answers we need, as the Rays put up little fight in the batter's box in either contest and now find themselves down 2-1 in the series with their own version of a bullpen game looming.
"We need to find a way to win, that's for sure," manager Kevin Cash simply stated after the latest loss.
It doesn't help that the Dodgers have dynamic lefties Julio Urias and Clayton Kershaw lined up for the next two nights. The Rays are just 11-11 this season when a lefty starts against them. In other words, the path to a championship got a whole lot harder for the American League representative. Catcher Mike Zunino is taking the proverbial glass-half-full approach.
"Guys have been hitting the ball hard lately," he said. "The luck hasn't been there, but that's all part of it. We have to stay consistent and put our work in. Eventually we'll get some bounces."
But are they running out of time?
If the Dodgers were planning several more bullpen games, it wouldn't be fair to eliminate Game 2 from the Rays' offensive statistics. But they're not, so it's appropriate to look at it this way. Minus that game, the Rays are 10-for-62 (.161) with 23 strikeouts in their two World Series losses. For the entire postseason, minus Game 2 of this series, they're hitting just .203.
Again, unless the Dodgers are throwing more of their "B" relievers, these are the numbers that matter. And what about all that talk of a Brandon Lowe breakout after his two-homer performance on Wednesday? His three-strikeout night in Game 3 is a nice microcosm of the Rays right now: Their production has been spotty at best this postseason.
"We see it quite a bit when our pitching is on and we go against good offenses," Cash stated. "That's what we saw on the flip side [in Game 3]. Just dominant, dominant stuff."
The scary part for the Rays is Game 3 winner Walker Buehler had a "lofty" ERA of 1.89 coming into the night when compared to Game 4 starter Urias, whose 0.56 mark leads all starting pitchers this postseason. As do his four wins.
The Rays' best shot is to scratch a run or two across the board as early as possible. They're a major-league-best 31-7 when scoring first this season.
"We seem to be a much better club when we get early leads," Cash said. "Whatever we can do to get some runs early."
Easier said than done for the Rays right now with their 2-1 series hole feeling a lot deeper than just a one-game deficit.
World Series Daily — Will Julio Urias, Dodgers push Rays to brink in Game 4?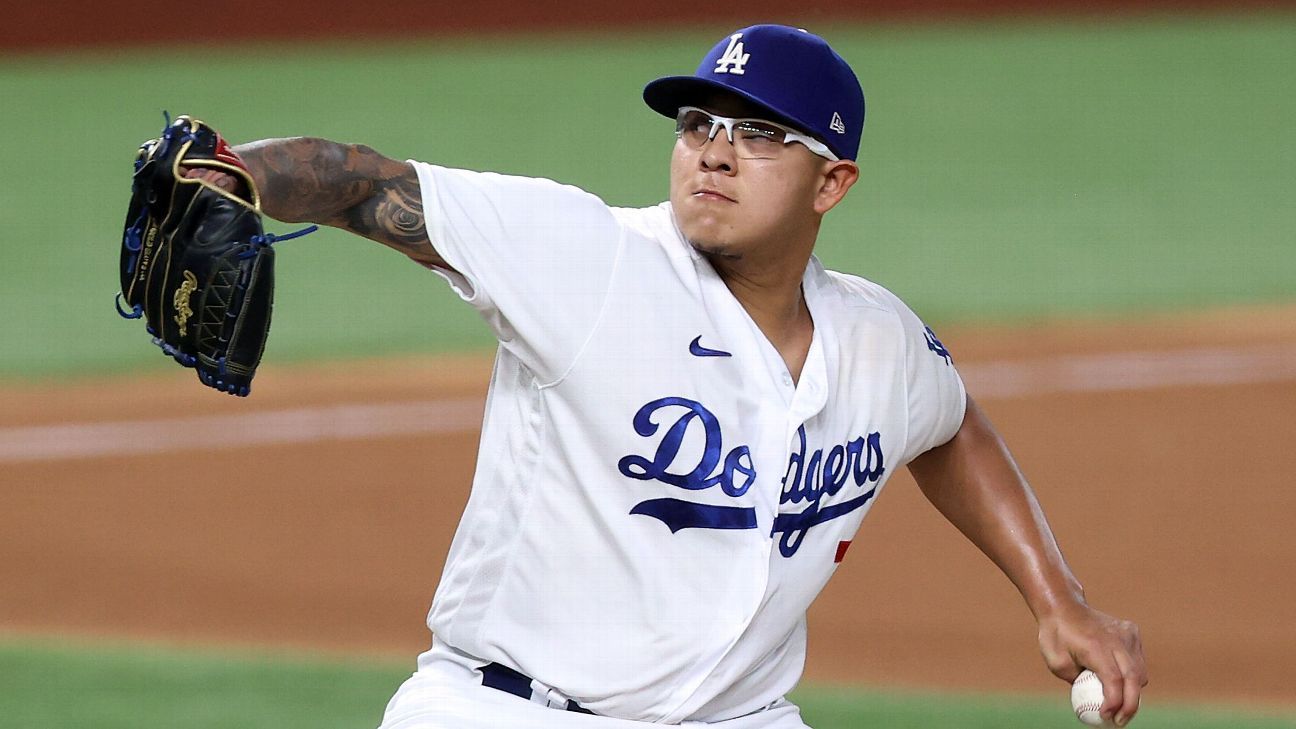 After all the oddities of the MLB regular season and postseason, the 2020 World Series pits baseball's top two teams against each other, which doesn't happen every year. And while we've grown accustomed to seeing the Dodgers playing for the championship, this is the first Fall Classic for the Rays since 2008 and only the second in franchise history.
Here's what you need to know for Game 4 on Saturday night, including a look at the pitching matchup, predictions, odds, other key numbers and more.
Key links: Viewers guide | Schedule | Playoff Baseball Classic
What's on tap

World Series Game 4: Tampa Bay Rays (Ryan Yarbrough) vs. Los Angeles Dodgers (Julio Urias), 8:08 p.m. ET in Arlington, Texas
Heading into the series, I thought Game 4 looked like the game that might be the most important, the game most likely to be the tipping point on who ultimately wins. Before Game 1, it looked like a potential bullpen game for both teams, but since the Dodgers did not have to use Julio Urias in their bullpen effort in Game 2, he's now ready and rested for a conventional start. The Rays, meanwhile, will hope Yarbrough can keep the first three batters (Mookie Betts, Corey Seager, Justin Turner) under control well enough to help him get through the first three or four innings.
The pitching advantage on paper in the first half of the game goes to the Dodgers. Urias has been outstanding in the postseason, allowing two runs (one earned) over 16 innings, culminating with his nine up, nine down effort to close out Game 7 of the National League Championship Series. Long a heralded prospect, Urias debuted for the Dodgers in 2016 at 19 years old, battled some shoulder injuries and has been nursed along slowly the past couple of seasons. He is still just 24 but has already made 16 postseason appearances, so the moment shouldn't be too big for him. He works off a 94 mph fastball, with an excellent curveball and a changeup he throws to right-handers. Both the fastball and curveball come with a high spin rate, helping Urias induce a lot of soft contact even though his swing-and-miss rate is below average (although it's been higher in the postseason).
Yarbrough is a soft-tossing lefty who needs his cutter working to get in on the hands of righties. It was a great pitch for him in 2019 (.200/.230/.338 against RHB) but hasn't been as effective in 2020 (.317/.376/.510). Given the state of the series, Rays skipper Kevin Cash will have to play all his cards in this game, which could mean a quick hook for Yarbrough if he gets into trouble. Cash can't let it get out of hand early without getting his top relievers into the game. That shouldn't be an issue since Friday's blowout meant Nick Anderson, Pete Fairbanks and Diego Castillo didn't pitch.
Two wild cards to watch for: First, the Dodgers are playing a little small ball, with Betts stealing bases and the Austin Barnes sacrifice squeeze bunt in Game 3; and we still don't know who the Dodgers' closer will be in a close game. — David Schoenfield
---
Running World Series odds
Dodgers 81.7%; Rays 18.3%
---
Game 4 predictions
Schoenfield: The Tampa Bay offense is still struggling, barely hitting over .200 in the postseason. The Dodgers, meanwhile, continue to do a lot of their damage with two strikes — all five of their runs off Charlie Morton in Game 3 came with two strikes (and two outs). I like the way Urias has been pitching, and the Rays' lineup against lefties has featured Hunter Renfroe and his .156 average hitting cleanup. Maybe he runs into something. I'll bet against it. We are due for a close game, however. Dodgers 3, Rays 2.
Alden Gonzalez: The Dodgers' offense looks dialed in — almost as much as their Game 4 starter, Julio Urias, who has allowed one earned run over 16 innings this postseason. The Rays will counter with what amounts to a bullpen game, giving the Dodgers a premium opportunity to take control of this series. They know it, too. Dodgers 9, Rays 3.
Dan Mullen: I'm starting to have serious doubts that we'll have baseball to watch after this weekend now that the Dodgers have a 2-1 series lead, as the pitching just does not set up well for the Rays the next two nights. Having Urias head to the mound in Game 4 isn't quite like having Clayton Kershaw or Walker Buehler, but it is a clear advantage over the bullpen game the Rays are going to deploy. There's a very good chance that means we see Kershaw on the mound with a chance to clinch in Game 5. Dodgers 6, Rays 3.
---
Stat of the day
With his ninth-inning home run in Game 3, Randy Arozarena of the Rays set an MLB record for total bases in the postseason (52) with his 23rd hit of the postseason — a single-season record for postseason hits by a rookie, and now he's just three hits shy of Pablo Sandoval's mark for any player in a single postseason at 26, set with the Giants in their 2014 title run.
---
Social media post of the day
Andy Griffith made it to the World Series! pic.twitter.com/1FSXHs09GY

— Chris Stiles (@cstiles24) October 24, 2020
---
Best moment of the MLB playoffs to date
Cody Bellinger managed to one-up … Cody Bellinger. The Dodgers outfielder had held this crown since he robbed Fernando Tatis Jr. of a home run in a thrilling Dodgers-San Diego Padres NL Division Series Game 2; but his NLCS-deciding Game 7 home run to put Los Angeles in the World Series was just enough to take over the top spot.
CODY BELLINGER GIVES THE DODGERS THE LEAD 💥

(via @MLB)pic.twitter.com/AaQwfdgoPM

— SportsCenter (@SportsCenter) October 19, 2020
---
The running MLB playoffs MVP
Randy Arozarena has gone from an unknown outfielder to this October's breakout star. Going into the playoffs, you might have been asking, "Who is this guy?" But the Rays' trade for him has been a huge factor in their postseason run. His eight long balls have made a big impression — tying him with Barry Bonds, Carlos Beltran and Nelson Cruz for the record for most home runs in a postseason. Arozarena also has set a postseason record with 52 total bases, leads all players in hits (23) and is second in runs (15). And he has been flashing some leather in the outfield and some sweet celebration dance moves on the field.