Carolina Panthers using Philadelphia Eagles model of WR transformation – Carolina Panthers Blog
CHARLOTTE, N.C. — The Philadelphia Eagles were a disaster at wide receiver in 2016. They ranked 24th in the league in passing with 224.1 yards per game. Dorial Green-Beckham and Nelson Agholor were tied for second on the team with 36 catches and two touchdowns each.
So, management spent the offseason overhauling the position. Leading receiver Jordan Matthews and a third-round pick were traded to Buffalo for cornerback Ronald Darby. Alshon Jeffery and Torrey Smith were signed in free agency to start on the outside. Agholor moved to the slot position and two receivers were drafted.
Jeffery, Smith and Agholor combined for 155 catches and 19 touchdowns.
And, oh by the way, the Eagles won the Super Bowl — with a backup quarterback, no less.
The Carolina Panthers are trying to do the same thing with a group that was an equal mess this past season. Only Devin Funchess (63 catches) had more than 17 receptions. Running back Christian McCaffrey led the team with 80 catches.
So, general manager Marty Hurney began the overhaul with a formula eerily familiar to Philadelphia's. It actually began midway through last season, when leading receiver Kelvin Benjamin was traded to Buffalo for third- and seventh-round draft picks in 2018.
Starting cornerback Daryl Worley was traded to Philadelphia just before free agency began in exchange for Smith, the likely starter outside with Funchess. Former Minnesota receiver Jarius Wright was signed Tuesday to play the slot. A receiver probably will be selected among the first three rounds of the draft, perhaps with the No. 24 overall pick.
Will it get the Panthers to the Super Bowl?
That remains to be seen, but there is a concerted effort to upgrade a position that was an Achilles' heel a year ago.
"It can turn around really, really quick," Wright said.
Coach Ron Rivera hopes so. The goal, beginning with the Benjamin trade, was to add more speed since Funchess and Benjamin were of similar size and style.
They got that in Smith, who ran the 40-yard dash in 4.36 seconds in the combine before the 2011 draft. Wright also is fast, clocked at 4.42 seconds at the 2012 combine.
Add them to the mix with 2017 second-round pick Curtis Samuel — who missed most of last season because of injuries — and 2015 undrafted free agent Damiere Byrd, and the Panthers have the makings for a good 4×100 relay team.
"Speed," Rivera said Tuesday on ESPN 730 AM radio when asked what Smith, in particular, brought to the group. "Last year we lost Ted Ginn to free agency, which I think was a big blow to our offense. When you have speed, it offsets a lot of things. It forces the defense to play honest. You don't see a lot of eight-man boxes all the time. You can't play a lot of man coverage, either.
"So bringing a guy in with Torrey Smith's speed and ability is going to help us out tremendously."
Signing Smith, 29, and Wright, 28, prevents Funchess from being the elder statesmen of the group at age 23.
Wright also had his two best seasons when new Carolina offensive coordinator Norv Turner was in the same position at Minnesota in 2014 and 2015. So, he knows what to expect from Turner and can relay that to the younger players.
"The big thing everybody has to understand that is coming here, the demand is going to be high," Rivera said. "We need guys to understand what's expected of them when they get on the field. If you have a veteran guy that can show you, 'Hey, believe me, there's a reason why we're doing this. This is how we do this. This is what Coach wants,' it helps."
It's the same thought process Rivera had in 2011 when he went from the defensive coordinator at San Diego to the head coach of the Panthers. He brought players such as fullback Mike Tolbert with him a year later to help others understand what they should expect from the new coach.
The receiving corps needed to change for the Panthers to improve offensively. They ranked 28th in the NFL in passing with 192.3 yards per game.
Losing Pro Bowl tight end Greg Olsen for nine games was a big factor. But just as big was the lack of production at wide receiver outside of Funchess, who had a career high in catches.
The receivers were so bad that early speculation had most of the draft analysts predicting Carolina would use its first-round pick on a dynamic receiver, from SMU's Courtland Sutton to Texas A&M's Christian Kirk.
But with the addition of Smith and Wright, the Panthers could wait until the second or third round to add another receiver. Outside of Alabama's Calvin Ridley, who could be a top-10 pick, there's discrepancy on whether the other receivers should be selected in the first, second or third round.
It helps that Turner has experience in rebuilding receiver groups. From 2014 through the seventh game of the 2016 season, he molded the foundation of the Minnesota unit that made it to the NFC Championship Game this past season.
"Norv, he does a lot of things," said Wright, who had a career-best 42 catches under Turner in 2014. "He has a lot of different routes and ways to get receivers the ball. Some screens, some down-the-field things with having Cam [Newton] and his strong arm. He can get the ball down the field. That's what Norv likes to do."
But before Turner could begin doing that, he had to overhaul a receiving corps that was a mess in 2017. Time will tell if it will be a success, but Smith's experience in Philadelphia and Wright's Minnesota experience provides evidence it can work.
"I don't think it takes long at all," Wright said of turning things around with a new group. "I know just being with my old receiving corps, we jelled really, really quick.
"Not that things were already bad. But you can always turn your passing game around really, really quick."
New England Patriots QB Cam Newton admits starting job could be in jeopardy after being pulled in loss
FOXBOROUGH, Mass. — New England Patriots quarterback Cam Newton is approaching this week as if his job is in jeopardy after being pulled early in the fourth quarter of Sunday's 33-6 loss to the San Francisco 49ers.
"The first thing I said to myself coming home was, 'You keep playing games like that, bro, and it's going to be a permanent change,'" Newton said Monday morning on Boston sports radio WEEI.
"You don't need to tell me that for me to understand that. I get it loud and clear."
Coach Bill Belichick had said he took Newton out of the game, with the Patriots trailing by 27 points, to give second-year quarterback Jarrett Stidham more experience. Belichick also said he's "absolutely" sticking with Newton as his starter.
"For any type of competitor, do you feel embarrassed? Yeah," Newton said Monday during the radio interview. "I don't feel offended by what was done. I don't feel offended having this type of conversation. I'm a realist.
"I don't fear my position stability more so than controlling the locker room. Performances like yesterday jeopardizes [that]. It's like, 'Oh my God!' Players talk, and that's what's most important to me. Knowing you have your coaches' belief [is good], but my belief is that I want to have the whole facility. … It doesn't start with no miraculous play. It's a whole body of work that goes into performing on Sunday."
Newton finished 9-of-15 for 98 yards with three interceptions, and he said after the game that he felt he was pressing too much. He explained what unfolded when Belichick pulled him from the game, saying he wasn't surprised.
"I'm coachable," Newton said. "I didn't want to put up a [fight]. How bad would that have been? 'No, I'm not coming [out]!' He came and said, 'Stidham is finishing' and I agreed.
"Whatever type of way we have to motivate ourselves, I'm honest with myself. That leaves no type of miscommunication with others. When the change happened, I'm stuck on the sideline listening to plays and saying to myself, 'Listen, is this really how you want to do things?' Until you make that step to get better, then that's what it's going to be."
Asked if he'd agree that he might look nervous and scared at times on the field, Newton said: "Nervous? No. Scared? Absolutely not. Thinking? Now that's something I could probably finger-point [as an issue]. … I don't think we're a six-point offense. If anybody is a competitor, they take it personal. Which I do."
Asked whether he has experienced any COVID-19-related "fog" since his return to the team after missing a Week 4 loss to the Kansas City Chiefs, Newton said: "No. My goodness. I'm hearing a lot of 'what it could be.' It's simple. I have to play better."
Cleveland Browns WR Odell Beckham Jr. has torn ACL in left knee
BEREA, Ohio – Odell Beckham Jr.'s season is officially over.
The Cleveland Browns announced the star wide receiver suffered a torn ACL in his left knee. Beckham underwent an MRI on Monday morning, which confirmed the tear.
He was injured on the Browns' second snap Sunday while attempting to chase down a Cincinnati Bengals defender following a Baker Mayfield interception.
On Mayfield's first passing attempt against the Bengals, he tried to force a pass to Beckham down the sideline. The ball, however, was underthrown and picked off by Darius Phillips. Beckham turned around to chase the Cincinnati defensive back the other way, but crashed into Phillips and Cleveland fullback Andy Janovich, who was also trying to make the tackle.
After going 0-of-5 in the first quarter, Mayfield bounced back without Beckham to complete a franchise-record 21 consecutive passes and five touchdowns, including a game-winning, 24-yard scoring strike to rookie Donovan Peoples-Jones with 15 seconds remaining.
Afterward, Mayfield admitted to feeling guilty for the underthrow that led to Beckham's injury.
"I'm probably going to beat myself up about that one for a long time," Mayfield said. "He's a guy who fights for this team, and in doing that, he got hurt. … it sucks."
Mayfield said at halftime Beckham told him to "go be great" in the second half. Mayfield went on to become just the second quarterback in NFL history to throw three go-ahead touchdown passes in a fourth quarter in Cleveland's 37-34 win.
"That was what he left me with to open up the second half," Mayfield said of Beckham's encouragement. "That was something I continued to remember throughout the second half."
Since being traded from the New York Giants in March of 2019, Beckham's tenure with the Browns has been marred by injuries.
Beckham suffered a hip and groin injury during training camp last year, which hampered him through the season. He still finished with more than 1,000 yards receiving, but had only four touchdown catches. Beckham had surgery in January to repair that injury.
This season, he caught 23 passes for 319 yards and three touchdowns. He also rushed three times for 72 yards and another score.
Washington's Jon Bostic not expected to be suspended for hit on Dallas Cowboys' Andy Dalton, source says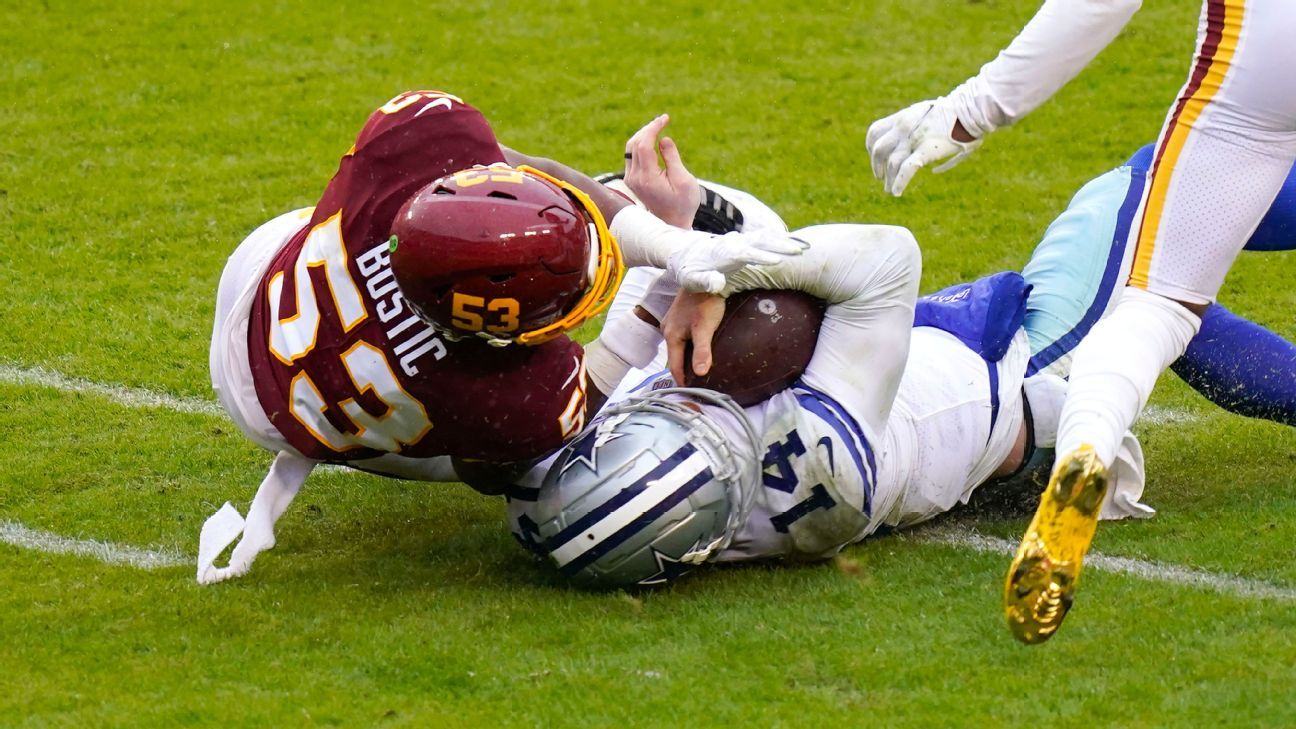 Washington Football Team linebacker Jon Bostic is not expected to be suspended for his hit on Dallas Cowboys quarterback Andy Dalton, a source told ESPN's Adam Schefter.
Dalton suffered a concussion on the hit, which resulted in Bostic's ejection from Sunday's game. Washington won 25-3.
Dalton, who was making his second start in place of the injured Dak Prescott, took a hit to the head from Bostic as he slid to the turf with 6:22 to play in the third quarter.
According to a team spokesman, Dalton was alert and doing much better than he was when he left the field following the hit. He was in "good spirits" and will be flying home with the Cowboys.
Cowboys coach Mike McCarthy said he was not pleased with the passive reaction teammates had to the Bostic hit.
"We speak all the time about playing for one another, protecting one another," McCarthy said. "It definitely was not the response you would expect."
Washington coach Ron Rivera told ProFootballTalk.com that he apologized to McCarthy for Bostic's hit.
"I went up to him and apologized to him for it," Rivera told the website. "I wanted him to know that we don't play that way, and it's unfortunate that it happened."
ESPN's Todd Archer contributed to this report.