NFL's highest-paid players at every position, and who's up next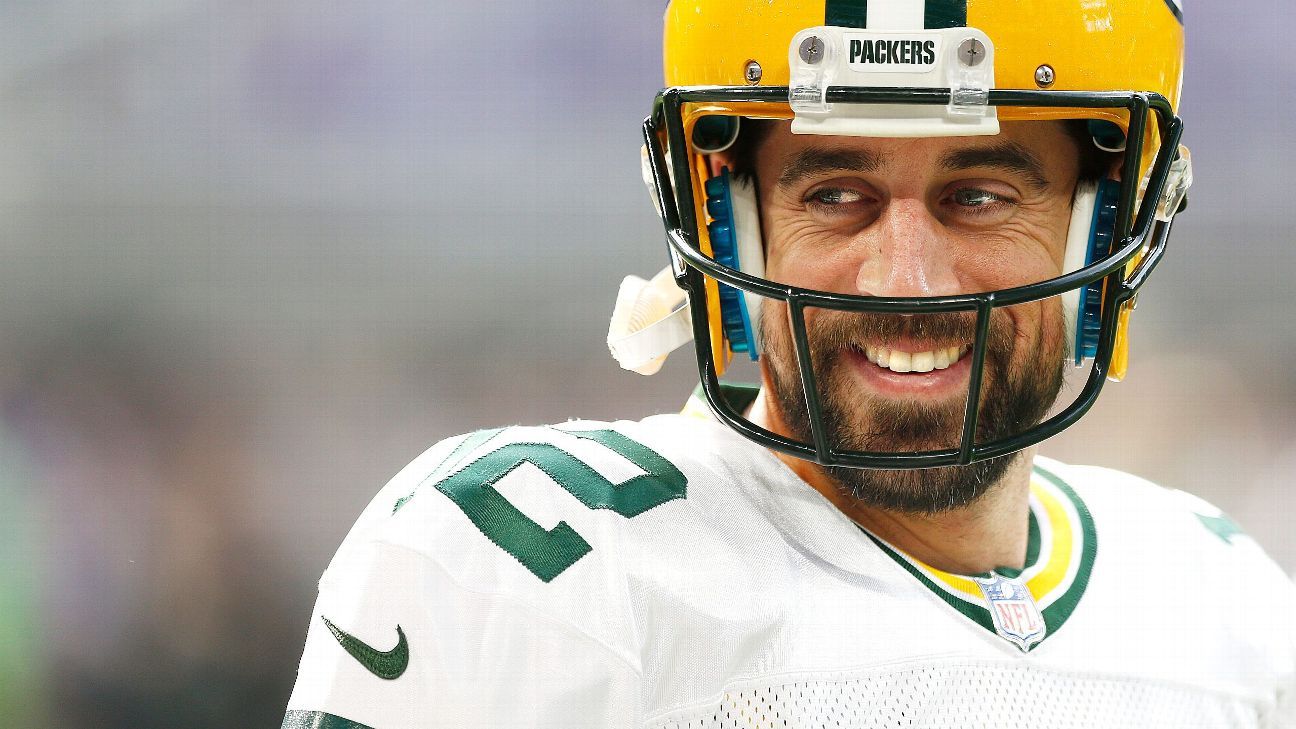 Every year, NFL free agency rewrites the financial record books of the NFL. The big news in 2018 was obviously the fully guaranteed, three-year deal Kirk Cousins signed with the Minnesota Vikings, but it was only one of a number of contracts that reset the salary structure at given positions over the past month. In fact, when you compare the deals to the previous highs at each spot in the lineup, Cousins' deal wasn't even the most dramatic contract of the offseason.
Of course, what Cousins' contract put into context was the amount of filler that comes with most NFL deals. The five-year, $40 million contract Nigel Bradham signed to stay with the Philadelphia Eagles looked like top-tier money for a linebacker who doesn't rush the quarterback very frequently, but a closer look revealed that it was really a one-year deal for $6 million or a two-year deal for $14 million at most.
You might have an idea of what a good number is for a quarterback like Cousins on a guaranteed deal, but what actually represents a significant outlay at guard or inside linebacker? And what happens when you strip out the team options tacked onto the end of most free-agent deals and extensions? Who actually has the biggest contract?
Let's go position by position and compare financial apples to apples to get a sense of what the top of the market is at each spot on the field. For each specific position or archetype, I've included the largest annual salary on paper among active deals. I've also included the largest three-year value for a player at those same positions, which is a measure teams use to calculate the amount of money a player is likely to take home from a given deal. It considers the cash a player will actually take home over the first three years after he signs his extension as opposed to his cap hit or the amount of new money he received in the deal.
I'll also name a player who I think is most likely to disrupt the salary structure at each position in the near future, either with a larger average annual salary, a larger three-year value on his contract or both. It's crazy to think that Cousins just made it to the top of the quarterback leaderboard, but by the end of the offseason, he might not even be No. 1.
---
Quarterback
Average annual salary: Kirk Cousins ($28 million, 2018)
Three-year total: Matthew Stafford ($87 million, 2017)
I fully expected Cousins to come away with a minimum of $90 million on his new contract, even if it had been fully guaranteed, but Cousins ended up settling for the largest annual salary of any quarterback in NFL history. Oh well. Annual average salary figures can be inflated by non-guaranteed base salaries late in contracts that don't ever have a prayer of being exercised, but with a fully guaranteed deal, Cousins is a significant exception to that rule.
Stafford has now been able to extract three enormous contracts from the Lions, with each of the new deals being used to ease the cap pressure from the previous ones. His most recent extension lowered Stafford's cap hit in 2017 from $22 million to $16 million, but it came at an enormous cost. The former first overall pick has a contract that both guarantees him $60.5 million at signing and has roster bonuses in 2019 and 2020 that become fully guaranteed 12 months in advance. As a result, Stafford realistically has a four-year, $108.5 million deal before the Lions could give any thought to moving on from their longtime quarterback.
The former Georgia star pushed the quarterback market way forward. Eli Manning set the bar for three-year money at $68.5 million in 2015, only for Andrew Luck to leap to $75 million the next year. Fourteen months later, Stafford pushed the bar significantly higher to that $87 million mark.
Who's next: Aaron Rodgers
The two quarterback contracts about to come down the pike are the extensions for Rodgers and Matt Ryan. It wouldn't be shocking if Ryan got the larger deal, if only because he's 2 years younger than Rodgers, but I do think Rodgers' status as a future Hall of Famer makes it more likely he'll end up with the larger annual average, though likely on a shorter contract.
Those negotiations will be the first real sign of the Cousins effect and whether quarterbacks — if not players at other positions — will be able to sign fully guaranteed contracts. It wouldn't be shocking to see Rodgers sign a fully guaranteed, three-year, $90 million deal that would top both of the numbers above and make him the first $30 million-per-year player in league history.
---
Running back
Annual average salary: Le'Veon Bell ($14.5 million, 2018)
Three-year total: LeSean McCoy ($27.3 million, 2015)
The running back market is unique in that so many of the largest contracts are in the past. Of the 20 largest three-year values for halfback deals since the current collective bargaining agreement was signed, 13 are no longer active contracts. Two are for draft picks, and when Saquon Barkley joins Ezekiel Elliott and Leonard Fournette in the league, he'll make it a third. There are just five veterans on non-rookie contracts in the top 20: McCoy, Jerick McKinnon (a staggering $22.8 million), Devonta Freeman ($22.1 million), Lamar Miller ($19.8 million) and Giovani Bernard ($15.5 million).
Bell will make $26.7 million between 2016 and 2017 by virtue of the franchise tag, which contextualizes just how difficult it is for the Pittsburgh Steelers and their star back to find fair value on a long-term deal. If Bell were to sign a deal guaranteeing him $15 million per year, he would make $45 million over three years, nearly $18 million more than what McCoy racked up over the first three years of his extension.
Who's next: Bell
Assuming Bell stays healthy, the Steelers won't be able to justify franchising him for a third time at a rate of nearly $21 million in 2019. The former second-round pick will either hit free agency or sign an extension with the Steelers, which should easily top McCoy's $27.3 million figure. The interesting question is whether Bell will set a running back record. Seven of the eight largest running back deals are dead and buried, led by the three-year, $42 million deal Adrian Peterson negotiated as part of a restructure from the six-year, $86.3 million contract he agreed on with the Vikings before 2011. They remain the only two deals to top $31 million over three seasons and did so by a considerable margin, topping $40 million.
---
Fullback
Annual average salary: Kyle Juszczyk ($5.3 million, 2017)
Three-year total: Juszczyk ($15.5 million)
Nobody in the NFL has a larger contract relative to the other players at his position than Juszczyk. The Harvard product is in line to make $15.5 million in the first three years of his deal when no other active fullback deal calls for more than $6.6 million over the same time frame. Given that the fullback continues to be de-emphasized in offenses in favor of a third wideout or a second tight end, it's unlikely that we'll see many enormous contracts at the position anytime soon.
Who's next: C.J. Ham
To put in context how far away a challenger is, Ham is an undrafted free agent who was a rookie in 2017.
---
Wide receiver
Annual average salary: Antonio Brown ($17 million, 2017)
Three-year total: Mike Evans ($55 million, 2018)
The two nine-figure contracts handed out to wide receivers under the current CBA are long gone, as Calvin Johnson has retired and Larry Fitzgerald is on a one-year, $11 million extension. Brown once had one of the biggest bargain veteran contracts in all of football, but after making $37.3 million over five years on his second deal, Brown got a huge raise to $17 million per year after the 2016 season.
Meanwhile, there are six active deals within $2 million of one another toward the top of the charts: DeAndre Hopkins ($49 million), Brown ($48.9 million), Sammy Watkins ($48 million), Demaryius Thomas ($47.5 million), A.J. Green ($47.3 million) and Julio Jones ($47 million). Those numbers were left in the dust by Evans, whose five-year, $82.5 million deal was only a modest increase on the five-year, $81 million deal signed by Hopkins before the 2017 season. The difference is that Evans reportedly will take home $55 million over the first three years, $5 million more than Houston's star wideout.
Who's next: Odell Beckham Jr.
Beckham and his representation have made public proclamations about wanting to be the highest-paid player in the NFL. That's not going to happen, but it's likely that OBJ will end up with a huge deal courtesy of some inflated numbers at the end of the contract. In February, I suggested Beckham would sign a seven-year, $115 million deal with a $40 million signing bonus and $54 million due over the first three years. The recent video possibly depicting Beckham in a compromising situation in Europe could affect the negotiations, but the former LSU star remains the favorite to set financial records among wide receivers.
---
Tight end
Annual average salary: Jimmy Graham ($10 million, 2014 and 2018)
Three-year total: Graham ($30 million, 2014 and 2018)
Graham set the bar in 2014 and then became the first tight end to match it in 2018. The then-New Orleans Saints star signed a four-year, $40 million extension with the team in 2014 after losing his grievance to be treated like a wide receiver for franchise tag purposes. That deal paid him $30 million through three years. Last week, Graham followed up that contract by signing a three-year, $30 million deal with the Green Bay Packers, matching his annual average and three-year value from the previous contract.
Who's next: Rob Gronkowski
Gronk signed an extension two years into his pro career as a hedge against the back injury that cost him his final year at Arizona. The future Hall of Famer still might retire this offseason, but if he continues his career, it wouldn't be a surprise to see Gronkowski pick up a new deal next offseason handing him in excess of $10 million per year. If not Gronkowski, the next big deal is going to take a while, given that guys such as Zach Ertz and Travis Kelce are under contract through the 2021 season. By then, someone like Evan Engram might be in the discussion.
---
Left tackle
Annual average salary: Nate Solder ($15.5 million, 2018)
Three-year total: Solder ($48 million, 2018)
To get Solder to leave the comfort of New England and head down I-95, the Giants had to reset the left tackle market. Trent Williams previously held both these marks at $13.6 million and $42.3 million, respectively. The leap from Williams' deal to Solder's would be like if Cousins picked up a three-year, $98.6 million deal from the Vikings. It's an enormous outlay from a team that desperately needed offensive line help for a tackle who has never been voted to a Pro Bowl during his seven years in the NFL.
Who's next: Taylor Lewan
The Tennessee Titans tackle, on the other hand, has made it to the Pro Bowl each of his past two seasons in the league. The 6-foot-7 Lewan hasn't missed a game over that time and cut his penalty total from 12 in 2016 down to six in 2017. Few linemen have his combined ability as both a pass-protector and a mauling run-blocker, and with a better résumé than Solder's, Lewan should be in line to challenge the 29-year-old's newly established baselines for left tackles.
---
Right tackle
Annual average salary: Lane Johnson ($11.3 million, 2016)
Three-year total: Johnson ($30.8 million, 2016)
This is a two-player market, with Johnson at $30.8 million over three years, Rick Wagner at $29.5 million and nobody else over $22 million. Johnson was presumably paid with the intention of eventually moving over the former fourth overall pick to left tackle, but with Halapoulivaati Vaitai holding his own in the absence of Jason Peters, the Eagles might not mess with what worked and just keep Johnson on the right side for the foreseeable future.
Who's next: Jack Conklin
While players like Trent Brown are likely to sign extensions first, Lewan's teammate in Tennessee might be the right tackle with the best shot of topping Johnson's deal. The former eighth overall pick was named a first-team All-Pro during his rookie season, and while Mike Mularkey made sure to give Conklin plenty of help, the Michigan State product has allowed just 2.5 sacks during his first two seasons in the league. The torn ACL that Conklin suffered against the Patriots might complicate things, but he's on pace to be one of the best right tackles in football.
---
Guard
Annual average salary: Andrew Norwell ($13.3 million, 2018)
Three-year total: Norwell ($41.5 million, 2018)
Unlike the tackle market, there's not a significant difference in salaries between left guards and right guards. This is a top end dominated by free agents. Kelechi Osemele ($11.7 million average, $36.9 million over three years) set the bar in 2016, then Kevin Zeitler ($12 million average, $38 million over three years) re-set it in 2017 before Norwell's deal with the Jaguars topped them both.
Who's next: Zack Martin
That run should come to an end shortly, given that the Dallas Cowboys are surely going to give their star guard a mammoth extension. Martin, who is entering the fifth-year option of his rookie deal, has made it to the All-Pro first team twice and has four Pro Bowl nods in his first four seasons in the league. Just 27 players have done that since the merger in 1970. Seventeen of them are eligible for the Hall of Fame, and 11 of the 17 are enshrined in Canton.
---
Center
Annual average salary: Ryan Jensen ($10.5 million, 2018)
Three-year total: Weston Richburg ($30 million, 2018)
Norwell's old center (Ryan Kalil) and new center (Brandon Linder) held these awards, only for free agency to wash the old marks away. Jensen has only one year as a center under his belt since high school, but the 26-year-old showed enough for the Ravens last year that Tampa Bay handed him an eight-figure annual salary. The 49ers clearly patterned Richburg's deal on former Kyle Shanahan-coached center Alex Mack, who got a five-year, $45 million deal with $28.5 million over the first three years. The Richburg contract added $500,000 per year for a five-year, $47.5 million mark with $30 million payable through 36 months.
Who's next: Matt Paradis
There's a group of star veteran centers already on big deals and a series of promising younger players, such as Nick Martin and Pat Elflein, who figure to be due for big deals down the line. There's not much in the middle. One exception could be Paradis, who has spent three years as a starter in Denver and played at a Pro Bowl level in each of the past two seasons. The 28-year-old is entering the final year of his current deal with the Broncos, which would open him up for a big deal to stay in Denver or leave in free agency next season.
---
Edge rusher
Annual average salary: Von Miller ($19.1 million, 2016)
Three-year total: Miller ($61.1 million, 2016)
Although he signed his deal two years ago, Miller holds the nod as the highest-paid non-quarterback in football. He has racked up 23.5 sacks over the two ensuing campaigns, but the Denver Broncos haven't been able to piece together enough of an offense to get back into the postseason.
Who's next: Khalil Mack
After locking up their building block on offense by signing Derek Carr last offseason, it's inevitable that the Oakland Raiders will make a similar move to secure their star pass-rusher. Mack is about to hit his fifth-year option campaign at $13.9 million. The Raiders could franchise him in 2019 for what likely will be a little more than $18 million, but if they don't come to a deal with Mack this offseason, they'll surely secure him next time around.
Adjusting for inflation, Miller's six-year contract would translate to $130.6 million with $69.7 million over the first three years for Mack. I don't think he'll get that high, barring a Defensive Player of the Year-caliber season, but the Buffalo product should hit $20 million per season.
---
Interior defensive lineman
Annual average salary: Fletcher Cox ($17.1 million, 2016)
Three-year total: Marcell Dareus ($53.2 million, 2015)
There were six defensive tackles with a three-year figure of $44.7 million or higher, and nobody else within $10 million. That group is temporarily down to five after the Miami Dolphins cut Ndamukong Suh, who previously held both these titles with a $19.1 million annual salary and $60 million three-year cash hit. It could go down to four next season when the Jaguars likely decide between Dareus and Malik Jackson, though I suspect they'll have at least one new entrant …
Who's next: Aaron Donald
The reigning Defensive Player of the Year is in line for a contract closer to Miller's than anyone else's deal. It would be a major surprise if Donald didn't come away with the largest contract a defensive player has ever received.
---
Coverage linebacker
Annual average salary: Jamie Collins ($12.5 million, 2017)
Three-year total: Collins ($37.3 million, 2017)
One of the least-known huge contracts in the league, the Browns sent a third-round compensatory pick to the Patriots to acquire Collins, then handed him a four-year, $50 million deal to stick around in Cleveland. The Southern Mississippi product missed 10 games in 2017 with a concussion and a torn MCL. The Cleveland defense was worth minus-1.1 wins with Collins on the field for 310 snaps and minus-4.1 wins for 715 snaps without him, so while the Browns missed their star linebacker, it wasn't like they were great with him around.
Who's next: C.J. Mosley
The guy who might go down as the last great first-round pick of Ozzie Newsome's career, Mosley already has made three Pro Bowl trips in four seasons with the Ravens. Baltimore has let several young stars go, but it can't let the long-term replacement for Ray Lewis follow Osemele and Wagner out the door … right?
---
Cornerback
Annual average salary: Josh Norman ($15.0 million, 2016)
Three-year total: Norman ($51.0 million, 2016)
The signing of Norman after the Panthers released him from a franchise tag was seen as a coup for Washington, but it hasn't worked out that way. The D.C. pass rush has ranked third in pressure rate and eighth in sack rate over the past two years, but it was 24th in pass defense DVOA in 2016 before improving to sixth last season. Norman had four interceptions and two pick-sixes during his breakout season in Carolina, but he has just three picks in 30 games since arriving in Washington. Norman has been good, but the 30-year-old hasn't been the transformative player Scot McCloughan was hoping to add to his secondary at the time.
Who's next: Jalen Ramsey
The outspoken leader of the Jacksonville defense, Ramsey played remarkably well for a rookie cornerback in 2016 and was part of the best cornerback duo in football last season. The only question about Ramsey coming into the NFL was whether he would be a playmaker after intercepting just three passes at FSU, but the 23-year-old racked up four picks in addition to his 17 pass deflections in 2017. Ramsey isn't due for a new deal until 2019 at the earliest, but he's the position's best bet to garner a massive extension. Marcus Peters also might be in the running here.
---
Safety
Annual average salary: Eric Berry ($13 million, 2017)
Three-year total: Berry ($42.5 million, 2017)
Berry bet on himself before the 2016 season and subsequently produced the best season of his career, forcing the Chiefs into an enormous extension. The second-largest safety contract at the time Berry signed his deal called for Devin McCourty to receive $29.9 million over three seasons. Most big contracts go to free safeties, but Reshad Jones plays a mix of both safety spots and is in second with $33 million over three years, while pure strong safety Kam Chancellor is in third at $31 million.
Who's next: Earl Thomas
The Seahawks are reportedly shopping their star safety for first- and third-round picks, but they have nobody who can replace the future Hall of Famer and Texas product in the lineup at free safety. There might not be another safety in football who can do what Thomas does at his best. Thomas turns 29 in May, but if he wants to continue his career, someone is going to pay him a Berry-esque sum to erase the deep middle of the field. If Thomas retires, Landon Collins would be another possibility.
---
Kicker
Annual average salary: Stephen Gostkowski ($4.3 million, 2015)
Three-year total: Justin Tucker ($13.8 million, 2016)
Widely regarded as the two best kickers in football for their consistency, it's no surprise to see Gostkowski and Tucker here. Dan Bailey actually has the largest maximum value on his deal at $22.5 million, but it's over a seven-year pact.
Who's next: Gostkowski
The 34-year-old will become a free agent after this upcoming season, and while the Patriots moved on from Adam Vinatieri after his age-33 campaign, it was after two subpar seasons in three years. If Gostkowski continues to play at a high level, Bill Belichick should want to keep his kicker around for another deal. Tucker will be a free agent one year later, and he should get a deal that blows away the current kicking market.
---
Punter
Annual average salary: Johnny Hekker ($4.1 million, 2017)
Three-year total: Marquette King ($10.8 million, 2016)
Hekker is almost universally regarded as the best punter in football, and this two-year extension came with four years already remaining on his current deal. It won't technically hit the books for the Rams until 2021. The Oregon State product is one of just a handful of players signed through the 2022 campaign. King, meanwhile, inherited the biggest three-year contract title after Dustin Colquitt's contract expired following the most recent season. The Raiders paid King $5.3 million during the 2016 season alone, which was more than Carr and Mack combined.
Who's next: Brett Kern
The Tennessee punter made his first Pro Bowl in 2017 and enters the fourth year of a five-year, $15 million deal this campaign. At 32 years old, Kern should be in line for an extension after the season.
Tampa Bay Buccaneers WR Chris Godwin likely out vs. Chargers; Week 6 return possible
Tampa Bay Buccaneers wide receiver Chris Godwin is expected to miss Sunday's game against the Los Angeles Chargers because of a hamstring injury, sources confirmed to ESPN.
Godwin also could miss the Buccaneers' game against the Chicago Bears in Week 5, which is scheduled for a Thursday night and would be a quick turnaround from Week 4, a source said.
The Buccaneers hope Godwin can return no later than their Week 6 game against the Green Bay Packers, the source said.
NFL Network first reported that Godwin, who suffered the injury in the third quarter of Sunday's victory over the Denver Broncos, was expected to be out against the Chargers.
A source said the Buccaneers are monitoring the status of starting cornerback Sean Murphy-Bunting, who suffered a hamstring/groin injury against Denver and did not return. Coach Bruce Arians said Monday that Godwin and Murphy-Bunting were both undergoing MRIs.
It has been an injury-plagued start to the season for Godwin, who emerged as one of the NFL's top receivers in 2019 when he hauled in 86 catches for 1,333 yards and nine touchdowns. He also missed Tampa Bay's Week 2 game against the Carolina Panthers because of a concussion and has 11 receptions for 143 yards and a touchdown this season.
Godwin was among a number of Buccaneers players to suffer hamstring injuries last season, prompting the team's sports science staff to reexamine how those injuries were handled.
ESPN's Jenna Laine and Dan Graziano contributed to this report.
Kansas City Chiefs' Patrick Mahomes, fiancée Brittany Matthews expecting first child
The year 2020 keeps getting better for Patrick Mahomes.
The Kansas City Chiefs quarterback and Brittany Matthews, his fiancée, announced on social media Tuesday that they will soon be having a baby. The couple has been together for years and recently became engaged.
Mahomes' year got off to a great start in January, when he led the Chiefs to their first appearance in the Super Bowl in 50 years. Mahomes then was the MVP of Super Bowl LIV as the Chiefs beat the San Francisco 49ers 31-20 on Feb. 2.
Mahomes, 25, received the richest contract in U.S. team sports history over the summer when he signed a 10-year extension that could pay him almost $500 million. Mahomes, who grew up in baseball clubhouses going to games with his dad, Pat Mahomes — a major league pitcher for 11 seasons — bought into the ownership group of the Kansas City Royals in July.
Shortly before the start of the season, the quarterback received his Super Bowl championship ring and became engaged on the same day.
The Chiefs are 3-0 after Monday night's 34-20 victory over the Baltimore Ravens. Mahomes has nine touchdown passes and zero interceptions and leads the NFL in QBR at 91.8.
How an Australian girl with autism forged a bond with Philadelphia Eagles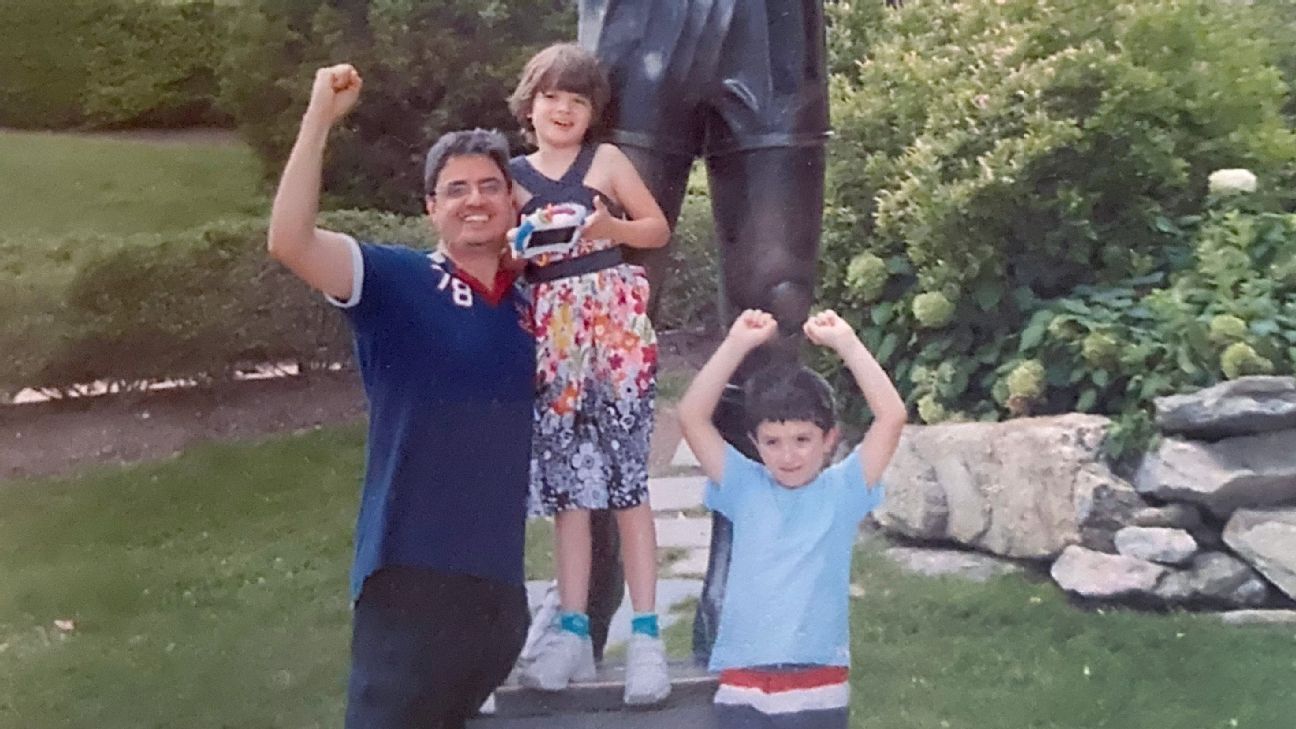 Peter Dinoris and his family live in Brisbane, Australia, some 9,500 miles — or close to a half-world away — from Philadelphia. Yet they are massive Philadelphia Eagles fans. How could they not be? The Eagles play in the city where the breakthrough happened, and champion a cause that couldn't hit closer to home.
Like many tourists, Dinoris wanted to run the "Rocky" steps at the Philadelphia Museum of Art with his daughter, Leah, and son, William, when they first came to town eight years ago. William is a big fan of boxing as well as the iconic "Rocky" movies, so the touristy trip to Philly made sense while mom, Brenda, was in Ohio attending a conference centered on autism.
So Peter booked a private tour that wound through the streets where fictional character Rocky Balboa (played by Sylvester Stallone) roamed in the movie. The tour culminated at the art museum. Peter warned the tour guide the outing might be short-lived. Leah, 8 years old at the time, has severe autism. Previous stops on their trip to the United States did not go well without Brenda.
Leah was in the midst of a three-year period where looking into her father's eyes or simply hearing his voice sent her into extreme meltdowns. She would hit her head against walls or onto floors. That meant when Peter got home from work, he couldn't talk until Leah was in bed.
"William, my younger son, that poor kid, didn't hear me speak for three years unless we were out without her," Peter said. "It was a very difficult time."
But Leah loved the tour and instantly took to Philadelphia. With the day going so well, Peter decided to run up the steps while carrying her — Leah facing outward, of course, so there would be no eye contact — and she laughed and joyfully kicked her legs the whole way. When they got to the top, Peter took a chance and turned Leah around.
She kissed him.
"And she doesn't give kisses," Peter said. "I was crying, staring at the city.
"I thought: 'We're going to have a relationship. Things will change.' I actually felt like a dad at that moment, which was a really deep, deep feeling."
A big NFL fan, it was only natural to adopt the Eagles as his own. As fate would have it, his new favorite team created the Eagles Autism Challenge in 2018 — a biking/5K/sensory walk fundraising event — and the Eagles Autism Foundation in 2019, which has helped raise more than $9 million for autism research and care.
The Dinoris family has become one of its top donors through grassroots efforts in Australia, where they have called on local celebrities, sent hundreds of emails and have even purchased billboards to help spread the word. The family raised about $24,000 for this year's Autism Challenge, which originally was scheduled for May before being moved to Sept. 26. They had planned to visit from Australia to participate in the festivities, but like many things, it was held virtually because of the coronavirus pandemic.
The Eagles still managed to raise more than $3 million for autism research and care through this year's event, thanks to donors from 14 countries, nearly 3,000 virtual participants and 284 fundraising teams.
"So the Eagles, what they're doing is raising substantial funds to get the research out there. When Leah was diagnosed back in those days, there was very little information around for autism, but now there's substantial amounts. And the research is getting quite technical now and it's improving the understanding of the children with autism. People's acceptance of them as well is very important — understanding and just loving them rather than being scared of them. So it's helped a long way not only for our family, but just for the community in general."
For Eagles chairman/CEO Jeffrey Lurie, the cause is personal. His younger brother, Peter, is autistic. Growing up, Peter was non-verbal so he and Jeffrey bonded through music, spending hours in the pool listening to Bob Dylan and the Beatles. Things changed when Peter suddenly began communicating his emotions through typing when he was in his 30s, revealing an ocean of thoughts and feelings that until then had been below the surface.
Stories like Lurie's and the ones shared by the Dinoris family are not unusual; in fact, they are becoming increasingly more common. According to the Center for Disease Control and Prevention, about 1 in 54 children have been identified with autism spectrum disorder, up from 1 in 150 in 2000.
"There are so many individuals around the world who share the same experiences as Peter and his family. I am one, as it has been part of my family's journey for over 60 years," Lurie said. "Being so close to it personally, you empathize with the Dinorises and with so many others who cope with the unique challenges that autism presents on a day-to-day basis. Leah is a wonderful daughter, sister and friend who brings great joy to everyone around her. As a community of supporters, we need to continue our mission of turning autism awareness into action for individuals like Leah and families everywhere."
Peter's relationship with Leah, now 16, has shifted dramatically since that initial trip to Philadelphia. Leah has only a handful of words, but two of them are "dad's girl." Peter called her "my best friend." She is a music fanatic, so Peter wrote a song about her titled "The Dizer," which is Leah's nickname. He convinced local artist Nik Phillips to compose and record the song, which actually made it onto Australia's Top 100 list, Peter said.
"We're very close now. She won't leave the house without me," he said. "She won't leave me alone now, which is the opposite, but I prefer this much better."
The research into non-verbal communication has helped remove barriers. Leah has learned to use cards and an iPad to express her wants and needs. Instead of trying to guess what she is thinking, the Dinoris family now knows.
One thing that comes across clearly: Leah loves football. Peter's son is a Dallas Cowboys fan, creating a division rivalry under their own roof, but Leah roots for the Eagles alongside her dad.
"She gets excited. We watched the Super Bowl [in 2018] together. She was very happy with that," Peter said with a laugh.
The family has returned to Philadelphia twice since the breakthrough on the "Rocky" steps in 2012 and on each occasion, the city has had a relaxing effect on her.
Leah has gotten to the point developmentally where the family feels she would be able to handle a walk with other people around, so they're very much looking forward to a return trip to participate in the Eagles Autism Challenge when circumstances allow.
"We still kept pushing to raise funds because that's the most important bit," he said, "and hopefully we'll make it one year."