Defensive tackle Sylvester Williams to sign with Detroit Lions
The Detroit Lions filled one of their biggest needs by signing defensive tackle Sylvester Williams to a one-year deal, it was announced Wednesday.
The 29-year-old Williams, who helps the Lions replace Haloti Ngata, likely would slide into a starting role and be in an interior line rotation with A'Shawn Robinson and Akeem Spence, who both started at defensive tackle after Ngata was lost for the season. With Ngata out of the lineup, Detroit's run defense suffered.
Ngata signed with the Philadelphia Eagles last week.
Williams was released on Saturday. He played just one season with the Tennessee Titans after signing a three-year, $16.5 million deal last offseason. He wasn't able to make as many splash plays or command double teams as much as the Titans expected him to, finishing the season with 20 tackles in 11 starts.
Williams, however, told ESPN that "my best football is ahead of me."
At 6-foot-2 and 313 pounds, Williams is a bit undersized for the nose tackle position, which may have hurt his ability to get off blocks for the Titans. He was a 2013 first-round pick by the Denver Broncos, with whom he spent four seasons.
In 75 career games (59 starts), Williams has six sacks and 114 tackles.
ESPN's Cameron Wolfe contributed to this report.
Source — New England Patriots center David Andrews has thumb surgery
FOXBOROUGH, Mass. – New England Patriots starting center David Andrews underwent surgery on the right thumb of his snapping hand this week, a source confirmed.
Jay Glazer of Fox Sports first reported the surgery, which is expected to keep Andrews out of Sunday's home game against the Las Vegas Raiders (CBS, 1 p.m. ET) and possibly beyond.
Andrews, who injured the thumb in Sunday's loss to the Seattle Seahawks, did not participate in team drills on Wednesday and Thursday, although he was present at the start of practice the last two days with a wrap/cast on his right thumb that extended down to his wrist. At one point, in individual drills, he attempted to snap with his left hand.
Andrews, one of the team's captains and a key cog who makes the protection calls, is valued for his intelligence and toughness. He missed the 2019 season after being diagnosed with blood clots in his lungs, but returned to form the first two games of this year.
"He's the piece that holds it all together as the center," starting left tackle Isaiah Wynn said this week. "With all his knowledge, he's very reliable. When we don't know something, he knows the answer to it. Just him being the key piece has been helpful and great."
The Patriots could consider placing Andrews on injured reserve again this year, which would mean he would miss a minimum of three games. The Patriots' bye week comes Oct. 18, after three games, which could potentially be part of the decision-making process.
Hjalte Froholdt, a 2019 fourth-round draft choice from Arkansas who spent his rookie season on injured reserve, has been serving as one of the Patriots' backup centers in the team's 1-1 start. Veteran James Ferentz is another possibility to fill in if the Patriots elect to elevate him from the practice squad.
Of Froholdt, coach Bill Belichick said Friday morning: "He's been able to be out on the field every day and work hard and continue to get better since we've had the opportunity to begin practicing. He's still a young player that has a lot of room to grow and works very hard at it."
Ravens DC says Chiefs QB Patrick Mahomes 'underpaid' even if $1B
OWINGS MILLS, Md. — Patrick Mahomes signed the richest valued contract in American professional sports in July, when he struck a 10-year, $450 million extension with the Kansas City Chiefs.
Baltimore Ravens defensive coordinator Don "Wink" Martindale, who faces Mahomes on Monday night, considers that a bargain.
"They could've paid him a billion," Martindale said Friday. "I'd still think he's underpaid."
Martindale has a lot of respect for the reigning Super Bowl MVP because Mahomes is the one quarterback who has consistently gotten the better of Baltimore. The Ravens have allowed the third-fewest passing yards in the league (203.7) since Martindale took over as defensive coordinator at the start of the 2018 season.
Baltimore has given up over 350 yards passing only three times during that span — and two have come against Mahomes, who has thrown for five touchdowns and one interception in two victories over the Ravens. Mahomes passed for 377 yards in 2018 — the most against a Martindale defense– and threw for 374 yards last season.
"The mobile-type quarterbacks, you have to defend the first play, the second play and sometimes the third play," Martindale said. "With the way he throws the football, you have to say on your coverage no matter what. He can be on one side of the field and throw all the way across the other."
While the Ravens know they have to account for Mahomes' athleticism and ability to buy time, they also have to figure out a way to outsmart him. Baltimore has only sacked Mahomes four times on 96 dropbacks. Martindale, who is known for his aggressive blitz packages, praised Mahomes for how he can diagnose pre-snap where the pressure is coming from and call the correct protection to negate it.
"He has that football IQ level of [Tom] Brady and [Peyton] Manning," Martindale said.
Atlanta Falcons' Julio Jones to be game-time call with hamstring strain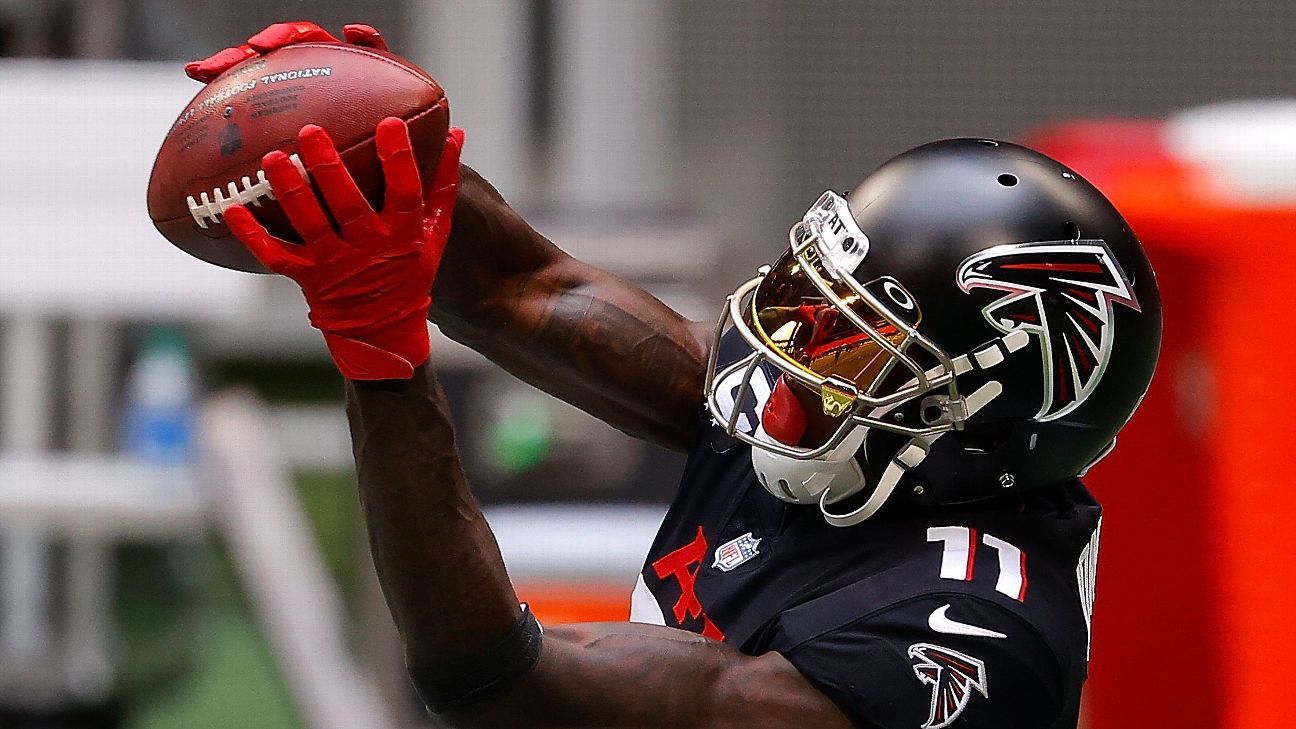 Atlanta Falcons coach Dan Quinn said the team will take it "all the way up until our time on the day of the game" regarding star wide receiver Julio Jones' availability for Sunday's matchup with the Chicago Bears.
Jones, who injured his left hamstring before the season and then strained it again during last Sunday's 40-39 loss at Dallas, was held out of practice Wednesday and Thursday. Quinn said Jones would do work on the side Friday and that he has been involved in the game plan.
Quinn said Jones is one of the rare players who could be available without practicing.
"The only way we'll do it is if he's ready to do his thing," Quinn said. "Take it all the way to the game with him."
With Jones being a game-time decision, the Falcons might have to rely heavily on receivers Calvin Ridley and Russell Gage, as well as tight end Hayden Hurst. When Jones missed a game last season due to a shoulder injury, Christian Blake saw more action next to Ridley and Gage.
Jones had two catches for 24 yards against the Cowboys and said the hamstring affected his ability to run.
Quinn also ruled out safety Ricardo Allen (hyperextended elbow) and cornerback Kendall Sheffield (foot). The Falcons are expected to be without starting right tackle Kaleb McGary, who suffered an MCL injury last week. Matt Gono would replace McGary in the starting lineup.