What losing Justin Turner means for the Dodgers – SweetSpot
The Los Angeles Dodgers suffered a significant injury when Justin Turner broke his wrist after being was hit by a pitch Monday night. Turner said the injury was a small nondisplaced fracture, and while the Dodgers didn't report a potential timetable for his return, he'll likely be out a few weeks and maybe until the beginning of May.
The Dodgers have multiple options here in the meantime. Logan Forsythe likely slides over to third base, where he started 31 games last season. Chase Utley probably gets more playing time at second, at least against right-handers, but Enrique Hernandez, Chris Taylor and Austin Barnes can all play second as well.
An Utley/Hernandez platoon at second seems like a strong possibility, especially since Matt Kemp has performed well enough in the spring (.317/.341/.659, four home runs) to not only earn a roster spot, but possibly start as the regular left fielder. With Turner out, the Dodgers may need Kemp's power potential: Remember, this is a guy who slugged 35 home runs two seasons ago and 19 in 115 games with the Braves last season.
Turner's injury could open up a roster spot for Joc Pederson, who may otherwise have been squeezed out in the glut of outfielders, or perhaps for third catcher/pinch hitter Kyle Farmer. Carrying him would allow Barnes to play some second base (he played 21 games there last season, although he made just four starts). The Dodgers have also raved about the swing changes Hernandez has made, which could allow him to play more against right-handers (in his career, he has an .883 OPS against lefties and just .589 against righties).
A 13-player Opening Day roster could look like this:
Catchers: Yasmani Grandal, Austin Barnes, Kyle Farmer
Infielders: Cody Bellinger, Chase Utley, Corey Seager, Logan Forsythe
Outfielders: Yasiel Puig, Chris Taylor, Matt Kemp, Andrew Toles, Joc Pederson
IF/OF: Enrique Hernandez
Outfielder Alex Verdugo would be the other player in the running for a spot.
Of course, the major concern is whether Turner's injury lingers, as wrist injuries often do. While the Dodgers won 104 games in 2017, they weren't necessarily an offensive powerhouse, ranking sixth in the National League in runs scored, a total lifted by the surprise performances of Bellinger and Taylor. Turner, however, was the team's best all-around hitter, slashing .322/.415/.530 over 130 games with 21 home runs and 71 RBIs. If he hadn't missed 19 games in May and early June with a hamstring issue, he may have finished in the top three of the MVP voting (he still finished eighth).
Another concern for the Dodgers' offense is the fact that Corey Seager has been handled carefully after playing through a sore right elbow in the second half last year, an injury that caused him to sit for 10 games at one point and sapped his power down the stretch. He didn't require offseason surgery, but he has also played just 12 innings in the field so far and, for what it's worth, struggled at the plate, hitting .156 in 32 at-bats.
One thing to watch is how all this affects the defense. Even after shedding a reported 40 pounds, Kemp is unlikely to reverse his trend of terrible defensive metrics (he posted minus-17 defensive runs saved last year, minus-18 in 2016 and minus-15 in 2015). Forsythe graded out as a solid second baseman (plus-5 DRS), while Utley's range has obviously diminished at his age. Seager will also have to show his elbow is sound. The Dodgers were second in the majors with 66 defensive runs saved last year, a big key to their success. That figure could regress significantly, especially if Kemp actually ends up playing a lot in left field.
None of this probably costs the Dodgers the division, but home-field advantage in the NL certainly figures to be a tough fight. A win or two could be the difference between starting a series at Dodger Stadium or starting one at Wrigley Field (or Nationals Park). Note as well: Twelve of the Dodgers' first 14 games are against the Giants and Diamondbacks. They also have seven more games against those two clubs in late April/early May, when Turner may or may not be back. If those teams want to catch the Dodgers, they need to take advantage of the Dodgers playing without Turner.
Corey Kluber becomes free agent after Texas Rangers pass on $18M option
ARLINGTON, Texas — The Texas Rangers on Friday declined the $18 million contract option on right-hander Corey Kluber, who lasted just one inning in his only start before a shoulder injury ended his season.
Kluber gets a $1 million buyout, and the club has said it is interested in re-signing Kluber to a less expensive deal.
The Rangers acquired the two-time Cy Young Award winner from Cleveland last offseason in exchange for hard-throwing reliever Emmanuel Clase, who was suspended 80 games after testing positive for a banned performance-enhancing substance.
Kluber threw 18 pitches in his only inning for the Rangers, leaving with shoulder tightness in a 5-2 loss to Colorado in the third game of the season. The 34-year-old was diagnosed with a small tear in his shoulder muscle the next day.
It was Kluber's first appearance with a team other than Cleveland, and his first start in almost 15 months after his right forearm was broken by a line drive in what ended up being his final start for the Indians on May 1, 2019. Kluber was close to returning later that season when an oblique injury sidelined him again.
Kluber's five-year run as an Opening Day starter ended this past season. He was 98-58 with a 3.16 ERA for the Indians and pitched at least 200 innings five straight seasons before breaking his forearm.
The Rangers planned to have Lance Lynn, Mike Minor and Kluber as their top three starters this past season. Lynn is all that remains for now. Texas hung on to its best pitcher despite being out of contention at the trading deadline in the pandemic-shortened season. Minor was traded to Oakland for two minor leaguers.
Texas also assigned right-hander Luke Farrell to the minor leagues, and right-handed reliever Ian Gibaut was sent to Minnesota on a waiver claim.
Major League Baseball cancels owners meetings, winter meetings due to COVID-19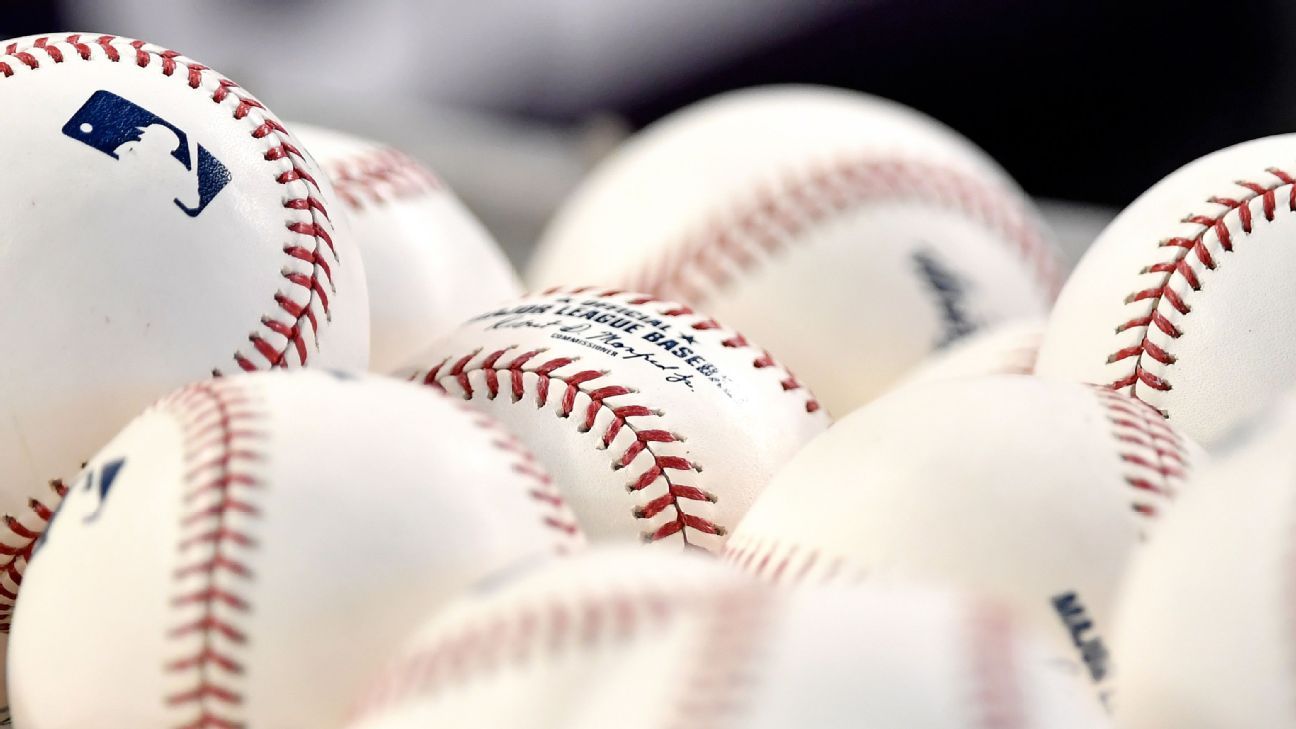 After shortening the 2020 Major League Baseball regular season, the COVID-19 pandemic is already impacting the offseason, as the league announced Friday the cancellation of both the owners meetings in November and the winter meetings in December. Instead, agendas will be conducted virtually as needed.
The cancellation of the winter meetings is a big blow to the sport because it's the annual time for organizations — both on the major league and minor league side — to come together in one place. Job fairs, trade shows and award announcements are normal winter meetings events, along with trade talks. None will take place in person in 2020.
The general managers meetings, held in early November, had already been canceled. The owners meetings were scheduled for Nov. 17-19 in Arlington, Texas, while the winter meetings were to be held Dec. 7-10 in nearby Dallas.
Baseball has not announced any changes to the schedule for spring training, but it's possible it won't start on time, according to sources familiar with the situation.
Milwaukee Brewers decline 2021 options on Jedd Gyorko, Eric Sogard, Ben Gamel
MILWAUKEE — The Brewers have declined 2021 options on infielders Jedd Gyorko and Eric Sogard as well as outfielder Ben Gamel.
Gyorko and Sogard each had $4.5 million options and now instead become eligible for free agency. Gamel remains under team control after the Brewers declined a $2.55 million option on him.
The moves come one day after the Brewers declined a $15 million option on 2011 National League MVP Ryan Braun, whose 352 career homers make him the franchise's all-time leader in that category. Braun, who is due a $4 million buyout, said during the season he was contemplating retirement.
Gyorko, 32, batted .248 with nine homers and 17 RBIs in 43 games and 117 at-bats this season. His .838 OPS was the highest of any Brewers player with at least 60 at-bats. He played mostly against left-handers but became the Brewers' primary first baseman by the end of the season.
Sogard, 34, hit .209 with one homer, 10 RBIs and a .560 OPS in 44 games. He had a .281 on-base percentage and .278 slugging percentage.
Gamel, 28, batted .237 with three homers, 10 RBIs and a .718 OPS in 40 games.