John Brown of Baltimore Ravens says sickle cell isn't affecting his health
OWINGS MILLS, Md. — New Baltimore Ravens wide receiver John Brown gave a surprising answer when asked how he's managing the issue of carrying a sickle cell trait at this stage of his career.
"I'm healthy. I'm feeling good," Brown said at his introductory news conference after signing a one-year, $5 million deal. "Sickle cell was never part of the problem."
Brown, 27, was diagnosed with the sickle cell trait as a member of the Arizona Cardinals in October 2016, when MRIs revealed no issues with his sore hamstrings. Carriers of this trait are more likely to experience muscle breakdown when doing intense exercise than those who don't have it.
But Brown believes the bigger issue relating to his health was a cyst on his spine, which caused so much pain and fatigue in his legs that he struggled to pick up his daughter. He had it drained after the 2016 season.
"It was just something we couldn't decide on or what they could find," Brown said. "So, they just used it as a 'sickle cell trait' until they found I had a cyst in my spine. I'm fine; I'm healthy, and I know how to handle the situation."
Brown continued to experience lingering leg issues last season after the cyst on the spine was treated. A strained quadriceps muscle caused him to miss the first three games of the Cardinals' preseason and sidelined him for two games in September.
In August 2017, Cardinals coach Bruce Arians noted that Brown's sickle cell issue remained a concern and still slowed his healing process with the quadriceps injury.
"That's a fact," Arians said. "Some guys are slow healers, some guys are fast healers."
Brown set career highs with 65 catches for 1,003 yards and seven touchdowns for Arizona in 2015. But his production has drastically dropped the past two seasons, when he has combined for 60 receptions for 816 yards and five touchdowns.
Jimmy Orr, former receiver for Pittsburgh Steelers and Baltimore Colts, dies at 85
Jimmy Orr, a sure-handed wide receiver who played for the Pittsburgh Steelers and Baltimore Colts after starring at the University of Georgia, has died. He was 85.
Orr died Tuesday night. His death was confirmed Wednesday by Edo Smith and Sons Funeral Home in Brunswick, Georgia.
Jim Irsay, owner of the Indianapolis Colts, said on Twitter: "Rest in peace to another NFL legend, JIMMY ORR. … "Orr's Corner" in the south endzone at Baltimore's Memorial Stadium was sacred ground. Our condolences to Jimmy's family."
Rest in peace to another NFL legend, JIMMY ORR. Jimmy led the NFL in yards per reception three times during his 13 years in the league, and "Orr's Corner" in the south endzone at Baltimore's Memorial Stadium was sacred ground. Our condolences to Jimmy's family. pic.twitter.com/d3OtDEd8t7

— Jim Irsay (@JimIrsay) October 28, 2020
After playing with the Steelers from 1958-61, Orr made a name for himself by teaming with Johnny Unitas to form a formidable passing combination. Orr caught many touchdown passes from Unitas at the Colts' home stadium during the 1960s.
Over 13 NFL seasons, Orr caught 400 passes for 7,914 yards and 66 touchdowns over 149 games. He averaged a whopping 19.8 yards per catch and three times led the league in yards per catch.
Orr was selected to the Pro Bowl in 1959 with Pittsburgh and in 1965 with Baltimore after catching 45 passes for 847 yards and 10 scores. His best season was in 1962, when he had 55 receptions for 874 yards and 11 TDs.
One of the most notable plays of Orr's career came in the third Super Bowl, when the heavily favored Colts lost to the New York Jets. On a flea-flicker late in the first half, Orr was wide open and waving his arms in an effort to get the attention of quarterback Earl Morrall, who never saw him and threw an interception.
At Georgia, Orr led the Southeast Conference in receiving twice, catching 24 passes for 443 yards in 1955, and 16 passes for 237 yards in 1957. He also punted for the Bulldogs.
Orr played at Georgia with Bill Curry, who ended up being the head coach at Alabama, Georgia Tech, Kentucky and Georgia State.
Curry tweeted: "My wonderful friend/teammate Jimmy Orr died last night. He was one of those few men who could find the good when the rest of us could not. As a WR no one could cover him-He quietly put up incredible numbers, and didn't know it! Thanks Jimmy, Love you Man."
Denver Broncos' Melvin Gordon ready to turn things around vs. old team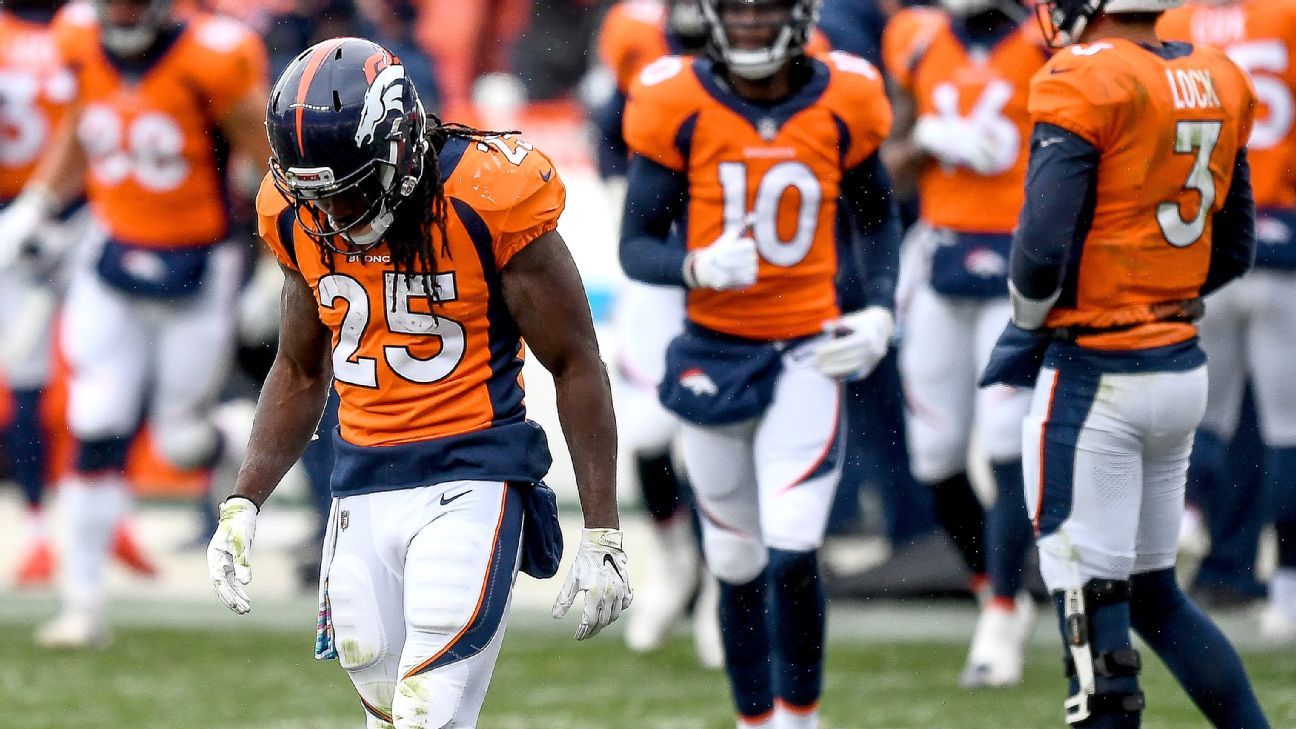 ENGLEWOOD, Colo. — Things haven't gone as Melvin Gordon had hoped so far in his first season with the Denver Broncos.
Whether it was his DUI arrest earlier this month or his fumbles on the field this past Sunday, Gordon said Wednesday that he is sorry for what he called the first off-the-field trouble in his career and promised better play is on the horizon as the Broncos face Gordon's former team, the Los Angeles Chargers, this weekend.
"I am sorry I was even in the situation," said Gordon on Wednesday, in his first public comments about the incident. "I don't want people to feel like 'oh, because Melvin didn't say anything or he didn't speak on it, he just don't care, he's not apologetic about the situation.' That's not the case at all. Obviously I try to do my best to walk a straight line and lead by example, things like that. I'm a little upset I even put myself in that situation.
"I had a hard time just dealing with it myself, like I said, never been in trouble before. … To the people of Denver and everyone, I don't want anyone to feel like I just don't care, like 'oh he got his money, he don't care.' I do (care), I do. I'm not happy I was in the situation."
Gordon, who signed a two-year, $16 million deal in the offseason, was cited for speeding — police clocked him at 71 miles per hour in a 35 mph zone — as well as DUI late Oct. 13 in downtown Denver. He likely will face league discipline — as much as a three-game suspension — possibly this season.
On the field, Gordon has seen some rocky moments as well. He fumbled twice in the Broncos' loss to the Kansas City Chiefs this past Sunday, including an errant toss toward quarterback Drew Lock on an ill-fated flea-flicker attempt in the third quarter.
The Chiefs returned that fumble to the Broncos' 14-yard line on the way to a field goal. He had also fumbled in the second quarter of the game and has lost three fumbles already, overall, in six games played. He missed the Broncos' Week 6 game against the New England Patriots with strep throat.
"It was just kind of unfortunate I put too much on it," Gordon said of the flea-flicker attempt. " … You don't go out there and try to fumble. The guy who fumbles feels the worst in the whole stadium, in the whole world at that point in time. … I'm dying to make a play, I'm trying to help this team win. I don't feel like it's an issue with me, I just get caught up sometimes just trying to make a play."
Gordon leads the Broncos in carries (82), rushing yards (349) and rushing touchdowns (four), but his 4.3 yards per carry mark is a bit deceiving. Without a 43-yard touchdown run against the winless New York Jets as the Broncos were trying to run out the clock in the closing seconds, his per carry average is 3.8 yards on his other 81 attempts.
He also has had 21 carries go for either no gain or negative yardage. With Phillip Lindsay currently in the concussion protocol, Gordon may have the bulk of the carries Sunday against the Chargers.
"Obviously I didn't have the game I wanted to have. … It's not too late, we got a lot of games left to turn things around," Gordon said. "The year is not over yet. I can still go out there and show the back I want to be, we've got a lot of games left."
Antonio Brown 'looked fantastic' during first Bucs workout
TAMPA, Fla. — Tampa Bay Buccaneers coach Bruce Arians said wide receiver Antonio Brown "looked fantastic" in his first day of work with the Bucs.
"He looks fantastic. I think we had really good conversations today, he and I," Arians said Wednesday, the first day Brown could enter the facility since incoming players are required to test six consecutive days for the coronavirus and if negative on the five previous tests, may enter on the sixth day. "He was in the meetings and everything. And he's working with Anthony Piroli and the strength staff. He looks in great shape. Yeah, ready to go next week."
Brown is in the final week of his eight-game suspension though, so he was only permitted to work out with the strength and conditioning staff and attend meetings. He was not allowed to practice with the team.
"It went real well. He and I had a good conversation this morning," Arians said. "He'll be ready to go next week and in good shape."
A big part of Brown's success in Tampa will hinge on his relationship with quarterback Tom Brady. The two spent 11 days as teammates when Brown was with the New England Patriots last year before he was cut, but became fast friends, as Brady even offered Brown the chance to stay with him in New England until he found a place to live.
Some have questioned why Brady would risk his own reputation by not only befriending Brown, but going to bat for him. Brown has twice been accused of sexual misconduct in the last year, and he's currently on felony probation for burglary with battery charges. Brady explained that it's about more than winning and has tried to have a positive impact on Brown, as well as other teammates who have run afoul with the law or gotten into trouble with the league.
"I had a lot of people support me over the years, realizing that I was far from where I needed to be and they would guide me and provide me with the help that I needed as a player to reach my potential," Brady said Wednesday. "I think that's – how you impact people, and we talk about that a lot as professional athletes – how you impact people on the field is one thing, how you impact people off the field is another. So whether that's teammates that you can impact or people in the community that you can impact, I think all those things are important.
"You just try your best every day, realizing that a lot of people weren't born with the same advantages that I've had growing up, they weren't born with the same background or support systems that I had. I think that when you recognize that and bring that to relationships, all's you can do is the best you can do. For me, I think that's something I really enjoy still about playing football, is that I probably have more perspective than just about every player in the league right now, based on my years of experience and what I've seen. I want to see other guys succeed. And I think a lot of joy in my experience comes from seeing other people be their best and seeing people succeed in ways that can set their family up. I think that's a really important aspect of football for me."
Brown will be permitted to start practicing with the Bucs right after their Monday Night Football game at the New York Giants. Getting him up to speed quickly will be imperative because Pro Bowl wide receiver Chris Godwin, who had 1,333 receiving yards last year – third-most in the league – may not be ready to play in Week 9 when the New Orleans Saints come to town. Godwin underwent surgery Tuesday after suffering the injury on a fourth-quarter touchdown catch.
"I was totally surprised by it when we got back," Arians said. "He looked fine leaving the stadium and we find out he has to have surgery. I think it's very optimistic that he'll be back in a week. But it could be possible. We don't really know how long but yeah, so that's why we have the insurance policy (Antonio Brown)."