Carson Wentz of Philadelphia Eagles posts online video of himself throwing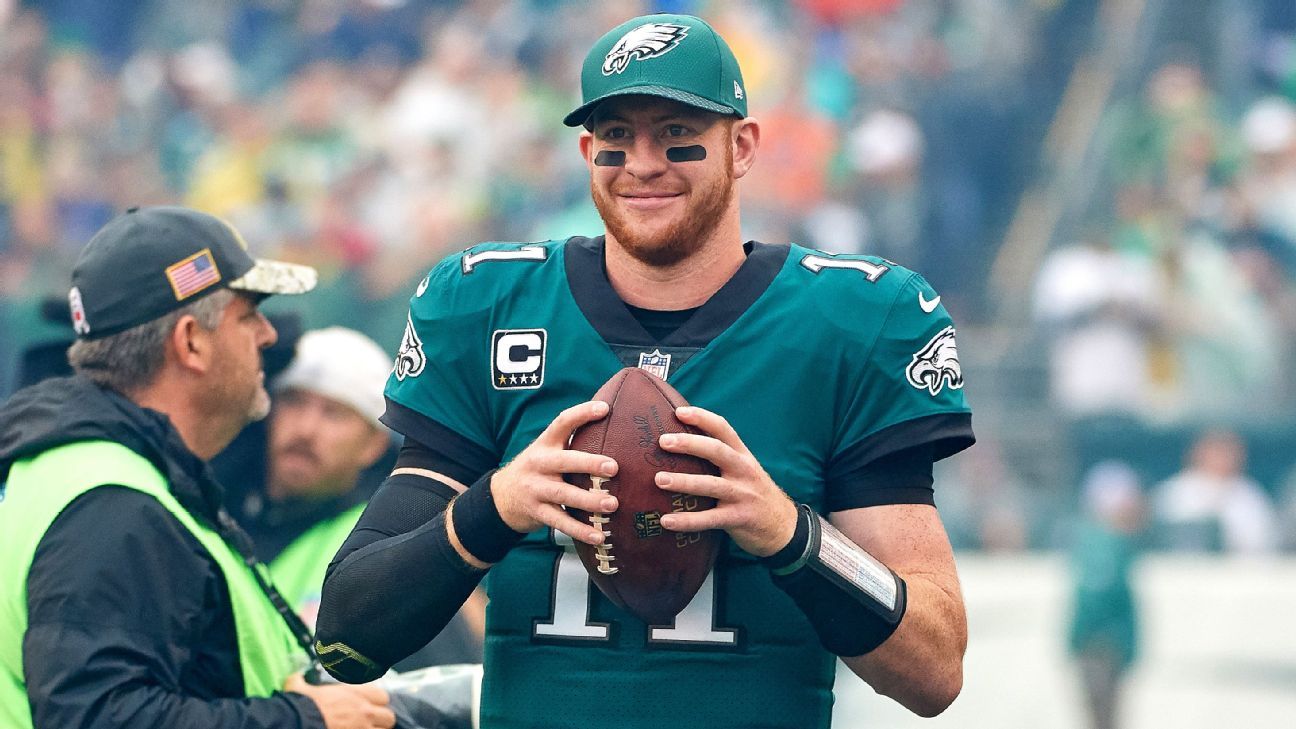 Philadelphia Eagles quarterback Carson Wentz appears to be making some significant strides in his rehab from a torn ACL and LCL.
The quarterback posted video of himself throwing inside the team's practice facility Monday.
.@cj_wentz working on his comeback. pic.twitter.com/78F9x0HsKq

— NFL on ESPN (@ESPNNFL) March 19, 2018
Wentz has established the season opener as his target return date. It's still too far out to know whether he'll be able to achieve that goal, but it's clear that he's come a long way since injuring his left knee in December against the Los Angeles Rams. He went from using crutches to a cane to walking on his own. Now, the video shows, he is able to drop back, plant and throw — albeit with a large brace around that left knee.
Recovery from an ACL tear usually takes between nine to 12 months. The Eagles intend to take the long view when it comes to Wentz's injury and don't want to rush him back. If he's not ready, they currently have Super Bowl MVP Nick Foles on the roster. They have set the trade price for Foles high, knowing the value of having a top-end insurance plan, particularly with their franchise quarterback still on the mend.
Wentz, though, is pushing his way back. His recovery will be the dominant story in Philadelphia over the spring and summer.
Steelers' Alejandro Villaneuva pushing for deceased vet Alwyn Cashe to get Medal of Honor
PITTSBURGH — Speaking publicly for the first time since he taped over the name of Antwon Rose Jr. and wrote the name of Alwyn Cashe on the back of his helmet, Pittsburgh Steelers left tackle Alejandro Villanueva said his decision was "exclusively" about the Army veteran killed in action in 2005.
"The decision had to do exclusively with Sgt. First Class Alwyn Cashe and his pursuit for the Medal of Honor, which is something that he deserves and hopefully he'll get soon," Villanueva said Monday.
Cashe, a Sergeant First Class, died after sustaining severe burns while trying to rescue other soldiers from a burning vehicle in Iraq after an ambush. Cashe was posthumously awarded a Silver Star for heroism.
"I felt that my decision to honor Sgt. First Class Alwyn Cashe was something that was very personal to me due to the fact that in the veteran community, there's a strong push to get him a Medal of Honor, which is something that the community believes that he deserves," said Villaneuva, a former Army Ranger who served three tours in Afghanistan. "I think that the timing was perfect due to the fact that it gave the lawmakers a little bit of momentum going forward. The family has been waiting for 15 years to hear something from his chain of command, from Congress regarding the exception of his five year statutory limit that could potentially get him the Medal of Honor."
Earlier this month, there was some movement by House lawmakers to upgrade Cashe's award to the Medal of Honor, something that could only be done if Congress passes new legislation to bypass the rule that the medal must be awarded within five years of the service member's heroism. Cashe would be the first Black recipient of the award for valor in Afghanistan or Iraq.
"The issues that matter to veterans are incredibly important," Villanueva said. "I feel like I don't do enough as an American every day to enjoy my liberties and I feel very thankful to have the support of the veteran community and the background to appreciate the freedoms that we all enjoy."
Villanueva's decision to tape over the name of Rose, an unarmed teenager killed by East Pittsburgh police in 2018 when he was fatally shot in the back fleeing a traffic stop, angered Rose's mother, Michelle Kenney, because she was told the team took a vote to honor Rose. Safety Minkah Fitzpatrick, though, told reporters the decision was made "upstairs."
Center Maurkice Pouncey also posted a statement on Instagram saying that he "inadvertently supported a cause of which I did not fully comprehend the entire background of the case" and would make his own decision about the name on the back of his helmet following Week 1. For the Week 2 home opener, Pouncey wore the name of Eric Kelly, a Black Pittsburgh police officer killed in the line of duty in 2009. Other Steelers also changed names on the backs of their helmets for the games after Week 1, although some opted to continue wearing Rose's name.
"I don't have an issue with him not choosing to represent Antwon," Kenney said of Villaneuva. "I believe that he, like everyone else, is entitled to their own opinion. … My only problem with the entire thing was that I was told they were take a team vote. I do not believe that Antwon's life supersedes the death of any other person. I just believe they died in different ways. Him choosing to represent someone else wasn't what offended me.
"I feel like with Pouncey, like with Villanueva, if you didn't want to wear Antwon's name, say that and don't do it. Don't set the movement backwards because of your own personal agenda. Because this is bigger than Antwon. Antwon's gone. I'm trying to save the life of the next Black person."
Bucs beat Broncos behind Tom Brady's three TDs but offense sputters in second half – Tampa Bay Buccaneers Blog
With Mike Evans and Chris Godwin both back on the field together healthy for the first time this season, and Rob Gronkowski seeing an increased role in Bruce Arians' offense, the Tampa Bay Buccaneers' offense showed glimpses of how dangerous it could become. Evans caught a pair of touchdowns and Godwin caught one in the first half in the Bucs' 28-10 win over the Denver Broncos.
But for the second straight week, the offense — for as much as it wowed in the first half, struggled to regain its rhythm in the second, scoring only three points (Shaquil Barrett's safety contributed an additional two). In the first half of Weeks 2 and 3, the Bucs have outscored opponents 44-10 with six touchdowns and a field goal in the first half. But in the second half of those games, the Bucs' offense mustered only 13 points (a touchdown and two field goals).
That worked against a Panthers squad with a new head coach and quarterback, and against backup quarterbacks Jeff Driskel and Brett Rypien and a Broncos squad decimated by injuries in Week 3. It might even work against rookie Justin Herbert in Week 4 and a Chicago Bears squad that benched quarterback Mitch Trubisky in Week 5. But in Week 6, the Bucs must have these second-half decificies worked out when the Green Bay Packers come to town, the Bucs' next big test in the NFC.
QB breakdown: Brady completed 25 of 38 passes for 297 passing yards, three touchdowns and no interceptions — his first Bucs game without a pick. He spread the ball around to eight different receiving targets, including Gronkowski, who had a breakout game catching 6-of-7 targets for 48 receiving yards after mustering only two catches last week. Brady was also throwing into tight coverage and seemed to trust himself and his receivers more. On Evans' two TDs, both came when he was lining up opposite Justin Simmons, one of Denver's top defenders.
Eye-popping NextGen Stat: Brady showed that his arm strength and touch haven't fallen off — he threw an absolute dime to tight end O.J. Howard for 33 yards (26.6 air yards), with just 0.53 yards of separation between the defender and Howard when the pass arrived, per NFL Next Gen Stats. Since the NFL began tracking this stat in 2017, Brady has had only one other completion of 25 or more air yards and 0.5 yards or fewer of separation.
Brady also fired a 47-yard pass (42 air yards) to Scotty Miller, working one-on-one against Simmons with just 0.83 yards of separation – the first time since Next Gen began tracking that stat that Brady has completed a pass of 40 or more air yards with less than a yard of separation. The last time Brady completed a pass of 40 or more air yards was in Week 1 of last season, and he was 0-for-5 on such passes entering the day.
Promising trend: After giving up 17 second-half points to the Panthers last week, the Bucs' defense pitched a second-half shutout in Denver. The defense finished with six sacks — two from Barrett, one of which was a safety. They also got interceptions from Lavonte David and Mike Edwards, who stepped in to fill Antoine Winfield Jr.'s safety spot while he replaced injured Sean Murphy-Bunting at nickelback (Murphy-Bunting suffered a hamstring/groin injury). The only hiccup on defense came when they allowed Driskel to go 6-for-6 for 74 passing yards and a touchdown running the hurry-up just before halftime. Tacking on their five sacks and four takeaways from last week, this group is doing everything it can to keep the team in games as the offense catches up.
Dallas Cowboys an onside kick recovery away from being 0-3 – Dallas Cowboys Blog
The Mike McCarthy era with the Dallas Cowboys is not off to a rousing start. In fact, it has almost been disastrous.
If not for an improbable recovered onside kick in the fourth quarter in Week 2 against the Atlanta Falcons, the Cowboys would be staring at their first 0-3 start since 2001 with their 38-31 loss to the Seattle Seahawks on Sunday.
The last time the Cowboys were 0-3, they were a crumbling franchise with only running back Emmitt Smith remaining from the Triplets era in which three Super Bowls were won in the 1990s.
Entering 2020, these Cowboys were viewed by some as among the most talented in the NFL and a title contender with a Super Bowl-winning coach in McCarthy set to shepherd them back to at least a conference title game for the first time since 1995.
Considering the sad state of the NFC East, the Cowboys will always have a chance to get to the postseason, but this season was always about more than just getting to the playoffs even if McCarthy and his staff did not have an offseason program, full training camp or any preseason games because of the coronavirus pandemic.
The Cowboys' defense was shredded by Seahawks quarterback Russell Wilson, who threw three of his five touchdown passes to Tyler Lockett, had another to Jacob Hollister and threw the game winner to DK Metcalf with 1:47 to go from 29 yards.
Wilson should have had a sixth, a 63-yarder to Metcalf in the first quarter, if not for a hustle play by cornerback Trevon Diggs, who punched the ball free from the receiver and through the end zone for a touchback.
The Cowboys also looked undisciplined. They had four defensive penalties in the first half that kept a drive alive. Trysten Hill was penalized for roughing the passer after a 2-point play failed, which allowed Seattle to convert a play later and force the Cowboys to have to score a touchdown to win.
Dak Prescott (472 yards, three touchdown passes) was the only reason the Cowboys were in position to win. He directed what could have been a second straight improbable, fourth-quarter comeback, but the defense could not get a stop when it mattered. And the final drive was halted only after he somehow escaped a sack and had his second pick of the game with six seconds left.
It would have been a heroic ending for Prescott. This loss falls on the Cowboys' defense.
The Cowboys talked during the week about making things simpler defensively to aid the execution, but those measures didn't help.
And now, McCarthy has more questions than answers so far.
Troubling trend: It was all smiles after the Cowboys recovered an onside kick against the Falcons in Week 2, but it masked two failed fake punts and an ill-timed kick return by Dallas that led to poor field position. Against Seattle, Tony Pollard mishandled a kickoff, and Greg Zuerlein had one point-after attempt hit the upright and another get deflected. The Cowboys also had to take a delay of game penalty for having only 10 men on the field. This trend of mishaps cannot continue.
Buy a breakout performance: Through three games, Aldon Smith has been the Cowboys' best defender, and that's not meant as false praise, either. Smith had three sacks of Wilson, giving him four for the season. It was the second-most sacks he has had in a game in his career. He had 5.5 against Chicago in 2012 when he was with San Francisco. A reminder: He had not played a game in the NFL since 2015 before this season because of off-field suspensions.