3 years, $30 million could turn into 1 year, $13 million for Graham – Green Bay Packers Blog
GREEN BAY, Wis. — Jimmy Graham will have to make a significant impact on the Green Bay Packers this season. Otherwise there's a good chance the three-year, $30 million contract he signed last week could easily be turned into a one-year deal.
Graham agreed to a $5 million roster bonus due on the third day of the league year next March. That means the Packers could decline the bonus and make Graham a free agent again.
That's a sizable roster bonus for a player who will turn 32 in November, and it gives the Packers an easy out if they want to move on after a year.
If that's the case, it would turn into a one-year, $13 million deal for the veteran tight end. He received an $11 million signing bonus and will make $2 million in salary and bonuses this season.
If the Packers moved on after one year, they would have to absorb the remaining two-thirds of the signing bonus proration ($7.333 million) on their cap in 2019 — or it could be split between 2019 and 2020 if they chose. However, they would wipe away the remaining $17 million from their future caps, so there would be a net cap savings of nearly $10 million.
Graham was one of two free agents the Packers signed last week. Contract details of the other, defensive end Muhammad Wilkerson, were not yet available.
Here's a breakdown of Graham's deal:
2018
Cash value: $13 million

Salary-cap charge: $5,666,667

Signing bonus: $11 million

Base salary: $1.45 million

Per-game roster bonus: Up to $300,000 ($18,175 per game active)

Workout bonus: $250,000

Incentives: $250,000 for the Pro Bowl
2019
Cash value: $9 million

Salary-cap charge: $12,666,667

Base salary: $3.45 million

Roster bonus: $5 million (due the third day of the league year)

Per-game roster bonus: Up to $300,000 ($18,175 per game active)

Workout bonus: $250,000

Incentives: $250,000 for the Pro Bowl
2020
Cash value: $8 million

Salary-cap charge: $11,666,667

Base salary: $7.45 million

Per-game roster bonus: Up to $300,000 ($18,175 per game active)

Workout bonus: $250,000

Incentives: $250,000 for the Pro Bowl
Las Vegas Raiders activate offensive linemen Kolton Miller, Denzelle Good, Rodney Hudson, Gabe Jackson off COVID-19 list
HENDERSON, Nev. — The Las Vegas Raiders on Saturday activated four starting offensive linemen who had close contact with right tackle Trent Brown earlier this week.
Left tackle Kolton Miller, left guard Denzelle Good, center Rodney Hudson and right guard Gabe Jackson came off the COVID-19 list Saturday but must still test negative for the virus on Sunday morning in order to play Sunday against the Tampa Bay Buccaneers.
None of the four players have tested positive since going on the COVID-19 list this week as "high risk" close contacts to right tackle Trent Brown, who did test positive on Wednesday morning.
The four players were with Brown at practice on Monday. According to league protocol, as high risk contacts, they had to test negative for five consecutive days, plus the last day of contact.
Safety Johnathan Abram had contact with Brown on Tuesday, so there is not enough time for him to finish the protocol and play against Tampa Bay.
Brown was not wearing his tracking device, as mandated by NFL protocol, on Monday, so practice film had to be scoured to see who Brown had been close to that day.
Raiders coach Jon Gruden said Friday that Brown, who remains on the COVID-19 list, was feeling better.
With Miller, Good, Hudson and Jackson in self-isolation and joining the Raiders virtually this week to prepare, Las Vegas practiced with an offensive line of Brandon Parker, John Simpson, Andre James, Patrick Omameh and Sam Young. Left guard Richie Incognito remains on injured reserve.
San Francisco 49ers place running back Raheem Mostert on injured reserve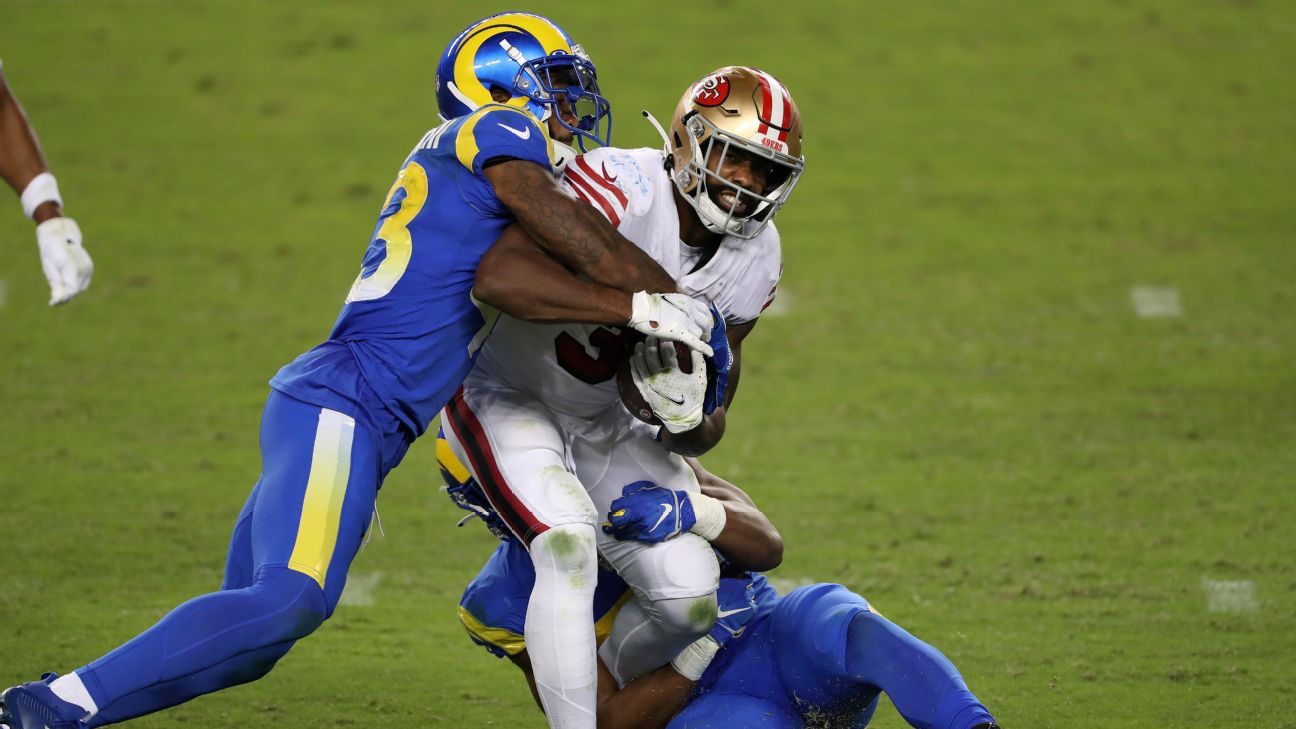 SANTA CLARA, Calif. — The San Francisco 49ers officially placed running back Raheem Mostert on injured reserve Saturday, a move that had been expected all week.
Mostert suffered a high ankle sprain in last Sunday night's win against the Los Angeles Rams. On Monday, coach Kyle Shanahan said Mostert was expected to miss some time but the Niners waited until they made decisions on some other roster movement before making the move official.
Now that he's on injured reserve, Mostert must miss the next three games before he's eligible to return, though he could be out longer. In addition to placing Mostert on IR, the 49ers also activated safeties Jared Mayden and Johnathan Cyprien from the practice squad for Sunday's game against the New England Patriots.
That means San Francisco has an open spot on the roster heading into next week, a spot that will likely be filled by linebacker Jordan Willis. A league source told ESPN's Rich Cimini that the Niners and New York Jets agreed on a trade sending Willis to the Bay Area earlier this week. Willis must pass COVID-19 protocols before the deal can be made official. The earliest that can happen is Monday, according to league guidelines.
Without Mostert, the 49ers are expected to lean on a running back group consisting of Jerick McKinnon, JaMycal Hasty and, potentially, Jeff Wilson Jr. against New England. Wilson is listed as questionable with a calf injury but he practiced all week and the fact that the Niners didn't activate another running back on Saturday would indicate he will be available on Sunday.
"Jeff got more as the week went," coach Kyle Shanahan said Friday. "Today, he got a little bit more than he had the last two days, but again, it was walkthrough. So, it was nice to have him out there for about 10 plays yesterday. I'm hoping this flight will treat him right and he'll give us the green light on Sunday."
The 49ers could be getting more depth at running back next week, as Tevin Coleman continues to make progress from the knee injury that landed him on injured reserve on Sept. 23. Coleman has been working on a side field in practice this week and is nearing a return, though next week might be considered a bit ambitious.
"Tevin, outside chance [to return] next week," Shanahan said. "I'm hoping that he can come back, but it's definitely not a guarantee. We'll probably find out a little bit more later in the week next week. If not that, hopefully the week after."
Mayden and Cyprien will provide safety depth Sunday after the Niners ruled out starters Jaquiski Tartt (groin) and Jimmie Ward (quad) on Friday afternoon. Marcell Harris and Tarvarius Moore are the team's only other healthy safeties.
New York Giants aware of video showing Daniel Jones, Saquon Barkley without masks
The New York Giants say they are aware of a video that shows starting quarterback Daniel Jones and injured running back Saquon Barkley maskless and not practicing social distancing while out at a bar.
The video was posted on Instagram on Friday, but has since been taken down.
Jones and Barkley could face discipline from the Giants, the NFL or both for their actions.
Earlier this season, the NFL fined 10 Las Vegas Raiders players, including tight end Darren Waller and quarterback Derek Carr, for breaking coronavirus protocols at a public charity event hosted by Waller's foundation.
The Giants lost to the Philadelphia Eagles on Thursday night and do not play again until Nov. 2 on Monday Night Football against the Tampa Bay Buccaneers.