Will former No. 1 pick Dansby Swanson blossom into a star?
LAKE BUENA VISTA, Fla. — If Dansby Swanson ever wanted to retreat into anonymity and ease his burden as one of the most scrutinized players on the Atlanta Braves' roster, there's an easy solution: He can just pass himself off as Charlie Culberson.
Fans and media members drifting through Braves camp have noted the resemblance between Swanson and Culberson. The two infielders are fellow Georgia natives who are similar in stature, have close-cropped beards, hair straight out of a shampoo commercial and the classic attribute that scouts refer to as the "good face."
"It happens way more often than you would think," Swanson said. "I got a tweet from a person the other day who said, 'Thanks for signing the ball,' and it was clearly Charlie's autograph. You can see a couple of C's and a No. 16 on it. It's pretty funny. We both have a good sense of humor, so neither one of us gets upset about it."
Culberson, 27, is a former first-round pick by the San Francisco Giants who's seeking stability as a utility player in his fourth big league stop. Swanson, 24, was the No. 1 pick in the draft by the Arizona Diamondbacks out of Vanderbilt University in 2015, and he was hailed as the player who would team with Freddie Freeman to help the Braves regain their status among the NL East elite when Atlanta acquired him by trade six months later.
A year ago, Swanson was a hot commodity. When ESPN.com asked 35 analysts to predict their MLB award winners coming out of spring training, 26 said Swanson would win the National League Rookie of the Year award.
Then the regular season began, and Swanson kept accumulating emotional baggage. He missed two weeks with a strained right oblique in spring training and got off to a terrible start that was compounded by bad luck. Swanson hit .156 in April with a .188 batting average on balls in play. The Braves sent him to Triple-A Gwinnett for a refresher course in August, and he finished the season with a .636 OPS, a minus-0.3 WAR and a minus-7 defensive runs saved — 30th among MLB shortstops.
Most big league All-Stars, unless they're Mike Trout, have stories to tell about character-shaping struggles and obstacles overcome on their route to prominence. Those stories come with happy endings, but the daily plot twists can test a player's self-esteem.
Swanson personifies the fickle nature of prospect evaluation. The Braves made him a focal point of team marketing and promotions last year, putting his face on digital billboards and the sides of buses. In June, 38,123 fans showed up at SunTrust Park to collect their Dansby Swanson bobbleheads, featuring his epic, Moroccan Argan Oil-enhanced "flow."
Like Barry Larkin, Joe Mauer and other players who stayed close to home, Swanson discovered that unworldly expectations and geographical ties can make for a daunting combination. He grew up in Marietta, Georgia, about 20 miles from Atlanta, and he's reminded of the organization's run of success in the 1990s and early 2000s whenever Chipper Jones drops into camp as a special assistant or John Smoltz passes through on assignment for MLB Network.
"I watched it happen in Kansas City with Alex Gordon," said Braves hitting coach Kevin Seitzer. "He was a Nebraska guy who replaced George Brett. He was the first pick in the draft, the whole thing. And it wore on him. Gordo is a fighter, a gamer, a warrior and a grinder, and Dansby has the same makeup. When you try really hard in this game, usually things don't work too good."
Freed from the shackles of the daily box score, Swanson spent the winter trying to figure things out and tinkering with his game. He changed the positioning of his hands in his stance to shorten his path to the ball, and he has felt more comfortable in the Grapefruit League — that early .212 batting average (7-for-33, .212) notwithstanding.
"Starting my hands in a different spot allows me to sync up and get my body into a better position to hit," Swanson said. "I never doubted my hand-eye coordination or my ability. You're never as far off as you think."
Swanson is also getting back to basics defensively. Four hours before a recent game against the Phillies, he took the field and worked on an agility drill with Braves infield coach Ron Washington. He dropped to his knees and worked up a sweat snagging hard one-hoppers to his forehand and backhand sides for 6-8 minutes.
Before Washington managed the Texas Rangers, he was a revered infield coach in Oakland with a reputation for molding Eric Chavez and Miguel Tejada into supreme defenders. He's sold on Swanson's intelligence, positioning, soft hands and footwork around the bag. But Swanson had a tendency to rush things as a rookie, and Washington is working with him to slow down and make sure that he secures the ball before he throws it.
"I think the kid can play shortstop, and he's gonna be a shortstop for a long time to come," Washington said. "I'm around this kid and I've seen his mind work. He doesn't have the kind of talent where you say, 'Oh, man, look at that quickness,' or, 'Oh, man, look at that arm.' All he does is make the plays. There are some kids with a lot of talent, and all they do is screw up."
Washington, a baseball lifer with a perpetually upbeat approach, is part instructor, part life coach. He provided some vital encouragement last year during a May 15 game in Toronto, after Swanson made two errors against the Blue Jays. Swanson was hitting .184 at the time, and his body language suggested the rough patch was wearing on him.
"He was sort of down, and I walked over to him and asked him, 'Can you play?"' Washington said. "He told me, 'Yeah, I can play.' So I said, 'If you can play, you have to look at your whole body of work and forget about what just happened.' I don't care what the critics say. There isn't a person in the game who hasn't done that."
If the trials of his rookie year left any scars, Swanson keeps them to himself. He talks about the value of his faith in keeping him grounded, and he shares inspirational sermons from his church in Nashville that remind him of his purpose in life to make a positive difference every day.
Fans who criticized Swanson on social media last year didn't cut him much slack for arriving in Atlanta with a mere 127 games and 576 plate appearances on his minor league resume, but he has accepted the hazards of life in a fishbowl and refrains from lashing back at the trolls.
He is also fully invested in making things work in his hometown. Swanson lives in a house with three old high school friends whom he regards as his "brothers," and he sounds like a walking chamber of commerce brochure.
"I have so much passion for the city of Atlanta," he said. "I'm very loyal when it comes to the culture of Atlanta. Food. Faith. Family. Friends. Sports. I love the place, and my friends do too. We're all ATL, through and through. People talk about the outside pressure and the demands. But I've learned so much about how to handle those, and it's not a negative anymore."
Like Phillies shortstop J.P. Crawford, another prospect who's trying to bounce back from struggles, Swanson lacks the physical gifts to dominate a game. He's not the type of prospect who will hit 40 home runs, steal 60 bases or make acrobatic plays nightly in the manner of an Andrelton Simmons or Nolan Arenado. But he has a chance to be a long-term regular who can have an impact as a steady defender, situational hitter and a winning piece on a contender.
Those attributes made him a favorite son at Vanderbilt, where he arrived as a moderately recruited player who had to take out student loans to pay his way. A year after his arrival in Nashville, Swanson led the Commodores to the 2014 College World Series titles.
"I know I can play the game of baseball," Swanson said. "Individual stats come and go, but the ultimate stat is winning and doing what you can do to win — whether it's being in the right spot at the right time, or moving guy a guy over, or giving up an at-bat to get a guy in. That's always fueled me. I'm not going to hit you 40 [homers], but that doesn't take away from all the things I'm very good at."
Swanson's not-so-good 2017 is far enough in the past that it can be dissected and neatly compartmentalized. New Braves bench coach Walt Weiss, who won a Rookie of the Year award with Oakland in 1988, has shared his career experiences with Swanson in a couple of lengthy conversations that have focused very little on the intricacies of shortstop play.
"I told him, 'Look on the bright side, Dansby. When you have a face like mine, they don't put it on a billboard,"' Weiss said. "Dansby kind of agreed with me. He was like, 'Yeah, I guess you're right.' That just made it worse."
Weiss laughs when he tells the story, in the same way Swanson chuckles over people confusing him with Culberson. Rookie outfielder Ronald Acuna is the new media sensation in Braves camp, and Swanson is free to do his drills and work on his swing without the burden of daily updates. It's a welcome development for his peace of mind as Swanson looks back and, mercifully, forward.
"Just because last year didn't go as planned, it doesn't mean that this year won't," he said. "We all struggle at points in our lives. I'm grateful it happened early, because you can build off that and learn your lessons and move forward.
"I don't even look at it as failure. I look at it as growth."
Chicago Cubs' Willson Contreras on bat flip — 'No regrets'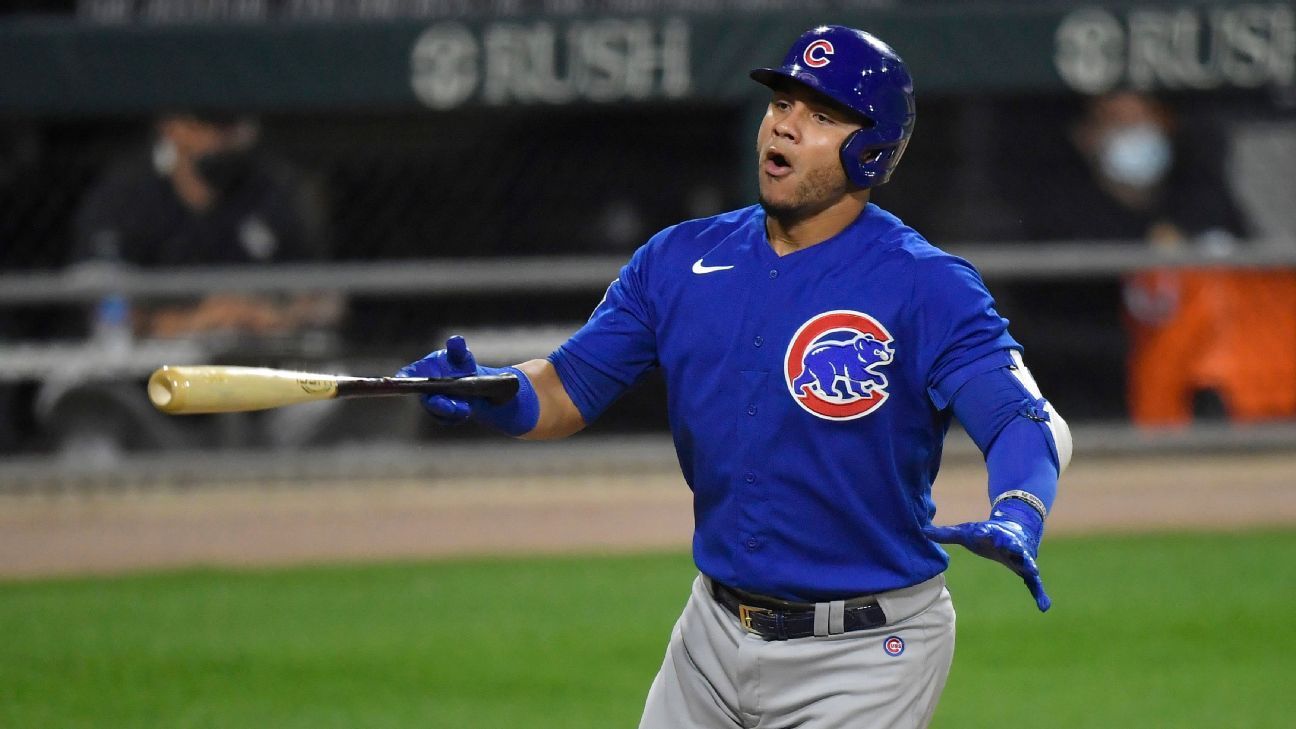 CHICAGO — Tempers flared here Friday night after catcher Willson Contreras was plunked by White Sox hurler Jimmy Cordero in the seventh inning of the Cubs' 10-0 victory.
The hit by pitch came several innings after Contreras threw his bat high into the air to celebrate a three-run homer as he began to circle the bases.
"I knew it was coming," Contreras said afterward. "I have no regrets, zero regrets. Once they hit me, I don't think that's the smartest thing to do. He got thrown out. And who knows if he's going to get suspended?"
The Cubs immediately began yelling from their dugout after Contreras was hit, prompting the umpires to gather before deciding to eject Cordero. Soon after, both White Sox manager Rick Renteria and pitching coach Don Cooper were kicked out.
Renteria disagreed with the ejections.
"The ball got away from him," Renteria said of Cordero's pitch. "We couldn't convince him (the umpire) of that … There was no warning. They just gathered and ejected him."
Though Cubs manager David Ross admitted it might not have been his style to bat flip after a home run, he backed his catcher, who led a five-home-run barrage for the Cubs. The team has struggled offensively all month, so Ross viewed what happened as cathartic.
"It wasn't to disrespect the other group," he said. "It was because we've been struggling offensively and he brought some swagger. He brought some edge. I loved every second of it.
"I don't think he deserved to get hit, at all."
Ross recalled a time when White Sox shortstop Tim Anderson bat-flipped himself into some controversy in 2019. Anderson has been outspoken about letting players show their emotions.
"All the hype is on the guy on the other side when he bat-flipped, right?" Ross said. "I thought Tim Anderson's bat flip last year where he flipped it and looked in his dugout, that's what you want. That's what Willson did."
Contreras is known as an emotional, and at times hot-headed, player, but he said he felt like he was right in line with the way the game is in 2020 — bat flips are in and retaliation is out.
"I'm not going to change anything," Contreras said. "I play hard for my team. I always want to do the best for my team. But if they don't like me, that's fine. I don't play for other teams to like me, anyways. And if I have to do it again, I will do it again."
He added one caveat.
"I didn't mean to throw it that high," he said with a smile.
Miami Marlins make playoffs year after 105-loss season
NEW YORK — The Marlins clinched an improbable playoff berth in their coronavirus-decimated season, beating the New York Yankees 4-3 in 10 innings Friday night to seal a postseason trip on the field of the team that Miami CEO Derek Jeter and manager Don Mattingly once captained.
Miami earned its first postseason trip since 2003 when it won the World Series as the Florida Marlins, capped by a Game 6 victory in the Bronx over Jeter and his New York teammates at the previous version of Yankee Stadium.
The Marlins had the worst record in the NL last year at 57-105, then were beset by a virus outbreak early this season that prevented them from playing for more than a week.
After Jesus Aguilar hit a sacrifice fly in the top of the 10th, Marlins reliever Brandon Kintzler got major league batting leader DJ LeMahieu to ground into a game-ending double play with the bases loaded.
Miami players ran onto the field, formed a line and exchanged non-socially distant hugs.
The Marlins became just the second team in MLB history to reach the postseason the season after losing at least 100 games, joining the 2017 Minnesota Twins. Their 16-season playoff drought was the second-longest active streak in majors, behind the Seattle Mariners (18). Miami has been to the playoffs only twice before in franchise history; they won the World Series both times.
Miami was one of baseball's great doubts at the start of the shortened season, forced off the field when 18 players tested positive for COVID-19 following the opening series in Philadelphia.
Mattingly captained the Yankees from 1991-95 and is in his fifth season managing the Marlins. Jeter captained the Yankees from 2003-14 as part of a career that included five World Series titles in 20 seasons and is part of the group headed by Bruce Sherman that bought the Marlins in October 2017.
Miami is second in the NL East at 30-28 and improved to 19-13 on the road. The Marlins will play 34 road games due to the schedule disruption caused by the coronavirus. They arrived at their hotel at 5:30 a.m. ET on Friday following a rain-delayed win in Atlanta.
The Associated Press contributed to this story.
Atlanta Braves' Ronald Acuna Jr. smashes 495-foot homer, longest in MLB this season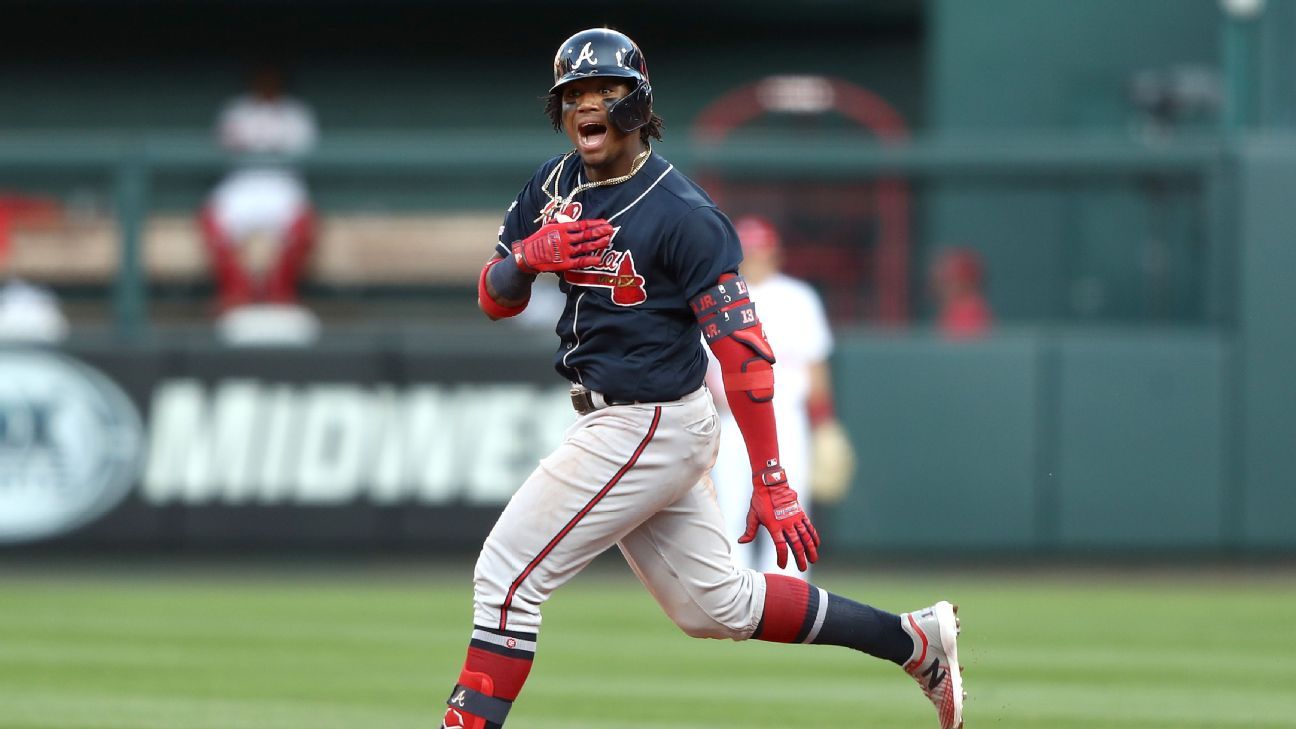 Atlanta Braves center fielder Ronald Acuna Jr. belted a tape-measure home run that won't soon be forgotten in the first inning Friday against the Boston Red Sox.
Acuna rocked a 495-foot leadoff shot that measured as the longest homer in MLB this season and tied for the fifth-longest in the Statcast Era (since 2015).
Acuna's homer came on a 3-1 count off Chris Mazza. He has 13 home runs this season after hitting 41 last year.
Acuna, the 2018 Rookie of the Year, is batting .257 with 28 RBIs and a .997 OPS.
Information from ESPN Stats & Information was used in this report.