Tom Benson, owner of New Orleans Saints and New Orleans Pelicans, dies at 90
Tom Benson, owner of the NFL's New Orleans Saints and NBA's New Orleans Pelicans, died Thursday in New Orleans with his wife at his side, the teams announced. He was 90.
Benson was one of only three owners of both an NFL and NBA franchise at the time of his death. He was widely credited with keeping both teams in his native New Orleans when their futures were in doubt, first when he purchased the Saints in 1985, and then when he purchased the former New Orleans Hornets in 2012.
Benson had been hospitalized since Feb. 16 in New Orleans with flu-like symptoms.
"Tom Benson's contributions to New Orleans and the National Football League were legendary," commissioner Roger Goodell said in a statement.
"He purchased a team that had never had a winning season; by the third year of his ownership, the Saints were in the playoffs. Tom kept the Saints together through the tragedy of Hurricane Katrina, and his decision to bring the team back to New Orleans gave the entire region hope and confidence that they would recover. The Saints rewarded their fans with tremendous football and a Super Bowl championship.
"Within the NFL, he was a true leader among NFL owners. … I know that the entire NFL family joins me in extending our most heartfelt condolences to Gayle Benson and the entire Saints organization."
Benson underwent triple-bypass heart surgery in April 2001 and remained in good health until 2014, when he underwent two arthroscopic knee procedures and suffered complications that led to a long recovery.
Benson's plan was to turn the franchises over to his wife of the past 13 years, Gayle Benson, after he ousted his daughter and grandchildren as heirs during a bitter legal feud that lasted nearly two years. The dispute ended with a private settlement in February 2017. It remains unclear whether Gayle Benson still needs approval from both sports leagues before ownership can formally change hands. She is a New Orleans native who is expected to keep both teams in New Orleans long-term.
Longtime executives Dennis Lauscha and Mickey Loomis are expected to maintain key roles in running the teams. Lauscha is the president of both franchises. Loomis, whose primary role is general manager and executive vice president of the Saints, also serves as an executive vice president for the Pelicans.
Benson, who made his fortune in the automobile and banking industries in New Orleans and San Antonio, was estimated to be worth $2.8 billion in 2017 by Forbes, which ranked him and his family as the richest in Louisiana.
The Saints never had a winning season before Benson took over. Since then, they've made 11 trips to the postseason, including a Super Bowl championship after the 2009 season, leading to many of the owner's memorable "Benson Boogie" second-line victory dances on the field.
Benson has also been lauded for his role in helping the NFL grow during his 33 years of ownership. He spent many of those years on the league's finance committee, serving as chairman three times.
His ownership years weren't always rosy, though. Benson's popularity with the fan base took a major hit in the aftermath of Hurricane Katrina in 2005, when he entertained the possibility of moving the team to San Antonio. Though Benson later insisted the reports of him considering relocation were blown out of proportion, he allowed that uncertainty to fester during an emotional time for the community.
However, with the NFL's urging, the Saints returned home in January 2006, and Benson displayed a renewed commitment to his hometown from that point on.
The Saints began thriving after Benson hired coach Sean Payton that year and the Saints added quarterback Drew Brees and running back Reggie Bush, among others. The people of New Orleans rallied that year to sell out the Superdome for the first time, and now there's an annual waiting list of more than 70,000 in the Mercedes-Benz Superdome (a lucrative naming-rights deal that both Tom and Gayle Benson helped arrange).
"Well, once he got moving, he didn't stop," former NFL commissioner Paul Tagliabue said of Benson's turnaround. "With Drew Brees and Sean Payton and the team, it went to the NBA team, it went to (ownership of other local businesses). So it's quite a remarkable story of success."
The Saints' infamous "bounty scandal" also took place under Benson's watch, with Payton, Loomis and others receiving unprecedented suspensions for allegedly overseeing a pay-for-injury scheme. Benson stuck by his team leaders during a controversial debate over whether the punishments were warranted – which also helped restore his popularity among the fans.
Benson added the Pelicans to his portfolio when he purchased the then-Hornets from the NBA in 2012 to prevent out-of-town ownership from swooping in and possibly relocating the team. He then renamed the team to Pelicans, after the state bird and former New Orleans minor league baseball team.
The Pelicans have made only one playoff appearance (2015) during Benson's ownership tenure. However, they are currently thriving as a 5th-place seed in the Western Conference, led by one of the game's top players in Anthony Davis.
Benson's commitment to New Orleans also spread beyond his teams.
He and Gayle started GMB Racing, which produced two Kentucky Derby entrants in 2016. They also invested in local companies like Dixie Beer, and TV and film production companies. And they helped bring the Super Bowl back to New Orleans in 2013, an economic windfall for the city.
The Bensons were also generous in their charitable efforts throughout New Orleans, the Gulf South region, San Antonio and the Catholic Church community, among others. In 2014, Benson pledged $11 million to the Pro Football Hall of Fame, the largest donation by an individual in the Hall's history.
Benson is one of six NFL owners who have died since October 2013, along with the Tennessee Titans' Bud Adams, the Detroit Lions' William Clay Ford, the Buffalo Bills' Ralph Wilson and the Tampa Bay Buccaneers' Malcolm Glazer and the Pittsburgh Steelers' Dan Rooney.
Details regarding public visitation and funeral will be forthcoming.
Ravens DC says Chiefs QB Patrick Mahomes 'underpaid' even if $1B
OWINGS MILLS, Md. — Patrick Mahomes signed the richest valued contract in American professional sports in July, when he struck a 10-year, $450 million extension with the Kansas City Chiefs.
Baltimore Ravens defensive coordinator Don "Wink" Martindale, who faces Mahomes on Monday night, considers that a bargain.
"They could've paid him a billion," Martindale said Friday. "I'd still think he's underpaid."
Martindale has a lot of respect for the reigning Super Bowl MVP because Mahomes is the one quarterback who has consistently gotten the better of Baltimore. The Ravens have allowed the third-fewest passing yards in the league (203.7) since Martindale took over as defensive coordinator at the start of the 2018 season.
Baltimore has given up over 350 yards passing only three times during that span — and two have come against Mahomes, who has thrown for five touchdowns and one interception in two victories over the Ravens. Mahomes passed for 377 yards in 2018 — the most against a Martindale defense– and threw for 374 yards last season.
"The mobile-type quarterbacks, you have to defend the first play, the second play and sometimes the third play," Martindale said. "With the way he throws the football, you have to say on your coverage no matter what. He can be on one side of the field and throw all the way across the other."
While the Ravens know they have to account for Mahomes' athleticism and ability to buy time, they also have to figure out a way to outsmart him. Baltimore has only sacked Mahomes four times on 96 dropbacks. Martindale, who is known for his aggressive blitz packages, praised Mahomes for how he can diagnose pre-snap where the pressure is coming from and call the correct protection to negate it.
"He has that football IQ level of [Tom] Brady and [Peyton] Manning," Martindale said.
Atlanta Falcons' Julio Jones to be game-time call with hamstring strain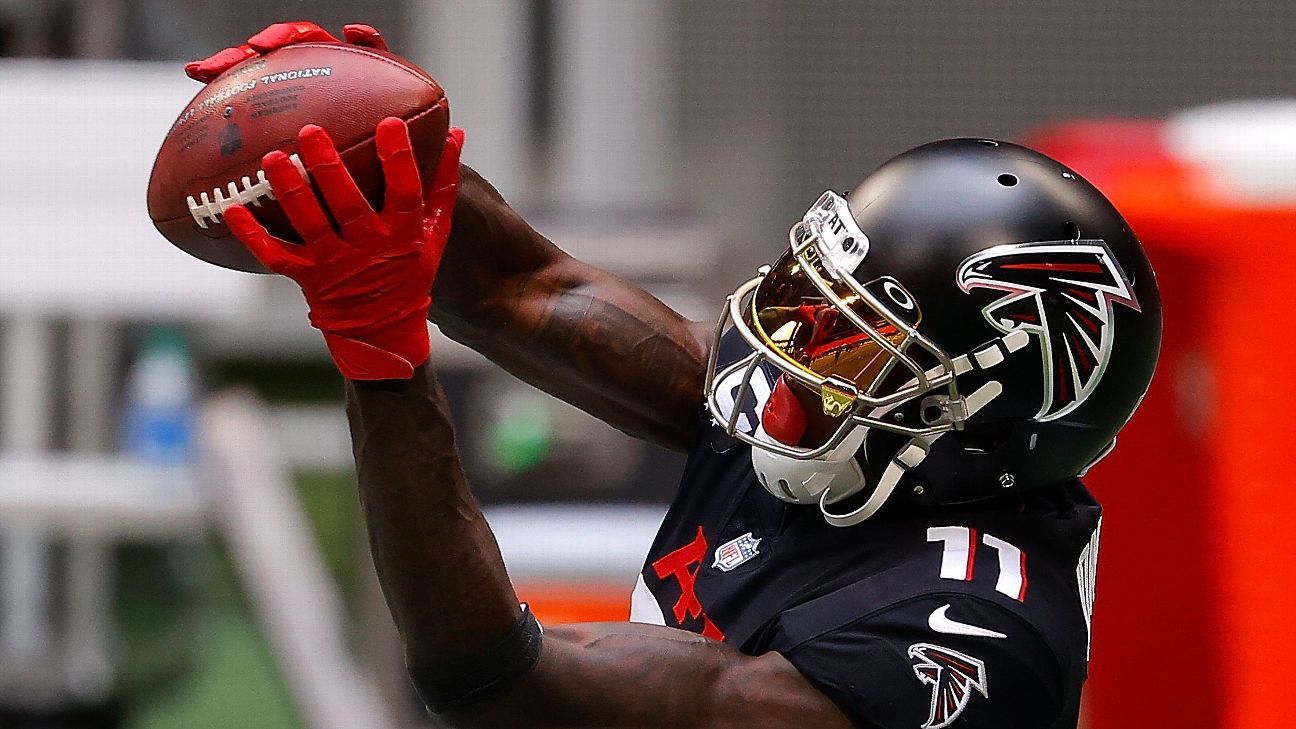 Atlanta Falcons coach Dan Quinn said the team will take it "all the way up until our time on the day of the game" regarding star wide receiver Julio Jones' availability for Sunday's matchup with the Chicago Bears.
Jones, who injured his left hamstring before the season and then strained it again during last Sunday's 40-39 loss at Dallas, was held out of practice Wednesday and Thursday. Quinn said Jones would do work on the side Friday and that he has been involved in the game plan.
Quinn said Jones is one of the rare players who could be available without practicing.
"The only way we'll do it is if he's ready to do his thing," Quinn said. "Take it all the way to the game with him."
With Jones being a game-time decision, the Falcons might have to rely heavily on receivers Calvin Ridley and Russell Gage, as well as tight end Hayden Hurst. When Jones missed a game last season due to a shoulder injury, Christian Blake saw more action next to Ridley and Gage.
Jones had two catches for 24 yards against the Cowboys and said the hamstring affected his ability to run.
Quinn also ruled out safety Ricardo Allen (hyperextended elbow) and cornerback Kendall Sheffield (foot). The Falcons are expected to be without starting right tackle Kaleb McGary, who suffered an MCL injury last week. Matt Gono would replace McGary in the starting lineup.
49ers to start Nick Mullens at QB for injured Jimmy Garoppolo
SANTA CLARA, Calif. — San Francisco 49ers coach Kyle Shanahan confirmed Friday what he's hinted at all week: Nick Mullens will start at quarterback in place of the injured Jimmy Garoppolo on Sunday against the New York Giants.
Shanahan indicated Wednesday that it was "most likely" Mullens would start in place of Garoppolo, who is dealing with a high right ankle sprain, but he made it official Friday on KNBR radio in San Francisco. Shanahan told "The Murph and Mac Show" that Mullens will start for Garoppolo and that Garoppolo will not be active for the game, leaving C.J. Beathard as Mullens' backup.
Mullens will be making his first start since Dec. 30, 2018, which was the final appearance in an eight-game stretch for him as the starter after Garoppolo tore his left ACL in Week 3 of that season. He threw for 2,277 yards with 13 touchdowns and 10 interceptions for a passer rating of 90.8 as the Niners went 3-5 in his starts.
Early in the week, the Niners had expressed some optimism that Garoppolo could play this week but it became apparent by Wednesday that it was unlikely. Garoppolo suffered the ankle injury in the first quarter of last week's win against the New York Jets and played through it before being removed from the game at halftime.
Mullens finished the game, going 8-of-11 for 71 yards with an interception as the 49ers rolled to a 31-13 win.
As the Niners have trained at The Greenbrier Resort in White Sulphur Springs, W.V, this week, Mullens has taken on the role of starter in practice with Beathard as the backup. Garoppolo did not practice Wednesday or Thursday and is not expected to on Friday.
"He's locked in," tight end George Kittle said Thursday. "He's got the game plan down, he's got a rocket for an arm, he's slinging it, he's confident. And I know he's just excited to get the opportunity to play. If he gets to play, I know he's going to take advantage of that situation because that dude loves football. He's going to give it his all, so we're definitely in good hands if Jimmy can't go."
Whether Mullens will have Kittle at his disposal remains up in the air, Shanahan told KNBR. Kittle, who is working his way back from a sprained left knee, has practiced on a limited basis the past two days and Shanahan said Friday's practice would be important in gauging his availability for Sunday. Which means a decision is likely to be made closer to game time.
Like quarterback, the running back situation has crystallized as Shanahan also confirmed that Tevin Coleman and Raheem Mostert would not be available Sunday, as he'd suggested earlier in the week. Coleman and Mostert are each battling sprained knees, though Mostert is expected back before Coleman.
That means Jerick McKinnon is likely to make his first start as a Niner since signing with the team in 2018. He missed the past two seasons with a knee injury.
"I'm very confident in Jet," Shanahan said Wednesday. "He's done a great job in all the reps that he's gotten in these two weeks. Every time he's gotten opportunities, he came through for us. Obviously, with those two guys being out, he should get more opportunities this week and he deserves it. I know he's excited for it and we're excited to see him."
Jeff Wilson Jr. is expected to serve as the backup to McKinnon with undrafted rookie JaMycal Hasty likely to get called up from the practice squad for additional depth.