Olney: How the Twins built their best possible offseason – Buster Olney Blog
Derek Falvey tore down walls when he took over the Minnesota Twins' front office in the fall of 2016. On the fourth floor of Target Field, offices were taken apart and more cubicles were constructed to eliminate barriers between departments and employees, to keep everybody working together.
Falvey and Thad Levine, his chief lieutenant, aimed for more collaboration, for more information. They have been very busy this winter, and their work has drawn much praise from rival executives. "They got a lot done and got better at low cost," said one AL executive, who added that a case could be made that the Twins are the most improved team in baseball.
Said an agent: "They are smart, disciplined, composed, and they stay after it."
Minnesota didn't make a lot of transactions in the winter of 2016-17, but along the way, Falvey and Levine constructed a research and information apparatus for the front office, which was greatly utilized this winter. It's as if the Twins have been selectively raiding estate sales in what has been a dead winter market, and Minnesota has augmented the team around the strong core of players who rallied in the last two months of the season to earn a wild card spot.
When the Rays were unable to obtain the trade value for Jake Odorizzi that they hoped for, Tampa Bay pivoted and worked to dump his $6.3 million salary — and the Twins plucked the right-hander while giving up very little in prospect return.
A bunch of relievers got three-year deals at the winter meetings, and that was the hope for Addison Reed. But the Twins waited and landed the right-handed veteran for $18 million over two years.
After offers failed to materialize for Logan Morrison, his asking price fell to $6.5 million, and the Twins landed the first baseman/designated hitter, who had a .353 on-base percentage and 38 homers in 2017. Right-handed starter Lance Lynn rejected the Cardinals' qualifying offer of $17.4 million last fall in hopes of a big-money multiyear deal, but that did not happen. On Saturday, Lynn took the Twins' offer of $12 million for one year, a deal that will become final once he passes his physical examination.
In the Odorizzi trade and in free-agent signings — which also included closer Fernando Rodney, lefty Zach Duke, and pitchers Michael Pineda and Anibal Sanchez (who was released Sunday, at a cost of $625,000)– the Twins have landed two starting pitchers for this season, a middle-of-the-order hitter, two set-up men and a possible closer for a grand total of $60 million.
To put that number into perspective: $60 million is what the Phillies paid for Carlos Santana alone, and it is $84 million less than the Padres' eight-year investment in Eric Hosmer.
In keeping with Falvey's aim to maintain payroll flexibility, only two of the contracts (Reed and Pineda) are for multiple seasons, so the Twins' long-term risk for the roster upgrades is minimal.
Once Ervin Santana returns from a finger injury — perhaps after a missing a month of the season — he will join a rotation that includes Odorizzi, Lynn, Jose Berrios and Kyle Gibson. The bullpen has more competition and more options than a year ago, when the Twins sorted through 34 different pitchers. An offense that led baseball in runs over the last two months of last season should be stout again, with Morrison hitting in the middle of an order fronted by Brian Dozier and Joe Mauer at the top and Byron Buxton, Eddie Rosario, Jorge Polanco and Max Kepler arranged below.
The Twins lost 103 games in 2016, the season before Falvey took over, and last year they went 85-77. When Falvey was with the Cleveland Indians, some of his peers there regarded him a star front-office prospect, someone who would inevitably run a team with great success with his acumen and consistently cheerful and assuring demeanor.
Those projections are quickly proving to be accurate, and maybe at the expense of Cleveland sooner than anybody expected.
Los Angeles Dodgers clinch NL's top seed, 8th straight division title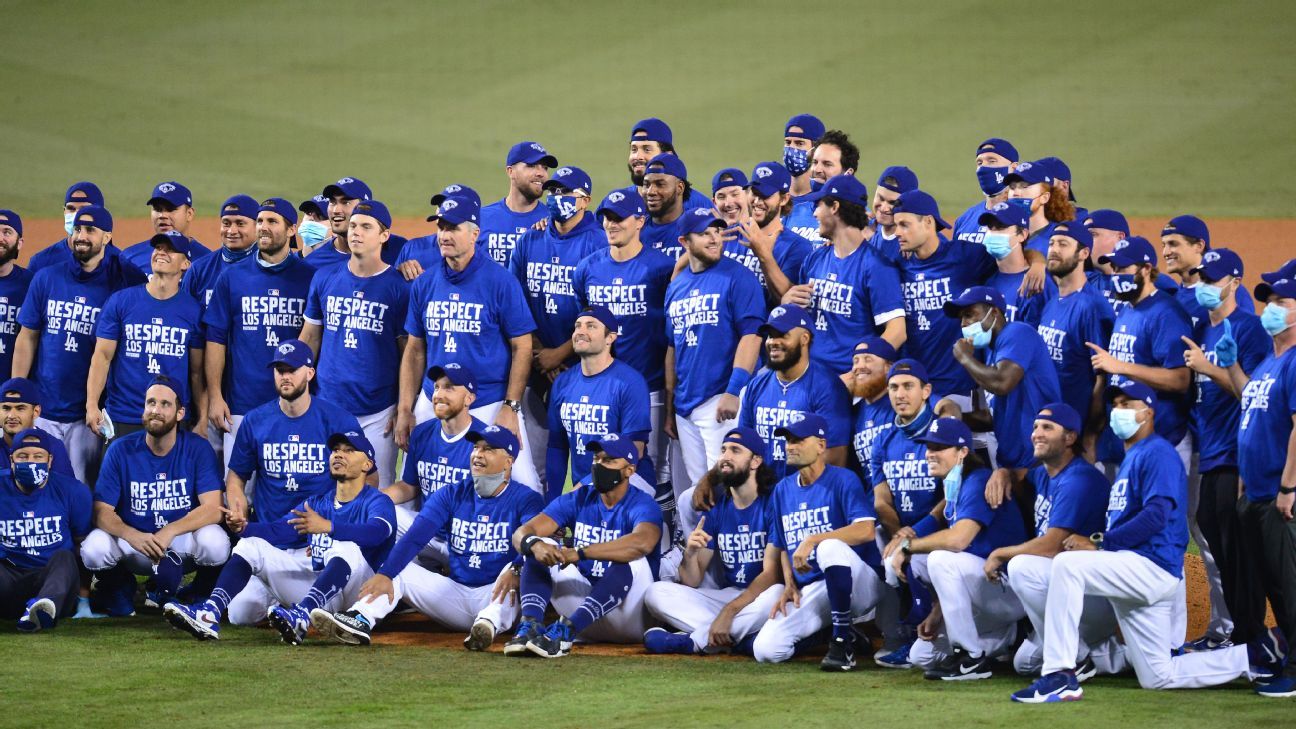 LOS ANGELES — Corey Seager had three hits, including one of Los Angeles' four home runs, as the Dodgers clinched the National League's top postseason seed and eighth straight West title Tuesday night with a 7-2 victory over the Oakland Athletics.
The Dodgers, who own the best record in the majors at 39-16, were the first team in the majors to clinch a playoff berth on Sept. 16. They will open postseason play on Sept. 30 by hosting every game in a best-of-three series against the No. 8 seed.
Los Angeles came into the day with a magic number of two and got help with the Angels' 4-2 victory over the San Diego Padres.
Max Muncy, Chris Taylor and A.J. Pollock also went deep for Los Angeles, which leads the majors with 104 home runs.
Dustin May went five innings and allowed two runs on three hits. The 22-year-old red-headed righty set a team record by not allowing more than three earned runs in his first 13 career starts, which include 10 this season.
Seager tied it at 1 in the first with an RBI single and then led off the fifth with a drive to center off T.J. McFarland to extend LA's lead to 6-2.
Muncy gave the Dodgers a 3-2 lead in the third inning with a two-run homer. Taylor and Pollock extended it with solo shots in the fourth off Oakland starter Frankie Montas.
Cody Bellinger added two hits for the Dodgers, including an RBI single with the bases loaded in the seventh.
Dodgers third baseman Justin Turner was scratched from the lineup less than an hour before first pitch due to left hamstring discomfort.He came off the injured list on Sept. 15 and has not played in the field since Aug. 28.
Joc Pederson was in the lineup at DH after missing five games while on the family emergency medical list. Manager Dave Roberts said before the game that he wasn't sure if Pederson will remain with the team during the entire postseason.
The Associated Press contributed to this report.
Marcell Ozuna, Braves beat Miami, clinch 3rd straight NL East title
Bryse Wilson pitched five scoreless innings, Marcell Ozuna drove in five runs with four hits that included two homers and the Atlanta Braves clinched their third straight NL East title by beating the Miami Marlins 11-1 on Tuesday night.
Atlanta hit five homers, including drive by Dansby Swanson and Freddie Freeman off Nick Vincent in a five-run seventh. Freeman drove in two runs with three hits.
After Jorge Alfaro lined out to Freeman to end the game, Braves players hugged on the field and exchanged high-fives in the dugout.
Wilson (1-0) allowed three hits and one walk, striking out a career-high seven. It was an unexpected showing by the 22-year-old right-hander, who had a 7.04 ERA in four relief outings and had been at the team's alternate training site until Monday. He had not started since July 16 last year at Milwaukee.
Atlanta clinched its record 20th division title, one more than the New York Yankees. The Braves won 14 straight in completed seasons from 1991-2005 but have not won a postseason series since 2001 and have not won a championship since 1995.
Miami remained in position to earn its first playoff berth since winning the 2003 World Series.
Ozuna hit a first-inning homer off Jose Urena (0-3), who allowed four runs in six innings. Ozzie Albies homered in the second, and Ozuna added a two-run double in the fifth and drove in Freeman with a 450-foot homer to center field in the eighth.
Manager Brian Snitker said the Braves were prepared for a low-key celebration, due to social distancing rules in the pandemic. He said Major League Baseball "pretty much restricted all that" due to space constraints in the clubhouse.
"I think we go in and air high-five to everybody," Snitker said.
The Associated Press contributed to this report.
Chicago Cubs lose 3-2 to Pittsburgh Pirates but still clinch playoff berth
The Chicago Cubs are in the postseason for the fifth time in six years, clinching a spot on Tuesday night despite losing 3-2 to the Pittsburgh Pirates.
It's David Ross' first trip to the postseason in his first season as the Cubs' manager.
"It's nice," Ross said after the game. "Super proud. Thankful for the group I have. It's very rewarding for that group in there that's put in the hard work in a unique atmosphere."
The Cubs got off to a fast start, winning 13 of their first 16 games to take command in the National League Central, where they've been in first place since the season opener. Their success has been tied to their pitching staff, which ranks third in ERA in the National League.
But Chicago's offense has slumped since the quick beginning to the season. The Cubs rank 22nd in OPS and are hitting under .200 against left-handed pitching.
"It's a lot of credit to us for not being in sync the whole year and grinding through and getting wins," first baseman Anthony Rizzo said. "It's a full team effort and that's what it's going to take to be the last team standing."
The Cubs have a history of making the postseason after changing managers. In 2003, Dusty Baker led the Cubs to a division title in his first season; Lou Piniella did the same in 2007. Joe Maddon also made it to the playoffs in 2015, his first season at the helm. Ross was a player on that 2015 team.
"There is so much to be proud of and thankful for from my seat," Ross said. "They came in ready to summer camp and it showed."
In the coming days, the Cubs are in good position to clinch their third division title since 2016 and host the first round of the playoffs at Wrigley Field, where they produced the lowest batting average in history there this season (.210). But Chicago features several October tested starters, including Yu Darvish, Kyle Hendricks and Jon Lester. And many of the core players are still there from when the team won the World Series in 2016.
"To be one of the playoff teams is very exciting," Rizzo said. "It's something that we're going to not take for granted because this is not easy.
"It's [the playoffs] a whole different beast. It's a different game. It's a different vibe."