Denver Broncos sign Case Keenum in attempt to return to playoff mode – Denver Broncos Blog
ENGLEWOOD, Colo. — There is one way to make a steely-eyed Pro Football Hall of Fame quarterback get a little uncomfortable in his own skin.
Just ask John Elway to say "rebuilding."
Or as Elway put it at the scouting combine: "I didn't say it. I'm not going to say it. Life is too short to rebuild in the NFL."
In an effort to lift the Denver Broncos back into the playoff conversation and to avoid the dreaded "R" word, the Broncos have gone in all-in on Case Keenum, who is expected to sign with the Broncos when free agency officially opens Wednesday afternoon.
The 30-year-old Keenum led the Minnesota Vikings to an 11-3 mark in his 14 starts last season in place of an injured Sam Bradford as the Vikings advanced to the NFC Championship Game. Keenum, Kirk Cousins and Drew Brees are considered the top quarterbacks in free agency, with the Broncos heavily evaluating Cousins and Teddy Bridgewater before deciding Keenum would be their pick.
The Broncos' desire to upgrade the offense quickly enough to take advantage of a quality defense came with a hefty price tag, which will be revealed once the terms of the multiyear deal are finalized. But that is the cost of doing business in free agency, and Keenum had impeccable timing after he had played so well for the Vikings in their playoff run.
Elway is now in his eighth year as the Broncos' chief decision-maker. The Broncos have missed the playoffs in each of the past two seasons, and at the moment, linebacker Von Miller is the only former Broncos draft pick on the roster who has been named to a Pro Bowl.
Miller was in Elway's first draft class — in 2011.
And just as folks once used to add up former Denver coach Mike Shanahan's statistics "without John Elway," Elway now finds himself sometimes being measured as a team executive for what has happened "without Peyton Manning." When Elway romped into free agency in 2012 and signed Manning, who was not yet 100 percent after his fourth neck surgery, the result was four AFC West titles, two Super Bowl trips, one title and a historic season as the only 600-point team in league history.
In order to try to recapture a little of that history, the Broncos went after Keenum and got him. And it should be noted that the Broncos' best quarterbacks have largely arrived from somewhere else.
Five of the top seven passers in the franchise's history, including Elway at No. 1, have arrived either by trade or by free agency. The Broncos had four quarterbacks with the team this past season, including Chad Kelly on injured reserve, who were former draft picks, and Denver will have simply bypassed them all to sign Keenum.
While Keenum comes as a "safer" bet than the Broncos using the No. 5 pick of this draft on a quarterback to groom, Elway's ability to build the kind of team that competes for a playoff spot each and every season will now largely hinge on his ability to build a roster around the players with the biggest contracts on the roster — Keenum and Miller.
Miller signed a $114.5 million deal in 2016.
In short, the Broncos have to be right on this one. Keenum has to be what the Broncos have seen in their evaluations and then a little more. He has just two playoff starts in his career — both this past January — or two more than Trevor Siemian or Paxton Lynch.
But the biggest impact of all of this is the multimillion-dollar admission that Lynch has not become what the Broncos hoped he would be. The Broncos traded up to select Lynch in the first round of the 2016 draft. He has lost back-to-back training camp battles to Siemian and has four career starts, and he lost crucial developmental time in 2017 with shoulder and ankle injuries.
Keenum's arrival turns back the clock, or perhaps even stops it, on Lynch. Elway has left open the possibility that Lynch could be the team's backup if he's ready to work on his game, but in the end, even one of Elway's most notable first-round picks couldn't avoid the team's current mission.
Because if you can't help Elway avoid a rebuild, you'll be moved aside for those who can.
Jacksonville Jaguars' Cam Robinson ejected after making contact with official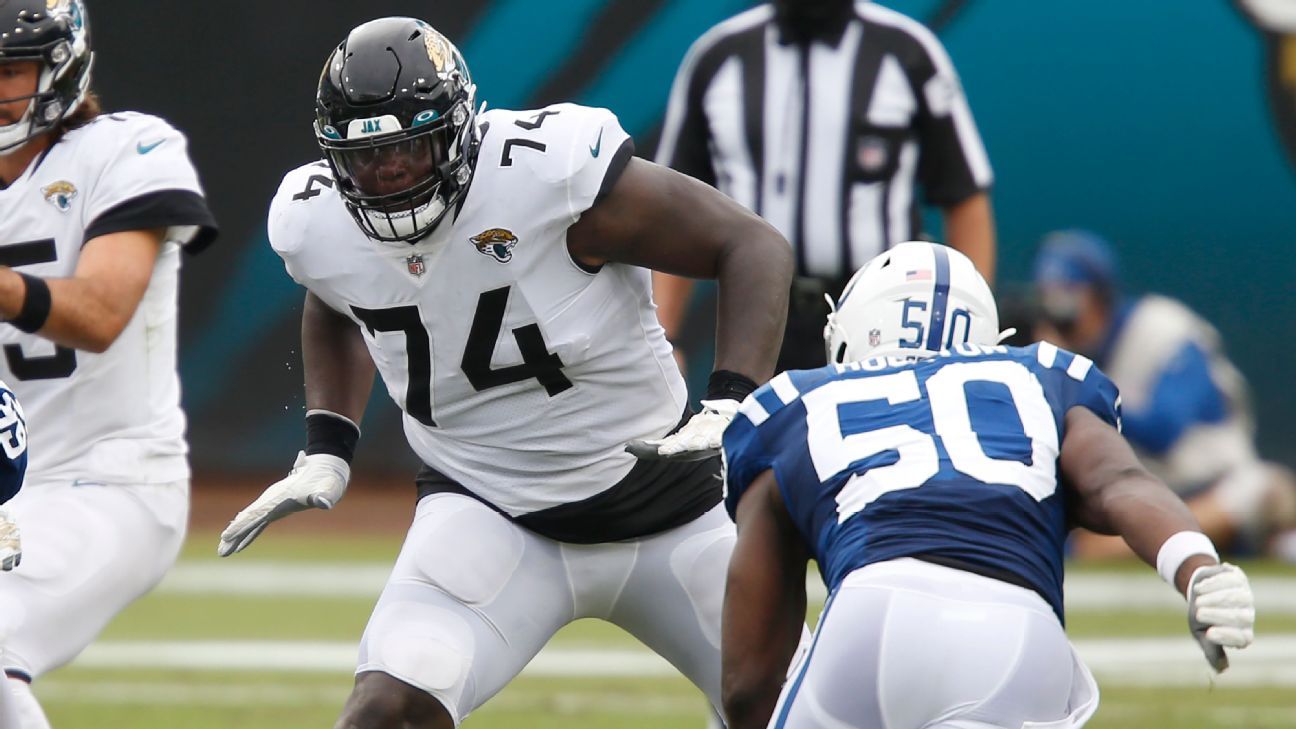 JACKSONVILLE, Fla. — Jacksonville Jaguars left tackle Cam Robinson was ejected late in the third quarter of Thursday night's game against the Miami Dolphins after he made contact with an official.
The foul occurred after Robinson attempted to recover quarterback Gardner Minshew's fumble. Robinson and down judge Danny Short were on the ground after the Dolphins recovered the ball and Robinson appeared to shove Short's arm.
Short immediately threw the flag. Robinson, the Jaguars' second-round pick in 2017, was penalized for unsportsmanlike conduct and ejected.
Will Richardson replaced Robinson on the Jaguars' next drive.
Jacksonville Jaguars' Leon Jacobs ruled out after injuring knee vs. Miami Dolphins
JACKSONVILLE, Fla. — Jacksonville Jaguars linebacker Leon Jacobs suffered a right knee injury early in Thursday's game against the Miami Dolphins and was ruled out for the rest of the night.
Jacobs, 24, has started two of the Jaguars' three games and had two tackles entering Thursday. He has started 12 games since the Jaguars drafted him in the seventh round in 2018.
Jacobs was hurt on the seventh play of the game, a 7-yard run by Miami's Myles Gaskin. Jacobs stayed on the ground for several minutes and was taken off the field on a cart.
Cassius Marsh, whom the Jaguars signed to a one-year deal in March, replaced Jacobs in the lineup.
Follow live: The Beard vs. the 'Stache. Gardner Minshew and the Jaguars take on Ryan Fitzpatrick and the Dolphins