Where it all went wrong for Seattle Seahawks legendary defense
It's unfair to say that the roster moves the Seahawks have made and are about to make with their defense this offseason mark the end of the Legion of Boom, if only because that sells the rest of a dynasty short. This is the end — at least for now — of a Seattle defense that perennially seemed like a threat to get healthy and run off a six-game stretch in which it allowed just 39 points, as it did at the end of 2014. It's the end of a defense that seemed to routinely come up with moments of absolute magic to save its struggling offense's bacon. It's one thing for Kam Chancellor to force a Calvin Johnson fumble at the goal line to win a game against the Lions in 2015; it's another for the fumble to seem preordained and normal, as if the Seahawks simply weren't supposed to lose.
The blackout days when it seemed like the Seahawks were simply going to will the other team into not scoring came less frequently over the past two seasons, but they were still there. Think about the truly bizarre 6-6 overtime tie against the Cardinals in October 2016, or the 16-10 victory over the Rams in Los Angeles this past season, keyed by Earl Thomas forcing Todd Gurley to fumble into the end zone for a touchback on a day in which the Rams' four red zone trips produced a total of three points.
That iteration of the Seahawks' defense, the one in which the default setting was greatness until proved otherwise? It's not there anymore. Seattle is going to shed too much talent this offseason — Richard Sherman and Michael Bennett, among others — and it's too much to ask of coach Pete Carroll and new defensive coordinator Ken Norton Jr. to develop half of a new defense on the fly. The Seahawks should still be competitive on that side of the ball, and a lot of teams would be deliriously happy to start their team with a pair of Hall of Famers in Thomas and Russell Wilson, but the embarrassment-of-riches, how-on-earth-do-they-have-so-many-superheroes era for the Seahawks' defense is over. And injuries are only part of the explanation why.
The changes
It's likely that the Seahawks will shed at least four key defensive starters this offseason, a group that combined for 11 Pro Bowl appearances during its time in the Pacific Northwest. The absences start up front, where the Seahawks just traded Michael Bennett to the Eagles in what amounted to a salary dump; they swapped Bennett and a seventh-round pick to Philadelphia for a fifth-round selection and reserve wideout Marcus Johnson, who caught five passes during his debut campaign last season.
It appeared that the Seahawks simply wanted to move on from Bennett and chose the best possible offer. There were reports that the Patriots offered a third-round pick for Bennett and a fifth-round selection, which sounds more tempting, but that trade could very well have seen the Pats send the 95th selection, a pick at the bottom of the third round, for the 141st selection, one of the first picks in the fifth round. Advanced draft value charts, like the one built by Football Perspective's Chase Stuart, suggest that the Eagles' offer was likely better if the Seahawks valued Johnson at anything more than a late seventh-rounder.
There's not much in the way of cap savings with Bennett, who had a wholly reasonable three years and $22.2 million remaining on the extension he signed with the Seahawks at the end of the 2016 campaign. The deal frees up just $3.2 million in cap room this year. Seattle will save more when they likely move on from fellow defensive end Cliff Avril, whose NFL future is in question after suffering a neck injury last season. The Seahawks would free up $7.1 million by waiving Avril, who produced 34 1/2 sacks in a little over four seasons in Seattle.
It's plausible that the Seahawks expected to move on from Avril regardless of his injury, given that he was entering the final year of his deal and likely to be replaced in the starting lineup by Frank Clark. They might actually be able to get by up front if general manager John Schneider plays his cards right. Clark, who is entering the fourth and final year of his rookie deal, is likely in line for a hefty extension after racking up 19 sacks over the past two seasons. Clark is set to count for a cap hit of only $1.2 million this year, and the Seahawks could choose to let him play out his rookie deal before franchising him next offseason, but the 24-year-old is going to get a new deal in the range of $15 million per year, whether from Seattle or another organization.
Clark could be joined on the outside by Dion Jordan, who quietly picked up four sacks in just 61 pass snaps this past season. It would be foolish to expect that sort of production on a regular basis, but he flashed some of the athleticism that led the Dolphins to trade up for him in 2013, like this absolute flattening of Cardinals swing tackle John Wetzel last season. It's also logical to think that the Seahawks could use some of the money they saved to retain defensive tackle Sheldon Richardson, who was a huge hit in run support and chipped in with seven quarterback knockdowns in 2017. If the Seahawks get back Malik McDowell after their top 2017 draft pick missed his entire rookie season with injuries suffered in an ATV wreck, they could still have a deep, promising defensive line.
It's hard to make that same case in the secondary, where Schneider handed out an extension that he couldn't have expected to go bad. Chancellor was set to become a free agent after the 2017 season, and when the Seahawks drafted Delano Hill in the third round last year, it seemed like the Michigan product might convince the Seahawks to let Chancellor leave in free agency.
Instead, Schneider re-signed Chancellor to a three-year, $36 million extension in August. Chancellor also suffered a serious neck injury during the 2017 season, and as Carroll intimated about Avril, it seems possible Chancellor might not be cleared to play for the foreseeable future. Chancellor's $6.8 million base salary became guaranteed on Feb. 9 when he couldn't pass a physical, and regardless of whether he's able to suit up, the Legion of Boom member will be on Seattle's books for a $9.6 million cap hit in 2018, the second-largest mark for any strong safety in football.
The biggest name, of course, is legendary cornerback Richard Sherman. The 29-year-old was struggling with an Achilles injury for most of the year before rupturing the Achilles during a Thursday night game against the Cardinals in Week 10. Sherman's injury placed the Seahawks into a bind, given that the four-time Pro Bowler was entering the final year of the four-year, $56 million extension he signed before the 2014 season. The Seahawks were in line to pay him an $11 million base salary, none of which was guaranteed.
With that in mind, Schneider made his move. ESPN's Adam Schefter reported that the Seahawks intend to cut Sherman, which will free up that $11 million. It's unsurprising that the league wouldn't have much interest in a player with one year left on his contract coming off of a torn Achilles, so a trade never came through. The Seahawks likely wanted Sherman to take a pay cut to stay, but this likely falls underneath the umbrella of what I call the hometown premium, when an offer from a longtime home doesn't seem as appealing as it would on the open market.
It's far more difficult to imagine how the Seahawks will replace Chancellor and Sherman with players on their current roster. Jeremy Lane has also been released, leaving the duo of promising third-round pick Shaquill Griffin and special-teamer Justin Coleman as Seattle's starting cornerbacks. Dolphins castoff Byron Maxwell could return, but he and DeShawn Shead, recovering from a torn ACL, are both free agents. Nickel safety Bradley McDougald is also on the market after an uninspiring year in Seattle, while Hill played just 30 defensive snaps as a rookie.
The missing generation
If the options lurking behind these absent stars seem uninspiring, well, they are. There has been a problem looming for the Seahawks over the past few years, and it's an issue they realistically couldn't have expected to pop up after what might have been one of the best drafts in league history delivered the Seahawks Bruce Irvin, Bobby Wagner and Wilson with their first three picks in 2012. After building their team around a staggering number of successes in the early and middle rounds of the draft, Schneider and the Seahawks have been floundering in the draft over the past few years.
Even given the fact that the Seahawks have generally been picking toward the end of each round during their remarkable run of success, they should have come away with far more talent from the four drafts after their 2012 masterclass. That's in part due to trades, but the swaps Schneider made didn't pay off, either. Let's run year-by-year:
In 2013, the Seahawks were down a first-round pick after trading their top selection, a seventh-round pick and a 2014 third-rounder to the Vikings for Percy Harvin. While Harvin did return the second-half kickoff for a touchdown in Seattle's Super Bowl XLVIII victory, it pushed what was already a 22-point lead to 29 points. Harvin otherwise played six regular-season games for the Seahawks before injuries and locker room problems led Schneider to trade Harvin to the Jets for what ended up as a sixth-round pick.
Minnesota used the picks Seattle traded to draft Xavier Rhodes and Jerick McKinnon, each of whom played meaningful roles in their run to the conference championship last season. The decision to keep Harvin also likely helped the Seahawks decide to let Golden Tate leave in free agency, and he has been a huge success for the Lions.
The Seahawks still had 11 selections in the 2013 draft after the Harvin trade, but it's hard to imagine a less impressive haul. The only player left on the roster from this draft by the end of the season was tight end Luke Willson, who is a free agent. The five selections ahead of Willson, a group led by Christine Michael, were all out of football last year. The only other player besides Willson to start 10 or more games in a season from this draft was Spencer Ware, who did so for the Chiefs.
Coming off of their Super Bowl victory and entering the 2014 draft, the Seahawks again made a trade with the Vikings, this time trading down to let Minnesota choose Teddy Bridgewater. Schneider traded down twice more, but the picks he made didn't amount to much. Justin Britt, the team's final selection in the second round, emerged as a useful starter along the Seattle offensive line. The only other Seahawks selection to emerge as a starter was Paul Richardson, and he's likely to leave in free agency. Contributors such as Cassius Marsh, Kevin Norwood and Kevin Pierre-Louis are no longer on the roster. Britt is likely going to be the only 2014 draftee left in Seattle come September.
Another trade impacted the 2015 draft, when the Seahawks traded Max Unger and their first-round pick as part of a deal for Jimmy Graham. Graham was a disappointment before suffering a torn patellar tendon in 2015, and while he recovered to play in 2016, his most impactful season as a Seahawks tight end came in 2017, when he racked up 10 touchdowns with just 520 receiving yards.
This was the most productive draft of the bunch, but even it doesn't sit well, given that the Seahawks drafted Clark at the end of the second round following a domestic violence case that got him kicked out of Michigan. Schneider traded four selections and what amounted to a first-round pick's worth of value to move up and acquire Tyler Lockett, and while Lockett flashed as a brilliant return man and after-catch weapon in 2015, he struggled to make his mark in 2016 before suffering a devastating broken leg at the end of the campaign, which slowed his 2017 season. The only other draftee left on the roster is fourth-round pick Mark Glowinski, who might have been the worst of Seattle's many dismal offensive linemen over the past two seasons.
Finally, in 2016, the Seahawks invested a badly needed first-round pick on an offensive lineman by taking Texas A&M product Germain Ifedi. He was middling as a rookie and horrific as a sophomore, leading the league with a remarkable 20 penalties, five more than the second-placed player, who happened to be Michael Bennett. Jarran Reed entered the defensive tackle rotation last season, but the returns on the rest of the draft aren't promising. C.J. Prosise can't stay healthy, while the Seahawks chose to move on from fifth-round pick Alex Collins, who had a breakout year in Baltimore. Tight end Nick Vannett has been buried on the depth chart, while fellow third-rounder Rees Odhiambo gave Glowinski and Ifedi a run for their money. With five top-100 picks, Reed looks like the only guy the Seahawks would draft again two years later.
Over four drafts, the Seahawks drafted five players — Britt, Clark, Lockett, Reed, and [deep sigh] Ifedi — who are likely to be starters for the team in 2018. Over their previous three drafts, Schneider and the Seahawks might have drafted four Hall of Famers in Sherman, Thomas, Wagner and Wilson, let alone an entire second tier of Pro Bowl-caliber contributors in guys such as Chancellor, Tate and Russell Okung. It would have been impossible for Schneider to keep that hit rate going, but nobody could have expected the Seahawks to fall off as much as they did over the four ensuing drafts.
As a result, the pipeline of young talent into the Seattle defense has disappeared. In 2012, 43.8 percent of Seattle's offensive snaps came from players on their rookie contracts. Five years later, a relatively similar mark — 42.5 percent — of their offensive snaps also came from guys on rookie deals.
On defense, 54.9 percent of those snaps in 2012 were from guys on rookie deals. Chancellor, Sherman, Wagner and K.J. Wright each had cap hits under $800,000, while Thomas (the lone first-round pick of the bunch) was at $3.7 million. In 2017, just 26.8 percent of Seattle's defensive snaps came from guys playing out their rookie deals, and 623 of those 3,075 snaps came from Richardson, who was acquired via trade and was playing out his fifth-year option at a cost of more than $8.1 million, more than those five young sensations from 2012 combined.
It's one thing to point out that the young players weren't likely to see as many snaps on a team with the Legion of Boom, Wagner, Bennett and Avril in the starting lineup. That's fair. Many of those guys got hurt, though, and when the Seahawks needed people to step up, they were mostly stuck turning to midtier free agents and imports. McDougald was seventh on the team in snaps. Richardson was acquired via trade in August. Coleman was a former Seahawks practice-squad player who spent two years with the Patriots. Michael Wilhoite was a former 49ers inside linebacker taking snaps on the strong side. Maxwell was signed off the street after the Dolphins gave up on him. Jordan, Dwight Freeney and Eagles castoff Marcus Smith entered the rotation at defensive end for stretches of time.
Every team hopes to find a player or two in veteran free agency or off a practice squad, but Carroll and Schneider wouldn't have planned to give 3,000 snaps to guys who hadn't spent their entire career in the Seahawks organization, not after their remarkable run of drafting and developing talent. These should have been the roles for guys such as Marsh, Jordan Hill and Tharold Simon, none of whom are left on the roster.
When the Seahawks handed out their long line of extensions to everyone from Sherman to Wilson several years ago, the plan was surely to keep some of their veteran talent and hope to develop young, cheap replacements to fill in for the guys who either weren't healthy enough to play or lost effectiveness as they got older. If the Seahawks don't make the Harvin trade, maybe they draft Rhodes, which gives them a No. 1 cornerback alongside Griffin as they move on from Sherman. If McDowell doesn't get into his ATV accident, the Seahawks probably don't need to trade away a precious second-round pick to the Jets for Richardson, nor do they need to commit an additional $8 million to $9 million per year to a defensive tackle. If Marsh had developed into a starter, the absence of Avril wouldn't feel so threatening.
To make everything work, the Seahawks kept the majority of their drafted core, re-signed Avril and Bennett, and tried to get by skimping elsewhere. They hoped that they could keep their roster together by saving money at receiver, but after re-signing Doug Baldwin and Jermaine Kearse and trading for Graham, they cut coupons along the offensive line. That didn't work, so the Seahawks drafted a bunch of guys in the early rounds, re-signed Britt, traded for Duane Brown, and gave Luke Joeckel an ill-fated one-year deal for $8 million.
At this point, the place where the Seahawks are apparently going to try to save money is in the secondary. It isn't the worst idea given that Carroll is a genius at developing defensive backs, but it will certainly be different for a fan base used to dominant secondary play. I also think the Seahawks can't really do it without Thomas, who was rumored to be on the trading block earlier this offseason. There just isn't anybody in the league like the Texas product, and with one year left on his deal, the Seahawks simply need to lock him up on another long-term contract.
The Seahawks are stuck paying Chancellor this year, but they can get out of his contract in 2019 with $5 million in dead money. Griffin is under contract for three more years on a cheap rookie deal. Shead could very well return on a low-cost contract. It seems likely that Seattle will invest at least one draft pick in a cornerback, hoping that Carroll can help develop him the way he developed late-round selections such as Maxwell and Sherman in years past.
Only one problem, then: The Seahawks are missing their second- and third-round picks as a result of the Brown and Richardson deals. It would hardly be a surprise to see Schneider trade down from No. 18 in the first round to try to get an extra top-100 pick, even given what happened last year, when Seattle repeatedly traded down and ended up with seven of the top 111 picks in the draft. The Seahawks need to acquire talented players on cheap contracts to fill in for that missing generation of draft picks. In the past, those guys needed to play only supplemental roles behind a team loaded with superstars. Now, the rookies and second-year players need to step in and develop immediately.
Things are going to be tough for the Seahawks in the short term. They're suddenly in a hyper-competitive NFC West, where the Rams seem built to last around Jared Goff and Sean McVay, and the 49ers suddenly have Jimmy Garoppolo, Kyle Shanahan and a ton of cap room. The worst team in this division is the Cardinals, and they were a .500 team despite getting one game out of David Johnson and playing quarterbacks Blaine Gabbert and Drew Stanton for most of the season. Seattle looked like it had a stranglehold on the West this time last year; now, it looks to be in the thick of a four-team race.
The legacy
We're going to look back on this Seahawks defense as one of the best over an extended period of time in league history. The Seahawks ranked first in points allowed four consecutive times from 2012 to 2015 before falling to third in 2016 and then to 13th last season. That five-year run from 2012 to 2016 saw them allow an average of 16.3 points per game in a league in which the typical team was allowing 22.9 points per contest.
To put this in context — and compare defenses across eras — we can use a stat called standard score, which measures just how dominant an individual example was across a broader population. In this case, we're going to look at how the Seahawks performed on defense over that five-year stretch versus the rest of the NFL, and then compare that to every other defense over every other five-year stretch since the AFL-NFL merger in 1970.
The table below lists the 10 best five-year runs by a defense since the merger. I've removed overlapping runs; as an example, both the 2011-15 Seahawks and 2012-16 Seahawks would qualify as two of the 10 best five-year runs in modern league history. To give more context and include more great defenses, I'm only including the best five-year run for each defense. In this case, that leaves the 2012-16 Seahawks in at the expense of the 2011-15 defenses.
I'll include each dynasty's standard score, but to make things a little easier, I'll also be translating their statistics to the most recent (2013-17) scoring environment, so we can estimate what that defense would look like if it were playing in the current NFL. Obviously, we can't account for rule changes, but this is a useful measure in comparing how dominant one defense was in its era versus another defense in its own.
What it tells us is that the Legion of Boom-era Seahawks had the best five-year run of any defense in post-merger NFL history:
The Seahawks are just narrowly ahead of the legendary Bears defenses of the mid-1980s. The Seahawks were 2.724 standard deviations below the mean, and the Bears were right behind them at 2.715. If your defense is being compared to the Mike Singletary-era Bears, you're doing something right. The other side of that is also true: The Sherman-and-Thomas Seahawks set a mark that the rest of the league is going to chase for decades to come. Even if this day inevitably had to come for Seattle, there's no joy to be had in seeing one of the best units in NFL history splitting up and going their separate ways.
Baltimore Ravens' Lamar Jackson calls Kansas City Chiefs 'our Kryptonite'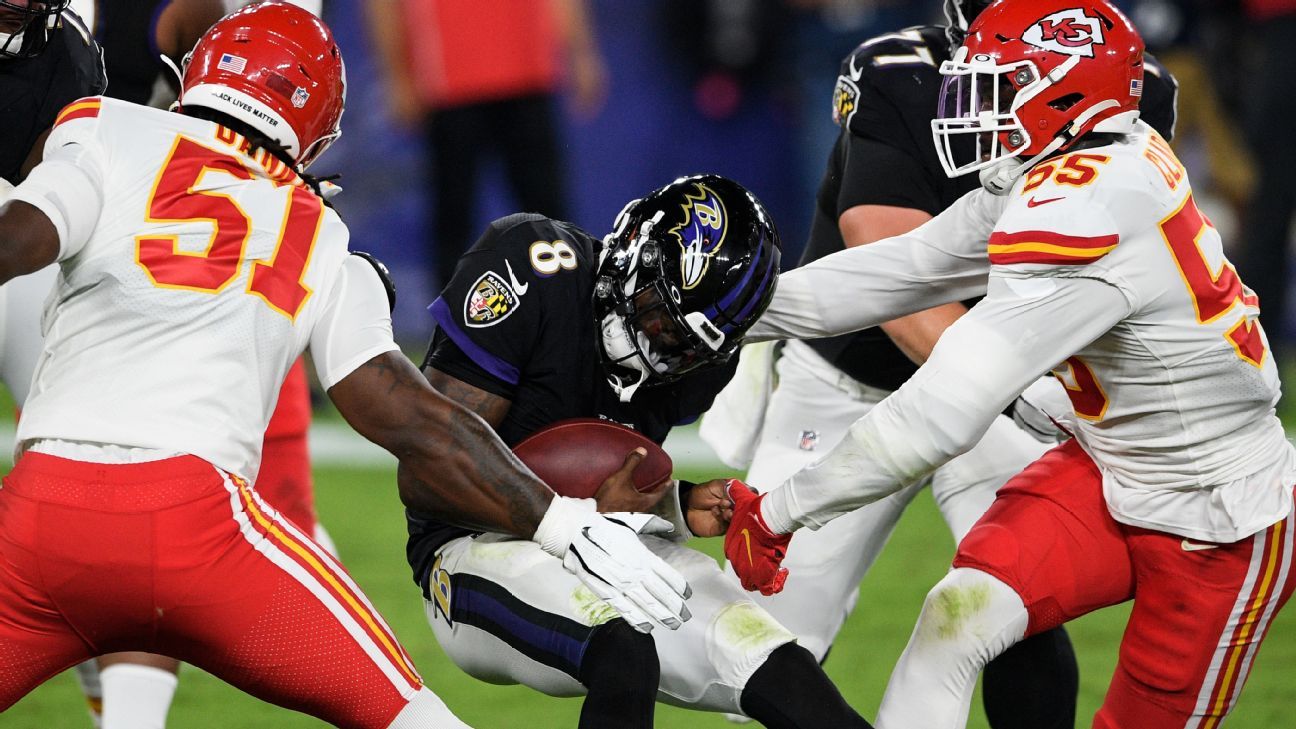 BALTIMORE — Lamar Jackson and the Baltimore Ravens stumbled against the Kansas City Chiefs once again, losing 34-20 on Monday Night Football in a game that ended their 14-game regular-season winning streak and left them feeling stripped of their cape.
Asked how the Ravens can get over the hurdle of beating the Chiefs, Jackson interjected by saying: "Our Kryptonite."
Jackson fell to 0-3 against the Chiefs after passing for a career-worst 97 yards. He's 21-1 against the rest of the NFL in the regular season.
The reigning NFL MVP, Jackson has completed 67% of his passes against the other 31 teams with a 72.9 Total QBR. Against Kansas City, he has connected on 53% of his throws with a 58.5 QBR.
The Chiefs kept Jackson off his game by blitzing him on 35% of his dropbacks, compared to 29% by all other teams, according to ESPN Stats & Information.
"It looked like the same thing from the Tennessee game [2019 divisional playoff] to be honest — that's all," Jackson said.
The Ravens (2-1) had been the hottest team in the NFL. They hadn't lost a regular-season game in almost a full calendar year (their last defeat was Sept. 29, 2019 to the Browns). Baltimore had led at halftime in 11 straight games and hadn't trailed in the second half at any point in 13 consecutive games.
But Patrick Mahomes and the Chiefs scored touchdowns on four of their first five drives to jump out to a 27-10 lead in the second quarter. Baltimore closed to within 27-20 in the fourth quarter, but Kansas City responded with a 2-yard touchdown pass to left tackle Eric Fisher to seal the victory.
"I'm really looking forward to earning the right to try to face them again," Ravens defensive end Calais Campbell said. "I'm very confident if we played the game that we're supposed to, we can hang with those guys."
Even though it's Week 3, this loss could have ramifications for the Ravens in January. Baltimore's chances for capturing the No. 1 seed and home-field advantage in the playoffs dropped to 35% while Kansas City's chances increased to 43%.
Now, the Ravens have to wonder what it's going to take to beat the Chiefs if they meet them in the postseason.
"They beat us. They out-executed us. They out-game planned us. They just beat us," Ravens coach John Harbaugh said. "That's the story tonight. Big-picture stuff, all of that, I don't know. They're better, obviously. They're a better football team at this point in time."
The Ravens slipped out of first place in the AFC North for the first time since Week 15 of 2018, moving behind the Pittsburgh Steelers (3-0). That ended a streak of 21 weeks of holding at least a share of the lead in the division.
The Lamar Jackson-Patrick Mahomes rivalry isn't one yet
Patrick Mahomes and Lamar Jackson are many things — quarterbacks, playmakers, artists and friends. But right now, one thing they are most certainly not is rivals.
Mahomes is too good to have a rival. He proved Monday night that he is playing a different game than everybody else, with the same wonderment in his eye he had as a kid shagging flies at the World Series that his father's Mets played against the Yankees two decades ago.
A fake jump pass. Precise throws against the grain. A perfectly placed long ball into the back of the end zone. A touchdown strike while taking a shot to the ribs. A six-point softball pitch to a fullback. A six-point lob to a left tackle. It all added up to pro football's Big Two being reduced to pro football's Big One.
The quarterback of the Kansas City Chiefs threw for four touchdowns and 385 yards, and ran for a score, while the quarterback of the Baltimore Ravens threw for one touchdown and 97 yards, and ran for no scores. The Ravens lost, 34-20, in a fashion that felt a bit similar to their flameout loss to the Titans in January, convincing nobody that they represent a good bet to ultimately unseat the Chiefs as AFC champs.
The night was rightfully advertised as a historic matchup of young megastars who have done their teams and their league proud through performance and generosity of spirit. Mahomes had a Super Bowl ring and a league MVP award at age 24. Jackson became the youngest quarterback to win a league MVP award at 23. The distance between the two of them, today, is wider than that sounds. Mahomes is 3-0 against Jackson, and, of course, holds a 1-0 lead in Super Bowl titles.
Monday night offered a clash of the NFL's two most exciting franchise players and their distinct styles. Unlike the quarterbacks who defined the sport's last epic rivalry, Tom Brady and Peyton Manning, Jackson and Mahomes don't quite play the same game. Jackson has great feet and a very good arm. Mahomes has a great arm and very good feet. When they decide to abandon the pass and take off with the ball, they deploy a different approach to the process.
One looks like he's ripping the heart out of the defense. The other looks like he's playing a practical joke on the defense.
"Mahomes makes great runs, but his runs are like freeform, off-the-cuff," said Joshua Harris, Jackson's personal coach. "Even his running style is almost playground-ish; it's almost like he's laughing while he's running. He doesn't look like he's really moving, but he's getting chunks.
"Lamar runs on a mission. He runs with bad intentions, and he's trying to score. Nobody runs like Lamar runs. I don't even think running backs run like him."
Mahomes ran mischievously for a 3-yard touchdown in the first quarter. Jackson rushed with more force for 83 yards, or 57 more than his counterpart did, but never found the end zone. Edge, and a big one, to the reigning Super Bowl MVP.
---
The good news for Baltimore fans? This was a hyped-up regular season game and Jackson has plenty of time to catch up to Mahomes to make this a true rivalry. Manning lost his first six meetings with Brady, but ended up winning six of the final 11, including their last three duels in the AFC Championship Game.
The better news for NFL fans everywhere? Sometime in the not-too-distant future, people might look at the classic pocket passer the way they now look at a rotary phone, a typewriter or a grainy film of a basketball player taking a two-hand set shot.
"In our minds," said Harris, "when we're talking 10 years from now, that generation will be like, 'What, the quarterback didn't run in the past? What were you idiots thinking? You just wanted him to stand there and get pummeled?"
Pro football has finally embraced the obvious, more than a few decades too late, allowing Jackson and Mahomes to turn Monday Night Football into a showcase for arguably the two most accomplished young quarterbacks ever.
Jackson's inability to beat his friend isn't for a lack of trying. This past offseason, he again worked on his game with his tutor, the 39-year-old Harris, a former college defensive end who has been a throwing coach, a serviceman in the Air Force, a lawyer, an English teacher, and a college team chaplain — a Renaissance man who has helped Baltimore's quarterback redefine the position. Harris thought Jackson didn't throw the deep ball late last year as consistently as he did earlier in the season, so they worked on tilting his shoulders for an improved trajectory and an easier ball for receivers to find in mid-flight. Coach and pupil also worked on aligning Jackson's feet and using his lower half to achieve maximum velocity on passes traveling outside the numbers.
Harris half-jokingly asked Jackson to ease up on his fascination with sidearm passes. "It's effective," Harris told him, "but let's not do it all the time."
Jackson's stated goal, according to Harris, is "to be Tom Brady with 4.4. speed." But if he wants to go down among the greats, Jackson knows he needs to win the Super Bowl, more than once. And as much as he says he focuses on an opposing team's defense, not its quarterback, Jackson had to be motivated by Mahomes' MVP performance in his Super Bowl victory over San Francisco.
"It was a source of inspiration," Harris confirmed. "But I love the way it formed and shaped in Lamar's mind. It was, 'Let me be a part of that club. Man, that's awesome for Pat, now I want to join that same team.'
"Lamar wants to be the best, but he genuinely loves every other player. He's a fan of Mahomes, and Deshaun Watson, and Kyler Murray. The rivalry is Lamar vs. Lamar, and I love that about him. He's the right guy to be one of the leaders of this revolution and new way to play the game, and probably the right way to play the game."
---
Archie Manning laughed the other day when told that the NFL had finally come back around to his style of quarterbacking, passing the lead-footed likes of his sons Peyton and Eli along the way. Archie ran for his life more than he actually ran for the horrid New Orleans Saints of the 1970s, but he did rush for 14 touchdowns and more than 500 yards during one season at Ole Miss, and he did run a 10.2 in the 100-yard dash. They didn't regularly time players in the forty back then, but when Archie was asked to do it — by an Oakland Raiders scout before the 1971 draft — he ran a 4.6 with a cast on his broken arm. Manning wasn't Lamar Jackson, but the man could move.
Archie said he is proud of the success of his former Manning Passing Academy counselors, Jackson and Mahomes, who were among 40 top college quarterbacks who attend the camp every year.
"I loved watching Lamar play in college," Archie said. "This is a different thing happening at the quarterback position now, and Lamar and Patrick are leading the way. I think there will always be a place in pro football for a pocket passer, for a Brady or a Peyton, but I think what these young quarterbacks are doing now is great for the league. I just want them to get down.
"With the athleticism and size and strength of linebackers and safeties, it's more dangerous now than when I played."
On the rivalry that he lived every day with his son, Archie said that Peyton always felt he was competing against Bill Belichick more than he was competing against Brady. But Archie conceded that Peyton's AFC Championship Game victories over New England minimized the legacy damage done by Brady's considerable advantage in Super Bowl rings (6-2) and in their 17 head-to-head meetings (11-6).
Lamar Jackson does not have to worry about climbing out of those kinds of depths — yet. For now, Jackson cannot spend any time or energy on winning his rivalry with Patrick Mahomes.
He needs to focus on making it a rivalry first.
Kansas City Chiefs' Patrick Mahomes fastest to 10,000 passing yards
Kansas City Chiefs quarterback Patrick Mahomes became the fastest passer in NFL history to 10,000 career yards in the first quarter of Monday night's 34-20 win over the host Baltimore Ravens.
Mahomes, in his 34th regular-season start, completed a 13-yard pass to Travis Kelce that put him over the 10,000-yard mark. Kurt Warner previously held the record at 36 games.
Mahomes finished with 385 yards with four touchdowns and no interceptions. He tied Detroit Lions quarterback Matthew Stafford for second-most in three passing-TD games at age 25 or younger with 17, surpassing Peyton Manning. Dan Marino holds that mark with 28.
Mahomes in his first season as a starter in 2018 became only the second quarterback in NFL history to throw for 5,000 yards and 50 touchdowns in one season.