Harper vs. Stanton. Ichiro vs. MadBum? Picking the perfect Aaron Judge-less Home Run Derby field – Buster Olney Blog
The day after Aaron Judge won the Home Run Derby in July, the world's best hitter stood near the batting cage and explained why he had found himself awed by Judge's power. "People don't understand how hard it is to do what he did," Joey Votto said, motioning toward that distant area in right-center field where so many of Judge's home runs had landed.
Judge was the perfect Home Run Derby champion: He's the biggest player in baseball history, he wrecked the competition and he had fun, with grace — he would not start the trophy ceremony until Danilo Valiente, his batting practice pitcher, was located and placed by his side to share credit. So yes, it's disappointing that we won't see the Judge fireworks again, assuming he doesn't change his mind (and I'd pin the odds of that somewhere below the chances of the Marlins winning the World Series this year).
But it's his prerogative to do what he wants, maybe to protect his surgically repaired shoulder, and the show must go on. Here is the Judge-less Home Run Derby field we'd love to see this July:
The All-Star Game is in Washington during the final season before Harper reaches free agency, and he has indicated he will be ready to go, if asked (and if healthy).
Spoiler alert: He will be asked.
Extroverts draw energy from those around them, and introverts expend energy when around others. In a smaller parallel world, the same can be said for Home Run Derby participants: Some find it to be a grind, and some really seem to love it — and Stanton seems to be a Derby extrovert. He has seemed to love it in the past, and a final between Stanton and Harper might provide the best possible showdown.
What the Rangers first baseman hits can't be classified as merely home runs. They are epic; they are moonshots. He hits them higher — and usually farther — than anybody else, and at 6-foot-5, 230 pounds, Gallo would be a legit threat to win the Derby.
The Yankees catcher took down Stanton last year and is fully capable of winning this event. After a few months of living in the shadow of Judge and Stanton, maybe he'd like another shot at center stage. (And if he gets the trophy, maybe he could help coax Judge out of Derby retirement in some future year for a showdown.)
The best player on the planet already has 201 career homers at age 26, and if he ever wanted to participate, you know Major League Baseball would love to have him. And he should be asked.
But presumably, he'll say no. Which leads us to…
Trout's fellow New Jersey native put on arguably the greatest Derby show ever in Cincinnati in the first year the event went to an improvised timed format, and the infectious enthusiasm of Frazier and his pitcher — his brother Charlie — helped breathe more life into the event. Frazier, the ultimate extrovert, would only make this more fun.
Jose Altuve or George Springer or Carlos Correa
Altuve would be the mouse among elephants, but he has legitimate pop and hit 24 homers each of the past two seasons — but he'd probably say no. Springer has said no in the past. Correa may well say no. But it's never a bad thing to try to get a World Series champion into the mix.
This is a big platform season for Machado, who will hit the free-agent market with Harper next fall and will get an enormous deal. As one of the most-discussed players in baseball this summer, he'd be a good get for MLB for this event.
When he took his first rounds of batting practice in Arizona this year, his Angels teammates texted each other about Ohtani's big power — and no one can dispute his star power. Ohtani's participation would pump up worldwide ratings, and hopefully someone asks him. But as teams prepared to bid on him, they learned that he is mostly a private person and all about baseball, so it seems a stretch that he would do this.
The first time I ever saw the 5-11, 175-pound Ichiro take batting practice, future Hall of Famer Pat Gillick — then the general manager of the Mariners — walked over and warned me: "Pay attention to his last round of batting practice — he's got a lot of power." Sure enough, Ichiro slammed ball after ball after ball into the right-field stands, making perfect contact with his precise eye-hand coordination.
Ichiro wouldn't hit them nearly as far as Stanton or Gallo or Harper, but he is so disciplined and so specific that he might find a way to put up a fight. That would be a lot of fun to watch, and the 44-year-old would be the crowd favorite, behind Harper.
When we first mentioned Bumgarner's desire to be in the Derby a couple of years ago, another player asked me derisively, "Do you really think he would have a chance against the greatest home run hitters in the world?" The player argued vehemently that there are position players more deserving than the Giants pitcher.
Which sort of misses the point. The Home Run Derby, at its best, is supposed to be a spectacle. It's supposed to be fun. It's supposed to be interesting. It's not an SAT test of hitting acumen.
Last year, the 6-5, 250-pound Bumgarner had home runs with an exit velocity of over 115 mph, higher than most hitters. His participation would be interesting, and he would try to launch balls to the distant Capitol.
But Aaron Judge, always know that if you change your mind, the baseball world would love to have you back in the Derby.
Toronto Blue Jays clinch first playoff berth since 2016 season
BUFFALO, N.Y. — Hyun-Jin Ryu pitched seven shutout innings and the Toronto Blue Jays clinched their first postseason spot since 2016, beating the Yankees 4-1 Thursday night and further damaging New York's chances of hosting a first-round playoff series.
New York lost for the fourth time in five games and remained two games behind the slumping White Sox for the fourth seed. Chicago lost 5-4 at Cleveland, its fifth straight defeat.
Toronto secured at least an AL wild-card spot and ensured its eighth trip overall to the postseason.
Blue Jays players embraced on the diamond at their temporary home of Sahlen Field in Buffalo after Rafael Dolis struck out Aaron Hicks to end it.
The Blue Jays trail the Yankees by two games for second place in the AL East. Both teams have three games remaining. Toronto hosts Baltimore in Buffalo while the Yankees host the Marlins.
New York failed to hit a homer for the fourth straight game, matching its longest drought since June 2016. It's the first time the Yankees have failed to homer in a four-game series since doing so at Texas in July 2013.
New York loaded the bases with two outs in the eighth, but pinch-hitter Gary Sanchez flied out to deep center, where Randal Grichuk made a leaping catch at the wall.
Vladimir Guerrero Jr. homered for Toronto.
Ryu (5-2) scattered five hits, walked two and struck out four. Luke Voit and Hicks hit back-to-back singles to begin the sixth but Ryu struck out Giancarlo Stanton, got Gleyber Torres to fly out and retired Gio Urshela on a ground ball.
Dolis got four outs for his fifth save in six chances.
Ryu became the first Blue Jays starting pitcher since Aug. 22, 2019, to pitch into the seventh, pitching around Clint Frazier's leadoff single by setting down the next three, including pinch hitter Aaron Judge. The left-hander lowered his ERA from 3.00 to 2.69.
The Blue Jays finished 5-5 in their 10-game regular season series against the Yankees.
The Associated Press contributed to this report.
Los Angeles Dodgers bring Walker Buehler off IL as playoffs approach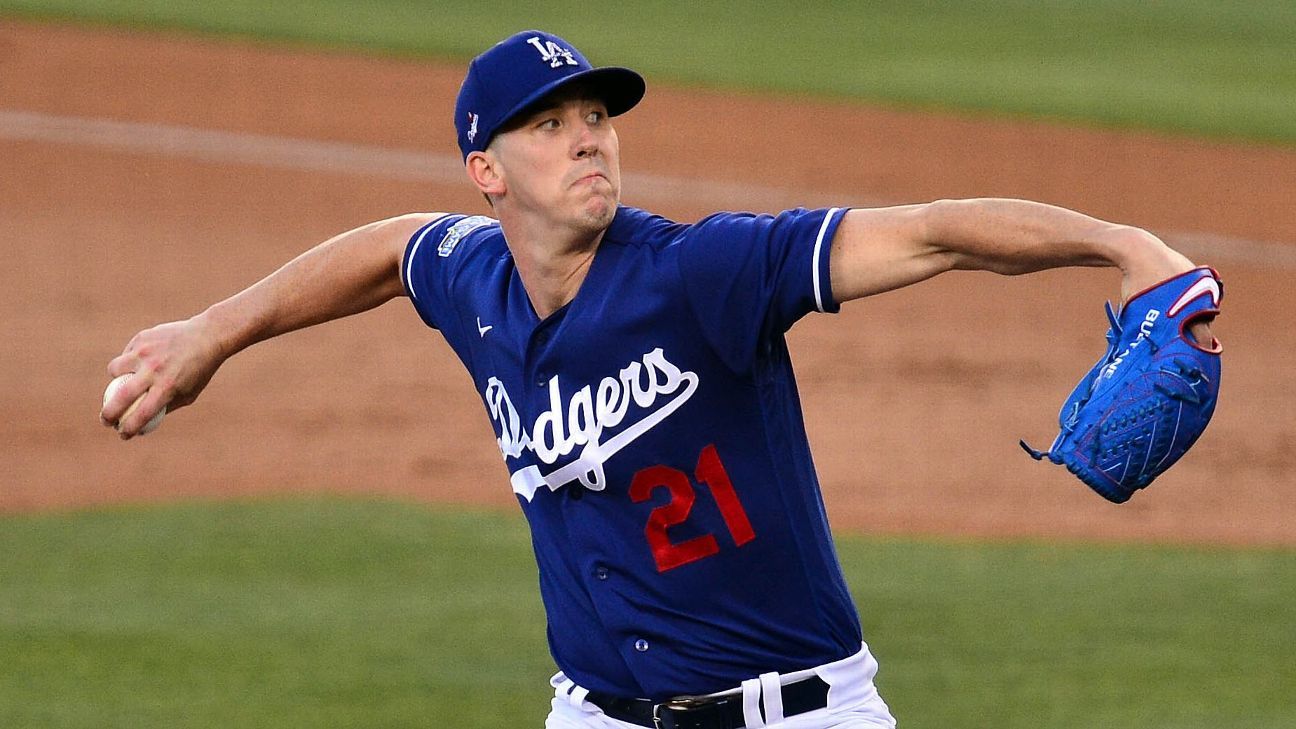 The Los Angeles Dodgers activated Walker Buehler, who has been dealing with a blister on his right index finger for about a month, off the injured list Thursday for one final tuneup start before the postseason.
Buehler, 26, was placed on the IL because of that blister for the second time in two weeks on Sept. 10, but the right-hander threw a six-inning, 90-pitch simulated game at Dodger Stadium on Saturday, throwing the first 75 pitches with his finger uncovered.
Dodgers manager Dave Roberts said he would be monitoring Buehler "pretty closely" in his return against the Oakland Athletics and that the primary objective is to ensure he doesn't suffer a setback. Buehler recently sought advice from former Dodgers starter Rich Hill, who has dealt with blisters throughout his career.
"Walker feels really good, confident, the finger itself in a good place," Roberts said. "It's just up to all of us to make sure we just manage it tonight. He wouldn't be making this start if we didn't feel good as far as him taking on a regular start."
The Dodgers are still ironing out most of their pitching plans for the best-of-three wild-card series that begins at Dodger Stadium on Wednesday, partly because the team might not learn its opponent until the end of the week.
Buehler and Clayton Kershaw are expected to start the first two games, but the Dodgers have yet to determine the order. A potential Game 3 could see the Dodgers deploy an opener, with the traditional No. 3 starter — either Julio Urias, Dustin May or Tony Gonsolin — pitching bulk innings later in the game.
Buehler wasn't properly stretched out when Major League Baseball restarted and has logged only 32⅔ innings heading into his final regular-season start, posting a 3.86 ERA with 36 strikeouts and 10 walks. Most of his recent work has come in controlled environments.
"He's still pitched and understood what's at stake in these sim games, and I expect him to be sharp," Roberts said. "You're one start away from the postseason, so I expect him to be sharp and ready to go."
Chicago Cubs planning for reduced capacity at Wrigley Field to start 2021 MLB season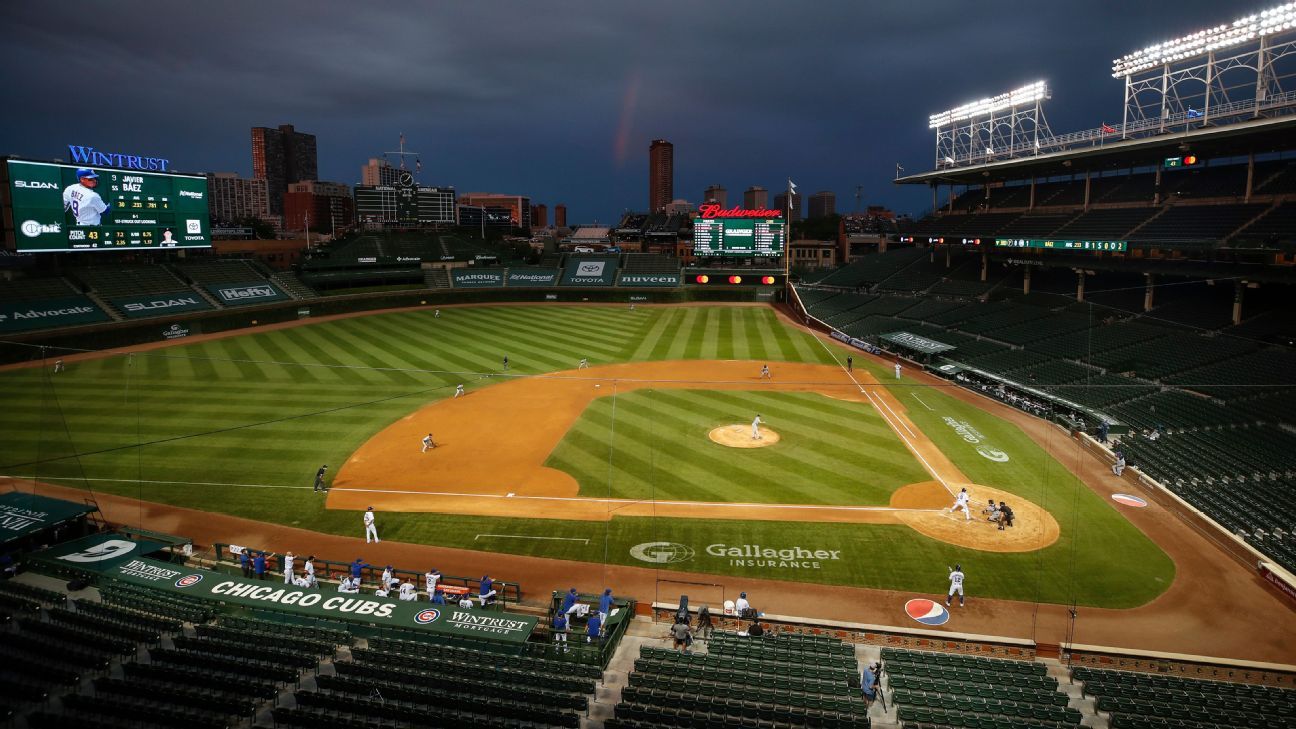 The Chicago Cubs laid off about 25% of their business staff on Thursday because of a loss in revenue and in anticipation of an uncertain 2021, sources familiar with the situation told ESPN.
The move follows a significant round of cuts on the baseball side in August.
Based on advice from medical experts, as well as restrictions because of local ordinances, the Cubs are not expecting full capacity inside Wrigley Field at the beginning of next season.
It's possible only season-ticket holders will be allowed to attend games. They'll get first priority as they make up about 50% of overall ticket holders, which is about the same capacity the team is expecting to allow inside the stadium.
The Cubs expect to miss out on about 75% of their revenue in 2020, according to sources, because of the COVID-19 outbreak that has limited the season to 60 games, without fans in the stands. That could add up to a $125 million to $140 million loss.
Uncertainty in the next collective bargaining agreement between the league and its players also is contributing to the overall financial picture of the Cubs, according to sources.
"This is through no fault of their own and had nothing to do with their performance, talent or contributions," a team source said when asked by ESPN about the lost jobs. "This was a difficult decision but the goal was to restructure the organization based on the current operating environment with losses of more than $100 million anticipated next year. We're no longer a business that welcomes 3.3 million fans and we're not sure when that business will resume."
The team is hopeful to get back to full capacity at Wrigley Field later in the 2021 season, but with no guarantee from medical experts about when there might be a vaccine, the team is preparing for reduced capacity for as long as necessary.