Fantasy Baseball — Will Jake Arrieta be great or just good with the Phillies?
New Philadelphia Phillies right-hander Jake Arrieta is still a good starting pitcher, no matter how one defines the word "good." He is just not likely to be a great one, and that is good for realistic fantasy managers who have perspective. After all, Arrieta won the NL Cy Young award in 2015 and was basically awesome. Fantasy managers won championships thanks to him and his Chicago Cubs a playoff series. Last season, Arrieta, perhaps the version we are likely to see moving forward, posted a 3.53 ERA – double his 2015 mark – 37 hurlers delivered more quality starts. The Cubs did not seem interested in a reunion.
The current ADP – sure to rise in the coming days — for Arrieta is just outside the top 100 overall and 26th among starting pitchers, and while it is fair to wonder whether this 32-year-old will continue his downward trend, perhaps that is unreasonable too. We would all be fine with another 3.53 ERA, 1.22 WHIP and nearly a strikeout per inning. The 11th round of a roto draft – and a bit later for a points version – makes sense. That is the rub; Arrieta in the 11th round is a good spot,– just good — but no longer special.
For those wondering about the trends, well, there are myriad. Arrieta averaged 94.6 mph on his fastball when he was arguably the best player in all of fantasy. In 2016, that fastball slipped to an average of 93.7 mph. Last season it was at 92.1. That is a very big deal. Let us not blindly presume he is heading the way of fallen Seattle Mariners king Felix Hernandez, but being purely objective, when a pitcher sees such a stark decrease in velocity that quickly, it tends to be worth worrying about either for statistical or health purposes.
Unfortunately, there is more. Arrieta permitted 26 home runs over 64 starts in 2015-16. Last season, Arrieta permitted 23 blasts in 168 1/3 innings, as his hard-contact rate spiked, left-handed hitters had far less trouble with his stuff and/or deception, and his ground-ball rate continued its predictive descent along with it. Arrieta's FIP was 4.16, which is below average and likely more reflective of how he pitched, rather than his ERA. Now, we can all live with an ERA even in that somewhat bloated range, in theory, if it comes with a decent WHIP and strikeouts and wins and … this just is not as sure a thing anymore.
All that noted, the Phillies clearly needed Arrieta, because after young right-hander Aaron Nola, the rotation was, shall we say, problematic and remains more questionable than strength. An Arrieta repeat of 2017 would work just fine for his new organization and for reasonable fantasy managers who do not blindly move him way up their rankings. In truth, I did judge Arrieta better a month ago as a borderline top-20 starter, presuming the free agent would find a team — likely a contender — and be ready for Opening Day, and it is reasonable to return him to that general region.
However, this season starts in less than three weeks. Arrieta might not be ready for the start of it, and the Phillies, certainly trending toward contention at some point, are not the Cubs, neither in overall scope nor with likely the offensive run support or defensive chops. It is also at least worth noting Arrieta moves to a hitter-friendly home ballpark unlike more neutral Wrigley Field, where Arrieta was considerably better each of his past two campaigns.
The bottom line on Arrieta is he remains a good pitcher and, hey, at least he signed a contract, so those who have already invested in him or plan to can at least accrue some statistics. There was becoming at least a modest concern that he might not. Arrieta is obviously not too old to supply several productive seasons like 2017, but he will need to somewhat stem the tide of the clear and present skills erosion. He still finished up as fantasy's No. 24 starting pitcher on the Player Rater, one decent outing from top-20 status. Arrieta is still a good pitcher. Just try to avoid making the mistake of calling him a potentially great one.
San Diego Padres back in playoffs for first time in 14 years
SAN DIEGO — The San Diego Padres are returning to the playoffs for the first time in 14 years after beating the Seattle Mariners 7-4 Sunday with a three-run rally in the 11th inning that included a go-ahead double by newcomer Mitch Moreland.
The clincher came in the finale of a series that was moved from Seattle because of poor air quality due to wildfires, so the Mariners were considered the home team and batted last. After closer Trevor Rosenthal (1-0), another newcomer, struck out Phillip Ervin for the final out, the Padres had a brief but joyous celebration in the infield. Then they gathered near the dugouts to get playoff caps and T-shirts.
Although Petco Park was devoid of spectators, a handful of fans watched from a rooftop bar just beyond left-center field and several others watched from balconies on an office building high above right field.
The loss by Seattle also locked up an American League playoff berth for the New York Yankees.
Each team scored in the 10th inning and the Padres started the 11th with Manny Machado on second base. Moreland, obtained in a trade with Boston on Aug. 30, lifted an opposite-field fly down the left-field line off Casey Sadler(1-1) and it dropped just in front of Tim Lopes. Machado, who held up halfway to third, hustled around and scored for a 5-4 lead.
The Padres added on with Jurickson Profar's RBI single and an error by second baseman Dylan Moore.
The Padres last reached the playoffs in 2006, when they won the NL West for the second straight season and were eliminated by the St. Louis Cardinals for the second consecutive year.
It's been so long since the Padres played in the postseason that two members of that team, closer Trevor Hoffman and catcher Mike Piazza, are in the Hall of Fame. One of that team's outfielders, Dave Roberts, is in his fifth season managing the rival Los Angeles Dodgers.
San Diego took a 3-1 lead on a 430-foot, three-run homer by Wil Myers, their longest-tenured player, into the shrubs in front of the batter's eye in straightaway center field.
The Mariners tied it when Moore, who struck out three times against starter Dinelson Lamet, hit a two-run homer to left off Emilio Pagan in the eighth.
Lamet held Seattle to one run and two hits while striking out 10 and walking two in six innings.
Fernando Tatis Jr. hit a go-ahead single in the 10th before J.P. Crawford hit a sacrifice fly in the bottom of the inning.
The Padres drew three walks in the first four innings from starter Justin Dunn, who also hit a batter with a pitch. San Diego stole three bases as well, but failed to score.
The Padres finally broke through in the sixth. Eric Hosmer drew a one-out walk and Moreland hit a ground-rule double with two outs before Myers homered on a 2-2 pitch to put the Padres ahead 3-1. It was his 14th.
Myers knew it was gone, and center fielder Kyle Lewis retreated to the warning track before turning and watching the ball sail well over his head.
The Associated Press contributed to this report.
Philadelphia Phillies' Bryce Harper exits game with lower back stiffness
Philadelphia Phillies slugger Bryce Harper exited Sunday's 6-3 loss to the Toronto Blue Jays with lower back stiffness after he struck out with the bases loaded in the seventh inning.
Harper took a slow walk in the dugout toward the clubhouse and signaled to manager Joe Girardi he was done for the day.
Girardi said Harper will get treatment and Harper's status for Monday's game is unknown.
Harper has 11 homers and 28 RBIs for the Phillies, who are trying to hang on over the final week and secure their first playoff berth since 2011.
The Associated Press contributed to this report.
How Dodgers phenom Gavin Lux wants to make a difference in Kenosha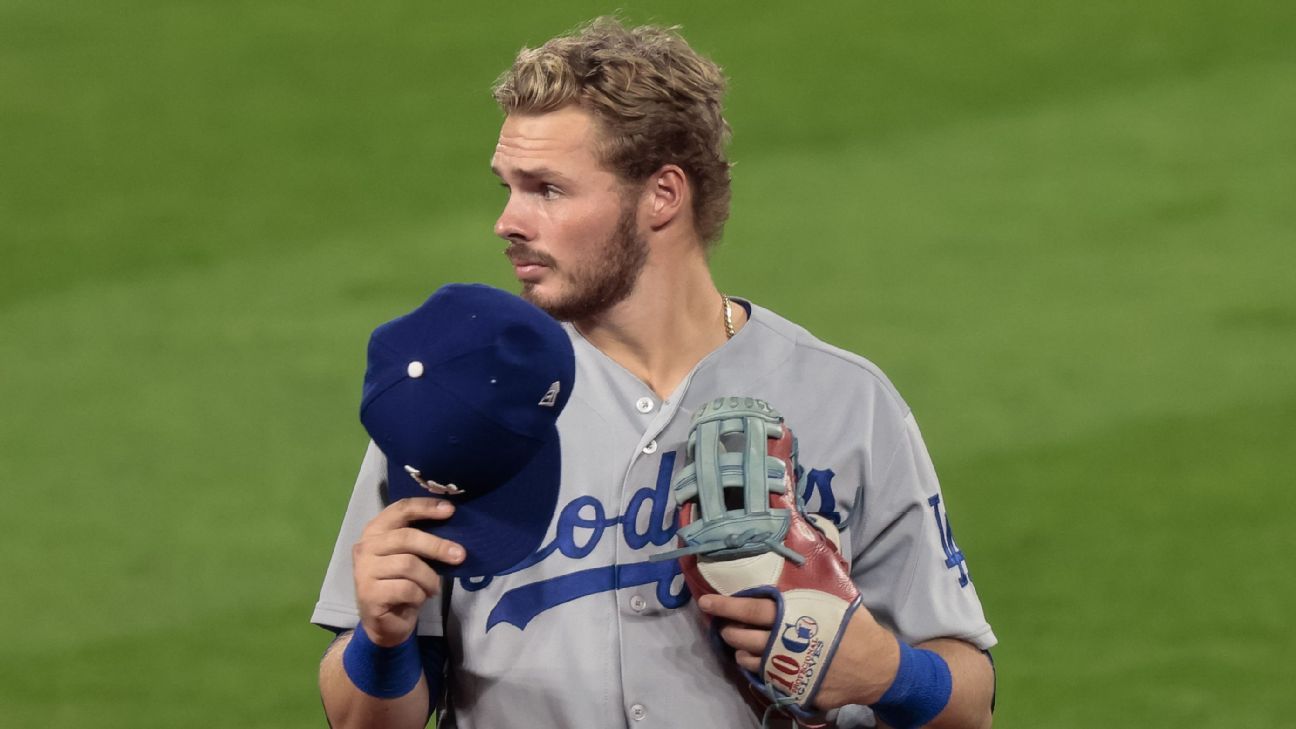 Gavin Lux is only 22 years old, still technically navigating through his rookie season. He's trying to figure out his swing, trying to learn the pitching in Major League Baseball, trying to live up to the lofty expectations of being a highly rated prospect and trying to carve out a role on a Los Angeles Dodgers team that stands among the most talented in recent memory.
Lately, though, Lux has found himself consumed by his hometown of Kenosha, Wisconsin, a lakeside community of around 100,000 people that has become embroiled in the racial tension that has risen across the nation over the last four months.
Jacob Blake, a 29-year-old Black man, was shot seven times in the back by a white police officer with his three children in the car on Aug. 23, sparking several nights of protests that escalated into violence and led to the shooting death of two demonstrators.
Lux has spent a lot of these past few weeks thinking about his family and friends back home, particularly his brother-in-law, a cousin of Pro Bowl running back Melvin Gordon, and his nephew, both of whom are Black.
It helped spur him into action.
"I can't look at my nephew in the eye and say, 'Hey man, I didn't fight for you,'" Lux said. "Naw, I can't do that."
Lux has been in touch with business owners and community leaders to gather intel on the best ways to help. The details are still hazy, but he has vowed to be proactive. He wants to set up a fundraiser for the businesses that have been impacted, and he wants to get back into the community as soon as the Dodgers' postseason run is over. The hope is to put together some sort of charitable event, perhaps a softball game or a 3-on-3 basketball tournament, to raise money and help bring the community back together.
"I feel like anybody can just write a check," Lux said, "but this is where I grew up."
Gordon is also from Kenosha. So is Minnesota Vikings cornerback Trae Waynes and social media influencer Tristan Jass. Lux is hoping to recruit all three in an effort to slowly pick up the pieces. Before a recent game against the Colorado Rockies, Lux spoke to ESPN about the dynamics of his hometown and the challenges it faces. (This conversation was edited for brevity and clarity.)
How quickly did you realize you needed to do something?
Lux: It took a couple of days just to sit and talk to some family members and some friends and some other people in the community that were affected. I was like, "Man, there's gotta be something I could do to use my platform to be able to help."
What were you hearing from your friends and family members about what it was like over there during that time?
Lux: It was a crazy time. A lot of different people were affected, businesswise, a lot of families were affected. They just said a lot of the city was struggling and that it was definitely just a completely different vibe from what it usually was. The community, for me, feels like it's a tight-knit community. It's not a super small city, but everybody kind of knows everybody, it feels like. Just to see everybody go through it a little bit, it kind of hurt me.
You've spent the vast majority of your life immersed in being a baseball player, and so much of your mindset has been set on what it's going to take to get to the major leagues and stay there. Had you gotten to a point where you thought far enough ahead about how you would ultimately use your platform, or did this event trigger that for the first time?
Lux: It's always in the back of my mind, but for it to hit so close to home, it caused a trigger where I was like, "Man, I do have a little bit of a platform, I can help. How can I help? What is the best way to help?" Those were kind of the thoughts that went through my head. Having it happen in my hometown definitely triggered it. But you see guys on our team like [Justin Turner] and [Clayton Kershaw] doing so many good things in the community, Mookie [Betts]. Pretty much everybody on our team is doing something good. Just being around those guys and seeing what they're doing — it rubs off on me where it makes you want to help people and do good. That's how it happens, you know?
How would you describe what it was like to grow up in Kenosha?
Lux: Everyone supports each other, and it really does feel like a tight-knit community. It's right next to the water, you're always going to the beach in the summer, stuff like that. I love the city. People might have the wrong [impression] about it, but it's a really good city. And to grow up there, I feel lucky.
This can be difficult to pick up on while you're still growing up, but did you ever consider it to be a racially divided city?
Lux: No, I don't think so. Honestly I don't. I don't know if what happened triggered that. But I honestly don't think it is. I really don't. You see these protests and you see people doing these gatherings and stuff like that, and there's people from all different walks of life. To say it's racially divided — I don't think it's accurate at all.
What was Aug. 26 like for you? Your hometown NBA team [the Milwaukee Bucks] decides to boycott a playoff game, and then later that night you're in the clubhouse in San Francisco where your teammates ultimately decide not to play against the Giants.
Lux: I support our whole team, obviously. I support equality and all that. For me it was emotional. Kenosha was affected, obviously. And if you have conversations with your teammates and other African-American people, you really understand what is going on. People just have to have these conversations to understand what is going on. To hear from some of my teammates and other people — I'm all in. I support the hell out of whatever we're gonna do here.
Mookie has been very proactive in the fight against social injustice, and Kershaw has gone out of his way to educate himself on the topic. What have you learned about the Black Lives Matter movement while sharing a clubhouse with them?
Lux: You gotta put yourself in a guy like Mookie's shoes and really understand what he's saying and his real-life experiences. Not just Mookie, either. There's a lot of other people, other family members and friends that I've talked to. You have to try to put yourself in their shoes and realize what's going on and try to get an understanding. I keep saying this, but you just have to have these conversations. They might not be the most comfortable conversations ever, but to understand, you have to have them.
What have your conversations with your brother-in-law and your nephew been like in recent weeks?
Lux: Pretty emotional, actually. These are people that I really care about and love, and hearing them get emotional about it, it really hits home. It's emotional. I want to see my nephew grow up and have the same opportunities that other people do.