Best-case/worst-case free-agency scenarios for every NFL team – NFL Nation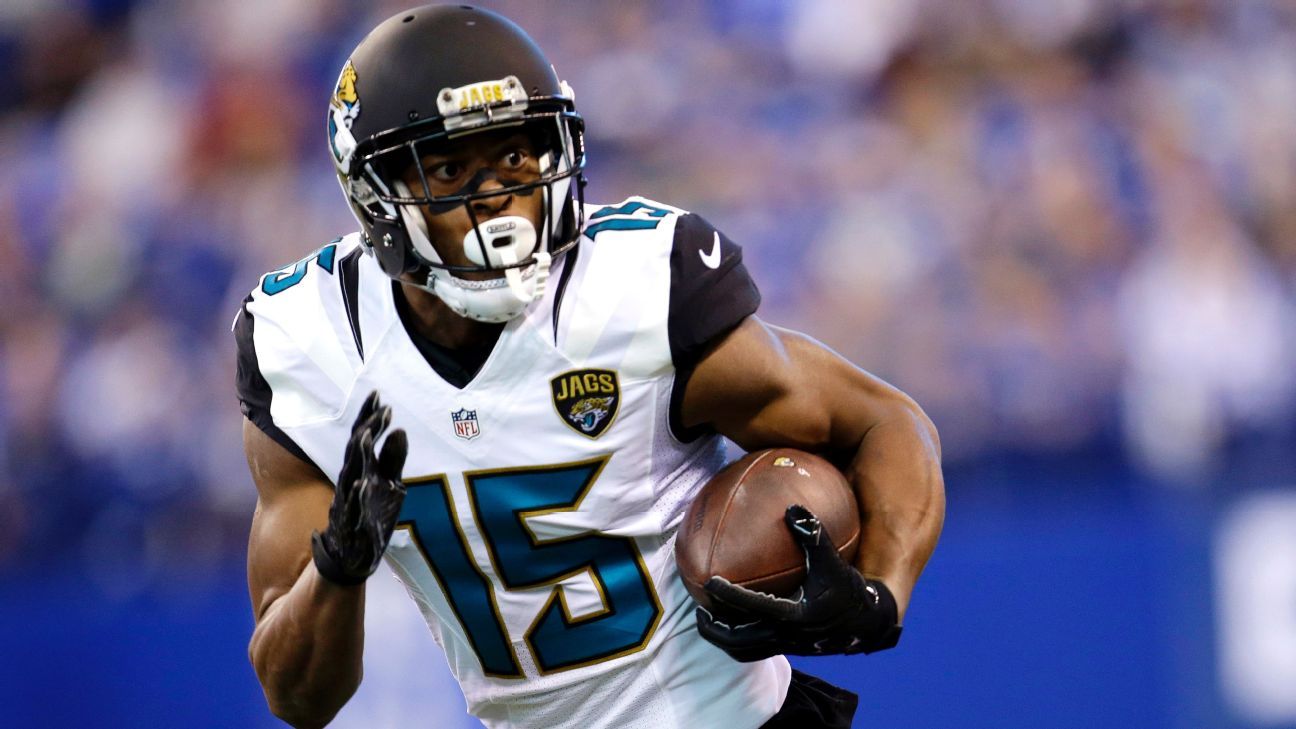 The goal for every NFL organization in free agency is to fulfill realistic best-case scenarios by signing the best players available who can improve their team. When teams don't acquire the game-changing player or difference-maker, we're talking worst-case scenarios.
Here's a closer look at both scenarios for every team with free agency set to kick off at 4 p.m. ET on March 14:
AFC East | AFC North| AFC South | AFC West
NFC East | NFC North | NFC South | NFC West
AFC EAST
Best case: The Bills are able to sign up-and-coming free agents who are hitting the market for the first time in their careers. Buffalo struck gold last offseason by signing safeties Micah Hyde and Jordan Poyer; both are in their mid-20s and locked up for several years as they enter their primes. Employing that same strategy to fill some holes, especially along the defensive front seven, will take pressure off general manager Brandon Beane. Instead of keeping all of his early-round draft picks in order to select young defensive players, Beane could package those picks and trade up for what the Bills desperately need: a quarterback prospect who has the potential to become the long-term answer.
Worst case: Buffalo continues to fill its roster with older free agents. The Bills have gotten a jump start on free agency by signing two players who were released by their former teams, cornerback Vontae Davis and running back Chris Ivory. Both players turn 30 this year and are closer to the end of their careers than their prime. Because of that, both cornerback and running back remain draft needs for the Bills, which could mean Beane shies away from drafting a quarterback in favor of filling other holes on his roster. Missing out on a quarterback in this draft would not be a popular move in Buffalo. — Mike Rodak
Best case: The Dolphins trade receiver Jarvis Landry — quickly. His franchise tag is eating up $16 million in cap space, and they need the money because they're $9 million over the cap, according to Overthecap.com. Teams must be under the cap by the start of the league year. The problem will be solved if Miami can deal Landry by then. Of course, other teams know the Dolphins are in a pickle and could try to leverage that against them in trade-compensation discussions. The Dolphins also could gain a chunk of cap room by releasing tight end Julius Thomas and linebacker Lawrence Timmons. Because of the cap restrictions, they won't be big spenders in free agency. The real drama will happen at the draft when they could select quarterback Ryan Tannehill's heir apparent. Baker Mayfield, anyone?
Worst case: The Dolphins will look foolish if they can't make a fair-market trade for Landry, their best offensive player. If they get stuck and rescind the franchise tag, they will forfeit their right to receive a 2019 compensatory pick. Losing Landry with no compensation would be a total disaster. Executive vice president of football operations Mike Tannenbaum is a savvy trader and should be able to execute a face-saving trade. Right tackle Ja'Wuan James is on thin ice and could be cut, leaving a gaping hole on the offensive line — and not much money to fix it. — Rich Cimini
Best case: The Patriots will have to be judicious with their free-agent spending this year, so simply retaining starting left tackle Nate Solder, running back Dion Lewis, receiver Danny Amendola and special-teams captain Matthew Slater would be a successful start. As for players from other teams, a high-upside safety such as Kenny Vaccaro might pique their interest if the price isn't too high.
Worst case: Losing Solder in free agency, which would create a void at a critical position protecting Tom Brady's blind side with no surefire replacement on the roster to take his place. In addition, if Amendola receives the type of offer he can't refuse, that would hurt. Those two players, in addition to Lewis, are key pieces. — Mike Reiss
Best case: Their No. 1 priority is to get Kirk Cousins' signature on a contract. If they can accomplish that, the Jets believe they will have their starting quarterback and team leader for the next few years. It also could make them more attractive to free agents; Cousins could be a trendsetter in that regard. Even if they break the bank for Cousins, they'd still have a crazy amount of cap room — an estimated $60 million, based on an estimate of Cousins' potential contract. That should allow them to re-sign some of their own free agents (CB Mo Claiborne, TE Austin Seferian-Jenkins and LB Demario Davis) and be aggressive in the open market. Center Weston Richburg and cornerback Malcolm Butler are expected to be on their radar.
Worst case: If Cousins spurns the Jets, it'll be on to Plan B at quarterback. They will try to sign one, quite possibly two veterans — perhaps a Josh McCown–Teddy Bridgewater pairing. The Jets like the idea of that because it would create much-needed depth and competition. Bridgewater is a risk because he's attempting to rebound from a devastating knee injury, but the Jets like the risk-reward on a short-term deal. They'd also look to draft a quarterback in the first round, covering their short- and long-term needs at the position. If they fail to land Cousins, they'd be under pressure to make a splashy move in free agency. — Rich Cimini
AFC NORTH
Best case: Sign Allen Robinson and Jimmy Graham. Is this realistic for a team lacking cap room? Perhaps not. If Baltimore could pull this off, the addition of a rising deep threat at wide receiver and a prized red zone target at tight end would represent a massive upgrade for quarterback Joe Flacco. It also would get the Ravens back into the championship hunt. Robinson ranked fourth in the NFL with 42 catches of 20 yards or more in his past two healthy seasons, and Graham finished second in the NFL with 10 touchdown receptions last season. If Robinson gets re-signed by the Jaguars before hitting free agency, the Ravens would certainly be pleased with the acquisition of Jarvis Landry or Jordy Nelson (a potential cap cut).
Worst case: The Ravens get shut out at wide receiver for the second consecutive year in free agency. Last year, Baltimore struck out in trying to sign free-agent wide receivers Pierre Garcon and Brandon Marshall. This year, the Ravens have already had trade talks involving Landry and potentially have a shot at Robinson or Sammy Watkins. But what if Landry is dealt elsewhere and Robinson and Watkins never make it to free agency (because they get re-signed by their current teams)? It would be devastating for the Ravens to come out of free agency with just someone such as Donte Moncrief after GM Ozzie Newsome talked about revamping the wide receiver position. — Jamison Hensley
Best case: The Bengals badly need offensive line help after struggling at the position last season. They lost Andrew Whitworth and Kevin Zeitler to free agency and never replaced them. They need to rectify that. Although it doesn't appear to be a particularly deep group of offensive tackles on the market, the Bengals could find a quality tackle. With a new offensive line coach for the first time in 20 years, it's the perfect time for a fresh start along the line.
Worst case: Doing nothing. The Bengals usually aren't too keen on building through free agency, almost always waiting out the first wave. Linebacker Kevin Minter was the only free agent signed last year with no ties to Cincinnati. This year, the Bengals made a play for safety Kurt Coleman and made a competitive offer before he signed with the Saints, so it does look like they might be a little more active this year. That needs to carry through to the new league year. The Bengals don't have to sign the best player on the market, but they should try to actively find an offensive lineman who can help the team. — Katherine Terrell
Best case: Kirk Cousins willingly jumps at the chance to play for the Browns and does not seek every last dollar to do so. Is this likely? Not at all. Cousins does not seem inclined to join the Browns, and the Browns do not seem inclined to spend a ton of money on a quarterback when they will be drafting their own, most likely first overall. Which means the Browns need to have a Plan B. That would involve bringing AJ McCarron from Cincinnati to Cleveland. McCarron seems to fit the profile the Browns seek. He's young (27), has experience, is familiar with and to Hue Jackson, and has been a winner when he has played, including his time at Alabama. McCarron might actually be the best case for the Browns. He won't eat up gigantic cap space and Jackson believes in him. He can hold the position for as long as he deserves to hold it.
Worst case: The Browns emerge from free agency empty-handed when it comes to quarterback. This team simply can't go down the path it did a year ago when it willingly let Josh McCown leave and added only Brock Osweiler from the "young veteran" pool. The situation left DeShone Kizer forced to play as a rookie without any experienced player there to help. The Browns have to add someone who has played. It could be McCarron, Tyrod Taylor or even McCown again. Cleveland simply cannot let this chance pass by without adding a legitimate player with some years in the league. — Pat McManamon
Best case: Create enough cap space to sign an inside linebacker in free agency — preferably a three-down thumper such as Anthony Hitchens or Preston Brown — and one more impact player in the secondary on a cost-effective contract. The Steelers' cap situation might force them to be frugal. Le'Veon Bell's $14.544 million franchise tag put the team nearly $9 million over the cap as of Tuesday night. But if the Steelers can re-sign Bell to a deal that's not too outlandish and improve the defense, that's a win.
Worst case: Do nothing. With the NFL salary cap growing nearly 50 percent since 2011, from $120 million to $177.2 million, it has become harder for the old-school teams to sit idly by without getting roster help. The injury to linebacker Ryan Shazier leaves a large void in the middle of the defense. The Steelers must find a way to get better there. On offense, a swing guard or running back would provide much-needed depth. There are good players in free agency's second tier, which the Steelers found out with defensive end Tyson Alualu on a modest two-year, $6 million deal. — Jeremy Fowler
AFC SOUTH
Best case: The Texans have a few holes to fill, but most importantly, they need to address their offensive line. Best case, they add at least one top offensive lineman, such as guard Andrew Norwell. Norwell, 26, is coming off the best season of his career — one in which he was named an All-Pro — and is likely the best guard available in free agency. He won't come cheap; last season Kevin Zeitler signed a five-year, $60 million contract with the Browns. Norwell could get at least $13 million per season, as the Texans have the money and the need at left guard to protect quarterback Deshaun Watson.
Worst case: The Texans rely on the options at guard and tackle they had last season. If Houston goes with the status quo on the offensive line and does not upgrade Watson's protection, it will force him to succeed despite that. Watson has now torn the ACL in both of his legs and needs all the help he can get to stay upright. The Texans could bring back tackles Chris Clark and Breno Giacomini and have them compete with the group of Derek Newton, Kendall Lamm and Julien Davenport for the starting tackle spots. But there's no guarantee that whoever comes out on top in that battle will present an upgrade over last season. — Sarah Barshop
Best case: Sign Allen Robinson. The Colts might be able to get Robinson at a bargain price after a torn ACL limited him to just one game last season with Jacksonville. The Colts are starving for help at receiver. T.Y. Hilton and Chester Rogers are the only two receivers under contract who caught a pass last season. Indianapolis should use the opportunity to play with a potentially healthy Andrew Luck as reason for Robinson to sign with the Colts. If Robinson could catch 202 passes from an inconsistent Blake Bortles in Jacksonville, just imagine how effective he could be with Luck.
Worst case: The Colts will likely select a receiver in the draft as part of the homegrown talent GM Chris Ballard desires, but it'll also help bridge the gap if they go out and sign veteran Sammy Watkins if Robinson isn't available. The 24-year-old speedy Watkins looked like he was on his way to breaking out when he totaled 1,093 yards receiving and nine touchdowns in 2015. But he has had only 1,023 yards and 10 touchdowns over the past two seasons with Buffalo and the Los Angeles Rams. — Mike Wells
Best case: Re-sign Allen Robinson for a reasonable amount (not the $16 million franchise tag), which will leave enough money for the Jaguars to address one of their two offensive weaknesses: interior offensive line and pass-catching tight end. Andrew Norwell is the top guard available but it might take $11 million to $12 million annually to lure him. The Jaguars can absolutely fit him in with the savings from QB Blake Bortles' deal ($10 million cap figure in 2018 instead of $19.053 million) and Robinson. Jimmy Graham is the best tight end available and he would be a huge boost in the red zone (10 TD catches in the red zone last season). Signing Norwell or Graham in addition to Robinson would significantly improve the offense.
Worst case: If the Jaguars can't reach a compromise with Robinson (now that the franchise tag deadline has passed), they'll have to add a playmaking receiver to the list of offensive needs they must address. It's not a great crop of free-agent receivers and the team's best option might be to re-sign Marqise Lee, who wasn't going to be back if Robinson was re-signed. The Jaguars would still have room to add Norwell or Graham, if they choose. The Jaguars also are likely to lose cornerback Aaron Colvin, whom they would like to re-sign at a reasonable number. Losing Colvin would mean they'll have to find a replacement nickelback. — Michael DiRocco
Best case: The Titans continue their plan to build around quarterback Marcus Mariota by upgrading the interior offensive line with a top-tier guard or two and adding one or two more explosive weapons, such as John Brown or Dion Lewis to help in the passing game. The Titans also add a top-tier backup quarterback, such as Josh McCown, to protect them if Mariota gets hurt. On defense, they make moves to re-sign a couple of their own free agents, such as defensive end DaQuan Jones and linebacker Avery Williamson, while adding a starting-caliber cornerback, such as Malcolm Butler, and a pass-rusher like Adrian Clayborn.
Worst case: There are more holes coming out of free agency than there are going in on the offensive line as Josh Kline leaves for a big free-agency deal and the Titans fail to find an adequate replacement. They move no closer to a long-term deal with offensive tackle Taylor Lewan. Tennessee strikes out on the backup QB market and has to bring back Matt Cassel. The Titans go cheap on the defensive side, losing Jones and Williamson, while adding subpar potential replacements. — Cameron Wolfe
AFC WEST
Best case: The Broncos win the bidding war for Kirk Cousins. They are among a handful of teams that will have Cousins' full attention as the formal negotiating period opens in the coming days. And with enough guaranteed money, the Broncos could come away with a deal. By signing Cousins, the Broncos would be free to pick "other" players who slide slightly in the draft as teams snap up the quarterbacks at the top of the board. In that case, players such as Penn State running back Saquon Barkley or North Carolina State defensive end Bradley Chubb, who could be the best two players in the draft, would be available with that No. 5 pick.
Worst case: All of the football gods conspire against the Broncos and they don't win the Cousins sweepstakes or the Case Keenum sweepstakes or any quarterback sweepstakes in free agency, and the first four picks of the draft are also quarterbacks. While it is unlikely, almost unthinkable, that the first four picks of this draft would be quarterbacks, it cannot be eliminated as a possible scenario given the need is so great around the league. Teams could panic enough to trade up to get in front of Denver. While the Broncos would still have a chance at an instant impact player such as Barkley or Chubb, the job they most want to fill this offseason would still be open. — Jeff Legwold
Best case: The Chiefs don't necessarily have to make a splash in the free-agency star pool, but they need to cover some ground. They have some needs that are best addressed through free agency. Most of them are on defense, where the Chiefs will move on without cornerback Marcus Peters and linebacker Derrick Johnson, among others. But the Chiefs also need a veteran quarterback to serve as the backup to Patrick Mahomes II. If they're successful, the Chiefs can go for the best player available when they get to the draft.
Worst case: The Chiefs don't have a first-round draft pick, having traded it to the Bills last year so they could get into position to select Mahomes. Thus, Kansas City can't count on a lot of immediate help from its draft. The Chiefs' top two picks in 2017 (Mahomes and DE Tanoh Kpassagnon) played little as rookies. If the Chiefs don't address many of their pressing needs in free agency, they'll most likely be looking at a roster that's sparse in spots when training camp begins. — Adam Teicher
Best case: The Chargers need to sign a veteran kicker to join the competition between young, developmental prospects already on the roster in Nick Rose and Roberto Aguayo. The Chargers finished last in the league with a field goal percentage of 67 in 2017. For a team that expects to make a deep playoff run in 2018, the Bolts have to solidify the kicking position. Along with that, the Chargers bring back productive safety Tre Boston at a reasonable price, or find a serviceable option to fill the role of free safety should Boston sign a more lucrative contract elsewhere.
Worst case: With several veteran kickers already signing deals to stay with their teams, the Chargers do not add a reliable veteran kicker to the roster. For the second consecutive season, Los Angeles has a kicking competition between two talented, but young and inexperienced, options in Rose and Aguayo. The Chargers have a little more than $22 million in cap space, so they could be priced out of the market for talented, defensive playmakers and might have to wait for the draft. — Eric D. Williams
Best case: Defensive end Khalil Mack, who has 36.5 sacks over the past three seasons, needs help, as does outside linebacker Bruce Irvin, according to coach Jon Gruden. And what better way for the Raiders to address that need than by adding a monster tackle inside to fortify the pass rush, someone such as Sheldon Richardson, Star Lotulelei or Dontari Poe, while keeping their own top free agents? Re-signing linebacker NaVorro Bowman would solidify the middle, while re-upping cornerback TJ Carrie would help in coverage, which would, in turn, help with the pass rush. Then there's defensive end Denico Autry, who had a career-high five sacks with seven passes defensed in 2017. It's a lot, but it's the best case, no?
Worst case: A repeat, so to speak, of last spring and summer, when the Raiders lost 12 free agents (granted, most of whom they allowed to walk) and none of their free-agent pickups made the kind of impact expected to help fuel a Super Bowl run. Instead, the Raiders, with newbies such as Cordarrelle Patterson at receiver/returner, Jared Cook at tight end and Marshall Newhouse at right tackle, faltered to 6-10 and a top-10 draft pick. Hey, we're talking worst-case scenario, yes? — Paul Gutierrez
NFC EAST
Best case: The Cowboys kept defensive end DeMarcus Lawrence with the franchise tag, but it will eat up $17.1 million against the cap unless he signs a long-term deal, which is not expected. But at least the Cowboys know they have their best pass-rusher. The next two moves would be to sign guard Zack Martin and linebacker Anthony Hitchens to long-term deals before the market opens. It might be dubious, but the benefits would help Dallas add free agents to the roster. Martin is set to count $9.3 million against the cap, but a long-term deal could give the Cowboys an added $6 million or so. Hitchens could find more money elsewhere, but if he does return the Cowboys won't need to focus so much on linebacker in the draft.
Worst case: The Cowboys have the same success as they did with last year's free-agent class. By late October, Nolan Carroll, Damontre Moore and Stephen Paea, Dallas' main free-agent signings, were no longer on the roster. If the Cowboys are going to be low-market spenders, they can't miss on players. As free agency approaches, vice president Stephen Jones has affirmed the team's approach to free agency is more about spending to keep its own players. There could be a splash signing, but some of that will depend on whether the Cowboys get a deal with Lawrence or Martin. — Todd Archer
Best case: Sign two big offensive linemen, a guard (Andrew Norwell) and tackle (Nate Solder). That's the focus of the Giants' offseason. They need to upgrade their entire offensive line. In fact, it's possible they could have five new starters this season. That's quite the overhaul. Norwell is obviously the ultimate prize. It's not often that an All-Pro lineman hits the market, and he has the obvious connection to general manager Dave Gettleman from their time together in Carolina. Solder has been inconsistent with the Patriots, but he has still proved to be a serviceable left tackle. It would be costly to sign both players but, hey, this is the best-case scenario.
Worst case: The Giants get outbid for Norwell, Solder elects to remain in New England, and Justin Pugh lands elsewhere with the Giants focused on Norwell and Solder. Now what? The Giants are stuck without any difference-makers in a poor lineman market. There aren't a lot of high-end starting options available, and the Giants desperately need to find some way to protect an aging Eli Manning. They would be forced to fill starting spots with stopgaps before attacking the offensive line in the draft. It's not ideal. — Jordan Raanan
Best case: The Eagles find a way to keep linebacker Nigel Bradham and cornerback Patrick Robinson. When asked about Bradham recently, executive VP of football operations Howie Roseman noted that the Eagles are not in the position to empty the vault for any player on the team given how tight they are against the cap. It will be tough to hold on to the linebacker if a market develops, but Bradham really stepped up as a player (85 tackles, 5 TFL) and a leader for the Super Bowl champion Eagles in 2017. Robinson was a big surprise, emerging as one of the better slot cornerbacks in the NFL. The Eagles are pretty stocked at corner, but the nickel role requires a specific skill set, and Robinson has it.
Worst case: A mass exodus. Bradham, Robinson, running backs LeGarrette Blount and Darren Sproles, tight end Trey Burton, defensive tackle Beau Allen and safety Corey Graham are among the team's pending free agents. All were contributors to Philadelphia's Super Bowl season and helped make up a top-notch locker room. The Eagles' front office is charged with trying to maintain that chemistry and hold on to as many good players as possible, while also not allowing sentimentality to cloud their decision-making — all while dealing with the reality that the team is currently over the 2018 salary cap. — Tim McManus
Best case: They come away with a big-play wide receiver and more defensive help. It's not that receiver Josh Doctson can't develop into that guy, but it is clear the Redskins want more help at the position. They'd prefer speed and big-play guys — who wouldn't? Potential targets include Allen Robinson and Paul Richardson and perhaps Sammy Watkins. The Redskins also need to continue building their defense, whether that's retaining linebacker Zach Brown, signing another linebacker such as Preston Brown, or adding more power to the defensive line with run-stuffers such as Dontari Poe or Bennie Logan.
Worst case: They get left out of the receiver market. Washington needs to make the trade for quarterback Alex Smith work (and justify the decision to let Kirk Cousins walk) by adding more offensive help. One way is to bolster the receiver position; doing so also would allow the Redskins to rely less on oft-injured tight end Jordan Reed. The smart money is that Washington will sign a wideout; the draft simply isn't a great option this year. It would be bad if the Redskins don't add more defensive help, especially in the interior. There are options in the draft, but they need to bolster this area. — John Keim
NFC NORTH
Best case: The Bears agree to a multiyear deal with cornerback Kyle Fuller, who received the $12.971 million transition tag on Tuesday. Even with Fuller likely back in the fold for at least one more year, Chicago still has to find another starting cornerback either in free agency or the draft. The same thinking applies to wide receiver, where the Bears had only one player (Kendall Wright) crack the 50-catch barrier in 2017. Signing potential free-agent receivers such as Allen Robinson or Sammy Watkins would be a major coup. Additionally, Chicago needs to sign at least one quarterback to back up former second overall pick Mitchell Trubisky.
Worst case: Marquee free agents don't want to play for the Bears. That has been a trend in recent years. Chicago — the franchise, not the city itself — has not been a desirable destination. The Bears have been forced to overpay in free agency just to get players to come to Chicago, and few of those deals have worked out. Free agents and their representatives routinely use the Bears as leverage to find better deals elsewhere. The hope is that Trubisky and new coach Matt Nagy can lure better free agents to Chicago. The worst-case scenario is that the best available players continue to spurn the Bears, who've missed the playoffs in seven consecutive years and have finished dead last in the NFC North from 2014-17. — Jeff Dickerson
Best case: The Lions already took care of their biggest free-agency issue — tagging defensive end Ezekiel Ansah. The rest of the way? Detroit has holes to fill and not a ton of draft picks, so free agency might have to fill some gaps. Find either a good veteran linebacker — perhaps by re-signing Tahir Whitehead or bringing in a player such as Nigel Bradham or Anthony Hitchens — or make a big play for an interior defensive lineman such as Star Lotulelei or Dontari Poe. Sign a veteran running back at a decent rate (perhaps Carlos Hyde, Isaiah Crowell or Dion Lewis) who can handle early-down carries. And then get an interior offensive lineman — maybe a center such as Ryan Jensen, Spencer Long or John Sullivan. Or a guard such as Josh Sitton or Justin Pugh if you don't land a big-ticket defender. If you do, bring in a player at a midrange rate like Pugh, or a player with some versatility like Jeremiah Sirles. Accomplish two of these moves and Detroit is in good shape.
Worst case: Other teams having a bunch of cap room drives up the price for some of Detroit's top targets, making them less palatable for the Lions. A mediocre defensive end free-agent class leaves the Lions overpaying for a player because they need to find help on the line. Detroit lets its free agents test the market and loses out on defensive tackle Haloti Ngata, Whitehead, receiver TJ Jones and cornerbacks Nevin Lawson and DJ Hayden without signing comparable or better replacements. The Lions sign a bunch of depth free agents and the ones they count on don't pan out, forcing general manager Bob Quinn to move on from some of his signings before the season starts (such as Stevan Ridley and Geoff Schwartz in 2016). — Michael Rothstein
Best case: Sign Kyle Fuller, Malcolm Butler or another cornerback. Yes, the Packers need pass-rushers as much as (if not more than) cornerbacks, but the best pass-rushers never make it to free agency, so Green Bay will have to draft and develop them. The Packers are familiar with Fuller from his time in Chicago, but it will be tougher to acquire him after the Bears used the transition tag. Butler might be the next-best option, even though the Patriots didn't play him on defense in the Super Bowl. The Packers need a corner who can play outside, which would allow new defensive coordinator Mike Pettine to move Damarious Randall to the slot, where he's better suited. A corner like Fuller or Butler would make a good pairing with last year's top pick, Kevin King.
Worst case: New GM Brian Gutekunst acts more like his predecessor, Ted Thompson, than anyone thought and doesn't sign any impact free agents. That would leave him with major holes to fill through the draft. Yes, Gutekunst has 12 selections this year, but with holes in the secondary and at pass-rusher, plus the needs on offense (tight end, offensive line and perhaps even receiver), that's too much to find in the draft. — Rob Demovsky
Best case: Minnesota can begin solving its issue of quarterback longevity by landing Kirk Cousins and making him the highest-paid QB in NFL history. Of all Cousins' potential suitors, the Vikings are his best fit to win now. Minnesota arguably has a two- to three-year window to contend for a Super Bowl with a stacked defense, tons of receiving threats and what could be one of the best backfields in the NFL. All of that is part of a dream scenario for Cousins, whom the Vikings wouldn't necessarily have to lock in for more than three years — at least not right now. Therefore, the risk of things going sour won't be weighed down by a lengthy contract. The cost for Cousins is high, but the Vikings have the cap space to get it done, can secure an important missing piece and find their franchise quarterback in the process.
Worst case: Minnesota strikes out on Cousins and has to look elsewhere for a quarterback in free agency. The Vikings have a pretty good silver lining as it stands with the option to re-sign Case Keenum, Teddy Bridgewater or Sam Bradford. Keenum will be the most expensive of the three, but the price to keep him pales in comparison to signing Cousins. The Vikings could then go out and make competitive offers to other free agents in spots they need help the most: the offensive and defensive lines. Not signing Cousins would certainly be a blow, but it frees up money Minnesota needs elsewhere in free agency and to extend the contracts of several key players over the next year. Also, this year's quarterback draft class is one of the best in recent history. Who's to say Minnesota won't want to go another route and draft (possibly via trading up) a quarterback in April? — Courtney Cronin
NFC SOUTH
Best case: Find help at guard. The Falcons don't have much cap room to make a big splash in free agency, but they would be wise to see what type of bargains they could find on the offensive and defensive lines. Upgrading at right guard is a priority, and finding that player in free agency would give the Falcons the opportunity to focus on defensive line, wide receiver and tight end in the draft. Again, this can't be a big splash like Andrew Norwell from Carolina, but the Falcons could find an under-the-radar guy capable of starting, maybe like a Kevin Pamphile from Tampa Bay. The Falcons already restructured the contract of their returning starting left guard, Andy Levitre.
Worst case: Strike out on pass-rush help, period. The Falcons need more of an interior push along the defensive line, and losing a chance to trade for Michael Bennett — now a Philadelphia Eagle — hurt some. Now the Falcons have to consider re-signing last season's sack leader, Adrian Clayborn, to help Vic Beasley Jr., Grady Jarrett and Takk McKinley. Clayborn is certain to draw some interest on the free-agent market if not immediately re-signed. Whiffing on veteran pass-rush help would make finding an impact defensive lineman more of an emphasis in the draft. — Vaughn McClure
Best case: The Panthers acquire the Ravens' Mike Wallace or Jacksonville's Allen Robinson. Coach Ron Rivera wants a veteran wide receiver to provide leadership to a position loaded with young players. Wallace, 31, fits the bill. He wants a chance to win a Super Bowl. Carolina could offer that. Wallace still is fast enough to provide an upgrade in speed, a priority for general manager Marty Hurney. Wallace had three touchdown catches of 50 or more yards last season and might have had more if quarterback Joe Flacco had been on target. Robinson, 24, wouldn't necessarily provide veteran leadership, but he could be the true No. 1 receiver the Panthers need.
Worst case: Rams wide receiver Sammy Watkins has yet to live up to expectations since being drafted by Buffalo in 2014 with the fourth overall pick. The Bills traded him to Los Angeles in August. Injuries have played a role in Watkins' development. While he wouldn't offer the veteran leadership, he could be a No. 1 or 2 with Devin Funchess, depending on what Carolina ultimately decides to do with Funchess. Seattle's Paul Richardson also could fit into that mold. — David Newton
Best case: The Drew Brees contract negotiations come together as smoothly as everyone has promised they will and he re-signs before other teams even get the chance to tempt him. The Saints don't necessarily need the future Hall of Famer to agree to a "hometown discount," but they have made it clear they only want to pay Brees one year at a time now that he is 39. They're hoping he'll agree to a deal with only about one year's worth of guaranteed money. Then, to make things even better, the Saints reunite Brees with one of his all-time great targets by re-signing tight end Jimmy Graham in free agency at a reasonable rate.
Worst case: The Saints don't plan to bring back their other prominent free agent (safety Kenny Vaccaro). But they would like to keep versatile backup offensive lineman Senio Kelemete, who might get yanked away by another team offering a starting job and starter's money. And New Orleans would love to re-sign defensive end Alex Okafor, provided he remains on pace for a healthy return from an Achilles tear. The worst-case scenario would be losing both of those guys, then getting outbid for all of the top tight ends in the open market (Graham, Trey Burton, Tyler Eifert, etc.). — Mike Triplett
Best case: The Bucs fill needs at defensive end, guard, defensive tackle, cornerback and solidify their backup quarterback situation. They tried to trade for linebacker Robert Quinn. At corner, if Brent Grimes doesn't return, Trumaine Johnson and Malcolm Butler are both 28 — they're proven talents but still have some years to grow into a system. Backup quarterback should be an easy (and necessary) fix by re-signing Ryan Fitzpatrick to a one-year deal.
Worst case: Going into the draft without a bona fide edge rusher would be borderline catastrophic, as the draft doesn't feature a great group of immediate impact guys outside of Bradley Chubb. The Bucs went into last season banking on healthy returns for defensive ends Noah Spence and Jacquies Smith; Spence wound up on injured reserve, undergoing a second shoulder surgery in as many years, and Smith isn't even on the team anymore. The Bucs also vowed to get nastier along their offensive line this offseason, and it would likely take more than just drafting Quenton Nelson at No. 7 to do that. — Jenna Laine
NFC WEST
Best case: There's no better best-case scenario for the Cardinals than signing a quarterback — any quarterback, for that matter. If they can sign one who can start this season and potentially beyond, great. If they can find their backup in free agency, someone who can mentor and help groom a rookie, that's fine, too. But the Cardinals' offseason won't be ruined if they don't sign Kirk Cousins and land another quarterback. At this point, without a quarterback currently under contract for 2018, any quarterback will be an improvement.
Worst case: The Cardinals miss on every quarterback in free agency. Will that happen? No. But there's a chance they could miss out on any quarterback they'd want to start and sign someone who's a backup at best. That's not a bad thing, but it's possible. — Josh Weinfuss
Los Angeles Rams
Best case: Retain wide receiver Sammy Watkins, slot corner Nickell Robey-Coleman and outside linebacker Connor Barwin on deals that are team-friendly enough that the Rams also can add an accomplished pass-rusher and run-stuffer before the draft. Defensive end Muhammad Wilkerson and outside linebacker Trent Murphy can help the former, while defensive tackle DaQuan Jones and inside linebacker Zach Brown can provide a boost for the latter. Barwin can rotate with Samson Ebukam to lock down one outside-linebacker spot, but the Rams still have to replace Robert Quinn and Alec Ogletree, who were recently dealt to free up space and acquire picks. They may have to get creative at linebacker.
Worst case: If Watkins prices himself out of L.A., the Rams probably will replace him with Josh Reynolds, the former fourth-round pick who is heading into his second season. That can free up to $15 million in cap space for 2018, which the Rams can use on current needs at center, nose tackle, inside linebacker, both outside linebacker spots and slot corner. But there aren't many elite free-agent options at those spots, and there are a lot of teams with a lot of cap space. The Rams have to navigate free agency while conscious of looming extensions for defensive tackle Aaron Donald, running back Todd Gurley and quarterback Jared Goff. It's easy to see how they can be outbid on their top priorities in the open market. — Alden Gonzalez
Best case: The 49ers' pitch of great weather, plenty of cap space, an up-and-coming team and quarterback Jimmy Garoppolo pays off and they're able to fill at least two or three needs from a list that includes cornerback, edge rusher, guard, wide receiver and running back. Realistically, they won't be able to check off all of those things (edge rushers are particularly scarce), but a starting-caliber corner, an interior offensive lineman, and a bigger, physical wideout should be feasible given the Niners' financial situation.
Worst case: Despite their copious cap space, other cap-rich teams such as Cleveland and Indianapolis drive the prices too high for the 49ers' top targets after some of the best players receive the franchise tag. That's not to say the Niners can't afford to bid for any player they want, but general manager John Lynch has said they will be "aggressively prudent," meaning they're not going to sign free agents just for the sake of signing them. If the 49ers can't fill some pressing needs in free agency, it would force them to stray from their best-player-available strategy in the draft. — Nick Wagoner
Best case: Re-sign Sheldon Richardson or add Andrew Norwell. This is an either-or proposition because the Seahawks probably can't afford both (and potentially neither), but they need help along their offensive and defensive lines. With Richardson, an ideal scenario would be this: He doesn't find a suitable offer and re-signs with the Seahawks on a one-year deal worth around $10 million. Richardson would be hungry as he tries to improve his market value, and the Seahawks would get another season — at an affordable price — to assess how he fits into their defense. Norwell, only 26 and coming off an All-Pro season, would help solidify the interior of the Seahawks' offensive line as they look to better protect quarterback Russell Wilson and revive their slumping running game.
Worst case: With Michael Bennett gone and Cliff Avril not expected to be back, losing Richardson would further diminish the talent along Seattle's defensive line. Seattle would have to find a low-cost veteran stopgap — former Seahawks Ahtyba Rubin and Clinton McDonald are free agents — before further addressing the position in the draft, maybe even with a high pick. If the Seahawks lose out on Norwell — whose price tag may be prohibitively high for Seattle — one player to keep in mind is D.J. Fluker. The former first-round pick played under new Seahawks offensive line coach Mike Solari last season with the Giants. He can play guard and tackle. — Brady Henderson
Detroit Lions to roll with veteran Adrian Peterson as lead running back
Adrian Peterson had more snaps, rushes and yards than the rest of the Detroit Lions running backs combined Sunday. And based on what his offensive coordinator Darrell Bevell said Tuesday, it looks like the 35-year-old future Hall of Famer might end up being the lead back for the club for the immediate future as well.
Peterson played 40 snaps in the Lions' 26-23 victory against Arizona on Sunday, getting 22 carries for 75 yards along with one catch for 10 yards. That followed two weeks of a committee approach between Peterson, Kerryon Johnson and D'Andre Swift.
"It's not anything that those guys are or aren't doing," Bevell said. "We're just trying to, again, accentuate their positives and put them in positions to be successful. You saw Swift. His plays were a little bit down. We want to keep those up and get him more involved. The one play he catches, he has a nice catch-and-run, looks fast, looks explosive.
"It's just continuing to manage those guys and putting them in the best situations."
Those situations come with Peterson atop the depth chart. Detroit signed Peterson after he was released by Washington on Sept. 4. He said he had a opportunities to go to a couple of teams in the league, but he chose the Lions because of an opportunity to play again with Bevell, who was his offensive coordinator at the start of his career in Minnesota.
So far, Peterson has averaged 4.9 yards per carry (43 attempts, 209 yards). Johnson has averaged 3.4 yards (18 attempts, 62 yards), while rookie Swift is averaging 2.5 yards (8 attempts, 20 yards).
Bevell did praise Johnson on Sunday, calling him the "player of the game" due to his pass protection pickup and the small nuances that led to Jesse James' touchdown reception. But it appears Johnson, who has been Detroit's lead back when healthy the past two seasons, might not touch the ball as much as he has in the past.
The question now might be whether or not the Lions have to manage Peterson's workload. He's already played in 167 career games, carried the ball 3,079 times for 14,425 rushing yards. Plus, he's at an age where most running backs are retired or playing a much less significant role.
"I've told you, this guy is a freak of nature now. I don't know where that wall is or where he's going to hit it. The guy is always asking for more," Bevell said. "He is in great shape. He takes care of his body. He does all those little things to set himself up for that success.
"I don't know when it's going to happen, but he wants [the ball], we want him to have it and we'll just keep continuing to go there and spell him with Kerryon, spell him with Swift and kind of go from there."
Running backs coach Kyle Caskey said he and Peterson have an open line of communication about his reps and if he needs rest. Caskey said any management, for now, is "a during the week thing," and on game day they are going to play the game.
"He'll tell me," Caskey said. "That's your answer right there. He'll tell me when he's had enough or when he needs a break. He's communicated well with me since he's been here. I don't think it's anything that I personally need to do to watch him.
"He will tell when he's feeling whatever you want to call it. He is that way. He's not scared to tell me anything, so it's really good. It's a really good coach-player relationship we have with everything."
Eagles' Doug Pederson must 'unclutter' Carson Wentz's mind, and his own – Philadelphia Eagles Blog
Philadelphia Eagles coach Doug Pederson thinks he has found a way to get quarterback Carson Wentz out of his funk, one that has the team sitting at 0-2-1.
To "unclutter" his QB's mind, Pederson signaled he will simplify the game plan so Wentz, who has been one of the worst quarterbacks in the NFL statistically through three games, has less to wade through pre-snap. The Eagles will also run more up-tempo offense as part of a greater effort to get Wentz to play quicker and more freely by leaning on methods that "have been successful in the past."
But, Pederson needs to apply that same back-to-basics logic when it comes to his own performance, too.
» News: Pederson backs Carson Wentz
» Column: Eagles played to not lose, or win
» Graziano: How bad is the NFC East?
» More: Eagles' depth chart, schedule
He has strayed off course and away from some of his guiding tenets early in the season. That fact was crystallized late in overtime against the Cincinnati Bengals Sunday when he elected to punt on fourth-and-12 from the opponent's 46-yard line with 19 seconds remaining, settling for a 23-23 tie rather than giving his offense a chance to go for the win.
There was confusion between plays, as the Eagles' punt team ran on the field, then started running off before a delay of game was called. If that wasn't proof enough Pederson wasn't sold on the decision, his postgame comments hinted at immediate regret, which he confirmed Monday morning.
"Looking back, you probably put it in your quarterback's hands to win the game," he said.
How did we get here? How does the same coach who dialed up the Philly Special in Super Bowl LII against the New England Patriots — a coach who has finished either first or second in fourth-down attempts every season since becoming Philadelphia's leader — wave a white flag in a regular-season game against the stinkin' Bengals (0-2-1)?
One could point to the situation or a lack of confidence in Wentz and the Eagles' offense to get the job done, but however it is framed, the move by Pederson remains out of character. And Pederson, more generally, just hasn't seemed himself.
It's likely one of the coach's greatest strengths — the ability to put ego aside in the name of collaboration — is working against him. There were a lot of cooks added to the kitchen this offseason as Eagles owner Jeffrey Lurie looked to spice up an offense that had become too plodding and predictable. The front office influenced Pederson to part with offensive coordinator Mike Groh and receivers coach Carson Walch. A number of newcomers were added, including senior offensive assistant Rich Scangarello, pass game analyst Andrew Breiner and senior offensive consultant Marty Mornhinweg. Quarterbacks coach Press Taylor got a title bump to pass game coordinator and took over many of Groh's responsibilities.
Pederson was at his best when he had former offensive coordinator Frank Reich as the primary voice in his ear. The coaches who have come on board in Philly all have solid reputations, but when you have that many people speaking, it's a lot of opinions to sift through and fuse together, with an increased chance of being pulled in multiple directions.
Not to mention the opinions of Wentz, who has had a growing influence over how this offense is shaped. A lot of that is for good reason: Wentz has a bright football mind by all accounts, he has gained experience, and you naturally want your quarterback to be comfortable with the plays he is running.
But it feels like Pederson has let things float a little too far away from him. The offense needs to be tailored to the QB and built out to fend off predictability, yes, but it also needs a core identity, and the Eagles' identity is very hard to detect at the moment.
Pederson is the only coach in the history of this franchise to lead the Eagles to a Super Bowl title. And yet there has been no whiff of a power grab. He continues to foster collaboration and allow others to put their fingerprints on things, even when those hands are arguably overreaching. That tactic has generally served this franchise well.
There is also a point where some pushback is needed to preserve what has been built and to get all boats pointed in the same direction. That time has arrived for Pederson. If that means reducing Wentz's creative control and coaching him tougher, so be it. If that means identifying the voices he trusts and tuning out the ones that don't sync up, fine.
The time is now to reestablish his reputation as a "freakin' phenomenal playcaller" and reassert himself as the league's gutsiest coach — the guy who would scoff at the notion of punting for a tie.
All of that is going to happen only if he reclaims the space he has rightfully earned.
Hot start for Cardinals' DeAndre Hopkins coincides with decline for Larry Fitzgerald – Arizona Cardinals Blog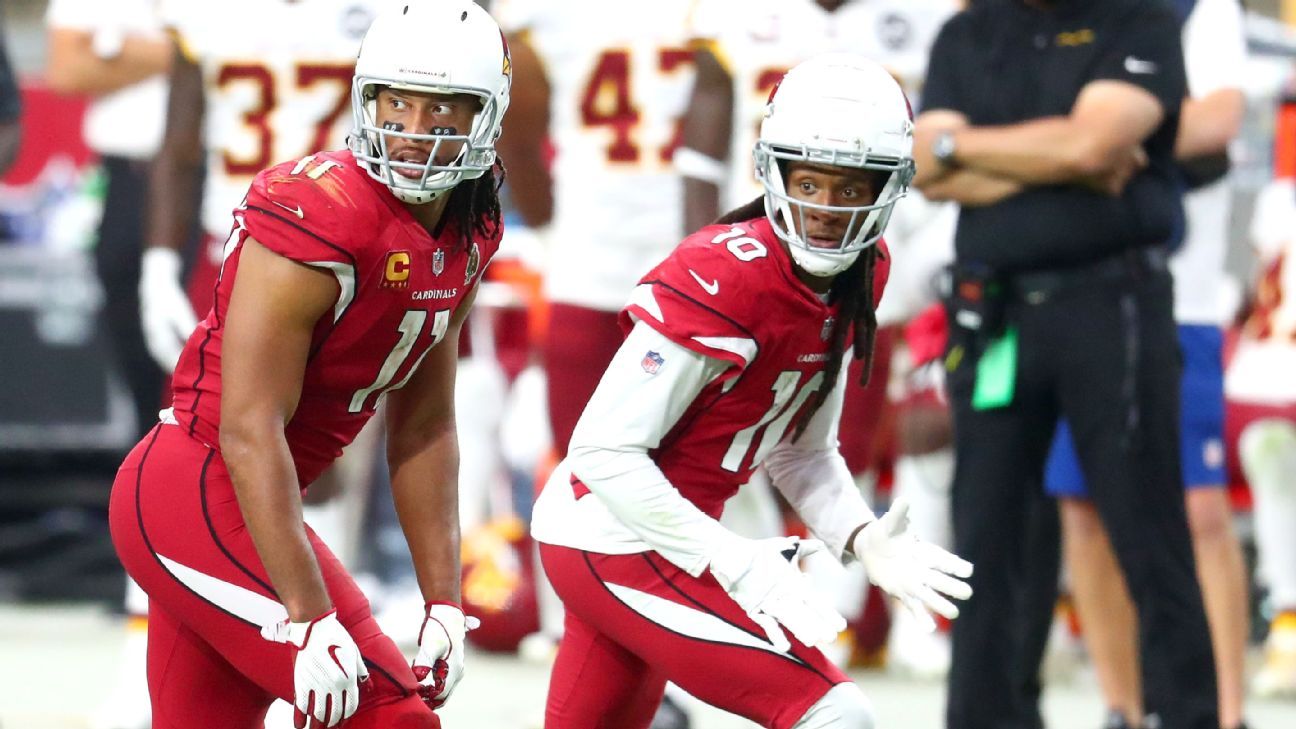 TEMPE, Ariz. — DeAndre Hopkins seems to be settling in quite well with his new team, while teammate and future Hall of Famer Larry Fitzgerald had his lowest receiving output since 2004 on Sunday.
By halftime of the Arizona Cardinals' 26-23 loss to the Detroit Lions, Hopkins had set a personal record for the most receiving yards in his first three games of a season.
And then he continued to build on it in the second half.
When the final horn sounded at State Farm Stadium, Hopkins had 137 yards, giving him 358 through three games, trampling his previous best start of 274 set in 2018 — when he reached 1,500 yards for the second time in his career. The first time Hopkins hit 1,500 yards was in 2015, when he had 252 yards through three games, his second highest mark before this season.
And now there's 2020. Hopkins is averaging 119 yards per game thus far, which puts him on pace for 1,909 yards this season. Only one receiver has surpassed the 1,900 yards mark, and that was former Lions receiver Calvin Johnson in 2012.
• Fantasy fallout: Buy breakout rookie WRs?
• Pederson must 'unclutter' Wentz's mind
• It's Foles' show now as Bears starting QB
• Bengals try to find balance for Burrow
• Hot start for Hopkins, decline for Fitz
"He's doing a great job," Cardinals coach Kliff Kingsbury said of Hopkins. "I thought he played within the offense this week, and the ball came his way. He's just a guy who finds a way to get open. When he has the ball in his hands, he really makes plays with it. You can see him in the open field making people miss, doing things to get the YAC (yards after catch) and that's kind of his specialty."
In his seven seasons since getting drafted in the first round out of Clemson in 2013, Hopkins has five 1,000-yard seasons. Heading into this season, Hopkins had the third-most receiving yards and catches, second-most touchdowns and most targets of any NFL receiver since 2013.
Arguably the league's best receiver, Hopkins has wasted no time in getting acclimated with quarterback Kyler Murray and his first year with the Cardinals.
Through three games, he has caught a career-high 32 passes, which is tied for the third-most in NFL history through games. His 37 targets in three games are the second most of his career.
"Everybody knows his name, who he is on the field," Murray said. "He's one of the best players in the NFL. Obviously having him is a huge deal.
"He's been playing great and hopefully we can keep that going."
A byproduct of Hopkins' emergence has been a reduction of Fitzgerald's role.
The future first ballot Hall of Famer has 84 yards on 12 catches through three games, the fewest of his 17-year career. Before this season, Fitzgerald never had less than 107 yards in the first three games of a season.
A large part of this season's decline was due to Sunday, when he had no yards on one catch, the second time in his career he didn't have a receiving yard in a game. The last time was Oct. 31, 2004 — a stretch of 245 games.
Kingsbury took the blame for Fitzgerald not having any yards, saying he should've done a better job of getting him the ball.
"He's the heart and soul of this team," Kingsbury said. "And when he's getting the football, good things happen. So, that's completely on me."
However, Kingsbury disputed the idea Fitzgerald's decreasing stats are a product of his age — 37 — or Murray having other options.
"No, I don't think it's anything like that, honestly," Kingsbury said. "He had one of the best camps of anybody on the team, and he played great in the first two games. He was getting open. I just did a poor job of getting him the ball."