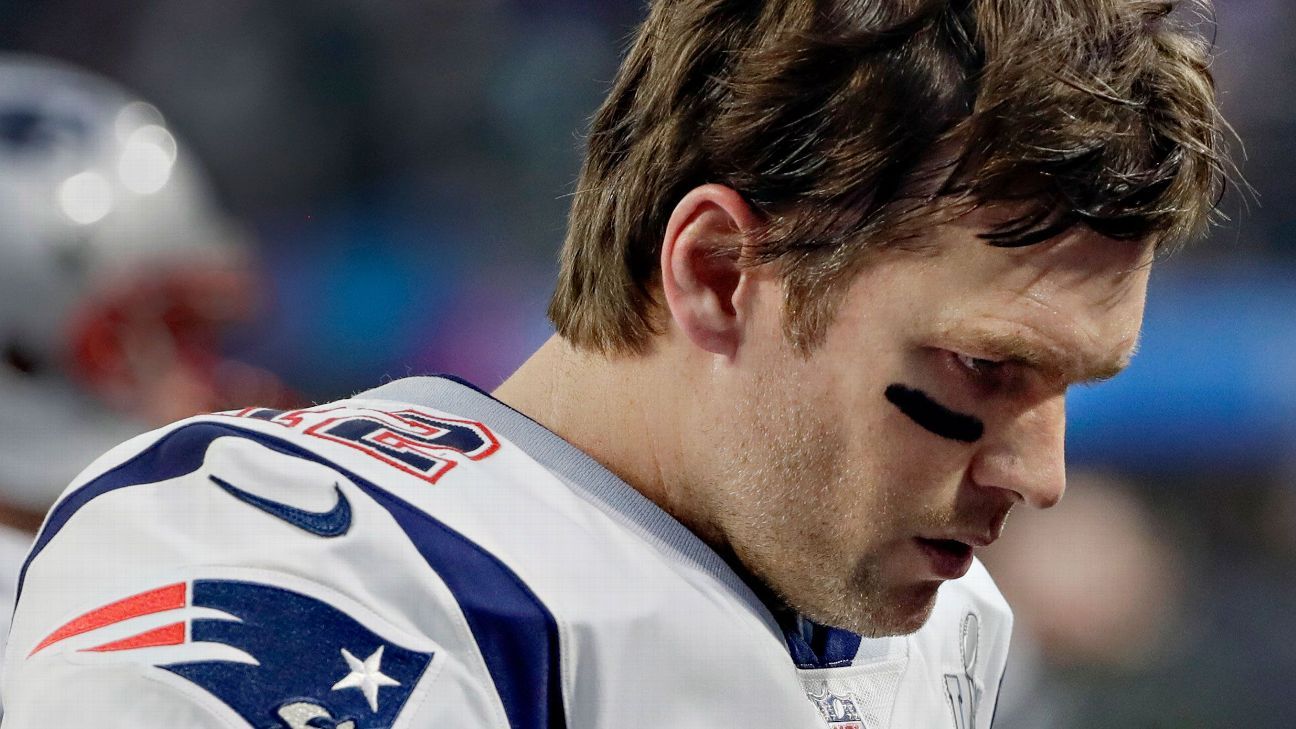 QUINCY, Mass. — New England Patriots quarterback Tom Brady got a buzz cut for a cancer research institute.
Brady was the mystery guest at Thursday's "Saving by Shaving" annual fundraiser for the Dana-Farber Cancer Institute in Boston.
Brady showed off his new look on Instagram after his long, brown hair was shaved with clippers.
Massachusetts Gov. Charlie Baker had his head shaved too.
Granite Telecommunications holds the event at its headquarters in Quincy. The company pledged to give over $5 million to the cancer institute if 1,000 people shaved their heads or beards.
Granite Telecommunications says 1,200 people participated and it'll contribute $6.5 million for its fifth annual event.
Brady says it was an honor to join the fun and support the great work of Dana-Farber.
Sean McDermott says 'there is still a gap' between Buffalo Bills, Kansas City Chiefs
BUFFALO, N.Y. — Two days after the Buffalo Bills were knocked out of the postseason by the Kansas City Chiefs, coach Sean McDermott reflected on what work his team has left to do before it's ready to beat the two-time defending AFC champions.
Sunday night's 38-24 loss was the Bills' second loss to Kansas City this season after falling 26-17 in Week 6. The Chiefs controlled a majority of that AFC Championship Game and McDermott admitted after the game that Kansas City will be Buffalo's "measuring stick" heading into the offseason.
"There is still a gap in terms of where we are and where we are. It's not just one answer that solves that problem," McDermott said. "We all have to, starting with me, we all have to continue asking ourselves the hard questions of the what ifs, and the whys and the hows. We as a staff have to get better and improve, we have to improve our roster, we have to improve our operation and what we do."
The Bills went 13-3 and won the AFC East this season for the first time since 1995, and won their first playoff games since the turn of the century, beating the Indianapolis Colts and Baltimore Ravens in the wild card and divisional rounds, respectively.
It was the best of McDermott's four seasons with the Bills, three of which have resulted in playoff berths after the franchise spent 17 straight seasons without one.
But it still didn't match his former mentor, Andy Reid, who led the Chiefs to a 14-2 record in his 8th season with the team.
"They're in year 8 and we're in year 4," McDermott said. "But that's a little bit of a feel for how long they've been building their program and where we are. There's a lot that we've improved on in terms of what's gotten us to where we are."
McDermott said it's too early to pinpoint exactly which areas the Bills need to improve this offseason but that he and his staff are already working on finding them. He did say Buffalo needs to run the ball better after finishing 20th in the NFL in rushing this season, and also that it "absolutely" needs to improve defensively. After finishing the 2018 and 2019 season as the league's second and third-best defense in terms of yards allowed per game, the Bills dipped to 14th in 2020.
There will also likely be an emphasis on adding more overall team speed — especially after witnessing what the Chiefs were able to do Sunday night. Kansas City had plays of 50 and 71 yards against the Bills, which did not go unnoticed by McDermott.
"I think the speed element showed up on the field the other night," he said. "I don't think it takes a coach to realize that. Speed and size, that's what this game is — speed, size and physicality."
One area the Bills won't have to worry much about this offseason is at quarterback, where Josh Allen looks like one of the league's brightest young stars. Allen set single-season franchise records in every major passing category and was selected to his first Pro Bowl this season.
Allen said he believes he's proven that the Bills made the right decision to trade up to select him in the 2018 draft and McDermott said his development is a reflection of the franchise's current standing.
"It's certainly a benchmark or landmark to where we've gotten beyond now, right," he said. "I think that speaks well for the future of this organization moving forward. There's not a lot of teams that can answer that question and say 'yes we have our quarterback' and I can tell you, and you've watched it, Josh Allen is a very good quarterback and one we can win with for years to come."
Aaron Rodgers — Think I'll be back with Green Bay Packers but there are no absolutes in NFL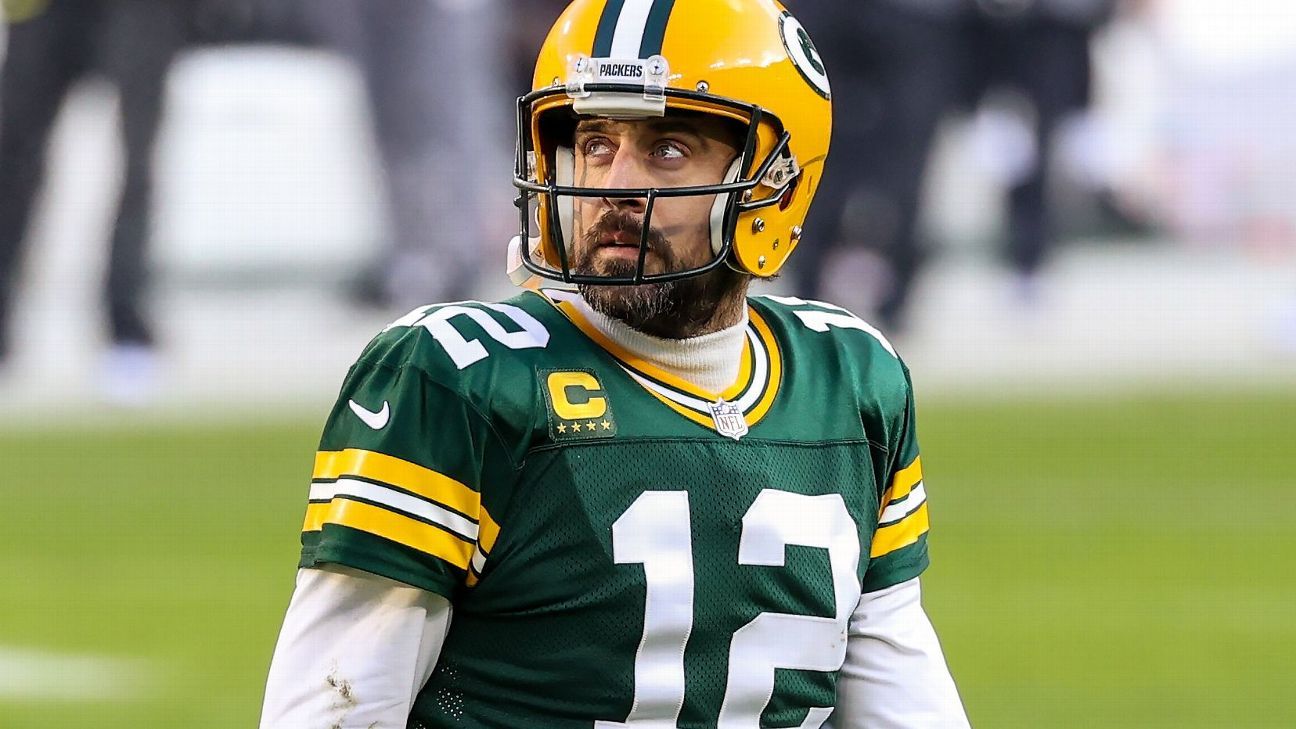 GREEN BAY, Wis. — Two days after Aaron Rodgers opened up speculation about his future with the Green Bay Packers, the presumptive NFL MVP said Tuesday that he has reason to think he will be back with the only team he's ever played for during his 16-year NFL career.
However, he put an emphasis on the word "think" during an appearance on The Pat McAfee Show and SiriusXM Radio.
"I don't think that there is any reason why I wouldn't be back," Rodgers said. "But look, there's not many absolutes in this business. So to make an absolute statement about something that is not an absolute, I didn't do it. And I guess that's why it went kind of nuts."
Rodgers included himself in a group of players with uncertain futures in his comments after Sunday's loss to the Tampa Bay Buccaneers in the NFC Championship Game. Leading into the game, he called his future "a beautiful mystery."
On Monday, Packers president Mark Murphy said on WTAQ-WNFL radio in Green Bay: "I'll say this, there's no way in heck that Aaron is not going to be on the Packers. He is going to be the MVP of league. He might have had his best year ever. He's our unquestioned leader, and we're not idiots."
But the Packers are the team that drafted Jordan Love in the first round as Rodgers' possible replacement last year.
"I don't feel like I said anything that I hadn't said before," Rodgers said on the show. "I said it the first time I talked to the media (after the draft). It just, it was more a realization I think that ultimately my future is not necessarily in my control. That was what just kind of hit me in the moment. I was just thinking of Aaron Jones, Corey Linsley, other guys we have under contract, Big Dog [Marcedes Lewis], guys who I don't know what their future is going to be, and myself included."
Rodgers, 37, has said he wants to play into his 40s much like Tom Brady has but acknowledged after the draft that Love's arrival meant he might not be able to do that with the Packers.
"Naturally, there's time when you let your mind go to maybe, 'I'm going to be a Packer for life,'" Rodgers said Tuesday. "Or, 'I'm going to be like a Tim Duncan or (Derek) Jeter or Kobe (Bryant) and play with one team my entire career.' Naturally, you dream about that. That's kind of like a dream scenario. I've talked about that for much of my career.
"When they drafted Jordan, it was more the reality kicking in. Like, hey, that's actually never the case. There are no absolutes in this business. I think it's a beautiful thing to sit with and to wrap your head around. And I did. I got to a beautiful place about it. It doesn't mean that that's not still a reality. I think that's the only reality, is that there is no absolutes in this business. I just reiterated that after the game. I get it, some people were like, 'You just threw 48 touchdowns and probably going to win MVP.' Yeah, I understand that, but, again, there's no absolutes in this business. I gave a real answer in the moment."
Rodgers still has three more seasons left on his current contract, but the deal has reached the point where the Packers could now move on and gain salary-cap space. If Rodgers does not want his status to become year-to-year and wants assurances that he's in their long-term plans, he could ask for a contract extension or for his deal to be restructured to include more guaranteed money in the remaining years.
He indicated that he would meet with Murphy and general manager Brian Gutekunst at some point soon but stopped short of saying he would give any ultimatums.
"There's conversation to be had; I'm going to have them with the right people," Rodgers said. "It's the same conversation we have every single year. There's no big, 'I'm going to the table with I need this and this and this.' Look, we have honest conversations about where we're at every single year, whether that's with Brian, Matt, Mark. I've had these conversations for years. That's part of being a leader on the squad and having a pulse of the team and a direction that we're going, and we'll have the same conversation we do every year. I always look forward to those conversations."
Sources — Kansas City Chiefs' Le'Veon Bell, Sammy Watkins and Tampa Bay Buccaneers' Antonio Brown, Antoine Winfield Jr. expected to play in Super Bowl
Several injured players for the Kansas City Chiefs and Tampa Bay Buccaneers are expected to be healthy for Super Bowl LV.
Chiefs running back Le'Veon Bell (knee) and wide receiver Sammy Watkins (calf), as well as the Bucs duo of wide receiver Antonio Brown (knee) and safety Antoine Winfield Jr. (ankle) are all expected to be ready for Feb. 7, sources told ESPN's Dianna Russini.
Each missed their team's championship game victories on Sunday.
Watkins played in 10 games for the Chiefs in the regular season. He was out earlier in the season with a sore hamstring and later with a calf injury. He did not play in either of the Chiefs' postseason games. Watkins finished the regular season fifth on the Chiefs with 37 catches for 421 yards and two touchdowns.
Bell joined the Chiefs in October after he was released from the New York Jets. He had a lesser impact for the Chiefs than was anticipated when he arrived. After the Chiefs lost Clyde Edwards-Helaire for a stretch, they passed over Bell and made Darrel Williams their featured back in a Week 16 game against the Falcons and in the divisional round playoff game against the Browns. Bell during the regular season rushed for 254 yards in nine games for the Chiefs.
Winfield popped up on the Buccaneers' injury report late last week as he failed to practice Friday. The rookie tested the ankle out in pre-game warmups, but it was deemed that he would not be able to play in the team's NFC Championship Game win over the Green Bay Packers.
Brown suffered a knee injury against the New Orleans Saints and played just a handful of snaps in the second half of the Bucs' divisional round win. He did not take part in practice Thursday and was not present for Wednesday's walk-through. Though the team had planned for Brown to be a game-time decision, he was ruled out on Friday. Tampa Bay coach Bruce Arians explained that Brown "wasn't as close as we'd hoped, so we'll get him ready for the next one."
Information from ESPN's Adam Teicher was used in this report.