Philadelphia Eagles taking calls on Nick Foles but price is high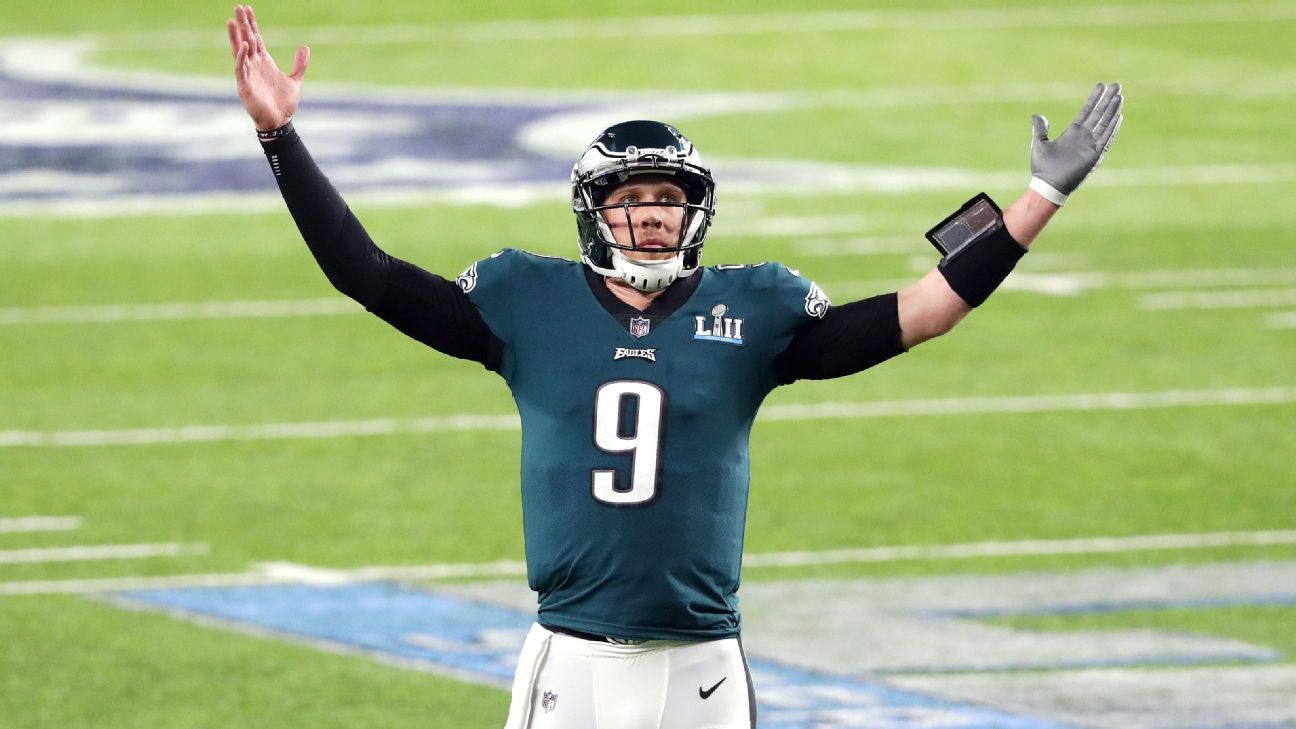 The Philadelphia Eagles have received multiple trade offers for quarterback Nick Foles but are setting a high price, sources told ESPN's Chris Mortensen.
The sources said the Eagles' basic answer to interested teams is that getting Foles is going to take more than the first- and fourth-round picks they received from the Minnesota Vikings for Sam Bradford prior to the start of the 2016 season.
The Eagles have not actively shopped Foles but are taking inquiries, the sources said.
Foles, the reigning Super Bowl MVP, stepped in for an injured Carson Wentz and led the Eagles to their first title since 1960, throwing six touchdowns and one interception in the postseason.
Executive vice president of football operations Howie Roseman said the organization intends to "keep as many good players as possible" when asked about Foles at the combine last week, adding that the current quarterback room featuring Wentz, Foles and developmental prospect Nate Sudfeld is "exactly what we're looking for."
Coach Doug Pederson left more wiggle room for a potential deal, saying, "We'd love to have everybody back, but we know the nature of the business."
The Eagles have plenty of incentive to keep Foles. Wentz is recovering from a torn ACL and LCL in his left knee that he suffered against the Los Angeles Rams in December. While optimistic that he will be back for the 2018 opener, the Eagles have no guarantee that Wentz will be ready for the start of the season. They believe strongly in having two strong starting options at quarterback — a philosophy that was bolstered by how the 2017 season played out.
But they are leaving the window open a crack in the event that a team comes to the table with an excellent offer. The Eagles are projected to be about $9 million over the cap and are without a second- or third-round pick in April's draft. Roseman has expressed the need to add picks so the team can offset some of the large contracts on the books with more players on rookie deals.
Foles is entering the final year of his two-year contract and carries a cap hit of $7.6 million. Any team that acquires him — especially for the type of compensation the Eagles are talking about — will likely want assurances that he will sign an extension, adding to the complexity of a potential deal.
Arizona Cardinals laud QB Kyler Murray's mobility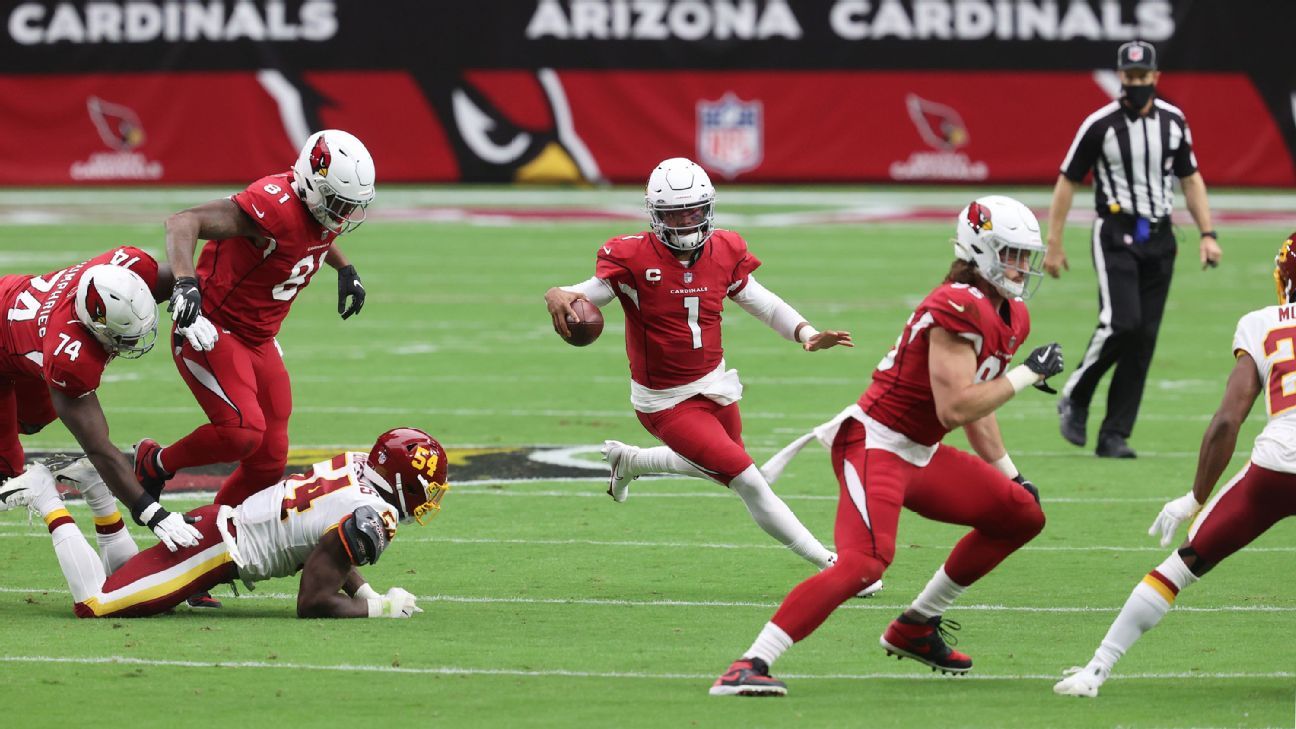 GLENDALE, Ariz. — Arizona Cardinals second-year coach Kliff Kingsbury doesn't enjoy watching his star quarterback, Kyler Murray, tuck the football and take off toward a hole in the offensive line, regardless if there are either swaths of grass or paydirt in front of him.
When Murray takes off, which has been happening more often in the first two games of this season than the first two of last season, Kingsbury is usually standing on the sideline muttering the same phrase over and over: "Get down."
Sometimes Murray will — either on his own, with a picture-perfect baseball slide, or with the help of a defender seething to get their hands on the reigning rookie of the year.
Other times, Murray won't, just weaving, cutting and juking his way to the end zone.
It's not until the day after the game that Kingsbury will sit in his office at the Cardinals' training facility in Tempe, turn on the film and soak in what unfolded in front of him the day before. Regardless of how many times Kingsbury has seen Murray take off and do his thing with his feet, he's never surprised.
"I've watched that since he was 15 years old," Kingsbury said. "He is one of the most dangerous people probably in the league when he's in the open field like that, and he is as elusive as anybody, and that's a weapon. He's just got to be able to protect himself, which he does a good job of."
Murray's running hasn't just been the so-called X factor for Arizona, now 2-0 to open the season. It has been the evening factor, and then some.
The Cardinals' offense, despite putting up 54 points the first two weeks of the season, has yet to be or look perfect. There were plays in Sunday's 30-15 win over the Washington Football Team that wide receiver DeAndre Hopkins wished he and the rest of the offense had back. There were penalties that called back touchdowns or pushed the Cardinals back out of easy scoring range. And that's to be expected, Hopkins said, considering there weren't organized team activities, minicamps or preseason. Just training camp to get new players to jell into a new system.
As Kingsbury put it, "I just feel like we have not hit our stride yet."
But that's where Murray has factored in.
He has run for three touchdowns this season, half of Arizona's overall season total. And he's not just the team's leading rusher, he accounts for 46.4% of its rushing yards.
"He adds a different dynamic to this offense where he can go and score from 20, 30 yards out," Hopkins said. "It's something that is hard for defenders to be able to attack when you have a quarterback like that that is looking to score and not just getting first downs.
"And, also, when he's running, he's looking to throw. As you seen today, the touchdowns that he had, obviously, it was defenders right there in front of him and he made a move or two, and went in for a touchdown."
But Murray's play hasn't been crystal clean either, according to his coach.
Kingsbury described Murray's play the past two weeks as "a work in progress."
"I think you can see we're not as sharp as we'd like to be," Kingsbury said. "But he has so much talent that he can still make some incredible plays. And we're just gonna keep working at it and hopefully take another step next week and go from there. So, he's a spectacular talent. We all know that.
"I think when we really get it clicking and get in a rhythm that we can get rolling pretty good. So, we'll hopefully take another step next week and that'll continue."
Throughout the offseason, Murray talked about developing a better understanding of how defenses work, his own field awareness as well as his teammate's.
What Murray is doing — running for 158 yards and three touchdowns on 21 carries — is a product of that.
"And then, when my number's called or I'm able to break the pocket it's more comfortable for me to make something happen," Murray said. "If I have to slide, I gotta slide. But if I know I can get more yards, then that's what I'm trying to do."
While the rest of the offense figures itself out, Murray will be there to do his part in helping the offense as an entirety be a force.
Murray's ability to run — and not just run but score points with his feet — has been the deciding factor for an offense that features a future first-ballot Hall of Famer in Larry Fitzgerald and possibly the best receiver in all of football in Hopkins.
"I think it does a lot," Murray said of his ability to run. "It's an extension of the run game, or really our offense, in general. When I can break the pocket or pull a read and score, that's the dynamic that we have in this offense because I'm able to move.
"It's a blessing to be able to move fast."
Bills QB Josh Allen posts career highs for second straight week
Playing without their two starting linebackers, the Buffalo Bills needed the offense to carry the load Sunday against the Miami Dolphins — and Josh Allen delivered.
The third-year quarterback threw for 417 yards and four touchdowns, both career highs, in what might be the best game of his career. After recording his first 300-yard game against the Jets in Week 1, Allen completed 69% of his passes to eight different receivers in the Bills' 31-28 win.
Allen started hot, throwing for 249 yards and two scores in the first half as the Bills built a 17-10 lead. But they started slowly in the second half as Miami roared back to take a 20-17 lead early in the fourth quarter. Allen responded to Buffalo's first deficit of the season by completing 6 of 8 passes for 145 yards and 2 touchdowns over his next two drives to ice the game.
"He's got ice water in his veins, man," Bills coach Sean McDermott said. "There's no moment too big for him. That was true from the very start when we got him here, quite honestly."
In the process, Allen became both the first Bills player to throw for 400 yards and four touchdowns in a single game without an interception, and also the first Bills player to throw for 300 yards, at least two scores and zero interceptions, in consecutive games, according to research by ESPN Stats & Information.
He also joined Peyton Manning, Tom Brady and Patrick Mahomes as the only quarterbacks in NFL history to throw for at least 700 yards and six touchdowns without an interception in the first two weeks of a season, according to Pro Football Reference.
Allen credited offensive coordinator Brian Daboll for calling the plays that put him in position to succeed and his teammates for executing on their end.
But he has also looked and felt more comfortable than ever now in his third year in Daboll's system.
"I feel like I've always played with a lot of confidence," Allen said, "but as far as knowing our playbook, knowing protections … the comfortability of the offense, it's really good right now."
How the Dallas Cowboys' rallying win ranks among the most improbable comebacks of the past 20 seasons
It's not often that you see a comeback like the one the Dallas Cowboys pulled off Sunday against the Atlanta Falcons. Down 29-10 at halftime, the Cowboys scored 30 points in the second half to take a 40-39 victory. Along the way, they worked past deficits of 39-24 midway through the fourth quarter and 39-30 at the 4:57 mark with only one timeout left.
The rally wouldn't have been complete without a recovered onside kick with 1:48 remaining, after the Falcons inexplicably failed to fall on the ball. Greg Zuerlein's 46-yard field goal on the final play won it.
How unusual was it? ESPN's win probability model identifies only 10 other games in the past 20 seasons in which the victor had a lower win probability during the game. Late in the second quarter, in fact, the Cowboys had a 0.1% chance to win.
Here's a quick look at the previous instances, in order of lowest win probability. Randomly, two of the games heavily involve place-kicker Matt Prater. The model includes all games since the start of the 2001 season.


When: Week 9, 2016 season
Relevant deficit: Vikings took a 16-13 lead with 23 seconds left
What happened: With no timeouts, the Lions completed two passes and gained a total of 35 yards. Quarterback Matthew Stafford spiked the ball two seconds left, and Matt Prater hit a 58-yard field goal to tie the game. The Lions won in overtime on a first-possession touchdown.
---

When: Week 14, 2018 season
Relevant deficit: Patriots took a 33-28 lead with 16 seconds left
What happened: The Miami Miracle, of course. The Dolphins got one play from their 31-yard line. Quarterback Ryan Tannehill threw a 14-yard pass to wide receiver Kenny Stills, who lateraled to wideout DeVante Parker, who lateraled to running back Kenyan Drake, who sprinted 52 yards for the winning touchdown.
---

When: Week 14, 2011 season
Relevant deficit: Bears took a 10-0 lead on the first play of the fourth quarter and held that lead until the 5-minute mark in the game
What happened: Broncos quarterback Tim Tebow went 7-for-7 on the Denver's next possession, the final throw a 10-yard touchdown pass to wide receiver Demaryius Thomas. The Bears went three-and-out, then Tebow led a second scoring drive that ended in Matt Prater's 59-yard field goal with eight seconds remaining. The Broncos won it on Prater's 51-yard field goal in overtime.
---


When: Week 4, 2001 season
Relevant deficit: Eagles took a 20-14 lead with 1:13 remaining
What happened: Cardinals quarterback Jake Plummer got his team to the Eagles' 35-yard line but faced fourth-and-10 with 17 seconds remaining. Plummer tossed a jump ball to wide receiver Marty Jenkins, who had posted up Eagles cornerback Troy Vincent — yes, that Troy Vincent — at the 2-yard line. Jenkins caught the ball, ran around Vincent and jumped into the end zone for the win.
---

When: 2017 divisional playoff round
Relevant deficit: Saints took a 24-23 lead with 25 seconds left
What happened: The Minneapolis Miracle, naturally. On third-and-10 from the Vikings' 39-yard line quarterback, Case Keenum found wideout Stefon Diggs on the right sideline. Saints safety Marcus Williams missed the tackle, and Diggs sprinted into the end zone for a walk-off touchdown.
---


When: Week 1, 2015 season
Relevant deficit: Giants took a 26-20 lead with 1:34 remaining
What happened: With no timeouts, the Cowboys drove 72 yards on six plays for the winning score. Facing third-and-2 at the Giants' 11-yard line with 13 seconds left, center Travis Frederick sent a low snap to quarterback Tony Romo. But Romo grabbed the ball off the ground and threw the winning touchdown pass to tight end Jason Witten.
---
When: Week 13, 2009 season
Relevant deficit: Washington took a 30-20 lead at home with 12:51 remaining
What happened: The Saints scored 10 points in the final 6:52, including a 53-yard touchdown pass from Drew Brees to Robert Meachem with 1:19 left. The Saints had a chance to win in regulation after intercepting Washington quarterback Jason Campbell, but place-kicker Garrett Hartley missed a 58-yard field goal attempt. Hartley, however, won the game with an 18-yard field goal in overtime.
---

When: Week 1, 2009 season
Relevant deficit: Bengals took a 7-6 lead with 38 seconds left
What happened: With the Broncos facing second down from their own 13-yard line, quarterback Kyle Orton targeted wideout Brandon Marshall near the sideline at about midfield. The pass was tipped, but Broncos wide receiver Brandon Stokley grabbed it out of the air and sprinted to the end zone for the winning score.
---
When: Week 13, 2015 season
Relevant deficit: Lions took a 23-14 lead with 7:06 remaining (and still led 23-21 with six seconds to play)
What happened: With six seconds left, the Packers faced a third-and-10 from their 21-yard line. They tried a multi-lateral play, and Lions defensive end Devin Taylor tackled quarterback Aaron Rodgers at the 24-yard line to end the game. Or so everyone thought. Officials called Taylor for grabbing Rodgers' face mask, not only giving the Packers another play but also moving the ball up 15 yards and into Rodgers' range for a Hail Mary. Rodgers then won the game on a 61-yard Hail Mary throw to tight end Richard Rodgers.
---
When: Week 15, 2005 season
Relevant deficit: Chargers took a 12-10 lead with 1:52 remaining
What happened: The Lions took over at their 19-yard line with no timeouts remaining. The big play was converting a fourth-and-17 at their own 24-yard line on a 40-yard pass from quarterback Joey Harrington to receiver Roy Williams. A 15-yard pass to Williams on third-and-10 put Jason Hanson in position to kick a 39-yard winning field goal.