Le'Veon Bell of Pittsburgh Steelers gets franchise tag again
PITTSBURGH — The Pittsburgh Steelers have informed Le'Veon Bell that they will apply the franchise tag to him for the second consecutive year in the absence of an unlikely deal by Tuesday's deadline, Bell told ESPN.
The Steelers have increased last year's long-term contract offer but Bell has adjusted his contractual floor to $14.5 million per year to align with his running back tag. He won't play for a contract that averages less annually, he said.
"We're not coming to a number we both agree on — they are too low, or I guess they feel I'm too high," Bell said. "I'm playing for strictly my value to the team. That's what I'm asking. I don't think I should settle for anything less than what I'm valued at."
Bell said he wasn't bluffing when he told ESPN in January that he'll contemplate retirement if asked to play on the tag another year. All options are on the table for Bell, who doesn't plan to sign a tag any time soon and would likely skip training camp once again.
"I just have to decide if I'm going to play when the time comes," Bell said.
Bell, 26, confirmed he turned down last year's contract offer worth $42 million over the first three years with an average of $13.3 million over the life of the deal. Even his mom wanted him to sign it. Bell almost did.
Since then, the Steelers are closer but not quite where Bell wants them to be with an offer — though Bell said both sides are negotiating in earnest.
Bell plans to stick to his number — which he isn't revealing — and is accounting for everything. Asked about his criteria for assessing that worth, Bell explained:
He's putting up more yards per game than any NFL player (his career average of 128.9 yards from scrimmage per game is the best since the 1970 NFL-AFL merger).

He plays every down and basically fills the role of three backs.

His presence keeps the defense off guard because he can line up anywhere on any play, "causing constant mismatches every single down," he said.

He's an elite pass-blocker and No. 2 receiver.

The Steelers are undefeated when he gets 25 or more carries.

His game will age well because he makes plays not solely off athleticism, but "with my mind," he said.
"I'm the one to bet on myself. And I'll do it again," Bell said. "I understand how the Steelers do contracts. Last year, I was pounding the table on guaranteed money. That's not the case. If I'm not getting guaranteed money, I want a lot more up front. … It's year-to-year with the Steelers. Essentially if I sign a four- or five-year deal, I'm playing four or five franchise tags.
"Earlier I said I felt we would get one done, and this year we are a lot closer than last year. In good spirit, I feel we can get something done. But unless something drastic changes, it won't be [this week]."
Bell is part of the "Killer B's" trio for the Steelers, alongside quarterback Ben Roethlisberger and receiver Antonio Brown, whose long-term contracts combine to pay about $37 million per year. Bell wants to join them.
"Both of those guys got what they deserved," Bell said. "I feel I'm next in line."
Bell tweeted Monday evening that he wants "nothing more than to finish the rest of my career" in Pittsburgh.
Pittsburgh: the city that took in a 21-year old kid from small-town Ohio, the city I battled thru adversity in, the city that I became a man in. I love everything about being a Pittsburgh Steeler, and I want nothing more than to finish the rest of my career in Pitt! #26Forever pic.twitter.com/mhs2ikpK71

— Le'Veon Bell (@LeVeonBell) March 6, 2018
Bell believes the Steelers understand his worth but he senses his negotiations are viewed through the prism of the running back market, in which Atlanta's Devonta Freeman is the game's highest paid at $8.25 million per year. Freeman has averaged 96.9 yards from scrimmage per game over the past three seasons.
Bell said the constraints of the running back market aren't his doing and don't encapsulate his profile as a player.
"They are using it as me being compared to another running back or my status or what Devonta Freeman has. I can't control what he's done on the field," Bell said. "I only can control what I think I'm worth and what I've done on the field. That's where the problem lies. 'Freeman's making this, we can't give you this.' … To me, that's not fair. I didn't sign Devonta's deal. That's the position I'm in. I want to make my own decision."
That decision will get bigger if he finds himself without a deal in late July. Bell said the Steelers might see him in Week 10, just in time to pick up his accrued NFL season.
"It'd definitely be hard to pass up," Bell said of the $14.5 million.
Jacksonville Jaguars' Leon Jacobs ruled out after injuring knee vs. Miami Dolphins
JACKSONVILLE, Fla. — Jacksonville Jaguars linebacker Leon Jacobs suffered a right knee injury early in Thursday's game against the Miami Dolphins and was ruled out for the rest of the night.
Jacobs, 24, has started two of the Jaguars' three games and had two tackles entering Thursday. He has started 12 games since the Jaguars drafted him in the seventh round in 2018.
Jacobs was hurt on the seventh play of the game, a 7-yard run by Miami's Myles Gaskin. Jacobs stayed on the ground for several minutes and was taken off the field on a cart.
Cassius Marsh, whom the Jaguars signed to a one-year deal in March, replaced Jacobs in the lineup.
Follow live: The Beard vs. the 'Stache. Gardner Minshew and the Jaguars take on Ryan Fitzpatrick and the Dolphins
Seattle Seahawks' Jamal Adams finds extra motivation against Dallas Cowboys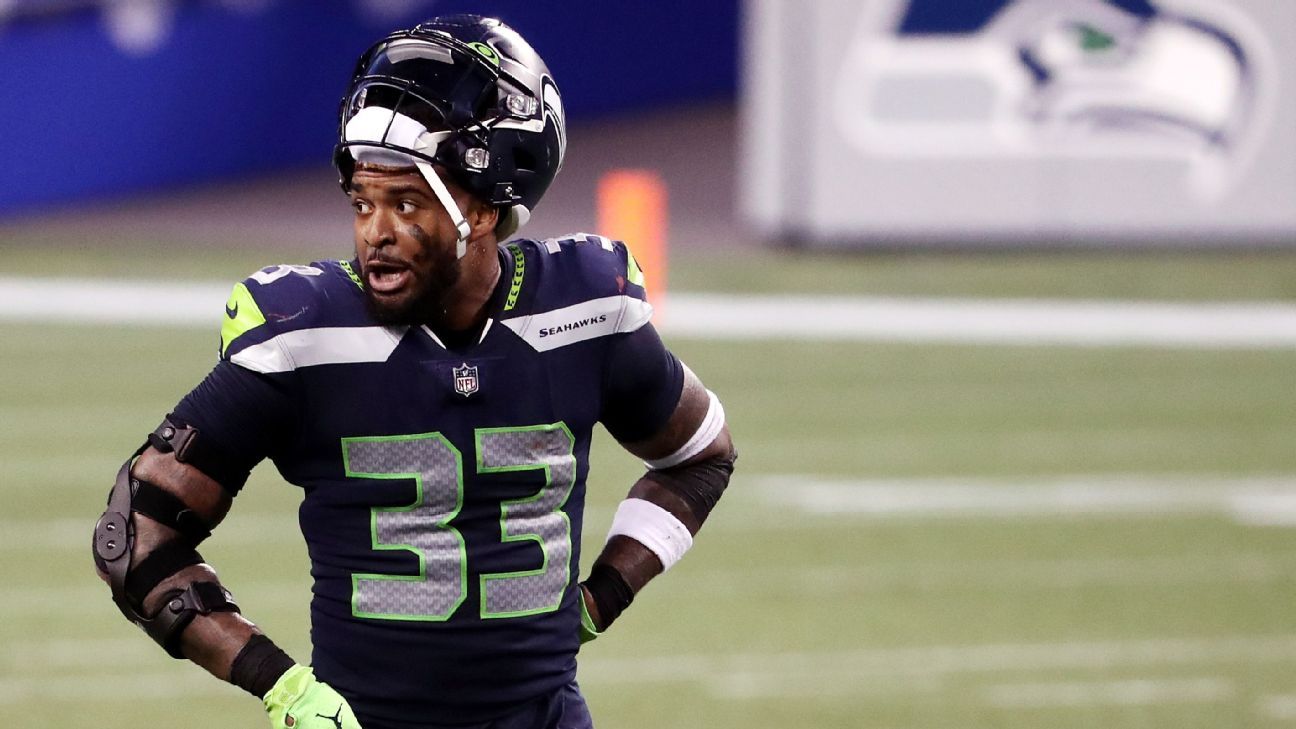 Jamal Adams says he'll have a little extra motivation when the Seattle Seahawks host the Dallas Cowboys Sunday at CenturyLink Field.
It isn't because the All-Pro safety will be playing his hometown team for only the second time in his career. It's because of something he's heard through the grapevine back home.
"I've seen a couple things, they said I struggle in coverage, so I can't wait," a smiling Adams told reporters Thursday. "I got a little text from one of my buddies back home. He has the inside scoop on that. So, looking forward to it."
Adams wouldn't specify which Cowboy(s) said that or who relayed it to him.
"I can't tell you that, man," he said. "C'mon. I can't give you the nuggets like that, man. I grew up with a couple guys who are still my brothers, best friends to this day. We talk every day, group messaging. What goes on in Dallas, it always comes back to me. I always find out the scoops. So just a little edge, a little chip on my shoulder to go out there and continue to do what I'm doing. Obviously, things happen. It's part of the game. And hey, just looking forward to the matchup."
Acquired in a blockbuster trade with the New York Jets this summer, Adams has been one of the Seahawks' most active defenders through two games. He leads the team in tackles (22), sacks (2.0) and tackles for loss (3.5). But he hasn't been perfect. Adams collided with cornerback Shaquill Griffin on one play in Week 1, leading to an easy touchdown for the Atlanta Falcons. He took the blame for one of the long completions from Cam Newton to Julian Edelman in Seattle's win over the New England Patriots Sunday night.
While Adams has never been known as a ballhawk — he has two interceptions since entering the league in 2017 — he's been good enough in coverage over his first three seasons to allow the fourth-lowest completion percentage (50.4%) among safeties as the nearest defender, according to NFL Next Gen Stats.
Adams is from the Dallas-Fort Worth suburb Lewisville, Texas, and attended Hebron High School, which is 31 miles from AT&T Stadium. He was a New York Giants fan growing up because his father, George, spent his first four NFL seasons with them. But the Cowboys were one of seven teams Adams would have welcomed a trade do while his future with the Jets was in limbo, according to ESPN's Adam Schefter.
Adams made the comment about the text he received from his friend while praising the Cowboys' wide receiver corps of Amari Cooper, Michael Gallup and rookie first-round pick CeeDee Lamb. Adams described Lamb as being "like a little brother to me."
"We've got our hands full," he said. "It's going to be exciting. It reminds me of Atlanta in a sense of what type of explosion they have at receiver, if that makes sense. Not comparing them, but just saying that they have some explosive guys on their side that can make a lot of plays. So we have to do a good job of doing our thing and plastering them and covering them."