With 49ers picking 9th and Raiders 10th, a look at potential targets – San Francisco 49ers Blog
The San Francisco 49ers and Oakland Raiders are scheduled to face off in 2018 in what will likely be the last game between the teams representing the Bay Area before the Raiders move to Las Vegas.
But before that game can take place, the two teams met on neutral turf in Indianapolis on Friday. At stake? Positioning in the 2018 NFL draft.
The league had its tie-breaking coin toss between the Niners and Raiders on Friday afternoon, and the 49ers were the winners — walking away with the ninth pick and leaving No. 10 to the Raiders. Hall of Fame defensive back Rod Woodson flipped the coin that came up in San Francisco's favor.
Now that the 49ers and Raiders are locked in to their draft positions, Niners reporter Nick Wagoner and Raiders reporter Paul Gutierrez take a look at some potential targets for the last two picks in the top 10.
Wagoner: Niners general manager John Lynch has made it clear the organizational philosophy is to fill needs through free agency and use the draft to select the best player available. Still, a need can serve as a tiebreaker of sorts if players have similar grades, which makes nailing down a specific target here before free agency begins a difficult exercise. It's a good bet the Niners will land at least a few notable free agents, with cornerback and the interior of the offensive line among the most likely positions to find starters. With additional needs at receiver, edge rusher and running back and depth at almost every spot, the 49ers should be able to plug some holes and set themselves up to take a player with their first pick who not only can contribute right away but also makes sense in the big picture. Winning the ninth pick doesn't change much about their potential prospects but it does put them in a slightly better position for a possible trade down.
Some 49ers options for pick No. 9: One position we know the 49ers won't be drafting in the first round is quarterback, after trading for and signing Jimmy Garoppolo. But in an ideal world, the quarterback position can still have a profound effect on the team's draft plans. That could manifest in a trade down with a team looking to move up (Arizona? Buffalo?) or in multiple signal-callers going before the Niners pick and pushing a top talent into their laps. If the latter happened, the Niners would probably love to see NC State pass-rusher Bradley Chubb still on the board. Others who fit the category of crossing your fingers and hoping they fall: Alabama defensive back Minkah Fitzpatrick, Notre Dame guard Quenton Nelson and Penn State running back Saquon Barkley.
It's likely that none of those players will be available when the Niners pick, which means they'd probably be looking at a group that includes Ohio State cornerback Denzel Ward, Iowa cornerback Joshua Jackson, Georgia linebacker Roquan Smith, Virginia Tech linebacker Tremaine Edmunds, Boston College pass-rusher Harold Landry, UT-San Antonio pass-rusher Marcus Davenport and Texas offensive lineman Connor Williams. The two linebackers could start immediately, offer Reuben Foster insurance and easily profile as the best player available when the Niners are on the clock. Williams could be intriguing as a Day 1 starter at guard capable of moving to tackle as a long-term replacement for Trent Brown or Joe Staley. A trade down could also net one of these players as well and bring some receivers, running backs and more offensive linemen into the mix.
Gutierrez: The Raiders entered the day with a 7-6 edge in the all-time series with their Bay Area rivals and lost this, ahem, matchup. But Raiders general manager Reggie McKenzie was not sweating this contest — at least, not publicly. "I don't think it matters much, as far as the player," McKenzie told reporters on Wednesday, per Raiders.com. "Now, maybe trade value, it values a little bit more. … No, won't lose any sleep at all." Perhaps coach Jon Gruden, who rarely sleeps anyway, was onto something earlier in the day when he essentially said the only pick in the past three drafts to truly shine in Oakland has been Amari Cooper, who went No. 4 overall in 2015. So yeah, choosing between ninth or 10th when it comes to skill level may mean little to McKenzie if the talent level is similar, but should Oakland get froggy and want to jump at a trade offer for the pick, well, 10 carries less weight than nine, right?
Some Raiders options for pick No. 10: As two-time Raiders Super Bowl-winning coach Tom Flores once told me, if you're picking in the top 10 you don't have the luxury to draft for a specific need because if you are picking in the top 10, that means you have A LOT of needs. And the Raiders, a year after winning 12 games, fell to six victories and have many needs — especially on defense. With Gruden saying he thought Bruce Irvin was better as an edge rusher than a traditional outside linebacker and that he needs help in the pass rush, that could mean the Raiders target the likes of Edmunds to fill a potential void left by Irvin putting his hand in the dirt. Or, should Oakland lose NaVorro Bowman in free agency, Smith could be a fit inside, or even a good pairing should Bowman return. Or, Washington defensive tackle Vita Vea could provide an inside push, especially with Justin Ellis a free agent and Eddie Vanderdoes returning from a torn ACL suffered in the season finale. And if the Raiders do choose to trade down, they would continue to stockpile to their 11 picks already in hand, including six selections in the sixth round.
Jon Gruden, Raiders return to scene of tuck rule crime – Las Vegas Raiders Blog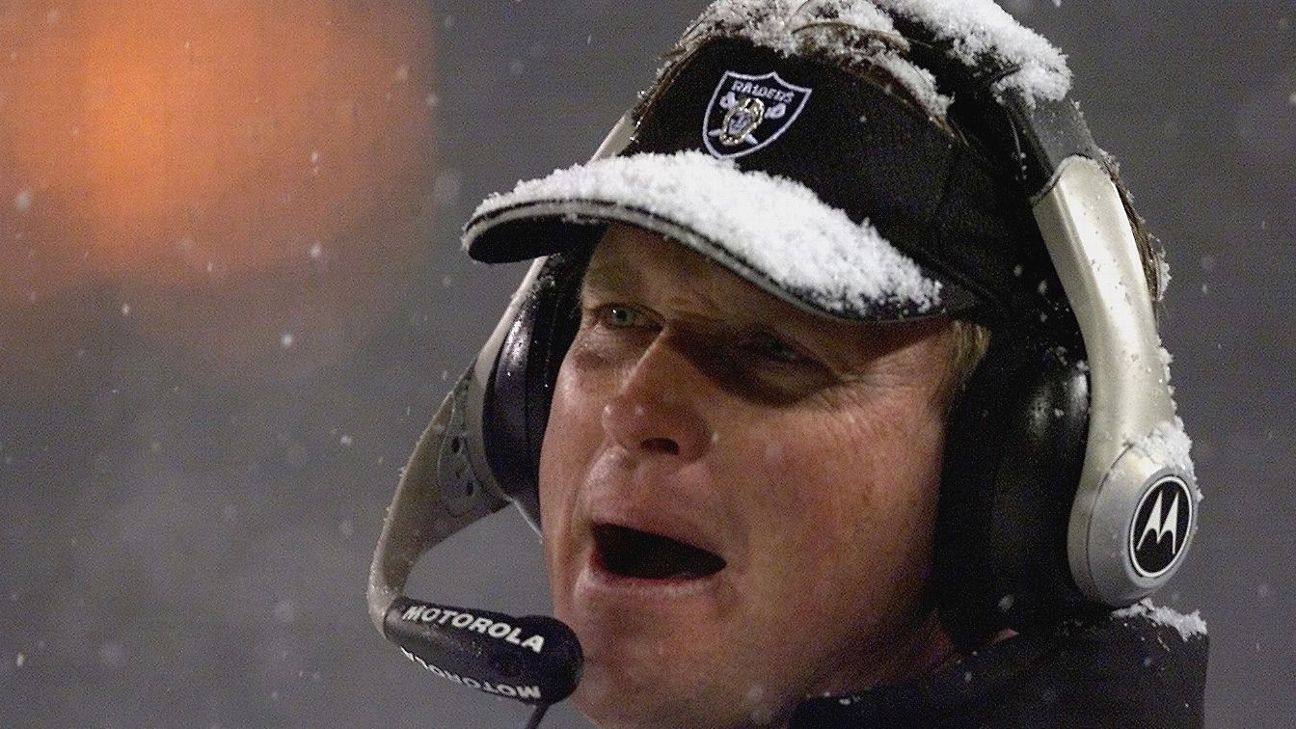 "The Tuck Game was the undoing of a lot of things." — Al Davis, at the 2009 NFL owners meetings in Dana Point, California.
HENDERSON, Nev. — Mention the events of Jan. 19, 2002, to the most ardent citizen of Raider Nation and you might have to knuckle up.
Ask Jon Gruden about the tuck rule and you'll be on the receiving end of that infamous Chucky snarl and, well, a backhanded show of gratitude.
"Yeah, thanks for bringing that up," Gruden said this week, sarcasm dripping from his chin.
• Assessing legacies of Brees, Rodgers
• Ravens-Chiefs best yet in Baltimore?
• QB Allen looks like star Bills envisioned
• 49ers brace for return to turf of terror
• Steelers getting after QBs at elite rate
"He did fumble that damn ball."
With Gruden — in his third year since returning to coach the now-Las Vegas Raiders — heading back to the virtual scene of a nearly 19-year-old crime, a walk down memory lane is inevitable. Even if it's not in the same stadium (the Tuck Rule game was the final game played in Foxboro Stadium) and quarterback Tom Brady is no longer with the New England Patriots (he took his act to, of all places, the franchise with which Gruden won a Super Bowl, Tampa Bay). Cam Newton is now the guy in New England.
A quick history lesson for the uninitiated: In a New England snowstorm and with the Raiders clinging to a 13-10 lead with 1:50 to play in an AFC divisional playoff game, the Patriots were on the Raiders' 42-yard line with a first-and-10 when Brady dropped back to pass. Coming on a corner blitz from Brady's right, Charles Woodson clobbered Brady, the ball popped out and Raiders linebacker Greg Biekert jumped on it.
Ballgame. Brady trudged off the field and the Raiders would play in the AFC title game the following week, either at home against the Baltimore Ravens or at the Pittsburgh Steelers (the AFC North rivals would play the following afternoon, with the Steelers winning).
"Or so we thought," Woodson would say years later.
Enter Rule 3, Section 22, Article 2, Note 2 from the NFL rulebook: "It is a forward pass if: When a Team A player is holding the ball to pass it forward, any intentional forward movement of his hand starts a forward pass, even if the player loses possession of the ball as he is attempting to tuck it back toward his body."
"I used to pride myself on knowing all the rules of the game, but what the f— is the tuck rule?" said Lincoln Kennedy, then the Raiders' right tackle, now a member of the team's radio broadcast team. "What? He wasn't throwing the ball. And C-Wood's going, 'He wasn't throwing the ball. He had both hands on it.'"
After a lengthy review made possible by the play occurring in the final two minutes, and despite no clear evidence to overturn the original ruling of a fumble, referee Walt Coleman summoned the tuck rule, which deemed it an incomplete pass and allowed the Patriots to maintain possession.
"After the ruling, it just took all of the air out of us," Kennedy said. "We were just shells. Deflated."
Conversely, the revitalized Patriots drove through the snow into field goal range, setting up Adam Vinatieri's game-tying 45-yarder with 27 seconds remaining.
The Raiders got the ball back at their 35-yard line with 22 seconds to go, and despite having two timeouts, Gruden chose to have quarterback Rich Gannon kneel to end regulation and play for overtime. But the Patriots won the coin toss, drove down the field and Vinatieri's chip-shot 23-yarder ended it in what was then sudden death.
"Jon came in the locker room after the game and said, 'They're never going to let the Raiders win,'" Kennedy recalled.
Oh, and that earlier quote from the late Al Davis?
That was Gruden's final game as Raiders coach until he returned to the franchise in 2018. Gruden was traded to the Buccaneers on Feb. 18, 2002, for a king's ransom — two first-round picks, two second-round picks and $8 million. Less than a year later, Gruden's new team thrashed his old one 48-21 in Super Bowl XXXVII.
The Raiders have had only one winning season and one playoff appearance since, in 2016.
While current Raiders quarterback Derek Carr was all of 10 years old at the time of the Tuck Rule game, he has thoughts on the play as a member of a family full of longtime Raiders fans.
"C-Wood definitely stripped him, that's for sure," Carr said Wednesday.
"That's a big moment in football history, let alone Raider history. And Patriot history. … As a Raider fan, of course it's a fumble. You go to New England, of course it wasn't a fumble. It would be nice to hear what Tom has to say about it sometime, that's for sure."
"You're never going to get the answer out of me you want," Brady joked on a conference call with Raiders beat reporters in 2011, two years before the tuck rule was abolished by NFL owners.
And Carr has his own New England horror story, so to speak.
In Week 3 of his rookie season in 2014, Carr led the Raiders on a late drive to the Patriots' 6-yard line, where Darren McFadden burst through for a TD that, with the PAT, would have tied the score at 16-16 with 59 seconds to play. But left guard Gabe Jackson, who sprung McFadden, was called for holding at the 2, and the Raiders were pushed back 10 yards.
One play later, Carr fired a short pass across the middle to Denarius Moore, who was camped at the 8-yard line. The ball popped off Moore's chest into the air and was tipped by Patriots cornerback Logan Ryan into the waiting arms of nose tackle Vince Wilfork.
Ballgame. For real.
"So I don't have good memories there either," Carr said. "I've got a lot of making up to do, but I'm excited for the opportunity."
A week later, the Raiders were thumped by the Miami Dolphins in London and Dennis Allen was fired, which set into motion a series of events that saw Tony Sparano and Jack Del Rio become Raiders coaches until Gruden decided that nine years in ESPN's Monday Night Football booth was enough.
Gruden, who returned to the Raiders on a 10-year contract in January 2018, has coached in New England once since that fateful snowy night. His Buccaneers were shut out 28-0 on Dec. 17, 2005, and he is 0-2 in his career against Patriots coach Bill Belichick.
Plus, the Raiders have lost five straight to the Patriots, last beating them on Nov. 17, 2002, in Oakland.
"Anytime you step in a [city] like that, it does bring back memories," Gruden allowed. "Some of the memories aren't great, but we're excited to play. We're excited to play the Patriots and see what we can get done in a short week. They're a heck of a team."
Even if, as noted earlier, they're a different team.
What Saints' Malcolm Jenkins had to overcome to build social activist legacy
METAIRIE, La. — Malcolm Jenkins was driven to make an impact in the community at a young age.
He had just finished his first NFL season with the New Orleans Saints in 2010 when he and his mother, Gwendolyn, started a charitable foundation focused on youth in underserved communities. That same year, Malcolm, who was 22, became involved in tackling the issue of gun violence in New Orleans.
Jenkins never set out to become one of the sports world's most visible social activists. But his outlook changed in 2016, when Alton Sterling and Philando Castile were shot and killed by police officers and Colin Kaepernick first sat, then kneeled, during the national anthem.
"All of a sudden, I found myself in a place where I was prepared to step up. I was just like, 'OK, enough is enough.' Like, 'I don't want to just tweet. I don't want to wear a T-shirt,'" said Jenkins, who was with the Philadelphia Eagles at the time. "And that was a lifetime of, you know, people planting seeds and people pruning me.
"And then I found myself ready to be a leader, not only on the field, not only for myself, but for the community. And I credit that to everybody who has been a part of my upbringing."
Jenkins and his efforts have never been more in the spotlight than today, when the Black Lives Matter movement has taken center stage in the national dialogue after the deaths of George Floyd, Ahmaud Arbery and Breonna Taylor, among others, and the ensuing protests across the country.
The 32-year-old recently became a political analyst for CNN. And his production company Listen Up Media just released the documentary "Black Boys" — his first as an executive producer.
He has continued his work as co-founder of the Players Coalition, a group of NFL player activists that has now expanded to other sports. He was in the spotlight this summer when he shared an emotional video directing criticism toward teammate Drew Brees after Brees' comments about protesting during the national anthem. And Jenkins is the only Saints player who has elected not to stand with the team on the sideline during the anthem through the first two games of this season.
But whether you're inspired or infuriated by Jenkins, the most surprising thing about him is that he says it doesn't come naturally to him to be in this spotlight.
Jenkins describes himself as an introvert and readily admits that everything he has tackled on and off the field can be "quite frankly draining." And he began seeing a therapist on a weekly basis in 2016 when he became a leading voice in the campaign toward racial equality and social justice because he was putting a lot of pressure on himself to be "Superman in all these different places" — on the field, at his businesses, at home and in the community.
"It's a lot easier for me to be a leader and vocal on the field. That's where a lot of my personality comes out, and I've been a captain on every team that I've been on since I've started this game. But stepping out more into the public eye and being kind of a voice in that regard definitely took a lot of preparation — and really, I think, courage," the three-time Pro Bowler said.
"Just to fight my own battles, to unlock or free my own mind, to detach myself from the criticisms that we're 'just athletes' and don't have anything to contribute to the conversation or that we're not the experts, we don't know enough. It took me a minute to break out of that."
Benjamin Watson — a teammate of Jenkins' for one year in New Orleans and a member of the Players Coalition who has also become a leading voice on social issues — can sympathize.
"Well, as a fellow introvert, I understand 100% what he's saying. It drains you to talk in public. But sometimes you have something to say that's important. … And so you are compelled to lead in a certain way, whether you feel like it or not."
Jenkins' mother, who serves as president and CEO of the charitable foundation they started together in 2010, said she sees "aspects" of her son being an introvert.
"But isn't there a term for someone — is it 'omnivert'? Someone who can be both, depending on the circumstances," said Gwendolyn, who said she would describe herself, Malcolm's father, Lee, and Malcolm's brothers in a similar way. "But I think he recognizes the power of his voice, and he has an opportunity to make such an impact and difference in the lives of others. And if the cost is just being uncomfortable, outside of your comfort zone, then that's one he's willing to pay."
The cost of leadership
Jenkins has drawn considerable backlash on both sides of the movement — from those who simply disagree with his causes to those who accused him of being a "sellout" for agreeing to work with the NFL.
Jenkins was at the heart of a public splinter in the Players Coalition in 2017, when Kaepernick's friend, Eric Reid, and others disagreed with the way Jenkins was leading a movement they felt Kaepernick had started. Reid criticized Jenkins for accepting an $89 million pledge from the NFL toward social causes, believing more should have been demanded as the league was trying to put an end to anthem demonstrations.
Jenkins credits an invaluable support system with helping him to manage the stresses of his high-profile role. And, as detailed in a recent SC Featured profile with ESPN analyst Ryan Clark, Jenkins has been heavily influenced by the strong women in his life.
That support system also includes his weekly therapy sessions. Jenkins told ESPN Eagles reporter Tim McManus he began seeing a therapist because he felt as if he was battling anxiety and depression, especially when the controversy started over the anthem protests.
"For me to be worth anything to anybody else to lead, I've recognized that I've had to take care of myself as well and really prioritize my own health and mental well-being," Jenkins explained. "And so part of that is talking to a therapist every week because it's not only the pressure of what's going on in society or leading these different things, but just our job as athletes being in the public light, being in a performance-based business where your performance is your livelihood.
"A lot of that causes pressure, and these are the things that we usually don't talk about as men, as Black men, as football players. But it's necessary because a lot of us deal with anxiety, a lot of us deal with depression. And I'm no exception to that."
Watson recognizes the cost of stepping into the spotlight on social justice issues.
"It takes a lot of time, it takes money, there's a lot of sacrifice there with putting yourself out there and talking about these issues, being the face of it, going and meeting with people," Watson said. "It's a commitment."
'Prepared to step up'
Once Jenkins became involved in the fight for social justice, he was all-in.
He joined former NFL receiver Anquan Boldin in creating the Players Coalition. He began meeting with local politicians and grassroots organizations, participated in police ride-alongs and attended bail hearings. He helped organize a "Listen and Learn" tour with NFL commissioner Roger Goodell, Eagles owner Jeffrey Lurie and some of his teammates to share what he had learned.
He began raising his fist during the anthem in 2016 (but only after seeking the blessing of an Air Force sergeant he had befriended in New Orleans).
And in one of his most memorable and powerful acts in 2018, Jenkins silently addressed a group of reporters in Philadelphia by holding up a series of signs that read, "You aren't listening" and detailed facts about the criminal justice system, police-involved shootings and the efforts being made by fellow players in the community.
Watson, who was part of those early text threads and phone calls with Jenkins and Boldin and other players who wanted to find a way to make a difference, said what he appreciates most about the way they've led the Players Coalition is that they have demonstrated tangible ways everyone can get involved in their communities.
"You listen to them talk, they always say, 'We're not the experts. Here are the experts. I'm gonna learn from them,'" Watson said. "You know, players take a beating sometimes for speaking out on certain issues that may not be popular with fans or certain demographics, whatever it is. But no one can say, 'OK, you guys talk about it, but you don't do anything.' Even though you have a right to simply talk — everybody has a right to simply talk.
"But for some reason it's always, 'Well, what are you all doing?' 'Well, this is what we're doing. We had a meeting with this person, we brought the commissioner here, we brought [team owners] here, we wrote this op-ed, we learned about this, we held this town hall meeting.' And so, he's allowed other people to build that. … I'm really proud of what they've put together and proud to be a part of it myself."
Jenkins won the NFL Players Association's Byron "Whizzer" White Award for his community efforts in 2017. He was the Eagles' Walter Payton Man of the Year nominee in 2019.
"I'm definitely proud of kind of being a part of that initial groundwork. But I'm also energized, because of how many other people have obviously joined this movement and fight for social justice and demanding that things change significantly and rapidly," Jenkins said. "Myself and a lot of other people sacrificed a lot to kind of lay that groundwork, and really stood on the shoulders that came before us. And I think we're at a moment right now where we can significantly push that agenda forward."
Saints safety Malcolm Jenkins details the difficulties in being a leader while also dealing with anxiety and depression, and says how important it is to talk about mental health.
Building a legacy
Jenkins, who recently accepted a Harvard fellowship to study the history and causes of the wealth gap between Blacks and whites in America, said he has always been compelled by a burning desire to know why.
"Once you know better, you do better," Jenkins said.
It's the same quality that made him a team captain as a young nickelback during his first stint with the Saints from 2009 to 2013. Coaches such as Sean Payton and Gregg Williams always described him as the one who was relentlessly studying film when the hallways were dark and they were packing up for the night.
And it's the same quality that turned him from a three-star recruit to a star at Ohio State, a first-round draft choice, a Super Bowl champion for the Saints and the Eagles and the one player Payton always regretted letting out of the building as a free agent.
"He's very professional. I'll call him, like, a suit-and-tie guy," said Saints receiver Michael Thomas, who organized several players around the league to send a powerful video message about the need for social change this summer. "He takes care of his business. You can see it when he walks in the building, and then just how he's able to play the game at a high level and still bring change to the world that's needed. His voice is real powerful."
Jenkins' work is far from over. It will last long after he is done playing. But he said he has been encouraged by the momentum the cause has gained this year.
"If people know me more for what I do off the field than on the field, I think that's a win for my life," Jenkins said, though he was quick to point out that he takes pride in being "a damn good football player."
"So that lets me know at least I'm heading in the right direction," Jenkins said in the SC Featured profile. "While the impact on the field I have is very important to me and it's what I love to do — I love this game and love playing it — I'm actually very OK with me being known more for my contributions to society and to the game."
Jenkins' parents agreed, saying that of course they're proud of his accomplishments as a football player but that the impact he can have off the field can "make a difference for generations to come."
"His activism will stand the test of time," Lee said. "It will be part of his legacy."
Patrick Mahomes can 'make stuff happen' with his feet when Chiefs need it most – Kansas City Chiefs Blog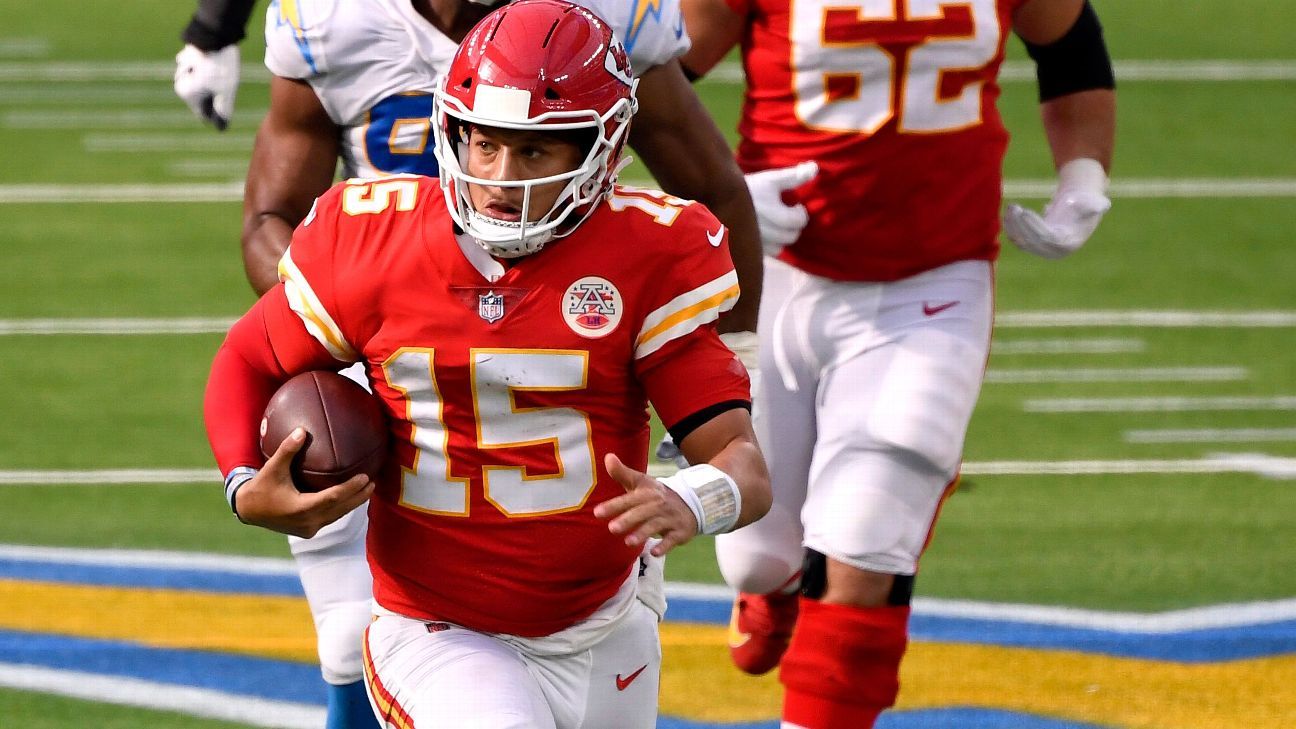 KANSAS CITY, Mo. — Kansas City Chiefs quarterback Patrick Mahomes threw a pair of touchdown passes and for more than 300 yards Sunday against the Los Angeles Chargers, but on his biggest play of the game he didn't let go of the ball at all.
With the Chargers rushing five players on third-and-20 on the final drive of regulation, Mahomes saw the rest of the Chargers' defenders with their backs turned in coverage. Instead of forcing the ball into coverage, he ran 21 yards to put the Chiefs in field goal range and kicker Harrison Butker sent the game into overtime. In extra time, Mahomes again converted a third-down scramble, eventually leading to an overtime victory on another Butker kick.
With the Monday Night Football showdown between the Chiefs and Baltimore Ravens (8:15 p.m. ET, ESPN) up next, it's notable Mahomes' running isn't as feared as Lamar Jackson's. But Week 2's performance against the Chargers wasn't the first time Mahomes has rescued the Chiefs with his feet. His 15-yard fourth-quarter run on fourth-and-8 set up the winning touchdown in the final seconds last season against the Detroit Lions. His highlight reel 27-yard touchdown run against the Tennessee Titans shortly before halftime of last season's AFC Championship Game put the Chiefs ahead for good.
• From Lambeau Leap to D.C. disaster
• SoFi's huge videoboard targets GenZ
• Raiders ready the 'Death Star'
"He loves the game and loves it when the game is on the line," coach Andy Reid said. "He wants the ball. Other guys, I think, shy away from that. He wants it, and he's got guys around him who want it, and who are willing to reach down deep in a situation like [against the Chargers]."
Mahomes led the Chiefs in L.A. with 54 rushing yards. He has been their top runner five times, including during the playoffs last season against both the Houston Texans and the Titans, and in those games the Chiefs are 5-0.
It's as much about the timing of his runs as it is about the yardage. Against the Chargers he ran six times and five of those were on third down. He converted four of those runs into first downs.
"They were playing coverage," Mahomes said. "They were getting depth and our offensive line was giving me time, but they were getting so much depth that we couldn't find ways to get open. The thing about them playing coverage and being so deep is that they don't have a guy for me. So I was able to run and get some yards downfield. It's just about trying to find whatever way to win, I think that's the biggest thing. If teams are going to stay back and guard our receivers, I'm going to have to find ways with my feet to make stuff happen.
"The good thing about having the guys that I have on my team, the receivers, running backs and tight ends that we have, is that defenses have to be accountable for those guys. [Defenses are] getting depth, they're trying to stop those guys from beating them over the top. Whenever there's room to run I have to be able to take advantage of it. Usually when I scramble I'm looking to throw so you're seeing that defenses now, they're not leaving their guy. They're kind of just staying on them and letting me run."
It's part of Mahomes' resourcefulness to make plays on the run, whether he tucks the ball or makes a throw. His biggest pass play against the Chargers, a 54-yard touchdown pass to Tyreek Hill that traveled 53 yards in the air according to NFL NextGen stats, came while Mahomes was scrambling.
The Chiefs smartly have no intention of taking this part of his game away.
"He's doing a good job because they're doing some things in coverage," offensive coordinator Eric Bieniemy said. "They're mixing it up and when they're doing that he maximizes the opportunity because there's not a whole player spying him. So if he sees a lane, he takes it. Kudos to him."
Reid has favored mobile quarterbacks since becoming a head coach. He had Donovan McNabb and Michael Vick with the Philadelphia Eagles and Alex Smith when he first joined the Chiefs.
Mahomes' ability to make plays — both passes and runs — while on the move put him in that category.
"[Running quarterbacks have] always been a part of the [West Coast] offense," Reid said. "You go back and look at the quarterbacks that have been successful in this offense and they've all been mobile guys. Joe Montana could run. That's kind of where it started there. Steve Young could run and Donovan, Michael. You start naming the guys I've had or been around and you just see they're all mobile guys that can get out and go when needed. You don't want to necessarily make a living on it.
"The one unique thing about it is that all the guys keep their eyes downfield, all the great ones. So they're still putting pressure back on the defense with the opportunity to potentially throw the football."