Tim Tebow goes 1 for 3 in first spring training start for New York Mets
PORT ST. LUCIE, Fla. — Tim Tebow made his first spring training start this year, struck out against reigning NL Cy Young Award winner Max Scherzer and then singled off Washington's Erick Fedde in a 2-1 loss to by a New York Mets split squad to the Nationals on Friday.
Batting fourth as the designated hitter, Tebow struck out on three pitches leading off the second inning.
"He's nasty," Tebow said. "The first pitch was a back-door slider, a really good pitch. The second pitch was a fastball, and I felt I put a really good swing on it. He's got so much movement on his ball, and it just stays true. Then he throws another back-door cutter 0-2. He's just got a lot of really good pitches, but it's awesome to see one of the best in the league. It's great work for me."
The 30-year-old former NFL quarterback singled on a first-pitch fastball in the fourth for his first hit of spring training.
"It was a little bit outside, but I wanted to stay on it and hit it where it's pitched. It felt good," Tebow said.
The 2007 Heisman Trophy winner reached on a fielding error by first baseman Jose Marmolejos in the seventh and is hitting .143 (1 for 7) in his second big league spring training. He sprained an ankle while stepping on a sprinkler, causing the Mets not to play him in the field.
"People get angry for some reason. I don't know why they get angry," Washington's Ryan Zimmerman said. "He didn't sign himself to come play. It's not his fault someone gave him a chance. He seems like a nice guy. It seems kind of silly to get upset over someone playing baseball. I've got no problem with it."
Tebow split last season between Columbia in the South Atlantic League and St. Lucie in the Florida State League.
"I get butterflies in almost everything I do. I just care so much about it — I'm passionate. I love it. I enjoy it," Tebow said. "If I didn't have that, I probably wouldn't be playing."
Game notes
RHP Jacob deGrom, slightly behind schedule following the birth of his daughter last month, threw an 20-pitch bullpen. "It felt good, no problems. The next step is to face some hitters. I think the plan is for Sunday," said deGrom, who has battled some back stiffness. … LHP Steven Matz is slated to face Washington on Sunday. . The Mets showcased their starting outfield — in two different ballparks during split-squad games. RF Jay Bruce was 0 for 2 and Juan Lagares 0 for 1 against Washington. LF Yoenis Cespedes faced the Astros in West Palm Beach in the night game and singled in the first inning. . The Mets asked for prayers for former player Rusty Staub, whose health is failing. "Fred and Jeff Wilpon have each been in contact with Rusty," the team said in a statement, referring to its owner and his son, the chief operating officer. "In addition, multiple members of our organization have reached out to him."
New York Yankees' DJ LeMahieu on verge of winning AL batting title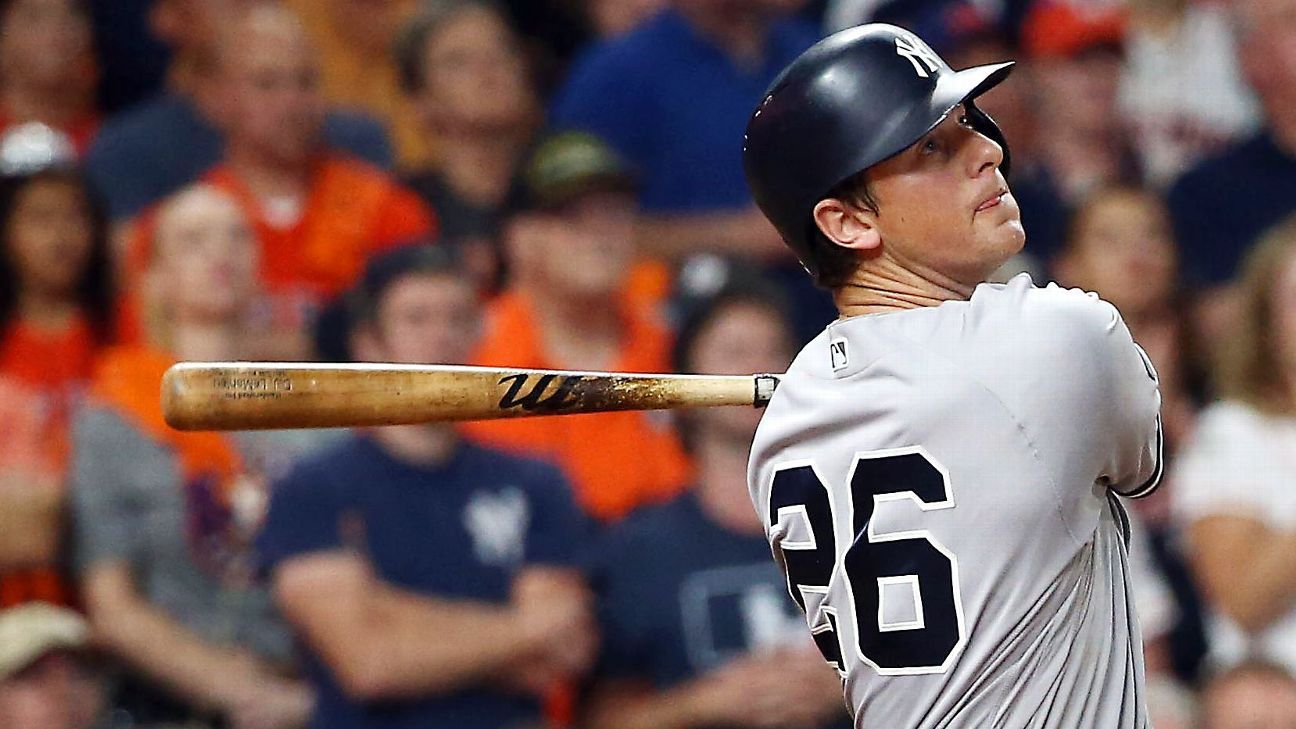 NEW YORK — DJ LeMahieu is on the verge of a first in more than a century of Major League Baseball: the first player to win undisputed batting titles in both the American and National Leagues.
Luke Voit is about to become a more common name atop the leaderboards but part of an illustrious list, joining Babe Ruth, Lou Gehrig, Joe DiMaggio, Mickey Mantle, Roger Maris and Alex Rodriguez as New York Yankees to top the majors in home runs.
"I've always admired the Babe," Voit said after the Yankees woke up from their latest slump to beat the Miami Marlins 11-4 on Saturday and kept their hold on the AL's No. 5 postseason seed going into the final day. "It's just awesome company. That guy hit 700 home runs (714 to be exact). That means I got to start hitting like 150 a year to catch up to him. So that's never going to happen."
Voit hit his major league-leading 22nd homer. Jose Abreu of the Chicago White Sox is second with 19.
LeMahieu had his fourth four-hit game and three RBIs while raising his average to .359. He passed Washington's Juan Soto (.346) for the big league lead and opened a large margin over defending AL batting champion Tim Anderson of the White Sox, second in the AL at .337.
"This game's been around for a long time, and I think anyone who's watched knows just how special a player DJ LeMahieu's been for us in these two years," Yankees manager Aaron Boone said.
LeMahieu won the 2016 NL batting title with a .348 average for Colorado. Ed Delahanty hit .410 for the Philadelphia Phillies to win the NL championship in 1899; he is credited by some researchers with the 1902 AL championship at .376, while others accept Nap Lajoie as winning that title at .378 despite lacking the plate appearances required in more modern times.
"Guys don't win batting titles in both leagues, because you win it in one league, they probably keep you," said Marlins manager Don Mattingly, the 1984 AL batting champion with the Yankees. "It's a different game nowadays."
A 32-year-old infielder in his second season with the Yankees, LeMahieu will become New York's first batting champion since Bernie Williams in 1998.
Voit hit a three-run drive against Nick Vincent in a seven-run sixth for a 10-3 lead. He has made 38 consecutive starts, including 19 straight at first base, despite an injured foot.
"I've been trying to transform myself into a better power hitter and this year was another steppingstone for me," Voit said. "I've always been a guy, high school, college, minors. I play through stuff. I'm a grinder. I want to be out there. I want to help a team, especially when we were hurting earlier in the year and I had to do whatever it took to be out there. So I was making sure I was getting plenty of treatment from all of our trainers and trying to stay on top of it so I could play through it and not be like killing me."
Yankees rookie Deivi Garcia (3-2) allowed four runs and seven hits in 6⅔ innings with seven strikeouts and a walk. Boone has not announced whether Garcia or left-hander J.A. Happ will follow Gerrit Cole and Masahiro Tanaka as his playoff starters.
Preparing for a first-round playoff series on the road, likely at Cleveland or Tampa Bay, the Yankees (33-26) are trying to hold off third-place Toronto (32-27) and keep the No. 5 seed. New York's season has flowed and drifted like the tide: a 16-6 start, following by a 5-15 slide, a 10-game winning streak and five losses in a six-game span coming in.
New York trailed 3-0 before Tyler Wade's two-run homer in the fifth against Ryne Stanek, and Aaron Hicks had a two-run homer in the sixth against former Yankee Stephen Tarpley (2-2) for a 5-3 lead.
Wade's homer off the second deck in right ended the Yankees' first five-game homerless streak since April 1-5, 2014. They have scored nearly half their runs via the long ball, 156 of 315, according to the Elias Sports Bureau.
"Any spark to get us going, especially with the last game coming up tomorrow and going to the playoffs," Wade said after his third homer this season.
Giancarlo Stanton was in a 1-for-21 slide with 12 strikeouts before his 113-mph RBI double to the left-center gap in the fifth that drove in Aaron Judge with the tying run.
"I feel like we're always one swing away," Voit said. "We just need to get that one to get us going."
The Associated Press contributed to this report.
Los Angeles' Angels Mike Trout — 'We gotta get to the playoffs'
The Los Angeles Angels were mathematically eliminated from postseason contention at Dodger Stadium on Friday night, which means that in nine full seasons in the major leagues, Mike Trout — considered by many the game's greatest player for most, if not all, of those seasons — has made the playoffs only once.
"The biggest thing is getting to the playoffs," Trout said Saturday, moments before the second of a three-game series against the cross-town Los Angeles Dodgers. "You guys all see it. I see it. It sucks being out of it. It's time. We gotta get to the playoffs."
Trout made the playoffs in 2014, when the Angels suffered a first-round sweep at the hands of the Kansas City Royals. The 2020 season will now mark the fifth consecutive time his Angels have finished with a losing record, even though the offseason additions of manager Joe Maddon and third baseman Anthony Rendon had many believing the team might contend for a championship.
The Angels lost 25 of their first 37 games but have since won 14 of 21. The 60-game season didn't provide enough time to make up ground.
"It could be a different story if we played a full season," Trout said. "We got hot just a little late and fell short."
The end result, a postseason absence even though Major League Baseball expanded the field to 16 teams, could lead to the firing of general manager Billy Eppler, who's winding down his fifth season with the team and hasn't been extended beyond 2020.
Eppler played a lead role in recruiting Shohei Ohtani, was a big reason Trout basically decided to spend his entire career with the Angels and took steps to rebuild the farm system, adding high-ceiling talent such as Jo Adell and Brandon Marsh. But Eppler consistently came up short addressing the pitching staff; the manager he appointed in 2019, Brad Ausmus, lasted only one season. Decorated executive Dave Dombrowski has been rumored inside and outside of baseball to be his successor.
"Billy was a big reason why I signed back here," Trout said. "We've built a friendship over the years. He's put a lot of great teams together, and it just didn't work out these last few years. The relationship and the friendship I've built with Billy — it obviously goes beyond baseball now. I've had a couple GMs come in here; I've never had the GM relationship I've had with him with anybody else."
Trout, who became a father eight weeks ago, was batting .281/.390/.603 with 17 home runs in 241 plate appearances heading into Saturday's game. He ranked seventh among major league position players in FanGraphs wins above replacement, and though he continually called this season "a grind," Trout will undoubtedly finish within the top five in American League Most Valuable Player voting for the ninth consecutive year. But he'll be 30 next year — and is still chasing October.
"I don't like losing," Trout said. "I wanna get to the playoffs. Every time we get into spring, our main goal is to get to the playoffs and bring a championship back to Anaheim. That's just the mindset. When you're that close and you come up short, it sucks."
Chicago White Sox's Jimmy Cordero suspended 3 games for hitting Willson Contreras
Chicago White Sox pitcher Jimmy Cordero was suspended three games for intentionally hitting Cubs catcher Willson Contreras, while manager Rick Renteria got a one-game ban, Major League Baseball announced Saturday.
Cordero hit Contreras during Friday's blowout loss to the Cubs, several innings after Contreras threw his bat high into the air to celebrate a three-run homer.
"I knew it was coming," Contreras said after the game. "I have no regrets, zero regrets. Once they hit me, I don't think that's the smartest thing to do. He got thrown out. And who knows if he's going to get suspended?"
Renteria will serve his suspension during Saturday's game against the Cubs. He and pitching coach Don Cooper also were fined an undisclosed amount.
It is unknown at this time if Cordero will appeal the suspension.