Guide to NFL draft combine drills
The drills at the NFL combine in Indianapolis really boil down to two questions: Do the measurables mesh with the film? And which players trigger red flags with their results?
From the 40-yard dash to the bench press, here are the numbers to know for each drill.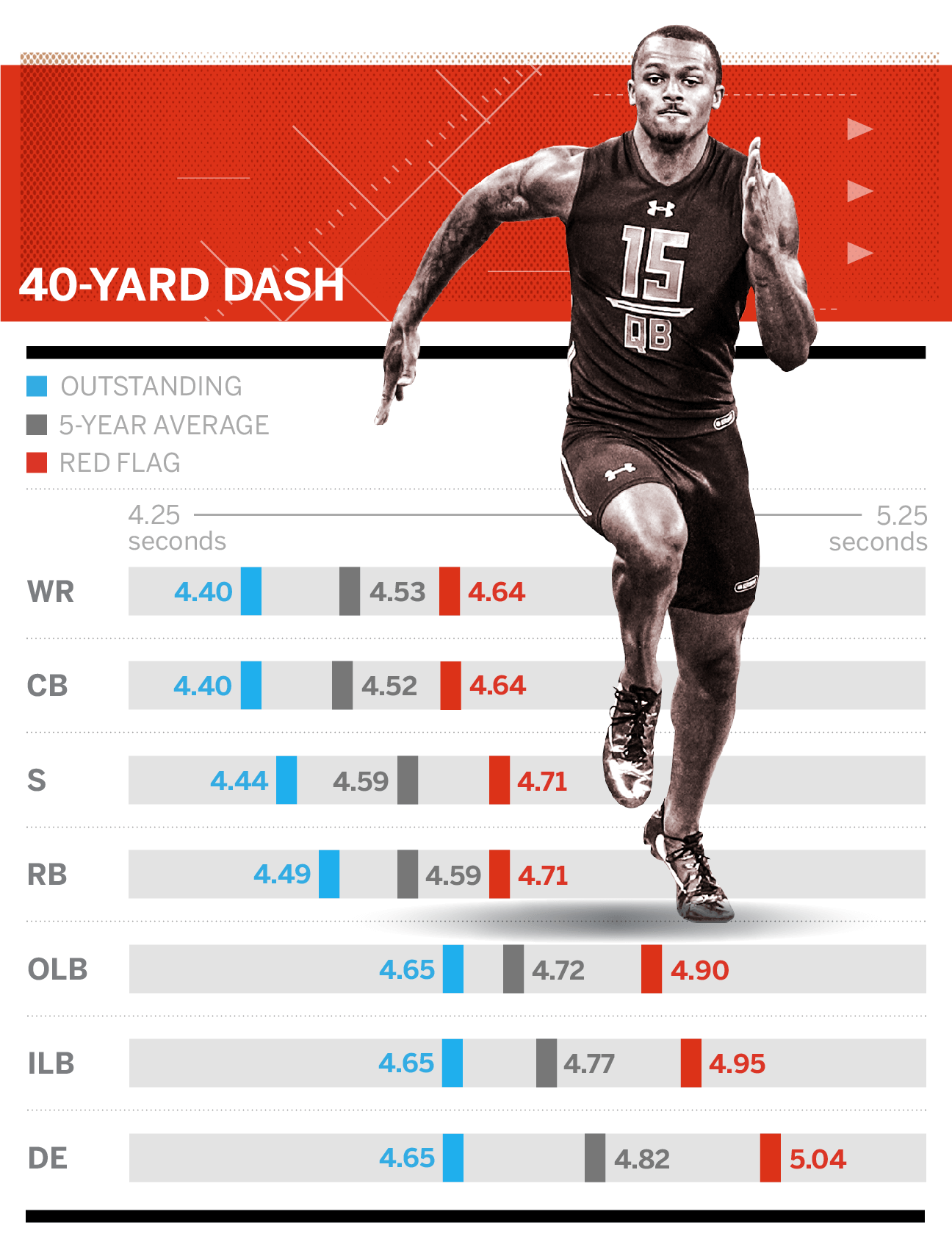 Why it matters: For wide receivers and running backs, breakaway speed can be the difference between a modest gain and a game-changing play. A measurable combination that NFL evaluators pay close attention to for cornerbacks is length (height and arms) and 40 speed. Safety is another position to keep an eye on, particularly for players who will be asked to cover a lot of ground in the deep middle of the field. The chart above shows the most desirable times, the average combine times over the past five years and the times that should raise a red flag for evaluators.
Past standout: Saints WR Brandin Cooks. This is a good example of a player who looked fast on tape coming out of Oregon State and showed off his speed in the 40. He ran a 4.33 prior to being drafted in the 2014 first round. That is tied for the sixth-fastest WR time of the past six combines. Cooks' speed has certainly transitioned to the NFL.
2018 prospect to watch: Iowa CB Josh Jackson. He definitely has the length, and he's a ball hawk (led nation with eight interceptions last season), but there are some concerns about his top-end speed. He's competing with Denzel Ward, Mike Hughes, M.J. Stewart and Isaiah Oliver for a spot in Round 1, and no position places more emphasis on the 40 than corner. The difference between running in the 4.4s or the 4.5s could be millions of dollars in Jackson's rookie deal.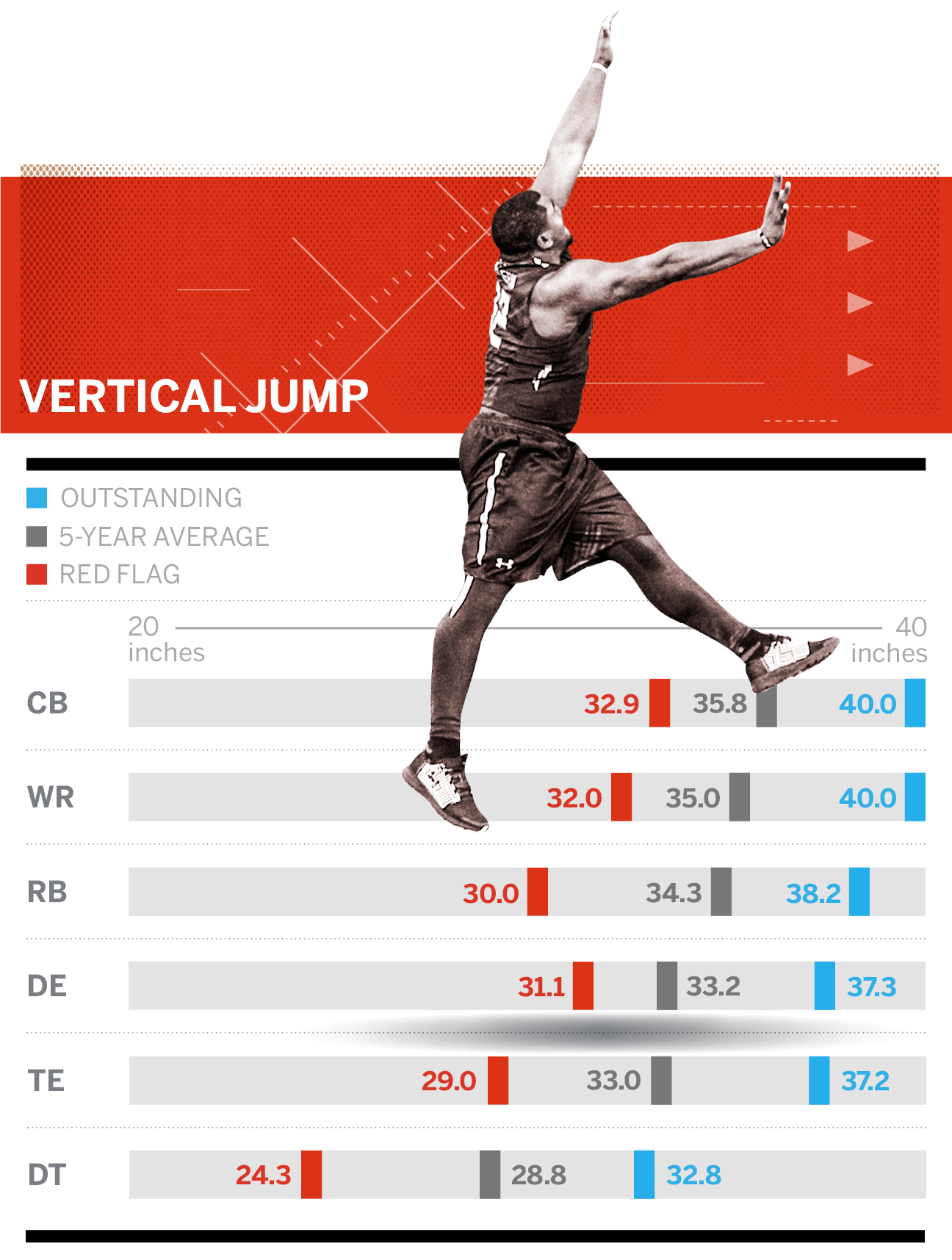 Why it matters: The vertical can be an important indicator for wide receivers, tight ends and cornerbacks, but don't forget about running backs and defensive ends. This drill is a great judge of a player's lower-body explosiveness and ability to create power from the ground up.
Past standout: Cardinals RB David Johnson. It's not an accident that Johnson led the NFL with 2,118 total yards and 20 touchdowns in 2016, before missing almost all of last season with a wrist injury. Johnson's lower-body power was on full display during the 2015 combine, when he posted a 41.5-inch vert, tied for third best among running backs since 2012.
2018 prospect to watch: Georgia RB Sony Michel. There are exceptions to explosive athletes at running back having good vertical jumps (Leonard Fournette posted only a 28-inch vertical jump last year), but Alvin Kamara (39.5), Kareem Hunt (36.5) and Christian McCaffrey (37.5) had three of the best verts of all the RBs at the 2017 combine. I'm interested to see if Michel's workout results match his terrific tape.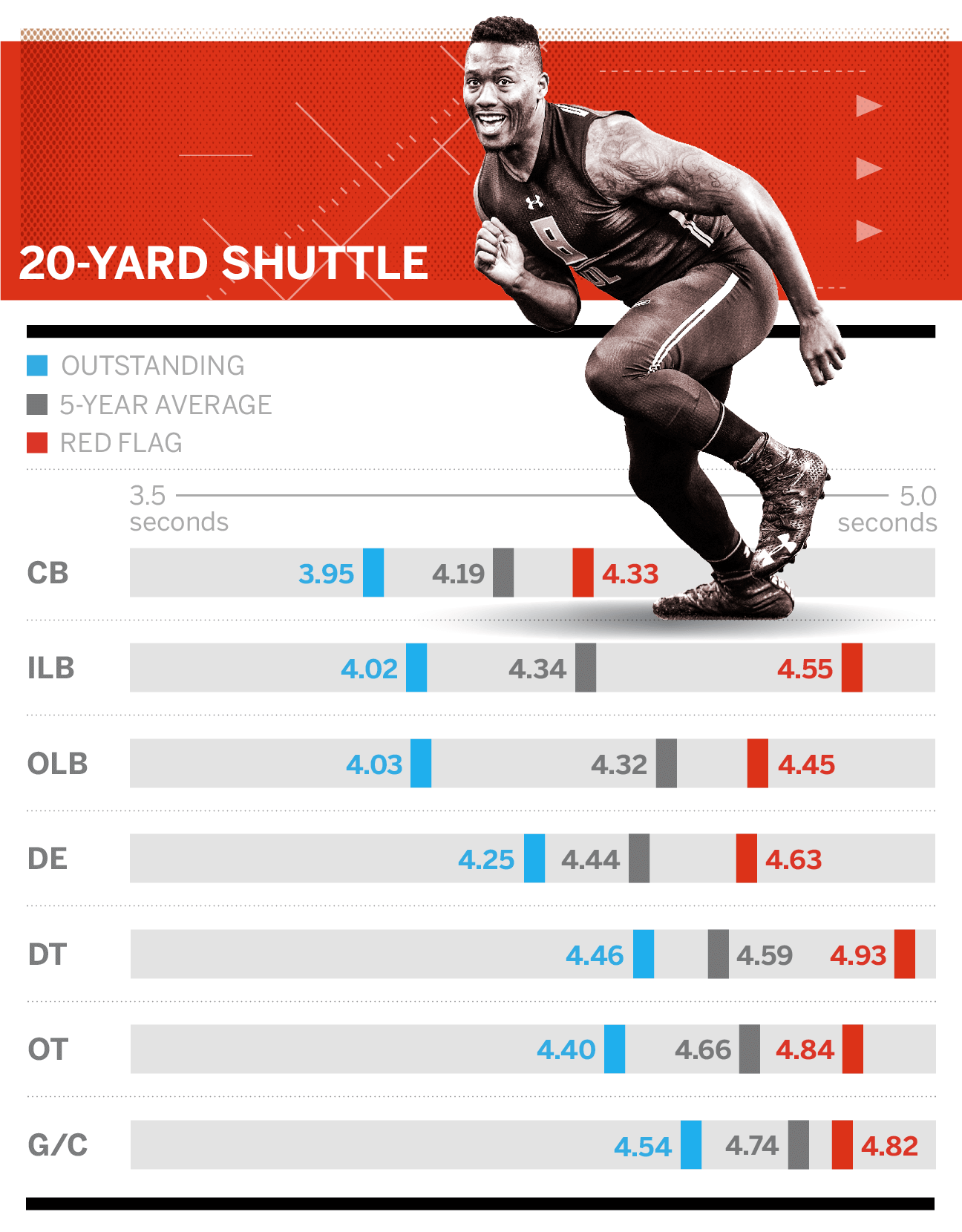 Why it matters: It's not a coincidence that most of the positions listed above are on defense. Being an NFL defender is all about reaction: How quickly can you diagnose a play, come to a stop and explode toward the ball? And the 20-yard shuttle showcases a player's body control as he is changing directions.
Past standout: Panthers LB Luke Kuechly. The 4.11-second 20-yard shuttle Kuechly posted in 2012 is just outside the outstanding range above for inside linebackers. That kind of short-area quickness, in combination with Kuechly's outstanding recognition skills, have helped turn him into a four-time All Pro.
2018 prospect to watch: Virginia Tech LB Tremaine Edmunds. A 6-foot-5, 250-plus-pound LB who can run off the edge, cover tight ends, play on or off the line of scrimmage — and who had 102 stops last season? Yeah, this dude is a freak. According to the folks I've spoken to in Blacksburg, Edmunds is going to light up the combine. With a long-levered player like Edmunds, I'm interested to see his lateral agility and body control in this drill.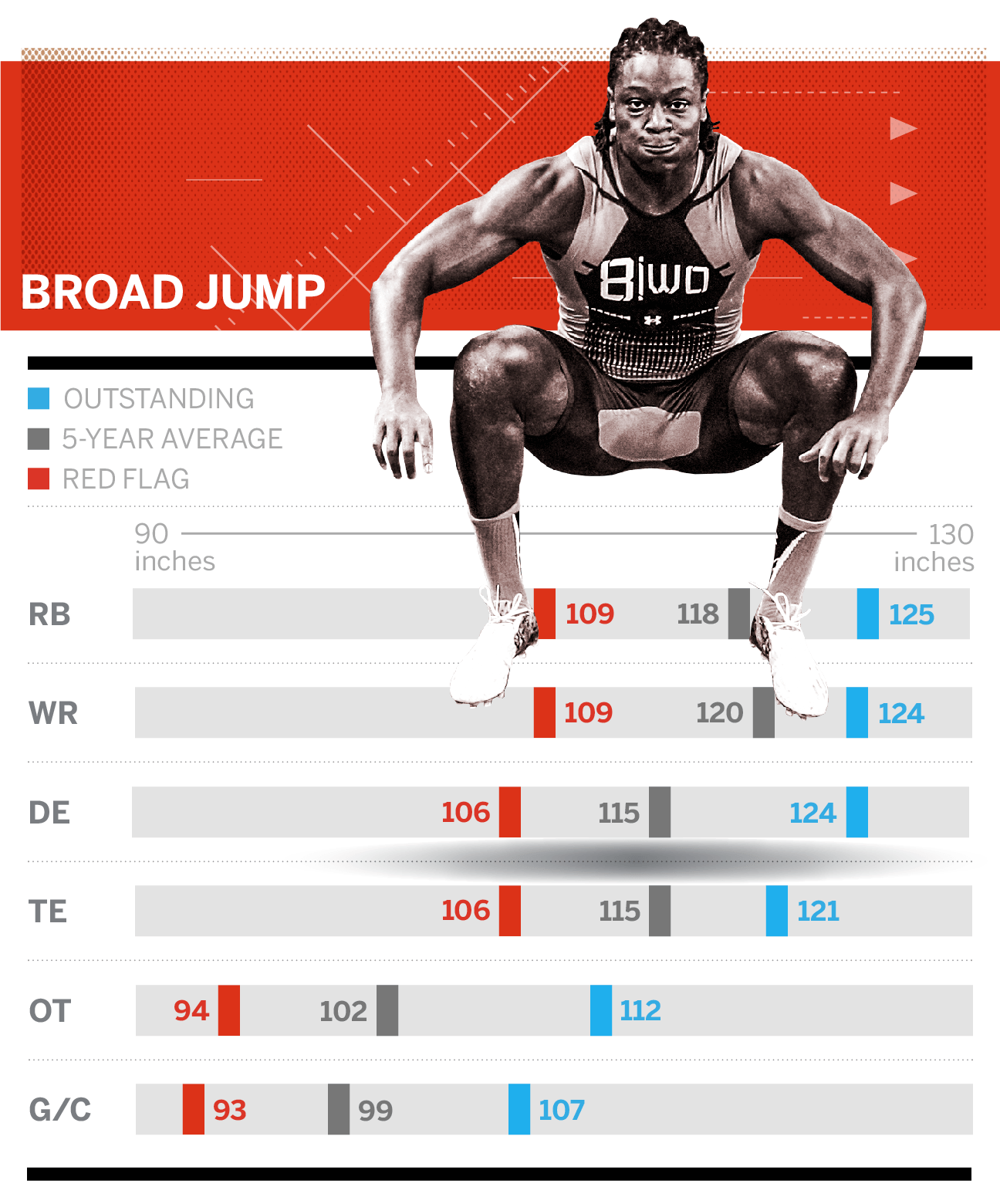 Why it matters: I like to see how offensive linemen and skill players perform in the broad jump. You need good lower-body explosiveness, power and flexibility to anchor in the trenches. It's also a good way to separate which offensive linemen have the athleticism to play tackle. The top four broad jumpers over the past five years among O-linemen were drafted to play tackle.
Past standout: Eagles OT Lane Johnson. Remember when Johnson blew up at the 2013 combine? His broad jump was 118 inches. That's comparable to an above-average mark from a running back — and he did it while weighing 303 pounds. Johnson's performance proved to scouts that he had the lower-body power to develop into a good left tackle.
2018 prospect to watch: Texas OT Connor Williams. Williams is coming off an injury-riddled 2017 season, and the medical exam will be huge for him. His numbers in the broad jump don't need to be Lane Johnson-esque, but anywhere in the same neighborhood would help his first-round cause and show off his lower-body explosion. Many of the top offensive tackles in the NFL have performed well in this drill. Williams will be looking to eclipse 9 feet (108 inches) — something only four OTs did at last year's combine.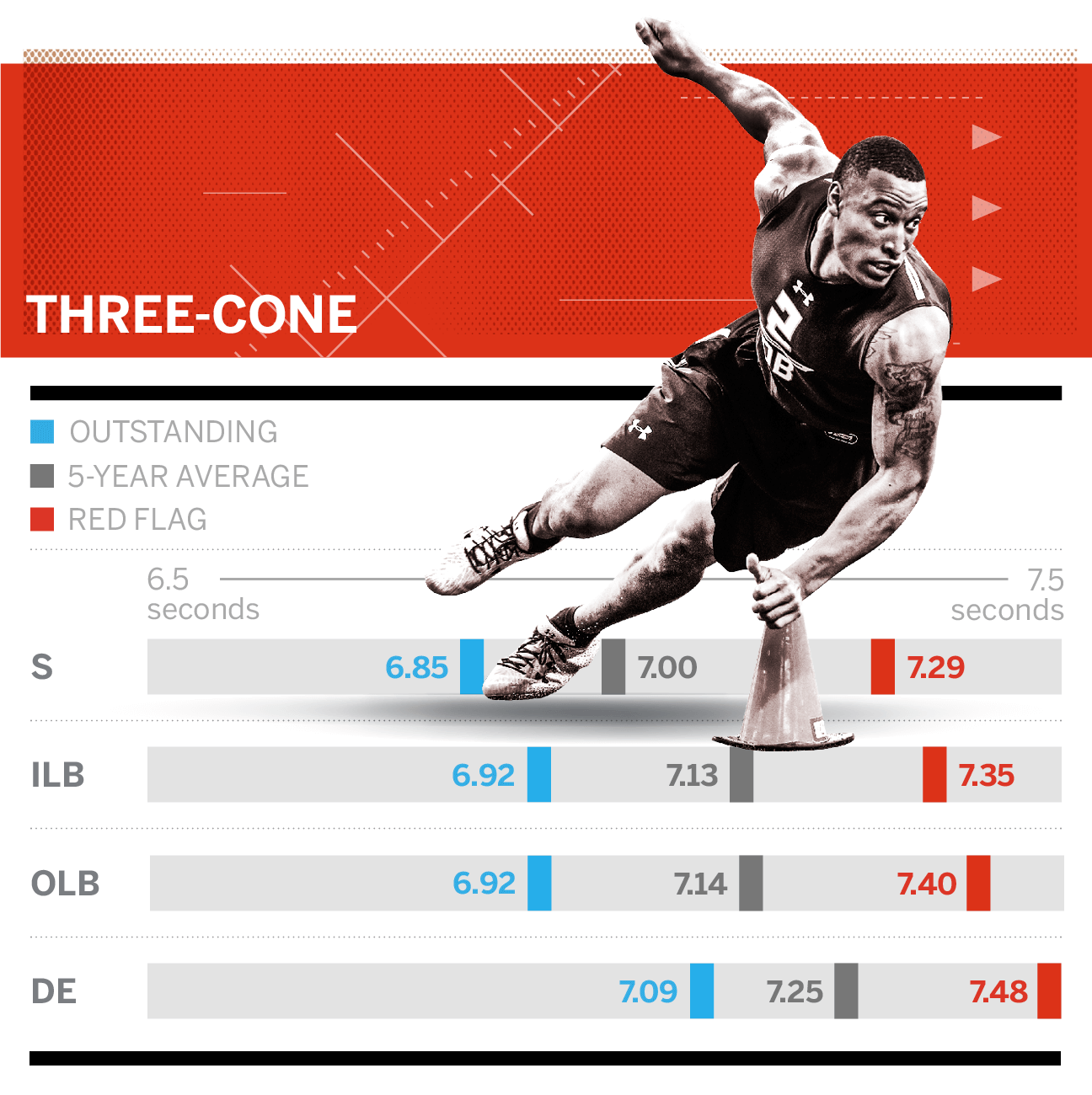 Why it matters: This drill is all about assessing a prospect's ability to change directions quickly, bend and accelerate. Defensive backs and pass-rushers are good players to keep an eye on. Of course, a lot goes into being an elite edge rusher, but most of the NFL's best register outstanding times in the three-cone.
Past standout: Broncos OLB Von Miller. The Super Bowl 50 MVP completed the three-cone in 6.70 seconds in 2011, tied for the third-best mark among linebackers over the past seven years. And that confirmed what teams saw on tape: a freak athlete who wreaked havoc off the edge.
2018 prospect to watch: LSU OLB Arden Key. The 6-foot-6, 265-pound defender's tape is up and down, but Key is arguably the most gifted athlete among edge rushers in this class. A three-cone time in the sub-7-second range would help boost that argument.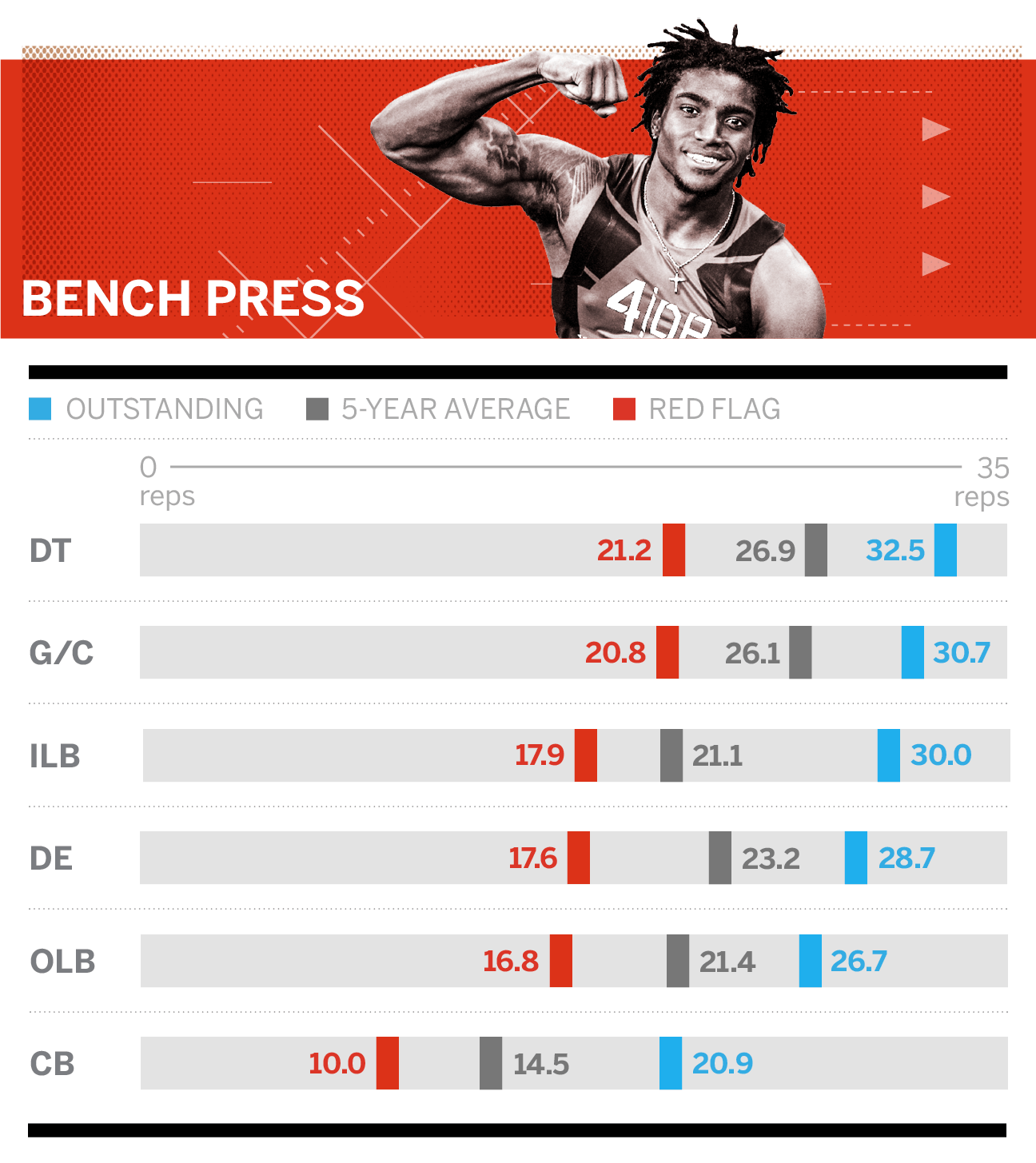 Why it's important: The bench press tests upper-body strength by determining how many times players can put up 225 pounds. Let's be honest: While it might be the most fun to watch, the bench press is the least important of these drills. But it does provide insight into the upper-body strength of an athlete, which tends to apply most to interior offensive and defensive linemen. There also is some small correlation for cornerbacks (for press-technique purposes).
Past standout: Rams DT Aaron Donald. The Pitt product showed off his raw strength at the 2014 combine, putting up 35 reps on the bench. That is tied for the second highest among all defensive linemen over the past four years.
2018 prospect to watch: Michigan DT Maurice Hurst. He is a quick 3-technique defensive tackle with the agility and ability to penetrate, and I think he's underrated at this point. But does Hurst have anywhere near the explosive upper-body power that we saw from Donald, the NFL's best 3-technique defensive tackle? We'll find out in Indianapolis.
Tennessee Titans' Stephen Gostkowski redeemed with 25-yard winner after 4 misses
Stephen Gostkowski overcame a nightmare of a game to kick the game-winning field goal from 25 yards out with 17 seconds left Monday, giving the Tennessee Titans a 16-14 victory.
Gostkowki's meltdown almost cost the Titans the season opener against the Denver Broncos on Monday Night Football. Tennessee's win over the host Broncos was much closer than it should have been after Gostkowski missed three field goals and an extra point, leaving 10 points on the board.
Entering the game, the 15th-year veteran had never missed three field goals in one game. Gostkowski was off the mark from 47 and 42 yards and saw a 44-yard attempt blocked. He has now missed an extra point attempt in four consecutive games.
Gostkowski joined former Chicago Bears kicker Cody Parkey, who is now with the Cleveland Browns, as the only kickers in the past 10 seasons to miss four kicks in a win.
While with the Patriots last season, Gostkowski made 7 out of 8 field goal attempts before being placed on injured reserve last October. The Patriots released Gostkowski in March. The 36-year -kicker underwent hip surgery during the offseason and was picked up by the Titans.
Tennessee signed Gostkowski to a one-year, $2.75 million deal in a move that was supposed to shore up its kicking game. To make room for Gostkowski, the Titans released kicker Greg Joseph 11 days before the season opener.
Per ESPN Stats & Information research, the Titans are 1-for-9 on field goal attempts over their past nine regular-season game. Tennessee made only 44.4% of its field goal attempts last season, more than 20% worse than the closest team (Jets, 67.9%). That's also the only time since 2001 that a team made fewer than 60% of its field goal attempts
Fresh off win, Ben Roethlisberger 'just so excited' to be leading Pittsburgh Steelers yet again
If Ben Roethlisberger had any jitters Monday night, the veteran shook them off in time for a vintage performance in the Pittsburgh Steelers' 26-16 victory against the New York Giants.
Playing for the first time in a year since the 2019 season-ending elbow injury sustained in Week 2, Roethlisberger completed 21 of 32 passes for 229 yards and 3 touchdowns – and an 11-yard keeper for a first down.
With his third touchdown pass of the night – and second to JuJu Smith-Schuster, Roethlisberger notched his 366 career touchdown, setting a franchise record and tying Eli Manning for eighth-most in NFL history.
"I am just so excited, I am just thankful," Ben Roethlisberger told ESPN's Maria Taylor in his postgame interview. "I told the guys in the locker room before the game that I'm back because of them. I don't need to accomplish anything personally anymore. It's about being with a defense that I think is as good as any I have ever played with, skill guys that are young and fun to play with and then, of course my line, who I love to death and they love me.
"They are the reason I came back to play."
It wasn't the most auspicious start for Roethlisberger, 38, when he threw up a lateral to James Conner under pressure for no gain, ending his first series back after three plays. But Roethlisberger slowly got into a rhythm, finding Smith-Schuster for an 11-yard gain on the next series. That gave the quarterback and his offense a little life as he went on to connect with rookie Chase Claypool on a 28-yard toe-tapping reception to convert a third-and-long. The Steelers had to settle for a field goal on that drive, but a quarter later, Roethlisberger found the end zone when he hit Smith-Schuster for a 10-yard touchdown, capitalizing on T.J. Watt's interception of Daniel Jones in Giants' territory.
Roethlisberger looked most like his old self in an abbreviated two-minute drill just before halftime, leading the Steelers on an eight-play, 78-yard drive capped with touchdown throw to James Washington where the third-year wide receiver muscled his way into the end zone for the score. Just before that drive, Roethlisberger stood on the sideline between drives with a jacket transformed into a wrap for his surgically repaired elbow to keep him loose and warm.
After a scoreless third quarter, Roethlisberger got his team on the board yet again with a field-goal drive followed by a long 11-play, 75-yard drive finished with Smith-Schuster's second touchdown to seal the victory on his return.
The veteran quarterback did it with a new-look offensive line, including an entirely different right side than the one he last played behind. Zach Banner won the right tackle job out of training camp, while Stefen Wisniewski replaced the injured David DeCastro at right guard. But both left late in the fourth quarter with a knee injury and pectoral injury, respectively.
The Steelers also finished the game without starting running back James Conner, who was ruled questionable to return with an ankle injury late in the fourth quarter, but didn't play after early in the second.
Los Angeles Rams coach Sean McVay — NFL's mask warning 'directed at me'
THOUSAND OAKS, Calif. — Los Angeles Rams coach Sean McVay says he's likely responsible for the NFL memo sent Monday to reinforce that coaches must wear face coverings at all times on the sidelines during games, and threatening discipline for those who don't comply.
"I figured that memo was directed at me," McVay said Monday evening during a video conference with reporters.
On Sunday, during a season opening victory over the Dallas Cowboys in front of a Sunday Night Football television audience, McVay roamed the sideline with his mask mostly worn under his chin, a clear violation of the league's coronavirus safety protocol.
"I've been getting blasted all day about it, so I just love it," McVay said, a bit tongue-in-cheek, before continuing in a more serious tone. "I will do better."
In contrast to McVay, Cowboys coach Mike McCarthy, when shown on the broadcast, appeared to wear his mask throughout the 2 hour, 56 minute game.
McVay says he's uncertain if he'll stick with a face mask or potentially wear a neck gaiter when the Rams play the Eagles in Philadelphia next Sunday. A face shield, like the one Kansas City coach Andy Reid wore in the Chiefs' opener that fogged up, seems to be a non-starter for McVay.
"I was definitely one of the main culprits of not following what the league wants," McVay said. "I will definitely be aware of that and do better."
The league's coronavirus safety protocol says that anyone with bench area access, excluding players, must wear masks on game day, and that the mask must fit securely across the nose and mouth to prevent transmission of COVID-19.
ESPN's Kevin Seifert contributed to this article.