As the NFL turns its attention to the draft and free agency, Dallas Cowboys reporter Todd Archer, Washington Redskins reporter John Keim, Philadelphia Eagles reporter Tim McManus and New York Giants reporter Jordan Raanan look to the 2018 season with a series of questions this week.
Monday's question: Can the Eagles command the East the way they did under Andy Reid?
Tuesday's question: How will Alex Smith's addition to the Redskins affect the division?
Wednesday's question: Should we expect a different Eli Manning with Pat Shurmur as the coach and Dave Gettleman as the GM in New York?
Thursday's question: What's the view on the Cowboys a year after Dak Prescott and Ezekiel Elliott led them to a 13-3 record?
Archer: The value of Elliott rose in 2017 because of how far the Cowboys and Prescott fell during the six-game suspension that shelved the running back for all but two of the final eight games. Dallas stumbled to 9-7 after its NFC East-winning 13-3 mark in 2016. I would have voted Elliott as the Rookie of the Year in 2016 over Prescott. That's not to slight the quarterback, but Elliott was the engine of that team. In the second half of the 2017 season, Prescott threw for more than 212 yards in a game just once. He had nine of his 13 interceptions in that second half. But I don't believe Prescott had a "sophomore slump." It was more what happened around him than what he did or did not do. To me, there is no reason to think the Cowboys won't compete for a playoff spot in 2018. Although Dallas has been to the playoffs just twice in Jason Garrett's tenure, the Cowboys have been in contention for the NFC East title or a playoff spot every season but 2015. For the Cowboys to succeed again offensively, they need a full season of Elliott and Prescott benefiting from the looks Elliott gets from the defense. The formula Dallas followed in 2016 is a formula that can work again in 2018.
Keim: A lot of skepticism. The troubling part last season was Prescott's performance during Elliott's six-game suspension. I liked Prescott a lot as a rookie — he had terrific poise — but he stumbled in 2017. However, the Cowboys' struggles were about more than just Elliott's absence; they showed how reliant not just Prescott but also the entire offense was on Elliott. They need more from the receiver position to make this attack more multi-dimensional. Prescott and Dallas' offense just weren't good minus Elliott. In six games without him, Prescott threw five touchdowns and seven interceptions (as Dallas averaged 18.3 points), compared to 17 touchdowns and six picks when Elliott played (and 24.4 PPG). It's really hard to know the direction Dallas is headed. The Cowboys' defense, if it keeps DeMarcus Lawrence, continues to improve and could be the strength of the team next season. But what will Prescott do? Can Elliott not just bounce back but also have the same impact he did as a rookie? If they enter next season with Dez Bryant as their top receiver, 2018 will look a lot like 2017.
McManus: The formula for success seems to be pretty straightforward. When the Cowboys are able to lean on Elliott and that offensive line, everything else falls into place. Prescott gets put in better situations, the defense is less stressed, and victories are much easier to come by. When Zeke is not the centerpiece, the operation tends to get a little out of whack, as evidenced by Dallas' 9-7 finish in 2017. With Elliott back, I'm sure the Cowboys will return to the blueprint that led them to a 13-3 record in 2016. It seems important, though, for the Cowboys to find a way to be less dependent on a single player, particularly in the wake of Elliott's suspension last season. One way to cure that issue is for Prescott to take a step forward in his development. His numbers went down across the board in 2017 after a stellar rookie season. That's somewhat understandable, given the turmoil surrounding the team, but now's the time to get the arrow pointing back up. An infusion of young talent at the receiver and tight-end positions might help in that cause. As we've seen in the NFC East over the past decade-plus, a lot can change in a year. Although the Eagles appear to be well-positioned for a run of success, it's quite possible that Dallas gets off the mat and makes a playoff charge this season. But that will happen only if Elliott shows maturity and Prescott delivers.
Raanan: The Cowboys are dangerous. They are poised for a bounce-back season with Elliott not suspended and Prescott having seen the adjustments that were made against him following a standout rookie season. The 2017 season was undoubtedly a shot of reality for Prescott. He's maybe not quite as good as 2016 suggested, but he's probably somewhere in between his rookie performance (23 TDs, four INTs) and sophomore campaign (22 TDs, 13 INTs). Dallas' defense is gradually improving its talent base, and if the Cowboys can add another serious weapon for Prescott in the passing game, they should be a really good offense with Elliott running behind that still-imposing line. The Cowboys went 9-7 during a 2017 season in which they had a tough schedule and didn't meet expectations. They appear primed to improve this season if they can avoid any internal implosions, which always seems to be in play in Dallas, particularly with Jerry Jones as the owner and a Dez Bryant decision looming.
Lions releasing running back Kerryon Johnson, per reports
The Detroit Lions are releasing running back Kerryon Johnson, according to multiple reports.
Detroit drafted the former Auburn standout in the second round in 2018. Johnson became expendable after the team drafted D'Andre Swift No. 35 overall in 2020, signed free agent running back Jamaal Williams in March and drafted Oregon State's Jermar Jefferson last week.
Johnson ran for 1,225 yards and eight touchdowns over three seasons. He also has 61 career receptions for 527 yards and three scores.
Last year, he had 181 yards rushing and two scores on 52 carries. and had 19 receptions for 187 yards receiving and a touchdown.
NFL Network first reported that Johnson would be waived.
The Lions also added a player in free agency, signing tight end Darren Fells on Wednesday. The move gives the team a veteran at the position it can put on the field with Pro Bowl tight end T.J. Hockenson.
The 35-year-old Fells has 123 career catches with 1,483 yards receiving and 21 touchdowns. The previous two years in Houston, he had a combined 55 catches for 653 yards and 11 touchdowns.
Fells has started 76 games — including 13 with the Lions in 2017 — and played in 102 games with Arizona, Detroit, Cleveland and the Texans. He was a rebounding standout at UC Irvine and played basketball in Argentina, Mexico, Belgium, Finland and France before playing in the NFL.
The Associated Press contributed to this report.
QB Blaine Gabbert re-signing with Tampa Bay Buccaneers on 1-year, $2.5 million deal, source says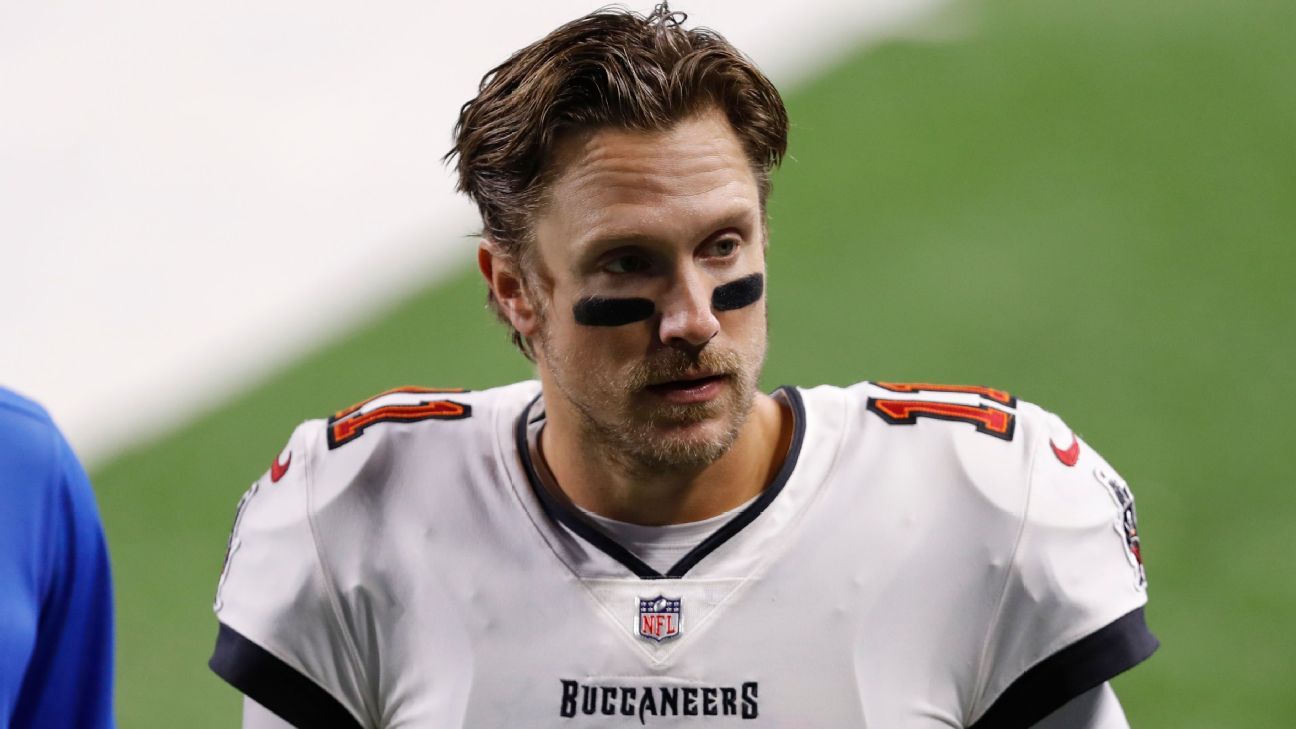 TAMPA, Fla. — Once again, Tampa Bay Buccaneers coach Bruce Arians has kept his word.
Days after saying the Bucs would work to re-sign Tom Brady's top backup, quarterback Blaine Gabbert, the team is indeed re-signing Gabbert to a one-year deal worth $2.5 million, a source told ESPN's Jeremy Fowler.
Gabbert, who has played in 60 career games with 48 starts, previously earned $1.187 million in 2020 and $1.6 million in 2019.
Last season, Gabbert, 31, completed 9 of 16 passes for 143 yards and two touchdowns with no interceptions, with all but one of those pass attempts coming in the second half against the Detroit Lions in Week 16, when Arians opted to rest Brady.
The Bucs selected quarterback Kyle Trask in the second round of the NFL draft last week, but Arians said that would not preclude them from re-signing Gabbert. The team also re-signed Ryan Griffin, who was last year's third-string backup, earlier this offseason.
Gabbert enters his third season with the Bucs, after spending 2018 with the Tennessee Titans, 2017 with Arians and the Arizona Cardinals, 2014-16 with the San Francisco 49ers and 2011-13 with the Jacksonville Jaguars.
Gabbert has had an eventful offseason. In addition to attending the Kentucky Derby with Brady and Griffin on Saturday, he married longtime sweetheart Bekah Mills in Paradise Valley, Arizona, in March.
NFL sends memo reminding clubs the league will not pay players who suffer injuries away from facilities
The NFL reminded teams Wednesday that they are not obligated to pay players who suffer an injury away from the team facility, an issue that moved this week to the center of an ongoing dispute between the NFL and NFL Players Association over in-person participation in offseason workouts.
The memo, obtained by ESPN, was prompted by several prominent players who were surprised by media reports about Denver Broncos offensive lineman Ja'Wuan James, who tore an Achilles tendon this week while working out on his own and could miss the 2021 season. NFL contracts have long classified such injuries as "non-football," because they happen away from the team environment, and they are not covered by typical injury guarantees. As a result, the Broncos could withhold James' salary for as long as he is sidelined. More than $10 million would have been guaranteed if the injury had occurred at the Broncos' facility.
The NFL has noted this contractual leverage multiple times during negotiations with the NFLPA, which has advised players to skip the voluntary portion of in-person offseason training unless they stand to lose workout bonuses.
Kansas City Chiefs quarterback Patrick Mahomes was among those who seemed unaware of the full implications of "non-football' injuries in comments this week on social media.
"According to the media coverage," the NFL wrote in its memo, "several players have expressed surprise that Mr. James' injury was not covered by his Injury Guarantee, although this point has been made frequently in our discussions with the NFLPA about the offseason program. Clubs are encouraged to remind players of the significant injury-related protection provided if they choose to work out at the club facility and the risks they undertake in choosing to train in non-NFL locations."