INDIANAPOLIS — The Pittsburgh Steelers are doubling down on optimism over a Le'Veon Bell contract.
The Steelers have spoken to Bell's reps at the NFL combine here to "try to figure out common ground" for a long-term deal, general manager Kevin Colbert told reporters Wednesday.
Colbert said he hopes a deal is reached by March 6, the last day for designating a franchise player. Bell's franchise number is around $14.5 million for 2018.
In 2017, the Steelers placed an exclusive tag on Bell on Feb. 26. There was less optimism over an extension then, and he ended up playing for one year at $12.1 million.
Colbert and team president Art Rooney have publicly stated they want the star running back to retire a Steeler, and Bell has too.
Bell's per-game average of 129 yards from scrimmage since 2013 is the most by an NFL player in the first five years of a career since the 1970 NFL-AFL merger.
"I don't like to get into too much detail," Colbert said about the deal. "I can say that I am optimistic that we can find common ground. Those things are never final until they are final. Until we reach an agreement we don't have anything right now."
Pittsburgh Steelers bringing back Keith Butler as defensive coordinator
PITTSBURGH — Although Pittsburgh Steelers coach Mike Tomlin vowed change following an early exit in the playoffs, at least one significant face on the coaching staff is staying the same.
Defensive coordinator Keith Butler is returning to his role with the Steelers for at least one more season, a source confirmed to ESPN. The news was first reported by the Pittsburgh Post-Gazette.
Butler, 64, has been with the organization since 2003 and in his role as defensive coordinator since 2015. Butler's previous contract expired at the end of the 2020 season.
The Steelers' defense finished as a top-five unit, finishing first in a handful of defensive categories, such as opponent total QBR (55.9) and sacks (56).
The unit, though, declined in the final month of the season. Once the league's best run defense, the Steelers finished allowing 111.4 rushing yards per game and 4.31 yards per carry, good for 11th and 13th, respectively, in the league. The passing defense was stronger, holding opponents to 194.4 passing yards per game and 5.91 yards per attempt, both ranking third in the NFL.
The Steelers previously parted ways with a handful of coaches, including offensive coordinator Randy Fichtner, offensive line coach Shaun Sarrett and defensive backs coach Tom Bradley. Other coaches on staff also have expiring contracts and their futures haven't been determined.
The Steelers also are expected to elevate quarterbacks coach Matt Canada to offensive coordinator, a source told ESPN last week, but the deal hasn't been finalized.
Answering the biggest injury questions for NFL conference championship playoff teams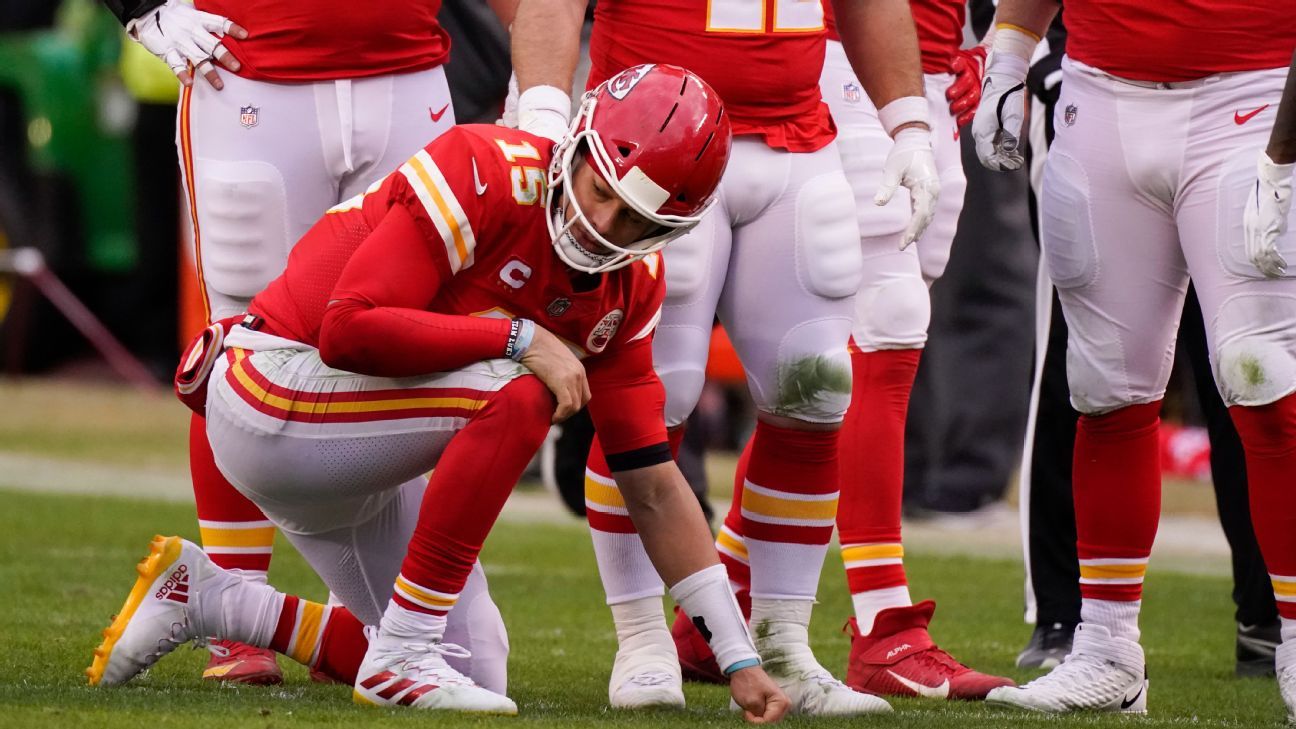 While backup quarterback Chad Henne inspired hashtags on social media in helping the Kansas City Chiefs hold off the Cleveland Browns in the divisional playoff round this past Sunday, all eyes in K.C. (and the NFL, for that matter) have been watching the Chiefs' injury reports, wondering if All-Pro quarterback Patrick Mahomes will be available for Sunday's matchup with the Buffalo Bills.
As far as the other three teams are concerned, the Bills have questions at wide receiver and could be promoting a veteran off the practice squad, the Tampa Bay Buccaneers are hopeful about Antonio Brown and a key defensive player who has been out since October, and the Green Bay Packers could have all hands on deck.
Our NFL Nation reporters update the top injury question for every team heading into conference championship weekend:

Buccaneers: An MRI revealed no major structural damage to the knee of wide receiver Antonio Brown, and he will be "day-to-day" this week, a source told ESPN. Brown had become Tom Brady's most targeted receiver in the final five weeks of the regular season. Also, in a surprise move that virtually no one saw coming, the Bucs activated defensive tackle Vita Vea from injured reserve this week. Vea suffered a fractured ankle against the Bears in Week 5 but has made such encouraging progress that the team is contemplating using him this week, which would provide a huge boost in pressuring Aaron Rodgers and making the Bucs' top-ranked run defense even more stout against Jamaal Williams and Aaron Jones. Tampa Bay will get a better feel for Vea's progress and readiness as the week goes on. — Jenna Laine
Packers: The Packers didn't have a single DNP among their active-roster players Wednesday, which was good news for their running back depth after rookie AJ Dillon couldn't finish Saturday's divisional playoff game against the Los Angeles Rams because of a quad injury. The same goes for kicker Mason Crosby, who injured his shoulder after a bad snap on an extra-point attempt led to holder JK Scott trying to throw a pass to Crosby for the conversion. So long as the Packers don't have any fakes planned with Crosby as either the passer or the receiver, they should be OK. — Rob Demovsky
---

Bills: How serious is Gabriel Davis' ankle injury? The rookie receiver left Saturday's win over the Ravens before returning but did not practice in Buffalo's first practice of the week Wednesday. Arguably the Bills' most versatile receiver besides Stefon Diggs, Davis' absence creates a hole in the Bills' offense that could possibly be filled by recently signed practice squad wideout Kenny Stills. It's too early to guess whether or not Davis will play, but Buffalo will need all hands on deck if it wants to capture its first AFC championship since the 1993 season. — Marcel Louis-Jacques
Chiefs: Patrick Mahomes' work week couldn't have gotten off to a better start. He practiced Wednesday, though he remains in the concussion protocol. The Chiefs listed Mahomes as a limited practice participant, though coach Andy Reid said he took all of the snaps in practice. — Adam Teicher
Green Bay Packers QB Aaron Rodgers not feeling extra pressure, says his future is 'beautiful mystery'
GREEN BAY, Wis. — Everyone else might be wondering how many chances Aaron Rodgers will get at a Super Bowl, but the Green Bay Packers quarterback says he's not one of them.
Just days away from his fifth NFC Championship Game — and his fourth since his lone Super Bowl appearance 10 years ago — Rodgers insisted that he's not looking at Sunday's game against the Tampa Bay Buccaneers as a best last-chance scenario. Not even at age 37 and with his possible eventual replacement now on the roster.
"I'm always just trying to stay present, especially this year as much as anything, and enjoy the moments," Rodgers said Wednesday. "I hope there's more opportunities, but I don't know. I mean, I really don't. That stuff is out of my control. My future is a beautiful mystery I think. The present is such a gift to be able to stay in the moment and to have gratitude for being in this situation again, and being with the guys and having fans in our stadium and maybe snow in an NFC Championship Game. I'm going to enjoy these moments for sure, and just not worry about what happens down the line."
That's been Rodgers' approach most of the season. After the Packers traded up to draft quarterback Jordan Love in the first round of last year's draft, Rodgers acknowledged that he might no longer be able to control how his time ends in Green Bay.
But since that moment, his teammates and coaches have reported Rodgers to be in as good a mood as they've seen from him. The result might end up being Rodgers' third career MVP.
"I'm thankful for the opportunity again to be leading these guys, to have played the way I want to play, to be called upon for a greater leadership role," Rodgers said. "Those things are really, really important to me. But all that other stuff … is stuff that I'm just not going to focus on. Because to me it is a beautiful mystery what happens down the line, but there'll be a time when we meet that future, and right now I'm just going to enjoy the present."
He's still looking for that second Super Bowl appearance. The Packers were blown out by the San Francisco 49ers in last year's conference title game. The Packers equaled their 13-3 record from a year ago, but this time they're the No. 1 seed and have the NFL's top-scoring offense. Rodgers has said after each of the past two NFC Championship Game losses that he has wanted to have this game at home. Now he has it.
"No more pressure than usual," Rodgers said when asked if there's more pressure on him and the Packers this year. "I think a lot of times the storylines, pressure and those kinds of comments are good stuff for you guys to write about, but I think it starts with the mentality and focus. Obviously I put pressure on myself to perform every single week, and I think there's a lot to be said for being able to harness that pressure and fear of failure and focus into a real positive. That's something you learn over the years. But I don't feel any extra pressure going into this one.
"Definitely thankful to be back here. A lot of people didn't think we'd be back here after last season. We got a lot of interesting comments last year about us being the worst 13-3 team that people had seen. Not the same type of comments this [time]. Obviously we're clicking a lot better on offense, I do feel really thankful to be back here, thankful for the chance to be playing."