SCOTTSDALE, Ariz. — Two Colorado Rockies relievers will embark upon an altitudinally enhanced voyage of discovery this season. Wade Davis is settling in as the team's new closer, and Bryan Shaw will be his main right-handed setup man, and all it took was a little sweet talk and a guaranteed $79 million over the next three years to convince them to chuck their apprehensions and buy into the program.
Lefty Jake McGee, the other target in general manager Jeff Bridich's offseason bullpen spending binge, enters the first season of a three-year, $27 million deal with a more familiar orientation. He came to Colorado from Tampa Bay by trade in January 2016, and he has spent the past two years learning all about the flexibility, resilience and other attributes required to succeed in one of the most daunting environments for pitchers in the majors.
A year ago, McGee posted a 4.73 ERA at Coors Field and a 2.64 mark on the road. He decided to re-up regardless.
"Jake McGee is a testament to what's happening here," Bridich said. "He came over in trade, and he had no choice but to pitch and figure it out. When he did have a choice, he wanted to come back here. Not only did he want to do that, he wanted to help recruit his buddy Wade Davis. I think that says a lot about the stuff we have going on, and the belief that guys have in each other here."
As Jake Arrieta, Mike Moustakas and a slew of less acclaimed players at the MLBPA academy for the homeless in Bradenton, Florida, can attest, the offseason was atypically slow, unproductive and unusually stressful for dozens of free agents. Relief pitchers were the notable exception. According to ESPN Stats & Information, 36 free-agent relievers signed deals worth a total of almost $340 million this offseason. That's less than the total payout of $421 million that 33 free-agent relievers received in the winter of 2016-2017. But that total was skewed significantly by the $228 million allotted to three closers: Aroldis Chapman, Kenley Jansen and Mark Melancon.
Relief pitchers have come a long way from the days when Scott Sullivan, Scott Proctor and Aaron Heilman were pitched into the ground and never attained that one big payday. McGee, Shaw, Luke Gregerson, Tommy Hunter, Pat Neshek, Brandon Morrow, Anthony Swarzak, Joe Smith, Juan Nicasio, Steve Cishek and Yusmeiro Petit all received multiyear contracts in the $10 million to $30 million range this offseason. Those 11 pitchers combined for 25 saves in 2017.
In front offices, it's generally accepted that any long-term commitment to a reliever comes with a healthy dose of hope. Relievers spend so much time getting loose in the pen — and can be so vulnerable to overuse depending on the manager's tendencies — that they're prone to wide variances in performance from one year to the next. As a result, cost-conscious teams have been just as inclined to take a flyer on a kid with a big arm as to throw money at the problem. Exhibit A: Milwaukee's Corey Knebel, who recorded 39 saves, struck out 126 batters in 76 innings and made the All-Star team for a salary of $538,900 in 2017.
"Teams think that some bullpens can come into their own, based on the unevenness of some guys' careers," Rockies manager Bud Black said. "You have Mariano Rivera, Trevor Hoffman and a bunch of guys who've had great careers. But for a lot of relievers, it's, 'Great year, bad year.' That's been the case for so many of them."
The Rockies' $106 million offseason investment in three free-agent relievers is a record outlay for a big-league team, and Bridich took franchise history into account before embarking upon his plan. Curtis Leskanic, Steve Reed and Darren Holmes — currently the Rockies' bullpen coach — formed the nucleus of a durable and fearless bullpen when Colorado made its first playoff appearance as a franchise in 1995. The Brian Fuentes-Manny Corpas-Jeremy Affeldt-LaTroy Hawkins contingent turned in some impressive work when the Rockies won the NL pennant in 2007, and Huston Street saved 35 games and logged a 154 ERA+ for a 92-win wild-card team in 2009.
Last year, the Rockies took a flyer on former Royals closer Greg Holland, and he performed well enough to make the National League All-Star team before fading down the stretch. The Rockies made an offer to re-sign Holland and appeared close to finalizing a deal before talks stalled and they moved on to Davis.
Bridich factored roster makeup into his decision to splurge on the bullpen. The Rockies have several young position players on the cusp and some talented 25-and-under starters, but they needed a quick injection of stability behind Adam Ottavino, Mike Dunn, Chris Rusin and the other relievers already in the fold. When owner Dick Monfort bought into the plan, Bridich signed veteran catcher Chris Iannetta and went to work fortifying the back end.
"Like any free-agent market, you're not quite sure how it's going to end up when you start out," Bridich said. "I think we're blessed that Dick gave us the ability to be aggressive. And we needed to be aggressive. As everybody saw, in a slow market, it was the relief pitchers that flew off the board first.
"The prices are different now than they were five years ago, so it's happened fairly quickly. It used to be the closers that were getting $10-14 million a year. Now other guys in the bullpen are getting those sorts of dollars."
Blown leads are debilitating for any team, but the idea of a deep, reliable pen is particularly resonant in Colorado. Rockies starting pitchers ranked last in the NL in innings for four straight years from 2012-2015 before ramping up to seventh in 2016 and ninth last season.
"In our park, especially, run-prevention can be very uplifting late in the game," Black said. "On the other hand, the lack of run-prevention late can be very demoralizing. If you can close out games where you have the lead — or you stay close and come back and win — it's just great confidence for the group. The position players feel great about each and every game, and they're not worried about, 'Hey, here we go again.' That's a bad thought: Here we go again."
Power pitchers and ground ball types are optimal at Coors, for obvious reasons. According to FanGraphs, the Rockies threw the third-highest ratio of fastballs in the majors (61 percent), behind only the Pirates and Padres, and the third-lowest rate of changeups (7.4 percent), ahead of only the Angels and Brewers. But Bridich and Black looked beyond individual repertoire and focused just as much on pitchers with competitive mentalities and iron wills.
They did plenty of legwork in their search. Black called Cleveland Indians manager Terry Francona for a scouting report on Shaw and placed another call to Angels pitching coach Charles Nagy, who had worked with Shaw in Arizona. Rockies bullpen coach Steve Foster was well-acquainted with Davis from their mutual tenure in Kansas City. McGee, who pitched with Davis in Tampa Bay in 2011, was happy to make a recruiting pitch.
"We've talked about the mental part of the pitcher, and how important that is," Black said. "The unselfishness when it comes to statistics. It's about the team first and the ability to turn the page and resiliency both physically and mentally. We're looking for those qualities in a pitcher. That's what we're trying to develop through our system too — that mindset of drafted Rockies and developed Rockies. Once you get to Denver, it's heads-up. Things are a little different. But if you can pitch and make pitches, it doesn't matter where you play. And we think this organization is a great place to be."
Durability is part of the equation. Shaw leads the majors in appearances since 2013, with 378 games. As MLB executives who pay big money to relievers will attest, the numbers cut both ways. Viewed from a glass-half-full perspective, Shaw seems like a good bet to hold up because of his experience and track record. The alternate, more fatalistic flip side: He has logged a lot of mileage in the bullpen, and the wear and tear is destined to catch up to him eventually.
"For me, it's just being smart, knowing my arm and my body," Shaw said. "And if I need a day off, communicating that and telling Bud or [Foster], 'Hey, I'm hanging a little bit today.' The trainers have good routines for us, and you can get the right work done. If you're going to go in there and do busywork just to do work, that isn't beneficial."
After two seasons of dealing with the demands of life at 5,280 feet, McGee is happy to provide a tutorial for the new guys on some of the challenges that await this season.
"I've already told them when you're on a long homestand and you've thrown a few times, you're going to be a little tired toward the end," McGee said. "By June or July, your legs are going to be a little out of it. It's going to happen, and you really can't do anything about it. You just make the adjustments and go from there. Different pitches move differently at home and on the road. Once you get a feel for that, it makes it easier."
Nothing will prepare Davis and Shaw for their new adventure except the reality of the grind. The Rockies have placed a historic bet on their bullpen. The coming months will determine if they spent that $106 million wisely.
New York Mets fire GM Jared Porter in wake of report he sent explicit texts, images
The New York Mets fired general manager Jared Porter on Tuesday, according to owner Steve Cohen.
The firing came a day after ESPN reported that he sent explicit, unsolicited texts and images to a female reporter in 2016 while working for the Chicago Cubs in their front office.
Cohen tweeted Tuesday that the Mets "have terminated Jared Porter this morning," less than 24 hours after ESPN's Mina Kimes and Jeff Passan reported that Porter sent graphic, uninvited text messages and images to a female reporter in 2016 when he was working for the Cubs.
"In my initial press conference I spoke about the importance of integrity and I meant it," Cohen tweeted. "There should be zero tolerance for this type of behavior."
Porter, 41, was hired as Mets GM on Dec. 13 to work under team president Sandy Alderson and help lead new owner Steve Cohen's front office. During his introductory news conference, Porter, who signed a four-year contract with the Mets, spoke about "a cultural shift," specifically, "Adding good people to the organization, improving the organizational culture."
Porter joined the Mets from Arizona, where he had served as the Diamondbacks' senior vice president and assistant GM since 2017. Prior to that, he spent 12 years with the Boston Red Sox, rising from intern to pro scouting director, before joining the Cubs organization in September 2015 as director of professional scouting.
It was while he was working for the Cubs that Porter began texting the woman, a foreign correspondent who had moved to the United States to cover Major League Baseball, after meeting her in an elevator at Yankee Stadium on June 26, 2016.
The text relationship started casually before Porter began complimenting her appearance, inviting her to meet him in various cities and asking why she was ignoring him. A copy of the text history obtained by ESPN show she had stopped responding to Porter after he sent a photo of pants featuring a bulge in the groin area.
At one point she ignored more than 60 messages from Porter before he sent a final lewd photo of an erect, naked penis. After receiving the vulgar image, she responded, "This is extremely inappropriate, very offensive, and getting out of line. Could you please stop sending offensive photos or msg." He later apologized in a series of text messages.
Reached by ESPN on Monday evening, Porter acknowledged texting with the woman. He initially said he had not sent any pictures of himself. When told the exchanges show he had sent selfies and other pictures, he said that "the more explicit ones are not of me. Those are like, kinda like joke-stock images."
In a statement Monday night, Alderson said the Mets would "review the facts regarding this serious issue," noting, "The Mets take these matters seriously, expect professional and ethical behavior from all of our employees, and certainly do not condone the conduct described in (the ESPN) story."
Alderson said the team was first made aware of the situation Monday night.
Information from ESPN's Mina Kimes and Jeff Passan was used in this report.
Our latest MLB offseason buzz — Second baseman market after LeMahieu, NL DH waiting game and more
After a very slow start, the free-agent market is finally starting to move with the Yankees inking deals with both DJ LeMahieu and Corey Kluber, and the Washington Nationals adding Jon Lester to their rotation. As the market heats up, ESPN MLB reporter Jesse Rogers weighs in with the latest offseason buzz he is hearing right now.
Veteran starting pitcher landing spots
First, it was two-time Cy Young winner Corey Kluber finding a home with the New York Yankees,
Then it was Jon Lester, who is headed to the Washington Nationals on a one-year deal.
Lester isn't returning to the Chicago Cubs, despite his stated desire to win his 200th game in their uniform because the Cubs are in a money crunch of their own making and decided they couldn't afford to bring back the left-hander.
Lester, like Kluber, wasn't going to sign with a rebuilding squad and the Nationals emerged with a need for an innings-eater behind Max Scherzer, Stephen Strasburg and Patrick Corbin. Lester will also have plenty of familiar faces in D.C. with manager Dave Martinez, pitching coach Jim Hickey and recent acquisition Kyle Schwarber all having come to Washington from Chicago.
Next up could be Adam Wainwright is still available to teams looking for starting pitching this winter, though there's still a good chance he re-signs with the St. Louis Cardinals.
Reached on Monday, Wainwright says the door hasn't shut on anyone, and he has had several offers come in "recently" while talking to a mix of different teams. Industry executives believe both Wainwright and Yadier Molina will still end up back in St. Louis for another season.
Second baseman dominoes
Industry observers believe the market for second baseman should start to move quickly now that DJ LeMahieu has re-signed with the Yankees. There's a backlog of veteran options out there, so we asked one executive (not currently in the hunt for help at the position) to handicap where four of the top remaining options will sign.
Tommy La Stella – Returns to the Oakland A's
Jonathan Villar – Returns to the Orioles after a one-year hiatus with the Marlins and Blue Jays.
Jurickson Profar – Signs with the Royals.
Kolten Wong – Angels. He essentially replaces La Stella, who got traded to Oakland at the trade deadline.
NL DH or no NL DH?
Stop if you've heard this one before: There's still a belief we could see the designated hitter in the National League this season, but no one is sure when an agreement could be reached. It won't really help front offices with roster construction if the decision comes in late March or even late February. As for players, they wanted to know yesterday.
There's a handful of hitters, like former Rangers, Red Sox and Padres slugger Mitch Moreland who would benefit greatly if 15 National League teams were in the marketplace. Moreland has played some outfield in his 11 years in the big leagues but he's a classic first baseman/DH type at this point in his career and there's reason to still hit at a high level, having produced a .894 and .835 OPS the last two seasons – and he was off to a great start in Boston before being traded mid-pandemic in 2020.
The Red Sox, Detroit Tigers, Colorado Rockies and Pittsburgh Pirates are among his current suitors, but clarity would greatly help him and some other hitters including free agent Tommy La Stella beyond oft-mentioned available DH options Nelson Cruz and Marcell Ozuna.
Some around the game believe ownership is dragging their collective feet in order to reduce the market: The longer things play out, the more antsy players will get to sign.
Vaccination sites
Nearly half the stadiums in baseball could become mass vaccination sites, as the Bay Area teams are the latest to consider using their facilities. Oakland Coliseum and Oracle Park in San Francisco are likely to join Minute Maid Park in Houston, Dodgers Stadium, Marlins Park, Citi Field in New York, Yankees Stadium, PNC Park in Pittsburgh and Petco Park in San Diego as places people can go to get their coronavirus vaccine. Other parks are being considered including Guaranteed Rate Field and Wrigley Field in Chicago.
Petco Park began vaccinations in their tailgate lot last week. There's hope of providing 5,000 vaccinations per day, seven days a week. It's not lost on organizations that are making their stadiums available that the more who get vaccinated, the societal benefit should help lead to a benefit for baseball: Fuller stadiums, sooner.
NY Mets GM Jared Porter acknowledges sending explicit images to female reporter when he worked for Chicago Cubs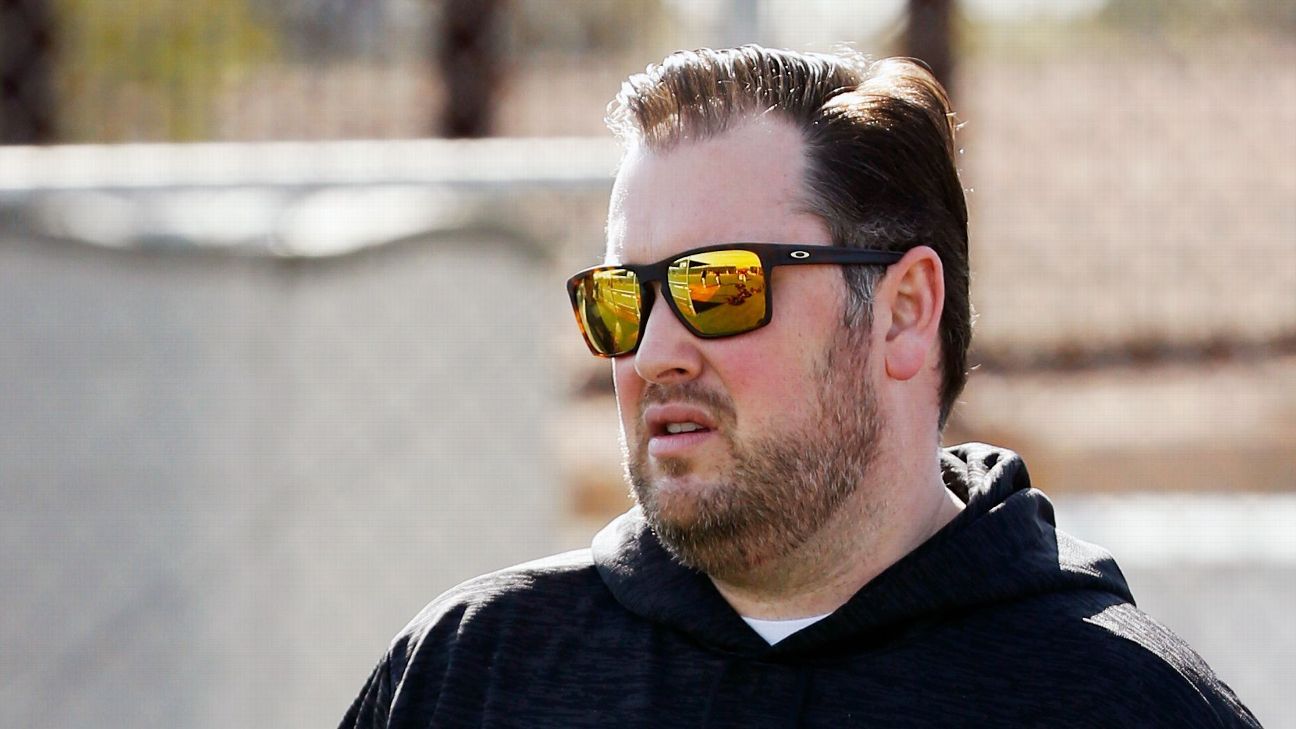 New York Mets general manager Jared Porter sent explicit, unsolicited texts and images to a female reporter in 2016, culminating with a picture of an erect, naked penis, according to a copy of the text history obtained by ESPN.
The woman, a foreign correspondent who had moved to the United States to cover Major League Baseball, said at one point she ignored more than 60 messages from Porter before he sent the final lewd photo. The text relationship started casually before Porter, then the Chicago Cubs director of professional scouting, began complimenting her appearance, inviting her to meet him in various cities and asking why she was ignoring him. And the texts show she had stopped responding to Porter after he sent a photo of pants featuring a bulge in the groin area.
Porter continued texting her anyway, sending dozens of messages despite the lack of a response. On Aug. 11, 2016, a day after asking her to meet him at a hotel in Los Angeles, Porter sent the woman 17 pictures. The first 15 photos were of the hotel and its restaurants. The 16th was the same as an earlier photo of the bulge in the pants. The 17th was of a bare penis.
Reached by ESPN on Monday evening, Porter acknowledged texting with the woman. He initially said he had not sent any pictures of himself. When told the exchanges show he had sent selfies and other pictures, he said that "the more explicit ones are not of me. Those are like, kinda like joke-stock images."
After asking whether ESPN was planning to run a story, he asked for more time before later declining further comment.
In December 2017, ESPN obtained the messages after being alerted to their existence by a baseball source. ESPN reached out to the woman, interviewed her and was prepared to report about the allegations but did not do so after the woman concluded her career would be harmed if the story came out. ESPN has periodically kept in touch with the woman – who since has left journalism – and, in recent days, she decided to come forward only on the condition of anonymity because she fears backlash in her home country.
"My number one motivation is I want to prevent this from happening to someone else," she told ESPN through an interpreter. "Obviously he's in a much greater position of power. I want to prevent that from happening again. The other thing is I never really got the notion that he was truly sorry.
"I know in the U.S. there is a women's empowerment movement. But in [my home country], it's still far behind," the woman said. "Women get dragged through the mud if your name is associated with any type of sexual scandal. Women are the ones who get fingers pointed at them. I don't want to go through the victimization process again. I don't want other people to blame me."
Porter, 41, was hired as Mets GM on Dec. 13 to help lead new owner Steve Cohen's front office. He apologized to the woman in 2016 by text after she saw the naked picture and texted that his messages were "extremely inappropriate, very offensive, and getting out of line."
In a statement to ESPN Monday night, Mets president Sandy Alderson said: "I have spoken directly with Jared Porter regarding events that took place in 2016 of which we were made aware tonight for the first time. Jared has acknowledged to me his serious error in judgment, has taken responsibility for his conduct, has expressed remorse and has previously apologized for his actions. The Mets take these matters seriously, expect professional and ethical behavior from all of our employees, and certainly do not condone the conduct described in your story. We will follow up as we review the facts regarding this serious issue."
Three other people interviewed by ESPN said they saw or were told of the texts at the time. The messages provide a portrait of a rising executive, a reporter working with a limited grasp of the English language and American customs, and how seemingly friendly banter ended in a lewd, unsolicited photo.
The woman met Porter in an elevator at Yankee Stadium on June 26, 2016. She said they talked briefly – the only time they ever spoke, she told ESPN – about international baseball prospects and exchanged business cards.
Porter began texting her the afternoon they met and, before the day was over, had asked her three times to get a drink. The woman said she agreed to meet Porter because she thought he was volunteering himself as a source and expected they would discuss baseball. Porter asked in a text if she had a boyfriend; the woman said that at the time, she believed he was simply being friendly, as she did not think someone she barely knew would be so forward. That night, after she said she couldn't meet with him but would the next day, Porter sent an unsolicited selfie.
"Like?" he asked.
She did not respond.
"If I had a better understanding – not just of the language, but the culture – I definitely would've realized sooner what was going on," the woman told ESPN.
Porter texted again the next day, according to the messages, and attempts by both to set up a meeting fell through. On July 19, 2016, he reached out to her again, inquiring as to her whereabouts and asking: "Why aren't we hanging out??" Porter asked whether the woman remembered what he looked like and said: "You're so pretty. Do you have a boyfriend yet?" He sent a selfie and said: "It can be me!"
The woman responded with text shorthand indicating laughter and added: "let's meet." Porter asked her for a picture. In her home country, the woman told ESPN, "it's very common for friends of the opposite sex to send each other photos. I didn't think much of it."
After she sent a selfie, Porter responded: "You're gorgeous. Want more of me?"
She said yes, explaining to ESPN: "I thought it would be awkward to say no. I didn't think of where it would progress."
Porter sent three pictures, including the first of several that would show a man lying on a bed with a bulge in his pants. The woman said she initially was confused.
"Like?" Porter wrote.
She laughed again and texted yes, though she told ESPN that she didn't realize the intention of the photo taken on the bed. "You are not married?" she asked.
Once she recognized the sexual nature of the bed picture, she resolved to cut off communication, she said.
Porter would send 62 unanswered texts – including seven photos – between July 19 and Aug. 10, the day before a final flurry from Los Angeles that included the nude photo.
His first unanswered text, on July 19, said he was not married. He followed up:
"Which picture do you like the most?"
"Want to see more….?"
"?"
"?"
About five hours later: "Helllloooooo beautiful."
About 90 minutes after that: "Is it too much for you?"
About two hours later: "Where did you go?"
Almost three hours later, at 2:03 a.m.: "I'm bored."
The pattern of unsolicited messages without response continued for weeks as the two separately crisscrossed the country watching baseball in different venues, with Porter sending photos from hotels. The day after the woman stopped returning his texts, Porter wrote: "Mad at me?" Later that day, he sent three more pictures. The first was of a World Series ring he had won during his 12 years with the Boston Red Sox, where he had risen from intern to pro scouting director and won three championships. The other two were bed pictures of a man's clothed groin, to which he added a message: "Am I annoying you?"
Porter sent seven more messages that day, including one that said the Cubs had made a trade and another that said: "You're hard to get."
At 2:44 a.m. the next day, Porter texted: "I want to see you." Seven hours later, he wrote: "Do you want to see me?" Three hours after that, he said: "I'm sorry." At 10:59 p.m.: "I thought we could have some fun."
On July 23, his fourth consecutive day of texting without a response, Porter wrote: ":-( I'm a nice guy you know." Later that day, he said: "Was it the pictures that made you mad?" That night, he sent another selfie.
Porter continued to text the woman sporadically, asking on Aug. 8: "Are you ok?" The next day, both were at Wrigley Field. "I think I just saw you," Porter wrote. "You're so beautiful."
The woman told ESPN she felt panicky and hid from him.
A day later, Porter texted: "I'll be in LA this weekend at the best hotel in America, can you meet me there?" The day after that, Aug. 11, Porter sent the woman a message at 5:35 p.m. that said: "You're missing out." He followed with the 17 pictures, including the one of the naked penis.
About two hours after sending the photos, Porter sent more messages, the first five of which read:
"?"
"Are you there?"
"?"
"Mad at me?"
":-("
The woman said she did not know how to respond.
"Being alone in a different country made it tougher," she told ESPN. "I didn't know who to trust and rely on."
She had shown the sexually explicit image to a player from her home country and an interpreter, who helped craft the response she sent to Porter: "This is extremely inappropriate, very offensive, and getting out of line. Could you please stop sending offensive photos or msg."
Porter responded in a series of messages: "Oh I'm sorry."
"I will stop."
"I really apologize." "Please let me know if you ever need anything work wise."
The next day, he texted again: "I'm sorry." A day later, he shared a photo from Dodger Stadium. It was the last message, the woman said, that Porter sent.
She considered alerting the Cubs but said she was concerned about possible repercussions. That summer, she said, she had developed a serious sleeping problem and was wracked with anxiety about whether she had made the wrong decision in coming to the U.S. Eventually, the woman said, she told her bosses, who referred her to a lawyer and connected her with a Cubs employee from her home country.
The woman and the employee met during the 2016 postseason in Chicago. The woman did not want to identify the employee publicly because she feared retribution. The employee, she said, told her Porter wanted to apologize in person. She said she did not want to see him. The employee, she said, encouraged her to use the situation to her advantage. She said he pressed her numerous times on whether she planned to file a lawsuit against Porter.
In an interview Monday, the employee confirmed he knows Porter and the woman and that he had discussed the situation with both. When asked by ESPN if he told the woman to use the situation to her advantage, the employee said: "I was just listening to both. I didn't want to ruin anything. I didn't want to be on one side."
Following the Cubs' victory over the Cleveland Indians for their first championship in 108 years, Porter left the organization to join the Arizona Diamondbacks as an assistant general manager.
The woman said she remained in touch with the Cubs employee and saw him at spring training in 2017, when she said she was still considering filing a lawsuit. The employee became angry, she said, and they haven't spoken since. The employee denied getting angry, adding that "whenever I was talking to her, I was basically listening to her."
The woman declined to pursue legal action and told ESPN she has no plans to do so.
The Cubs released a statement to ESPN late Monday, saying "This story came to our attention tonight and we are not aware of this incident ever being reported to the organization."
"Had we been notified, we would have taken swift action as the alleged behavior is in violation of our code of conduct," the team said. "While these two individuals are no longer with the organization, we take issues of sexual harassment seriously and plan to investigate the matter."
Over the course of the 2017 season, the woman said, she turned down opportunities to travel to Arizona to cover the Diamondbacks because she was afraid of running into Porter. She said she did not see him again until the postseason, when he was standing near the batting cage at the Diamondbacks' stadium. She said she immediately left the area and hid.
"While I was hiding, I was frustrated," she told ESPN in 2017. "Why do I have to hide?"
Porter's rise in baseball continued. His name was frequently mentioned when GM jobs opened. He interviewed for the Los Angeles Angels' job this winter and was a finalist behind Perry Minasian. When the Mets sought a GM to work alongside – and perhaps potentially take over from – team president Sandy Alderson, Porter emerged as a finalist and beat out former colleague and Red Sox assistant GM Zack Scott, who later joined the Mets in the same role.
The woman, meanwhile, returned to her home country and left the journalism industry altogether. She now works in finance.
While she said the fallout of the texts from Porter wasn't the sole reason for leaving the industry, it caused her to think about her future – and how remaining around baseball long-term was simply untenable.
"It would be a lie to say similar occurrences hadn't happened to me in [my home country]," she said. "It's a male-dominated industry. But it was a tipping point for me. I started to ask myself, 'Why do I have to put myself through these situations to earn a living?'"