MLB — Why the Rockies are betting $106 million on a super bullpen
SCOTTSDALE, Ariz. — Two Colorado Rockies relievers will embark upon an altitudinally enhanced voyage of discovery this season. Wade Davis is settling in as the team's new closer, and Bryan Shaw will be his main right-handed setup man, and all it took was a little sweet talk and a guaranteed $79 million over the next three years to convince them to chuck their apprehensions and buy into the program.
Lefty Jake McGee, the other target in general manager Jeff Bridich's offseason bullpen spending binge, enters the first season of a three-year, $27 million deal with a more familiar orientation. He came to Colorado from Tampa Bay by trade in January 2016, and he has spent the past two years learning all about the flexibility, resilience and other attributes required to succeed in one of the most daunting environments for pitchers in the majors.
A year ago, McGee posted a 4.73 ERA at Coors Field and a 2.64 mark on the road. He decided to re-up regardless.
"Jake McGee is a testament to what's happening here," Bridich said. "He came over in trade, and he had no choice but to pitch and figure it out. When he did have a choice, he wanted to come back here. Not only did he want to do that, he wanted to help recruit his buddy Wade Davis. I think that says a lot about the stuff we have going on, and the belief that guys have in each other here."
As Jake Arrieta, Mike Moustakas and a slew of less acclaimed players at the MLBPA academy for the homeless in Bradenton, Florida, can attest, the offseason was atypically slow, unproductive and unusually stressful for dozens of free agents. Relief pitchers were the notable exception. According to ESPN Stats & Information, 36 free-agent relievers signed deals worth a total of almost $340 million this offseason. That's less than the total payout of $421 million that 33 free-agent relievers received in the winter of 2016-2017. But that total was skewed significantly by the $228 million allotted to three closers: Aroldis Chapman, Kenley Jansen and Mark Melancon.
Relief pitchers have come a long way from the days when Scott Sullivan, Scott Proctor and Aaron Heilman were pitched into the ground and never attained that one big payday. McGee, Shaw, Luke Gregerson, Tommy Hunter, Pat Neshek, Brandon Morrow, Anthony Swarzak, Joe Smith, Juan Nicasio, Steve Cishek and Yusmeiro Petit all received multiyear contracts in the $10 million to $30 million range this offseason. Those 11 pitchers combined for 25 saves in 2017.
In front offices, it's generally accepted that any long-term commitment to a reliever comes with a healthy dose of hope. Relievers spend so much time getting loose in the pen — and can be so vulnerable to overuse depending on the manager's tendencies — that they're prone to wide variances in performance from one year to the next. As a result, cost-conscious teams have been just as inclined to take a flyer on a kid with a big arm as to throw money at the problem. Exhibit A: Milwaukee's Corey Knebel, who recorded 39 saves, struck out 126 batters in 76 innings and made the All-Star team for a salary of $538,900 in 2017.
"Teams think that some bullpens can come into their own, based on the unevenness of some guys' careers," Rockies manager Bud Black said. "You have Mariano Rivera, Trevor Hoffman and a bunch of guys who've had great careers. But for a lot of relievers, it's, 'Great year, bad year.' That's been the case for so many of them."
The Rockies' $106 million offseason investment in three free-agent relievers is a record outlay for a big-league team, and Bridich took franchise history into account before embarking upon his plan. Curtis Leskanic, Steve Reed and Darren Holmes — currently the Rockies' bullpen coach — formed the nucleus of a durable and fearless bullpen when Colorado made its first playoff appearance as a franchise in 1995. The Brian Fuentes-Manny Corpas-Jeremy Affeldt-LaTroy Hawkins contingent turned in some impressive work when the Rockies won the NL pennant in 2007, and Huston Street saved 35 games and logged a 154 ERA+ for a 92-win wild-card team in 2009.
Last year, the Rockies took a flyer on former Royals closer Greg Holland, and he performed well enough to make the National League All-Star team before fading down the stretch. The Rockies made an offer to re-sign Holland and appeared close to finalizing a deal before talks stalled and they moved on to Davis.
Bridich factored roster makeup into his decision to splurge on the bullpen. The Rockies have several young position players on the cusp and some talented 25-and-under starters, but they needed a quick injection of stability behind Adam Ottavino, Mike Dunn, Chris Rusin and the other relievers already in the fold. When owner Dick Monfort bought into the plan, Bridich signed veteran catcher Chris Iannetta and went to work fortifying the back end.
"Like any free-agent market, you're not quite sure how it's going to end up when you start out," Bridich said. "I think we're blessed that Dick gave us the ability to be aggressive. And we needed to be aggressive. As everybody saw, in a slow market, it was the relief pitchers that flew off the board first.
"The prices are different now than they were five years ago, so it's happened fairly quickly. It used to be the closers that were getting $10-14 million a year. Now other guys in the bullpen are getting those sorts of dollars."
Blown leads are debilitating for any team, but the idea of a deep, reliable pen is particularly resonant in Colorado. Rockies starting pitchers ranked last in the NL in innings for four straight years from 2012-2015 before ramping up to seventh in 2016 and ninth last season.
"In our park, especially, run-prevention can be very uplifting late in the game," Black said. "On the other hand, the lack of run-prevention late can be very demoralizing. If you can close out games where you have the lead — or you stay close and come back and win — it's just great confidence for the group. The position players feel great about each and every game, and they're not worried about, 'Hey, here we go again.' That's a bad thought: Here we go again."
Power pitchers and ground ball types are optimal at Coors, for obvious reasons. According to FanGraphs, the Rockies threw the third-highest ratio of fastballs in the majors (61 percent), behind only the Pirates and Padres, and the third-lowest rate of changeups (7.4 percent), ahead of only the Angels and Brewers. But Bridich and Black looked beyond individual repertoire and focused just as much on pitchers with competitive mentalities and iron wills.
They did plenty of legwork in their search. Black called Cleveland Indians manager Terry Francona for a scouting report on Shaw and placed another call to Angels pitching coach Charles Nagy, who had worked with Shaw in Arizona. Rockies bullpen coach Steve Foster was well-acquainted with Davis from their mutual tenure in Kansas City. McGee, who pitched with Davis in Tampa Bay in 2011, was happy to make a recruiting pitch.
"We've talked about the mental part of the pitcher, and how important that is," Black said. "The unselfishness when it comes to statistics. It's about the team first and the ability to turn the page and resiliency both physically and mentally. We're looking for those qualities in a pitcher. That's what we're trying to develop through our system too — that mindset of drafted Rockies and developed Rockies. Once you get to Denver, it's heads-up. Things are a little different. But if you can pitch and make pitches, it doesn't matter where you play. And we think this organization is a great place to be."
Durability is part of the equation. Shaw leads the majors in appearances since 2013, with 378 games. As MLB executives who pay big money to relievers will attest, the numbers cut both ways. Viewed from a glass-half-full perspective, Shaw seems like a good bet to hold up because of his experience and track record. The alternate, more fatalistic flip side: He has logged a lot of mileage in the bullpen, and the wear and tear is destined to catch up to him eventually.
"For me, it's just being smart, knowing my arm and my body," Shaw said. "And if I need a day off, communicating that and telling Bud or [Foster], 'Hey, I'm hanging a little bit today.' The trainers have good routines for us, and you can get the right work done. If you're going to go in there and do busywork just to do work, that isn't beneficial."
After two seasons of dealing with the demands of life at 5,280 feet, McGee is happy to provide a tutorial for the new guys on some of the challenges that await this season.
"I've already told them when you're on a long homestand and you've thrown a few times, you're going to be a little tired toward the end," McGee said. "By June or July, your legs are going to be a little out of it. It's going to happen, and you really can't do anything about it. You just make the adjustments and go from there. Different pitches move differently at home and on the road. Once you get a feel for that, it makes it easier."
Nothing will prepare Davis and Shaw for their new adventure except the reality of the grind. The Rockies have placed a historic bet on their bullpen. The coming months will determine if they spent that $106 million wisely.
Terry Francona set to join Cleveland Indians' postseason bubble
Cleveland Indians manager Terry Francona will not return to the dugout during the regular season but is slated to join the team's postseason bubble.
The 61-year-old has missed 42 games because of gastrointestinal surgery and blood-clotting issues.
"It gives Tito an opportunity to be around the team, even if it's not in the dugout," president of baseball operations Chris Antonetti said.
The Indians beat the Chicago White Sox 3-2 on Wednesday to move within two games of the AL Central lead with their second straight last-at-bat victory.
The Associated Press contributed to this report.
Tampa Bay Rays wrap up first AL East crown since 2010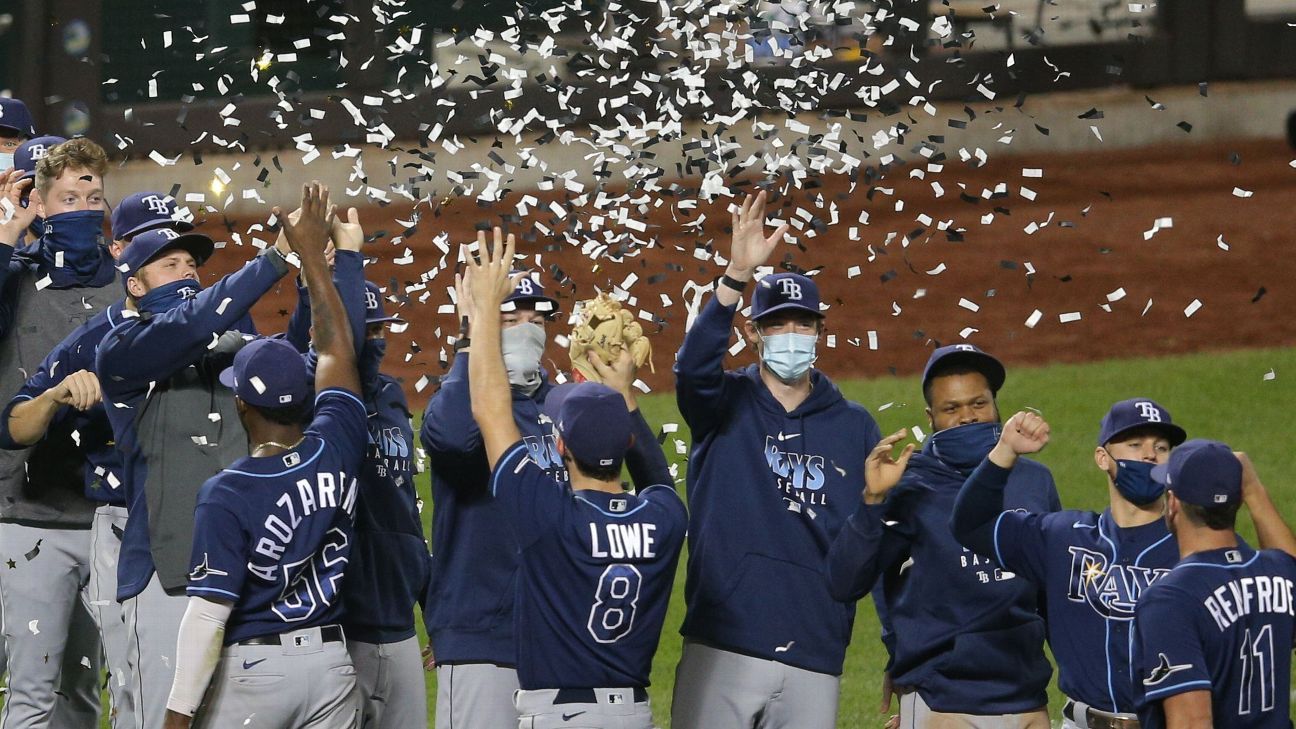 NEW YORK — Randy Arozarena homered twice and the Tampa Bay Rays clinched their first AL East title in 10 years Wednesday night with an 8-5 victory over the New York Mets.
Joey Wendle and Brandon Lowe also went deep for the Rays, who will be home at quirky Tropicana Field for a best-of-three first-round playoff series beginning next Tuesday.
It is the third division crown in franchise history for the thrifty Rays, who also won the AL East in 2008 and 2010. After missing a chance to clinch Tuesday, they went into Wednesday again needing just a win or a New York Yankees loss against Toronto to lock up the division championship.
The Rays (37-20) broke a 2-all tie in the sixth and took care of business themselves.
Atlanta Braves' Max Fried leaves after 1 inning with ankle injury
ATLANTA — NL Cy Young Award contender Max Fried lasted only one inning in his final start of the regular season, leaving the Atlanta Braves' game against the Miami Marlins after tweaking his ankle fielding a bunt Wednesday night.
Fried (7-0) retired the first two hitters, including Starling Marte who dropped a bunt down the third-base line. The left-hander bounded off the mound, planted his left foot, grabbed the ball bare-handed, spun and threw to first just ahead of Marte.
Fried didn't appear hurt but wasn't the same pitcher after that play. After not having given up a homer all season, Fried grooved a fastball that Jesus Aguilar drove off the facade of the second deck. Brian Anderson sent a drive into the center-field seats and Garrett Cooper just missed a third straight homer, doubling off the wall.
Fried got out of the inning trailing 2-0, but he did not return in the second. He sat solemnly in the dugout chatting with manager Brian Snitker and getting what appeared to be a pep talk from teammate Freddie Freeman.
Luke Jackson took over in the second after the Braves scored three runs in the bottom of the first, at least ensuring Fried wouldn't take his first loss of the season. But his ERA climbed from 1.96 to 2.25, which could hurt his Cy Young chances.
Fried is expected to start Game 1 of the NL wild-card series next Wednesday. The Braves clinched the NL East title on Tuesday night and earned the right to host the entire best-of-three series.