Minnesota Vikings coach Mike Zimmer says if they don't pick the right quarterback, he'll probably be fired
INDIANAPOLIS — The hardest part of finding a quarterback for Mike Zimmer?
Not wanting to regret his decision.
Less than two weeks ahead of free agency, with nothing but speculation on what the Minnesota Vikings might do at quarterback in 2018 and beyond, Zimmer noted the challenges of going through the process to find the right fit.
On March 14, Case Keenum, Teddy Bridgewater and Sam Bradford are slated to become free agents. All three are "definitely" options to consider, according to Zimmer. Finding a quarterback in free agency or through the draft are also possibilities.
But picking the wrong one? That's Zimmer's trepidation.
"If you go with the right one and he does like you anticipate, then everything is good," Zimmer said. "If you pick the wrong one, it's hard to win in this league without a quarterback. If you pick the wrong one, this whole thing can go downhill."
The Vikings coach later followed up in his second media session at the NFL scouting combine with exactly what's at stake if Minnesota doesn't nail this crucial decision.
"It's important for myself and [general manager] Rick [Spielman] and the organization to pick the right guy that is going to help us continue to move forward," Zimmer said. "If we don't do that, then I'll probably be fired."
Zimmer noted money as one of the primary areas of concern in the Vikings' process of determining whom they will sign. The decision could cost the Vikings upward of $28 million to $30 million per year if they enter the Kirk Cousins sweepstakes in free agency. That figure might be lower if the Vikings stick with one of their current quarterbacks, but Zimmer does not want to sacrifice their strength, a defense that ranked No. 1 in the league in the regular season and allowed them to win close games. Overpaying for a quarterback could lead to an inability to grant contract extensions and bring in pieces to bolster the unit.
"If you pick the wrong one, this whole thing can go downhill."

Vikings coach Mike Zimmer
Zimmer said the reason the team has won 39 games since 2014 is "not because we've had this one guy or that one guy. Let's make sure we keep understanding the team is why we have done good things.
"You just have to pick out the right [quarterback] that's going to help your football team the best. And where you can still do things at other positions. You don't want to go crazy here."
Zimmer praised all three Vikings quarterbacks for their contributions but pointed out the uncertainty with each option. Keenum posted a career-high passer rating (98.4) and led Minnesota to the NFC Championship Game in 2017. The small sample size Minnesota has to work with in determining whether Keenum can replicate his success from last season remains the biggest question.
"We think he can," Zimmer said. "It's just kind of guessing. Is he the guy when he was at Houston or the Rams, or is he the guy who played for us? Is it because he had a good team around him? Bradford, his record wasn't great; is it because he didn't have a good team around him? Did he play with a good defense? All those things enter into it. All those factor into it. At the end of the day, it's a guess and a hunch."
With Bradford, Zimmer said nothing medically concerns him about the quarterback's knee but called his injury issues "degenerative." The 30-year-old quarterback, whom Minnesota had on the books for $18 million in 2017, played in six quarters last season. He suffered a noncontact injury to his left knee during an electric performance in Week 1.
Zimmer said tight end Kyle Rudolph and Bradford went skiing last week. Rudolph told KFAN that he underwent surgery recently on his right ankle, which he injured during a game at Carolina.
Whether Bradford can stay healthy is Zimmer's chief concern.
"It's his history of being hurt," Zimmer said. "That's the monkey wrench in the whole thing. Can you believe he's going to play the 15 games he did two years ago or he's going to play the one game where he hit the turf this year? That's the big dilemma."
One season removed from the gruesome knee injury he sustained at the end of the preseason, Bridgewater's sample size also poses challenges for the Vikings. The two passes he threw in the fourth quarter of a blowout win over the Cincinnati Bengals marked the only game action he saw in 2017. One day after the Vikings' loss at Philadelphia in January, Bridgewater said he "definitely" wants to be a starter next season. Whether he can return to his 2014-15 form remains in question.
"I'd love to see him more," Zimmer said. "In practice, he did some really good things. Sometimes scout-team quarterbacks and the scout-team corner are kind of the same way; there's no fear if they throw an interception or get beat on a pass. It's not a big deal because the crowd's not going to jeer them, they're not going to get written up by you guys saying they suck. You can make mistakes in practice by just doing whatever you want to do and not having that affect you. So it's really hard to evaluate just in practice.
"We have to go back a lot with Teddy on what he's done in the past, him as a person, his work ethic, all those things. Him not playing for two years and not being able to see him play in live situations, that's concerning a little bit. But I love the guy. He's a great kid, great competitor, a winner."
MetLife turf ruled OK upon review after San Francisco 49ers' gripes, source says
Representatives from the NFL, NFLPA, MetLife Stadium, the Giants and Jets, Field Turf and the independent field inspector conducted an additional review of the field surface at MetLife Stadium on Wednesday, a league source tells ESPN's Jordan Raanan.
It was again verified that the field meets all applicable standards and protocols for NFL field surfaces, the source told Raanan.
San Francisco 49ers coach Kyle Shanahan and his players had expressed concern about the turf after his team's 31-13 victory over the Jets in Week 2 as defensive end Nick Bosa, quarterback Jimmy Garoppolo, running backs Raheem Mostert and Tevin Coleman and defensive tackle Solomon Thomas all suffered game-ending lower body injuries.
Bosa and Thomas each suffered season-ending torn ACLs, Mostert has a sprained MCL, Coleman has a knee injury that is expected to sideline him for multiple weeks and Garoppolo has a high ankle sprain.
The 49ers are playing this Sunday at MetLife for the second consecutive week, this time against the Giants. New FieldTurf was installed in the stadium this summer, and it had only been played on previously in Jets and Giants scrimmages, as well as the Giants' season opener on Monday night in Week 1.
Multiple 49ers complained of how "sticky" the playing surface was and took to Twitter and their Zoom media sessions to vent their frustration after the game. While Shanahan acknowledged it was hard to draw a direct correlation between the injuries and the playing surface, he did say it was something his team talked about throughout the game.
"I know that's as many knee injuries and ankle stuff and people getting caught on the turf as I have ever been a part of," Shanahan said. "From what I saw, the other team did, too. I know our players talked about it the entire game, just how sticky the turf was. … It was something our guys were concerned about right away and the results definitely made that a lot stronger."
On Wednesday, Shanahan acknowledged the NFL and NFLPA were looking at the MetLife turf and said he was waiting to hear the findings.
"The NFL and NFLPA is having people look at it right now," Shanahan said. "So we'll go with that. If they don't find anything, you go out there and play. Other people tore their ACL in this league last week and they weren't all on turf. So you know how we felt about it. We'll see what the professionals say, and hopefully we'll learn something."
ESPN's Nick Wagoner contributed to this report.
Atlanta Falcons special teams coach Ben Kotwica takes blame for onside kick fail vs. Dallas Cowboys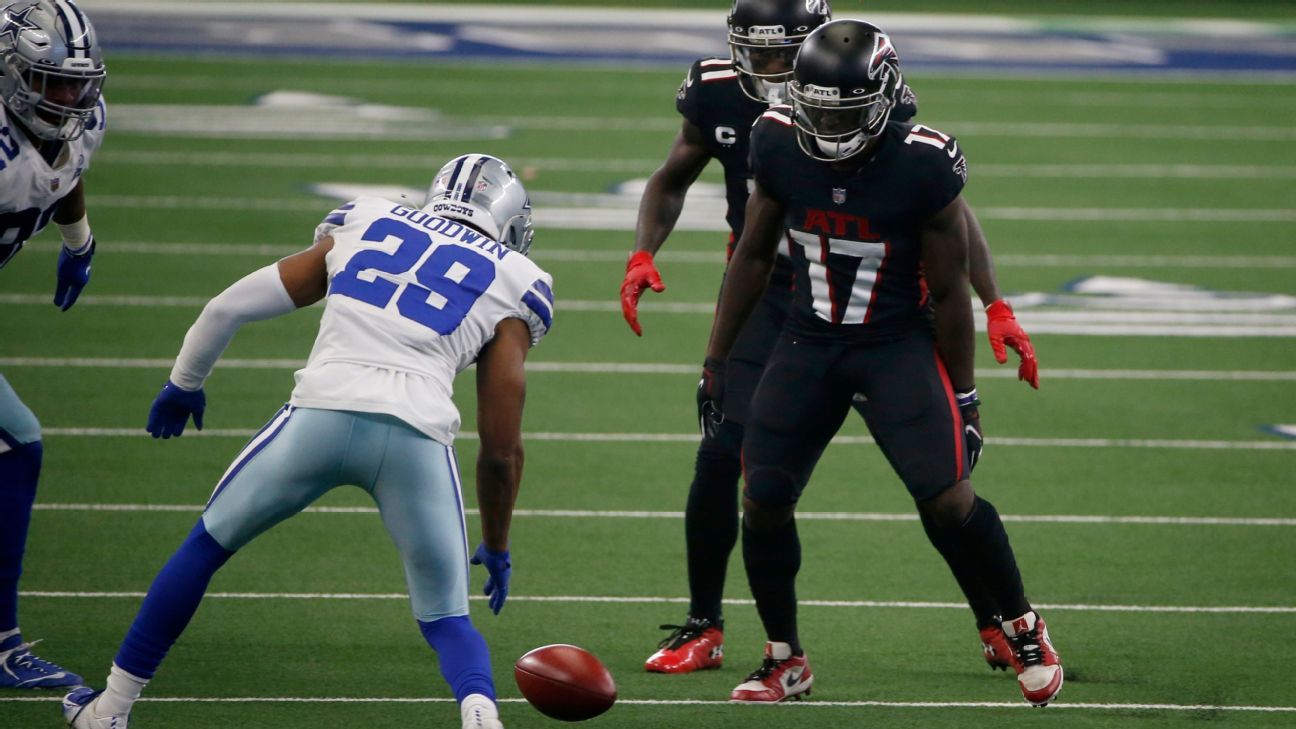 Atlanta Falcons special teams coach Ben Kotwica took blame for the failed onside kick recovery that proved costly in last Sunday's 40-39 loss to the Dallas Cowboys, but said he reminded his special teams players to aggressively get the ball during a timeout.
Kicker Greg Zuerlein and the Cowboys perfectly executed the onside kick, which was recovered by Dallas defensive back and former Falcon C.J. Goodwin. Several Falcons — Kotwica singled out tight end Jaeden Graham and wide receiver Olamide Zaccheaus — froze up and failed to aggressively recover the ball before it rolled 10 yards, which allowed the Cowboys to jump on it with 1 minute, 48 seconds left. Then Zuerlein nailed the 46-yard field goal to win it.
Falcons owner Arthur Blank, during an interview with SiriusXM NFL radio, said it was clear on tape that the players didn't understand the rules. Head coach Dan Quinn, speaking a little more than an hour before Blank's interview, said his players did understand the rules. Quinn said although he and Blank might have disagreed on how to talk about it, they both agreed "100 percent" that it shouldn't have happened.
"We should have aggressively gotten on the football," Kotwica said. "Those are smart guys. They're intelligent. They're hard-working. Shoot, one went to Yale (Graham) and the other one went to UVA (Olamide Zaccheaus). And so, we should have aggressively got on the ball as it got close to the restraining line.
"You know, I'm responsible for it. I'm responsible for everything the unit does and fails to do. It's something that was looked at. We've made the corrections; talked to the players. And we'll do a better job and look forward to Sunday's opportunity."
Kotwica insisted he reminded his players how to approach the situation during the timeout that preceded the onside kick.
"You asked about the timeout. I remember one of my last words were, 'Hey, go get the ball,"' Kotwica said. "That's one of the foundations of our program here: the ball, the battle, the brotherhood. Yes, as that ball gets closer to the restraining area, we would like to get on that football."
The special teams units go over such scenarios on Saturday on the field along with a special hands-team meeting the same morning. The Falcons have had good practice with onside kick scenarios with kicker Younghoe Koo arguably the best at them.
One thing Kotwica did mention is that injuries affected who was on the field for the hands team. One of the players injured was linebacker Foye Oluokun, who has recovered a couple of Koo's onside kicks in games. Oluokun suffered a hamstring injury against the Cowboys and missed the second half.
Kotwica didn't mention Oluokun by name, but he did say he would evaluate the scheme and the personnel on the unit moving forward.
Kotwica didn't think there was miscommunication among the frontline players and the ones behind. For the frontline guys, if a ball is coming "hot" or above the head, you go block. If it's a slow roller or something that can be fielded cleanly, it's be aggressive and go get it.
Kotwica started his news conference by giving the Cowboys credit.
"I think first thing, you've got to get Dallas and Greg credit on a great kick," Kotwica said Thursday. "In the onside kick world, we recovered a couple last year. Matter fact, I think last week we talked about the one that we recovered against Seattle. But in this case, the tables were turned.
"I would tell you this: On that play, when Greg put the ball down, and we called timeout and we were aware that he had a kick that was going to spin and roll, and I would tell you when that ball came off the foot, it's tough to project that that thing is going to go 10 yards. I was standing there when it came off of Greg's foot. It went along the 38, the 39-yard line. It was going parallel. Initially, I didn't think it was going 10 yards."
Kotwica went on to say how his players knew what to do in that scenario.
"As the ball begins to cross the 39, 40-yard line, now you get into options and decision-making," he said. "Our players knew that they could go into the restraining area and recover the ball. But they also knew that as they went into the restraining area to recover the spinning football, that there's a risk that if they don't recover it cleanly, that gives the kicking team the opportunity to recover the ball because then it becomes a live ball.
"…. There's option there. I would tell you that obviously, hindsight is 20/20. We want to aggressively get the ball."
The special teams blunder has the Falcons 0-2 going into this week's matchup with the 2-0 Chicago Bears.
Damon 'Snacks' Harrison wants to play in 2020, to visit Seahawks, source says
Defensive tackle Damon Harrison, who openly contemplated retirement after last season, has decided to play this season and is scheduled to visit next week with the Seattle Seahawks, a source told ESPN's Adam Schefter.
The 31-year-old Harrison, a 2016 first-team All-Pro, also has received interest from the Chicago Bears, Green Bay Packers and Cincinnati Bengals, the source told Schefter.
The veteran defensive lineman, known as "Snacks," was released by the Detroit Lions in what he called "a mutual agreement" on Feb. 25. He had two years remaining on his deal after signing an $11 million extension in August.
After sitting out all of the spring workouts last year, Harrison, one of the top run-stoppers in the league, was placed on the non-football injury list before signing the extension, which converted much of his base salary into a $7.5 million signing bonus.
By the end of the 2019 season, Harrison said he was contemplating retirement after he played through a multitude of injuries and "wasn't able to ever get back to the form I'm used to."
The Lions traded for Harrison on Oct. 25, 2018, sending a fifth-round pick to the New York Giants. That season, he was graded by Pro Football Focus as the No. 3 interior defender in the NFL with the best run-stop percentage in the league (16%).
In April, he said on the Green Light podcast, hosted by former NFL player Chris Long, that he "was angry" at the trade and was "hell-bent on getting out" of the Motor City.
Originally undrafted out of William Penn, Harrison appeared in 117 games with the New York Jets, Giants and Lions, starting 110 of them. He has 485 career tackles with 24 quarterback hits, 11 sacks, 10 passes defended and 4 forced fumbles.
ESPN's Michael Rothstein contributed to this report.