INDIANAPOLIS — As the Denver Broncos prepare themselves to make major changes at quarterback, John Elway said the team's plan is to keep its top two receivers for any new quarterbacks to throw to.
The Broncos' president of football operations/general manager said at the scouting combine Wednesday that "the plan" was to keep both Demaryius Thomas and Emmanuel Sanders on the roster. With the Broncos expected to make some salary-cap room with the release of a notable veteran player or two in the coming weeks, there had been some speculation Thomas and Sanders could be among the players let go.
"The plan is to have them back," Elway said.
Asked if that meant the Broncos would pay a $4 million option bonus to Thomas in the coming weeks that would keep the final two years of his deal (2018 and 2019) in place, Elway said: "That is the plan, yes."
Elway was critical of the team's quarterback play last season when the Broncos used three different starters and threw the second-most interceptions in the league (22), and he didn't absolve the top two receivers from that, either.
Elway said both players must be better in the coming season.
"We want to have them come back and play the way they're capable of," Elway said. "They still have a lot of football and still (are) a top receiving pair in the league, so we have got high expectations, but they've got to come back and play a lot better."
Thomas led the Broncos with 83 receptions for 949 yards — his first season with fewer than 1,000 yards receiving since 2011 — while Sanders finished with 47 catches and 555 yards in an injury-marred season. Sanders, who missed four games with an ankle injury, did not have a touchdown reception after Week 2.
Thomas currently has the second-highest salary-cap charge on the team for 2018 at $12.033 million, while Sanders is fourth at $10.938 million.
The return of the two receivers, however, could help the Broncos lure a free-agent quarterback. Because of the league's tampering rules, team officials cannot openly comment on their desire to sign prospective free agents until the start of the new league year on March 14.
But Elway made it clear any quarterback on the open market will be considered by the Broncos. That would include the likes of Kirk Cousins and Case Keenum.
"Anybody that's not under contract right now or won't be under contract," Elway said.
Asked if that included every quarterback who would be on the market, Elway said, "Yes."
Then asked if he believed the Broncos had enough salary-cap room — expected to be about $27 million with another $10 million or so rolled over from last season — to handle any scenario with quarterbacks in free agency, Elway quickly said, "Yeah."
Houston Texans release running back Duke Johnson, source says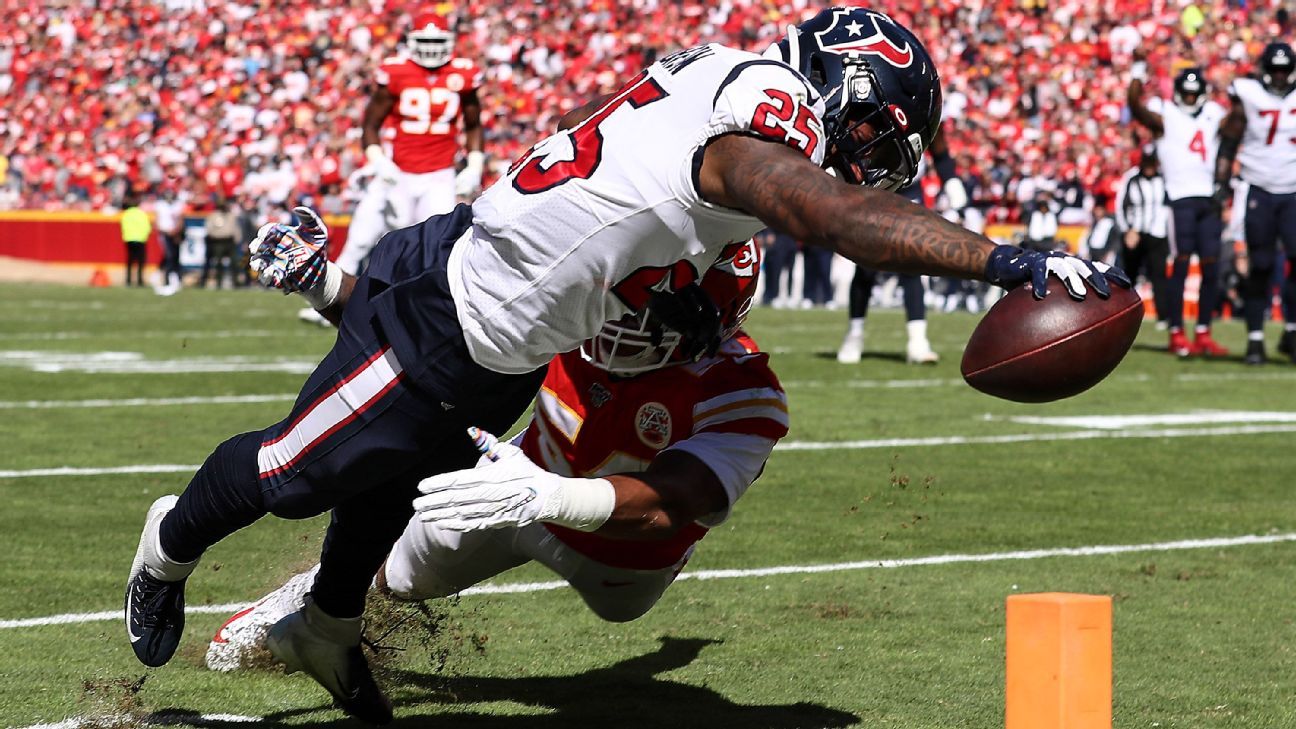 The Houston Texans have released running back Duke Johnson, a source told ESPN's Adam Schefter on Friday.
The Texans acquired Johnson from the Cleveland Browns during training camp in 2019 for a third-round pick.
In 11 games for the Texans last season, Johnson rushed for 235 yards and a touchdown on 77 carries. The pass-catching running back had a career-low 28 receptions for 249 yards and a touchdown.
Johnson backed up Carlos Hyde in 2019 and David Johnson in 2020. During the 2020 season, he started in place of David Johnson when the starter missed time due to a concussion and spending a week on the COVID-19 list.
NFL's minority hiring rate for open jobs nearly doubled
The number of minority hires for open positions in the NFL nearly doubled to 34.6% in 2021.
According to the league's demographics study obtained Friday by The Associated Press, the minority hirings included: three general managers, two head coaches, three offensive coordinators, six defensive coordinators, four special teams coordinators, three quarterbacks coaches.
The minority hiring rate was 18.8% in 2020. Interview requests for minority candidates increased to 47% from 22% in 2020.
Twelve of the 28 candidates interviewed for head coaching positions were minorities. David Culley (Texans) and Robert Saleh (Jets) were hired. Kansas City Chiefs offensive coordinator Eric Bieniemy was passed over despite receiving an interview request from each of the seven teams looking for a new head coach.
The data shows minority head coaches have been given second opportunities at a higher rate than white coaches. From 2000 to present, eight of 21 fired minority coaches (38.1%) got another head coaching job. Of the 115 fired white coaches, 22 (19.1%) got a second chance.
New York Giants' Nate Solder intends to play in 2021 after opting out last season
EAST RUTHERFORD, N.J. — New York Giants offensive tackle Nate Solder intends to play in 2021 as long as the situation is right, he told ESPN in a phone conversation this week.
Solder, who opted out this past season because of concerns for his family with COVID-19, has yet to have that conversation with the team about his future. He was considered a high-risk opt-out and his contract tolled.
He is scheduled to make $10 million in 2021 while costing $16.5 million against the salary cap this upcoming season.
The Giants haven't been in a rush to make any moves with the new league year still almost three weeks away. Like everybody else, they're waiting to see the official salary cap number for the 2021 season. Then they're expected to meet with the veteran tackle.
Solder, 32, was the Giants' starting left tackle in 2018 and '19 after signing a lucrative free-agent contract. He had spent the previous seven years of his career with the New England Patriots, where he won a pair of Super Bowls.
The decision to opt out last season centered around Solder's family. His oldest son Hudson has battled cancer. So has Nate. Solder and his wife Lexi also had a newborn.
Solder had said late last year on the Sports Spectrum podcast with former NFL quarterback Brock Huard that if he had another opportunity to play, he would probably take it. He also noted that he was still working out, but hadn't prioritized his conditioning and weight lifting like he would during a normal football season.
The Giants now have a decision to make if they are going to move forward with Solder. They would save $6 million this season against the salary cap if he's released, and $10 million if they made it a post-June 1 cut.
New York drafted a pair of tackles in last year's draft, including Andrew Thomas with the No. 4 overall pick out of Georgia. Thomas started at left tackle and, despite early struggles, got better as the season progressed.
Third-round pick Matt Peart is expected to compete for the starting right tackle spot this year. Cameron Fleming, who started last season, is a free agent.