OK, enough with Giancarlo Stanton and Shohei Ohtani and J.D. Martinez. Those guys have received enough publicity early in spring training. Let's look at some under-the-radar players, guys who don't get much publicity but, though they might not be big stars, help their teams win baseball games.
American League
Baltimore Orioles: Mychal Givens, RP. Hey, a relief pitcher! (It will be a theme.) The Orioles don't really have another strong candidate, especially with Jonathan Schoop getting some love with his breakout, All-Star performance in 2017. Givens has thrown 153 1/3 innings the past two seasons with a sub-3.00 ERA, which is something. Do you ever get the feeling Buck Showalter could find eight guys at a tryout camp and turn them into a useful bullpen?
Boston Red Sox: Drew Pomeranz, SP. With all the attention given to Chris Sale's Cy Young pursuit and David Price's drama and Rick Porcello's struggles, Pomeranz quietly went 17-6 with a 3.32 ERA while fanning 174 in 173 2/3 innings. He's a free agent after 2018, and if he posts a third straight strong season, he's going to become a very rich man.
Chicago White Sox: Nick Delmonico, LF. These are actual strikeout-to-walk ratios of some White Sox hitters in 2017: 162 to 13, 117 to 19, 111 to 33, 165 to 19. Delmonico, on the other hand, was 31 to 23 in his 166 plate appearances, which was almost Ted Williams-esque for this team. So, please, let's hope he can actually hit.
Cleveland Indians: Dan Otero, RP. His ERAs the past five seasons: 1.38, 2.28, 6.75, 1.53, 2.85. He had 46 bad innings for the A's in 2015, which is how the Indians were able to get him for nothing, but at some point, we have to believe he's the real deal, even despite the middling fastball and low strikeout rate. With the departure of Bryan Shaw in free agency, Otero could see a more vital role in 2018.
Detroit Tigers: Warwick Saupold, RP. I just wanted to type "Warwick Saupold" at least once this year. It sounds like a name from some dystopian novel in which America is attacked by mutant lifeforms and only a baseball player and part-time scientist named Warwick Saupold can save the day. Except Saupold isn't American. He's Australian! (OK, sorry, Tigers fans. How about Shane Greene? He could be a good closer this year.)
Houston Astros: Josh Reddick, RF. He got more attention last season for celebrating the AL West title while wearing American Flag underwear than for anything he did on the field. The first year of his four-year, $52 million contract was a huge success, however, as he hit .314/.363/.484 while playing a solid right field. He has averaged 3.6 WAR per season since 2012.
Kansas City Royals: Whit Merrifield, 2B. I just realized this: Merrifield led the AL with 34 steals. OK, so it was the lowest league-leading figure in either league since Luis Aparacio led the AL with 31 in 1962. Even so, Merrifield has turned himself into a nice player, with 3.9 WAR in 2017 — not bad for a ninth-round pick who never got any attention as a prospect.
Los Angeles Angels: Martin Maldonado, C. You might be thinking, "a catcher who hit .221 and drove in 38 runs? What kind of list is this?" That's kind of the point. Maldonado's defense is that good. The bat is weak other than an occasional home run, but Maldonado was worthy of the Gold Glove he won, throwing out 39 percent of base stealers to go with strong framing metrics.
Minnesota Twins: Jorge Polanco, SS. Polanco's first full season produced 2.1 WAR and more power than expected, with 46 extra-base hits. Polanco's strikeout rate was well below the league average, and his defense graded out as average as well (minus-1 Defensive Runs Saved). He's young enough to get better, especially if you look at his second-half numbers: .293/.359/.511, 10 home runs.
Oakland Athletics: Matt Chapman, 3B. He won't be anonymous for long if he keeps playing defense like Nolan Arenado. His rookie season showed some promise in the power category to go with spectacular defense, and if he can clean up the offensive approach and improve the OBP (.313 last year), he's going to make several All-Star teams in his career.
Toronto Blue Jays: J.A. Happ, SP. Over the past three seasons, he's 41-23 with a 3.43 ERA. That's 21st among pitchers with at least 400 innings, better than Gerrit Cole, Marcus Stroman and Chris Archer. If Happ has another solid season, he'll pass Mark Loretta in career WAR among players from Northwestern.
Seattle Mariners: Mitch Haniger, RF. If you want a good breakout candidate for 2018, check out Haniger. He was hitting .342 in late April when he went down with a strained oblique. Later, he was hit in the face by a pitch and went on the DL. But he returned in September and hit .353 with seven home runs (though his strikeout-to-walk ratio, strong early in the season, deteriorated to 27/3). He is 27 years old and a plus defender in right and was worth 3.0 WAR last season in just 96 games.
Texas Rangers: Alex Claudio, RP. Claudio is an aberration in this day of flame-throwing relievers, a lefty sinker-baller who throws an 86 mph fastball. His ground ball rate, however, was over 60 percent the past two seasons, so he gets the job done — 2.61 ERA the past two seasons with just seven home runs allowed in 134 1/3 innings — with a strikeout rate that even a 1980s closer would blush over.
Tampa Bay Rays: Mallex Smith, CF. Think Ender Inciarte skill set. Hey, nobody thought much of Inciarte his first two seasons, either. If Smith does turn out to be that valuable — and he has 2.7 WAR in 497 career plate appearances — that will soothe the loss of Steven Souza.
New York Yankees: Jordan Montgomery, SP. A report the other day said the Yankees were still interested in Lance Lynn. I'm not sure why, as Lynn isn't better than Montgomery, who had a completely under-the-radar rookie season, going 9-7 with a 3.88 ERA and solid peripherals. He is a big kid (6-foot-6), has a four-pitch arsenal, throws hard enough for a lefty (92-mph average fastball) and finished strong (2.49 ERA in September). There's zero reason to displace him from the rotation.
National League
Arizona Diamondbacks: Robbie Ray, SP. Yes, another reason to mention Robbie Ray. I feel like his agent owes me a little under-the-table payment. But he's really good! He averaged 12.1 K's per nine innings! If the humidor that is being installed in Arizona works to suppress offense, Ray could be a Cy Young contender.
Atlanta Braves: Ender Inciarte, CF. He has won back-to-back Gold Gloves and made the All-Star team last year, so it's not like he's being ignored, but this is the kind of player still underrated by the masses. J.D. Martinez is getting a $100 million-plus contract, but Inciarte has outperformed him in cumulative WAR the past four seasons, 15.7 to 15.2.
Chicago Cubs: Jose Quintana, SP. Prediction: The best starting pitcher on the Cubs in 2018 will be Quintana, not Yu Darvish or Jon Lester or Kyle Hendricks.
Cincinnati Reds: Tucker Barnhart, C. The new Gold Glove voting system is a big improvement over when managers and coaches just voted for the same guys every year. Barnhart was a deserving winner in 2017. In the past, the award no doubt would have gone to Buster Posey because of his bat or Yadier Molina as a legacy choice. Plus, Barnhart isn't an automatic out at the plate, with a .270/.347/.403 line.
Colorado Rockies: Jon Gray, SP. Clayton Kershaw might have trouble keeping his ERA under 4.00 at Coors Field in this home-run-dominated era, but that's exactly what Gray did in 2017. Caveat: He made just 20 starts (only eight of them at Coors) after a broken foot suffered in his third start. But if he pitches like he did last year over 30 starts, we're looking at a potential 5-WAR pitcher — with maybe even more upside, given that he has just 58 major league starts.
Los Angeles Dodgers: Ross Stripling, RP. There's nothing too fancy about Stripling, and though the Dodgers used him almost exclusively in relief in 2017, he could start for a lot of teams. You know, maybe the World Series turns out differently if Dave Roberts doesn't bury him at the back of the pen.
Miami Marlins: Derek Dietrich, UT. He's been a terrific bench player the past three seasons, hitting .261/.351/.432 while playing second, third and left field. He could be the regular in left field, and if he produces, he probably gets traded.
Milwaukee Brewers: Travis Shaw, 3B. His numbers were less than stellar with the Red Sox in 2016. The Brewers picked him up for reliever Tyler Thornburg, and Shaw broke out with .273/.349/.513 season that included 31 home runs, all while caring for his daughter, who was born in June with a heart abnormality that required three life-threatening surgeries (she was released from the hospital in December). Shaw plays a solid third base, especially impressive for a guy who spent more time in the minors at first base, and he hit better on the road, so he didn't just take advantage of Miller Park.
New York Mets: Jerry Blevins, RP. Every team needs a 6-foot-6, 190-pound LOOGY (left-handed, one-out guy). Blevins has carved out a nice career in part because he isn't completely useless against righties, though Terry Collins limited him to just 91 innings in 148 games the past two seasons.
Philadelphia Phillies: Cesar Hernandez, 2B. Everyone kind of expected the Phillies to trade Hernandez to clear room for prospect Scott Kingery, but they didn't and with good reason: Hernandez is good. He averaged 3.2 WAR the past two seasons, and the Phillies might end up keeping him and turning Kingery into a Ben Zobrist-type utility guy.
Pittsburgh Pirates: Josh Bell, 1B. It seems like we waited forever for Bell to arrive, and when he finally played his first full season, we kind of ignored it. There were some positive signs, with 26 home runs and solid control of the strike zone without an excessive strikeout rate. To get to the next level, Bell will need to hit fewer ground balls (51 percent ground ball rate) and take advantage of his natural power.
St. Louis Cardinals: Jose Martinez, 1B/LF. Tommy Pham? You know about Tommy Pham by now. Martinez could always hit — he hit .384 in Triple-A in 2015 — but became one of those launch-angle guys last season and began clearing the fence with regularity. He hit 14 home runs in 272 at-bats as part of a .309/.379/.518 line and at the minimum should start against lefties and serve as a strong weapon off the bench.
San Diego Padres: Dinelson Lamet, SP. Hey, they won more games than the Giants, so somebody must be doing something. Lamet struck out 139 in 114 1/3 innings as a rookie while holding batters to a .210 average, so it isn't surprising to see that he averaged 95 mph with his fastball. He's a fastball/slider guy with below-average control, however, so lefties also slugged .502 off him. If he can develop an off-speed pitch, watch out.
San Francisco Giants: Hunter Strickland, RP. Bryce Harper's favorite relief pitcher. Strickland is known largely for giving up bombs to Harper in the postseason and then instigating a brawl after throwing at Harper last May. However, he has quietly been the one consistent Giants reliever, with a 2.75 ERA the past three seasons.
Washington Nationals: Ryan Madson, RP. Maybe you could go with Anthony Rendon, who led NL position players in FanGraphs WAR, but he has two top-six MVP finishes in his career (that's one more than Bryce Harper), so you can't say he flies under the radar. How about Madson, who has been good for three seasons after missing three seasons after Tommy John surgery and a long path to recovery? Between the A's and Nationals, he was quietly one of the game's best relievers in 2017: 59 IP, 38 H, 2 HRs, 9 BB, 67 K's.
Pete Rose to sell picks for baseball, other sports through website
Pete Rose's baseball predictions are for sale for $89 a month.
Rose announced Wednesday that he was joining Upicktrade, a pick-selling website based in Mexico that recently made headlines in the U.S. with a short-lived partnership with the Vegas Golden Knights of the NHL. Rose will be making daily predictions about baseball and other sports.
Rose, who turned 80 on Wednesday and resides in Las Vegas, was banished from baseball in 1989 after an investigation revealed that he had bet on the game while managing the Cincinnati Reds. He has appealed to be reinstated multiple times but has been denied, most recently in 2015 by then first-year commissioner Rob Manfred.
During a conference call with the media Wednesday, Rose said he won't be placing wagers on his picks and doesn't believe working for the sports betting site would damage his chances of getting into the Hall of Fame.
"By me working with Upick, I'm not hurting Rob Manfred. I'm not trying to show him up by doing that," Rose said. "I'm trying to make a living like everyone else. I'm not making a bet on the baseball game; I'm picking a baseball game. I'm using my knowledge to pick a game for whoever is working with Upick.
"But picking games on Upick don't make me a bad person," he added. "It's not me trying to give baseball a black eye, because I'm not. I love baseball."
It has been over 30 years since Rose's banishment, and Major League Baseball is now embracing the legal sports betting market in the U.S. MLB has partnered with bookmakers, and select stadiums have announced plans to install retail sportsbooks.
Rose said he understands baseball's change of heart on sports betting.
"Why is baseball doing what they're doing? Because of the dollars, because there's money in it," he said. "Baseball was kind of stubborn for so many years, worried about gambling. But gambling is a big part of our country right now."
Legal sportsbooks are operating in more than 20 states and the District of Columbia, with another wave of jurisdictions preparing to launch sports betting markets in the near future.
Upicktrade, which is based in Guadalajara, Mexico, partnered with the Golden Knights in February. Just days after the deal was announced, the Knights terminated the partnership with no explanation.
Yasiel Puig denies accusations in sexual assault lawsuit
In a statement released on his Twitter feed Tuesday, free-agent outfielder Yasiel Puig has denied claims in a lawsuit that he sexually assaulted a woman in 2018 and said that the allegations have prevented him from continuing his Major League career.
"I am speaking out now to defend my name against false and malicious allegations by a woman who claims I assaulted her in 2018," Puig wrote. "These allegations are totally false, the evidence proves they are false, and I look forward to all the facts and the truth coming out."
The woman, identified in federal court documents only as Jane Roe, sued Puig last October, saying the former Dodgers outfielder followed her into a Staples Center bathroom after a Lakers game on Oct. 31, 2018, "pinned her with one arm" to prevent her from leaving, groped her and masturbated in front of her.
The woman did not file a police report. Puig has not been charged with any crime and he has previously denied the allegations in a court filing.
In his statement Tuesday, released by his attorneys, Puig said: "The fact is that I had consensual sex with a woman I met at a Lakers game after she propositioned me. Afterward we talked about going out together, but she said she did not want her fiancé to find out."
Attorney Taylor Rayfield, who is representing the woman, said in a statement to ESPN Wednesday, "The simple fact of the matter is that our client never engaged in consensual sexual activity with Mr. Puig — not at the Staples Center Chairman's Club, and not anywhere else."
In her own statement, released through Rayfield, the woman said, "I am an out and proud lesbian and have been during my entire adult life. My female fiancée and I were enjoying a Lakers game at the Staples Center when this attack occurred." She added that the notion that she would leave her fianceé for a sexual encounter in the bathroom with someone she'd just met "is demeaning and ridiculous."
Puig said Tuesday that he and the woman "messaged each other" after their encounter and planned to get together but never did.
Puig's Los Angeles-based attorneys, Alan Jackson and Caleb Mason, also said in their statement Tuesday that text messages between Puig and the woman help to confirm Puig's account of what happened.
"On November 2, 2018, two days after their encounter, when Mr. Puig wrote to ask her when they could see each other again, she replied "I['m] working it out! I didn't forget about you."
Puig's attorneys point out that the woman sent Puig heart emoji messages and that, on November 23, 2018, several weeks after the Lakers game, she messaged Puig asking him when he would be back in town.
ESPN has reviewed text message exchanges between Puig and the woman, which became public through an exhibit filed as part of the woman's federal lawsuit.
She did send the text messages Puig's legal team referenced but only after Puig had sent her several messages in an apparent attempt to meet privately.
Rayfield said the woman only sent those messages because she was "fearful of a further attack or retribution by Puig," and in an attempt "to de-escalate his behavior by providing curt responses."
In their statement Tuesday, Puig's attorneys did not include a text message Puig sent the woman hours after the Lakers game. In that text, Puig wrote: "Private between me and me [sic] everything that happens no one has to know," according to the transcript of text messages that appears in court documents.
Last month, ESPN reported that a number of teams had factored the allegations, as well as Puig's declining play, into their decision making when considering him as a free-agent signing.
"Nobody wants the headache," one front-office source told ESPN.
Puig said Tuesday he initially remained silent about the allegations against him on the advice of his attorneys and is speaking out now because of delays in the legal system and a civil case that has unfairly tarnished his image in baseball circles.
"With a mere unsupported accusation, the sports world has turned against me without ever hearing my side," Puig said in the statement from his attorneys.
"All I ask is that I be given the chance to prove these claims false, and in the meantime, play the game that I love so much."
Jose Altuve, Alex Bregman among Houston Astros players on IL for health and safety protocols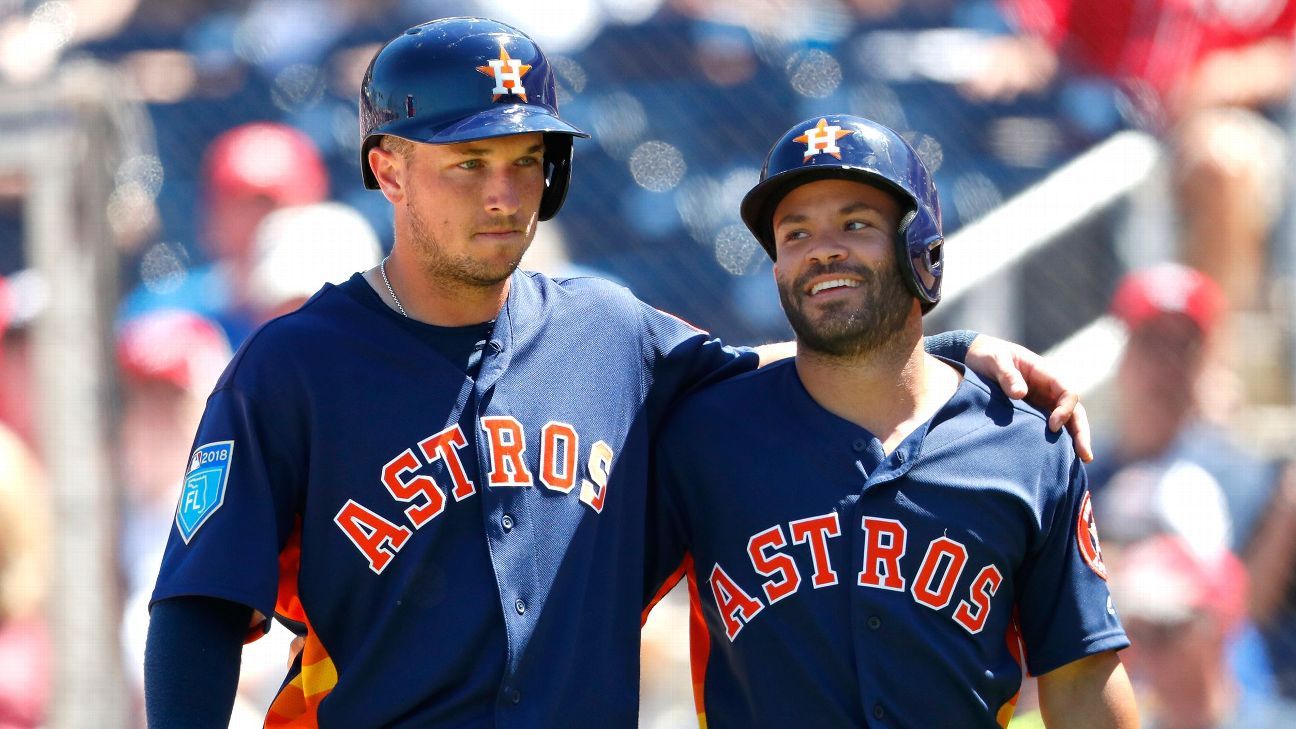 The Houston Astros have placed Yordan Alvarez, Jose Altuve, Alex Bregman, Robel Garcia and Martin Maldonado on the injured list "as a result of health and safety protocols," general manager James Click said Wednesday.
Click said the moves were not a function of the players breaking COVID-19 protocols.
"Absolutely not. The guys have been exceptionally vigilant of making sure that at the ballpark, away from the ballpark, they're following the rules," Click told reporters. "I think this is just another reflection of the situation we're in, not just in baseball but in the country."
The Astros, who are not at the 85% vaccination threshold to loosen the protocols, said they didn't know about having to make these moves until after Tuesday's game. All other players on the team will go through increased testing, and all coaches and staff have been cleared to continue working.
In corresponding moves, the Astros called up infielder Taylor Jones, catcher Garrett Stubbs, infielder Abraham Toro, infielder Alex De Goti and outfielder Ronnie Dawson from the team's alternate training site.
All five players are expected to arrive in time for Wednesday night's game against the Detroit Tigers at Minute Maid Park.
"When it rains it pours," Click said. "It's a difficult situation, but we can't let that take our focus away from winning this game."