Last season, the Colorado Rockies scored 824 runs. According to the runs created formula in the Bill James Handbook, they should have scored 798. The 26-run discrepancy, which worked to Colorado's favor, was surpassed in the National League only by the 28-run overage by the Chicago Cubs. The Rockies and the Cubs were the two most efficient offenses in the league.
Why did Colorado outperform the algorithms so dramatically? It's hard to say. Often, the answer lies in sequencing. In other words, the Rockies might have not just collected a lot of hits, but they also tended to get those hits at the right time. That might explain Colorado's offensive efficiency, which isn't to be confused with proficiency. In fact, after you adjust for the pinball effects of Coors Field, the Rockies were a below-average offensive unit. However, they led the league in percentage of baserunners knocked in (OBI%), according to Baseball Prospectus. Good sequencing seems the most likely explanation for a run total that wasn't quite supported by its underlying categories.
That brings us to some comments uttered to reporters last week by Rockies manager Bud Black. It's unclear why the subject came up, but Black was asked about the possibility of using shortstop Trevor Story as a cleanup hitter. According to Baseball-Reference.com, the Rockies' team OPS in that slot, as compared to the overall team OPS, was the worst in the National League. Story, who hit just .239 and led the league with 191 strikeouts, seems to be an unlikely candidate to improve that performance.
Here's what Black told the Denver Post: "Avoiding the strikeout, putting the ball in play, self-admitted [Story] wasn't good at that early in the year. So he's got to get to that point. The guys who do knock in runs, the guys who do get it done in situations, those guys put the ball in play. That's where the challenge is for him and the improvement we're talking about."
The italics in that quote were added for emphasis. Black might have simply been pointing out that excessive strikeouts are not what you want in RBI situations or, even more fundamentally, that a good hitter is preferable to a bad hitter. You might also interpret the suggestion like this: High-contact hitters are more desirable in RBI situations than low-contact hitters.
That conclusion seems evident on the face of it. If you have two hitters of roughly equal bottom-line value, it seems to follow that the better contact guy would do better in RBI spots than a player who strikes out a lot, even if those whiffs are accompanied by a lot of walks and home runs. But is that really the case? If so, how much should managers try to wedge a contact hitter into the cleanup spot, even given differing levels of ability?
A couple of the usual statements need to be made here. First, if you've paid any attention to the research-based concepts that have emerged in baseball over the past four decades, then you probably know that when it comes to lineup construction, the names in the batting order are way more important than the order they are listed in.
That isn't to suggest, as you might read from time to time, that lineup construction is meaningless. To illustrate, check out this result from the intensely addictive lineup optimizer tool at BaseballMusings.com. This features arguably the best nine position players in baseball last season. (We're not worried about defensive position here, so if Joey Votto is catching, don't be shocked, and this lineup doesn't include a pitcher.) It's a great lineup: Over the course of the season, it would average 7.59 runs per game, according to that tool.
The optimum order of those great players, if used every game, would yield 7.67 runs per game. The least optimum would still get you 7.31. Over 162 games, the net difference between the best and worst lineups is about 58 runs, but of course there is no scenario in which a manager would trot out his nine best hitters 162 times and purposefully align them in the least efficient manner each day. So we're talking about 10 to 15 runs between the average order and the optimal order.
In other words, lineup order matters. But it doesn't matter enough to justify the amount of ink spilled debating it. Ironically, there are few topics around the day-to-day discussion of baseball that are more fun to debate than lineup construction. It's tough to avoid, even when you've comprehended the marginal stakes at play.
The fourth spot in the batting order does come up to the plate with runners on base more than any other lineup slot. That means this cleanup descriptor isn't based on nothing. According to "The Book," the fourth slot is the only spot in the order that comes up with runners on base at least half the time, on average. So there is a reason you would want your best RBI guy — however that is defined — hitting in that spot, unless your optimal lineup would require that batter to hit first or second.
There have been quite a few studies (here's one) that illustrate one important variable to consider here, which is that hitters as a group become more aggressive in RBI spots. Not all do, and a criticism that has historically been lobbed at even great-but-patient hitters — from Ted Williams to Barry Bonds to Votto — is that they won't often expand the zone in RBI spots. The defense of that approach is that doing so would over the long haul result in more harm than good, if only because such an altered approach can lead to bad habits. Who can really argue with their results? But some hitters who might be disciplined overall take a turn toward aggression when the situation is warranted.
To look at some of these topics, we grabbed five years' worth of hitting data from TruMedia and filtered out players who did not compile at least 300 plate appearances overall, with a minimum of 100 opportunities with runners in scoring position. There were 555 such players. For our purposes, we're using performance with runners in scoring position (RISP) as a kind of proxy for RBI ability, even though it's a lot more complicated than that. But because we're specifically wondering about RBI opportunities, this designation will suffice.
From there, we rated the players for "clutchiness" (wOBA with runners in scoring position as compared to usual performance), patience, contact ability and bottom-line performance (as measured by wOBA). The method for calculating these ratings is a little weedsy, but the data behind them include things such as swing percentage, contacts-per-swing and chase rate.
Finally, we subdivided our overall group of 555 players into groups in a variety of ways — for contact, patience, clutchiness, wOBA, etc., and further divided the groups into more groups, according to proficiency in the various categories, with each rating sorted into a high, medium or low tier. With this approach, we can describe hitters as, for example, medium quality/high contact/low patience. There are a lot of combinations, but we'll share a few observations from the exercise.
1. Patience. The more patient a hitter is, the more he is apt to improve his wOBA in RBI spots, but the numbers are marginal. The most patient group improved its collective wOBA by 0.7 percent with runners in scoring position. The middle group improved by 0.5, and the least patient group lost 0.3 percent of its wOBA. Small percentages, to be sure. But still, if you can put a more patient hitter in the cleanup spot than a less patient hitter, you should probably do so.
2. Contact. These data were a little more counterintuitive. The highest contact group improved its wOBA by 0.5 percent in RBI spots. But the medium group not only improved by more — 1.1 percent — but also was best in overall RISP (.337 wOBA vs. .324 for the high-contact group). Why is that? The answer would require some investigation, but perhaps the high-contact guys have more soft contact and/or hit into more double plays.
3. Medium-contact guys. Since that group stood out, we subdivided that group according to patience. The results here were interesting. Medium-contact hitters with a high degree of patience improved their wOBA by 1.6 percent in clutch spots. So, too, did medium-contact hitters with medium degrees of patience. However, the more patient group posted a whopping .350 wOBA in RBI spots, compared with .337 for the other group. This is the subgroup you'd most like to see cleanup hitters come from.
4. Caveat. The numbers are marginal enough that you would need to be careful interpreting them. That is, lineup optimization analysis tells us that you want to get your best hitters high in the order so they can get more opportunities than their lesser colleagues. So, for example, let's say Kris Bryant looked like an ideal cleanup hitter, according to this study. He's the Cubs' best overall hitter and to hit him second, as the Cubs usually do, is probably the best use of his talents. He's got too much power for leadoff, where players don't hit as much with runners on base, but the 2-hole gets him to the plate most often, and if the leadoff guy is a good one, he'll get plenty of chances with runners on base. The optimal lineup should see a team's three best hitters being used in the first, second and fourth spots. The first slot favors on-base ability, the second spot is likely the team's best all-around hitter, and the No. 4 hitter is another one of the team's top hitters and power threats, and has the traits we're describing here.
This might fly into the face of convention a bit, with the traditional idea being that your best overall hitter should bat third. But studies have shown that isn't necessarily the case, largely because No. 3 hitters come to the plate with two outs and the bases empty more often than other lineup spots. But you still want a quality hitter in the 3-hole.
When applying these observations to our data pool, who emerges as a cleanup candidate? To come up with some names, we hit the data with these filters: high wOBA, high patience, medium contact and high clutchiness. This last filter was used to identify hitters with a track record of performing better in RISP spots than they do overall.
Finally, given the general principle that the teams' best all-around hitter goes into the 2-hole, we filtered out the hitters projected to be the team's best overall hitter. After all of this filtering, was there anybody left? Yes! Five players survived the process, a nice round number you've got to love:
Mitch Haniger, Seattle Mariners: Haniger is coming off his rookie season, so his sample is on the smaller end of the spectrum. So far in his big league career, Haniger has a .364 wOBA with runners in scoring position vs. .357 overall. He falls in the top tiers in both performance and patience and is in the medium tier in terms of contact, though his score in that category was 2 percent better than league average. The Mariners, of course have, some proven RBI guys on hand in Nelson Cruz, Robinson Cano and Kyle Seager, so for Scott Servais to install Haniger as his No. 4 hitter would raise some eyebrows. For what it's worth, Haniger's patience and contact factors drop precipitously in RISP situations. He's a player who expands the zone when runs are at stake, and so far, it's an approach that has worked for him.
Russell Martin, Toronto Blue Jays: Martin is one of the most disciplined hitters in the game. He, too, expands the zone in RBI spots, but his contract rate actually skyrockets. His wOBA with runners in scoring position has been .345 over the past five seasons, six points better than his overall rate. This is one veteran who should keep doing what he's doing.
Shin-soo Choo, Texas Rangers: Choo is good for a .368 wOBA in RBI spots versus .360 overall. Like Haniger, he falls below average in patience in RISP spots but maintains an above-average contact rate.
Tommy Pham, St. Louis Cardinals: Pham has a sparkling .391 wOBA in RBI spots so far in his career, compared to .384 overall. That's good stuff. His plate discipline indicators are off the charts. Like Martin, he remains well above average in patience with runners on base. But unlike Martin, Pham's contact rate tumbles, though he was just below average overall. The bottom line is Pham looks like a big-time RBI guy, though you have to wonder whether the contact rate will portend some volatility.
Eugenio Suarez, Cincinnati Reds: Suarez's numbers in this study were amazing. His wOBA in RBI spots is .364. Good stuff. Overall, though, it's .336, giving him one of the highest clutchiness factors in baseball. He's just above average in patience in RISP spots and even a little better in contact. However, like Martin and Choo, he's better at putting the bat on the ball with runners on the line than overall.
But what about Trevor Story? Well, with a career .359 wOBA, he falls into the high-performer tier despite his strikeout-laden 2017 campaign. But he has been less than clutch, losing 26 points off that wOBA with runners on base. His patience factor falls in the medium tier. And as you likely have guessed, his contact rate is in the low tier. In other words, unless Story greatly improves his bat-to-ball skills, he isn't a good candidate to bat cleanup for the Rockies or anyone else.
Still, let's give Bud Black some props. The analysis does suggest that a little heightened aggression, as long as it maintains a foot in the realm of selectivity, can pay off in RBI situations. Batters: With runners on base, expand the zone and don't let those fastballs go by. But don't get carried away.
Corey Kluber takes step in rehab, throws light mound session for New York Yankees
Corey Kluber's return to the New York Yankees rotation was questionable after being sidelined in late May due to a shoulder strain, but the two-time AL Cy Young Award winner said Friday he is "very confident" he can return this season.
"[I am confident] because of the way I've felt throwing, the way I bounce back, the calendar, things like that," Kluber said before the Yankees' 6-2 loss to the Boston Red Sox at Fenway Park. "The way I look at it is that I'm not really trying to think I'm up against a timeline because I think the natural process of the rehab will allow for that."
Yankees manager Aaron Boone said Kluber threw 25 pitches Friday in his first mound session since being placed on the 60-day injured list, calling it "a good step for Corey."
In his first outing following his first career no-hitter in May, Kluber was pulled after throwing three innings against the Toronto Blue Jays. An MRI showed a subscapularis strain of his right shoulder, which led to his current stint on the injured list.
Kluber's shoulder strain required full rest for at least four weeks, followed by at least four weeks of rehabilitation. And though he will be eligible to come off the IL on July 25, Kluber avoided offering a specific timeline for his return.
Kluber described his throws on Friday as "easy fastballs," adding that it was "nothing like I would do in a regular bullpen session."
"I have to sit back and wait for the process to unfold," he said. "I've just found it's easier for me to take it day by day and not get ahead of myself, not look too far in advance. I think that's probably the best way … It's about paying attention to the way you recover and the way you bounce back when there is a new step along the way."
The 35-year-old Kluber had worked his way back from injury to earn his place as the No. 2 starter in New York behind Gerrit Cole. Kluber went 4-2 with a 2.86 ERA and 50 strikeouts before the injury.
Also Friday, catcher Gary Sanchez was taken out of the game in Boston with what the team described as "mid-back spasms."
With Cole's personal catcher, Kyle Higashioka, still on the COVID-19 IL, Sanchez caught Cole for a second straight start. The Yankees ace threw five innings and was tagged with his fifth loss of the season after allowing three runs on six hits, including Rafael Devers' first of two home runs. The Cole-Sánchez battery held the Red Sox to one run in six innings in the Yankees' rain-shortened victory at Yankee Stadium last Saturday.
"We'll see how he responds overnight," Boone said about Sánchez's availability for the rest of the series. "He's in there getting treatment now, and we'll see where we're at tomorrow. It's just something that locked up on him and hopefully it's a short-term thing."
Boston Red Sox lefty Eduardo Rodriguez exits with migraine symptoms
BOSTON — Losing starter Eduardo Rodriguez once again to injury was not in the Boston Red Sox's plans. The club is hoping for the best after Rodriguez had to be taken out in the second inning of Friday night's game against the New York Yankees with what was later described by the Red Sox as "migraine symptoms."
Rodriguez had a solid first inning, retiring the three Yankees he faced on 11 pitches. In the second frame, Rodriguez issued a lead-off walk to Gary Sanchez, followed by a hit by Gleyber Torres and an RBI double by Brett Gardner, which gave the Yankees an early 1-0 lead.
It was after facing Gardner that Rodriguez was approached by the Red Sox trainers and medical staff on the mound. After a short check-up, Rodriguez walked off the field under his own power, appearing dazed and covered with sweat, accompanied by the Red Sox trainers.
Right-hander Phillips Valdez took over for Rodriguez, who threw only 25 pitches.
After missing all of last season with heart complications due to myocarditis after contracting COVID-19, Rodriguez has returned to full health. Nonetheless, the 28-year-old lefty has logged a subpar 2021 season, which he has called the "hardest" of his career.
Manager Alex Cora has repeatedly praised Rodriguez and believes that he could return to his 2019 form and finish the year strong. Rodriguez came into Friday night's game with a 7-2 record and a 5.19 ERA.
"I'm glad he's healthy, I'm glad he's throwing the ball well and we'll count on him in the second part of the season," Cora said ahead of the All-Star break. "Little by little, he keeps putting his pieces together. Now, he's the guy we saw in 2019, the guy we saw in the playoffs in 2018."
In his first game since the All-Star break on Friday, July 16, Rodriguez threw 5⅔ scoreless innings and struck out eight batters in Boston's 4-0 win over the Yankees.
Hearing for restraining order requested against Trevor Bauer postponed until Aug. 2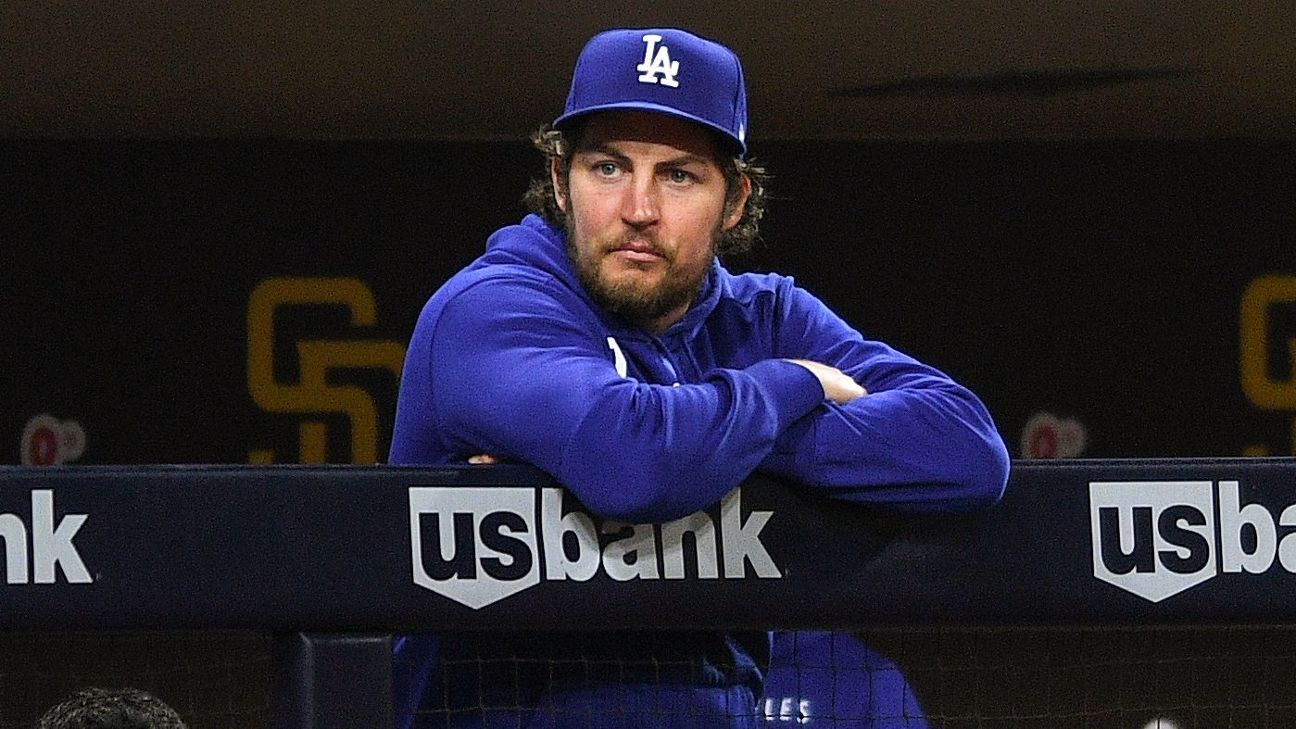 LOS ANGELES — The civil hearing for a restraining order requested against Los Angeles Dodgers pitcher Trevor Bauer has been postponed to Aug. 2 after Bauer's legal team requested more time to prepare a defense against witnesses and documents that it claimed to have received only recently.
Judge Dianna Gould-Saltman set aside Aug. 2, 3 and 19 for the hearing, which is expected to take between two and three days. The temporary restraining order against Bauer will remain in place until the hearing is complete. Bauer's administrative leave expires on Tuesday, but Major League Baseball can extend it once again with consent by the MLB Players Association.
Bauer was present for the hearing in L.A. Superior Court on Friday, wearing a burgundy suit and quietly staring straight ahead throughout the proceedings. Also present was the woman who has accused him of sexual assault. Bauer's legal team told the judge that it has advised him not to testify given the ongoing criminal investigation for alleged sexual assault. But the petitioner's side stated that he must nonetheless take the stand, even if he utilizes his Fifth Amendment rights to not answer questions, to which the judge seemingly agreed. Both sides will call witnesses.
MLB and the City of Pasadena Police Department are conducting separate investigations into Bauer, who has been accused by a woman of choking her until she lost consciousness on multiple occasions, punching her in several areas of her body and leaving her with injuries that required hospitalization over the course of two sexual encounters earlier this year, according to a domestic violence restraining order that was filed in L.A. County Superior Court in late June, copies of which were obtained by ESPN.
The restraining order was executed as a temporary ex parte, which can be attained without input from the other party. Bauer's side told the judge it plans to fight against the declaration "at great length" and previously issued a statement denying that Bauer had assaulted the woman, calling the encounters "wholly consensual."
The Dodgers have canceled Bauer's bobblehead night, which was scheduled for Aug. 19, and have removed all of his merchandise from the team and online stores, saying they "did not feel it was appropriate" given the investigations. Bauer, the 2020 National League Cy Young Award winner as a member of the Cincinnati Reds, joined the Dodgers with a record-setting three-year, $102 million contract in February.