The last we saw of Tim Lincecum was in 2016, when the two-time Cy Young winner signed with the Los Angeles Angels in May following a showcase tryout, made nine starts and was the worst pitcher in the league. He pitched 38 innings, allowed 68 hits, including 11 home runs, posted a 9.16 ERA and his 2.374 WHIP was the highest for a pitcher with at least 30 innings since 1997.
So with reports that Lincecum will sign a one-year major league contract with the Texas Rangers, the obvious question is why will this season be any different?
Lincecum had another showcase session on February 15 at the Driveline Baseball facility in Kent, Washington, outside of Seattle, throwing in front of scouts from 15 to 20 teams. Reports from the session indicated he threw about 25 pitches exclusively from the wind-up and hit 93 mph while averaging between 90-92. He showed no signs of the hip injury that bothered him at the end of his Giants career and required season-ending surgery in 2015. In December, Rockies pitcher Adam Ottavino posted a photo on Instagram of a ripped Lincecum working out in a sleeveless shirt.
So what do we know? Lincecum is in great shape. He can maybe hit 93 mph throwing at max effort at an indoor baseball facility. He's well-rested after not pitching in 2017 and is now more than two years removed from the surgery. He obviously knows how to pitch, although precision control was never his forte.
This is obviously a complete roll of the dice by the Rangers, a minimal investment with the hope you hit the lottery. The most likely scenario would see Lincecum pitch out of the bullpen, where he would be a better bet to hold his velocity over short stints. With the Angels, his fastball averaged just 87.7 mph. One writer suggested that with the Rangers' closer job wide open, Lincecum even has a chance to winning that role.
Call me skeptical.
First off, Lincecum hasn't really been good since 2011, the last time he posted a sub-4.00 ERA. His year-by-year WAR totals since:
2012: minus-1.7
2013: minus-0.6
2014: minus-0.7
2015: 0.3
2016: minus-1.6
Remember, Lincecum was pitching in one of the best pitcher's parks in the majors and still couldn't keep his ERA below the league average. When the Giants won World Series titles in 2012 and 2014, it's notable that Lincecum made just one playoff start over those two postseasons (and pitched just one game in relief the entire 2014 run).
We're supposed to believe that seven years after his last good season Lincecum will rediscover stuff good enough to make him a closer? It's not an impossible idea, but he has a lot to prove before the Rangers even remotely consider him for that job. Don't you want to see some results before you trust him to get out Mike Trout with a one-run lead in the ninth inning?
It's also unlikely the Rangers double down on a wild card like Lincecum as their Opening Day closer, given what happened last season when Sam Dyson nearly torpedoed their season in April when he blew all three of his save chances and was 0-4 with a 12.66 ERA through May 7. Alex Claudio isn't a sexy alternative, but at least you know what you're getting with him.
Is there a precedent for a Lincecum comeback? Bartolo Colon made just 47 starts from 2006 through 2010 (missing all of 2010) with a 5.18 ERA and certainly appeared finished before resurfacing with the Yankees in 2011. After his comeback he made two All-Star Games and has won 87 games. Guess what? Colon is in Rangers camp as a non-roster invite.
Hey, I hope it works out. Lincecum is from the same Seattle suburbs I grew up in and was obviously a wonder to watch at his peak. That peak was a long time ago, however. Certainly the Rangers saw something to give him a guaranteed contract, but I'll be pleasantly surprised if Lincecum ends up a major contributor to the Rangers.
Seattle Mariners prospect Jarred Kelenic sidelined by knee strain
PEORIA, Ariz. — Seattle Mariners top prospect Jarred Kelenic will be sidelined due to a strained adductor muscle in his left knee.
Mariners general manager Jerry Dipoto said an MRI on Saturday revealed the injury. No timeline was given for the outfielder's return.
"While disappointed that Jarred will be sidelined, we are relieved that the long-term outlook is positive," Dipoto said. "We all look forward to seeing him back on the field in the near future."
Kelenic appeared to be injured during his first at-bat on Friday against the Chicago White Sox. Kelenic reached on an error, but appeared bothered after reaching first base. Kelenic remained in the game and was replaced an inning later.
The 21-year-old Kelenic, who hit Seattle's first home run of spring training earlier this week against the Cubs, has been the center of attention during spring training.
Kelenic's arrival in the majors was part of comments made by former team president and CEO Kevin Mather that indicated Seattle was considering manipulating Kelenic's service time.
Kelenic and his agent lashed out at the Mariners in comments made to USA Today following Mather's resignation last month. After homering earlier this week Kelenic said he's using those words as motivation.
"I'm a competitor," Kelenic said. "I'm a very driven person as it is. Having said that, you know, something like this comes up and I think you can look at it one of two ways: One, you can sit and pout about it, or you can use it as motivation and let it drive me even more. That's kind of where I'm at. Each and every day I'm letting this drive me."
Jake Odorizzi reaches 2-year deal with Houston Astros, source says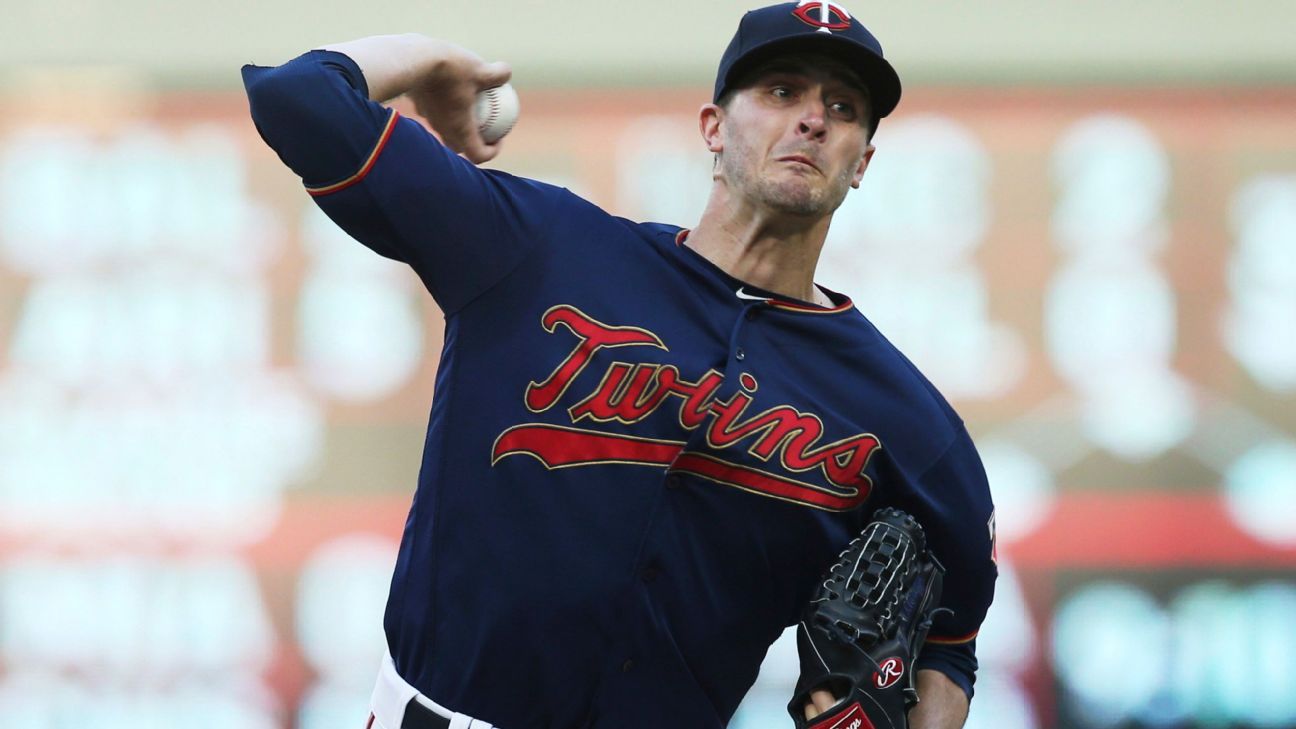 Right-hander Jake Odorizzi and the Houston Astros have agreed to a two-year deal with a player option, a source familiar with the deal told ESPN's Jeff Passan on Saturday.
The Astros had already lost starter Framber Valdez for an indefinite amount of time after the left-hander suffered a fractured left ring finger during his spring training debut on Tuesday.
Houston also is without ace Justin Verlander, who likely will miss the entire season after having Tommy John surgery on Sept. 30.
Odorizzi will join a rotation that likely includes Zack Greinke, Cristian Javier, Lance McCullers Jr. and Jose Urquidy.
After accepting a one-year, $17.8 million qualifying offer from the Minnesota Twins last offseason, Odorizzi, who turns 31 on March 27, was limited to four starts in 2020 due to bruised ribs and a blister, going 0-1 with a 6.59 ERA in 13 2/3 innings.
His lost season began with him getting drilled in the side by a line drive off the bat of Kansas City's Alex Gordon in his third start. He returned in September, only to leave after 3 2/3 innings with blister issues in what would be his final outing of the season.
Odorizzi went 15-7 with a 3.51 ERA in 30 starts in 2019 as he earned his first All-Star selection. He set career highs for wins and strikeouts (178) as the Twins racked up 101 wins and claimed their first division title since 2010.
He was drafted by the Milwaukee Brewers with the 32nd overall pick in 2008. He made his debut with the Kansas City Royals in 2012 before being dealt the next season to the Tampa Bay Rays with Mike Montgomery and Wil Myers in the seven-player trade that sent James Shields and Wade Davis to the Royals. He was traded to Minnesota before the 2018 season after logging four solid years as a starter for the Rays.
Odorizzi has gone 62-56 with a 3.92 ERA and 995 strikeouts in 1,042 1/3 major league innings.
Shohei Ohtani delivers on mound in spring debut for Los Angeles Angels
MESA, Ariz. — Shohei Ohtani featured an upper-90s fastball and a wipeout splitter in his spring pitching debut Friday, a 41-pitch outing that seemed to validate the Los Angeles Angels' hopes that he can contribute as a two-way player this season.
Ohtani, pitching two days after unleashing a 486-foot home run to straightaway center field, struck out five of the 10 Oakland Athletics batters he faced, the last three on splitters that dropped well below the strike zone.
The right-hander issued two walks, gave up three hits — two of which went for extra bases — and was removed with two outs in the second inning because the Angels had set a 40-pitch limit. But Ohtani was around the strike zone far more frequently than during his short pitching stint last summer, and he displayed a cleaner, more repeatable delivery, which Angels manager Joe Maddon said he was hoping to see.
"The big thing for him — the success is gonna be repetition of delivery and knowing where his fastball is going consistently," Maddon said postgame. "If that occurs, he's really gonna take off."
Ohtani, 26, has acted as a two-way player for only two months over the past three years, in April and May of his 2018 rookie season, before having Tommy John surgery. He spent the rest of the 2018 season and all of 2019 serving as the Angels' primary designated hitter, then struggled in his return to two-way action during the COVID-19-shortened 2020 season. Ohtani made only two rough starts before straining the flexor-pronator mass near his surgically repaired elbow, limiting him to hitting only.
After the season — he batted .190 and had a 37.80 ERA — Ohtani underwent an aggressive offseason regimen in which he got into more game-like situations as a hitter and pitcher, revamped his diet and workout regimen and sought advice from third parties, including, sources said, experts at the renowned baseball facility Driveline. Ohtani's progress showed during the workout portion of spring training and is now manifesting itself in game settings.
Ohtani, speaking through his interpreter, said he mistakenly started "cutting" some of his pitches while overthrowing with runners in scoring position, but he was pleased with his splitter as an out pitch and he believes his velocity will continue to rise as the season progresses.
Maddon has said he wants to ease some of the restrictions, such as when Ohtani's turn comes as part of a six-man rotation rather than on a certain day each week. Maddon also is open to the possibility of putting him in the lineup the day after his start, which hadn't been the case.
"The big thing was to put him in charge of his own career and not try to dictate so much to him, permit his athleticism to take over and not be so concerned about getting hurt," Maddon said of the reasoning behind more aggressive usage. "He's done this in the past, he should know himself better than we do, and we did not want to create these limitations or set guidelines that we didn't know if they would work or not."