San Francisco 49ers general manager John Lynch addressed Reuben Foster's Feb. 11 arrest for the first time Wednesday and dismissed speculation the linebacker was being treated differently by the team because of his talent.
Foster was arrested earlier this month on charges related to domestic violence, threats and possession of an assault weapon, the second time he had been arrested in a span of a month.
Lynch told Bay Area reporters at the scouting combine in Indianapolis that the team has followed all the protocols required by law enforcement and the NFL.
"We've been a little quiet and that's for a reason," Lynch said, according to the team's website. "There are certain places that I can't and won't go, because we're dealing with an ongoing legal matter."
In contrast to Foster, cornerback Tramaine Brock was arrested on suspicion of felony domestic violence last April and released the next day.
"Listen, I know there's a lot of conjecture as to, 'Well, of course Brock wasn't the player that Reuben is.'" Lynch told reporters, according to The Sacramento Bee. "I would counter to say that he was a starting cornerback for us. And we didn't take that lightly"
Lynch added: "It was the decision that we felt was best for everyone involved and made it accordingly. And as I mentioned, each situation is different and we'll leave it at that," he said.
Charges against Brock were filed in June but dropped in August because of insufficient evidence.
The Santa Clara County District Attorney hasn't decided yet whether Foster will be charged in connection with his Feb. 11 arrest.
That arrest came on the heels of a Jan. 12 incident in Tuscaloosa, Alabama, where he was charged with second-degree marijuana possession, a Class A misdemeanor in Alabama.
Lynch told reporters that the 49ers will take Foster's legal troubles into account when they approach free agency and the draft.
The 49ers met with Foster after his arrest and while Lynch wouldn't get into details about his conversation with the linebacker, he did say the team made clear what the expectations were for its players.
"The context, in a broad sense, of what we discussed with Reuben, is just our expectations for him and our expectations for all of our players," Lynch said, according to The San Jose Mercury News. "We have a high standard. I think we made that very clear. We remain in communication, but a lot of that's gonna remain private between us because of a lot of things such as the ongoing legal matter and protocols that are in place."
Foster initially raised some red flags at last year's NFL scouting combine, where he was sent home early after an argument with a hospital worker. He also had a urine sample taken there show up as diluted, which, according to the NFL's policy on substances of abuse, was treated as a positive test.
Because of the diluted sample, Foster entered the league as part of the substance abuse program.
After being selected No. 31 overall by the 49ers in last year's draft, Foster was second on the team in tackles with 72 in 10 games.
ESPN's Nick Wagoner contributed to this report.
Green Bay Packers coach Matt LaFleur said call to kick FG late 'felt like right decision'
GREEN BAY, Wis. — Matt LaFleur said that while he did end up regretting his decision to take the ball out of Aaron Rodgers' hands and kick a field goal with 2:09 left in the Green Bay Packers' 31-26 loss to the Tampa Bay Buccaneers in the NFC Championship Game on Sunday, he trusted the thinking behind the move.
Down eight points (31-23) at the time and facing fourth-and-goal at the 8-yard line, LaFleur sent Mason Crosby in for a 26-yard field goal instead of giving Rodgers one more shot at the end zone (and then a 2-point-conversation attempt) to tie the score.
Crosby converted, but Rodgers never got the ball back thanks to Tom Brady and a pass interference call on Packers cornerback Kevin King that allowed the Bucs to run out the clock.
"Yeah, anytime it doesn't work out, you always regret it, right?" LaFleur said after the game. "It was just the circumstances of having three shots and coming away with no yards and knowing that you not only need the touchdown, but you need the 2-point [conversion]. The way I was looking at it was, we essentially had four timeouts with the two-minute warning.
"We knew we needed to get a stop, and I thought we were going to have a stop there at the end, but we got called for [defensive pass interference] and it didn't work out. I think anytime something doesn't work out, do you regret it? Sure, but we're always going to be process-driven here, and the way our defense was battling, the way our defense was playing, it felt like it was the right decision to do. It just didn't work out."
Rodgers understood the thinking but after the game said, "It wasn't my decision." He said LaFleur gave him the option to call the previous play on third down — a play that resulted in a scramble and a throwaway when Rodgers might have been able to run it.
Rodgers said he might have called a different play if he knew LaFleur was going to opt for a field goal.
"I thought maybe we were gonna have four chances to go," Rodgers said.
According to ESPN's Win Probability model, the Packers had a 10% chance of winning by going for it on fourth down and a 9.5% chance of winning by kicking a field goal.
The model also suggested the Packers needed a 21% chance of converting to justify going for the touchdown there, with a league-average conversion rate in that spot at 23%. The Packers were the No. 1 scoring offense this season.
Earlier, LaFleur opted for a 2-point conversation after Rodgers' 2-yard touchdown pass to Davante Adams with 24 seconds left in the third quarter made it 28-23. Packers receiver Equanimeous St. Brown dropped Rodgers' pass in the end zone. According to ESPN's model, the failed 2-point try was the correct decision from an analytics standpoint.
However, by losing out on the one point they would have gotten for a made extra point, the Packers later found themselves in the position of being down eight and thus needing a touchdown and a 2-point conversation in the final minutes before their last field goal.
Tampa Bay coach Bruce Arians said he thought the decision was the right one — "I thought that they had a lot of confidence in their defense at that point in time," he said — but linebacker Shaq Barrett said he was surprised by what unfolded.
"I couldn't believe it honestly, because there was no guarantee that they gonna make it back down there again, even if they was on fourth down — they might as well try," Barrett said. "I know our offense — they've been amazing in the four-minute offense this year, not giving the team the ball — so I had the utmost confidence in them. But, I know if he could take it back, he probably wouldn't do that next time."
Although LaFleur wasn't necessarily talking about the field goal decision, he said near the end of his news conference that he wasn't on top of his game.
"I felt like we had plenty of opportunities tonight to take advantage of and get the job done," LaFleur said. "We didn't do it, and that falls on me, and that's a tough pill to swallow when you're responsible for everybody in this organization to make sure that you're on your A-game, and I don't feel like I was tonight. I'm just pretty disappointed that [I] let a lot of people down."
ESPN's Jenna Laine contributed to this story.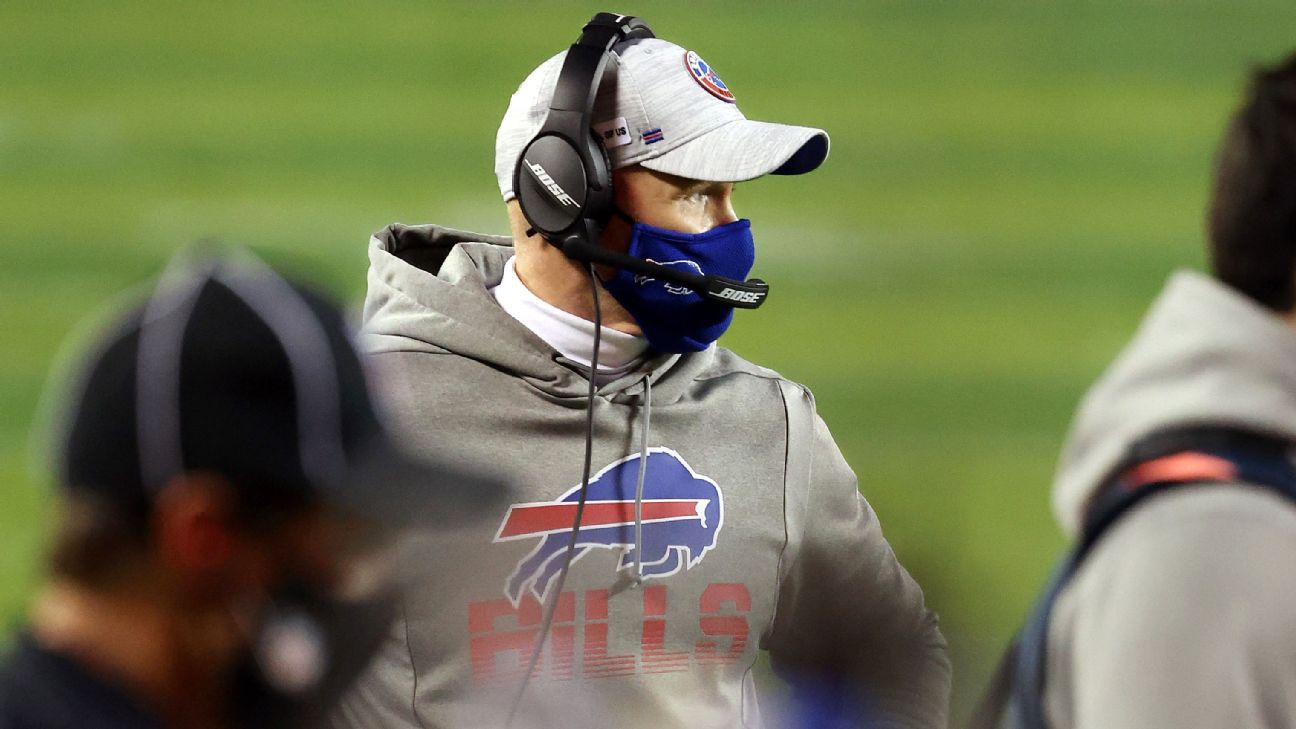 The Buffalo Bills played it safe in Sunday's AFC Championship Game, all while the Kansas City Chiefs ran away with the win.
Buffalo's dreams of a first Super Bowl appearance since the 1993 season ended with a 38-24 loss to the defending NFL champions, as only one team in the matchup of the league's top two offenses seemed prepared for a shootout. Bills coach Sean McDermott's decision-making drew questions after the game, particularly about a pair of field goals Buffalo attempted within the Chiefs' 10-yard line.
Rookie Tyler Bass' 20-yard field goal just before halftime and 27-yard field goal in the third quarter were each attempted with the Bills trailing by multiple scores. Although Bass made both attempts, McDermott was asked why he didn't opt to go for it on fourth down from the 2-yard line and the 8-yard line, respectively.
"I thought about going for it on both occasions. Maybe if I had to do it over again, I would have went for maybe one of them," McDermott said. "But the one before the half, I wanted to get points. We were having trouble coming up with points, and I wanted to at least have something to show for it going into the half, especially knowing they were getting the ball after half. I'll look back at that and reevaluate that, especially the one after half there, and as an entire team, we'll learn from the experience."
Emphasizing the problem for Buffalo was that both field goals came in the midst of a 24-6 Kansas City run in the second and third quarters. While the Bills settled for points, the Chiefs answered by scoring a touchdown on five of their seven possessions, not including their final drives of the second and fourth quarters.
Bills quarterback Josh Allen, who threw for 287 yards, two touchdowns and his first career red-zone interception, said settling for field goals instead of touchdowns in the red zone was part of the reason Buffalo lost Sunday — but also took responsibility for putting McDermott in position to decide between going for it on fourth down and kicking a field goal.
"That's coach's decision," Allen said of the field goals. "We had three downs to get in there prior and we didn't do our job. Lack of communication, lack of execution down there falls on my shoulders."
The Bills should have gone for it on both occasions, according to ESPN's win probability model. On fourth-and-goal from the 2-yard line at the end of the first half, Buffalo needed a 36% chance to convert to justify going for it, and a league average offense converts there 45% of the time. The decision cost them 1.4 percentage points of win probability.
The Bills needed a 35% conversion chance to justify going for it on fourth-and-3 from the 8-yard line, and league average is 41%. The decision not to cost them 0.7 percentage points of win probability.
Kansas City Chiefs (-3) open as favorites over Tampa Bay Buccaneers in Super Bowl LV
The GOAT is a 'dog in the Super Bowl.
The Kansas City Chiefs opened as consensus 3-point favorites over Tom Brady and the Tampa Bay Buccaneers in Super Bowl LV. The line was trending up Sunday night, with some sportsbooks moving to Kansas City -3.5.
Barring significant line movement, it will be only the second time Brady has been an underdog in his 10 Super Bowl appearances. In his Super Bowl debut, Brady and the Patriots were 14-point underdogs against the St. Louis Rams in 2002, a game New England won outright.
The Chiefs were 3.5-point favorites over the Buccaneers when the teams met in Tampa, Florida, during Week 12 of the regular season. Kansas City won 27-24. The rematch in the Super Bowl also will take place at Tampa's Raymond James Stadium, but oddsmakers don't expect there to be any home-field advantage for the Bucs.
Brady led Tampa Bay to the franchise's second Super Bowl appearance by holding off the Green Bay Packers 31-26 on Sunday in the NFC Championship Game. At 43, he will be the oldest player ever to play in a Super Bowl. And he has some bookmakers in an expensive spot.
The Buccaneers winning the Super Bowl is the worst-case scenario for several sportsbooks. Early last year, Tampa Bay could be found at 50-1 to win the Super Bowl. Bets on the Bucs started increasing in March, when buzz about Brady leaving New England for Tampa Bay picked up. After Brady's signing was official, the Bucs' Super Bowl odds improved to around 16-1, and money continued to pour in on Tampa Bay at sportsbooks.
Entering the season, more money had been bet on the Buccaneers to win the Super Bowl than was bet on any other team at multiple sportsbooks. FanDuel's liability on Tampa Bay, at that point, was four times greater than any other team.
The Chiefs eventually overtook the Bucs at the betting windows, attracting more bets and more money, but the sportsbooks' liability on Tampa Bay didn't dwindle much.
DraftKings' Johnny Avello said his book is staring at a seven-figure loss on the futures market if the Buccaneers win the Super Bowl on Feb. 7.
"[The Bucs] are our worst result and have been all year," Jason Scott, vice president of trading for BetMGM, told ESPN on Sunday.
The Chiefs, the defending champions, opened at 7-1 to win the Super Bowl last February at Caesars Sportsbook by William Hill and remained Super Bowl favorites throughout the season.
The favored team is 35-19 straight up in the 54 Super Bowls.
The Super Bowl over/under total opened at 57 at Caesars Sportsbook by William Hill.