PEORIA, Ariz. — Eric Hosmer earned a reputation as a first-class teammate over seven seasons with the Kansas City Royals. It didn't take his new club in San Diego long to find out why.
Hosmer was grateful when Padres third base coach Glenn Hoffman gave up his No. 30 uniform jersey as a sign of goodwill at the start of spring training, so he recently surprised Hoffman with a Rolex watch at the Padres' complex in Peoria.
Hosmer wore No. 35 in Kansas City, but that jersey is retired in honor of Padres Hall of Famer Randy Jones. Hosmer wanted to wear No. 30 in San Diego as a tribute to his late Royals teammate Yordano Ventura, who died in a car crash in the Dominican Republic in January 2017. But he needed the go-ahead from Hoffman to make it happen.
"Like I said to Hoffy, it was extremely meaningful for me," Hosmer said Tuesday. "So I wanted to get a nice gesture for him. It's an unwritten rule throughout the league that if a veteran guy comes and asks for a number and somebody has it, you do something like that for him."
Hosmer declined to comment on the cost of the Rolex, but he said a "friend in Kansas City" helped pick out the gift. Hoffman has since switched to jersey No. 26.
"I bet there were a lot of coaches who were mad they didn't have '30' after that," Hosmer said, laughing.
After a long winter of waiting, Hosmer signed a franchise-record eight-year, $144 million contract with the Padres a week ago. He is expected to bring veteran leadership, on-base ability and solid defense to a young San Diego team that exceeded expectations with 71 victories last season. He went 1-for-3 with an RBI single in his Cactus League debut against the Seattle Mariners on Tuesday.
Hosmer spent part of the day getting acquainted with Jones, who is roaming the back fields in uniform this week. Jones, known as the "Junk Man" for his soft-tossing repertoire, went 22-14 with a 2.74 ERA for the Padres and won the National League Cy Young Award in 1976.
"I was messing with him about his windup, and he told me he wants a baseball card of me doing it," Hosmer said.
As Hosmer acclimates to Padres camp, he is particularly encouraged by the surplus of young talent in the organization.
"One of the infielders here isn't old enough to buy a drink yet," Hosmer said. "The wave of talent we've got coming up is pretty special to watch. It's one thing to hear about prospects and all that. To see the (young position players) and the arms as well, it gives you a lot to look forward to."
Toronto Blue Jays acquire RHP Jose Berrios from Minnesota Twins for prospects
MINNEAPOLIS — Despite all the speculation that surrounded Jose Barrios this month, with the Minnesota Twins nowhere near contention and ready to reload for the future, the right-hander wasn't ready to accept he could be traded.
The news that he was heading to Toronto on Friday brought him and his wife to tears.
Then came the really hard part, having to break the news to their three children that he was joining the Blue Jays in a deadline-day deal that sent two highly rated minor leaguers to the Twins.
"I know that it will be hard because this year, they are bigger. They are growing up. They know more about life and also some people," Barrios said, predicting the greatest difficulty for 7-year-old daughter Valentina.
Soon-to-be-5-year-old Sebastian and 3-year-old Diego had grown fond of Minneapolis and their friends there, too.
Barrios, drafted 32nd overall by the Twins in 2012, debuted with Minnesota in 2015. Though Puerto Rico was their home, he and his wife, Jannieliz, became strongly rooted in the community. He worked hard to be able to speak English effectively. Barrios felt strongly enough about the Twins he asked the team's senior director of communications, Dustin Morse, to arrange a farewell Zoom session with reporters.
"When you've got your first team or your first time in everything, that's where I made my MLB debut, so it's going to be in my heart all my life," Barrios said from St. Louis, where he had been scheduled to start a three-game series against the Cardinals.
Instead, the playoff-chasing Blue Jays won the aggressive pursuit for the two-time All-Star, who was one of the most attractive players available on the market. They parted with infielder/outfielder Austin Martin and right-hander Simeon Woods Richardson for the 27-year-old Barrios.
Toronto began the day at 51-48, in the fifth spot chasing two AL wild-card slots with a 4 1/2-game deficit to make up. Barrios was 7-5 with a 3.48 ERA in 20 starts for the Twins this season, their unquestioned ace who has been as durable as any pitcher in the game and remains under team control through the 2022 season.
The sadness aside, the opportunity to return to a postseason race will help stem the blow a bit for Barrios.
"They are competing and trying to get that push to the playoffs. I'm so happy to be part of that, and I'm going to put myself in the best position to help that team to make that this year," he said.
Barrios has struck out 126 in 121 2/3 innings this season and held opponents to a .213 batting average. He was 55-43 with a 4.08 ERA in his career with Minnesota.
Dealing Barrios will set a struggling rotation back even further in the short term, but the Twins had leverage, with so many teams seeking high-end starting pitching. Minnesota decided to hasten the reset process for 2022 and beyond after this disappointing season on the heels of two straight AL Central titles.
"We were setting a high bar for a lot of these conversations," president of baseball operations Derek Falvey said after the deadline passed.
The 22-year-old Martin hit .281 with a .424 on-base percentage and scored 43 runs in 55 games for Double-A New Hampshire. This is his first pro season after being drafted fifth overall in 2020 out of Vanderbilt, where he helped win the College World Series in 2019. Martin was ranked this year by MLB.com as the second-best prospect in Toronto's system and the 16th-best prospect in the minor leagues. He played for the American League in the All-Star Futures Games this month at Coors Field. That AL side was managed by Twins special assistant LaTroy Hawkins.
The 20-year-old Woods Richardson was 2-4 with a 5.76 ERA in 11 starts for Double-A New Hampshire. Listed 68th overall in MLB.com's prospect rankings, Woods Richardson is now playing for the United States in the Olympics in Tokyo with fellow pitcher Joe Ryan, who was acquired by the Twins last week in a trade that sent slugger Nelson Cruz to Tampa Bay. Woods Richardson was a second-round draft pick in 2018 by the New York Mets, who dealt him to Toronto in the trade for pitcher Marcus Stroman in 2019.
The Twins also traded two other pitchers on deadline day, sending starter J.A. Happ to St. Louis and reliever Hansel Robles to Boston.
Barrios was one of the few homegrown pitchers the Twins had successfully drafted and developed over the last two decades, but they'd been unable to secure him to a long-term contract and weren't prepared to try to outbid for him on the open market if he were to reach free agency next year. So they took advantage of his hot market this summer and took another step toward restocking.
With Ryan, Woods Richardson and Drew Strotman, who was also recently acquired from the Rays for Cruz, the Twins have three more viable options for their future rotation.
One player the Twins hung onto was oft-injured center fielder Byron Buxton, whom they've also not yet been able to sign to an extension. Falvey said the Twins received plenty of interest in the multi-skilled Buxton, but not enough to warrant moving him.
"We're just going to continue to focus right now on him getting as healthy as possible, get him back on the field, and getting him playing for us," Falvey said.
Chicago White Sox agree to trade with Chicago Cubs for closer Craig Kimbrel
The Chicago White Sox have agreed to acquire All-Star closer Craig Kimbrel from the Chicago Cubs before the trade deadline, the team announced Friday.
In return, the Cubs are getting second baseman Nick Madrigal and right-hander Codi Heuer.
The White Sox, who lead the AL Central, were looking for bullpen help, and they now have it with Kimbrel and Liam Hendriks.
Kimbrel, 33, has 23 saves this season for the Cubs with an 0.49 ERA and 64 strikeouts in 36⅔ innings. Overall, he has 371 career saves with the Cubs, Red Sox, Padres and Braves over his 12 major league seasons.
"We viewed Craig as the premier relief pitcher available at this trade deadline, and so we knew the cost would be steep in terms of parting with young talent," White Sox general manager Rick Hahn said in a statement. "But we recognize the special opportunity that currently exists and our team, our clubhouse and our fans deserve to know we will do everything we can to reach the postseason and win meaningful games in October."
Madrigal tore his right hamstring and early June and is out for the season following surgery. He's targeted to be the Cubs' starting second baseman next season. He was hitting .305 when he was injured. Madrigal also won a minor league Gold Glove award in 2019.
Heuer, a 25-year-old right-hander, is 4-1 this season for the White Sox out of the bullpen. He's appeared in 40 games. Last season, his first in the big leagues, he was 3-0 with a save and a 1.52 ERA in 21 appearances.
The White Sox entered Friday with an eight-game lead over division rival Cleveland. The Cubs are fourth in the NL Central and entering a rebuild.
The White Sox had already addressed the loss of Madrigal by acquiring slugging second baseman Cesar Hernandez from the Cleveland Indians on Thursday.
Information from The Associated Press is included in this report.
New York Yankees acquire LHP Andrew Heaney from Los Angeles Angels for minor leaguers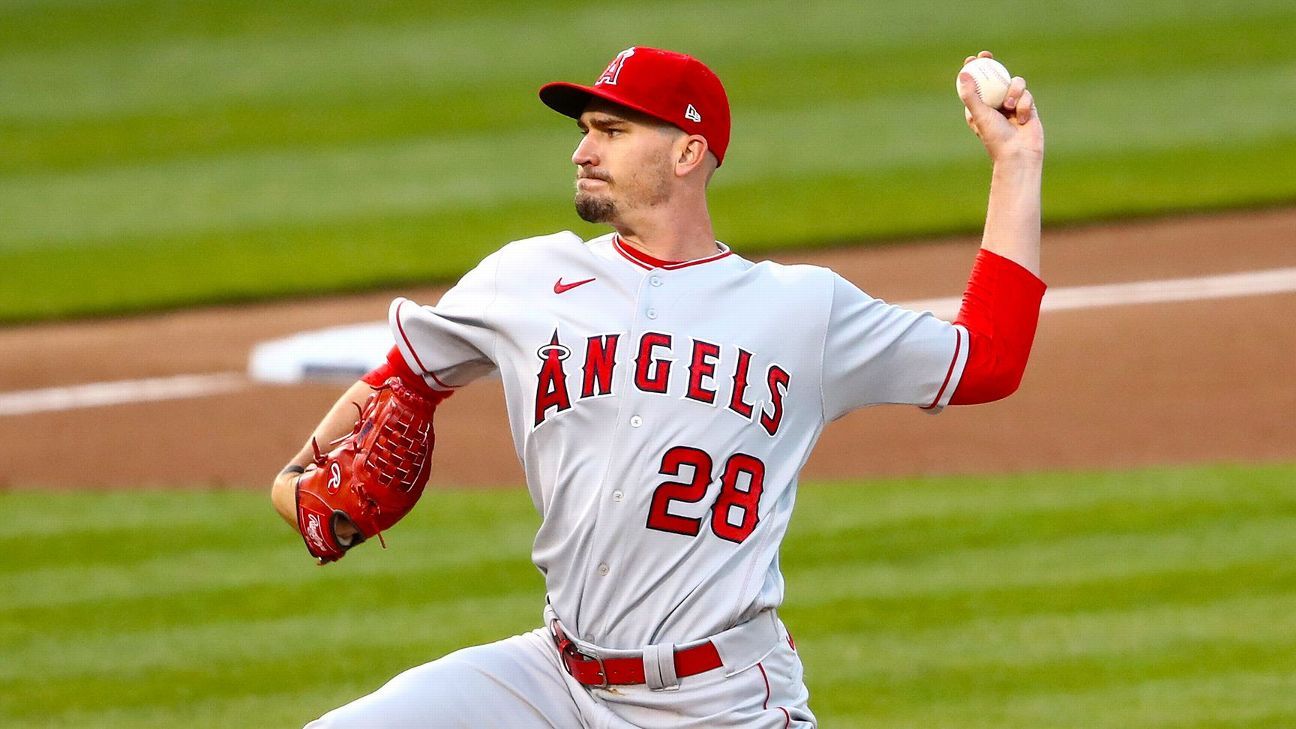 The New York Yankees acquired left-handed pitcher Andrew Heaney and cash considerations from the Los Angeles Angels on Friday in exchange for minor league right-handers Janson Junk and Elvis Peguero.
Heaney is 6-7 with a 5.27 ERA this season.
The moves comes after the Yankees previously added left-handed power bats Joey Gallo and Anthony Rizzo.