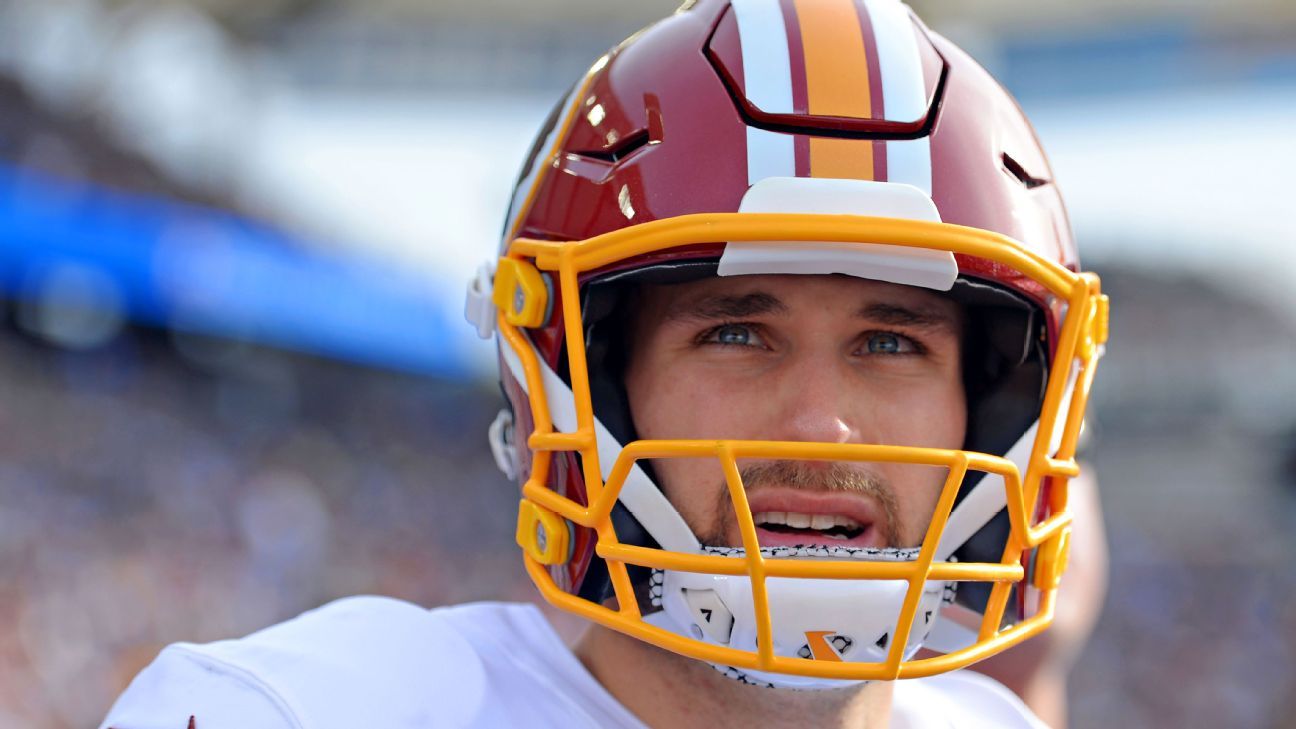 Kirk Cousins is a little more than a month away from showing us what can happen when a healthy, top-level starting quarterback in his prime hits the free-agent market. This will be unprecedented. In the era of the franchise tag, only two top-level quarterbacks have become unrestricted free agents — Peyton Manning in 2012 and Drew Brees in 2006 — and each was coming off a major injury at the time.
Cousins is 29 years old, healthy and coming off his third straight 4,000-yard passing season at a time of rapid salary-cap growth. As of March 12, when agents of prospective free agents are free to talk with other teams, Cousins will be in a position to set a new standard at the top of the NFL salary structure — not long after Jimmy Garoppolo agreed to terms on a five-year deal of his own in San Francisco.
Now, because I know some of you will ask: No, I do not think there is any chance Washington franchises Cousins for the third year in a row. It's certainly true that it has considered the idea of franchising him and trying to trade him, in an effort to avoid losing him and getting nothing in return. And at this stage of the process, that's the right position for them to be taking outwardly, just in case some team wants to offer them something crazy. But I, and the sources I've spoken to on this matter, consider a third Cousins franchise tag (which would cost Washington about $34.5 million) a totally unrealistic outcome.
Why? Well, any team willing to trade anything of significance for Cousins would want to know that they can sign him long term, and for how much. Washington is likely to end up with a third-round compensatory pick if it lets Cousins walk, which means a team probably would need to offer a second-rounder or more in order to get him, and why would a team do that if all it is guaranteed is one year at $34.5 million?
If Washington franchises Cousins, he'll surely rush to sign the tender and put the team in an impossible bind. That $34.5 million would immediately hit Washington's 2018 salary cap along with about $24 million in cap cost for Alex Smith, likely requiring undesirable roster cuts elsewhere and making it basically impossible for the team to do anything else in terms of player acquisition until they traded Cousins.
In theory, Cousins could make it easy on Washington by negotiating with potential trade partners on a long-term deal before a trade is finalized, but there's no reason to believe Cousins is or will be interested in doing his current team any favors. If Washington did decide to franchise Cousins, the more likely reason would be that it got cold feet on the Smith deal and decided to back out before it became official. As of Tuesday night, we can call this "Pulling a McDaniels." Not saying this will happen, but if Tuesday taught us nothing else, it's that nothing is final until it's final.
What Cousins wants — and believes he deserves — is a chance to hit the market unfettered, with a menu of potential new destinations from which to choose. It appears certain he will get that, and when he does, his deal could average $30 million or more per season with upward of $90 million in guarantees. The questions then will become how many teams will bid that high and how much he likes the idea of playing for those teams.
The Minnesota Vikings, who are coming off a 13-3 season and with all three quarterbacks on their roster eligible for free agency, should be at the top of Cousins' wish list. They have the cap space to make it happen. They have an elite defense, top-level wide receivers, a strong running game and an offensive line that — while it might need some maintenance work in the coming years — did an awfully good job of keeping Case Keenum clean in 2017. The question with the Vikings is how committed they are to developing Teddy Bridgewater as their long-term solution and rewarding Keenum for what he did in 2017. If they bring one or both of those guys back, that probably rules out Cousins. But if they see themselves a Cousins away from the Super Bowl, maybe they change the plan and go for it.
The New York Jets also have the cap room and the need. Their roster needs more work than Minnesota's does, but the receiving corps showed promise this season, the coach just got extended, and Cousins has spoken highly of new offensive coordinator Jeremy Bates. Perhaps he'd enjoy a shot to make a big splash in the Big Apple. The Buffalo Bills are coming off a 9-7 season and have a No. 1 receiver in Kelvin Benjamin and an elite running back in LeSean McCoy. If Cousins likes what Sean McDermott is putting together in Buffalo, the Bills become an interesting option that might not be too far from title contention. The Jacksonville Jaguars would be interesting if they found a way to move on from Blake Bortles, but his $19 million contract option could end up being guaranteed if Bortles, who just had wrist surgery, can't pass a physical by early March.
The Cleveland Browns will have all kinds of money to spend, but that situation comes with a ton of uncertainty. How long will Hue Jackson be the coach? Would Cousins expect to click immediately with offensive coordinator Todd Haley? How close, really, is a team that is 1-31 over the past two years to contention?
There's long-range coaching staff uncertainty, too, with the Denver Broncos, who also have to move a bunch of money around to clear room for a Cousins pursuit. And while the Arizona Cardinals have a need and sound like a nicer place to live than some of these other options, the Cardinals feel like a start-from-scratch situation in the wake of Bruce Arians' and Carson Palmer's retirements (and possibly Larry Fitzgerald's, too).
The upshot: Cousins is likely to find a historic contract on the open market, but it won't necessarily be easy for him to get there. Each potential landing spot has hurdles in front of it that he and/or his new team will have to clear. We're not likely to know the exact parameters of the Cousins market until after the combine, when the free-agency picture starts coming into focus. But when the smoke clears, expect Cousins to be at the top of the most interesting quarterback offseason in memory.
A quick look at some of the other names — and potential names — on that market:
---
2018 status: Unrestricted free agent
Brees would obviously be the top quarterback on the market if he hadn't been so vocal about his desire not to go anywhere. The final three years of the extension Brees signed two summers ago void on March 14, which would make him a free agent. Expect the 39-year-old and the Saints to work out something — even if it's converting one or two of the void years into real years just to keep him in New Orleans and avoid an onerous 2018 cap situation.
2018 status: Unrestricted free agent
As mentioned above, it's possible Minnesota wants Keenum back after the year he just had. It's also possible (and would make sense) that Keenum wants to parlay his big 2017 season into as big a contract as he can get, since he might never have a year like that again. If it's the latter, expect any jilted Cousins suitors to be in the mix.
2018 status: Unrestricted free agent
Assuming his contract doesn't "toll" for injury reasons, Bridgewater would hit the unrestricted market. If they don't pursue Cousins, expect the Vikings to bring him back on a reasonable deal.
2018 status: Unrestricted free agent
The veteran wants to keep playing, but the condition of his knee will severely limit his market value.
2018 status: Unrestricted free agent
Makes a lot of sense as a bridge quarterback for a team developing a draft pick (Browns?).
2018 status: Unrestricted free agent
A grievance hearing this month will determine whether McCarron is an unrestricted or a restricted free agent, and that obviously will affect his market value and mobility. Don't rule out Cleveland, where head coach Hue Jackson is a former Bengals offensive coordinator.
2018 status: Potential cap casualty
Almost certain to be cut by Buffalo, Taylor could appeal to a team looking for an experienced option or a bridge guy while they ready a rookie.
2018 status: Possible trade candidate
The unlikely Super Bowl MVP is signed through 2018 for $7 million in salary and bonuses, of which $3 million is guaranteed. As long as they're uncertain about starter Carson Wentz's timetable for recovery from his ACL injury, it makes sense for the Eagles to hold onto their decorated backup. But if someone comes offering a second- or third-round pick — neither of which the Eagles have in 2018 at the moment — it could prove tempting to sell high on Foles and invest in a different backup option.
2018 status: Possible trade candidate
As mentioned above, it's possible Bortles' wrist surgery could trigger his $19 million injury guarantee and tie Jacksonville's hands. But if they can find a way to knock that 2018 number down, they could end up trading Bortles, releasing him or keeping Bortles and bringing in some competition for him.
2018 status: Unrestricted free agent
Sources close to the situation say the Dolphins are all-in on Ryan Tannehill. Expect Cutler to see if that broadcasting job is still available. But if Tannehill gets hurt again or if someone else comes with another $10 million — who knows?
2018 status: Potential cap casualty
A candidate for a cap cut ($1.9 million savings), Siemian opened the season as the Broncos' starter the past two years and has shown flashes. Could have some appeal on a market where everyone is always looking for quarterbacks.
Editor's note: An earlier version of this story included Jimmy Garoppolo, before he and the 49ers agreed to terms on a five-year deal Thursday.
Rockers Kings of Leon to perform on first night of NFL draft
CLEVELAND — Kings of Leon will help kick off NFL draft activities on a stage close to the Rock & Roll Hall of Fame later this month.
The Grammy Award-winning band will open the festivities on April 29 with a performance as the draft returns to a more normal state after being held virtually in 2020 because of the COVID-19 pandemic.
In addition to being a top-selling act, lead singer Caleb Followill, his brothers Nathan and Jared and cousin Matthew are also football fans and have closely followed Browns quarterback Baker Mayfield's career since he was a star at Oklahoma.
Hall of Fame rock singer Ann Wilson of Heart will sing the national anthem before NFL Commissioner Roger Goodell begins calling the names of the league's newest players. Goodell hosted the event last year from his home.
A massive stage is under construction near the Rock Hall and FirstEnergy Stadium, the Browns' downtown home.
Cleveland will be represented by the Cleveland Metropolitan School District's All-City Choir, which will sing a special rendition of "Lift Every Voice and Sing." The local cover band The Sunrise Jones will serve as the house band for the first two nights of the draft.
Headlining musical acts for the second and third days of the draft will be announced in the coming weeks.
The draft will be held from April 29-May 1.
Browns banking on dominant Jadeveon Clowney, Myles Garrett pairing – Cleveland Browns Blog
BEREA, Ohio – Next season, the Cleveland Browns' defense will feature two former No. 1 overall picks off the edge. And they're banking the All-Pro they drafted four years ago will help unlock the vast potential of the one they just signed.
Wednesday, Cleveland further bolstered its budding defense in free agency, inking Jadeveon Clowney to a one-year deal worth up to $10 million.
Unlike Myles Garrett, Clowney has yet to live up to the billing of being the No. 1 pick. But now healthy again, he sees playing in Cleveland alongside Garrett as an opportunity to finally do so in his eighth season in the league.
"I just want to show that I'm still an elite player," Clowney said Wednesday. "And prove to other people that I'm still out here and can dominate."
• Why Colts still need to draft a WR
• Lance, Jones, Fields? Who is best QB for 49ers
• Is Kerry Hyder Jr. Seahawks' new Michael Bennett?
• Why Eagles may have another trade up their sleeve
• Dolphins' ideal two-round draft: Playmakers, pass-rushers, center
Clowney is coming off a season with Tennessee during which he did anything but dominate. He played eight games with the Titans without notching a single sack, before missing the rest of the season with a torn meniscus in his left knee.
Since becoming the first pick in the 2014 draft, injuries have continually hampered Clowney, beginning with his first career game, which ultimately led to a microfracture in his right knee. Clowney passed a physical in Cleveland on Wednesday on both knees, clearing the way for the Browns to finally sign him.
"I don't think everybody (has gotten) to see the person they drafted yet," said Clowney, who has still made three Pro Bowls. "I think I'm working back towards that – I'm well on my way now.
"With my potential and the way I play the game – if I can stay healthy – I shouldn't be far away from being Defensive Player of the Year. I think I have that potential, and I can do it."
The Browns already boast a player who was in the Defensive Player of the Year conversation just last season in Garrett. Before contracting COVID-19 in late November, Garrett was leading the NFL with 9.5 sacks and four forced fumbles. Despite missing two games with the virus and laboring with his breathing after returning, Garrett still was named a first-team All-Pro.
Clowney, himself, has commanded plenty of attention from opposing offenses in the past, even with his injury history and inconsistent production. In fact, since 2018, according to ESPN Stats & Info, only Michael Bennett and Za'Darius Smith have been doubled-team more often.
"It's definitely frustrating," said Clowney, who, despite the constant double teams, still owns one of the five-best pass-rush win rates since 2018. "You game plan all week to go against one person, watch him all week to get pass-rush reps — and then you go into the game, and all of a sudden, it's two people in front of you or somebody there to chip you the whole game."
In Cleveland, however, Clowney could see the fewest double teams of his career, lining up opposite Garrett, who faced the third-highest rate of double teams last season.
"I'm looking forward to playing with somebody who is dominant on the opposite side like a Myles Garrett, who can draw a double team," Clowney said. "Maybe I can go one-on-one more."
Without a doubt, Clowney will see more one-on-one opportunities. And having already landed edge rusher Takkarist McKinley in free agency this offseason, Cleveland could deploy Clowney in the pass rush in a variety of creative ways.
"We love his relentless style of play," general manager Andrew Berry said in a statement. "He's one of the more disruptive players in the game and we think he's going to add an element of ruggedness along our defensive line.
"The other thing we love about Jadeveon is his versatility, his ability to play all across the front and impact the game regardless of his alignment."
Berry has been busy this offseason upgrading every level of a defense that ranked just 19th in efficiency in 2020 but for a team that still won 12 games and advanced to the second round of the playoffs. Last month, the Browns landed arguably the top safety available in free agency in John Johnson III from the Rams. Berry also added three other potential defensive starters in linebacker Anthony Walker, nickelback Troy Hill and defensive tackle Malik Jackson.
Clowney, however, has enough talent to elevate the Browns' defense to yet another level. Especially if he, in his own words, proves that he can be a dominant player once again.
"That is all I am here to prove this year," he said. "We're going to see this season."
Seattle Seahawks extend team president Chuck Arnold through 2027
SEATTLE — The Seahawks have extended team president Chuck Arnold through 2027, they announced Wednesday.
Arnold is entering his 28th season with the Seahawks and his fourth in his current role. As president of the Seahawks and First & Goal Inc., which operates Lumen Field, he oversees the organization's business and financial operations, sales, marketing and administration.
"Chuck continues to do an exceptional job working with and supporting the football operation while assuring that the entire Seahawks organization remains an engaged and invested community leader unafraid to tackle tough challenges in our region," Jody Allen, chair of the Seahawks, said in the team's release. "Stability, quality, and consistency of leadership is a key ingredient to our continued success and winning culture. I remain excited for the future of this organization both on and off the field."
Arnold's extension means more stability at the top of the organization. In January, the Seahawks gave general manager John Schneider an extension through the 2027 draft. Coach Pete Carroll was previously extended through the 2025 season.
A native of Tacoma, Washington, and a graduate of Washington State University, Arnold began his career with the Seahawks as an intern in 1994. He was their COO from 2013 to 2018 before replacing Peter McLoughlin as team president.