Resetting 2018 NFL offseason quarterback market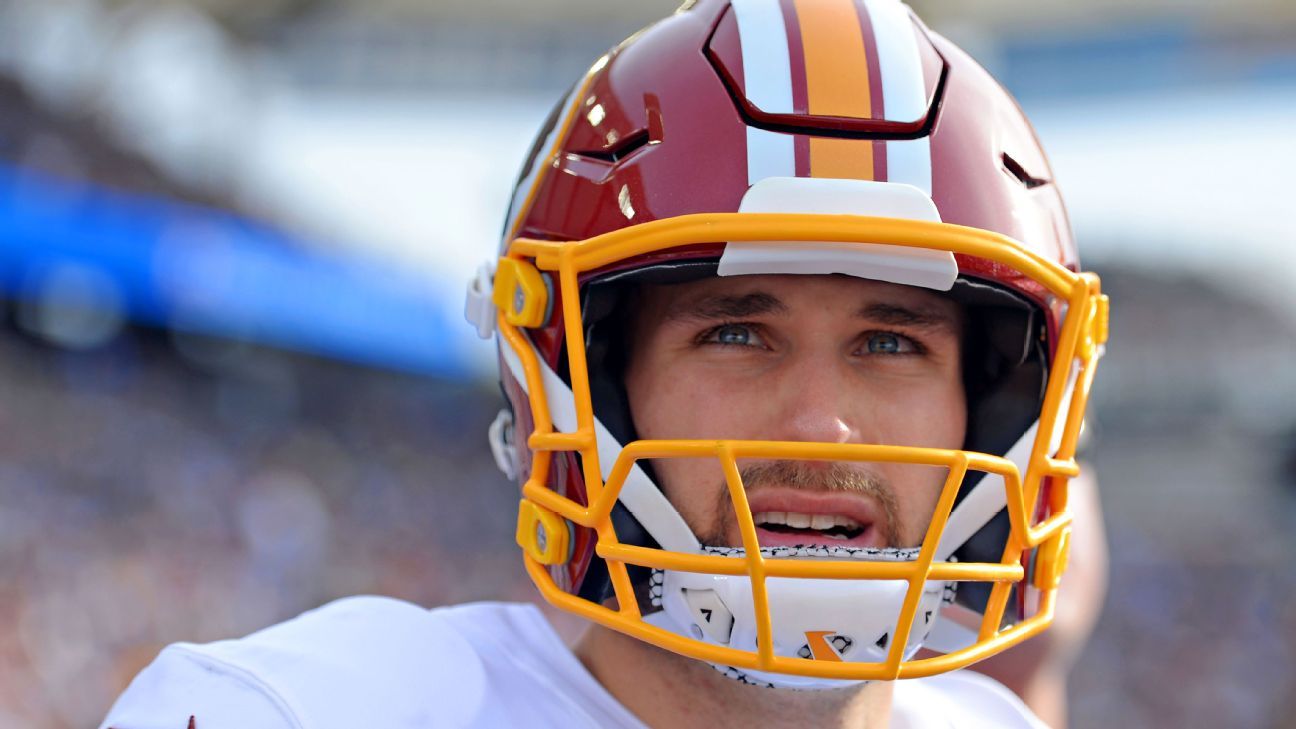 Kirk Cousins is a little more than a month away from showing us what can happen when a healthy, top-level starting quarterback in his prime hits the free-agent market. This will be unprecedented. In the era of the franchise tag, only two top-level quarterbacks have become unrestricted free agents — Peyton Manning in 2012 and Drew Brees in 2006 — and each was coming off a major injury at the time.
Cousins is 29 years old, healthy and coming off his third straight 4,000-yard passing season at a time of rapid salary-cap growth. As of March 12, when agents of prospective free agents are free to talk with other teams, Cousins will be in a position to set a new standard at the top of the NFL salary structure — not long after Jimmy Garoppolo agreed to terms on a five-year deal of his own in San Francisco.
Now, because I know some of you will ask: No, I do not think there is any chance Washington franchises Cousins for the third year in a row. It's certainly true that it has considered the idea of franchising him and trying to trade him, in an effort to avoid losing him and getting nothing in return. And at this stage of the process, that's the right position for them to be taking outwardly, just in case some team wants to offer them something crazy. But I, and the sources I've spoken to on this matter, consider a third Cousins franchise tag (which would cost Washington about $34.5 million) a totally unrealistic outcome.
Why? Well, any team willing to trade anything of significance for Cousins would want to know that they can sign him long term, and for how much. Washington is likely to end up with a third-round compensatory pick if it lets Cousins walk, which means a team probably would need to offer a second-rounder or more in order to get him, and why would a team do that if all it is guaranteed is one year at $34.5 million?
If Washington franchises Cousins, he'll surely rush to sign the tender and put the team in an impossible bind. That $34.5 million would immediately hit Washington's 2018 salary cap along with about $24 million in cap cost for Alex Smith, likely requiring undesirable roster cuts elsewhere and making it basically impossible for the team to do anything else in terms of player acquisition until they traded Cousins.
In theory, Cousins could make it easy on Washington by negotiating with potential trade partners on a long-term deal before a trade is finalized, but there's no reason to believe Cousins is or will be interested in doing his current team any favors. If Washington did decide to franchise Cousins, the more likely reason would be that it got cold feet on the Smith deal and decided to back out before it became official. As of Tuesday night, we can call this "Pulling a McDaniels." Not saying this will happen, but if Tuesday taught us nothing else, it's that nothing is final until it's final.
What Cousins wants — and believes he deserves — is a chance to hit the market unfettered, with a menu of potential new destinations from which to choose. It appears certain he will get that, and when he does, his deal could average $30 million or more per season with upward of $90 million in guarantees. The questions then will become how many teams will bid that high and how much he likes the idea of playing for those teams.
The Minnesota Vikings, who are coming off a 13-3 season and with all three quarterbacks on their roster eligible for free agency, should be at the top of Cousins' wish list. They have the cap space to make it happen. They have an elite defense, top-level wide receivers, a strong running game and an offensive line that — while it might need some maintenance work in the coming years — did an awfully good job of keeping Case Keenum clean in 2017. The question with the Vikings is how committed they are to developing Teddy Bridgewater as their long-term solution and rewarding Keenum for what he did in 2017. If they bring one or both of those guys back, that probably rules out Cousins. But if they see themselves a Cousins away from the Super Bowl, maybe they change the plan and go for it.
The New York Jets also have the cap room and the need. Their roster needs more work than Minnesota's does, but the receiving corps showed promise this season, the coach just got extended, and Cousins has spoken highly of new offensive coordinator Jeremy Bates. Perhaps he'd enjoy a shot to make a big splash in the Big Apple. The Buffalo Bills are coming off a 9-7 season and have a No. 1 receiver in Kelvin Benjamin and an elite running back in LeSean McCoy. If Cousins likes what Sean McDermott is putting together in Buffalo, the Bills become an interesting option that might not be too far from title contention. The Jacksonville Jaguars would be interesting if they found a way to move on from Blake Bortles, but his $19 million contract option could end up being guaranteed if Bortles, who just had wrist surgery, can't pass a physical by early March.
The Cleveland Browns will have all kinds of money to spend, but that situation comes with a ton of uncertainty. How long will Hue Jackson be the coach? Would Cousins expect to click immediately with offensive coordinator Todd Haley? How close, really, is a team that is 1-31 over the past two years to contention?
There's long-range coaching staff uncertainty, too, with the Denver Broncos, who also have to move a bunch of money around to clear room for a Cousins pursuit. And while the Arizona Cardinals have a need and sound like a nicer place to live than some of these other options, the Cardinals feel like a start-from-scratch situation in the wake of Bruce Arians' and Carson Palmer's retirements (and possibly Larry Fitzgerald's, too).
The upshot: Cousins is likely to find a historic contract on the open market, but it won't necessarily be easy for him to get there. Each potential landing spot has hurdles in front of it that he and/or his new team will have to clear. We're not likely to know the exact parameters of the Cousins market until after the combine, when the free-agency picture starts coming into focus. But when the smoke clears, expect Cousins to be at the top of the most interesting quarterback offseason in memory.
A quick look at some of the other names — and potential names — on that market:
---
2018 status: Unrestricted free agent
Brees would obviously be the top quarterback on the market if he hadn't been so vocal about his desire not to go anywhere. The final three years of the extension Brees signed two summers ago void on March 14, which would make him a free agent. Expect the 39-year-old and the Saints to work out something — even if it's converting one or two of the void years into real years just to keep him in New Orleans and avoid an onerous 2018 cap situation.
2018 status: Unrestricted free agent
As mentioned above, it's possible Minnesota wants Keenum back after the year he just had. It's also possible (and would make sense) that Keenum wants to parlay his big 2017 season into as big a contract as he can get, since he might never have a year like that again. If it's the latter, expect any jilted Cousins suitors to be in the mix.
2018 status: Unrestricted free agent
Assuming his contract doesn't "toll" for injury reasons, Bridgewater would hit the unrestricted market. If they don't pursue Cousins, expect the Vikings to bring him back on a reasonable deal.
2018 status: Unrestricted free agent
The veteran wants to keep playing, but the condition of his knee will severely limit his market value.
2018 status: Unrestricted free agent
Makes a lot of sense as a bridge quarterback for a team developing a draft pick (Browns?).
2018 status: Unrestricted free agent
A grievance hearing this month will determine whether McCarron is an unrestricted or a restricted free agent, and that obviously will affect his market value and mobility. Don't rule out Cleveland, where head coach Hue Jackson is a former Bengals offensive coordinator.
2018 status: Potential cap casualty
Almost certain to be cut by Buffalo, Taylor could appeal to a team looking for an experienced option or a bridge guy while they ready a rookie.
2018 status: Possible trade candidate
The unlikely Super Bowl MVP is signed through 2018 for $7 million in salary and bonuses, of which $3 million is guaranteed. As long as they're uncertain about starter Carson Wentz's timetable for recovery from his ACL injury, it makes sense for the Eagles to hold onto their decorated backup. But if someone comes offering a second- or third-round pick — neither of which the Eagles have in 2018 at the moment — it could prove tempting to sell high on Foles and invest in a different backup option.
2018 status: Possible trade candidate
As mentioned above, it's possible Bortles' wrist surgery could trigger his $19 million injury guarantee and tie Jacksonville's hands. But if they can find a way to knock that 2018 number down, they could end up trading Bortles, releasing him or keeping Bortles and bringing in some competition for him.
2018 status: Unrestricted free agent
Sources close to the situation say the Dolphins are all-in on Ryan Tannehill. Expect Cutler to see if that broadcasting job is still available. But if Tannehill gets hurt again or if someone else comes with another $10 million — who knows?
2018 status: Potential cap casualty
A candidate for a cap cut ($1.9 million savings), Siemian opened the season as the Broncos' starter the past two years and has shown flashes. Could have some appeal on a market where everyone is always looking for quarterbacks.
Editor's note: An earlier version of this story included Jimmy Garoppolo, before he and the 49ers agreed to terms on a five-year deal Thursday.
Dallas Cowboys owner Jerry Jones apologizes after telling radio host to 'shut up'
FRISCO, Texas — Dallas Cowboys owner and general manager Jerry Jones had a testy exchange during his weekly radio segment on Tuesday when asked if the team has a leadership void.
Jones became curt on his appearance with the Shan & R.J. Show on 105.3 The Fan as one of the hosts attempted to answer when Jones asked the question back.
"Well, just shut up and let me answer," said Jones while interrupting Shan Shariff's attempt to explain. "No (he doesn't see a leadership void)."
As Shariff attempted to re-frame the question about what Jones sees when he walks into the locker room, Jones said, "You're not asking me that. I gave you the answer. When I go into the locker room, there's no leadership void in my eyes. Now that's your answer. Let's move on."
Jones later apologized for the exchange.
He is frustrated with the Cowboys' 2-5 record as well as multiple players out for the season due to injuries, including Dak Prescott, tackles Tyron Smith and La'el Collins and tight end Blake Jarwin. He has noted in his last two radio appearances that the Cowboys have roughly 40% of their salary cap not on the field because of injury.
Jones was asked how much blame he deserves as general manager for the Cowboys' record.
"As much as you give me when you're talking about how great the talent is," Jones said. "I think you basically step up there that it's a joint effort, has been forever. And it's a joint effort, have a lot of input, have input from some of the best there are in terms of opinions, in terms of deciding what to do. Have lived a life of being able to determine when there's too much input but don't confuse the ultimate decision with just a single-minded decision.
"That's not the way it works. Never has worked that way. Didn't work that way from the first day I walked through this door. And I've had the last say on everything since I bought the team in 1989. Period."
Jones said he anticipates some "personnel changes," but he was not asked to elaborate. The trade deadline is Nov. 3. He did back head coach Mike McCarthy on multiple occasions.
"One of the reasons Mike McCarthy is the coach is because he's been through it," Jones said. "He's had tough times and he's had disappointing times. … Certainly we couldn't have wanted to be at this stage with our team this year, but if I'm going to hire a coach that will be at this stage and work through this for the betterment for the rest of the year and for what's in the future, I've got my man."
McCarthy made the playoffs in nine of his 13 seasons with the Green Bay Packers, made it to the NFC Championship Game four times and won a Super Bowl. Aside from the injuries, his first season with the Cowboys has been impacted by a lack of an offseason program, full training camp and preseason games due to the ongoing pandemic.
"You wanted someone in case the you-know-what hit the fan that had the credibility and had the do-ability to do what? Stand tall and strong as the head coach. And he's doing that," Jones said. "In answer to your question, he's doing that in the face of adversity."
Jones closed the interview with an olive branch to the hosts.
"If I were a little abrupt there, then I really don't want to have our day start that way. You're too good of men for that," Jones said. "This certainly isn't my most tactful time, you might say, with this thing, as we discuss these matters. I'm disappointed for our fans. I can't tell you how disappointed I am. It was not the plan at all.
"We certainly want to point to things, but they're not excuses. This is football. I'll assure you right now we'll put our head down. We haven't spent the time, the years, the money, the effort and everything for the Dallas Cowboys to be where we are right now. There will be better days."
Antonio Brown signs one-year deal with Tampa Bay Buccaneers, source says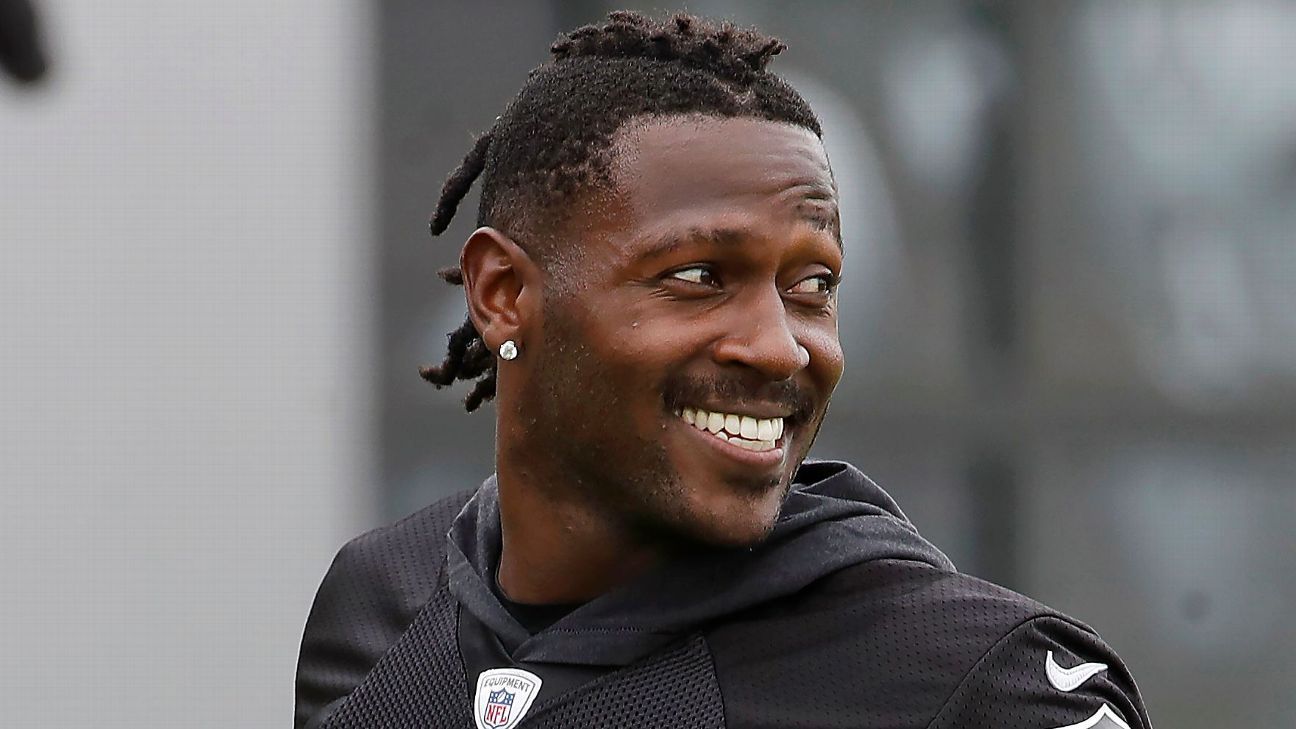 TAMPA, Fla. — Antonio Brown officially signed his contract with the Tampa Bay Buccaneers on Tuesday morning, sources told ESPN. It is a one-year deal for a base salary of $750,000 with incentives that could push the value to $2.5 million, sources told ESPN on Sunday.
He can earn $750,000 if the Buccaneers win the Super Bowl and has three $250,000 incentives for 45 receptions, 650 yards and six touchdowns during the regular season. For Brown to earn the individual incentives, the Buccaneers must make the playoffs, the source told ESPN.
Brown will not be eligible for reinstatement or be able to start practicing with the Bucs until his suspension concludes after Week 8, but the team does plan to have him participate in meetings and meet with the strength staff once he clears COVID-19 testing protocol this week.
The expectation is that Brown will make his debut in Week 9 against the New Orleans Saints.
The Bucs have emphasized Brown will be on a tight leash. He is currently in Week 7 of an eight-week suspension for violating the NFL's personal conduct policy and he is still under probation for felony burglary with battery charges for the next two years, which requires a psychological evaluation, follow-up treatment, 100 hours of community services and attending an anger management course.
Brown still faces a civil suit by his former trainer, who alleges that Brown assaulted her on three separate occasions from 2017 to 2018. A trial is set for Dec. 14-18, a source told ESPN.
On Sunday, Bucs coach Bruce Arians said that he is going to "let the court system handle it" and "if it's found out to be true, he won't be with us." If the court rules in favor of the trainer and the Bucs do cut him, he could potentially see action in five games — Tampa Bay has its bye week in Week 13.
Brown and his legal counsel face an Oct. 31 deadline for the discovery process. They must provide information from his electronic devices where the trainer is mentioned or discussed. If Brown fails to provide this, she and her attorney will ask for sanctions.
Tua Tagovailoa era begins: What to expect from Dolphins' rookie QB – Miami Dolphins Blog
Following a week of debating the Miami Dolphins' sudden change at quarterback, the Tua Tagovailoa era begins at home Sunday against the Los Angeles Rams (1 p.m. ET, Fox). Whether the timing is the best or not, Tagovailoa's first start will be one of the most anticipated moments of the NFL's Week 8 schedule.
There are many questions surrounding the Dolphins' quarterback situation, including concerns about Miami's 2020 No. 5 overall pick, veteran Ryan Fitzpatrick and how the roster change "broke his heart" and what to expect from it all going forward in 2020.
It's clear expectations are high for the rookie, and Tagovailoa's teammates are doing little to quiet the hype.
"For Tua to get the opportunity to start, that kid is incredible. I'm looking forward to going out there and playing with him on Sunday," Dolphins defensive end Shaq Lawson said. "I've seen a lot of him in practice, how athletic he is, how incredible of a player he is. You get to see it Sunday this week. It's going to be incredible. He's going to lead his team in the right way."
ESPN Daily: Listen to Cameron Wolfe explain how Tua Tagovailoa became QB1
Here are some burning questions headed into the start of Tua Time:
What should we expect from Tagovailoa?
There's a need to be realistic for a rookie making his first pro start at quarterback, especially one who has overcome a career-threatening hip injury suffered in November 2019.
Fitzpatrick was playing well for the 3-3 Dolphins, and he's very comfortable within the scheme. It should not be a surprise to see a Tagovailoa-led offense take an initial step back.
What we do know is Tagovailoa can make all the throws, including some Fitzpatrick can't. Tagovailoa's athleticism provides a new element, and he has spent the past few months soaking up everything from the 16-year veteran QB and 68-year-old offensive coordinator Chan Gailey.
"Obviously, throwing, making plays, [he's] everything you want in a quarterback," Dolphins receiver Preston Williams said. "Y'all seen his tape — that speaks for itself."
Lawson added: "He's so dangerous. He's athletic. You wouldn't think he's a rookie if you watch him in practice. He looks like he's been around a long time."
How will morale be affected by the change and Fitzpatrick's emotional response?
Coach Brian Flores has control in the Dolphins' locker room, particularly after all the ups and downs during last season's 5-11 campaign. There likely won't be an issue, because as long as Fitzpatrick fully embraces Tagovailoa as the starter, the rest of the team will follow suit. And if Tagovailoa plays well, it's a non-issue either way.
What will be worth watching is if neither happens — Fitzpatrick isn't all-in on his new role and Tagovailoa struggles out of the gate. Those issues will likely bring up second-guess whispers and test the Dolphins' chemistry. Flores said he isn't worried about any division. Tight end Mike Gesicki, who is best friends with Fitzpatrick, said he doesn't foresee an issue arising.
"Our locker room, it's tight. We all believe in one another and believe in Coach Flores and [GM] Chris Grier and [owner] Mr. [Stephen] Ross and everybody that is upstairs making decisions. We all have confidence in Tua to go out and make plays," Gesicki said. "It's not going to be like, oh, one series here, one series there and everybody is throwing in the towel. That's not how it is.
"We're all excited, and honestly, I think there's a lot of trust, a lot of belief in the players that are being put in position on the field on Sundays."
Domonique Foxworth believes the only team that makes sense trading for Ryan Fitzpatrick is the Browns, while Ryan Clark says the Dolphins are better off holding on to him.
Why did the QB change happen now?
This move was more about Tagovailoa and his long-term development than Fitzpatrick's play. It's notable Flores mentioned Grier and others were involved in the decision, which indicates this was just as much an organizational choice as a team one for this season.
The Dolphins' plan all along, it seems, was to play Tagovailoa once they deemed him ready, and they didn't need to wait for Fitzpatrick to lose the job before they did so. Tagovailoa has improved in practice, the team views him as healthy and the organization sees more value in getting him game experience now rather than riding the Fitzpatrick wave any longer.
How should Tagovailoa handle being thrown into action during the playoff hunt?
Dan Orlovsky, an ESPN analyst and 13-year NFL quarterback, offered up some advice for Tagovailoa taking over a team that's in the thick of the AFC East postseason race:
"The first thing is go in with zero expectations. You can put undue pressure on yourself — this is a 3-3 football team and you lose your first game, you don't want the thought of, 'Did I just fail my team?' He's got to have a long-term viewpoint of this as well. Two, you got to realize you just have to play your part. You have to be one of 11. This team isn't asking you to be Superman right now. It isn't asking you to carry this offense. You've got to be willing to be Steve Nash, just distribute the football and let the other guys make the plays.
"Finally, understand it is football and you're playing the same game you have your whole life. Put everything you can into your preparation, take a deep breath and go play ball. Don't overthink things. Tua's strength is his reactions, his instincts — he's been groomed for this for a long time."
Will the offense change with Tagovailoa under center?
Don't expect the Dolphins' offense to transform overnight, but one can expect Tagovailoa-specific plays to evolve as weeks go on. Gailey and quarterbacks coach Robby Brown have been working with Tagovailoa weekly to determine what he feels comfortable with and have found some plays to install that are similar to what he ran at Alabama. Along with those college plays, the Dolphins will likely employ more run-pass-option plays, quick timing routes and vertical shots, as those fall under Tagovailoa's strengths.
Is Tagovailoa physically ready to be hit, starting with Aaron Donald and the Rams?
Getting tackled is the last hurdle Tagovailoa has to clear, and it's not a pleasant thought to think of Donald being the first one to do so. If the Dolphins had any worry about Tagovailoa's health, they wouldn't feed him to the two-time NFL Defensive Player of the Year for his first start. Tagovailoa and the team believe he's 100 percent healthy.
It's worth noting Fitzpatrick has the third-fastest time to throw (2.41 seconds) of any NFL quarterback. This might be the most important stat for Tagovailoa to duplicate as the team tries to protect him behind an improving but young offensive line.
Matthew Berry says, in standard ten and twelve-team leagues, there are better QBs than Tua Tagovailoa on the waiver wire, but he would definitely pick up Tua in deeper leagues.
Can Tagovailoa lead the Dolphins to the playoffs?
Playoffs?!? The fact the Dolphins are worthy of being mentioned in the conversation is credit to how far they have come after being the NFL's laughingstock over the first half of the 2019 season. The Dolphins are in second place in the AFC East, 1½ games behind the Buffalo Bills and one game out of the final wild-card spot currently held by the Indianapolis Colts.
ESPN's Football Power Index gives the Dolphins a 28.2% chance to make the playoffs, ninth best in the AFC. So, you're saying there's a chance? Yes, if Tagovailoa plays well, the Dolphins, boosted by a solid defense, could make a playoff push with a manageable slate of games that ranks 18th among FPI's remaining strength of schedule.
The most likely scenario is circling 2021, not 2020, for the playoffs. Regardless, the Dolphins' rebuild is headed in the right direction.