Johnny Manziel's decision to travel to Las Vegas during the final weekend of the 2015 season was a "childish, immature decision," Manziel said on the ThomaHawk Podcast with former Browns receiver Andrew Hawkins and Browns left tackle Joe Thomas.
"This decision that I made, what a complete lack of respect for guys like Joe T," Manziel said on the podcast released Wednesday. "What a complete lack of respect for an organization that was trying to stick by me. … What just a completely selfish decision."
The interview continued Manziel's efforts to revive his football career. He will play in a spring league in Austin, Texas, and has said therapy and treatment for mental health issues have helped him gain sobriety as well as mental focus.
Hawkins said on the podcast that Manziel texted him and a few other then-teammates about a year ago to apologize for his behavior and lack of professionalism in Cleveland.
"I look back at it now and I'm like, damn, I wasted a little bit of Joe T's career in Cleveland," Manziel said.
The Las Vegas trip took place the weekend of Jan. 2-3, 2016, as the Browns were playing the season finale against Pittsburgh. Manziel admitted flying to Vegas the day before the game after a walkthrough, and detailed buying the blond wig to hide his identity.
He said he had planned to take a red eye to be back in time for his concussion treatment Sunday morning, but missed the flight and instead stayed out until early in the morning Vegas time.
Manziel called it a "reckless, reckless plan."
He said he made the trip because he had three or four friends in Cleveland from Texas "who were in party mode," and he was having problems at home.
"One of those problems led me to Vegas," he said. "I felt like I couldn't solidify or try and fix my home life without going out there."
Manziel did not detail the exact problem.
On Monday before the trip, Manziel said his friends had arrived and the group spent the night drinking and shooting pool at his home in suburban Cleveland. Manziel arrived Tuesday morning at an offensive line meeting and said the concussion from the previous game (a loss to Kansas City) or the drinking the night before led him to leave the meeting after 15 seconds.
The team trainers and doctors diagnosed the concussion, and placed him in the NFL protocol.
On Saturday, he boarded a noon commercial flight for Vegas, wearing a hood, a hat and sunglasses to hide his identity. When he got to Vegas, he said the blackjack and crap tables "were calling me."
As he gambled, a Vegas employee checked his ID and looked at the TV and saw Manziel's name on screen, Manziel said. When a baseball reporter recognized him, "I'm in street damage mode," Manziel said.
That's when he decided to get what he called was a "blondish brown, like, mullet" wig. He bought it at a "very, very sketchy" shop off the strip.
"I was like, I need something that makes me not look like this," Manziel said. "Do you have a mustache? A wig? Do you have anything?"
He wore the wig to Hakkasan, where to him and his friends it was "all fun and games." The group stayed out until the 3 or 4 a.m. Vegas time, which Manziel pointed out was one hour before he was supposed to be in Cleveland for mandatory treatment for his concussion.
"I just turn my phone off and throw it in the drawer, and I'm like, 'All right, we'll figure it out when I wake up,'" Manziel said.
When he turned his phone on Sunday afternoon, he was greeted with a slew of texts and emails.
Manziel said word got out when someone who saw him at Hakkasan relayed the story to the media — where he was, what he ate, what and how much they were drinking. ESPN 1100 Las Vegas, an affiliate radio station in the city, reported at the time that Manziel had the wig and was introducing himself as Billy.
Manziel said on the podcast that he didn't know about the Billy Manziel phenomenon until he got back to Cleveland and a T-shirt company started selling shirts with a drawing of him in a blond wig and the name Billy Manziel on the shirt.
"After that, crazily enough. I still go back to Cleveland," said Manziel, who said he has a photo of himself with the wig on his phone. "I sit down with [owner] Jimmy [Haslam] and I sit down with [former VP] Sashi [Brown] and I explain it to them. I explain where I'm at mentally. I explained what was going on in my home life. Just really like was open and honest with them about everything.
"And then I think they were still going to stick with me through it. I think it had rubbed a lot of people the wrong way. But at the end of the day, the people who were making the decisions, I feel like looking back at our conversations, they still had faith that if I could get my head right and get where I needed to be mentally that I still had potential and a future there."
That changed, Manziel said, when Hue Jackson was hired as coach.
Manziel was released in March of 2016, after a tumultuous offseason that Manziel described as "self-sabotage mode."
"There's no hard feelings there," Manziel said of the Browns releasing him.
Lions releasing running back Kerryon Johnson, per reports
The Detroit Lions are releasing running back Kerryon Johnson, according to multiple reports.
Detroit drafted the former Auburn standout in the second round in 2018. Johnson became expendable after the team drafted D'Andre Swift No. 35 overall in 2020, signed free agent running back Jamaal Williams in March and drafted Oregon State's Jermar Jefferson last week.
Johnson ran for 1,225 yards and eight touchdowns over three seasons. He also has 61 career receptions for 527 yards and three scores.
Last year, he had 181 yards rushing and two scores on 52 carries. and had 19 receptions for 187 yards receiving and a touchdown.
NFL Network first reported that Johnson would be waived.
The Lions also added a player in free agency, signing tight end Darren Fells on Wednesday. The move gives the team a veteran at the position it can put on the field with Pro Bowl tight end T.J. Hockenson.
The 35-year-old Fells has 123 career catches with 1,483 yards receiving and 21 touchdowns. The previous two years in Houston, he had a combined 55 catches for 653 yards and 11 touchdowns.
Fells has started 76 games — including 13 with the Lions in 2017 — and played in 102 games with Arizona, Detroit, Cleveland and the Texans. He was a rebounding standout at UC Irvine and played basketball in Argentina, Mexico, Belgium, Finland and France before playing in the NFL.
The Associated Press contributed to this report.
QB Blaine Gabbert re-signing with Tampa Bay Buccaneers on 1-year, $2.5 million deal, source says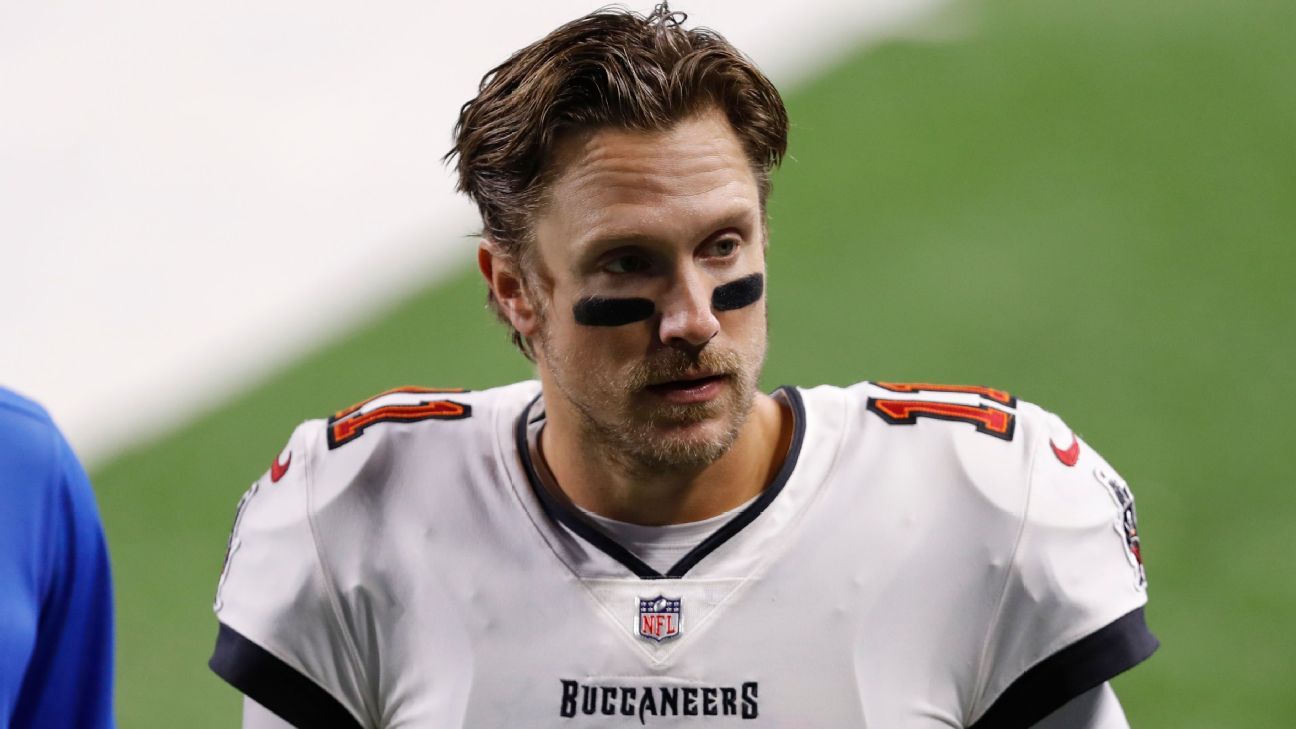 TAMPA, Fla. — Once again, Tampa Bay Buccaneers coach Bruce Arians has kept his word.
Days after saying the Bucs would work to re-sign Tom Brady's top backup, quarterback Blaine Gabbert, the team is indeed re-signing Gabbert to a one-year deal worth $2.5 million, a source told ESPN's Jeremy Fowler.
Gabbert, who has played in 60 career games with 48 starts, previously earned $1.187 million in 2020 and $1.6 million in 2019.
Last season, Gabbert, 31, completed 9 of 16 passes for 143 yards and two touchdowns with no interceptions, with all but one of those pass attempts coming in the second half against the Detroit Lions in Week 16, when Arians opted to rest Brady.
The Bucs selected quarterback Kyle Trask in the second round of the NFL draft last week, but Arians said that would not preclude them from re-signing Gabbert. The team also re-signed Ryan Griffin, who was last year's third-string backup, earlier this offseason.
Gabbert enters his third season with the Bucs, after spending 2018 with the Tennessee Titans, 2017 with Arians and the Arizona Cardinals, 2014-16 with the San Francisco 49ers and 2011-13 with the Jacksonville Jaguars.
Gabbert has had an eventful offseason. In addition to attending the Kentucky Derby with Brady and Griffin on Saturday, he married longtime sweetheart Bekah Mills in Paradise Valley, Arizona, in March.
NFL sends memo reminding clubs the league will not pay players who suffer injuries away from facilities
The NFL reminded teams Wednesday that they are not obligated to pay players who suffer an injury away from the team facility, an issue that moved this week to the center of an ongoing dispute between the NFL and NFL Players Association over in-person participation in offseason workouts.
The memo, obtained by ESPN, was prompted by several prominent players who were surprised by media reports about Denver Broncos offensive lineman Ja'Wuan James, who tore an Achilles tendon this week while working out on his own and could miss the 2021 season. NFL contracts have long classified such injuries as "non-football," because they happen away from the team environment, and they are not covered by typical injury guarantees. As a result, the Broncos could withhold James' salary for as long as he is sidelined. More than $10 million would have been guaranteed if the injury had occurred at the Broncos' facility.
The NFL has noted this contractual leverage multiple times during negotiations with the NFLPA, which has advised players to skip the voluntary portion of in-person offseason training unless they stand to lose workout bonuses.
Kansas City Chiefs quarterback Patrick Mahomes was among those who seemed unaware of the full implications of "non-football' injuries in comments this week on social media.
"According to the media coverage," the NFL wrote in its memo, "several players have expressed surprise that Mr. James' injury was not covered by his Injury Guarantee, although this point has been made frequently in our discussions with the NFLPA about the offseason program. Clubs are encouraged to remind players of the significant injury-related protection provided if they choose to work out at the club facility and the risks they undertake in choosing to train in non-NFL locations."